Slow Cooker Corned Beef and Cabbage is seasoned corned beef cooked low and slow with potatoes, carrots, and cabbage. Corned beef and cabbage in the Crock Pot makes a delicious one pot effortlessly cooked meal! Simple, with all the flavors of a traditional St. Patrick's Day dinner.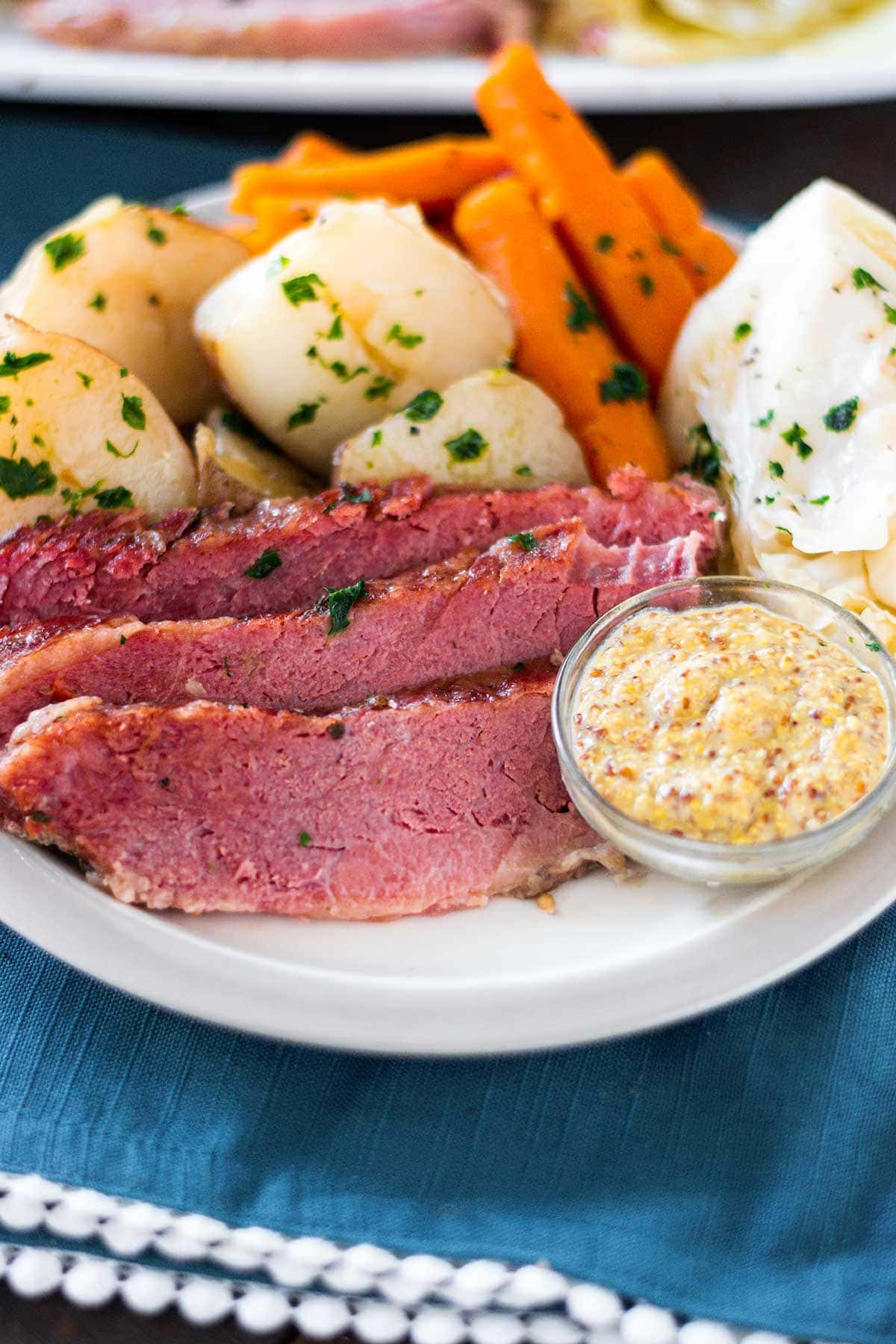 If you have never made corned beef in the slow cooker before, it's actually very easy to make! Cooking corned beef and cabbage in the slow cooker makes for an effortless one pot meal! It turns out so tender too!
Cooking in the slow cooker is just the best for just about anything I try in it! It's really makes for flavorful easy cookin! This meal is no exception!
Why you'll love this recipe
Traditional Flavor: This crock pot corned beef has all the traditional flavors of corned beef, carrots, red potatoes and of course cabbage! YUM!
Easy Recipe: Cooking in the slow cooker make this recipe is so easy to make, but still has the flavor of a traditional corned beef dinner.
No stress, one pot meal! Quick prep, put it in the crock pot and it does all the work! Leave all the fun to you!
St. Patrick's Day Corned Beef and Cabbage
Corned Beef is a popular fare on St. Patrick's Day for sure! You will find an abundance in the grocery store in the month of March! Making a slow cooker version just makes it even easier (and tastier too)!
More time for celebrating! Dressing in green and eating this delicious meal! What more could you ask for on St. Paddy's Day!
Except bread - It goes well with a crusty quick buttery beer bread too!
This one is so good you may even find you'll make this is a great meal all year long!
How do you buy corned beef?
You will find plenty of corned beef in the month of March in your local grocery store, but it can also be found year in many stores.
It comes in a couple of different cuts and most often pre-seasoned. The most common cuts are flat cut brisket and a point cut brisket. . A flat cut is most uniform in shape and the point cut tends to be a little fattier and often more tender.
Either cut works fine for corned beef in crock pot, so pick what you like and what is easiest to find.
Ingredients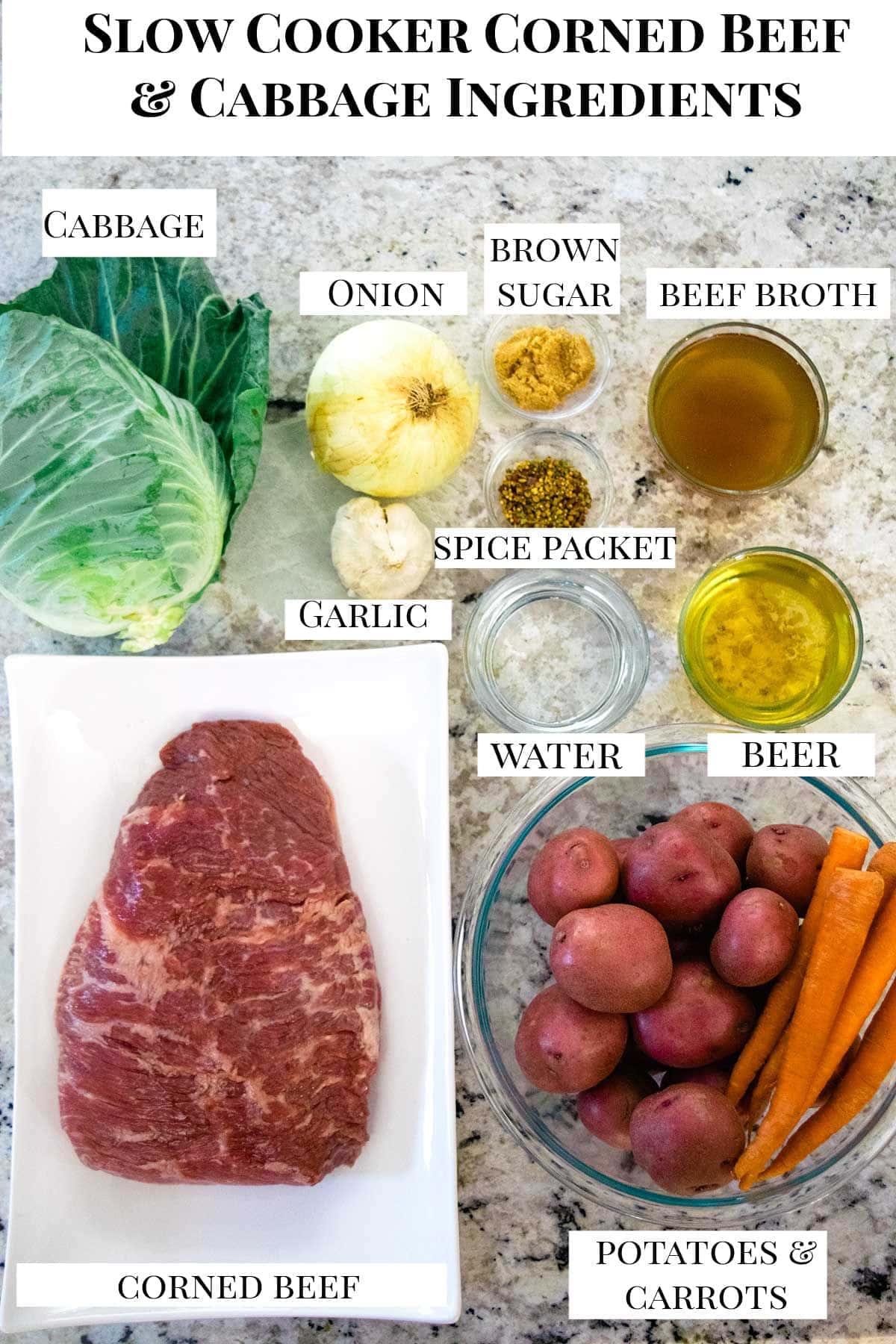 Corned Beef Brisket (and spice packet included)
Onion
Garlic
Red Potatoes
Carrots
Beef Broth
Beer (optional)
Water
Brown Sugar
Green Cabbage
Pepper to taste
How to cook corned beef and cabbage in the slow cooker
✱ Be sure to see the recipe card below for exact ingredients and instructions!
Add broth, water, beer and brown sugar into slow cooker and stir.
Place onions and garlic chunks into slow cooker and add corned beef on top. Sprinkle seasoning packet on top of corned beef.
Cover and cook on low for 8 to 10 hours.
After initial 2 to 3 hours, add potatoes and carrots to the slow cooker.
Two hours before serving, add cabbage wedges to the slow cooker and sprinkle with black pepper to taste. Cover with lid and continue cooking.
Remove corned beef from slow cooker and allow to rest for 15 minutes before slicing. Remove potatoes, carrots, and cabbage and serve.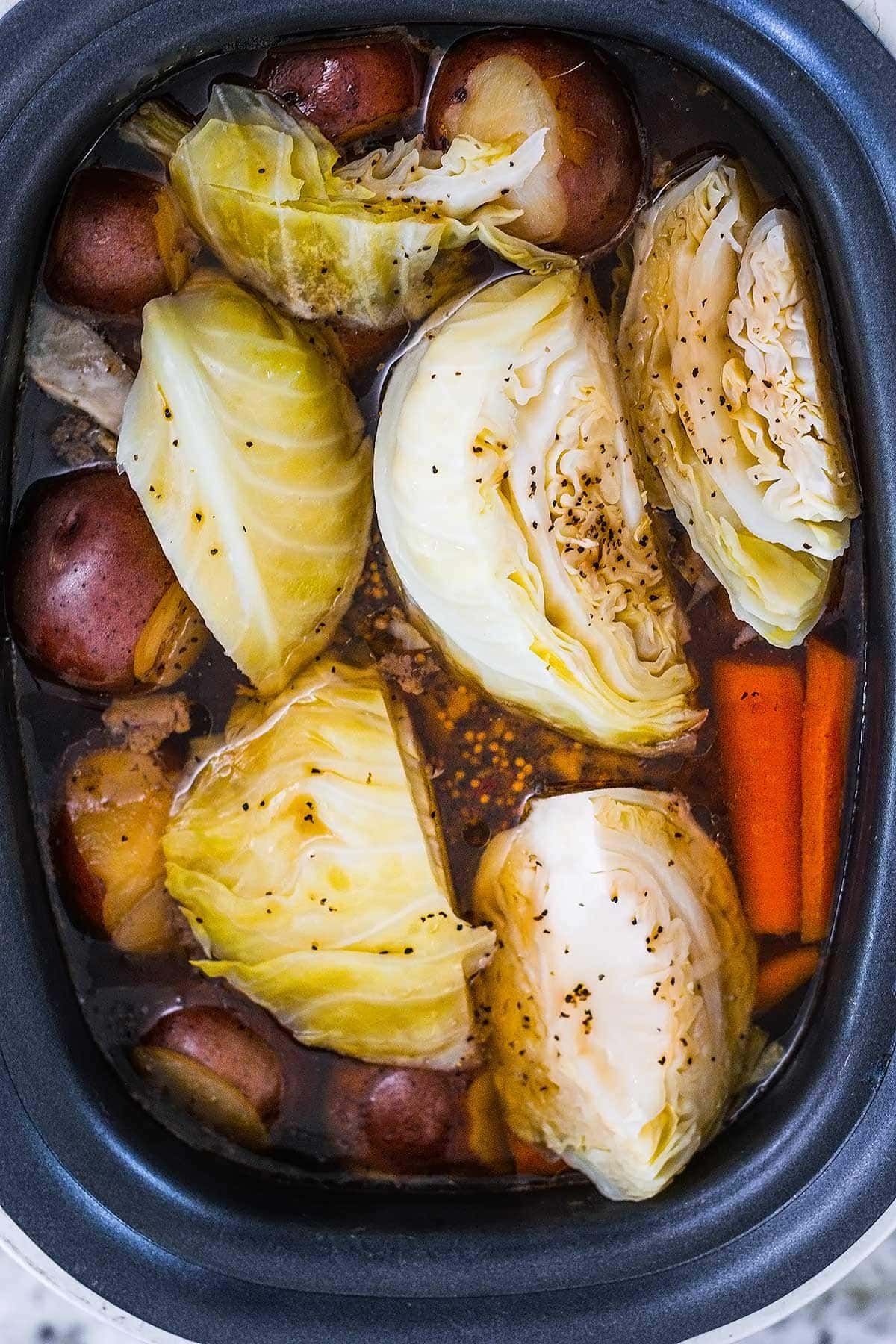 Frequently Asked Questions
What is corned beef?
Corned Beef is a beef brisket that is soaked in a brine and is cured with salt and spices. It has a very distinct pink color that comes from the curing process.
Do I need to rinse corned beef?
Yes. The corned beef is cured or pickled so there may be residual salt left behind. Rinse with cold water and pat dry before placing in the slow cooker.
What if my corned beef didn't come with spice packet?
If your corned beef didn't come with spices add a couple of teaspoons of pickling spice, a bay leaf, and a few peppercorns.
What temperature should corned beef be?
Corned beef should be cooked to an internal temperature of at least 145° for save consumption. Use a instant read meat thermometer to measure doneness. Remember because of the curing process the meat will still look pink yet still is done.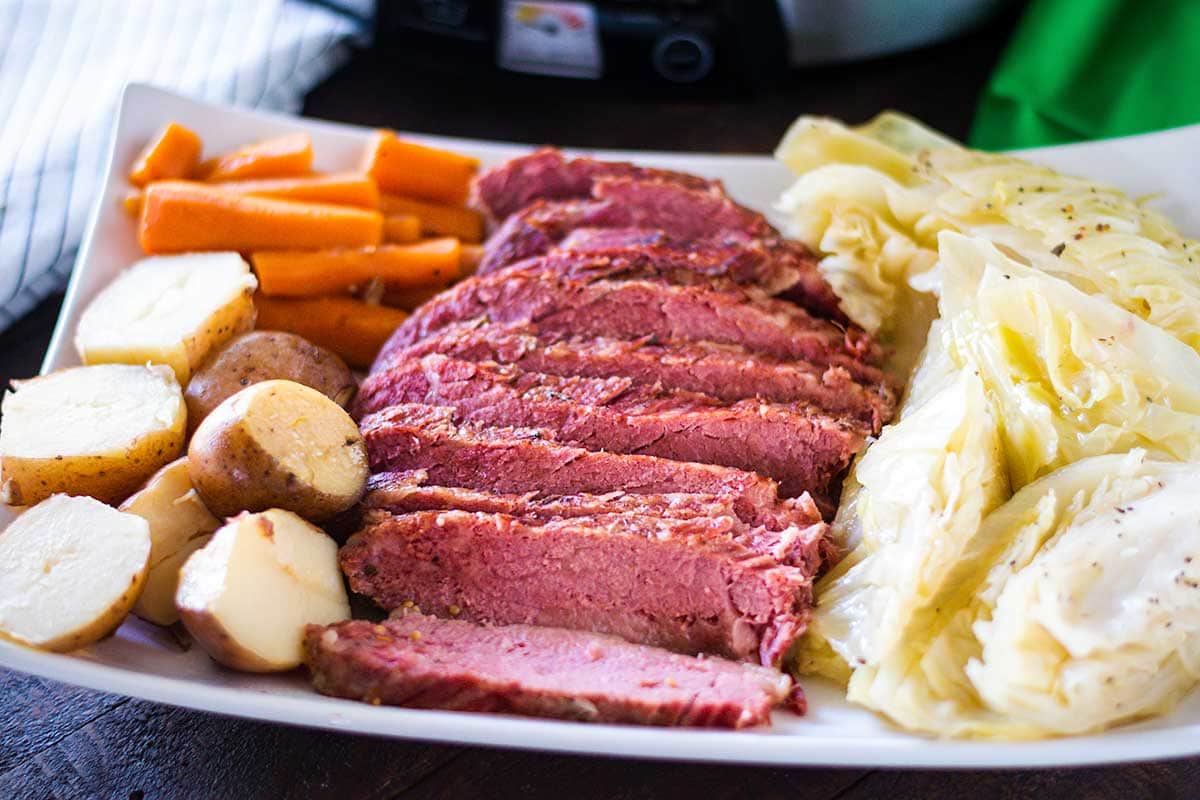 How to store leftover corned beef
Storing corned beef and cabbage is easy. Once cooled, or after eating, place leftovers in an airtight container and refrigerate for 3 to 4 days.
You can also freeze in a freezer safe bag or container for up to 3 months.
To reheat you can place back in the slow cooker, in the oven, or microwave and reheat to an internal temperature of 155 to 165°.
Tips
Cook low & slow: This recipe really works best on the low heat setting. It really needs to slow cook all day to get tender. It usually takes at least 8 hours and quite possibly up to 10 depending on your slow cooker. If the corned beef is tough, it needed more cook time.
Veggie cook time: The potatoes and carrots will get softer much quicker than the beef. If you want your veggies really soft you can add them at the beginning. I suggest adding a couple of hours into the cook if times allows. If it doesn't no worries, it is delicious either way!
Rest your meat: Don't skip the 10 to 15 minute resting time. It allows the juice to distribute into the meat and makes for a juicier and tastier corned beef.
Slice against the grain: Brisket has long fibrous strands so it's important to cut across the grain. This is one of the most important steps for a tender corned beef!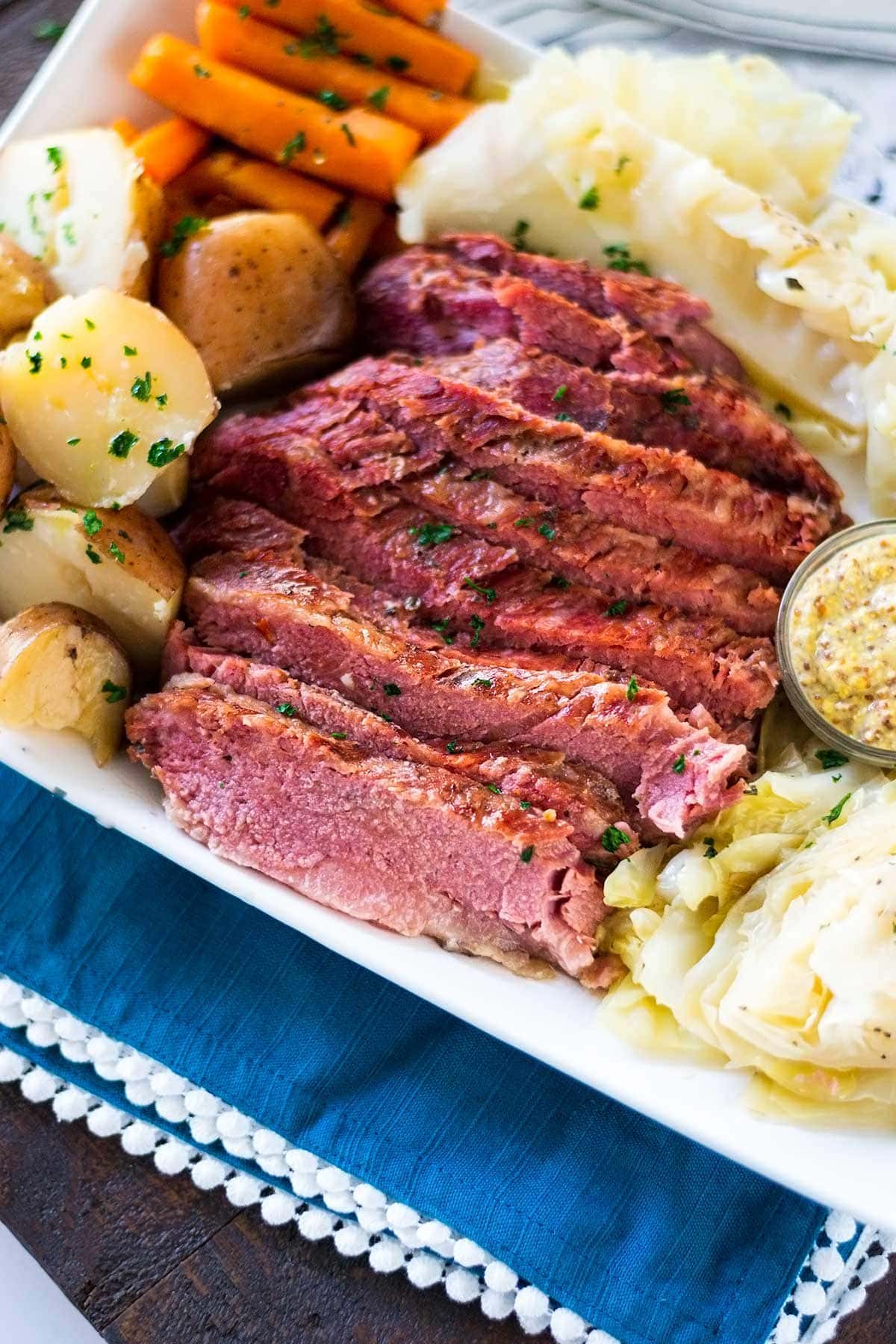 More delicious St. Patrick's Day Recipes