Lucky Charms Treats - Just like a Rice Krispie Treat, but made with Lucky Charms cereal. Bright colorful marshmallows combined with the buttery crunch of the toasted oats cereal make for a perfect sweet treat!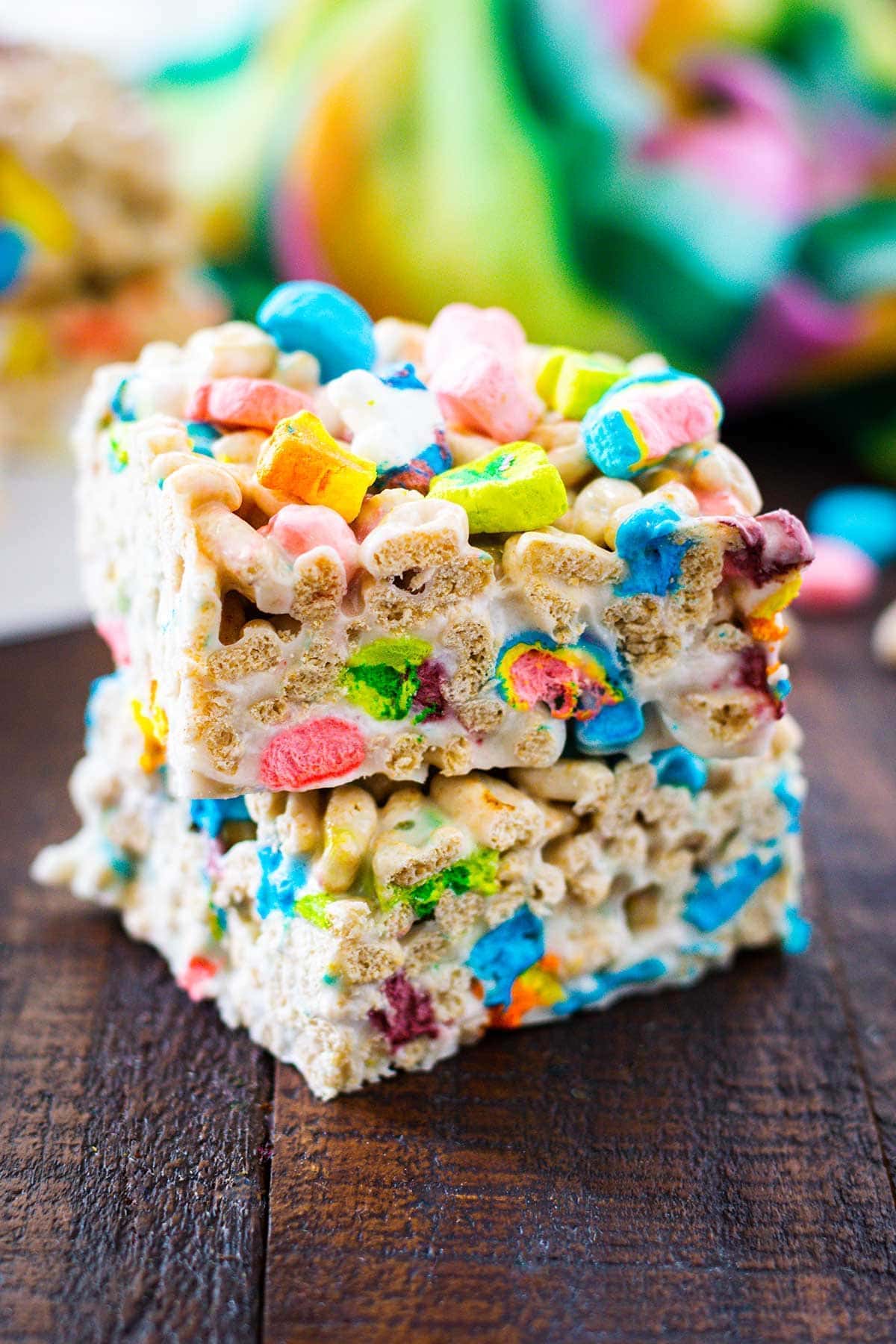 Who doesn't love an ooey gooey treat? These treats are a lucky twist on Rice Krispie Treats!
Instead of using puffed rice you can use just about any type of cereal to create these magically delicious bites of yum!
Lucky Charms Treats are made with toasted oat cereal and fun marshmallow bits combined to make a fun and festive treat for any occasion. They are so vibrant they're a party just waiting to happen!
Why you'll love this Lucky Charm Treats Recipe:
Only 4 Ingredients: This tasty treat is super easy to put together with only four simple ingredients.
No Bake Treat: These are perfect because you don't have to heat up the oven to have a delicious sweet treat.
Festive and Fun: The bright colors make these a fun treat everyone will enjoy. They are a hit with kids and adults alike!
Just keep in mind these treats are a little more crunchy in texture than a Rice Krispie Treat, but just as ooey gooey good!
Ingredients: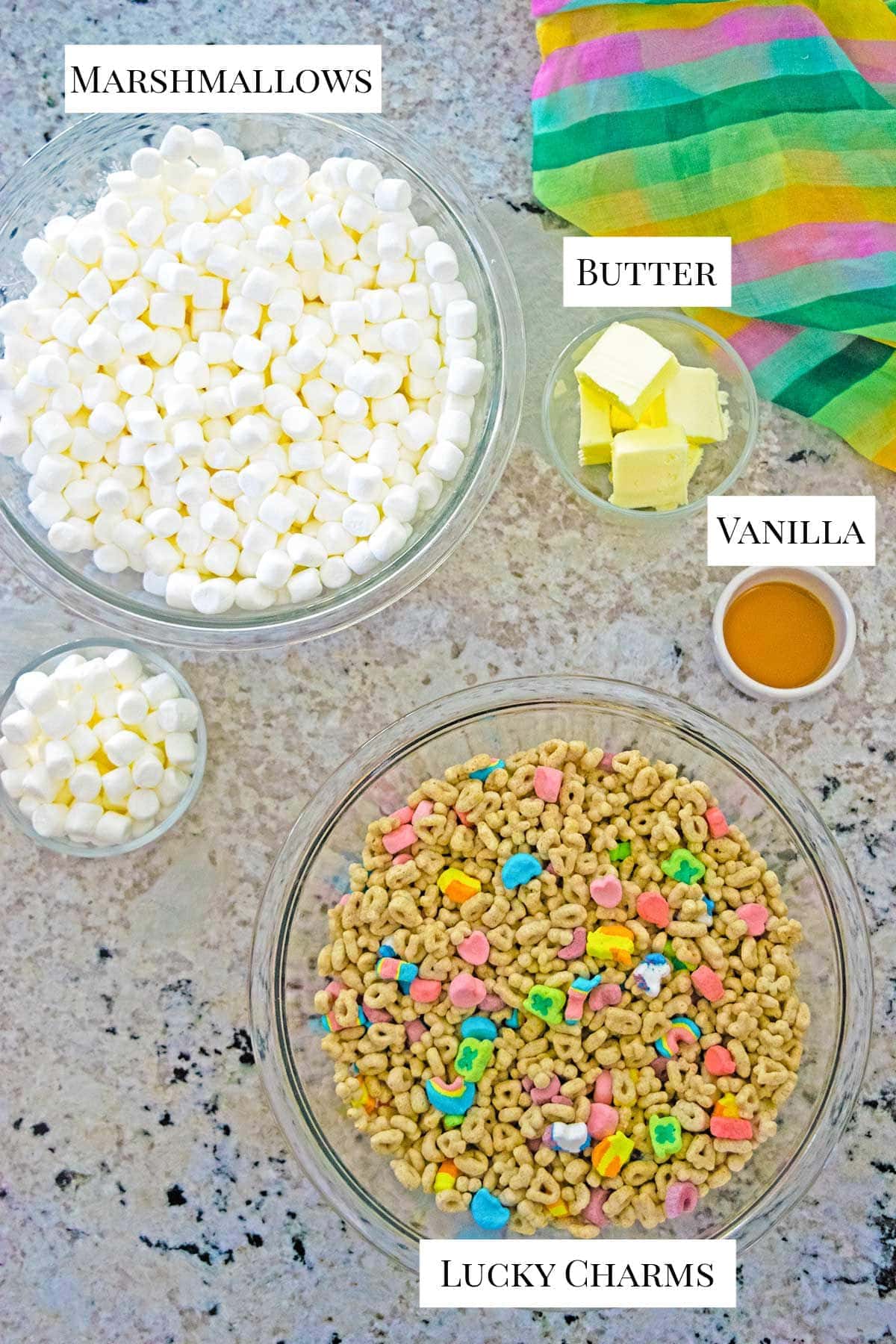 Lucky Charms Cereal - You can use the original lucky charms for bright colorful treat. For St. Patrick's Day use the St. Patrick's Day (All green and gold) Lucky Charms.
Marshmallows - I like to use the mini marshmallows. It's just what you need for this gooey recipe.
Butter - I use salted butter for mine. It gives a hint of saltiness that goes well with all the sweet. However, unsalted works too. You can always throw in a pinch of salt.
Vanilla extract - This adds another layer of delicious flavor.
How to make Lucky Charms Cereal Treats: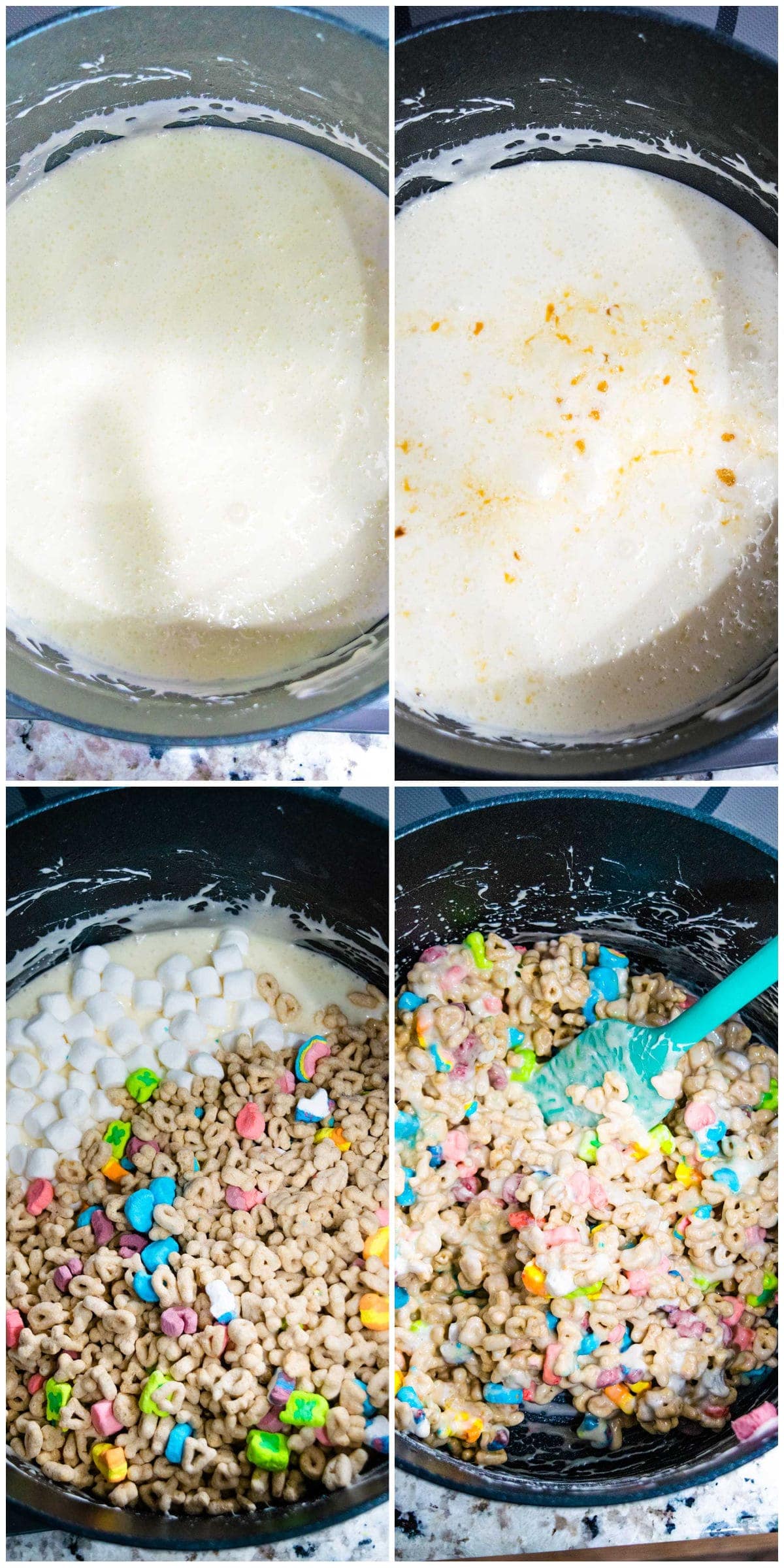 This is a super simple recipe to make! It is a little on the sticky side, but it is well worth it for the amazing treat you are going to get! It's a pretty straightforward recipe you will make again and again.
✱ Be sure to see the recipe card below for exact ingredients and instructions!
Melt butter in a saucepan and add in mini marshmallows.
When that all melts together you pour in the vanilla extract and give it a stir.
Next goes the good stuff - cereal and that cup of marshmallows you held out and combine it together.
Press the mixture into a parchment lined baking pan and let them cool and set (firm up).
Slice and enjoy all the yum!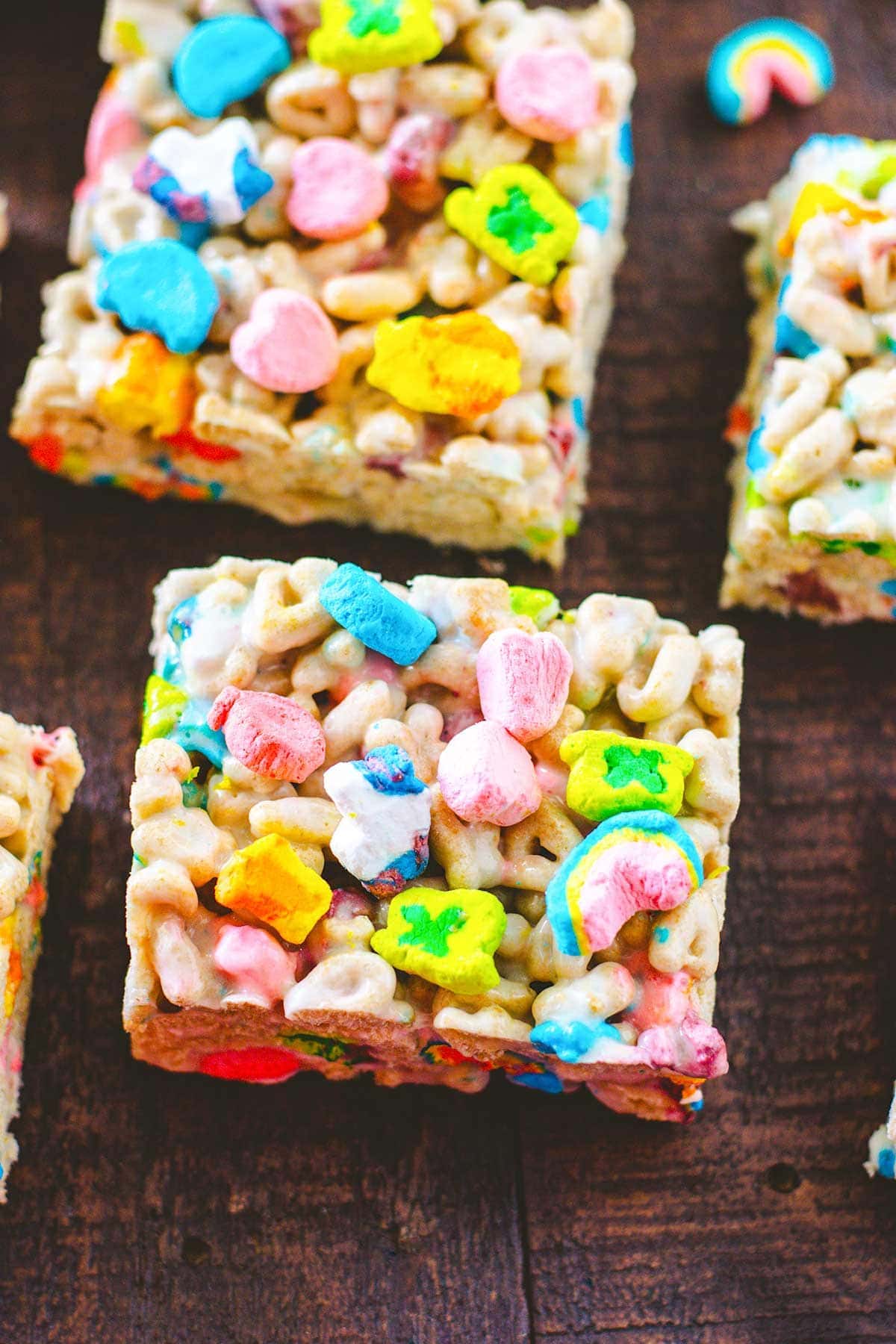 Frequently Asked Questions:
How many marshmallows do I need?
To make this recipe you will need a 16 ounce bag of mini marshmallows. This is about 9 cups.
Can I use large marshmallows?
Yes. However, I prefer the mini ones as they melt faster and seem a little easier to manage. Just keep in mind that you either need to replace one cup with mini marshmallow for the inside of the treat (if desired). Or just melt all 16 ounces of the large ones, if you don't have mini ones.
How do you store Lucky Charms Treats?
Store the treats in an airtight container at room temperature. I like to line my container with parchment or wax paper as these treat are quite sticky on the bottom. They do no need to be chilled. In fact they can get too hard and sometimes a little dry in the refrigerator.
Can I make Lucky Charms Marshmallow Treats ahead of time?
Yes! Make sure you keep them in an airtight container. I would suggest you wait to cut them into bars before serving. They are are most delicious the 1st or 2nd day, and are freshest if eaten within 3 days. But will last up to 5 days at room temperature.
Are Lucky Charms Treats Gluten-Free?
Yes! Lucky Charms cereal are gluten free. You will just need to check the marshmallow brand that you buy to be sure they are gluten-free as well.
Variations:
If you are looking for something for St. Patrick's Day, these are just the thing you need for your celebration! Grab a box of the green St. Paddy's Day themed Charms and you have St. Patrick's Day Lucky Charms Treats.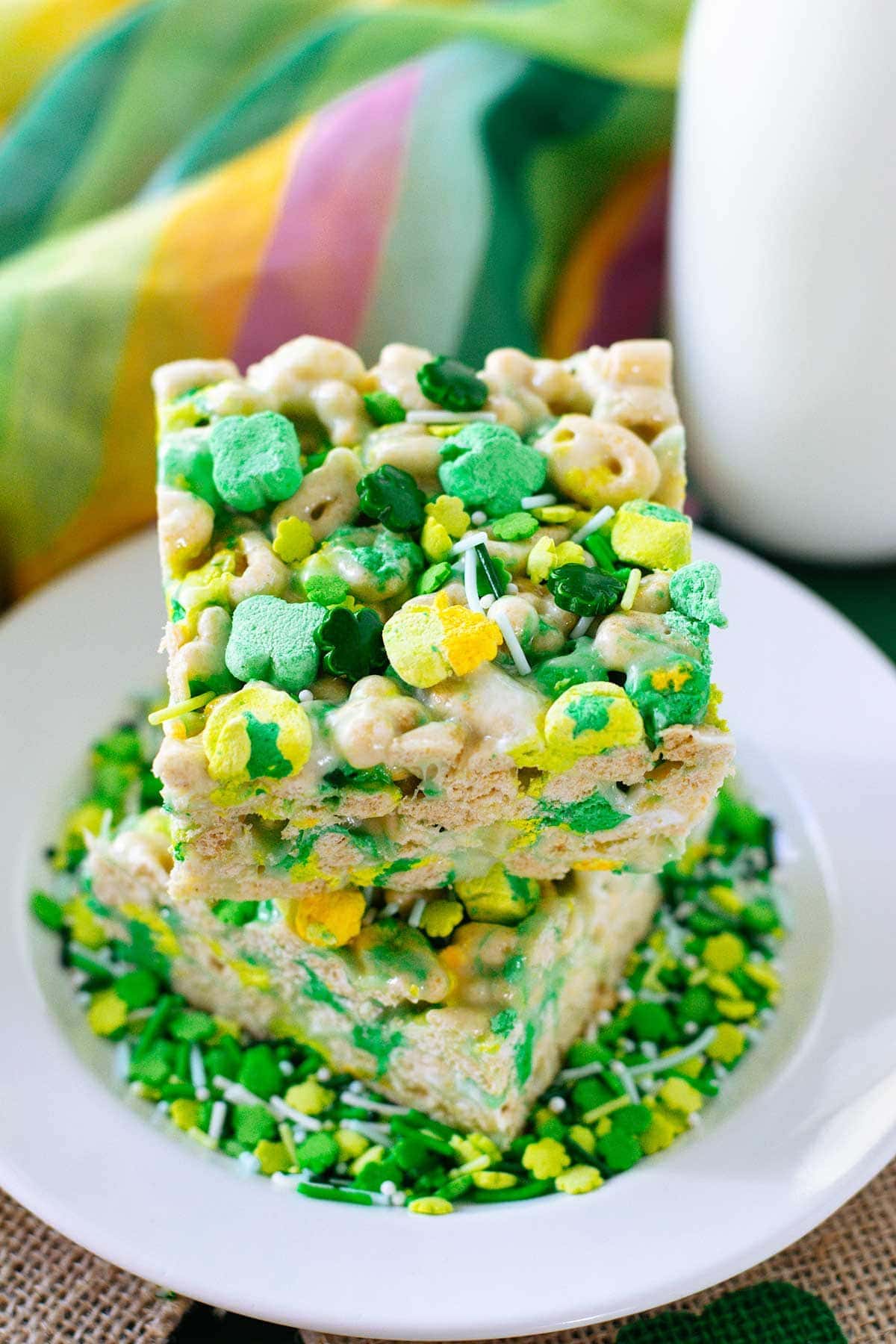 Lucky Charms also comes in chocolate variety and honey clover too. I have tried the chocolate and it is delicious. I bet the honey would be so good too (It's on my must make soon list)!
Honestly, this recipe will work with most any cereal. So try different ones and give them a try.
Use fresh ingredients. It is so important that your marshmallows are fresh. They will not melt properly if they are old. Also, if the cereal is stale the treats will definitely taste stale as well. So make sure you check the dates!
Hold out a cup of mini marshmallows: Adding the whole marshmallows give some extra fluff to the bars. Pillowy marshmallow bits just give it something extra!
This recipe makes a nice thick bar. If you want a thinner bar use a 9 X 13 dish.
Prevent Sticking: Make sure to use parchment paper or butter the dish well to prevent the gooey bars from sticking to the pan.
Slightly wet fingers before pressing bars into the prepared pan. This will make it easy to press down and will prevent it from sticking to your hands. You can also use cooking spray or butter. If you don't want to use your hands you can spray a spatula or use the stick butter wrapper to press gently press them down.
Clean edge: To have a nice clean edge cut the bars on all sides. The marshmallow settles around the outside a bit as it sets. If you are serving for a party, this makes for a pretty presentation.
To make then Extra Festive: Save a few marshmallows from the cereal for garnish. Gently press them onto the top for even more color. You can also put sprinkles on top as well.
Tips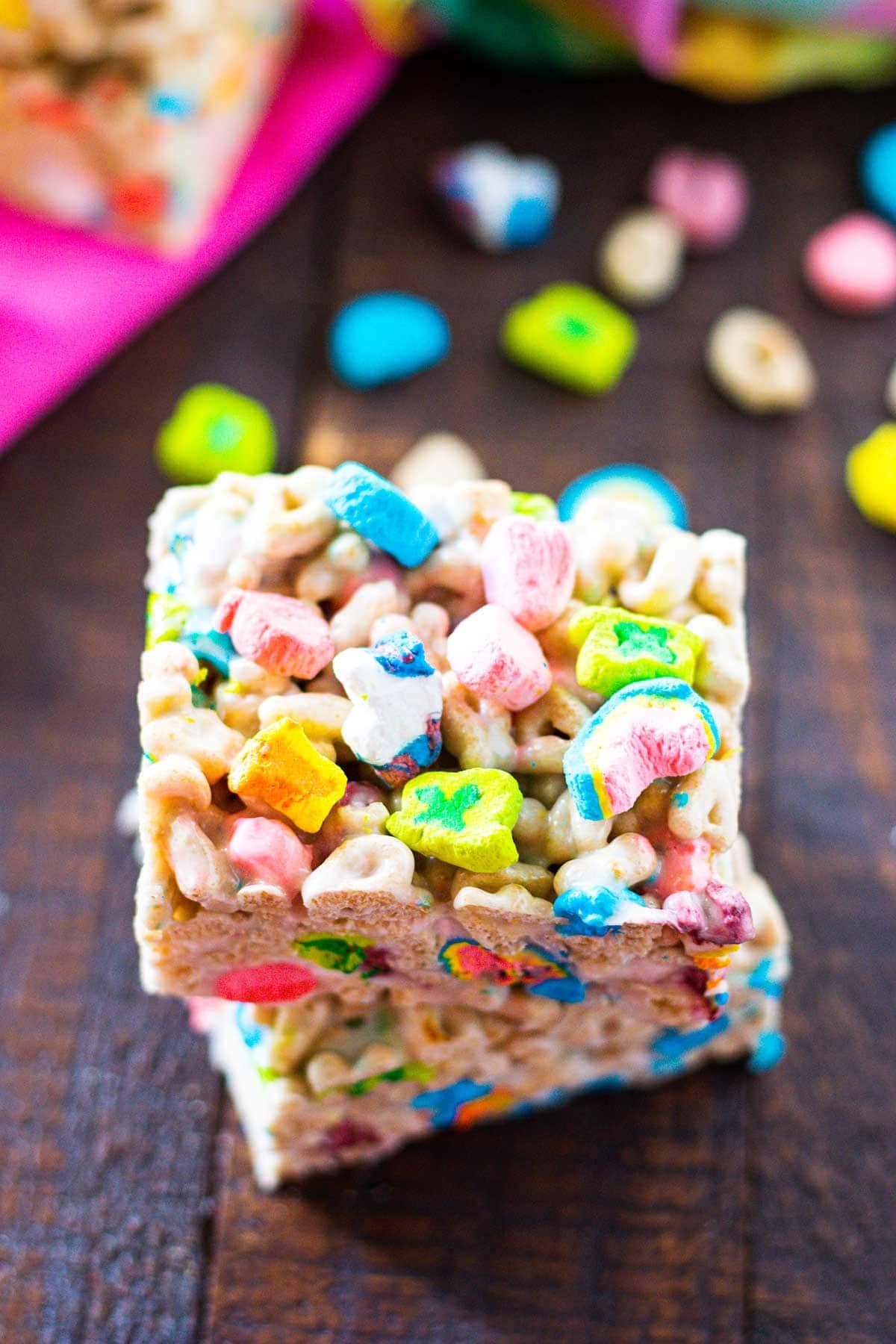 Looking for more St Patrick's Recipes? Try these:
St. Patrick's Day Lucky Chow is addictively scrumptious!
Buttery Beer Bread - A quick bread recipe! Even if you are not a bread baker I promise you can make this. So flavorful and by changing the beer you change the flavor profiles. You can even make with non-alcoholic beer.
Or try these Stout Fudge Brownies from The Fresh Cooky.
More sweet recipes you may love: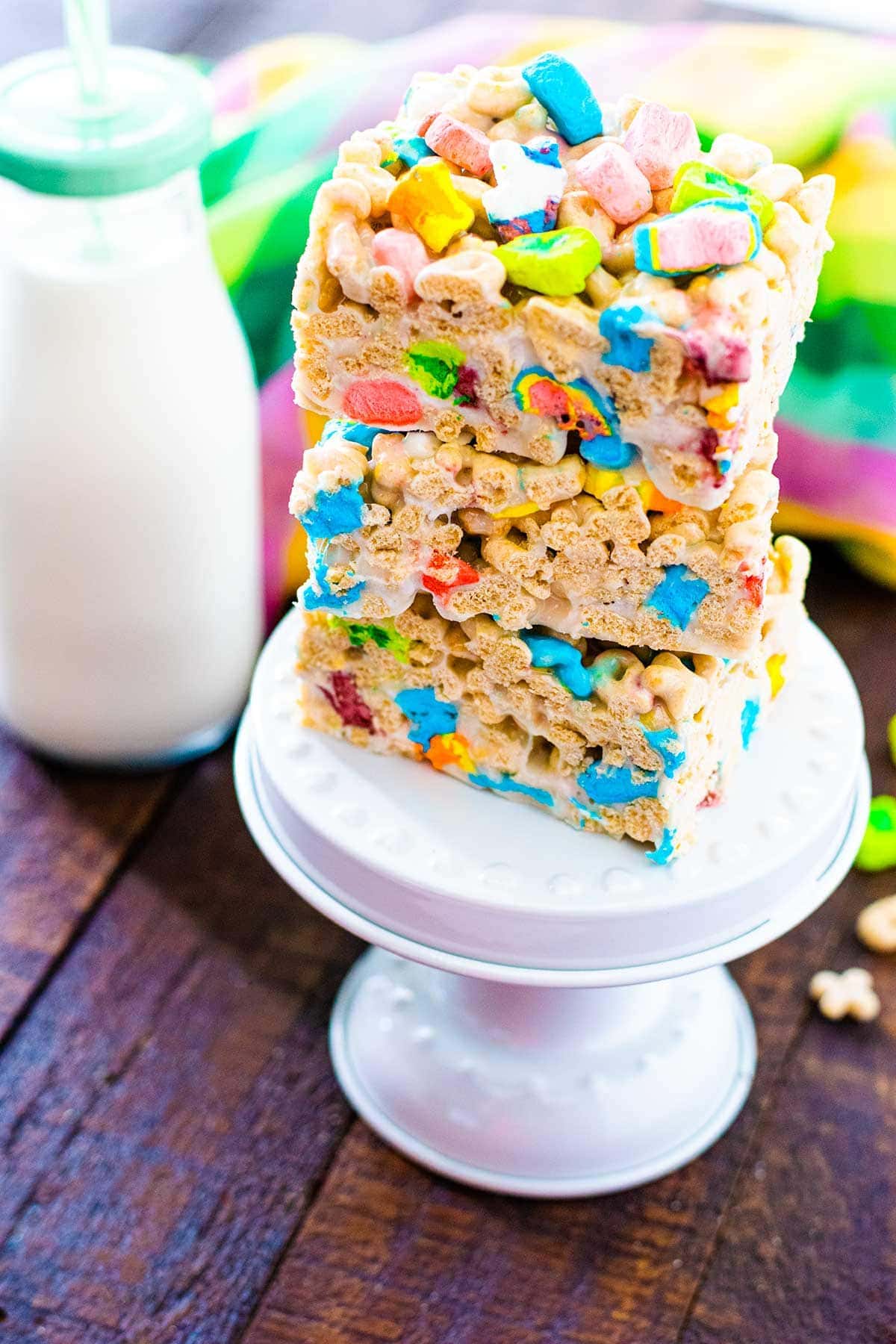 I hope you enjoy these magically delicious treats! They are sure to bring you lots of luck my friends!
Originally posted on March 16, 2018. Updated on March 11, 2021.