Baked Reuben Sandwich Sliders are the perfect weeknight dinner, party food or even St. Patrick's Day fare!
Dinner rolls piled high with sliced corned beef, swiss cheese, sauerkraut and thousand island dressing. All the fixings of a reuben sandwich topped with a seasoned buttery mustard topping and baked until warm, melted, and delicious.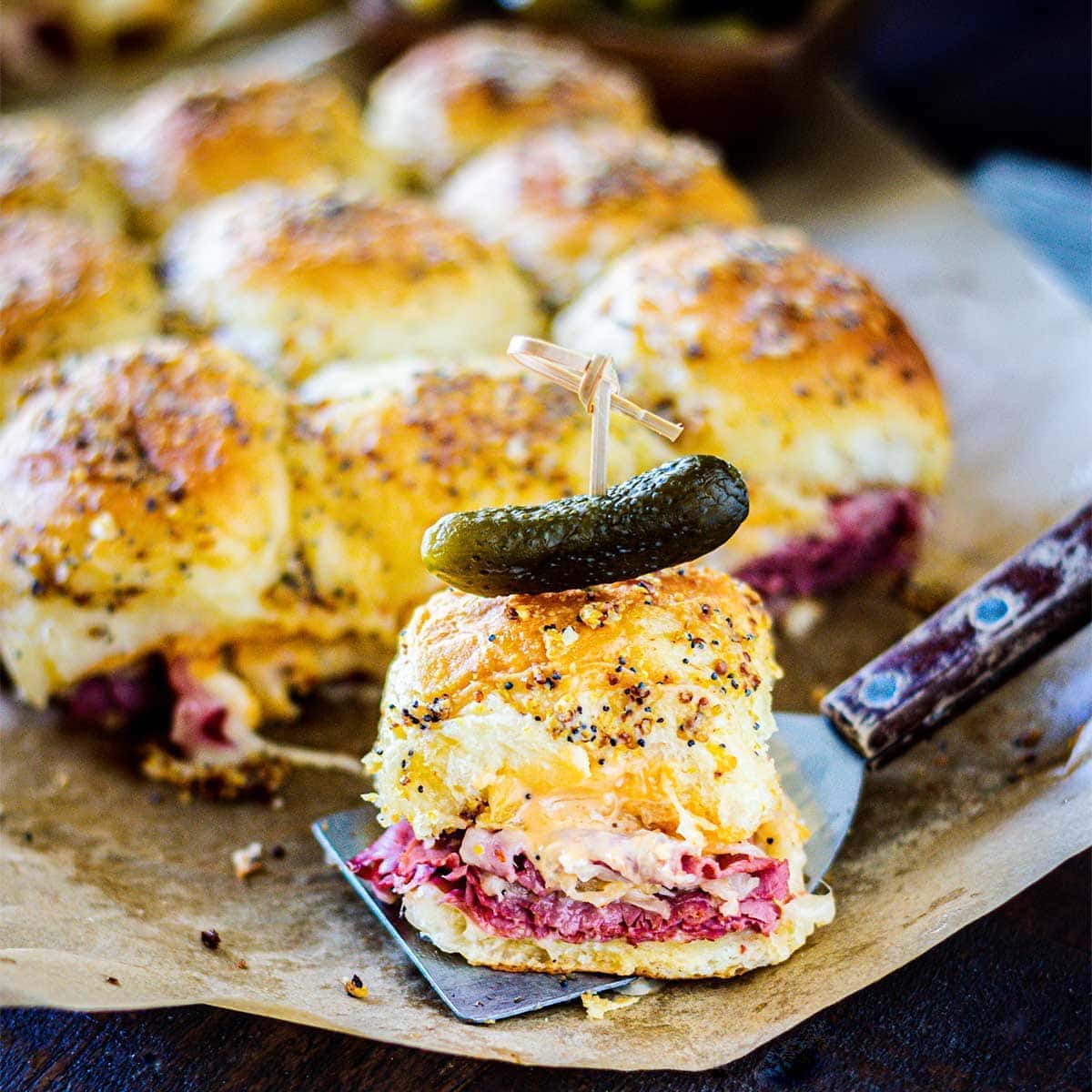 Who doesn't love a good reuben sandwich?? This party favorite has all the makings of one, but made easy as corned beef sliders!
Making reubens for a crowd can be a challenge, thus reuben sliders to the rescue! I have to say I think I love these even more if that is possible!
Why you'll love this recipe
Easy recipe: Honestly these are so easy to whip up.
Easy weeknight dinner: If you are looking to put lots of flavor into a weeknight meal and making it fun for the family, this is your recipe! Who doesn't love their own mini sammy topped with butter goodness and baked until gooey and warm!
Perfect party food! This bite sized sliders are perfect for a small or large crowd alike. Make one batch or double it with those delicious double pack of slider Hawaiian Rolls for a big crowd.
All the amazing reuben flavors, layered on slider buns, dinner rolls, or hawaiian rolls (butter or sweet variety) and bake until that cheese is all melty and scrumptious!
Topped with a seasoned buttery mixture gives them that final touch of yum. I like to call this the people pleasing slider recipe!
My family loves them for dinner and company loves them for a party!
Ingredients for Reuben Sliders
A classic reuben sandwich is served on grilled rye bread. Transforming the reuben into a hawaiian roll slider recipe makes for an amazing twist on the traditional sandwich.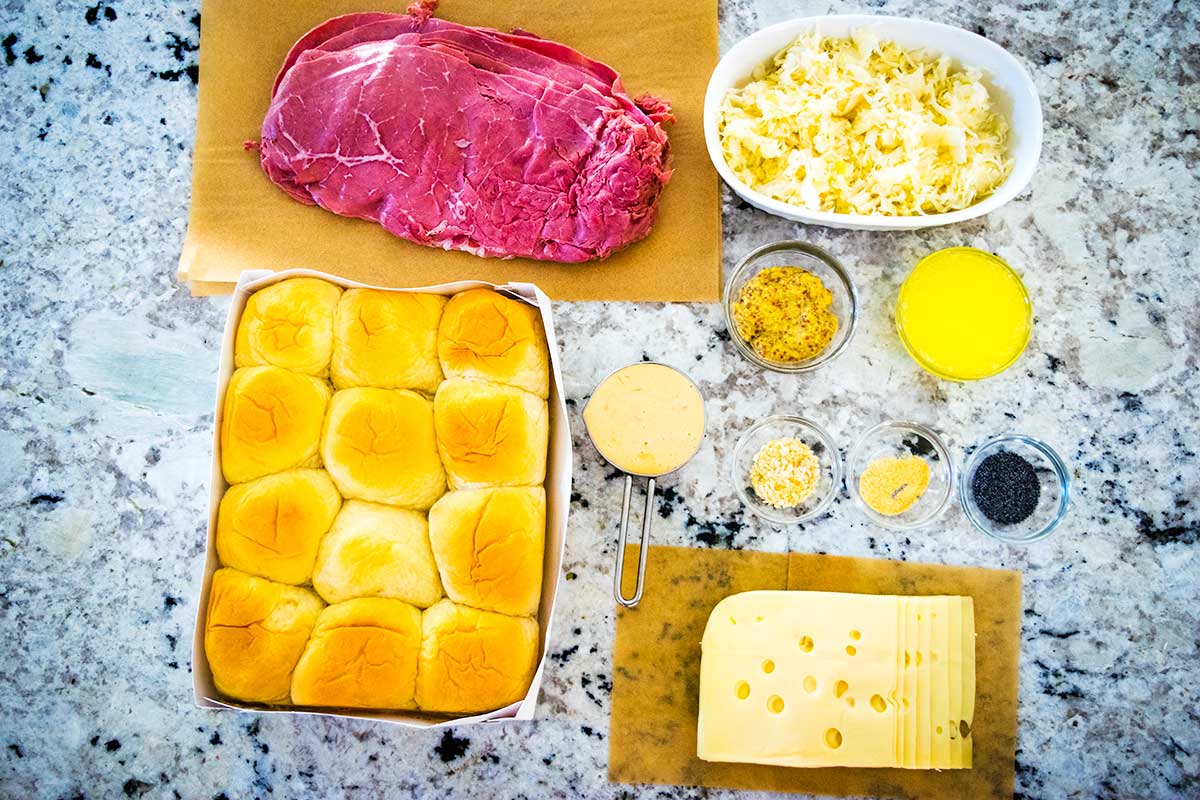 Sliced corned beef
Swiss cheese
Thousand Island or Russian dressing
Sauerkraut
Butter
Minced onion
Grainy dijon mustard
garlic powder
poppy seeds
How to make reuben sliders in the oven.
✱ Be sure to see the recipe card below for exact ingredients and instructions!

Prepare pan and oven: Line a 9 x 13 baking dish or sheet pan with parchment paper and preheat the oven.
The buns: Start with a tray of slider buns, hawaiian rolls, or even dinner buns and then slice in half horizontally. I like to leave the individual buns connected.
Layers: Pile the bottom of the bread with layers. First a layer of swiss cheese, then on goes the sliced corn beef. Another layer of swiss cheese. Next the drained sauerkraut, and finally the thousand island dressing.
Seasoned butter topping: Place the top of the slider buns back on top. Mix the melted butter, grainy mustard and seasonings together and brush on the top.
Bake: Cover baking dish with foil and bake for 20 minutes. Remove foil and finish baking until golden brown and cheese is melted.
Slice and serve: Slice baked reuben sandwich sliders into individual sandwiches and serve.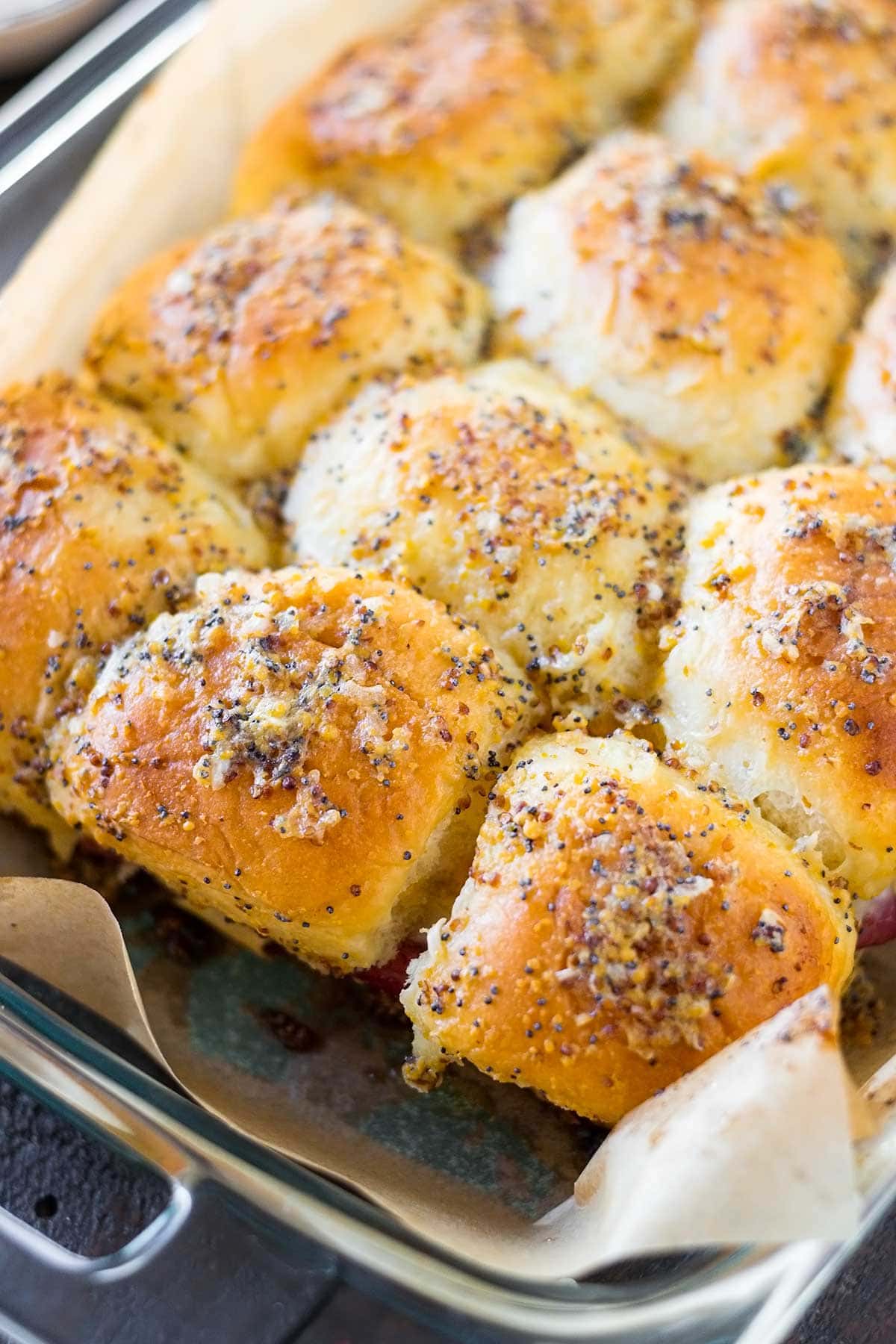 Frequently Asked Questions
What rolls do you use for sliders?
I like to use the savory butter hawaiian roll sliders, but they also have sweet, jalapeno, and honey wheat too! You can also pick up any slider rolls and dinner roll work too!
Should I use Thousand Island or Russian dressing for reuben sandwich sliders?
Either! There is a difference though in the dressing. Thousand Island is a little sweeter and Russian dressing usually is spicier and has a little more kick to it. The choice is yours, so pick to your taste.
How do you store sliders?
Cover with foil or place in an airtight container and refrigerate for 3 to 5 days.
How do you reheat corned beef sliders?
To reheat reuben sliders after they are cold, preheat oven to 350°. Place the sandwiches in a baking dish or pan and brush with a little melted butter. Cover with foil and bake until heated through.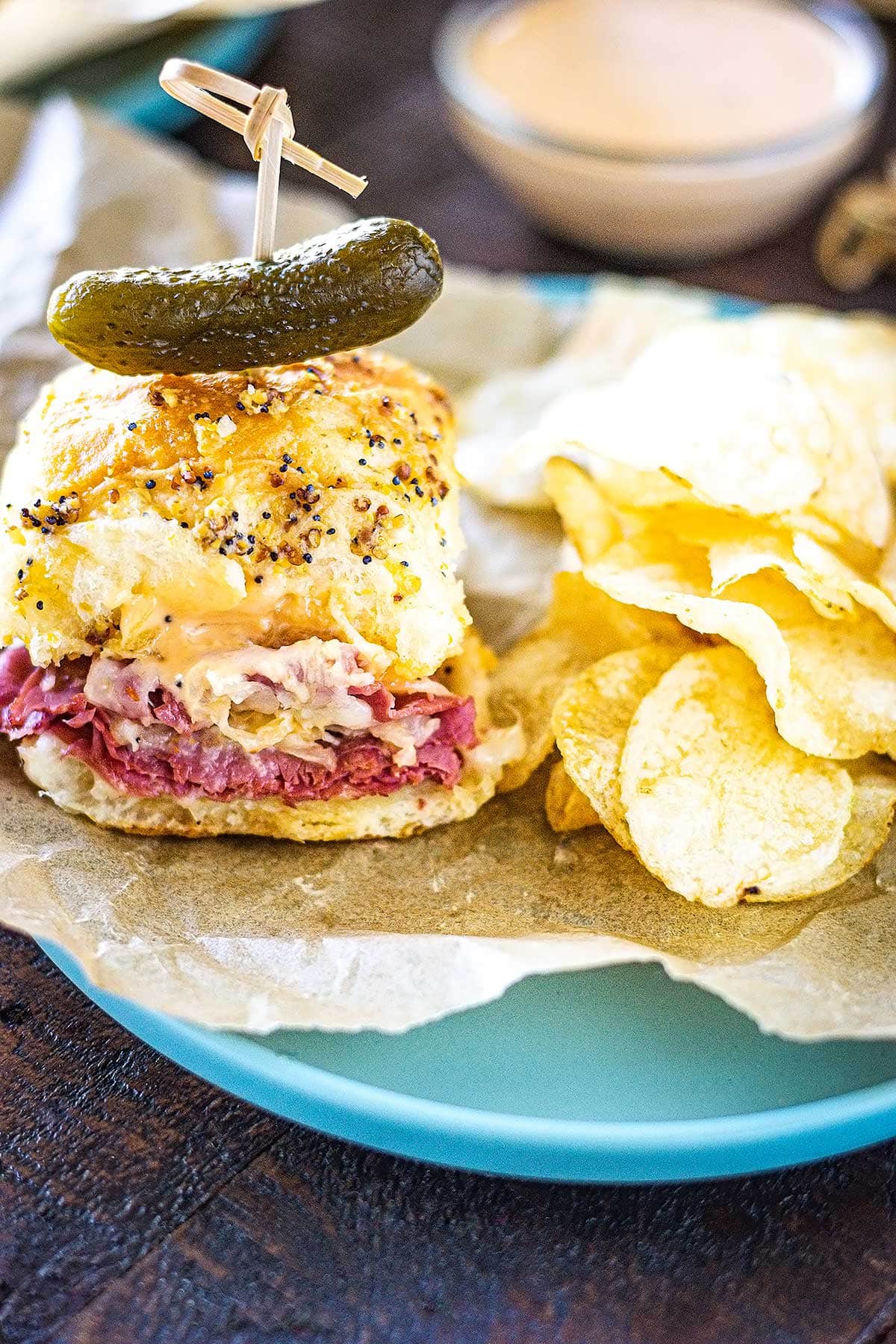 Tips
Be sure to drain sauerkraut in a mesh strainer and then squeeze dry really well with a paper towel or cheese cloth. This will keep the sandwiches from getting soggy.
Use a sharp serrated bread knife to cut the rolls in half. This will help to cut them more evenly and keep the bread from crumbling.
Use up leftover corned beef or have your deli slice it for you for convenience.
Using sliced cheese works well for covering and melting. Don't get the slices overly thick or they take longer to melt. You want the cheese to melt before the top is overly brown. Covering for partial bake time also helps with this.
Cut using the rolls as a guideline. A cut and serve turner works nicely or a sharp knife.
Keep sliders together until ready to serve and then cut. This helps retain the heat longer so they will be warm when serving.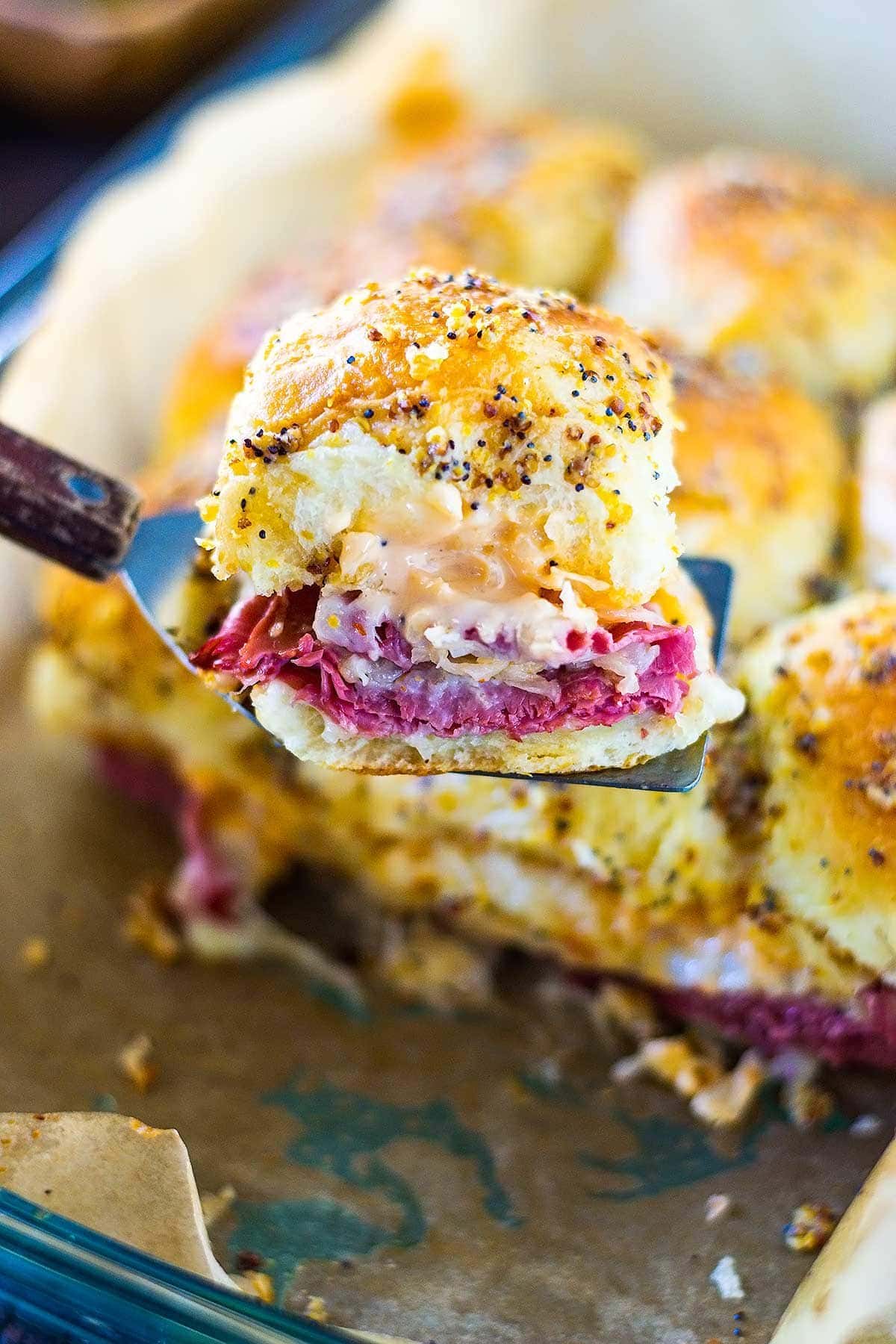 Helpful Kitchen Items for this recipe:
DISCLOSURE ~ If a purchase is made using one of the affiliate links on this website, we may earn a small commission at no cost to you. Thank you! This allows us to keep making new free recipes for you!
Looking for more party food recipes?