This Oreo Easter Bark Recipe is a simple, fun, and festive spring treat! White Chocolate, Oreos, Easter M&M's, and festive sprinkles layered together to make this delicious homemade Easter candy!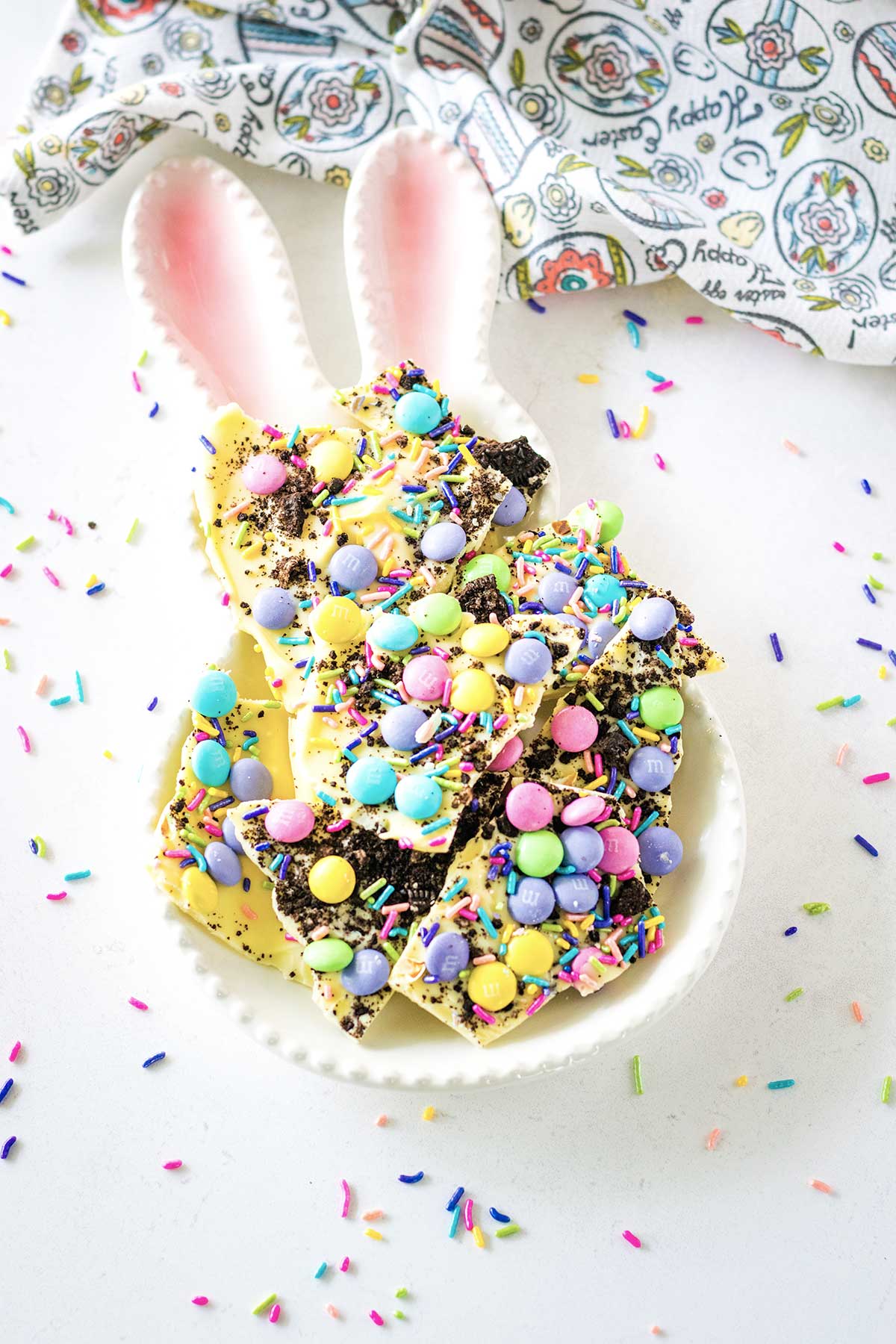 I just love when spring comes and the Easter spirit is in the air. You can just see and almost feel all things bright and pastel!
Easter is such a meaningful time of year for my family. My faith is based on this special time of year as we reflect on the sacrifice of our savior.
The season is full with gratitude, peace, and reflection. Spring just bursts with renewal and rebirth!
Sure we have fun celebrating the Easter bunny and creating delicious yummy treats too. Our family gatherings aren't complete without them!
This Easter bark (or sometimes referred to as bunny bark) is the epitome of all those beautiful and bright colors. That is, in the form of pastel candies and sprinkles, right along with a pop of chocolate oreos!
What more can you ask for right! Except maybe that this bunny bark is ridiculously easy to make!
Why you'll love this recipe
Easy 10 Minute Treat: This homemade Easter candy takes less than ten minutes to come together.
Easily customizable: Really you can use any candies, sprinkles, to change it up for the season or change out colors for another occasion or season.
Fun for kids to help: Let the kids help layer the toppings on. This is great way to bring kids into the kitchen with you.
Not to mention that I always have a stash of Ghirardelli white chocolate bars in my pantry. Shh don't tell my family 😉 ! They melt perfectly for this recipe too!
Honestly, I almost feel guilty calling this one recipe! It is that easy, but it's so yummy and so much fun I just couldn't not share it with you!
The kids definitely love this Easter Candy Recipe and the adults may be found snaking on it too. Just saying!
Key Ingredients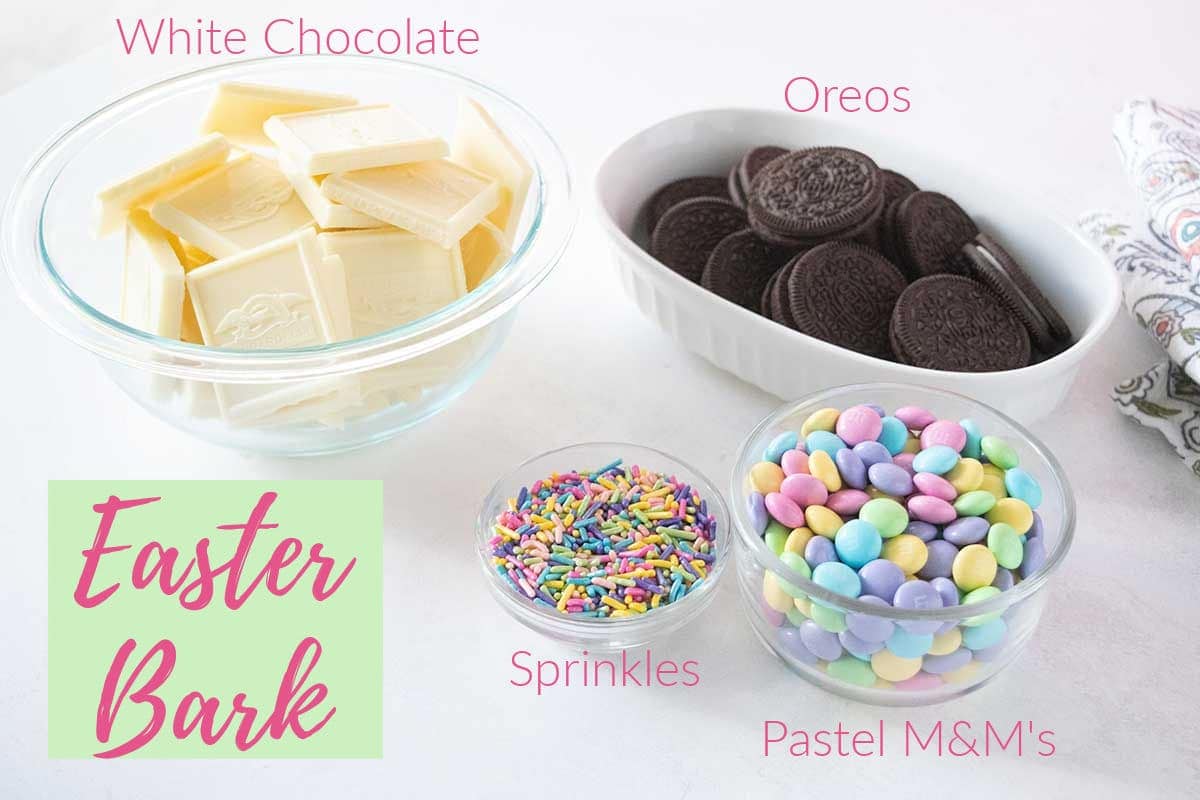 Oreos - regular or from time to time they have spring colored ones too.
White chocolate bar or melts or even white chocolate chips. Almond or White Bark will work as well.
Easter M&M's or favorite pastel candy: Mini Robins eggs or the M&M mystery eggs work well too. You can use whatever you or your kiddos like.
Color coordinated Sprinkles: The choice is abundant here. Jimmies, nonpareils, quins, sanding sugar, coarse sugar - or a combination of sprinkles. Pick something pastel for spring for this easy white chocolate Easter bark, because they all work nicely.
How to make this Oreo Easter Bark Recipe
For this homemade Easter candy - all you need is your 4 ingredients, a bowl, microwave, parchment paper, and a baking sheet! And of course your white chocolate, oreos, candies and sprinkles!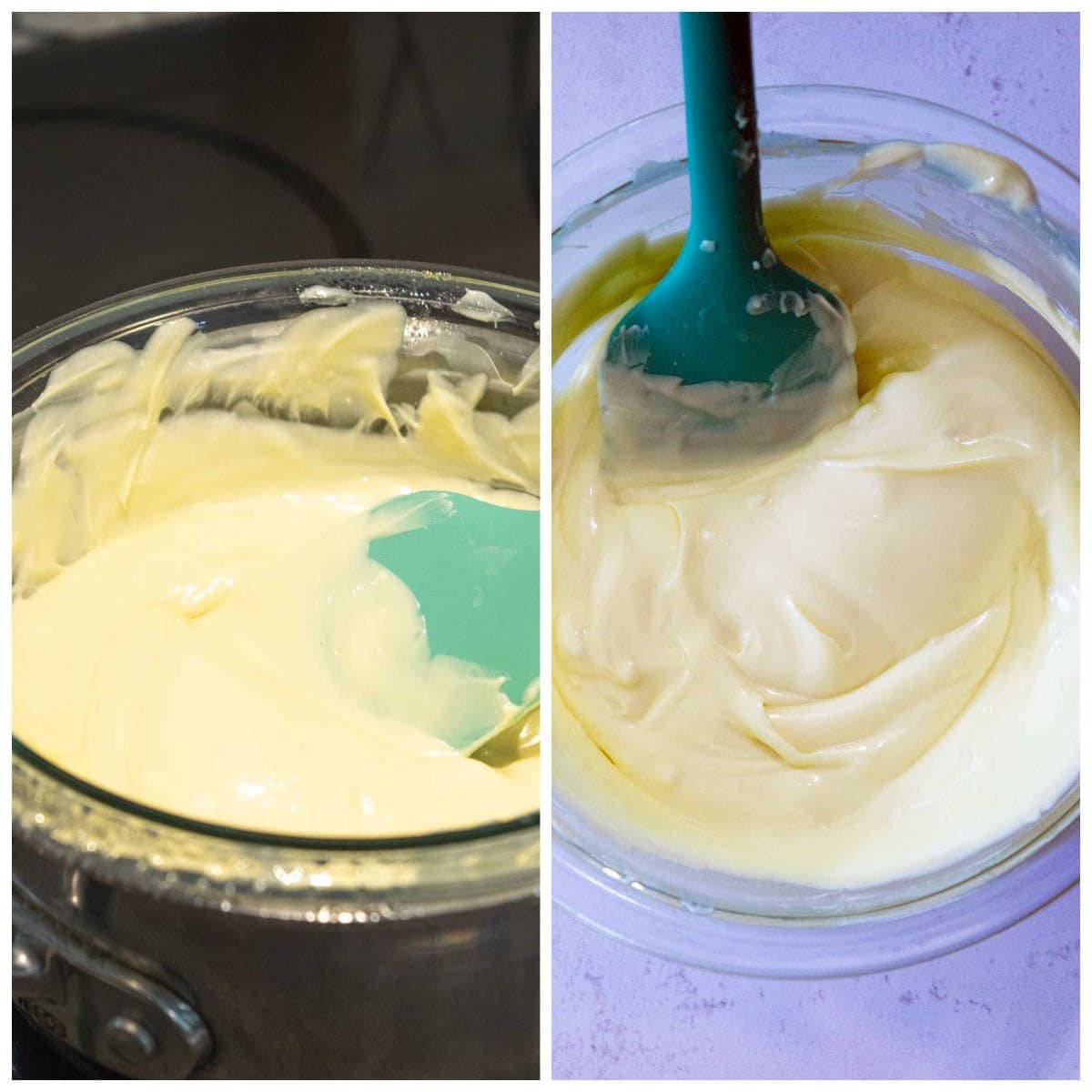 ✱ Be sure to see the recipe card below for exact ingredients and instructions!
Prepare your baking sheet with parchment or a silicone mat.
Melt white chocolate and spread on lined baking sheet.
Pour on crushed oreos and candies. Then lightly press them into the chocolate (gently).
Next top with sprinkles and let it set! (Oreo Easter Bark Recipe - How easy is that!)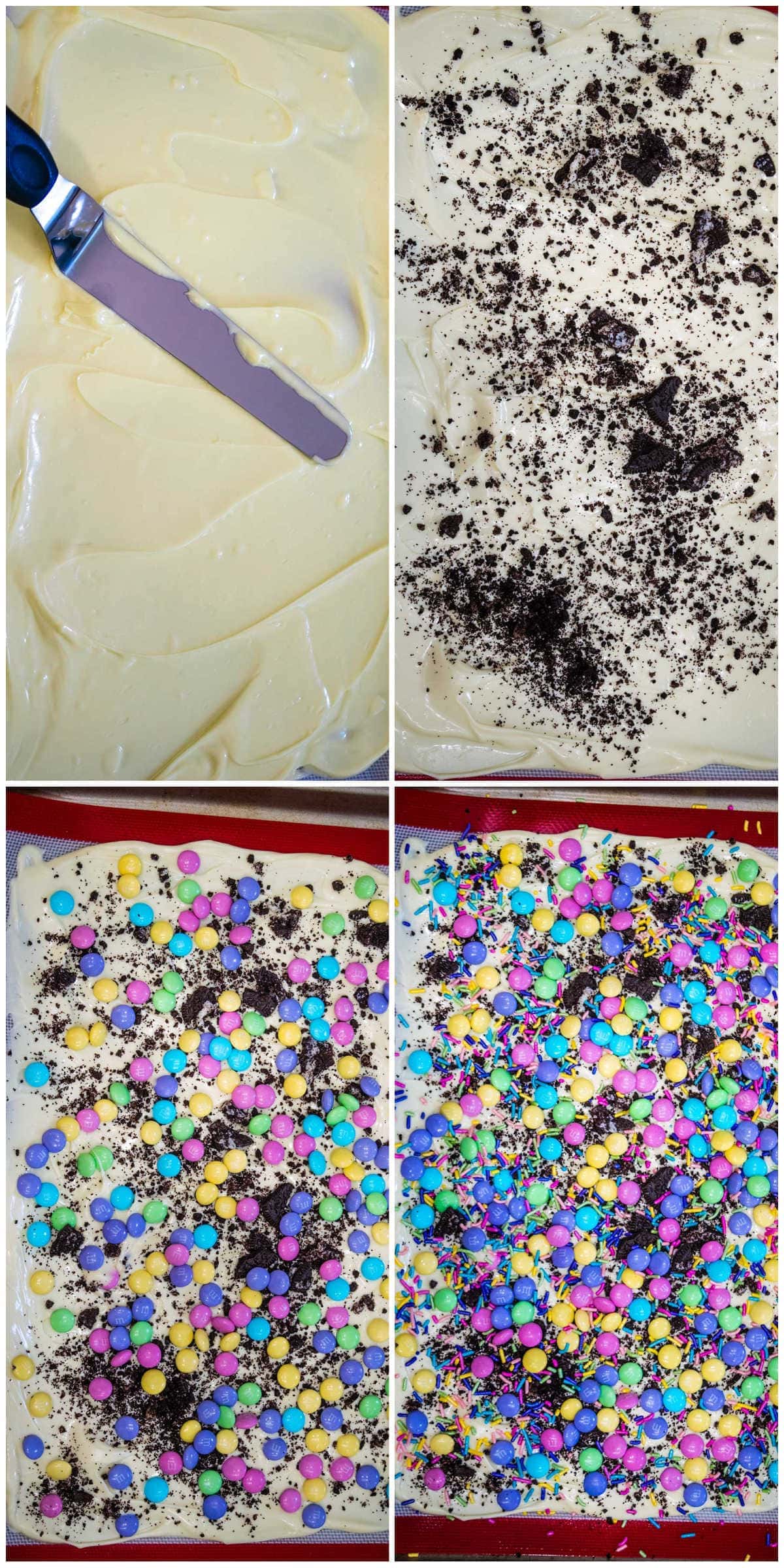 Frequently Asked Questions
What size is the bark when you spread on baking pan?
It makes a 8 X 14 size. You can also make the bark thicker and do 9 x 9 or size of your choosing.
Is almond bark the same as white chocolate?
No. Although you can substitute almond bark for white chocolate, they are different types of confections. Almond bark does not contain cocoa butter like white chocolate. In my opinion white chocolate has a better flavor, but the almond bard is still delicious and so easy it's foolproof.
How do you melt white chocolate or almond bark?
Using the microwave to melt chocolate is one way. In a heatproof bowl, microwave chopped chocolate bars, melts or chips in 15 to 30 second intervals, stopping to stir before restarting. When you have just a few bits of unmelted chocolate you can stop and let the heat finish melting.
Alternatively, you can place chocolate over a double boiler to melt. Simply add water to a saucepan with a heatproof bowl set on top, so that when water is gently boiling it does not touch the inset bowl.
Can I color white chocolate or almond bark?
You can, however you will need a powder, oil based food coloring, or one specifically for chocolate to color it. Water based food coloring will cause the chocolate to seize and it will become unusable.
Why isn't my chocolate setting?
There are a couple of reasons chocolate may not temper properly, but most likely your room isn't cool enough. Just stick it in the refrigerator for about 30 minutes and it should set up nicely.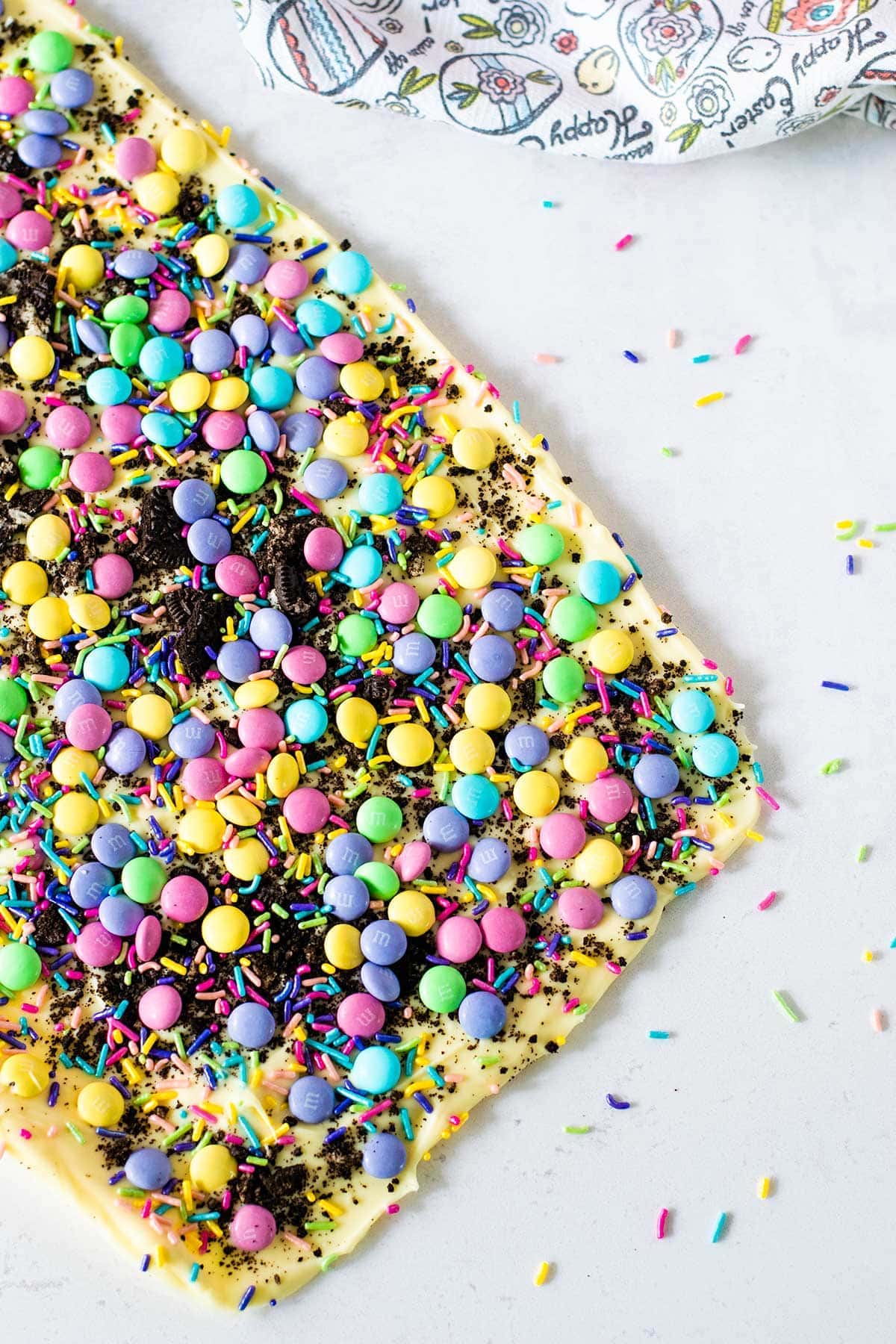 Variations for Oreo Easter Bark
You can use half chocolate and half white chocolate and swirl.
You can grab colored candy melts and swirl in or replace the white chocolate.
If you don't want the oreo flavor just leave it out. You could substitute other crushed cookies, graham crackers or just a little more of the candies.
Add in some crushed or whole pretzels, even the thin sticks work too for more crunch.
Nuts like chopped pecan, walnuts, or even pistachios are delicious.
You can even sprinkle your favorite cereal on top for cereal bark!
Change up colors for birthday or other holiday occasions.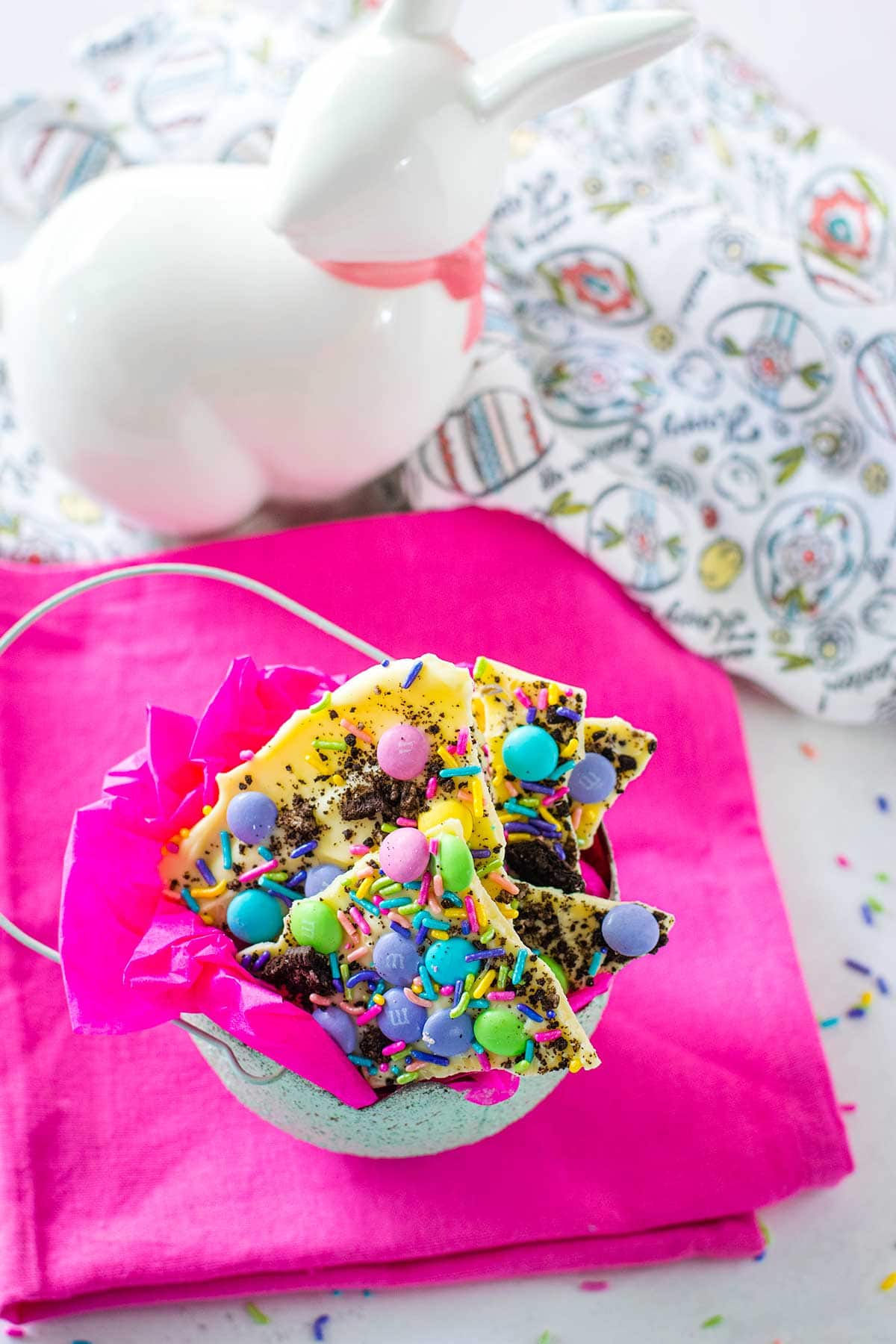 Tips
Good Quality Chocolate: Use good quality chocolate to improve the taste. A good quality bar will melt more easily than the white chocolate chips.
Simple Option: If you want an even simpler chocolate option, you can use white or vanilla bark or melts. While, the flavor is a little different it is still delicious. This will set at room temperature with no issues.
Easy Clean Up: Use parchment paper or a silicone mat and clean up is a cinch.
Use an offset spatula to spread out the melted chocolate onto the lined baking sheet. It helps spreads nice and evenly.
Make ahead and freezing instructions: Store bark in an airtight container at room temperature in a cool, dry place or in the refrigerator for up to 3 weeks. For longer storage, freeze for up to 2 months and thaw overnight in the refrigerator.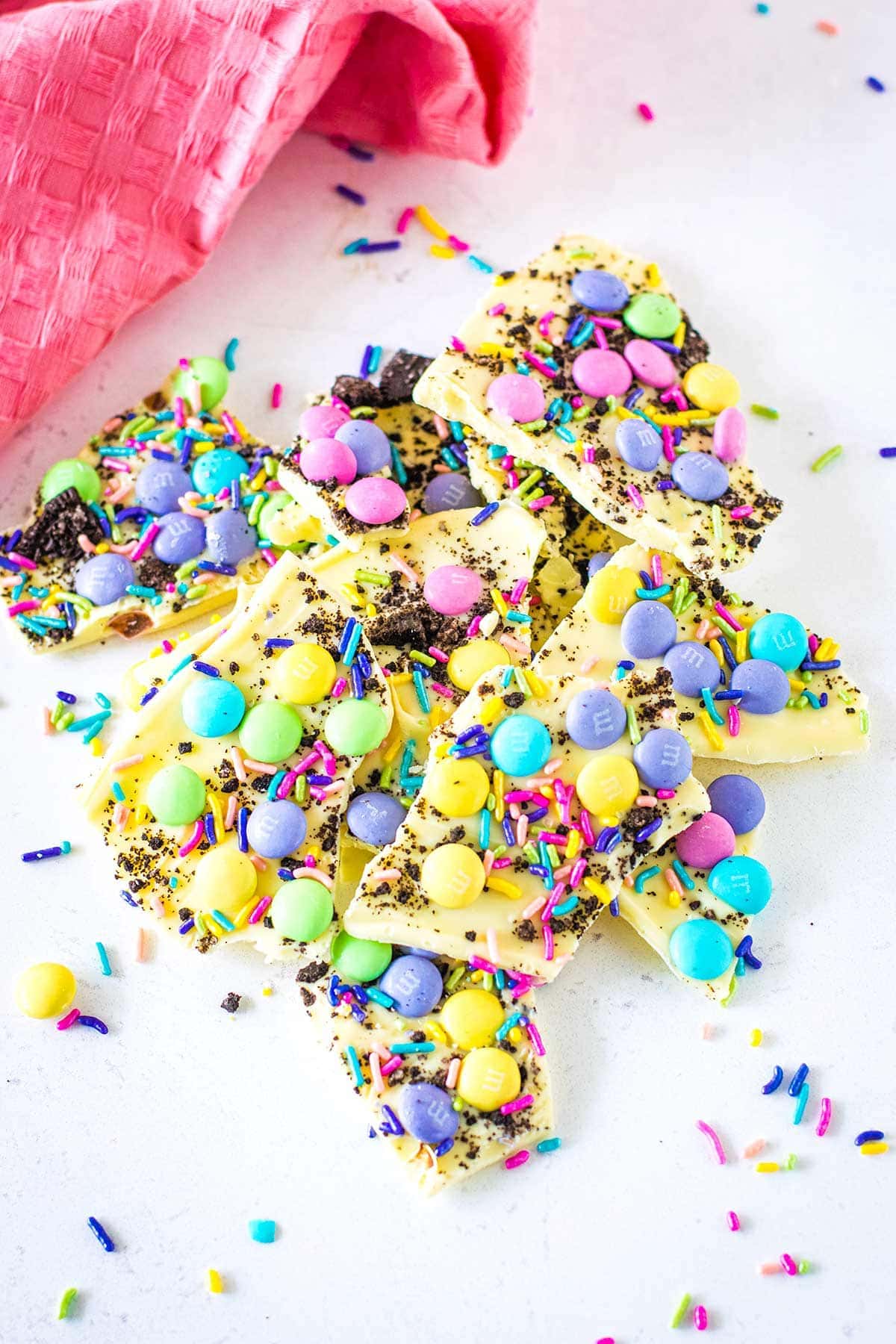 Helpful Kitchen Items
DISCLOSURE ~ If a purchase is made using one of the affiliate links on this website, we may earn a small commission at no cost to you. Thank you! This helping to keep making new free recipes for you!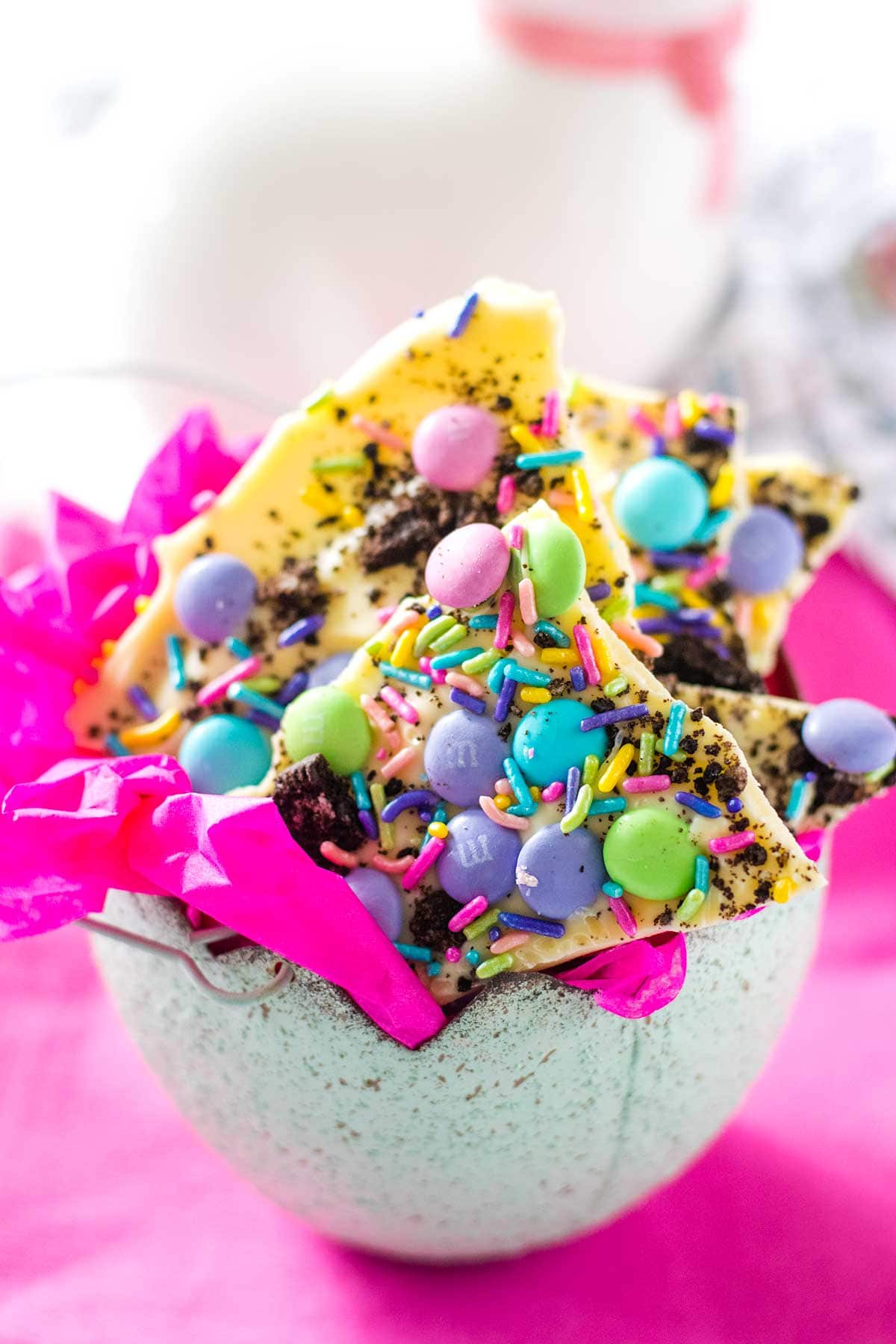 Other Easter Recipes