Rustic Ham and Potatoes is a pan cooked ham surrounded by roughly cut potatoes cooked in the ham drippings to create the most unique and delicious dish you have ever taken a bite of!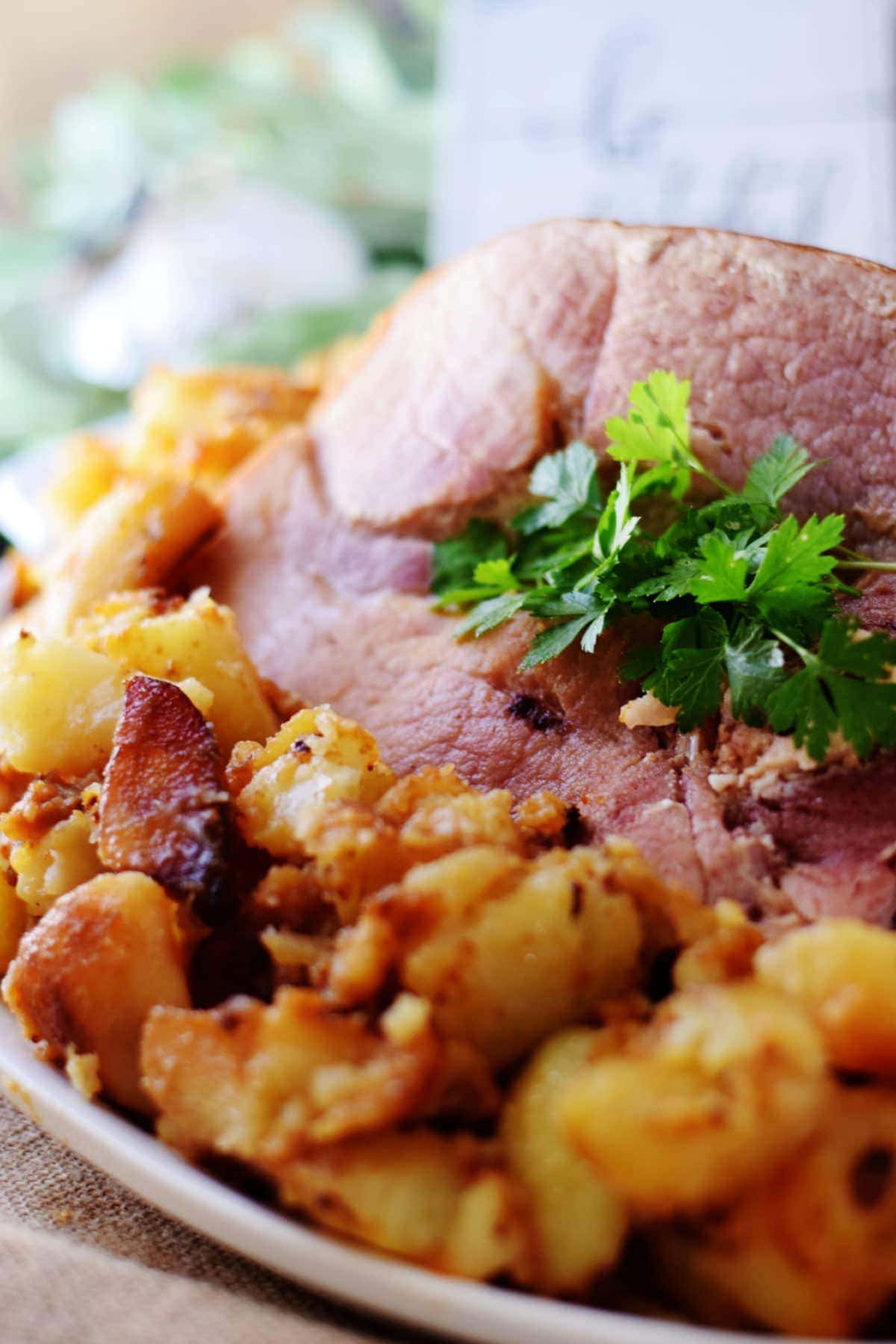 Okay friends I am dishing on this dish! It's a family secret that I am sharing – shhhh don't tell!! It's Mimi's signature dish! If you are a new Soul Foodie, Mimi is my mother in love. She is now in the sweet arms of Jesus. But let me tell you that precious lady could cook!
She also was a no frills kinda of cook! She cooked simple and affordable meals. And like the motto around here always full of love!! This one is super easy to make. Well sort of (wink wink). I had a few failed attempts before I found out she "forgot" to tell me her secret ingredient.
I promise you won't fail at this one because the secret it out ya'll and I have spilled the beans!
Wanna know what it is??? BUTTER and Mimi used a Picnic or Shoulder Ham, see no frilly spiral cut ham (I mostly use a half ham). Oh and an electric skillet!! This bad boy is always cooked in an electric skillet. But don't forget lots of love!! All these are a must!!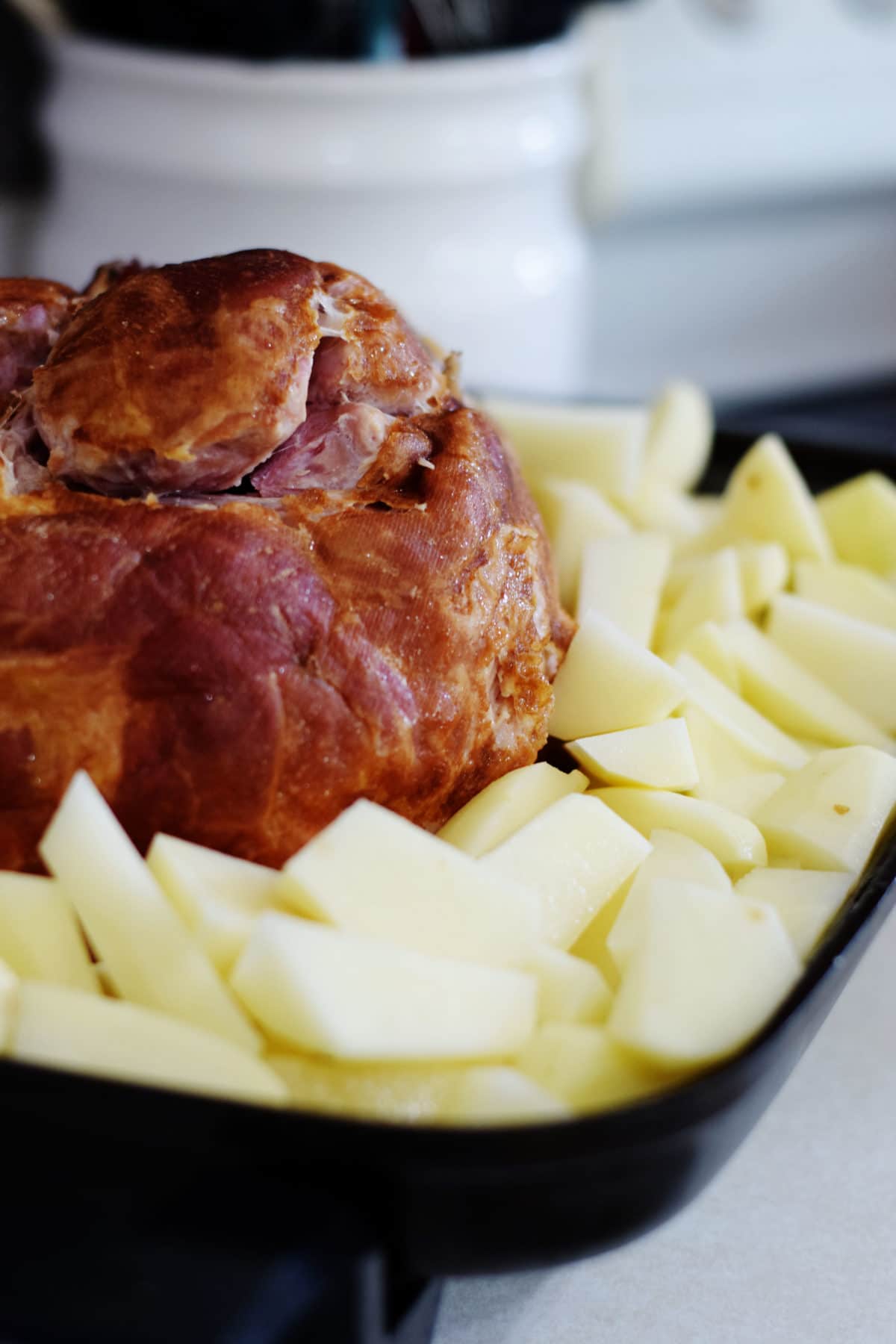 Now if you are going to ask me if you can make it in the oven. I would suggest giving it a whirl. I have not yet! Because my husband wants it the way Mimi makes it and she gave me her electric skillet. I am pretty sure that means it's a sin for me to do it any other way! 😉
I mustn't fail to mention this is was usually always on the table for Thanksgiving. Such a wonderful tradition. But really you can serve this one anytime.
Making this Rustic Ham and Potatoes is now a recipe I share with my family and extended family (like ya'll)! It's kinda of like Shelly's Pasta Salad (her requested specialty) and mom's potato salad – gotta get her to make that one for the blog! I get requests to make this one, especially from my Lil Sis, she looooves them! As a matter of fact, everyone I know that has put these potatoes in their mouth loves them. They soak up all that salty and scrumptious ham juice and create a masterpiece! I promise this is one you will want to make.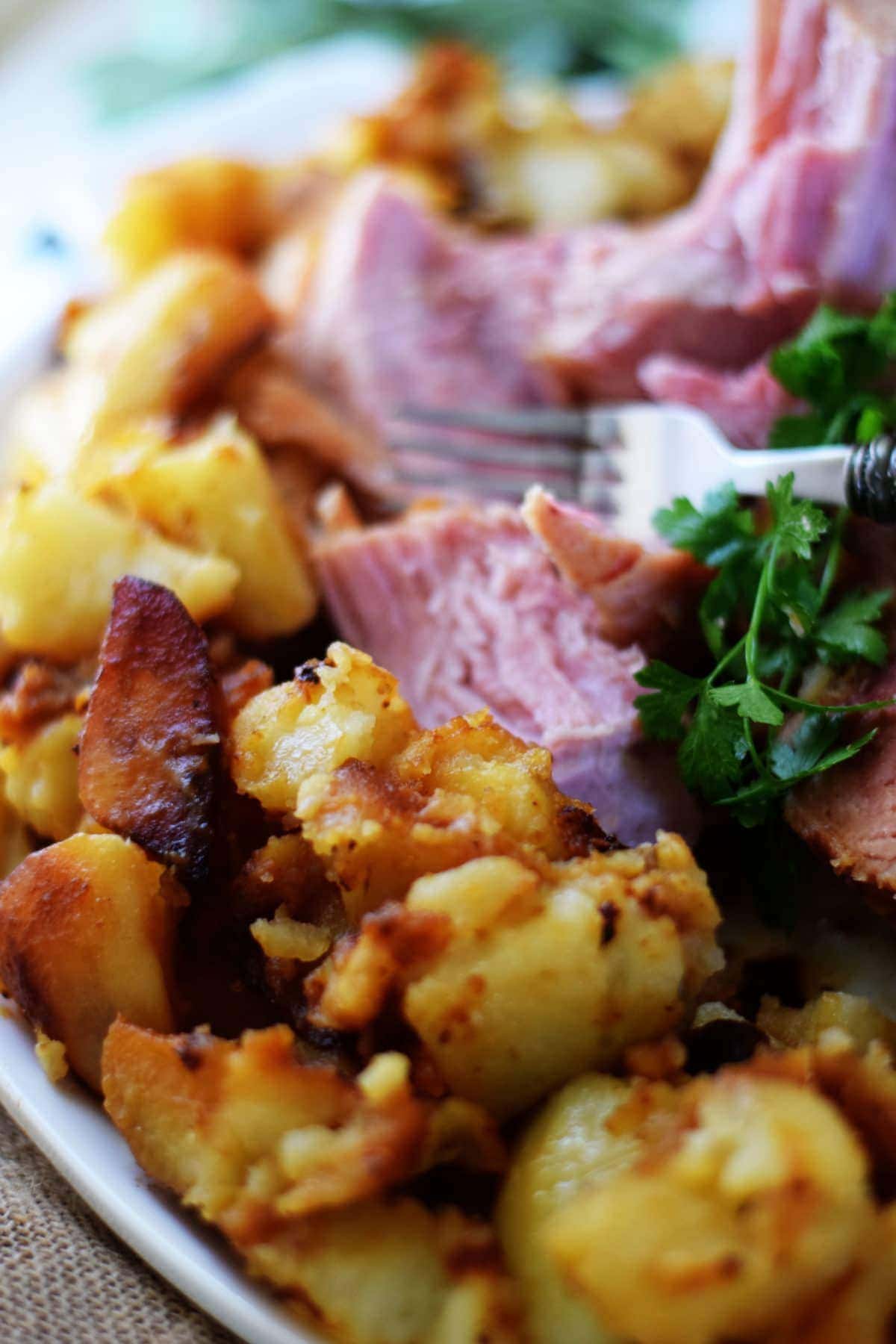 Ready to see how easy this one is!!!
1 Stick of Butter (or 2 if your ham doesn't have plenty of juice in the pack)
Picnic, Shoulder Ham or Half Ham (Not Spiral Cut)
5 pounds of potatoes peeled and roughly cut into wedges (I usually use Idaho Potatoes)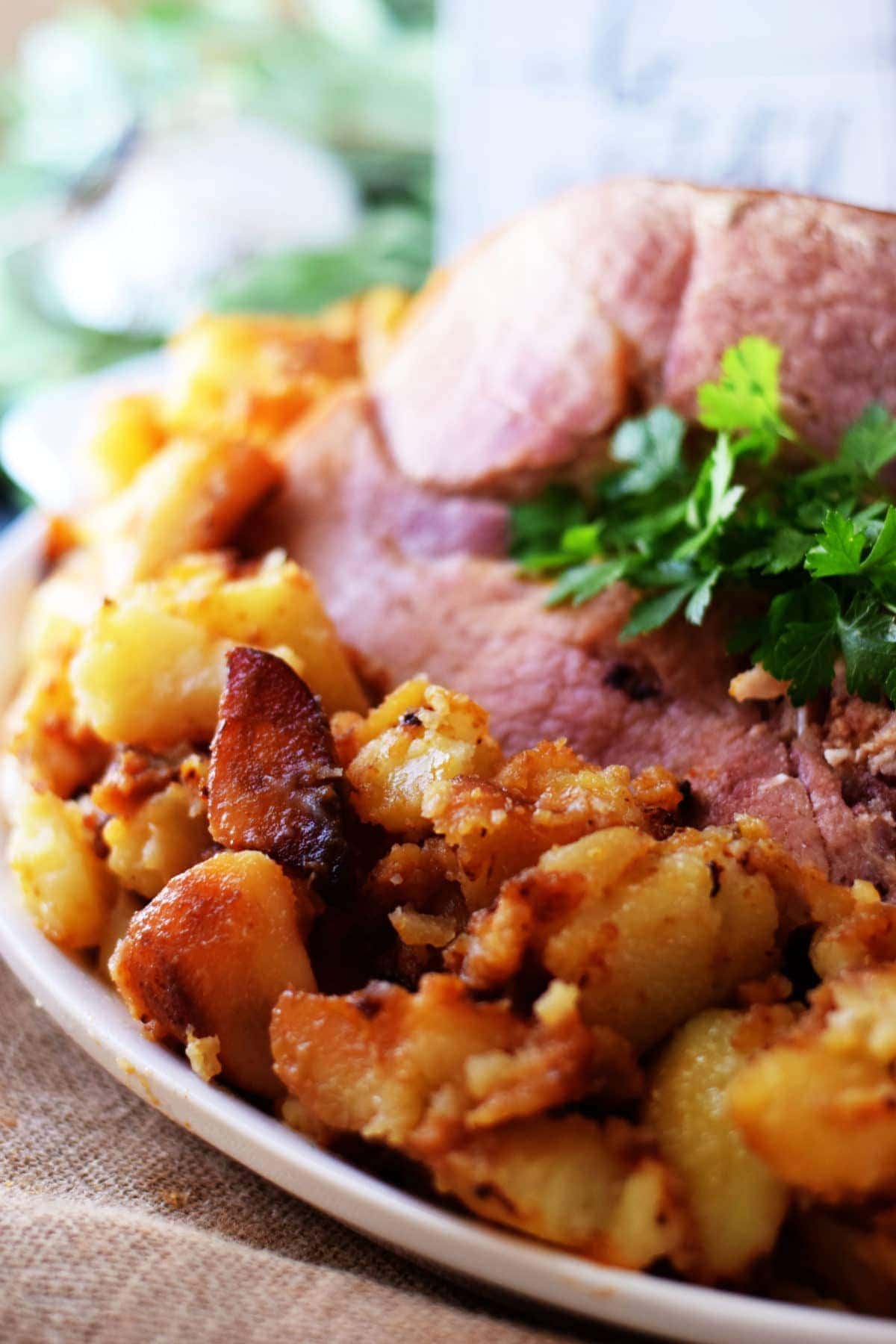 Other Home Cooked Recipes
---
Come on over and Join Us and Let's Be Social Ya'll!

Facebook | Instagram | Pinterest | Twitter | Google +
Get Free Recipes from Soulfully Made delivered right to your inbox!
Click Here to Subscribe
---
Holiday Favorites
Rustic Ham and Potatoes
Ingredients
Half or Picnic Ham

1

stick

butter

5

lbs

potatoes,peeled & cut into wedges
Instructions
Place butter in bottom of electric skillet and melt. Place ham in electric skillet, close lid and cook on 300 degrees for 15 minutes per pound.

About 2 hours before done place potatoes around ham and put on lid and cook remainder of time. Turn potatoes over once or twice while cooking with a spatula or large spoon.
Recipe Notes
If cooking ham less than 2 hours (smaller ham) go ahead and add potatoes when starting the ham.
NOTE: I have had a few questions about using a spiral ham. You can. I would suggest leaving off the packet of sweet topping if it come with the ham. It changes the flavor of the potatoes. Mimi always used a picnic or shoulder cut and I always get a half ham. But use what you like and your family enjoys!
Pin It!

I am sharing this over on a few of my favorite link ups Weekend Pot Luck and Meal Plan Monday!