Instant Pot Southern Style Green Beans and Bacon combine fresh green beans, smoky bacon, a little onion and garlic. This pressure cooked southern side is made in minutes and so mouthwatering it'll surely be a staple at your table too.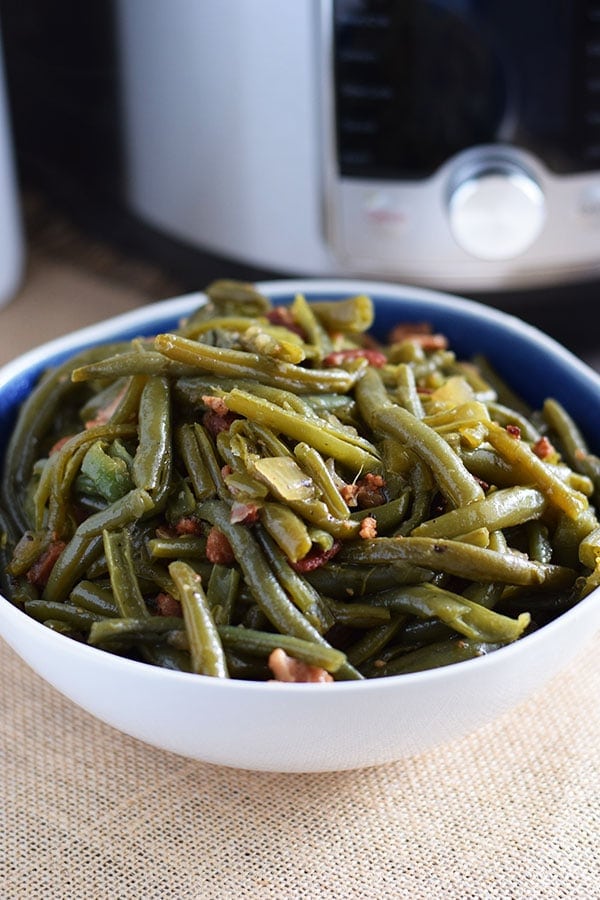 Recently I had the opportunity to give a cooking class for the University of Florida Hillsborough County Extension Service in conjunction with AARP and their Foodie Fun Event. It was a fun event with about 30 people. We made Skillet Lemon Chicken and Potatoes, these Southern Style Instant Pot Green Beans, and a Butter Pecan Apple Dump Cake (Coming Soon).
We had a great conversation about pressure cooking and most of the attendees had not used an Instant Pot before. They loved the convenience of cooking all in one pot, being able to saute, and the safety features of the locking lid and the quick release capabilities.
I had not done any cooking in a pressure cooker Pre Instant Pot and they taught me some tips for using a stove top pressure cooker, like to "quick release" or bringing the pressure down you just place the pot into cold water. I just love COOKING TIPS, so I will share a few more below in the post for IP Cooking.
They were the nicest group of people and we had so much fun cooking together. They loved participating, being hands on and I was thankful they got right in there and cooked with me. It was a fun day of food, fellowship, cooking, laughter and I even shared my love for decor and setting a pretty table.
But in reality I think the eating was everyone's favorite part!
What you need to make Southern Green Beans and Bacon
Fresh Green Beans
Thick Sliced Bacon
Onion
Garlic
Water or Chicken Broth or Stock
Kosher Salt
Black Pepper
Red Pepper Flakes or Hot Sauce (optional)
How to make Pressure Cooked Southern Style Green Beans and Bacon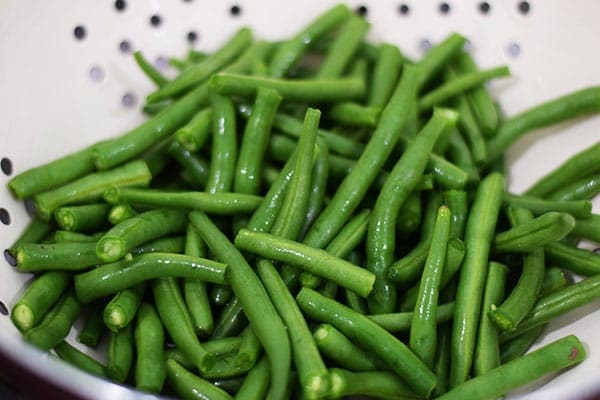 First Step. Set the Instant Pot to Saute. Let it get hot. This helps to keep the bacon from sticking.
Add bacon pieces and cook to render fat. I like to cook the bacon until it is a little crispy. I feel it adds a ton a flavor to the dish. (If you would like you may remove some of the fat if excessive)
Tips and Tricks
To make a stainless steel pot non-stick, let it fully heat before adding any fat.
Use thick sliced bacon, so that it doesn't disintegrate during cooking.
Chop up (I use kitchen scissors and cut it right into the IP) the bacon before cooking, as it will cook faster.
Scrape up browned bits in the bottom with a good spatula while bacon is cooking and once again when water or broth is added.
Use regular, not flavored bacon, this gives the most authentic green bean flavor.
Second Step. Add diced onions and garlic. As they cook continue to use a Wooden Spoon to scrape the bottom of the pot. It doesn't all come up at this point. Don't worry we will get them all up after the next step.
The onions will release water, which helps to deglaze the cooking pot. But you will need a little more for the cooking process and to finish off deglazing.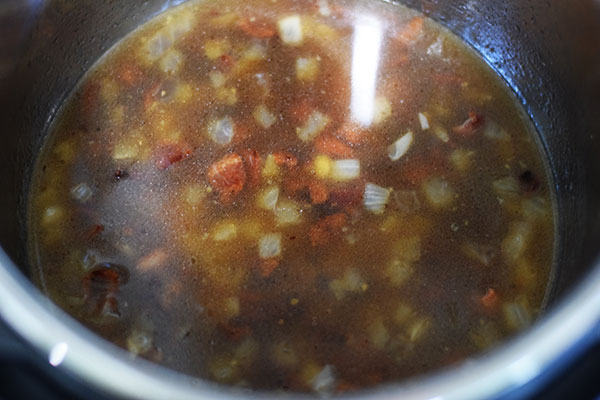 Third Step. Add water or broth and scrape bottom to get brown bits off bottom of the pot (This keeps the IP from burning). Adding the liquid allows you to get them all up. There is also so much flavor in those brown bits and you want all that flavor!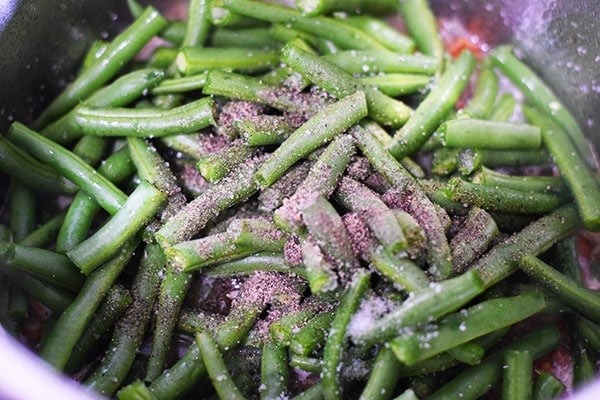 Fourth Step. Hit Cancel to turn off saute function. Add, green beans, salt, and pepper (we like lots of pepper 😉 ).
If you want a little extra kick add some red pepper flakes or a few dashes of your favorite hot sauce.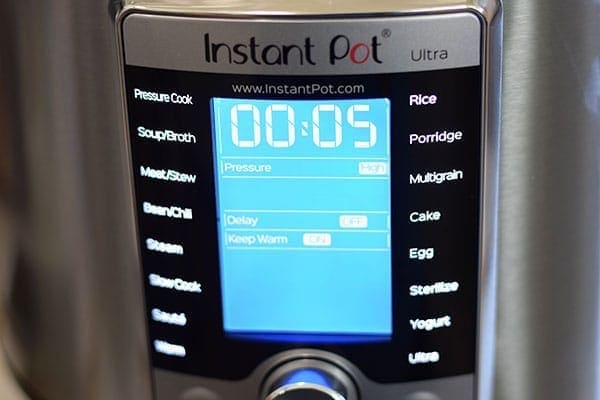 Fifth Step. Place lid on IP and turn to locked position. Make Sure the valve is set to closed, if necessary on your pressure cooker. Set to manual high pressure for 5 minutes and cook green beans until tender. - See cooking times below preferred doneness.

HOW LONG DO YOU COOK INSTANT POT GREEN BEANS?
Firm Crunchy Texture – High Pressure 0 Minutes (Beans will steam while coming up to pressure)
For a little Softer Bean but still Firm – High Pressure 2 minutes
For Soft Bean but not mushy – High Pressure 5 Minutes

(SOUTHERN STYLE)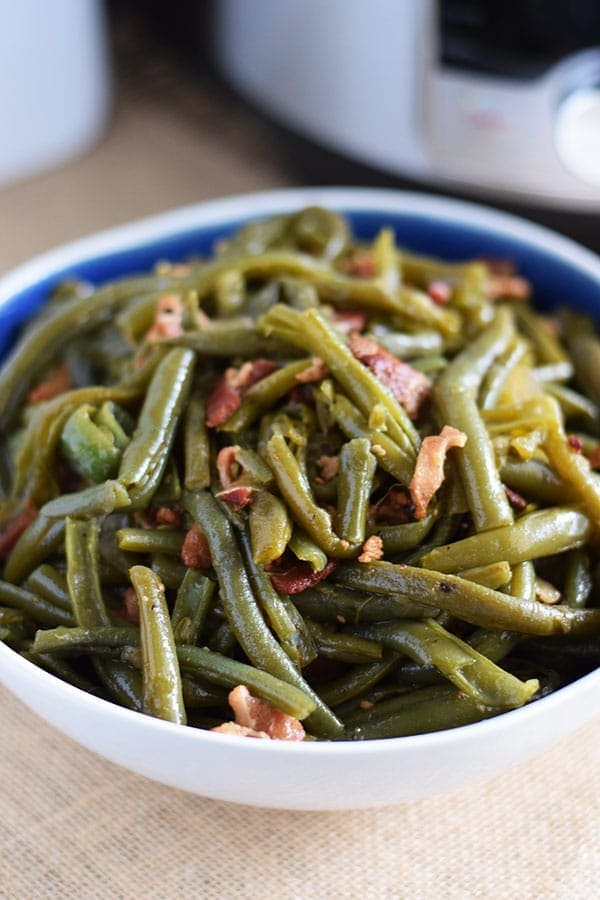 Other Southern Recipes you may enjoy!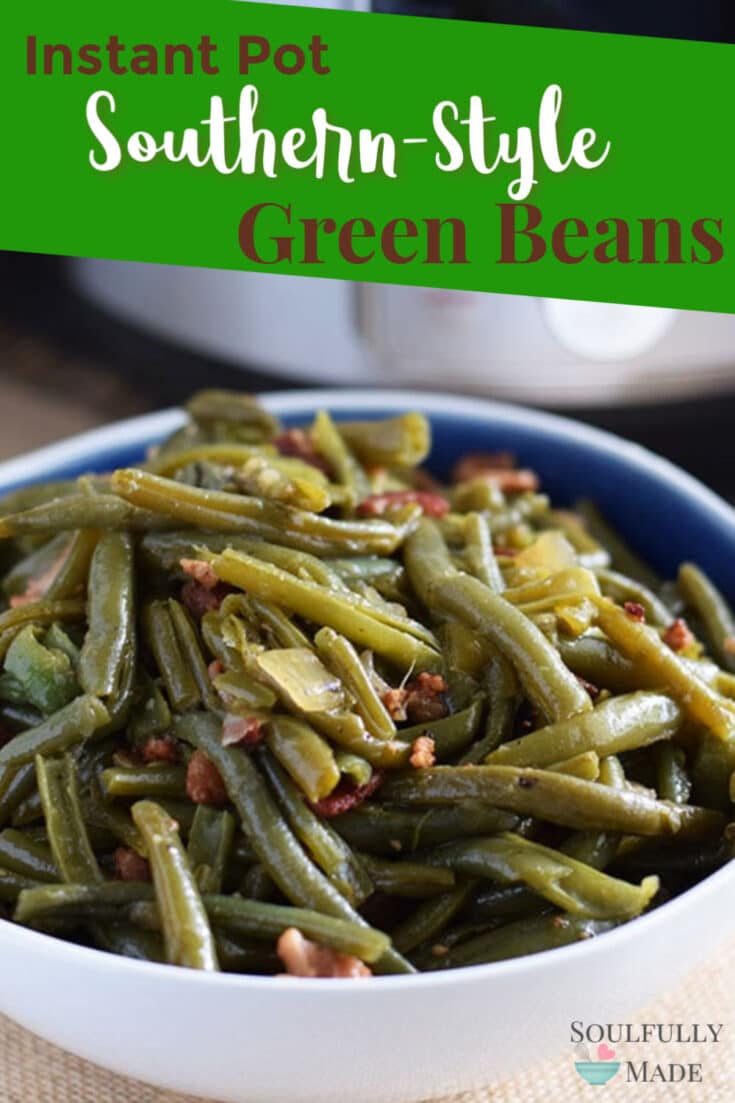 Instant Pot Southern Green Beans and Bacon
More delicious Instant Pot Recipes
Make sure you head over and check out my favorite link ups where I am sharing this!! There is lots of deliciousness going on over on Meal Plan Monday and Weekend Potluck!!