This post may contain affiliate links. Please read our disclosure policy.
This Strawberry Kale Salad is packed full of delicious flavors and so many wonderful nutrients. Did I mention the flavor and look at those juicy Florida Strawberries!!!!!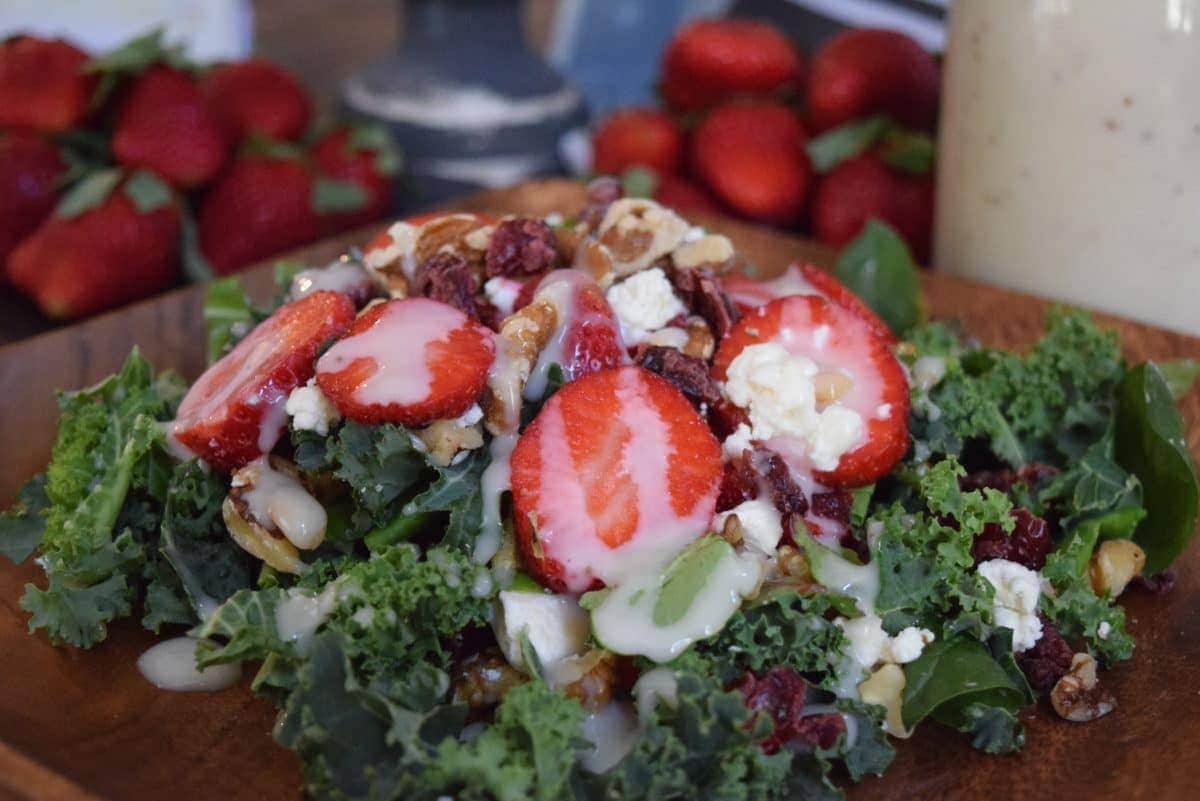 I went to a party last year and they served a Kale Salad I fell in love with. I have been wanting to recreate that salad for a while. This one is pretty darn close. But, of course, I couldn't resist throwing in these juicy strawberries that are in season now. Oh my GOODNESS…. this addition is a good one, I'm so glad I did!!
If you're like me I am always looking for ways to get healthy greens into my family. I don't know about you, but if I cooked Kale and served it for dinner my son would turn his nose up at it. But for some reason if I put it in a salad he will eat it up. Go figure, but I will do what it takes….any other mom's out there with me???
Not to mention, during our busy weeknights it's always helpful to have something nutritious and delicious all on one plate!! This Strawberry Kale Salad fits the bill all around!
Ingredients
2 to 3 cups of Fresh Chopped Kale or a Kale blend is great too
1/2 pound of Florida Strawberries, sliced
1/2 cup Feta Cheese, crumbles
1/2 cup Candied or Plain Walnuts, roughly chopped
1/2 cup dried cranberries
1 to 2 tablespoons Vidalia Onion Dressing, I use Ken's Brand or you can make homemade
Directions
Chop Kale into bite size pieces (I buy it already washed and chopped)
Plate or put this in a pretty bowl and top with feta cheese, candied walnuts, cranberries, and strawberries
Drizzle the Vidalia Onion Dressing on top or toss into salad.
This serves 1 to 2 people
Tip: Florida Strawberries are in season from November to April. Check out your local grocery stores for Fresh From Florida Strawberries!