We truly LOVE pizza around my house. It's one of those things you can put any topping on and create a new master piece. So tonight, we decided to give a Philly Cheese Steak Pizza a whirl. We are trying out a new pizza crust, usually I pick one up from the Publix bakery. But tonight we are going for simple. These are already baked and will make this a super quick meal. I don't know about you, but during the week I am looking for easy and delicious for my menu!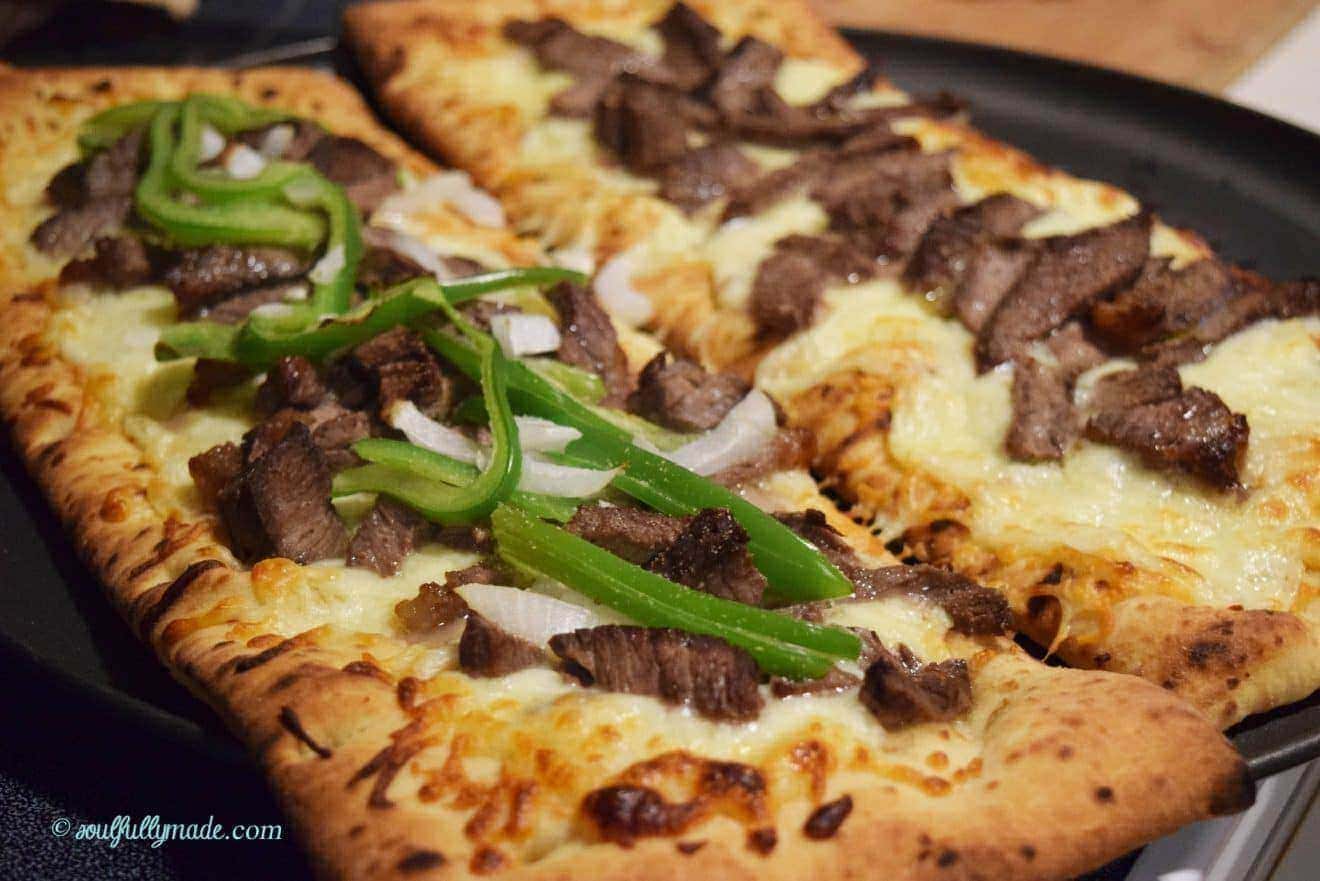 Gather up all your ingredients and get to creating!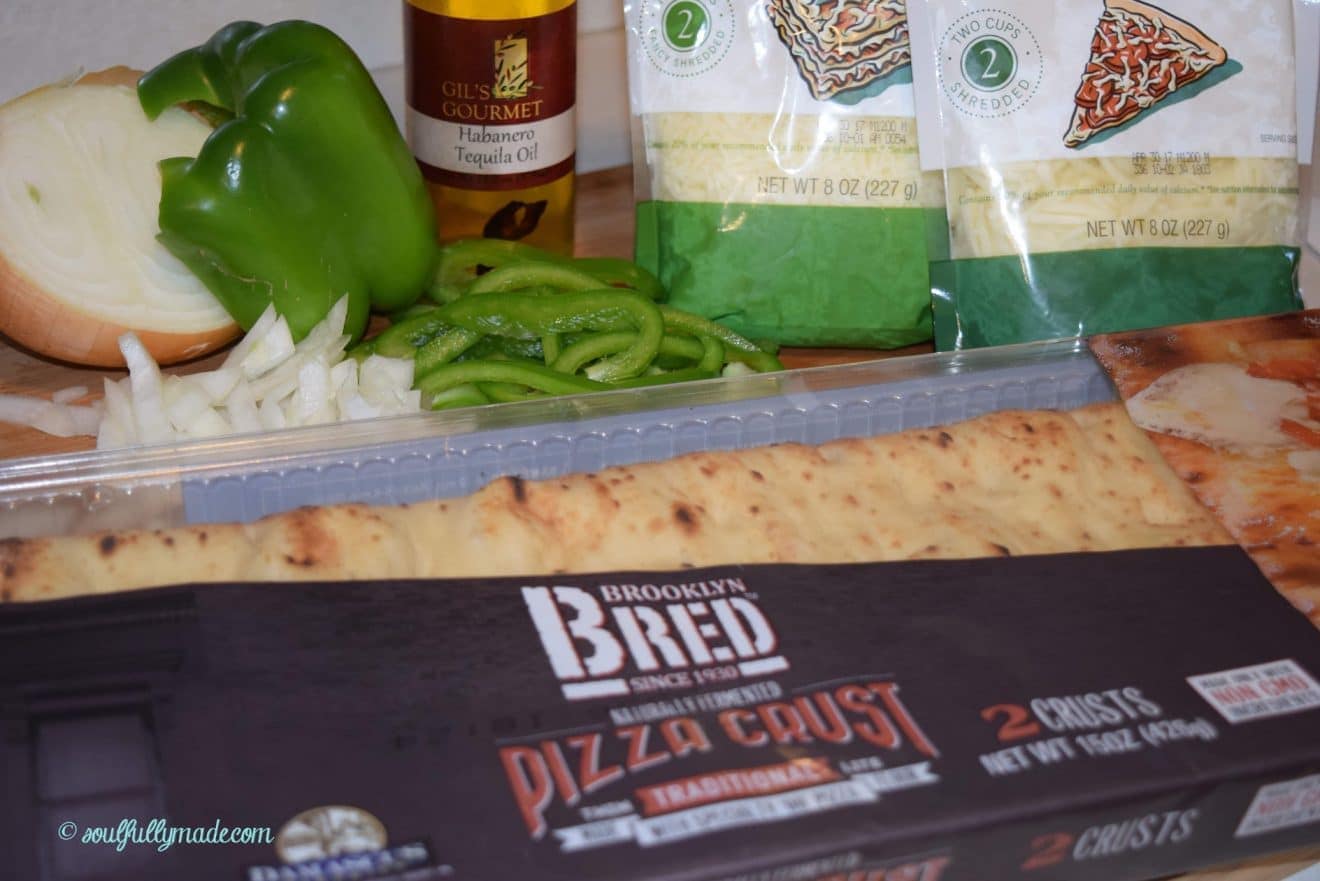 Take your pizza crust and brush with your favorite olive oil. I have a habanero pepper one that will give it just a little kick.
I am using a mixture of an Italian cheese blend and mozzarella cheese already shredded from my local Publix. I must say I usually use provolone and fresh mozzarella when I do a traditional pizza, but tonight I was really looking for convenience. The duo made the perfect combo on this Philly Cheese Steak Pizza. Sprinkle some garlic powder over the cheese for extra flavor.
Next add your sliced sirloin sirloin steak. Sirloin is what I have on hand, but you can use your favorite cut. This is also a great way to use leftovers. If you are not a steak lover, chicken would be great as well.
Then top with thinly sliced peppers and sweet onions,. You can add any type of onion and peppers or tradition Cheese Steak Toppings you like. Add salt, pepper, and garlic to your liking! (Can you tell I like a little garlic?) Now you have it all ready for the oven.
See how simple this is to put together. And doesn't it look so delicious! I am thinking next time after I bake I will throw on some pepperoncini's as well.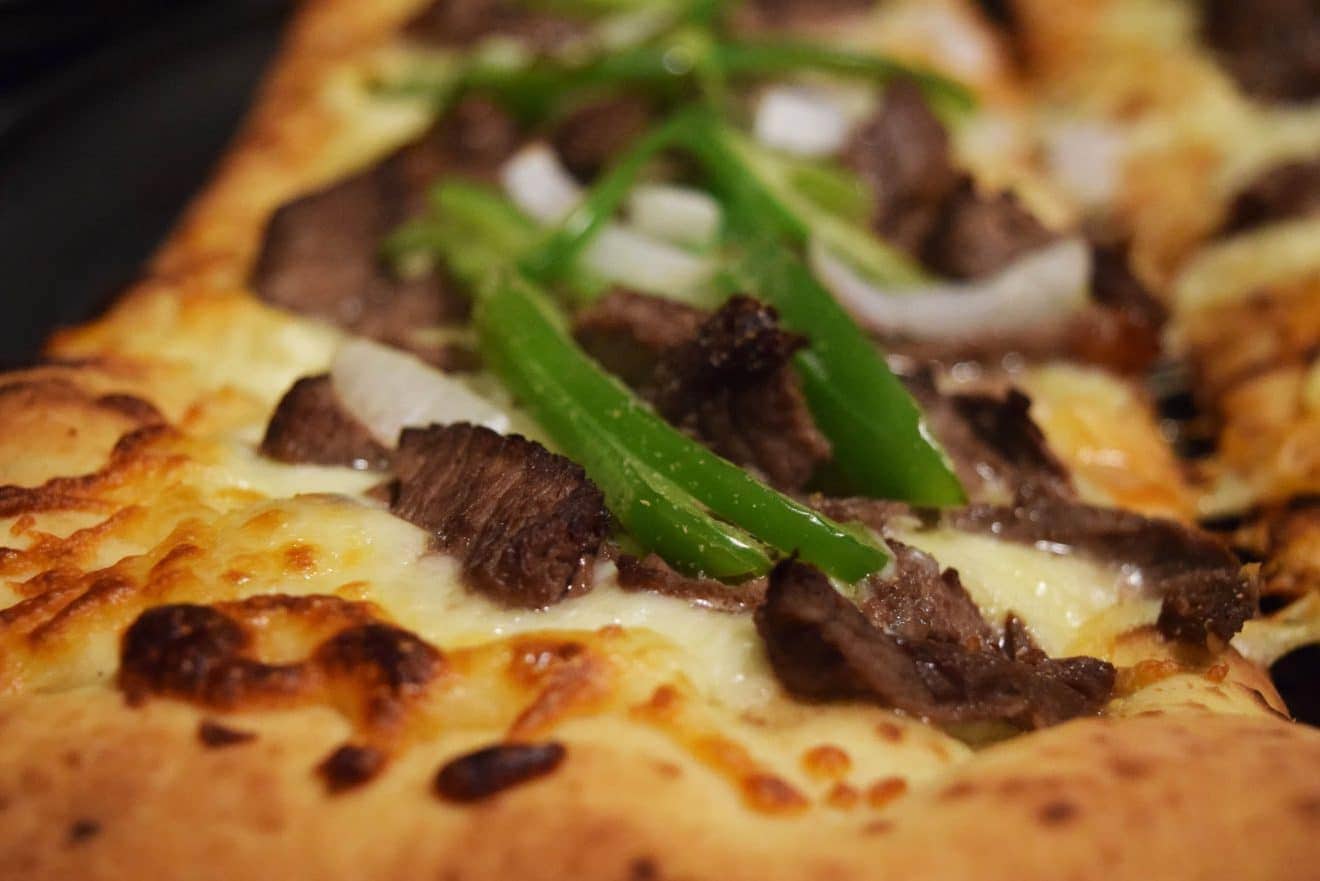 Ingredients:
Pre-Made Pizza Crust
Habanero or any Olive Oil, to drizzle or brush crust
2 cups Mozzarella Cheese
1 cup Italian blend cheese
16 oz. sirloin steak, cooked
Green Pepper, thinly sliced
Sweet Onion, thinly sliced
salt, pepper and garlic powder to taste
Directions:
Pre-heat oven to 400°
Brush pre-baked pizza crust with olive oil
Top with cheeses and sprinkle cheese with garlic
Top with sliced steak, green peppers, and onions. Sprinkle with salt, pepper, and garlic to taste
Bake at 400° for 10 to 15 minutes or use what your crust calls for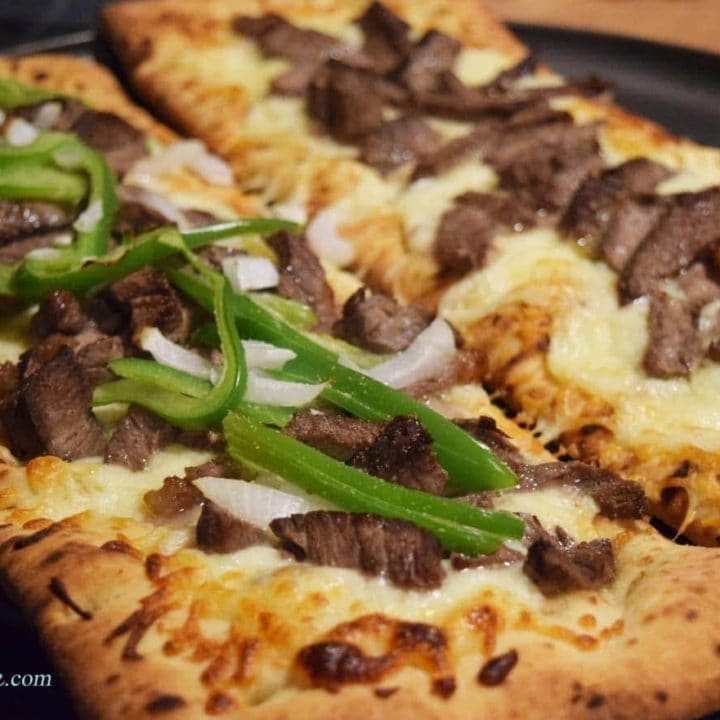 Philly Cheese Steak Pizza
Ingredients
Pre-Made Pizza Crust

Habanero or any Olive Oil

,

to drizzle or brush crust

2

cups

Mozzarella Cheese

1

cup

Italian blend cheese

16

oz.

sirloin steak

Green Pepper

,

thinly sliced

Sweet Onion

,

thinly sliced

salt

,

pepper and garlic powder to taste
Instructions
Pre-heat oven to 400°

Brush pre-baked pizza crust with olive oil

Top with cheeses and sprinkle cheese with garlic

Top with sliced steak, green peppers, and onions. Sprinkle with salt, pepper, and garlic to taste

Bake at 400° for 10 to 15 minutes or use what your crust calls for
Nutrition
Serving:
1
1 serving
Calories:
496
kcal
Carbohydrates:
37
g
Protein:
30
g
Fat:
25
g
Saturated Fat:
11
g
Polyunsaturated Fat:
12
g
Cholesterol:
89
mg
Sodium:
682
mg
Fiber:
2
g
Sugar:
4
g