Red Velvet Brownie Cups are a delicious bite sized dessert for any occasion. Baked in muffin tins creating the perfect edible cup waiting to be filled with your favorite toppings like ice cream, cream cheese icing, and fresh whipped cream. Topping choices are endless!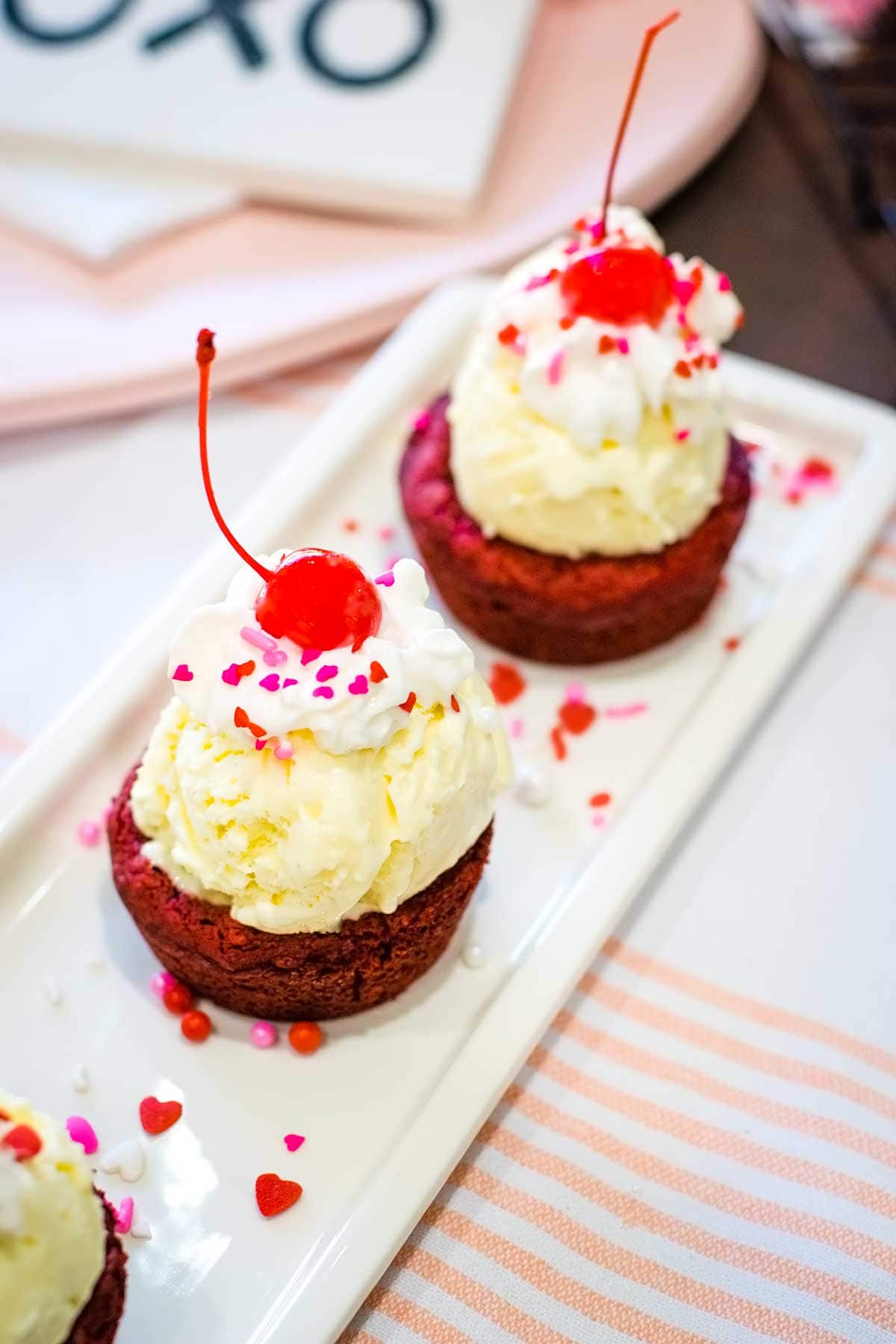 Red Velvet Cake is my speciality, especially at the holiday's. It's a family favorite and a tradition at our house. I guess you can say we are all Red Velvet fans around here.
Plus we LOVE brownies and I do not say this lightly. So I set out to make a really easy "brownie meets red velvet cake" option. I thought I would give a cake mix a go. It worked making this sweet treat the most perfect, EASY, and I have to say heavenly combination!
Why you'll love this recipe
It's simple - You take a convenience item like a cake mix and add decadent ingredients to make it delicious.
5 ingredients - In addition to the cake mix you only need 4 other items to make the brownie cups.
Versatile - By changing up the toppings you can create so many different combinations or holiday/celebration themed cups!
Makes everyone feel special! These scrumptious individual desserts are always a hit and everyone feels so special with a little dessert of their own.
5 Simple Ingredients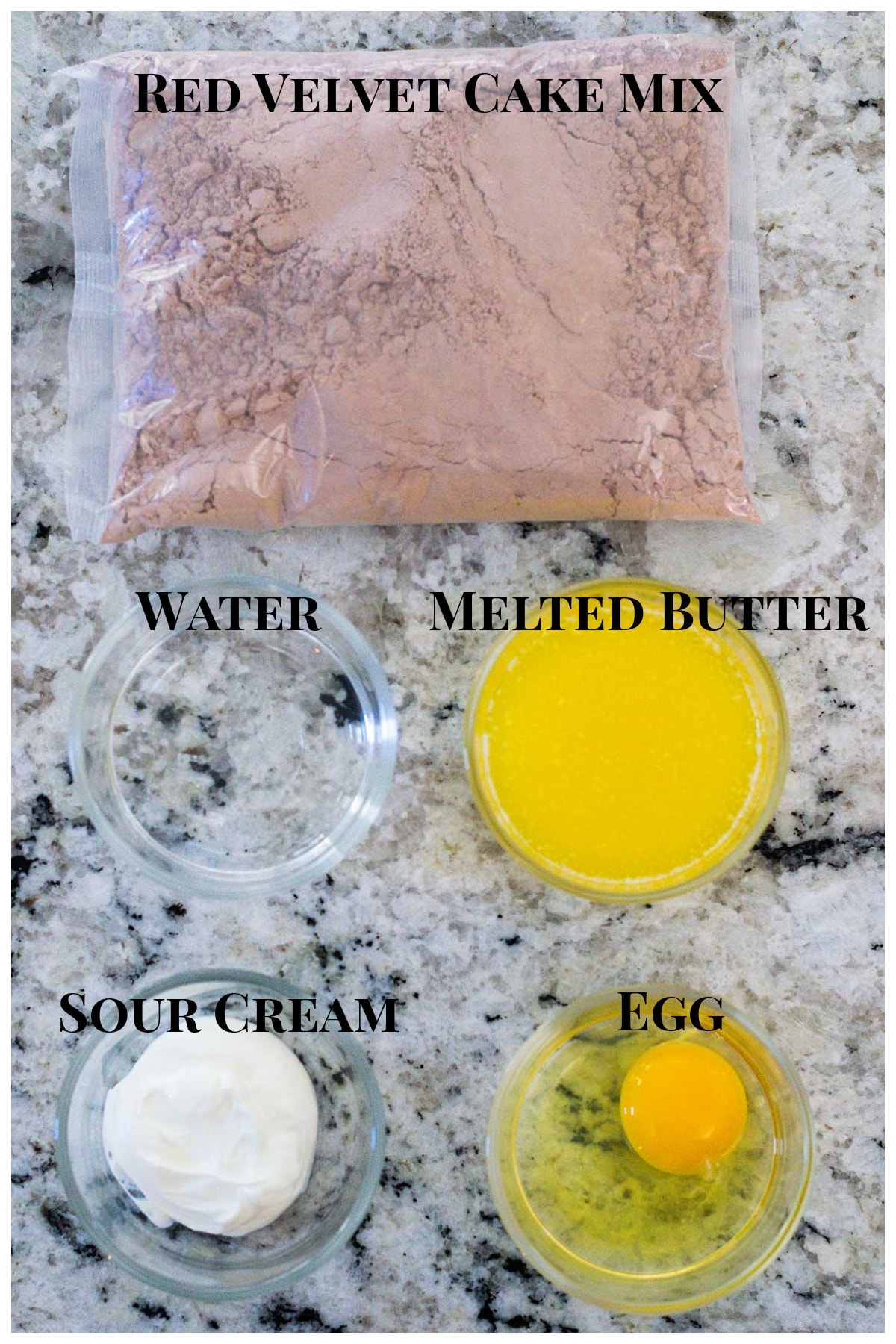 Red Velvet Cake Dry Mix (I use Duncan Hines Perfectly Moist)
Water
Melted Butter
Sour Cream
Beaten Egg
How to make red velvet brownie cups
✱ Be sure to see the recipe card below for exact ingredients and instructions!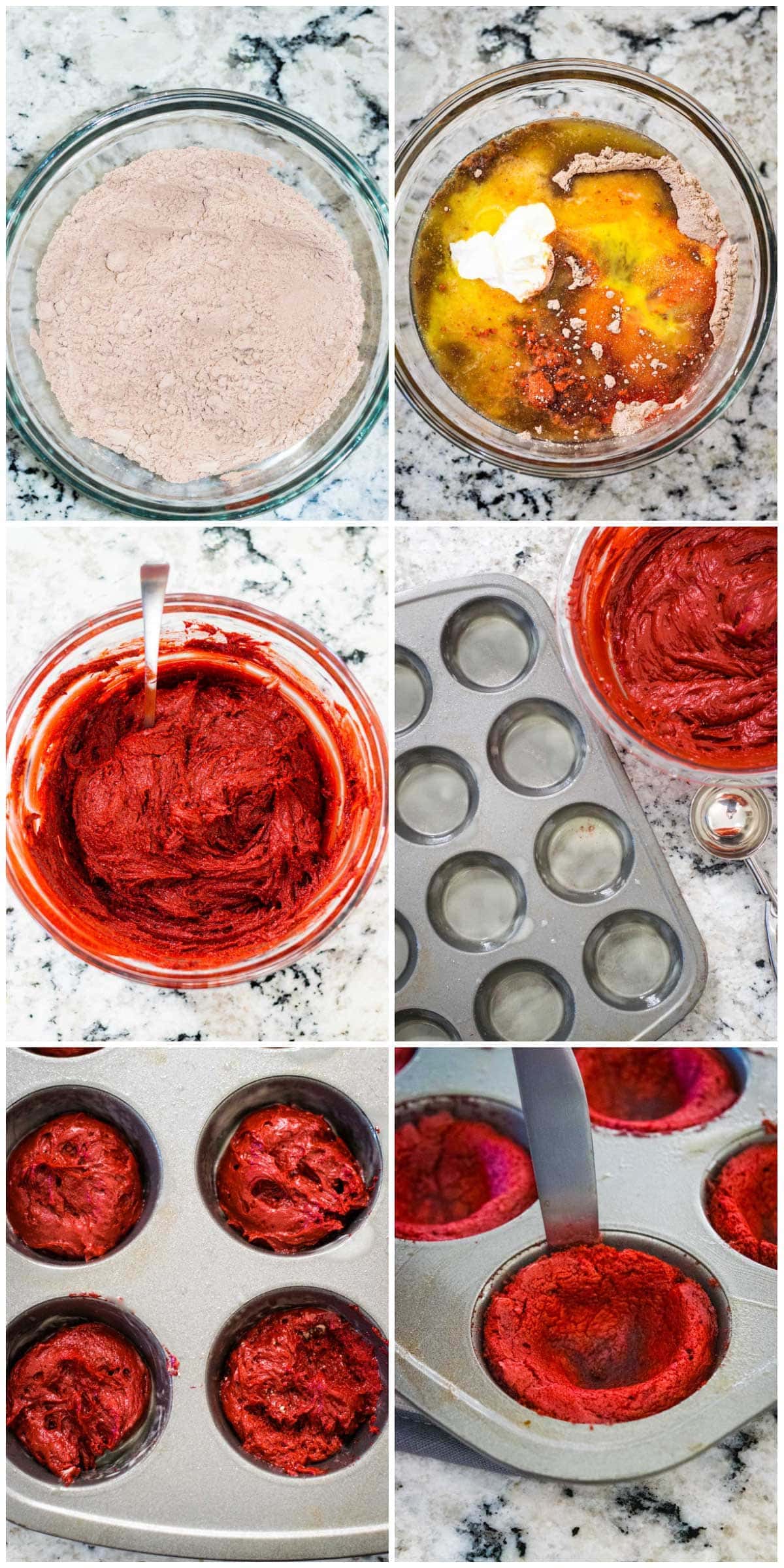 All you need is one bowl - add all the ingredients in and give it a stir. My favorite way to mix is with a fork. It allows you to easily break up any lumps of dry cake mix. However, you can also use a spatula or a whisk (I love this OXO Whisk.
Mix until it is just combined. You don't want to over beat the batter or it will become tough and it tends to dry out.
Spray your muffin tin well with a baking spray. That is one with flour in it. You can also use paper liners too.
Bake until just done (when a wooden pick is inserted comes out with a few crumbs on it).
When you remove from the oven take a measuring spoon or something like a small pastry rolling pin and press on the brownie while it is warm to make an indention.
Then let them completely cool in pan. Once cooled take a knife or offset spatula and go around the edges to loosen. Remove from pan and serve.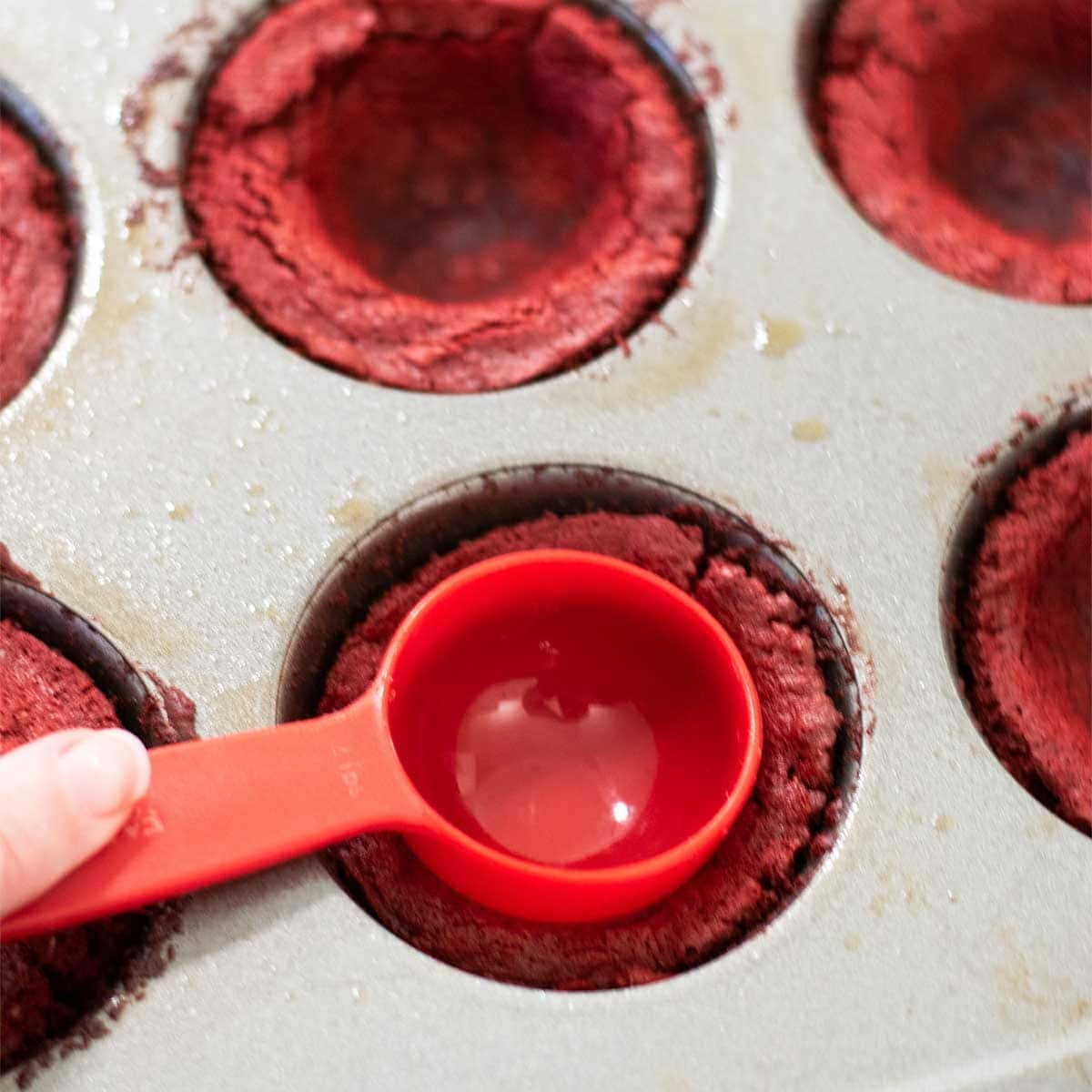 Topping variations
Fun toppings add all the festivity and fun into these individual desserts! These are good for all occasions. So just remember you can change up the toppings, sprinkles, and candies to match your holiday or celebration.
Top with ice cream, fresh whipped cream, and sprinkles or candies.
Fill with cream cheese icing and a sprinkle of nuts or fruit.
Chocolate ganache filling would be divine in these!
A no bake cheesecake filling would be a delicious add in. Top with any type of fruit. You can even find it in the premade dairy section of your grocery store if you need a super simple filling. It's made by Philadelphia Cream Cheese it's in a tub near refrigerated Jello Pudding in my store.
Place a mini candy bar, Reese Peanut Butter Cup, Rolo in the middle while they are warm and they will melt down a little. Then drizzle with caramel or chocolate.
Add your favorite icing and sprinkle with M & M's or chocolate chips.
Decorate these for your Valentine's Day dessert with all the X's, O's and hearts or Christmas decked in red and green! St Patrick's day use a green velvet cake mix and shamrocks galore.
You can try any cake mix and make a birthday theme or use pink or blue cake mix for a gender reveal party. The options are endless!
How to serve
These look beautiful on a single or tiered tray. You can make them all alike or serve with a variety of toppings.
It's fun to make a red velvet brownie cup bar. Serve the cup with bowls, all the fixings displayed, and let everyone make their own creation.
Serve them in a pretty dish Ice Cream Sundae Style (you can use any ice cream flavor you like) I like mine with chocolate ice cream!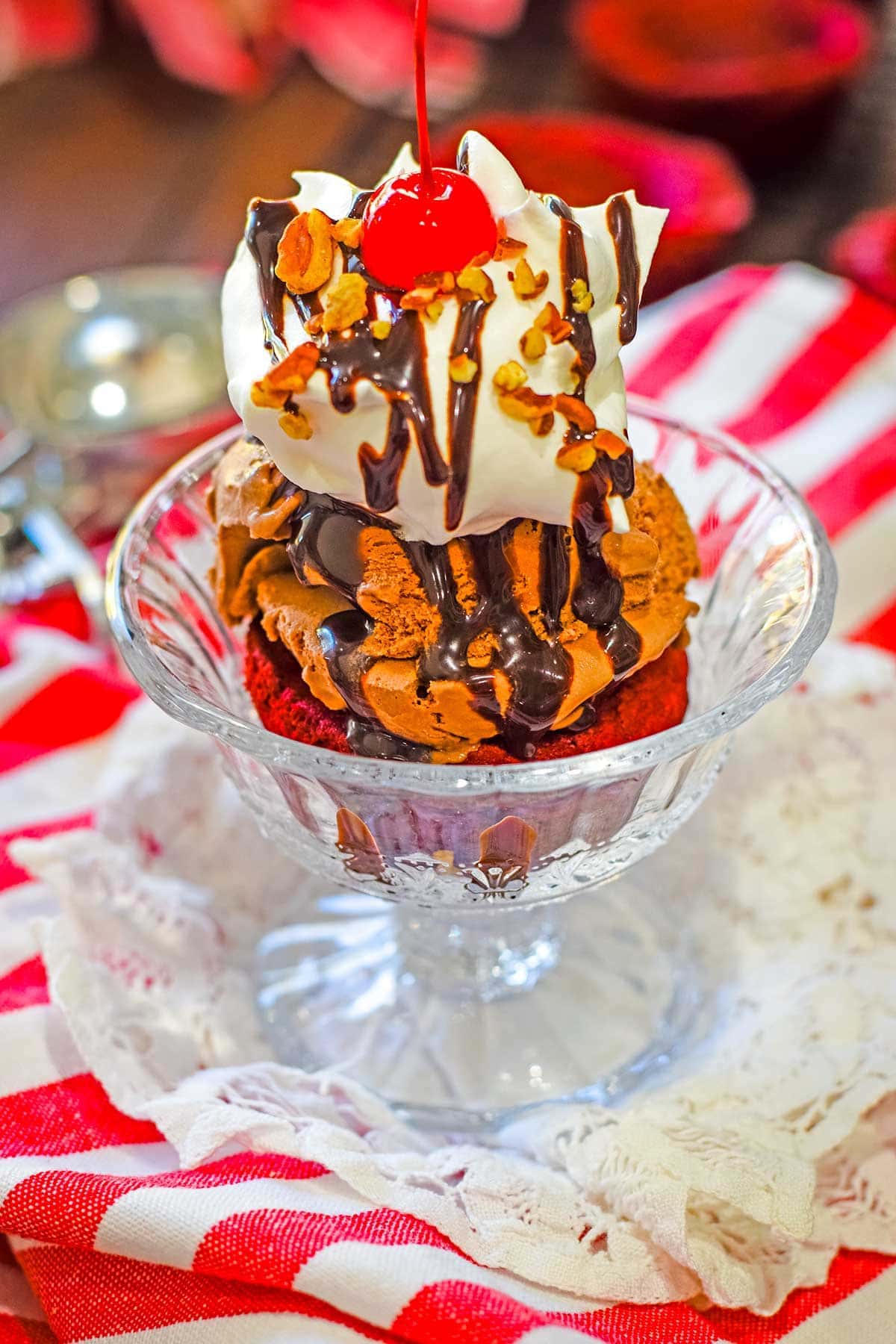 FAQ's
Can you freeze brownie cups?
Yes, these freeze well. Once completely cooled you can place them in a freezer zip bag or freezer proof container and freeze for up to 3 months. I like to freeze them on a flat surface for at least 30 minutes. Then arrange them however fits best into your freezer in the ziplock bag or container. Remember to label and date them as well!

To thaw remove from freezer and thaw at room temperature. The nice thing about these individual brownie cups is you can take out as many as you would like at a time.

How to store red velvet brownie cups?
Store in a Ziplock bag or in an airtight container at room temperature for 3 to 5 days.

How to keep brownie cups from sticking to the pan?

Use a nonstick pan.

Use a baking spray that has flour in it to grease your muffin tin.

Make sure they are baked all the way. If the batter is still raw it will be more likely to stick or not come away easily.

Let them cool completely.

Use paper liners if you want a super easy solution to keep them from sticking.
Can I make red velvet brownie bites with this recipe?
Yes! Just fill mini muffin tins about half way full and bake for 7 to 10 minutes or until wooden pick comes out clean. Now you have delicious red velvet brownie bites. They can be enjoyed as is or with icing or whipped cream.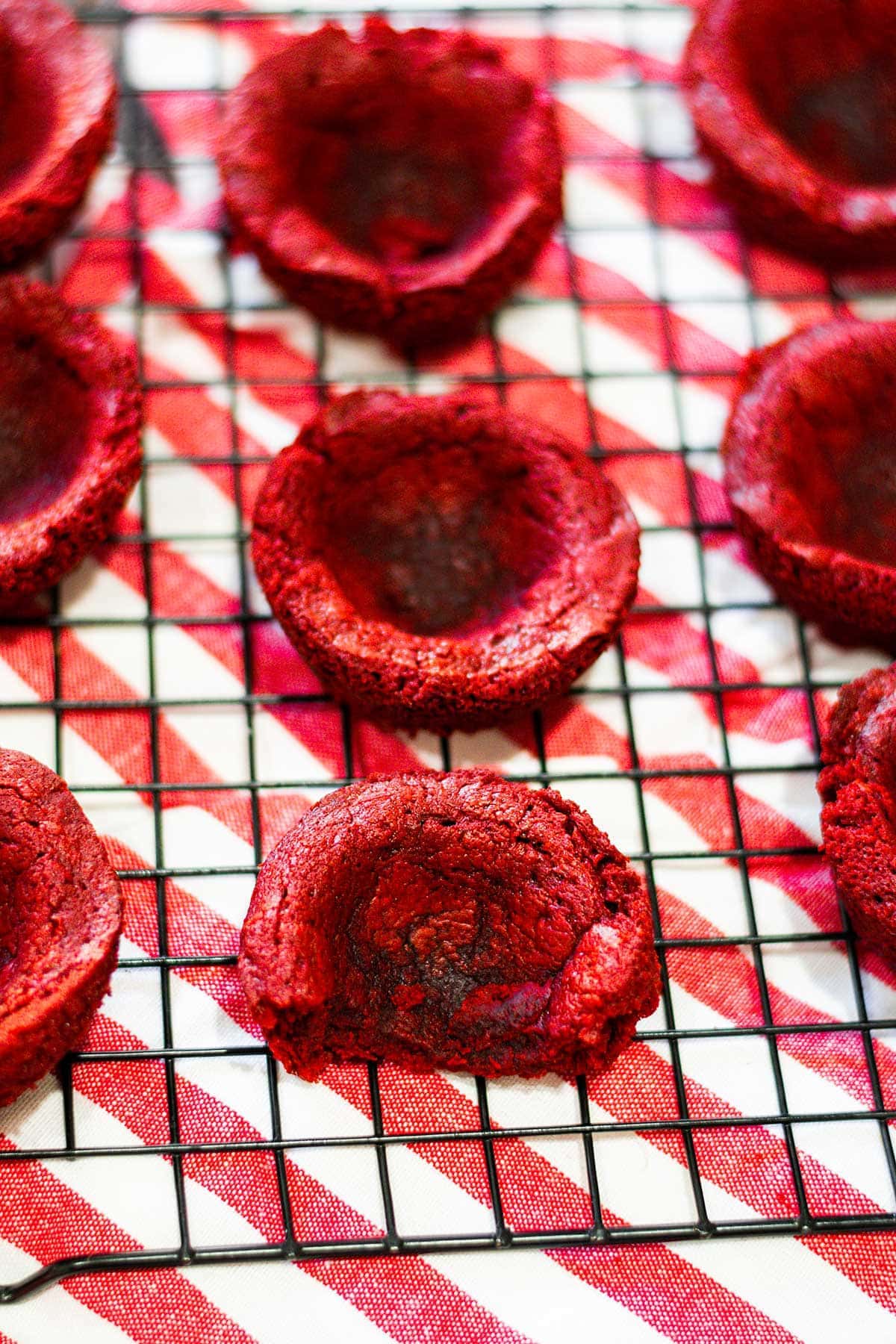 Tips
Prepare muffin tin - Make sure to spray your muffin tin well with baking spray or line with paper liners.
Let cool completely before removing from pan if not using a paper liner. This will keep it from sticking to the pan.
Run a knife around edges to loosen before removing will also help to easily remove from muffin pan.
To make cup indention - Just after removing from the oven use a 2 tablespoon measuring spoon or something round to press down brownie to create your cup. The brownie being hot will help it set.
Don't store in the refrigerator - I don't recommend storing in the refrigerator as this may dry them out! Store at room temperature or freeze until ready to use. Once ready to use place toppings on them and enjoy.
Get creative and have fun with toppings!
More delicious dessert to try
Since it is the season for love, I am excited to join other food bloggers for a Valentine event to raise money and awareness about pediatric cancer. What better way to spread some love this year - a Valentine's Day Dessert to support such a worthwhile cause!
The National Cancer Institute's budget for childhood cancer is less than 4%. It's such a small number and that's why I got involved. And with the ongoing pandemic, children are still being diagnosed with cancer.
These three companies:
OXO
,
Mediavine
amd
Dixie Crystals
have each pledged to match our donations raised through this campaign up to $3000!
That means when we raise $1, it turns into $4! Please help us reach our goal so we can get the full matching donations and help us make an even bigger difference!
Will you help us with a donation today? Every little bit helps!
Donate here
until March 1, 2021.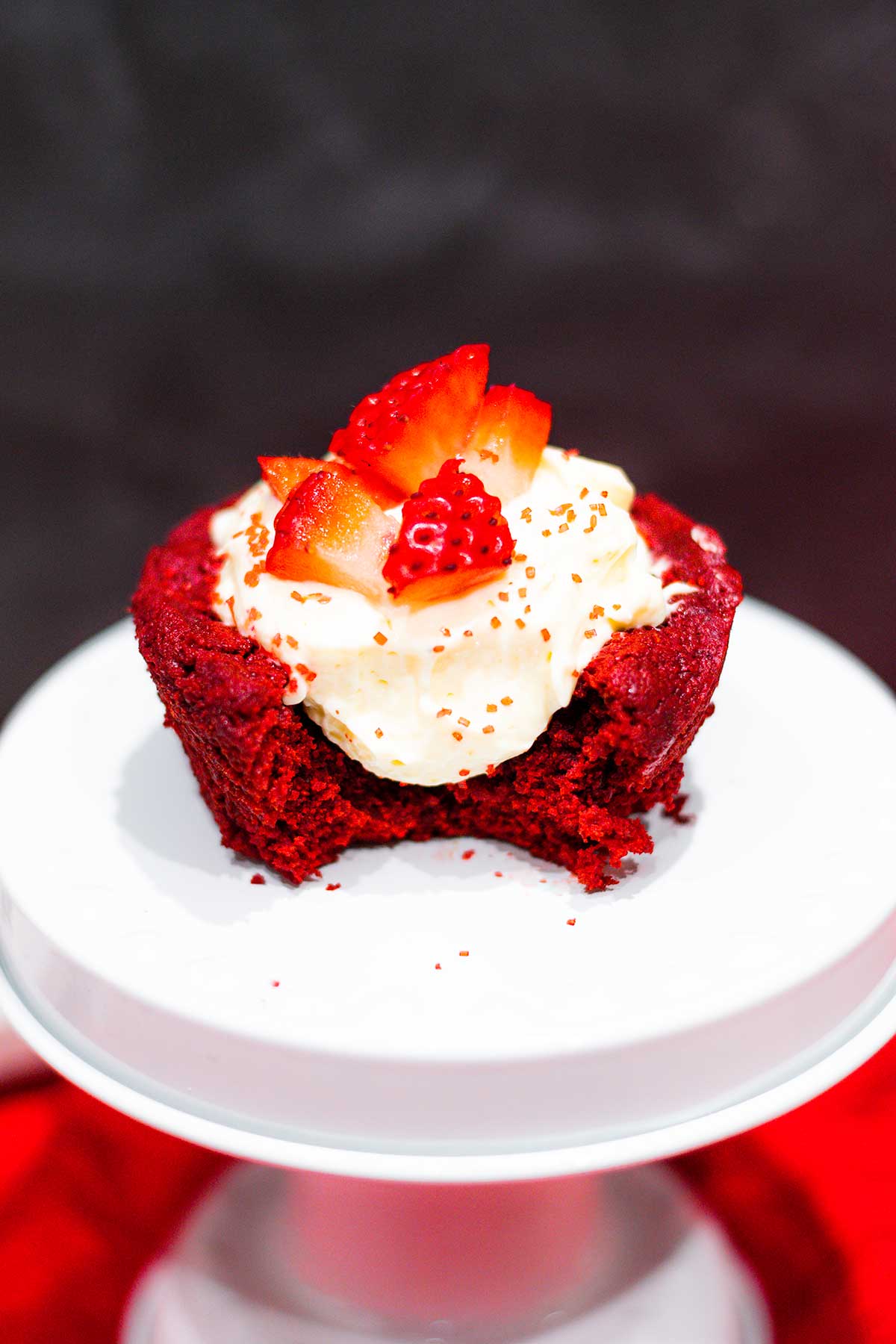 Be sure to visit the other bloggers participating in the Valentine's Day event and check out their recipes!
Heart Shaped Chocolate Cake
from Julie of The Little Kitchen
Easy Chocolate Mousse
from Allison of Celebrating Sweets
Chocolate Marshmallow Cookies
from Sheila of Life, Love, and Good Food
Lemon Biscotti
from Jenn of Ever AFTER IN THE WOODS
Easy Cream Cheese Candies
from Kelly of Live Laugh Rowe
Cornflake Cookies from All The Good Cookies
from Wendy of A Day in the Life on the Farm
Strawberry Mochi Cookies
from Heather of Delicious Not Gorgeous
Red Velvet Valentine Brownies Recipe
from Jennifer of The Rebel Chick
Red Velvet Cupcakes Recipe
from Faith of An Edible Mosaic
Chinese Five-Spice Snickerdoodle Cookies
from Bridget of Bake at 350
Chocolate Molten Lava Cake
from Ashley of Spoonful of Flavor
Double Chocolate M&M Cookies
from Melissa of Persnickety Plates
Raspberry Lemon Macaroons
from Sue of It's Okay to Eat the Cupcake
Raspberry Curd
from Holly of A Baker's House
Red Velvet Brownies
from Kelly of Kelly Lynn's Sweets and Treats
Toffee Chocolate Chip Ice Cream Cookie Sandwiches
from Audrey of That Recipe
Creamy Raspberry Sherbet Pandemic Punch
from Laura of Untwisted Vintage
Chocolate Dipped Strawberry Cake Balls
from Lindsey of Lindsey Loo's Bakery
Chocolate Covered Oreo Pops for Valentine's Day
from Heather of Totally Tailgates
Amaretto Cherry Swirl Cake
from Samantha of Haute Pepper Bites
Gluten Free Double Chocolate Bundt Cake
from Elaine of Small Farm Big Life
Easy Strawberry Mousse
from Caroline of Caroline's Cooking
Cornflake Cookies from All The Good Cookies #HelpingCookies
from Wendy of A Day in the Life on the Farm
Vanilla Bean Cherry Chocolate Kiss Cookies
from Colleen of Faith, Hope, Love, & Luck Survive Despite a Whiskered Accomplice
Neapolitan Cookies Recipe
from Lisa of Blogghetti
Small Batch Almond Thumbprint Cookies
from Lauren of Healthy Delicious
Kahlua Truffles
from Camilla of Culinary Adventures with Camilla
Red Velvet Brownie Cups
from Nikki of Soulfully Made
Triple Chocolate Trifles
from Coleen of The Redhead Baker
Festive Puppy Chow
from Erin of The Speckled Palate
Chewy White Chocolate Raspberry Cookies
from Jessica of A Kitchen Addiction
Hot Chocolate Bombs for Valentine's Day
from Anna-Marie of Beauty and the Beets
Chocolate Sandwich Cookies
from Lisa of Taste Cook Sip
Peanut Butter Snickerdoodles
from Betsy of The JavaCupcake Blog
Cherry Blossom Cookies
from Carolann of Apron Warrior
Chocolate Mint Frappuccino Cookies
from Peabody of Sweet ReciPEAs
Mini Chocolate Covered Strawberry Cheesecakes
from Kate of Kate's Recipe Box
Almond Flour Peanut Butter Cookies
from Shashi of Savory Spin
Funfetti Cookie Bars
from Becca of The Salted Cookie
Grapefruit Poppyseed Cake
from Michelle of Cold Weather Comfort
White Rabbit Candy Cookies
from Linda of Ketchup with Linda
Baby Yoda Valentine's Day Cookies to Support Cookies for Kid's Cancer
from Jenn of justJENN recipes
Salted Peanut Butter Pretzel Cowboy Cookies
from Bree of Baked Bree
Red Velvet Hot Chocolate Bombs
from Erin of The Spiffy Cookie
Homemade Hot Chocolate Mix
from Gwynn of Swirls of flavor
Cherry Chocolate Chip No Bake Cheesecake
from Stefanie of Stef's Eats and Sweets
Valentine's Day Homemade Ding Dongs
from TammyJo of The Chocolate Cult
Guava Macarons with Coconut Buttercream
from Lindsay of Anchored Baking
Valentines Pink Dessert Charcuterie Board for Kids
from Nicole of For the Love of Food
Cóctel de Camarones
from Rebekah of Kitchen Gidget
Cuccidati (Italian Fig Cookies)
from Amy of The Nifty Foodie
Lemon Poppyseed Heart Shaped Sandwich Cookies
from Lisa of Garlic & Zest
Valentine's Day Almond Flour Brownies
from Kaitlin of I Can Cook That
Peanut Butter Chocolate Cake
from Trang of Wild Wild Whisk