The most incredible Classic Red Velvet Cake is topped with the silkiest creamy cream cheese icing! The cake is moist with that hint of chocolate and the most perfect velvet texture you will ever take a bite of.
This southern red velvet cake recipe is super easy to make and just slightly adapted from the original recipe given to me by a sweet friend years ago. A made from scratch recipe that I have been making ever since. And for good reason, it gets rave reviews from family and friends alike!
Definitely my most requested cake for Christmas, Valentine's Day, or the Holidays in general. If you love red velvet cake you are in for a treat! Red velvet fans will also love Red Velvet Cupcakes or Red Velvet Brownie Cups!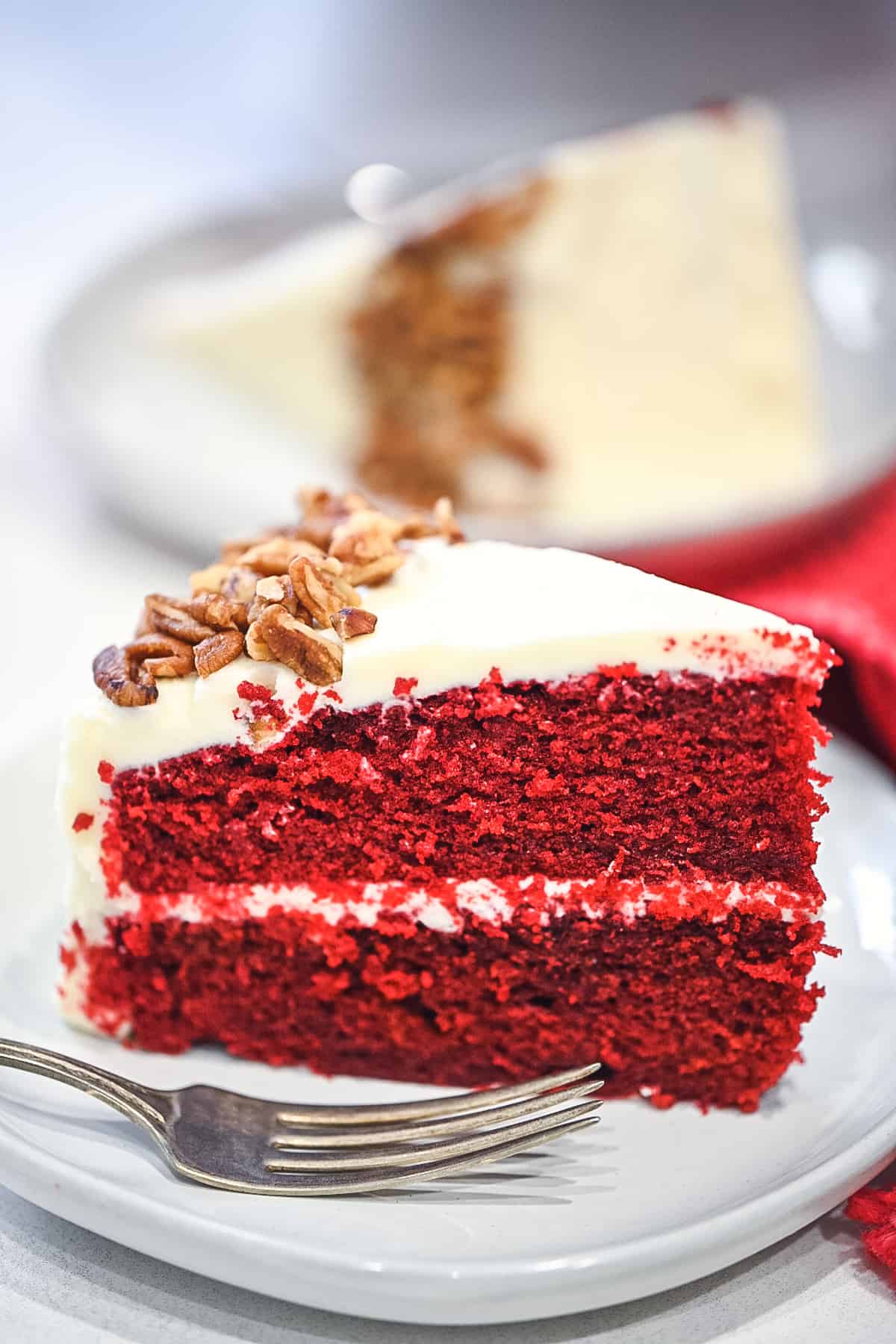 Table of Contents
Why you'll love this homemade red velvet cake recipe!
Easy Scratch Recipe: Although I always use a stand mixer for this recipe you really could whip this cake up with a hand mixer or even by hand. Either way it is super simple to make.
Best Red Velvet Cake Recipe Ever: Sometimes I have had red velvet cake that is on the dry side or the crumb just isn't quite right. This one is moist and velvety.
Tried and True Recipe: I have made this recipe over the years time and time again. This one is perfection! (At least the family and friends tell me so.)
Like I mentioned before several years ago a friend shared this recipe with me. She wanted to remain anonymous because this was a "secret" family recipe.
This recipe also was in my Stewart family cookbook and almost identical to my friends, with just a little less oil in the recipe (However, I recommend keeping the amount in my recipe here).
Actually, our family cookbook has two versions one with white icing made with flour and another with cream cheese icing made by two different family members. It seems this recipe is passed down by many families, and rightfully so. It's a keeper!
I did make a few adaptions to an already perfected recipe. I added a little more cocoa powder for a slightly more chocolatey version and most often I make a little more icing than originally called for.
After years of making this, I have to say this is my absolute favorite red velvet cake I have ever had.
What exactly is Red Velvet Cake?
Red Velvet Cake is not just a red cake or a chocolate cake that has red coloring added in. The cake is soft and moist and has a velvet-like texture. The chocolate is mild (although I add a little more than most recipes). It is almost a little mysterious in taste. Not vanilla and not full-on chocolate. It has a subtle tang from the buttermilk and that dash of vinegar.

A fluffy cream cheese frosting tops this off making one of the most unique and delicious cakes!
Perfectly Imperfect Cake:
If you have been following along here for any amount of time. You know I don't usually do anything too fancy or at least I don't proclaim to make things picture-perfect. I like to say my desserts have a rustic flair. Well, the same goes here.
This Southern Red Velvet Cake tastes delicious even though I don't always slice it perfectly or keep crumbs at bay. I am sure you will do a much better job at that than I do. But I do promise it tastes AMAZING my friends!
Here's what you need to make the perfect southern red velvet cake!
Ingredients Needed:
Cake Ingredients
Icing Ingredients: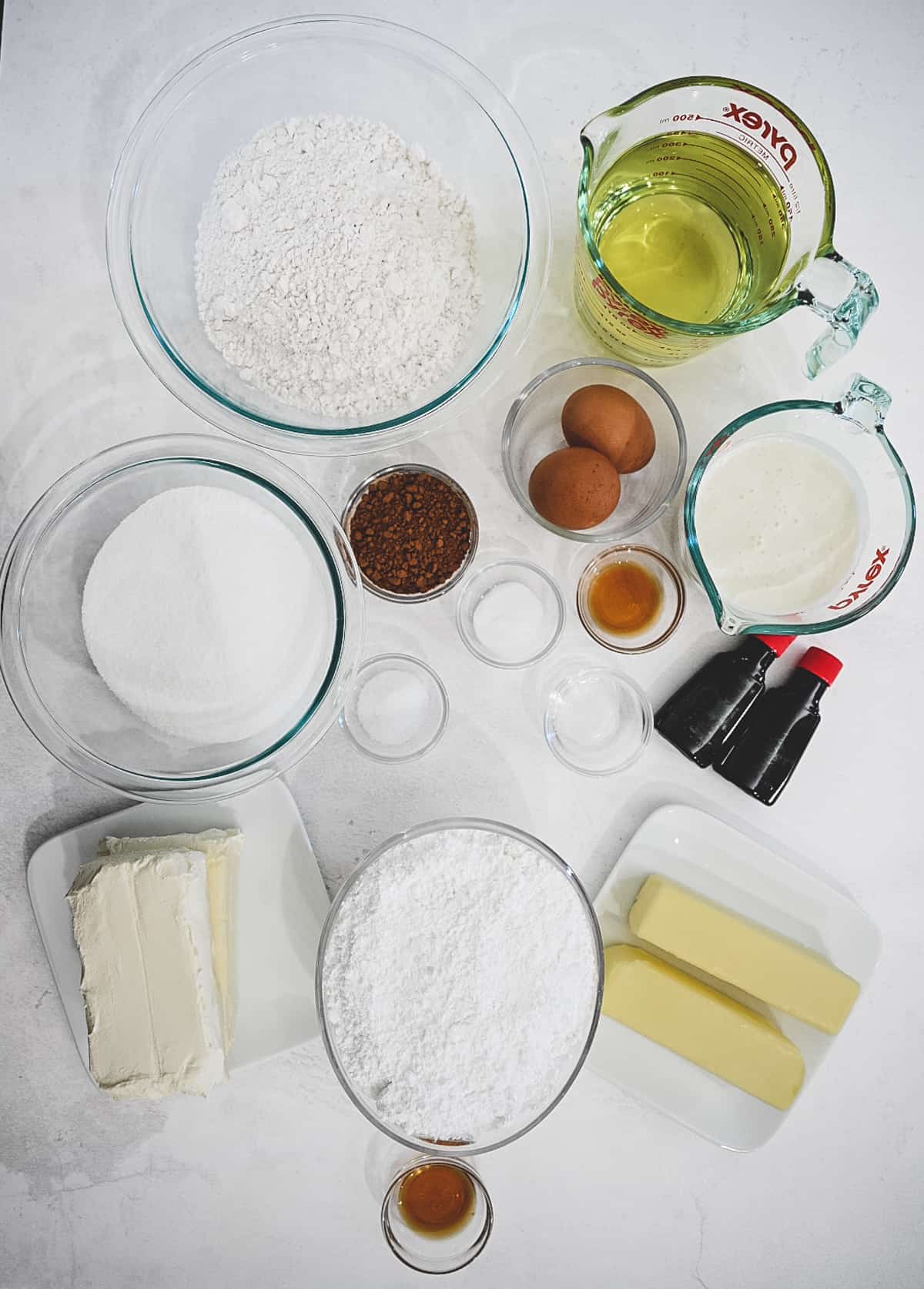 How to make the Best Red Velvet Cake!
✱ Be sure to see the recipe card below for exact ingredients and instructions!
Step 1 | Mix Dry & Wet Ingredients
Sift together all the dry ingredients to get a nice lump-free fluffy mix. Set aside.
In a stand mixer with the paddle attachment or large bowl (using a hand mixer), mix together all the wet ingredients until combined (minus the red food coloring and vinegar). I like to add that in at the very last.
Slowly add the dry ingredients to the wet ingredients until incorporated. Turn down the mixer to low and add in food coloring and vinegar. Once incorporated turn to medium speed and mix until fluffy. (Don't overmix)
Tips
Measure your flour correctly: Adding too much flour to the recipe is the most common mistake. This will cause the cake to be dry. Make sure to fluff your flour with a spoon, sprinkle it into your measuring cup, and use a knife to level it off.
Buttermilk - Buttermilk is a key ingredient and flavor in this recipe. If you don't have buttermilk, you can make your own substitution. To do this, add 1 ½ teaspoons of fresh lemon juice or white vinegar to a liquid measuring cup. Add enough whole milk to make 1 cup. Stir the two together, then let it sit for 5 minutes before using. (Note: You will still need the additional vinegar in the recipe as well.)
Make sure buttermilk, eggs, cream cheese and butter are at room temperature. This allows everthing to mix together evenly and give a nice smooth texture.
Step 2 | Pour into can pans and bake.
Pour red velvet cake batter into prepared cake pans and bake in preheated 350° oven.
Prepare Cake Pans Well: Make sure to spray the cake pans well with baking spray (the one with flour in it) or use oil or butter and flour to coat the pan. If desire you can place a parchment circle in the bottom of the pan and spray it as well.
If you want taller thicker layers use 8-inch cake pans.
For a 3 Layer Cake: Make 1.5 times the recipe and divide into 3 cake pans.
The best cake pans: I like to use a heavy light colored cake pan. I find they cook more evenly. These USA pans are my favorite. They come in 8 or 9-inch options.
If you want your cakes absolutely even in size you can weigh your pans and cake batter on a kitchen scale. Just eyeballing the amount is fine too, that is what I usually do.
Start checking at about 20 minutes the first time you bake. Oven temperatures vary and this will help you gauge how yours is cooking.
Tips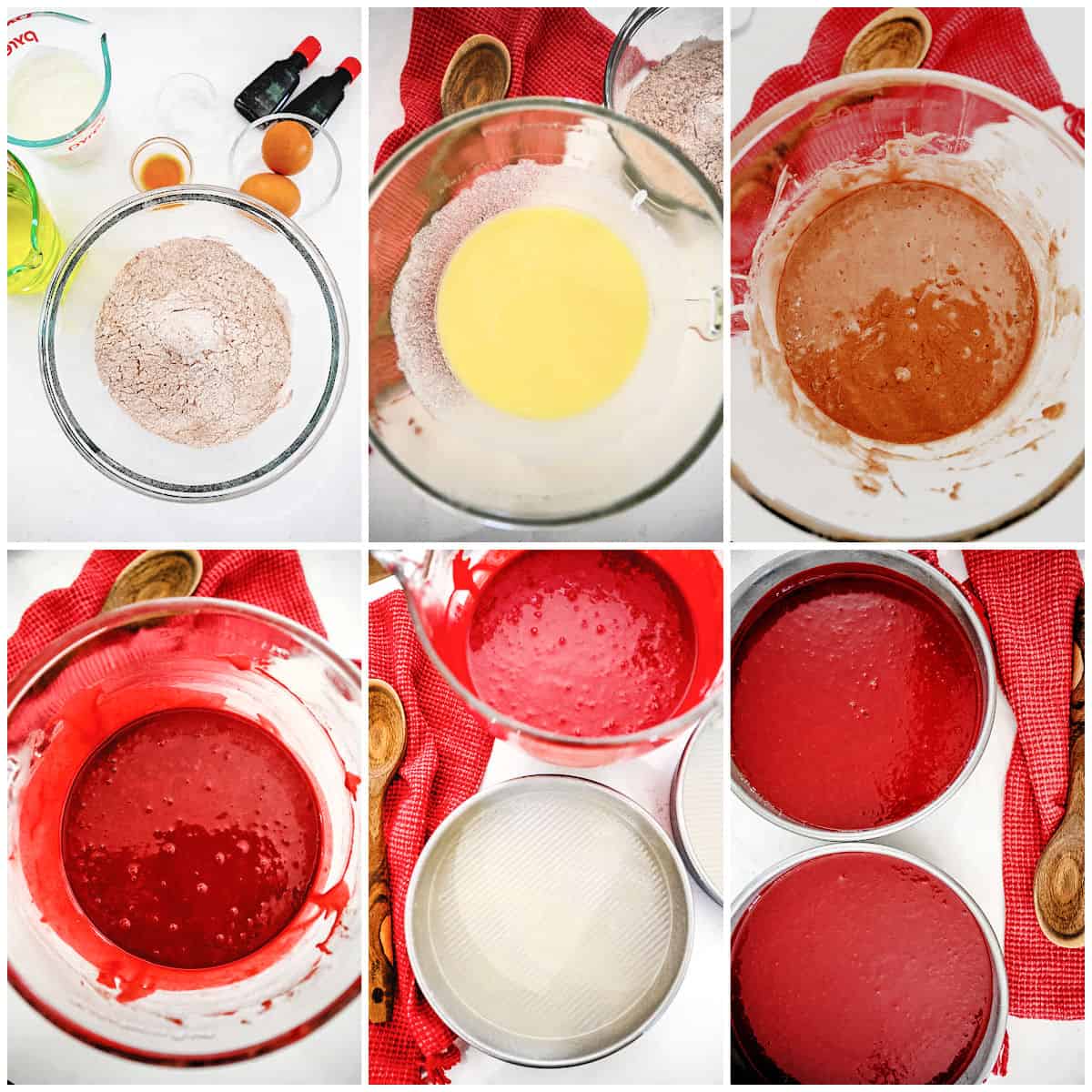 Step 3 | Icing the Cake
Beat cream cheese and butter until light and fluffy, and then slowly add in powdered sugar until combined. Add in vanilla and mix until combined and icing is creamy and spreadable.
Optional: If desired cut the top (dome) of each cake to level or make layers flat.
Spread the top of one of the cakes with some of the icing. Top with other cake. Spread top and sides of cake with remaining icing.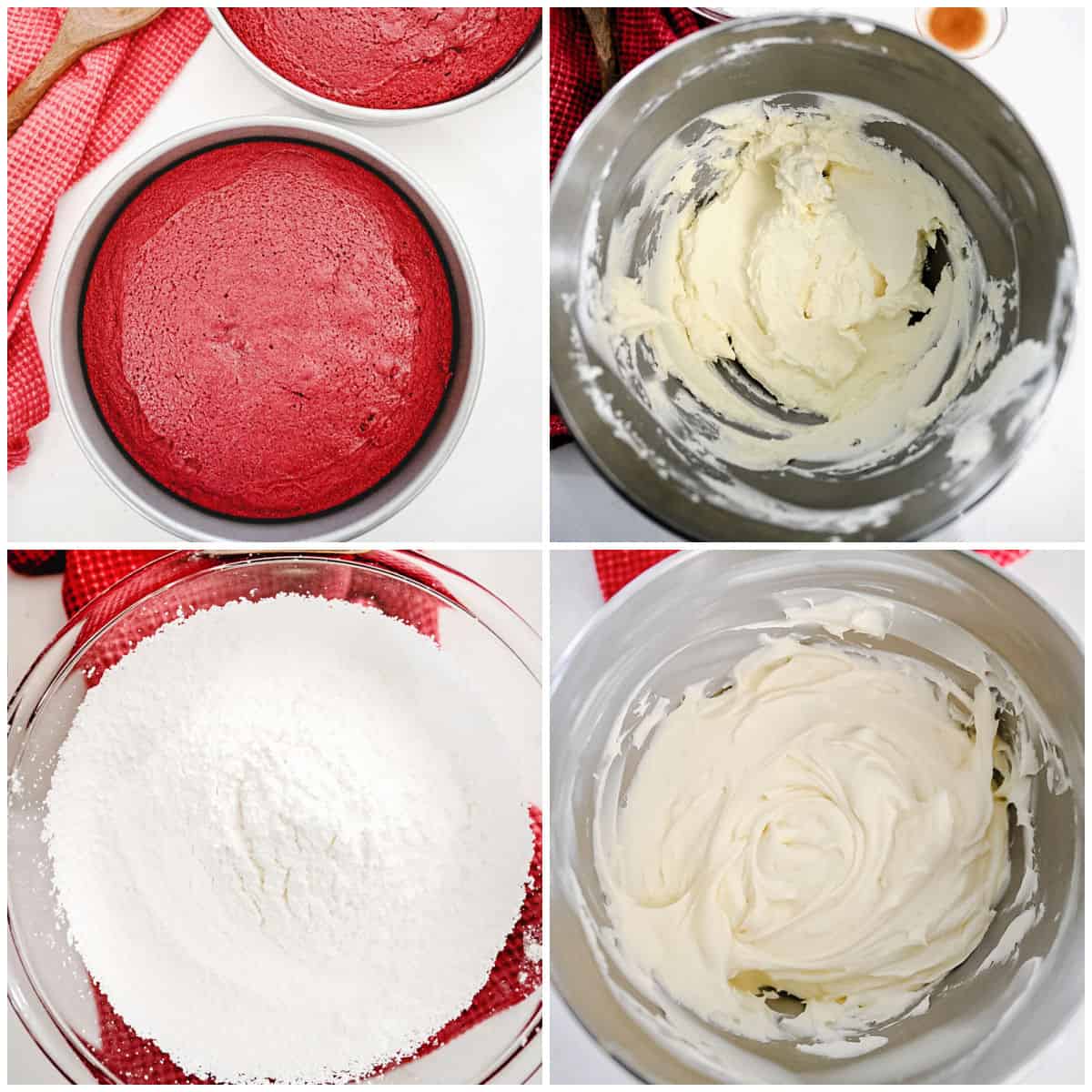 Tips
For the icing, you want room temperature or softened cream cheese and butter. For the butter, you want an indention when you touch it but it shouldn't be so soft you press right through it. Same with the cream cheese. If the icing gets too soft just place it in the refrigerator for a bit until the icing firms back up.
Add a dollop of icing to the base of serving dish then spread out a little. This will hold the bottom cake layer in place and keep it from moving around on the serving dish.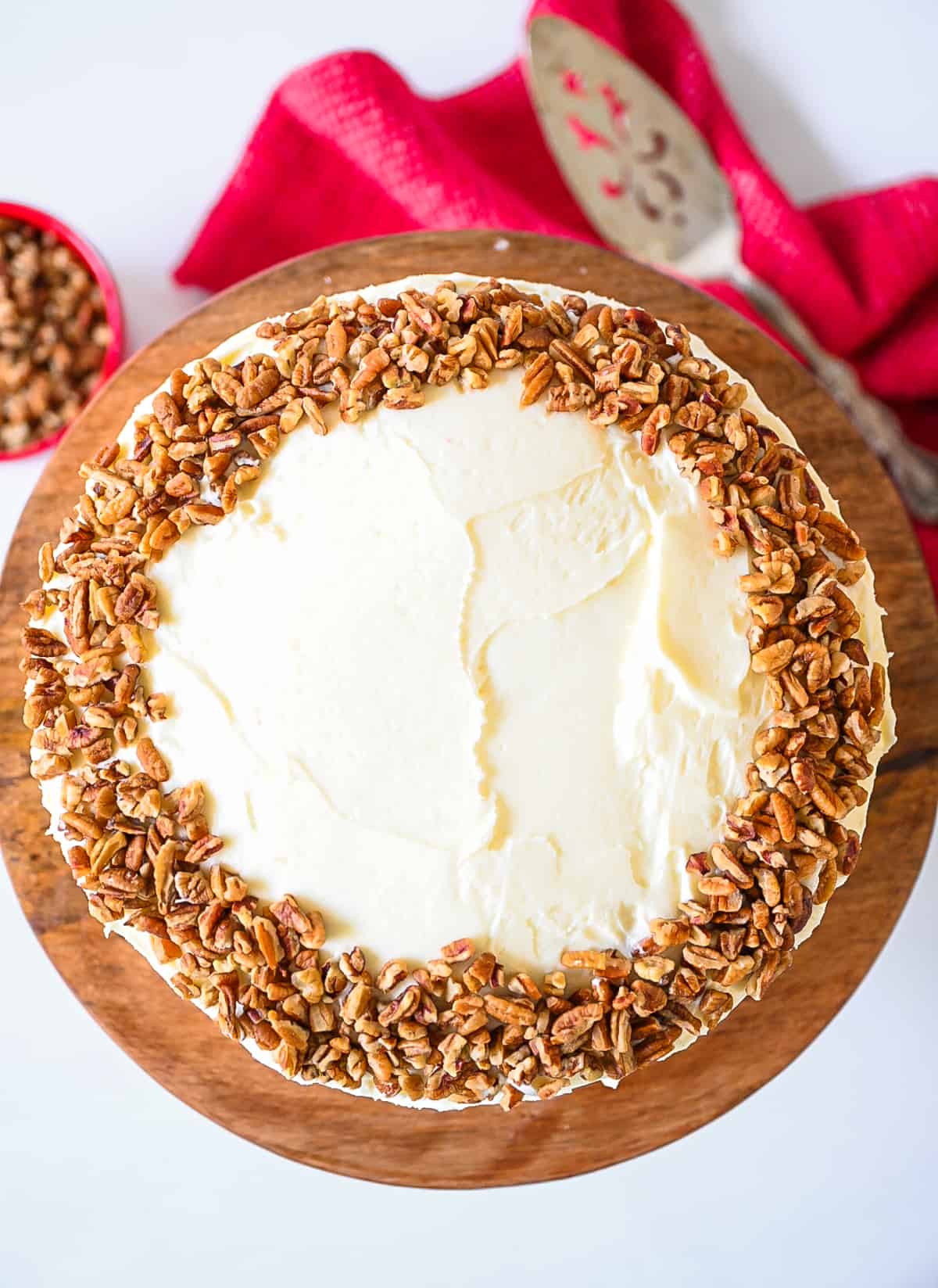 Frequently Asked Questions
Is red velvet cake hard to make?
No, it may look a little fancy, but the cake really is easy to make. Just measure out your ingredients as directed and you are good to go.
Why do you add vinegar and buttermilk?
The cocoa reacts with the addition of vinegar along with the buttermilk to create the perfect texture. Don't skip either of these!
What kind of food coloring do you need to use?
I always use the McCormick bottled food coloring. It comes in a 1-ounce bottle and yes 2 bottles are what you need. It gives that deep rich color and it does not alter or give a bitter taste to the cake. However, there are all kinds of colorings you can try. Gel colorings work well. There are also natural colorings available like beet powder. Feel free to experiment if you would like. I just stick to the basics here.
How do you make the frosting with the flour in it?
While I love and recommend a cream cheese frosting with this cake, you can make a flour-based frosting by using 1 cup milk, ¼ cup all-purpose flour, ⅛ teaspoon kosher salt, 1 cup butter (room temperature), 1 ½ cups powdered sugar, and ½ teaspoon vanilla.

In a medium saucepan whisk milk, flour, and salt together on medium-low heat until it thickens (like a gravy). Remove the pan from heat and allow it to cool (stirring occasionally). In the bowl of a stand mixer beat butter until light and fluffy. Add in cooled flour mixture and vanilla, and mix until combined (2-3 minutes). Frosting will be thick and smooth.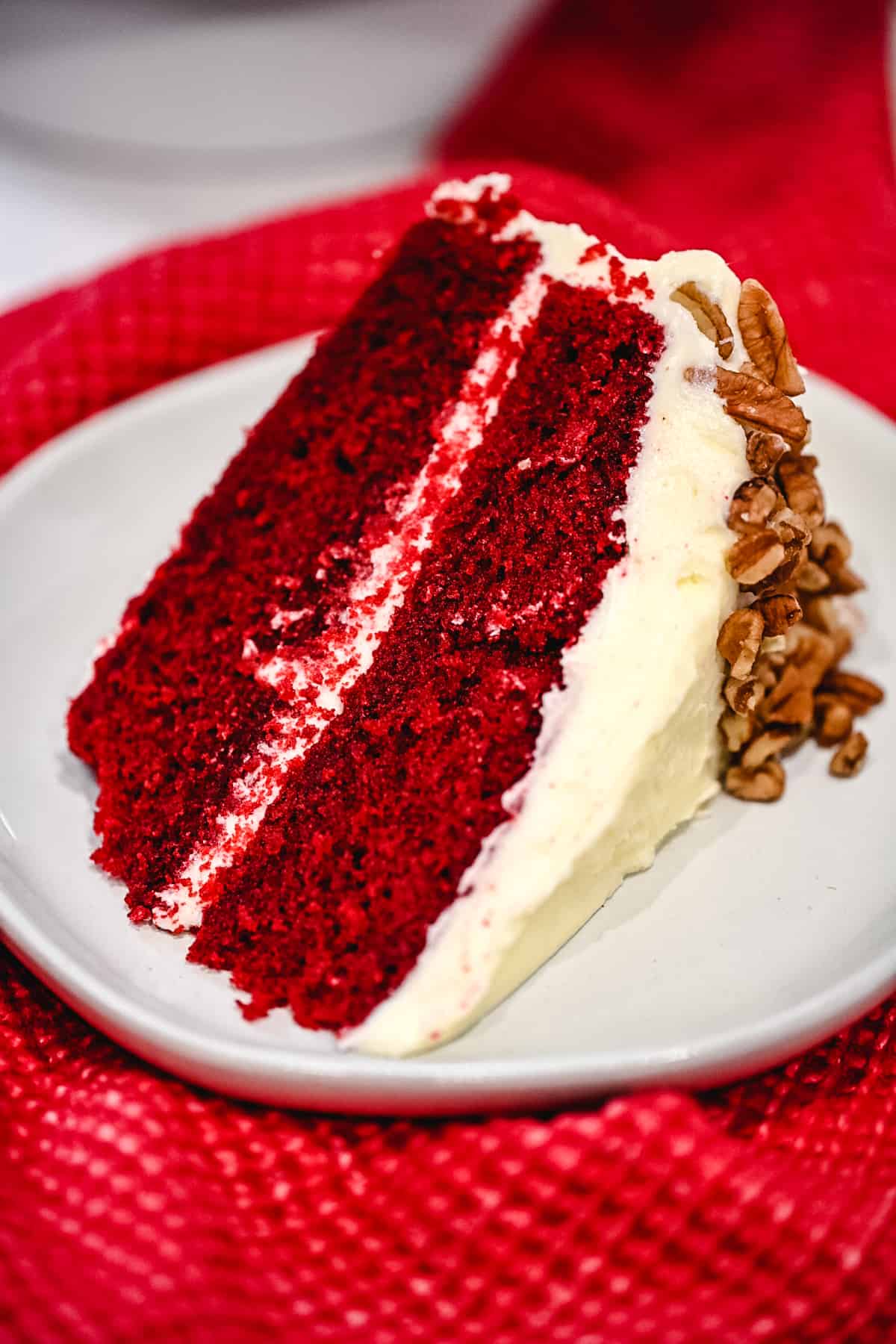 Variations and Substitutions: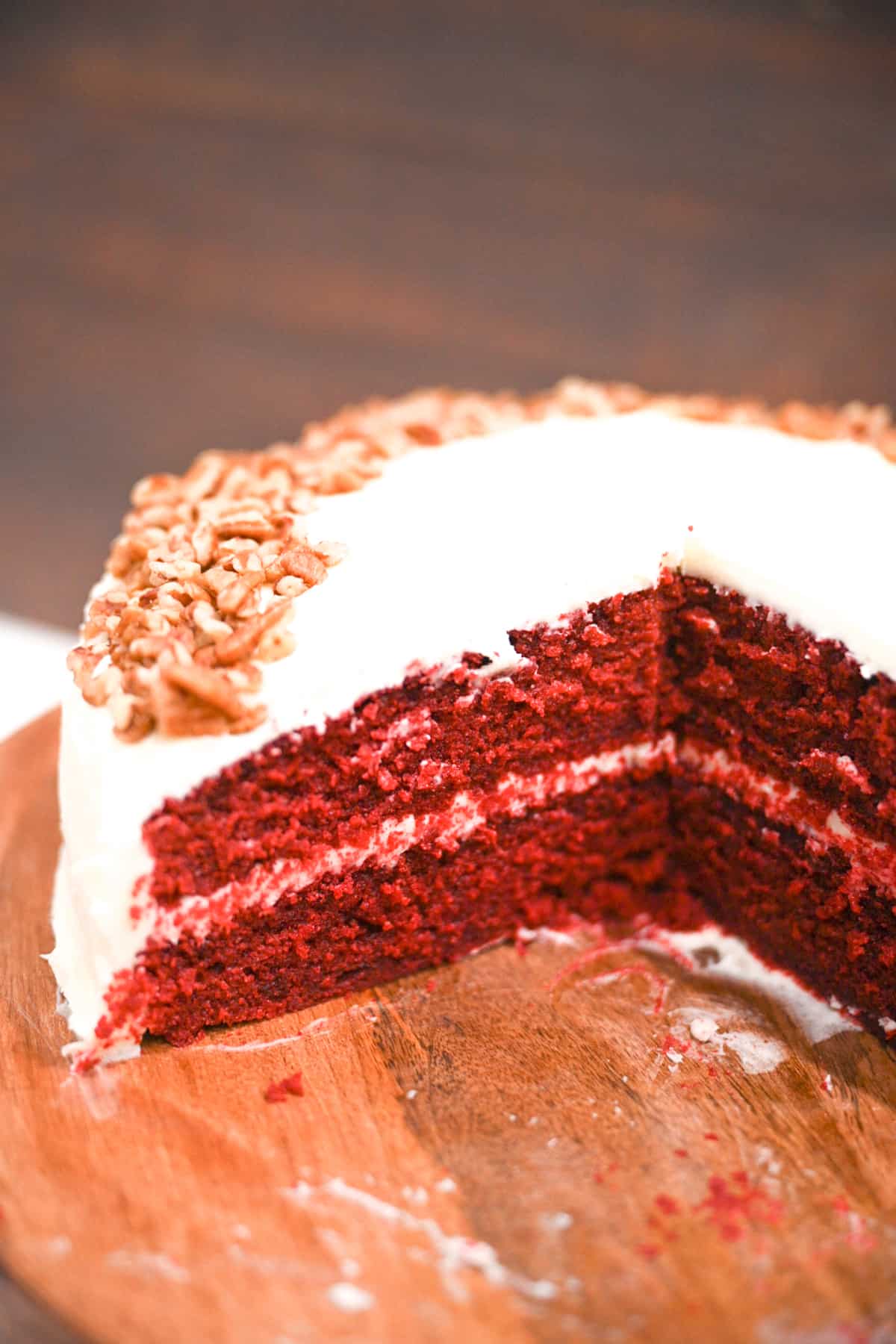 Make Ahead and Storage Instuctions:
Make-Ahead Instructions:
The cake layers can be baked, cooled, and covered tightly at room temperature overnight.
The frosting can be prepared then covered and refrigerated overnight. Let the frosting sit at room temperature to slightly soften for 10 minutes before assembling and frosting.
Storage:
Cover leftover cake tightly or with a cake dome or carrier and store in the refrigerator for up to 5 days.
Freezer:
Frosted or unfrosted cake layers can be frozen for 2 to 3 months. Wrap with freezer-safe wrap and place in a freezer-safe zip bag (or double wrap cakes). This will keep freezer burn at bay and keep other odors away.
Thaw cake overnight in the refrigerator and bring to room temperature before decorating/serving.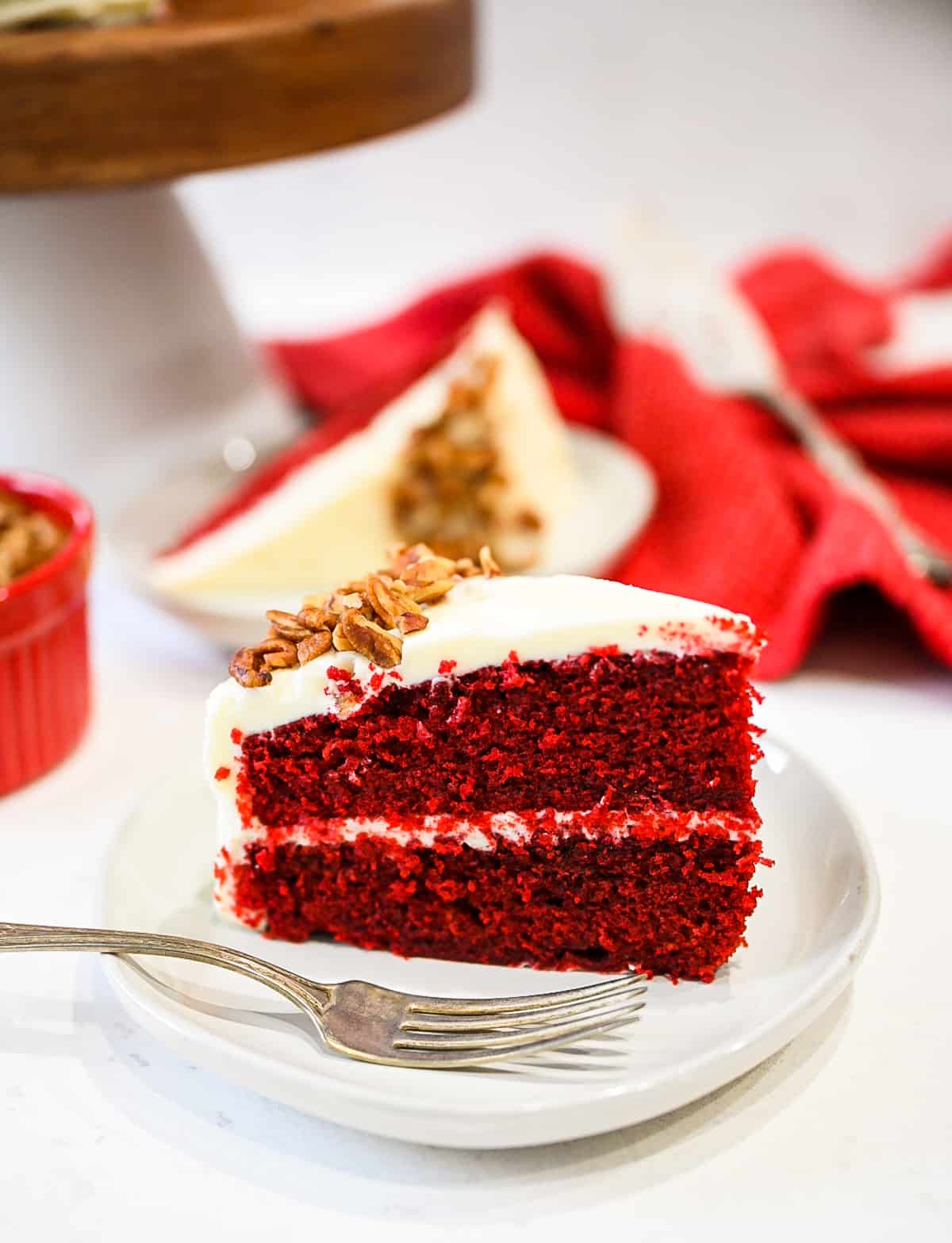 More Delicious Cakes to Enjoy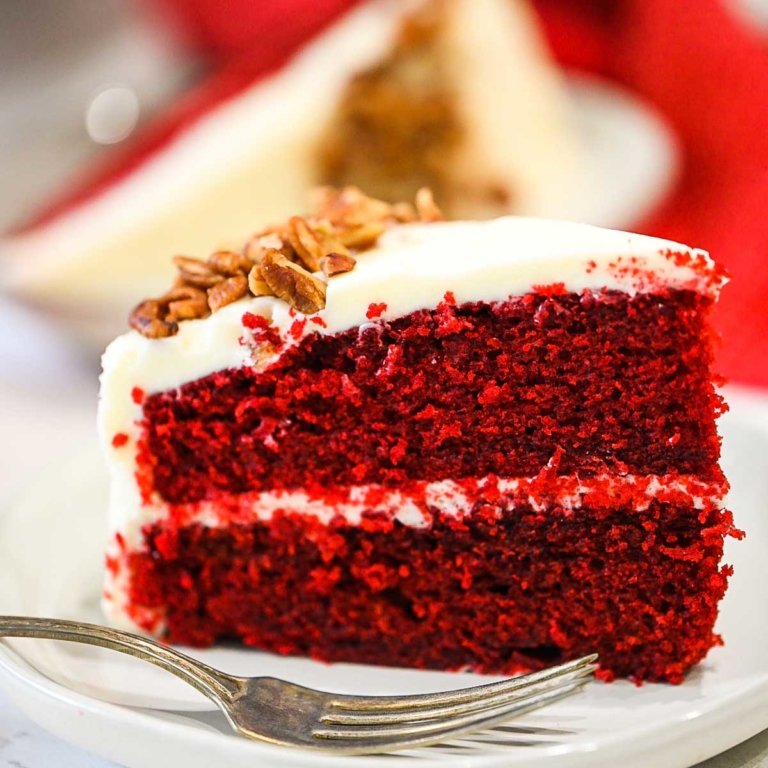 Red Velvet Cake Recipe
The most incredible Classic Red Velvet Cake is topped with the silkiest cream cheese icing! The cake is moist with that hint of chocolate and the most perfect velvet texture you will ever take a bite of.
Ingredients
Dry Ingredients
2 ½

cups

all purpose flour

¼

cup

unsweetened cocoa powder

1

teaspoon

kosher salt

1

teaspoon

baking soda

1 ½

cups

granulated sugar
Wet Ingredients
1

cup

buttermilk

,

room temperature

2

cups

vegetable oil

2

large

eggs

,

room temperature

1

teaspoon

vanilla extract

2

ounces

red food coloring

1

teaspoon

white distilled vinegar
Cream Cheese Icing (See NOTE section)
12

ounces

block cream cheese

,

softened

¾

cups

butter

,

softened

5 to 6

cups

powdered sugar

,

sifted

1 ½

teaspoon

vanilla extract
Instructions
Red Velvet Cake
Preheat oven to 350°F and spray with baking spray or oil and flour - 2 (8 or 9-inch) round cake pans. You can also line with parchment rounds in the bottom and spray if desired.

In a large bowl sift together flour, cocoa powder, salt, and baking soda.

In the bowl of a stand mixer (or large bowl), mix together oil, buttermilk, vanilla, and eggs until combined.

Add in sugar and mix until combined. Then slowly add in flour mixture and mix until combined.

Slowly add in food coloring and then vinegar, then mix until combined.

Divide evenly into 2 prepared 8 or 9-inch round cake pans.

Bake for 25 to 32 minutes (this will depend on cake pan size and oven) or until a wooden pick comes out clean or lightly crumbed. The cake should slightly pull away from the edges of the pan.

Once the cake is done remove it from the oven and let it cool in the pan for 10 to 15 minutes. Then turn out onto a cooling rack and allow to completely cool.
Cream Cheese Icing * (see note below)
Beat cream cheese and butter until light and fluffy (about 3 minutes it will change from a yellowish color to an almost white color).

Slowly add in powdered sugar until combined. Add in vanilla and mix until combined and icing is creamy and spreadable.
To Ice or Frost the Cake
Optional: If desired cut the top (dome) of each cake to level or make layers flat.

Spread the top of one of the cakes with 1 to 1½ cups of icing. Top with other cake. Spread top and sides of cake with remaining icing.

Optional: Use crumbles cut off of cake or toasted pecan pieces to decorate the top rim and sides or base of the cake as desired.

Refrigerate the cake for at least 30-60 minutes before slicing. This helps the cake hold its shape when cutting.
✱ Nikki's Tips
Cake Sizes:
3 Layer Cake: Divide the batter between 3 - (8 or 9-inch) cake pans. Bake for about 20-25 minutes. Use a toothpick to test for doneness
Bundt Cake: This cake batter fits into a 10-cup or larger bundt pan. I'm unsure of the exact bake time (likely around an hour), but use a toothpick to test for doneness.
Sheet Cake: This batter fits nicely into a 9×13 inch cake pan or 12×17 inch or jelly roll pan. Same oven temperature. Bake for about 35-40 minutes for 9 x 13 or 20-25 minutes for jelly roll pan. Keep your eye on the cake and use a toothpick to test for doneness.
*Original Icing Recipe: I adapted to 1 ½ of the recipe as my family likes a little more icing. Feel free to cut back if desired.
8-ounce block cream cheese, softened
1 stick (½ cup) butter, softened
4 cups powdered sugar
1 teaspoon vanilla extract

Nutrition
Serving:
1
slice
Calories:
548
kcal
Carbohydrates:
82
g
Protein:
9
g
Fat:
14
g
Saturated Fat:
8
g
Polyunsaturated Fat:
1
g
Monounsaturated Fat:
4
g
Trans Fat:
1
g
Cholesterol:
67
mg
Sodium:
620
mg
Potassium:
179
mg
Fiber:
1
g
Sugar:
77
g
Vitamin A:
448
IU
Calcium:
138
mg
Iron:
2
mg
Nutrition Disclaimer
Soulfully Made is not a dietician or nutritionist, and any nutritional information shared is only an estimate. We recommend running the ingredients through an online nutritional calculator if you need to verify any information.