Stuffed Pepper Meatloaf - all the makings of a stuffed pepper wrapped up in a moist and tender meatloaf. Filled with rice, spices, and then topped off with green peppers and a tomato glaze. Stuffed peppers made easy and delicious!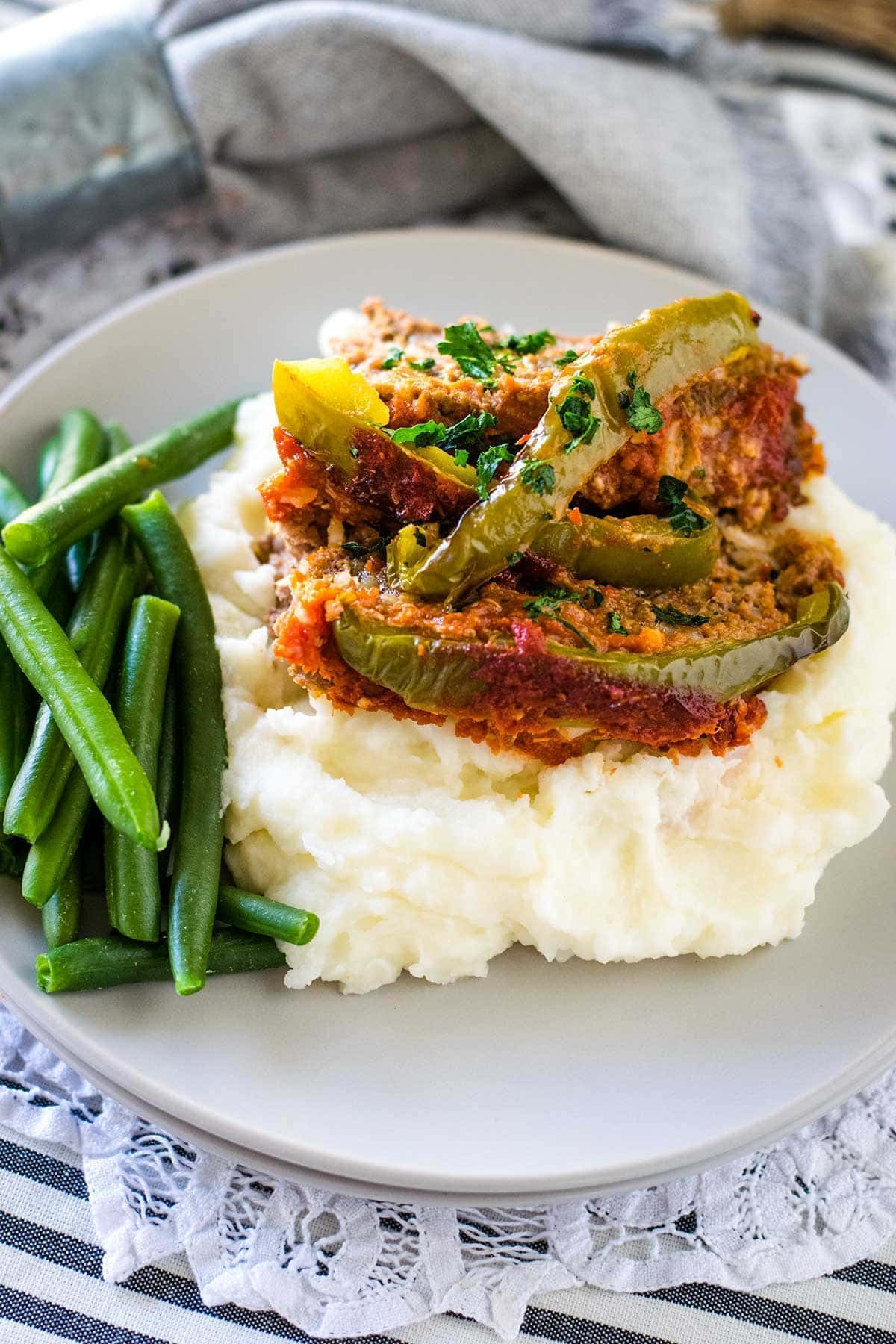 So many people think meatloaf is just a big 'ol hamburger, but really that isn't true at all. It should not taste like a burger. It should take on the flavor profiles of all the spices and add ins creating a taste of it's own, like these Mini BBQ Bacon Cheddar Meatloaves or Instant Pot Meatloaf and Potatoes! And in this case it's a Stuffed Pepper explosion of flavor!
Growing up I am not sure I fully appreciated stuffed peppers as much as I do now. I always seemed to eat the insides and left the pepper, but all the flavors that made its way inside were what made it so so good!
Now I eat it all up, what about you?
This one even my "won't touch a stuffed pepper" son loves! So hopefully your picky eaters will enjoy it too! It sure has been a big family hit at our house and it's big on flavor y'all!
Why you'll love this stuffed pepper meatloaf recipe
The Flavors- This isn't an ordinary meatloaf. It is packed with rice, green pepper, onion, and tomato. All the makings of a stuffed pepper in an easy to make meatloaf.
The Spices - Spices give flavor. Garlic, pepper, and bouillon or salt give this dish that extra yum factor.
Super Easy - Meatloafs are simple easy meals. You combine your ingredients and pour on your glaze and peppers and it's ready to go.
Make Ahead - This can be prepared ahead of time so when you come home from a long day it's ready to go in the oven. I often make the night before or the morning of. It's easy enough though to put together the day of too 😉 !
Comfort Food - Stuffed Pepper Meatloaf is comfort food on a plate! Reminiscent of what mama made! Who doesn't love a good home-cooked meal!
Ingredients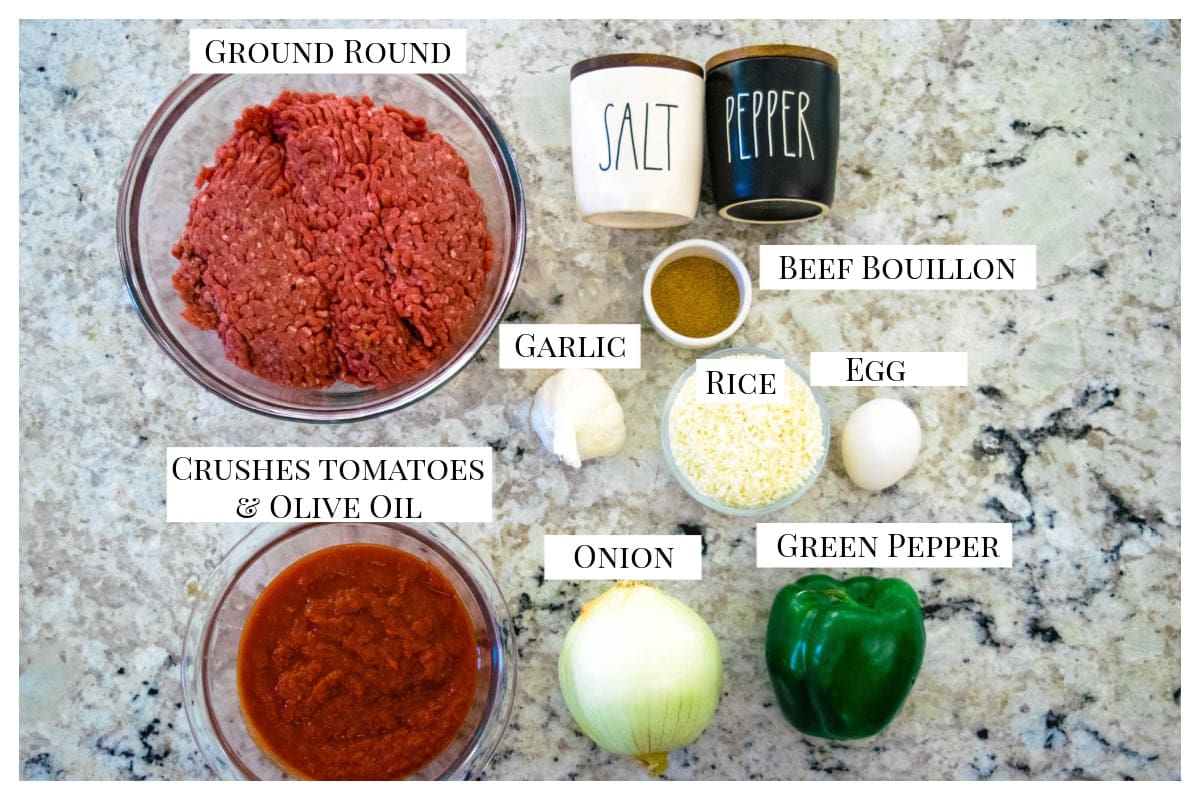 Ground Round
Instant Rice
Onion
Egg
Salt & Pepper
Bouillon
Garlic
Green Bell Pepper - You can also use red, yellow, or orange bell peppers too.
Crushed Tomatoes
Olive Oil
How to make stuffed pepper meatloaf
✱ Be sure to see the recipe card below for exact ingredients and instructions!
Preheat oven to 350°. Adjust rack to middle position. If using a sheet pan line with foil for easy clean up. If using a dutch oven or pan, you can skip lining if desired.

For the topping
Wash and slice green peppers.
In a medium bowl mix topping ingredients (except for green peppers) - crushed tomatoes, garlic, olive oil and salt to taste.
For the meatloaf
In a large bowl mix meatloaf mixture ingredients - ground beef, instant rice, grated onion, egg, garlic, bullion and black pepper. I find using your hands is easiest way to combine.
Place meatloaf in pan and shape into loaf .
Top the meatloaf with sliced green peppers and pour tomato mixture over the peppers. (alternately, if you prefer you can mix the peppers in with tomato mixture and spoon over the top you can)
Cover with foil or over safe lid and cook for 45 minutes. Remove foil and cook remainder of time (30 to 45 minutes) or until done. An instant read thermometer should read 155° to 160° when done. I check to 1 hour mark with thermometer as shape of meatloaf and oven times vary.
Remove from oven and let rest for 10 minutes before serving.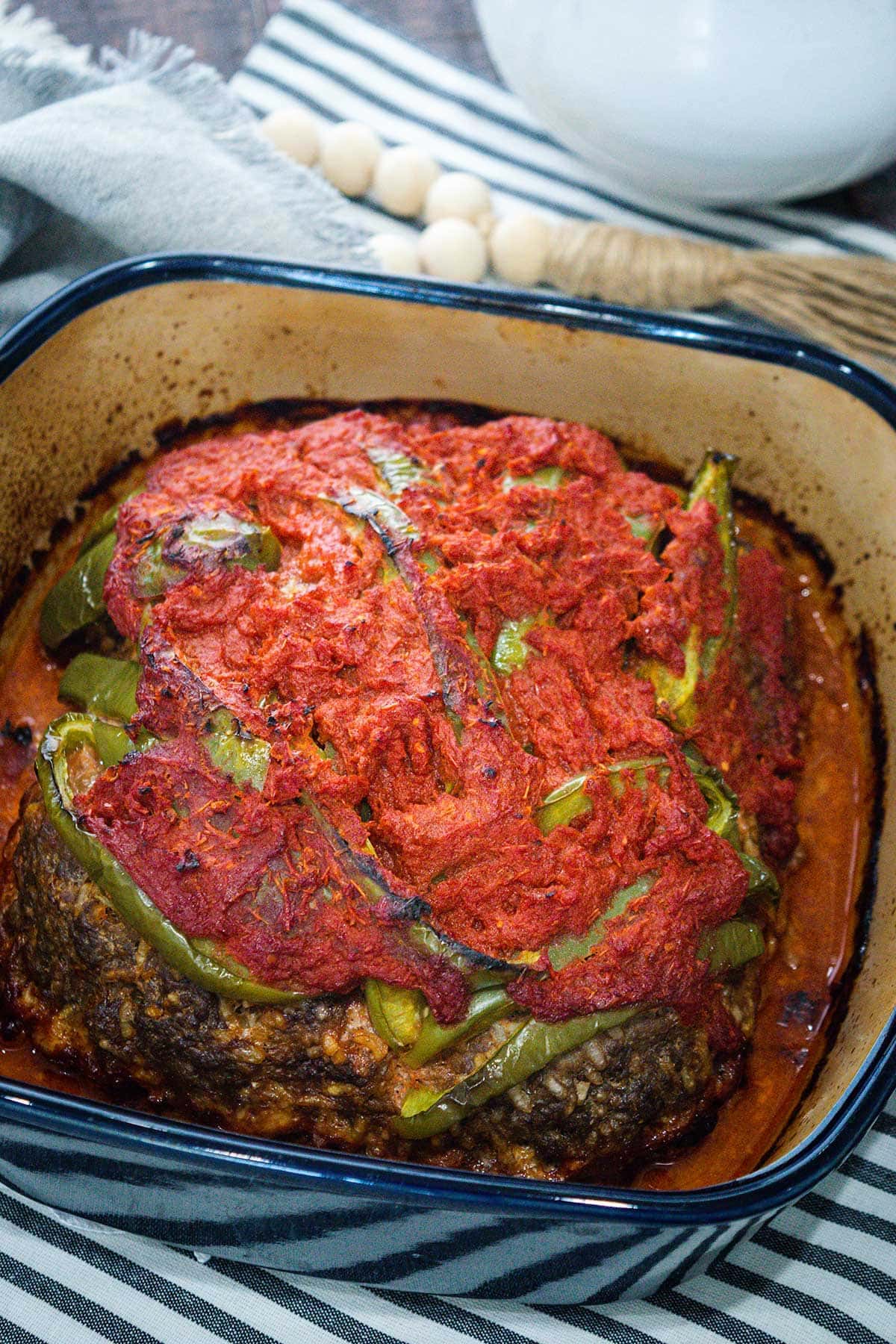 Frequently Asked Questions
Why does my meatloaf fall apart?
A meatloaf will fall apart because the mixture wasn't mixed together well enough or it wasn't pressed together firmly. Using a loaf pan can also help hold it together.
Do you have to use a loaf pan?
For this recipe I actually do not. There are plenty of juices
When you free form a meatloaf, often the ends/edges are a little more done than the center. This is perfect for our family because some people like crispy edges and some like the juicier center.

Using a loaf pan will keep the meatloaf more consistent throughout and it will be
Should you cover the meatloaf when baking?
Typically no! However if the meatloaf or toppings are browning too quickly you can cover for part of the time.

This meatloaf has the green peppers on top therefore, I cook it covered for the first 45 minutes and leave it uncovered the remainder of time. This will give the top time to caramelize but not overcook the inside.
How long should you cook stuffed pepper meatloaf?
A typical meatloaf, when baked in a loaf pan or shaped on a baking sheet, should bake at 350° for 1 to 1 ½ hours. That is 35 to 45 minutes per pound.

Test internal temperature using an instant read thermometer. It should register 160° for a beef meatloaf when done.

The shape of the meatloaf can also affect cook time. If you cook in a loaf pan and have a taller meatloaf if may take a little longer. I like to check at 1 hour with an internal instant read thermometer to see where it is in the cooking stage. You don't want it overdone as it can dry out.

It also continues cooking a little as it rests, so you can remove it when it is at the 155° to 160° range.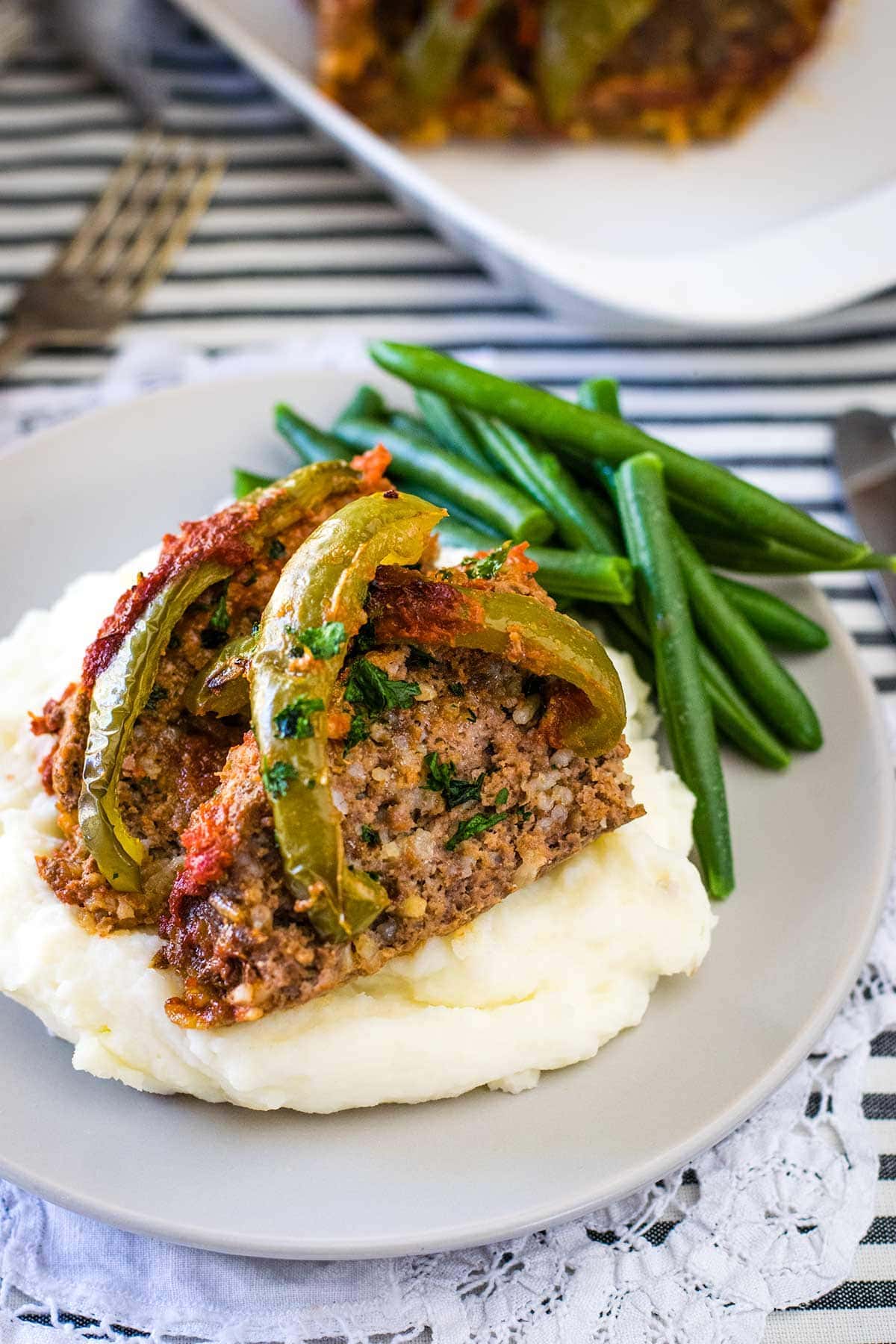 Tips
A tastier, juicier meatloaf - The secret to making a meatloaf taste great is using a good quality, fresh beef. I like a ground round or a 15% fat content. It's still leaner than a regular ground beef, but this lends to tons of flavor.
Make sure to use Instant Rice. If you use a regular rice it won't cook enough. If you just don't have it at home, in a pinch use pre-cook rice. Just cook it to al dente.
Make sure to not over mix. Overmixing can make it tough. You want to mix it until everything is nice and combined so that it will hold it's shape and stay together.
A few cracks are ok! Flavor drips down into them! That's a good thing!
Bouillon powder - replace salt with bouillon powder for even more flavor! You can use beef, chicken or vegetable. If you don't have it the salt substitution is 1 tsp salt (or to taste).
Grating your onion - This is something I started doing honestly to trick my kids when they were younger. I also found it makes the meatloaf more tender. It adds the flavor without the chunks of onion showing up too!
If you want a caramelized topping, you can place it under the broiler a couple of minutes after cooking. Just keep an eye on it!
Let your meatloaf rest before cutting. Let it rest for 10 minutes to allow the juices to distribute. This makes for a more delicious meatloaf.
What to serve with meatloaf
More timeless meals made with ground beef
If you love ground beef recipes check out these 20 plus Ground Beef Recipes!
This week I am participated in a food blogger recipe swap called Freaky Friday Blog Swap. It's a time when a few fellow bloggers are assigned a secret sister of sorts. We pick a recipe from each other's blog to recreate in our own kitchens. Thank you Michaela at An Affair from the Heart or hosting!

I was also assigned Michaela. I love her blog and recipes because they are delicious, tried and true, and use simple ingredients! She believes in gathering family around the table and creating a meaningful connection. Since we both want to bring people to the table to make memories around a meal we instantly became fast foodie friends.
I love her sweet, warm spirit and you definitely see it in the recipes she creates! She loves her family and having them at home. I can relate in so many ways to her as home, our children, and family are what drive us. Her recipes reflect all that love and warmth.
It was so hard to decide what to make! She can do wonders with sauerkraut like these Traditional Reuben Sandwich, her Nebraska Runzas look scrumptious, and those Paczki Polish Donuts are divine!
When I came across her stuffed pepper meatloaf, I knew it was a must try! This was her mom's recipe and growing up my mom always made the best stuffed peppers too, and a meatloaf version was a must try!
Let me just say it was a big hit with my family just like it is with hers!
So make sure to go check out the many scrumptious dishes she is serving up at An Affair from the Heart! You will be very glad you did!
Be sure to scroll down to see all the recipes from my foodie friends!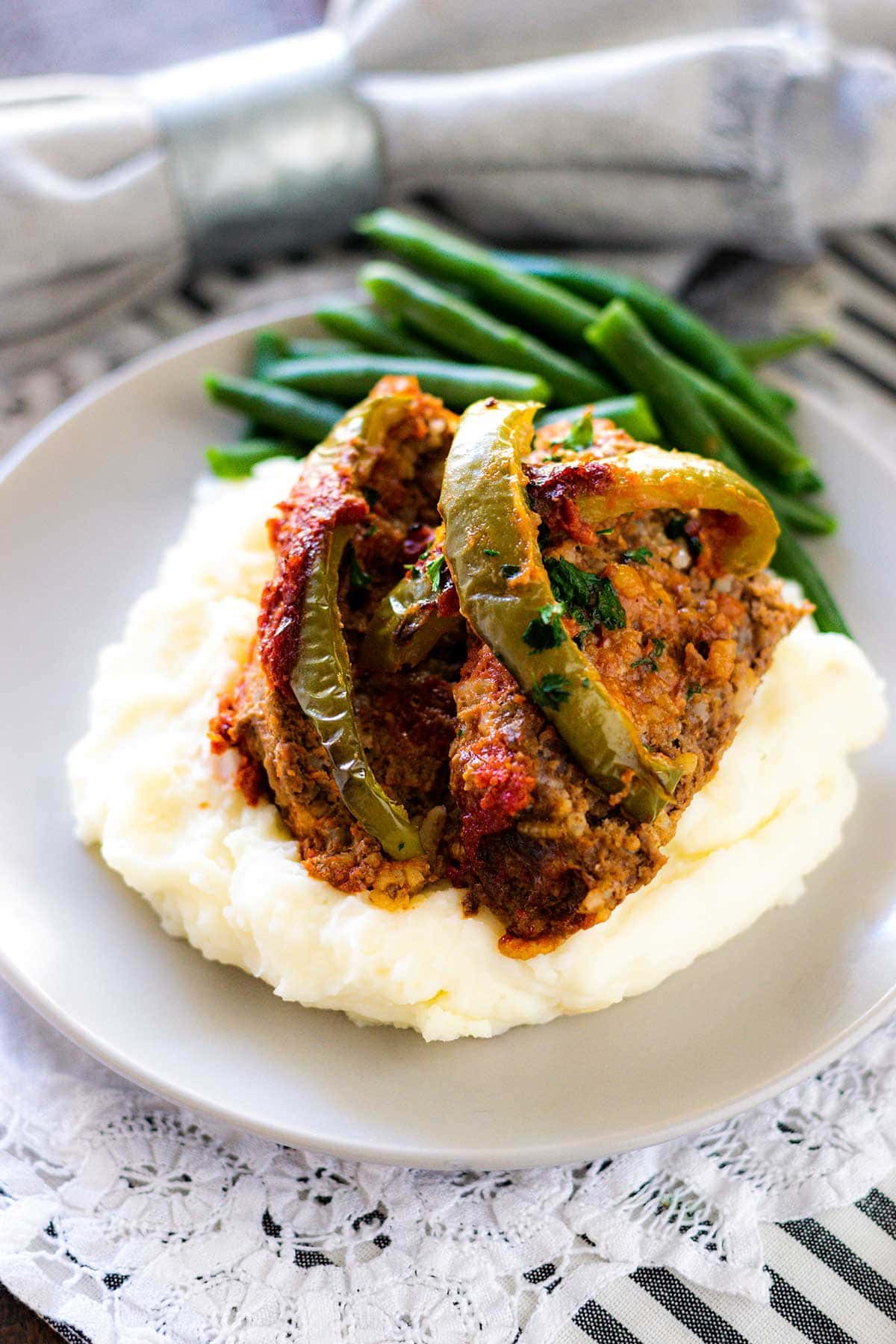 Take a look at all of our 2021 Freaky Friday Winter Edition Recipes: