Frosted Chocolate Turtle Brownies are buttery, gooey brownies with nuts, caramel bits, and chocolate chips baked into brownie dough, then iced with the most exquisite chocolate frosting and topped with more nuts, chocolate, and melted caramel!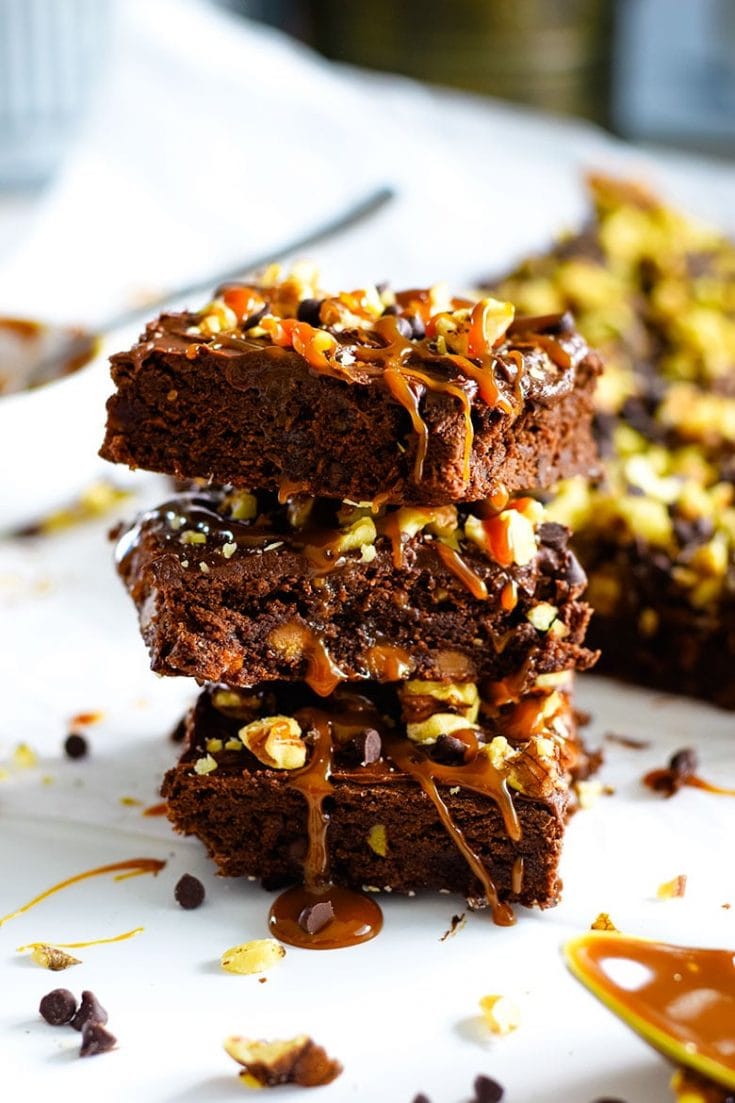 Brownies, ahhh brownies. This is the ultimate of desserts in my opinion! Ooey, gooey, buttery and chocolatey - the chocolate lovers dream!
There really is nothing better than a good brownie!! Except one loaded with chocolate… AND well then, just maybe when you smother that brownie in caramel, more chocolate and walnuts or pecans!
NOW THAT is the ultimate brownie!! And the BEST thing y'all is how quick and easy it is to make this recipe. Simple ingredients and made quickly! Cause who can wait when it comes to CHOCOLATE??? I know not me!! or I!!! However it goes.. And long as it goes into my belly soon!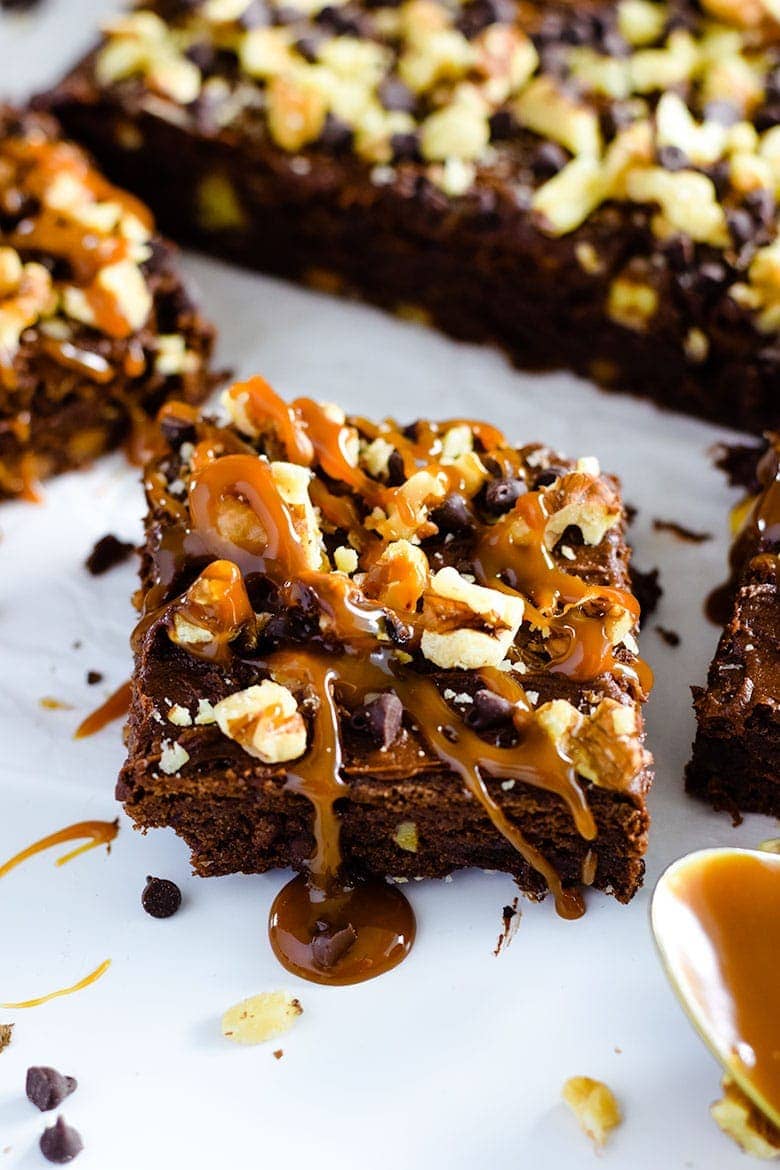 TIPS FOR MAKING THE PERFECT BROWNIES
Start with quality ingredients, especially when it comes to the chocolate. Really good chocolate is the key to the best brownie!
Make sure your eggs are at room temperature, this will ensure your brownies will have a lighter texture and cook more evenly. Just sit them on the counter about 1 hour before you are ready to make your brownies. If you forget or just chocolate brownies call your name and you just cannot wait. Place them in a bowl of warm water for 10 to 15 minutes)
A light colored, shiny pan is the best. If you only have a glass pan turn the oven temp down a few degrees. Line a good quality pan with parchment paper. Leave some overhanging on the sides and spray it with cooking spray. When your brownies are done baking, this allows you to lift the brownies out by the pulling up on overhang.
Don't put them in the oven until it is completely preheated. Place them in the center of the oven for even baking. Remember that each oven cooks differently and baking time will vary. Also remember that your brownies will keep cooking as they cool off too. So, don't leave them in too long.
HOW TO MAKE CHOCOLATE TURTLE BROWNIE
Preheat oven to 350 degrees. Line a 9 x 13 pan with parchment paper leaving the parchment paper hang over the sides and spray with cooking spray. Set aside.
TIP: Spray cooking spray into bottom of the pan first. This will help hold it down.
In a large bowl or the bowl of a stand mixer, add melted butter, sugar and cocoa powder and beat on medium speed until combined, about 2 minutes. Add eggs one at a time until combined. Add in vanilla and beat until mixed in.
In a bowl whisk together the flour, salt, baking powder and espresso. Slowly pour into the butter mixture and stir until batter in just combined. Fold in nuts, chocolate chips, and caramel bits until combined.
Pour batter evenly into prepared pan and bake for 30 to 35 minutes. Let pan cool on a wire rack for 10 to 15 minutes.
Now it is on to that Chocolate Frosting and Delicious Turtle Topping - In bowl or stand mixer, beat butter, cocoa, corn syrup, and vanilla until blended and fluffy, about 1 minute. Add in powdered sugar and 2 tablespoons milk and beat until smooth. Add in additional milk if needed to reach desired spreading consistency.

Once brownies have cooled, spread on frosting. Sprinkle with chocolate chips, chopped nuts and drizzle with caramel sauce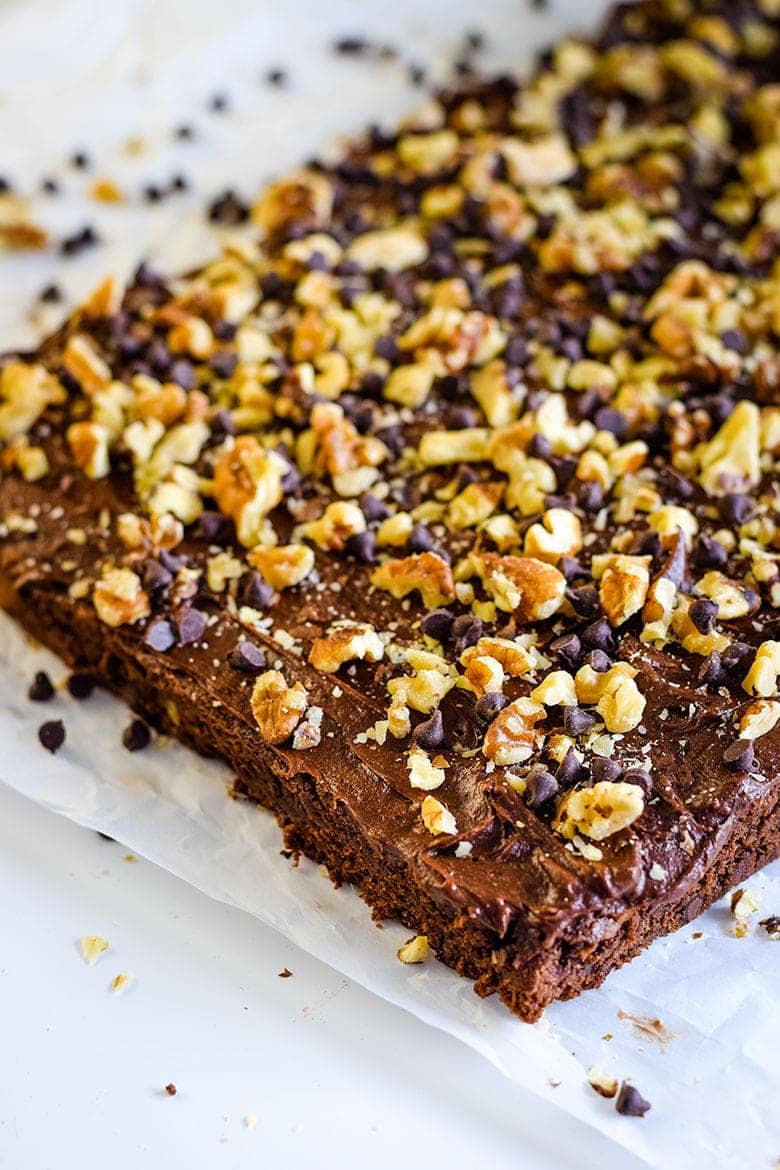 Now the debate fudgy or cake? I think a brownie should be fudgy. With these Turtle Brownies you get the perfect amount of gooey with the melted chocolate and caramel bits. Topped with fudgy chocolate icing and all the delicious Turtle Toppings! These babies are too good to resist!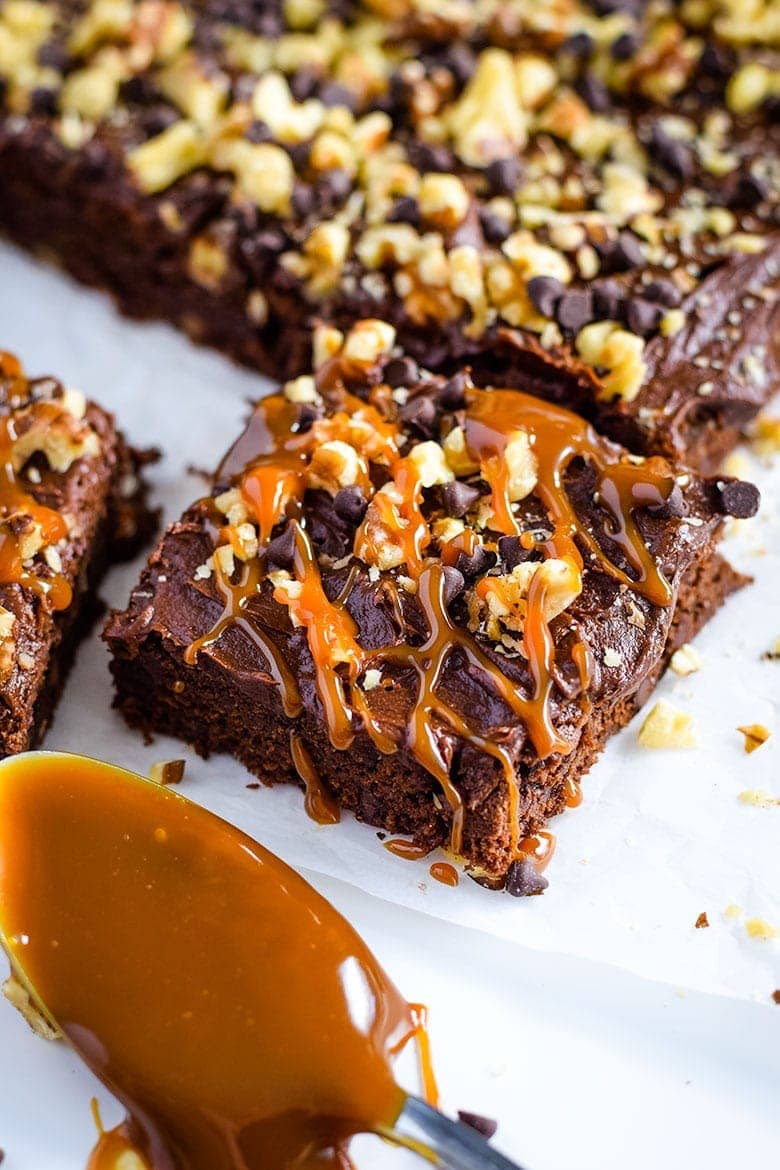 Caring is sharing! If you would like to support Soulfully Made, please share this recipe on Social Media, so that I can continue to bring you more wonderful recipes!
Please PIN - Chocolate Turtle Brownies - for later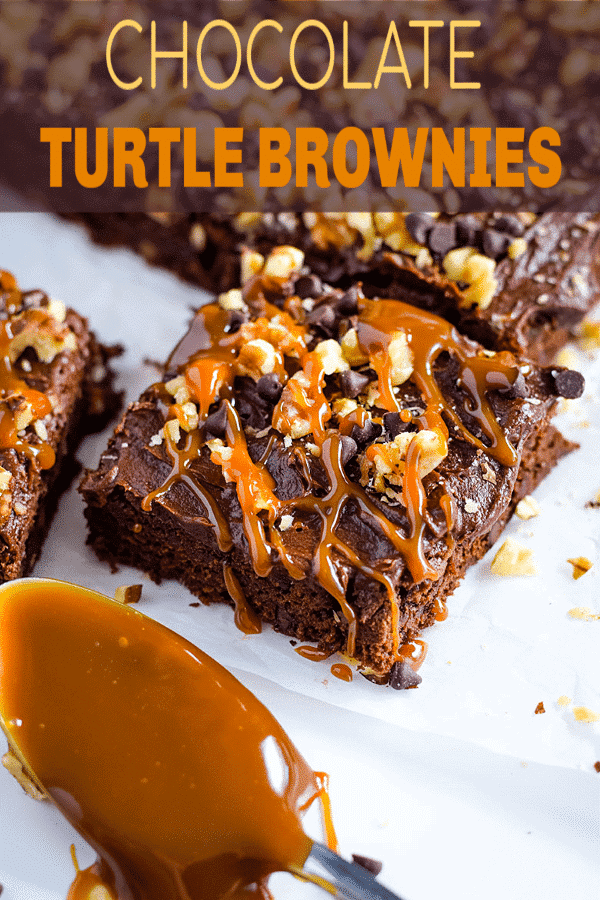 Facebook | Instagram | Pinterest | Twitter | Google +
If you share a picture of something you make from our blog, tag it with #SoulfullyMade so we can see it. We might feature it on Instagram! It makes my day when I see you've made one of our recipes!
Get Free Recipes from Soulfully Made delivered right to your inbox!
---
You can also find this over at Meal Plan Monday and Weekend Potluck!