White Chocolate Macadamia Nut Pound Cake - the simplicity of a pound cake elevated with the soft crunch of macadamia nuts and infused with creamy white chocolate, resulting in the most delectable dessert.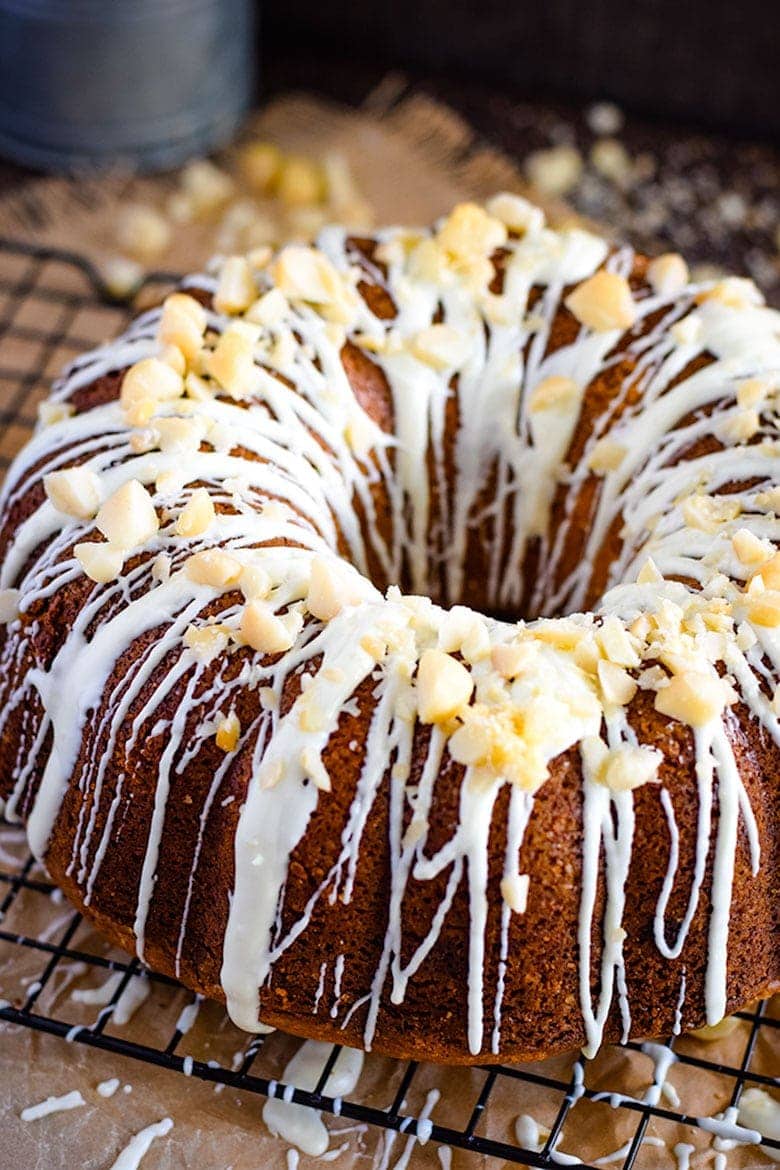 There is something wonderful about a homemade pound cake. This simple dessert has stood the test of time and I know why - it is truly delicious! Everytime one is in the oven, heavenly smells waft through the air transporting me to childhood days with Sunday after church dinner on the grounds kind of days.
We are all hip now (I am pretty sure my kids would say I am not for even saying the word) and don't seem to have those very often or I guess they call them something else. It really is becoming a lost tradition that I miss and long for in this modern world. My vote is to bring them back! Maybe I am getting older (NOT) or maybe it is because I long for a slice of a precious woman's cake.
Mrs. Raburn's cakes, or whatever dessert she made, were the ones everyone always fought to get a slice of. She made the most amazing desserts you ever put in your mouth. She also baked for a local restaurant in our town called Buddy Freddy's. The original owners have sold and one of the brothers still has a place with down home cooking called Fred's Market. (It's good - so stop by if you are in town and tell them I sent you - no they haven't paid me I promise)!
Even though their food is super delicious, I still miss Mrs. Raburns desserts. I think they were so good, because I am convinced she is really an angel here on Earth! My new mission is to get ahold of some of her recipes! Well, as I sit here and reminisce of sweet cakes and even sweeter friends, I better get this one out of the oven so I can share one of my favorite creations with you.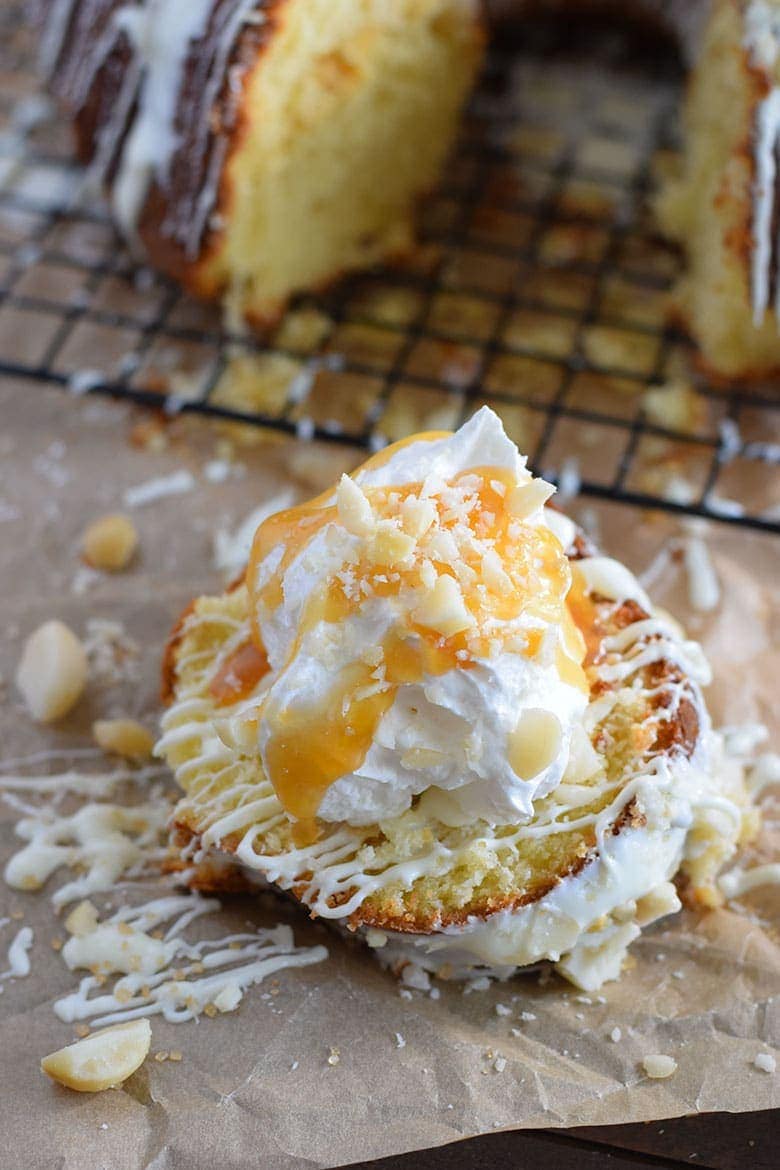 5 Tips to making the most successful Pound Cake and a few baking mistakes to avoid.
Measure accurately
Beat softened butter (and this goes for vegetable, canola oil or even cream cheese too) at medium speed with an electric mixer until it's creamy. This can take anywhere from a couple of minutes to 6 or 7. It all depends on the power of your mixer. Then slowly add sugar, continuing to beat until light and fluffy. This is really important because it whips air into the cake batter so it will rise beautifully while it's baking.
Don't overbeat the Eggs PLEASE
One at a time and just until the egg yolk combines or disappears into the sugar and butter. You don't want cake spilling over your pan or it's crust separating. So be gentle with those eggs y'all.
Alternate Dry Ingredients For a better batter
Always add the dry ingredients alternately with the liquid (or sour cream in this cake). Start and end with the dry ingredients. You gotta make sure the dry and wet ingredients are evenly distributed throughout the batter. Then mix just until blended after each addition. No one wants overmixed batter making a ruberry tough cake!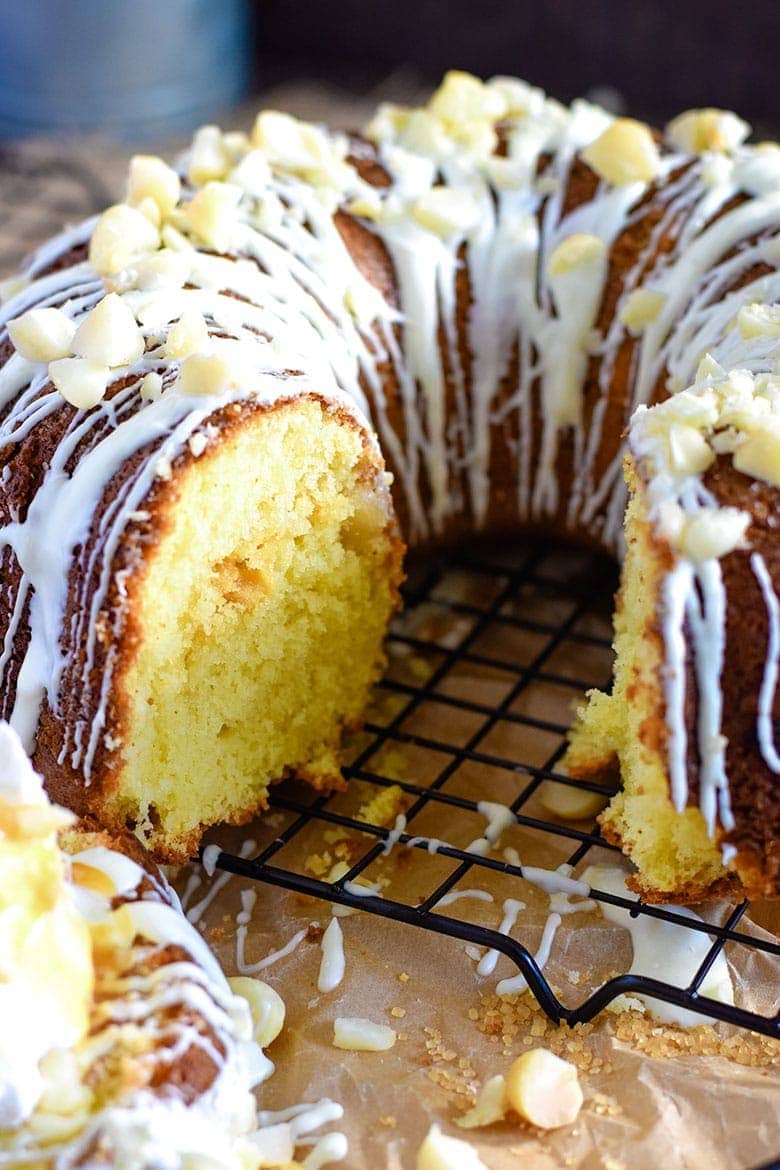 How to make White Chocolate Macadamia Nut Pound Cake
If you follow the tips, you will bake up the most buttery, delicious bite of cake you have ever eaten.
It's pretty much starts with creaming the butter and sugar. Adding in the eggs one at a time. Then in this case we are adding in some melted white chocolate and vanilla and almond extracts. I use a hint of almond extract in many of my pound cakes. Just love the flavor it adds.
(I really need to add more pound cake recipes to the blog - Be on the lookout, cause they are my fav and I just realized I need to share them with you)
Mixing your dry ingredients like in the tips. And alternate with the liquid or wet. So a little flour mixture, a little sour cream, repeat ending with flour and then beat until just combined. REMEMBER don't over beat the batter!
Preheat the oven and make sure your cake pan is greased, sprayed or buttered. For this pound cake I like to sugar the pan instead of using flour. Using a turbinado or raw coarser sugar gives the outside a yummy sweet crust. If you don't have it, you can use regular white sugar too.
Now into the pan ⅓ of the batter, ½ of the chopped white chocolate, and ½ of the chopped nuts. Repeat again and top with remaining batter.
Bake the cake for 55 to 60 minutes or until a toothpick (wooden pick) or cake tester comes out clean.
Let it cool in the pan for about 10 minutes. Then take a knife and go around the edges to loosen from the pan. Turn over onto a wire rack to cool.
If you want to make this extra pretty on top, drizzle with melted white chocolate and sprinkle with extra roughly chopped macadamia nuts. This is just for presentation in my opinion because the cake is delicious enough without it. BUT ya every southern baked pound cake has to be a little PURTY right! And it gives everyone a hint of what awaits inside this beauty!