Instant Pot Meatballs and Gravy - Meatballs pressure cooked in a brown gravy with onions and spices make a quick and easy dinner with all the comforts of a home cooked meal.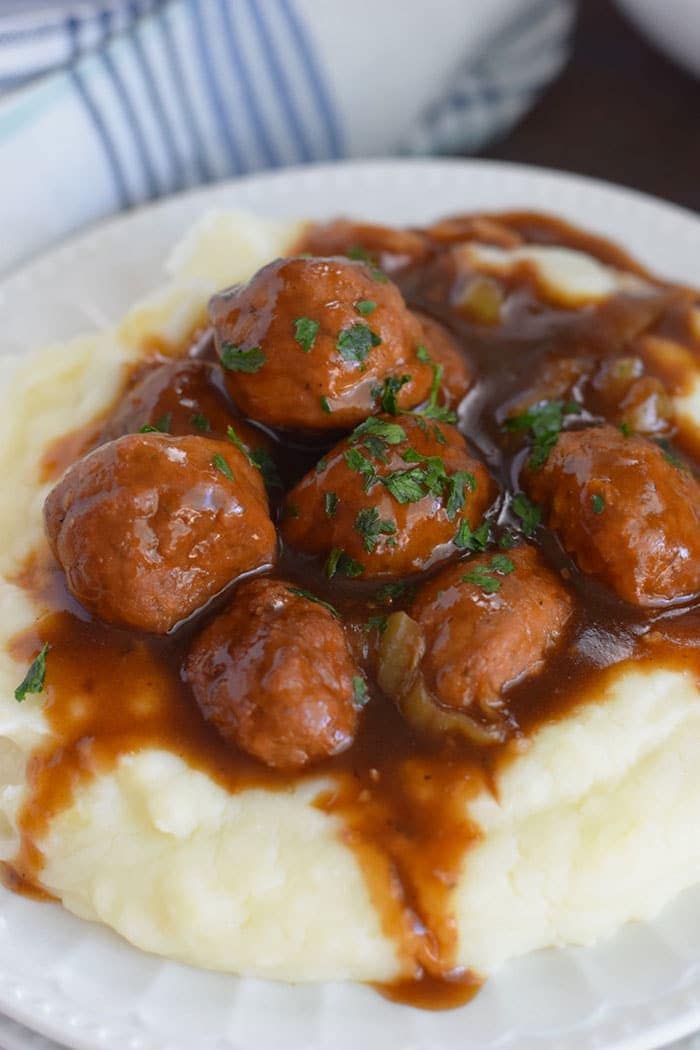 After a long busy day, sometimes I find myself without a plan for dinner. Anyone else out there do that! I can say this is me far too often lately (I know a food blogger does this too). But just have to be real my friends.
My mind is going a millions places (Like all these chocolate recipes I am working on for CHOCTOBERFEST next week - a whole week devoted to chocolate)! AND who wouldn't rather think about Chocolate than dinner right! I head out the door in a hurry and forget to lay something out or just forget my name for the day - lol.
This is why I love my Instant Pot. I can whip anything up in no time.
I am sure that isn't any of you, right - WINK WINK! I won't tell a soul!! But, I must say, the beauty of this meal is it is delicious enough to plan for it. Meatballs and Gravy do sound like the perfect home cooked comfort meal - Don't you agree? So let's get cooking "good looking" - My grandpa used to say that - so it just popped out of my mouth y'all! 😉
What you will need to make Meatballs and Gravy in Pressure Cooker
Frozen Meatballs
Butter (I like to use garlic & herb butter, but regular is fine too)
Sliced Onions
Family Sized Jar of Brown Gravy
Garlic
Pepperoncinis (optional)
Beef Broth
Salt & Pepper
How to Make Instant Pot Meatballs and Gravy
Step 1. Set Instant Pot to saute (I use a 6 quart Instant Pot). Melt butter, add in onions and saute until they begin to soften. Add in garlic. Saute 1 minute.
Step 2. Pour in beef broth and scrape bottom of pot to deglaze. Get any stuck bits off the bottom. Add in salt and pepper and stir.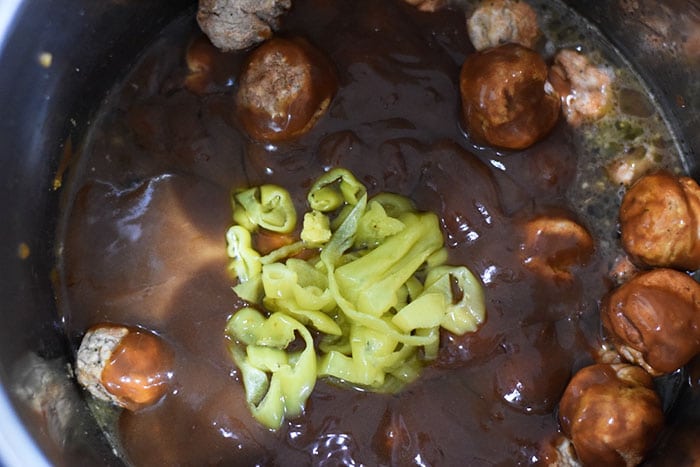 Step 3. Pour in meatballs, cover with gravy. Add pepperoncinis and juice. Cover with lid and set to lock. Make sure vent is closed. Set to manual high pressure for 6 minutes.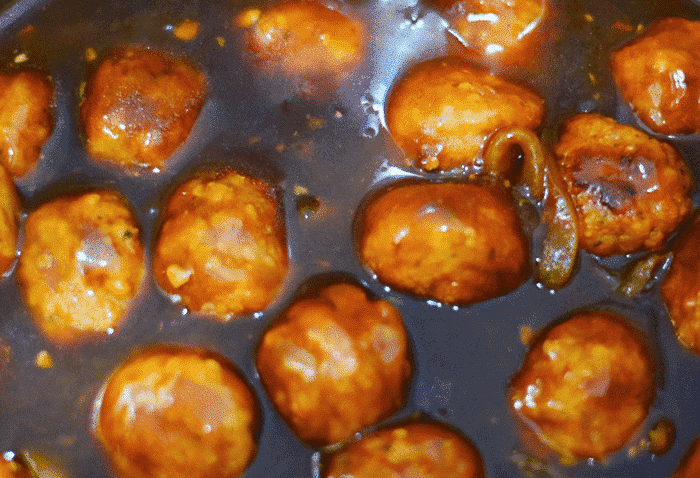 Step 4. After cooking time is up, use quick release method (open valve to release steam and pressure). Remove lid and stir.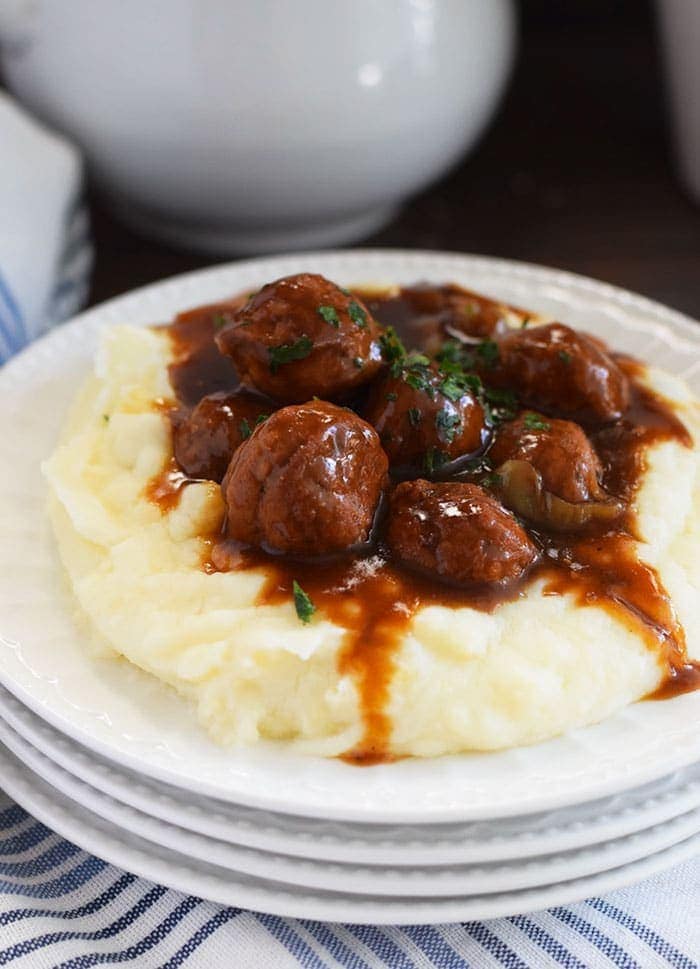 Putting a simple meal together with no guilt, because it tastes delicious, and sharing it with the people you love is what's important! I hope you all enjoy getting this easy meal on your family table!
Don't forget to PIN this for later - and share it with friends!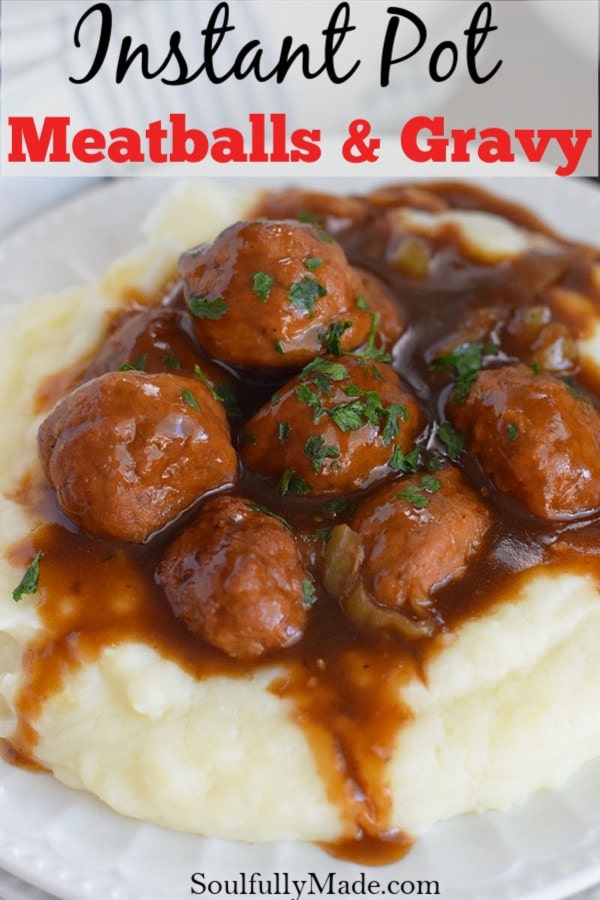 More Instant Pot Favorites
You can also find this at Weekend Potluck and Meal Plan Monday