If you're on the lookout for a breakfast that's the perfect blend of Southern comfort and a little something extra, you're in for a treat. Sausage and Cheese Grits Casserole combines savory ground sausage, creamy grits, and gooey cheese for a breakfast experience that's hearty, comforting, and totally irresistible.
Easy to make and easy to bake, a breakfast casserole the whole family will love!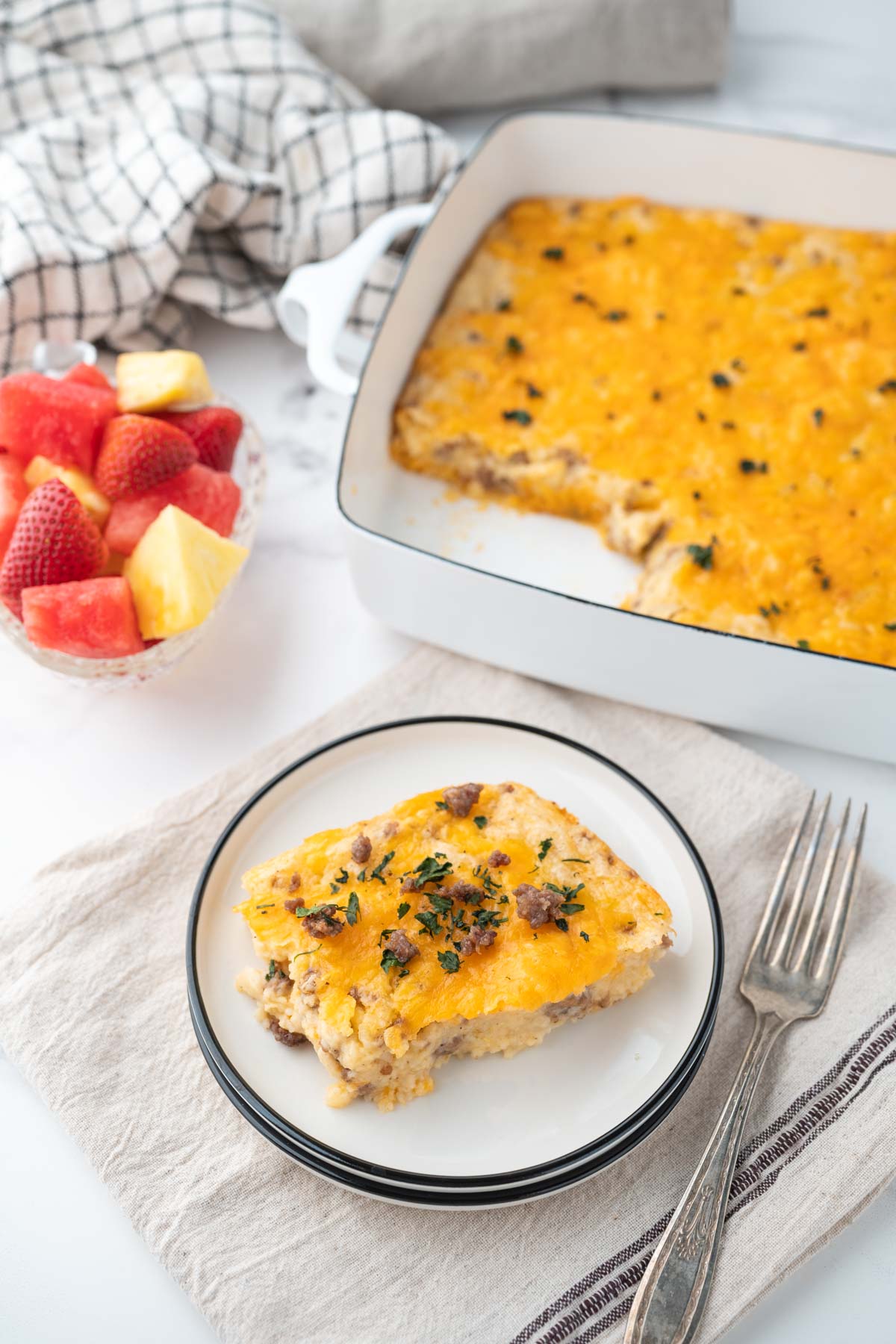 Why We Love This Breakfast Grits Casserole Recipe!
Comforting and Hearty: Sausage and Cheese Grits Casserole is the ultimate comfort food. The combination of flavorful sausage, creamy grits, and melted cheese creates a warm and satisfying dish that's perfect for breakfast or brunch. The hearty nature of the casserole makes it a great option for family gatherings, cozy mornings, or when you have overnight guests.
Versatile and Customizable: This casserole is incredibly versatile, allowing for a wide range of ingredient variations and substitutions. You can personalize it to your taste by choosing different types of sausage, cheeses, and even adding vegetables or spices. This adaptability makes it a go-to dish for accommodating dietary preferences and creating something uniquely delicious each time you bake it.
Easy to Make for Crowds: Sausage and Cheese Grits Casserole is not only delicious but also easy to prepare, especially when cooking for a crowd. The casserole can often be made ahead of time and baked when needed. This makes it an excellent choice for gatherings, potlucks, or whenever you want to serve a substantial meal without spending hours in the kitchen.
Southern Family Favorite: These breakfast grits are a step above the usual Southern cooking! Packed with flavor, this dish is always a hit, no matter where, when, or who I serve it to. Adults and kids gobble this dish right up.
Ingredient Notes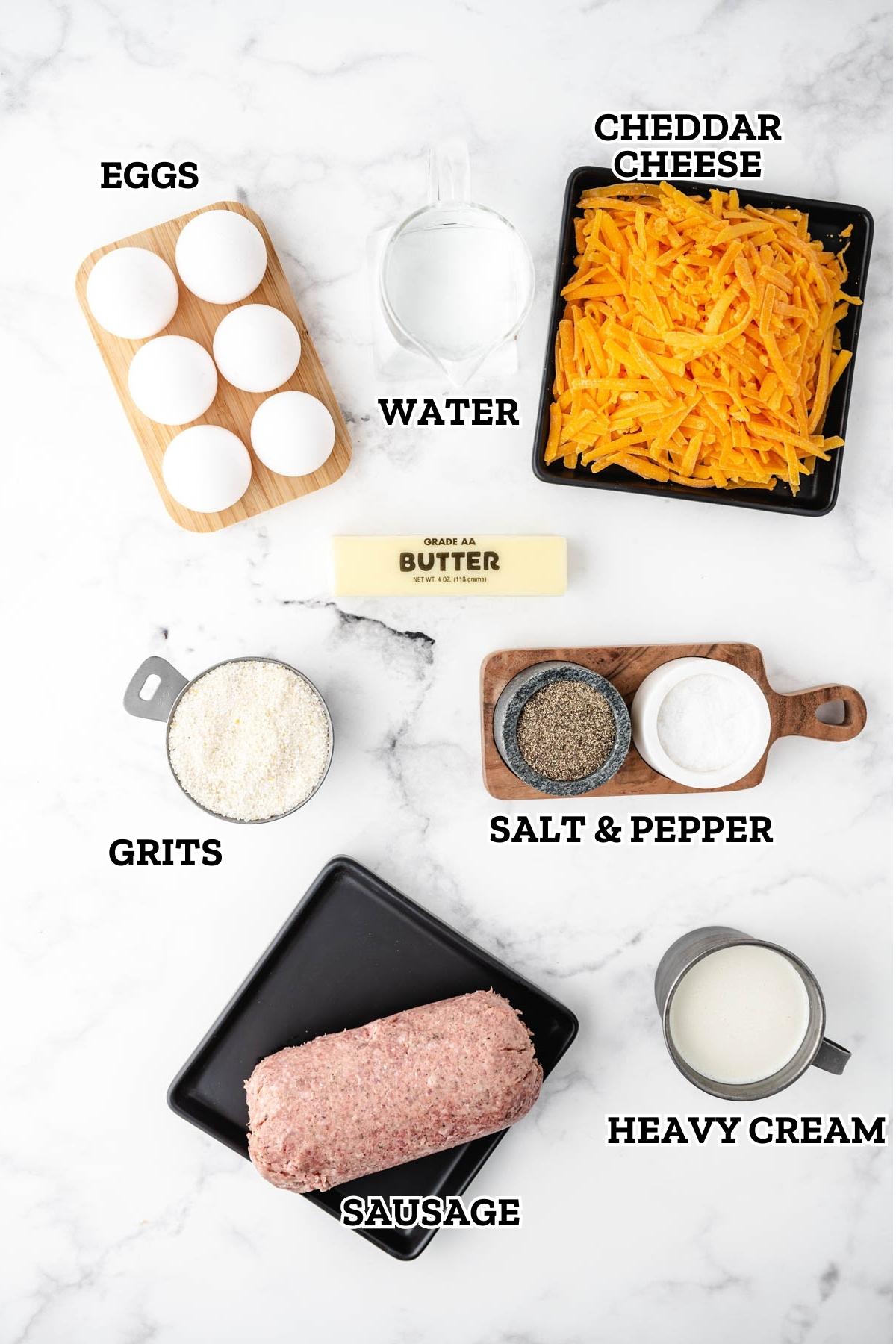 Variations and Substitutions
How To Make Sausage and Cheese Grits Casserole
✱ Be sure to see the recipe card below for exact ingredients and instructions!
Step 1: Prep Pan and Oven
To start, preheat your oven to 350°F. Get a 9-by-13-inch baking dish ready by either spraying it with nonstick cooking spray or buttering it to prevent sticking.
Step 2: Cook Breakfast Sausage
While your oven heats up, grab a large nonstick skillet. Put your ground breakfast sausage in there and cook it over medium-high heat for about 8 to 12 minutes. You want the sausage to turn brown and crumbly, so use a spatula to break it up as it cooks.
I like to get nice bits of brown on the outside of my sausage for color and flavor.
Once it's cooked, drain the sausage on some paper towels to remove the excess fat.
If you would like, reserve a little bit of the sausage to serve crumbled on top (about ¼ cup).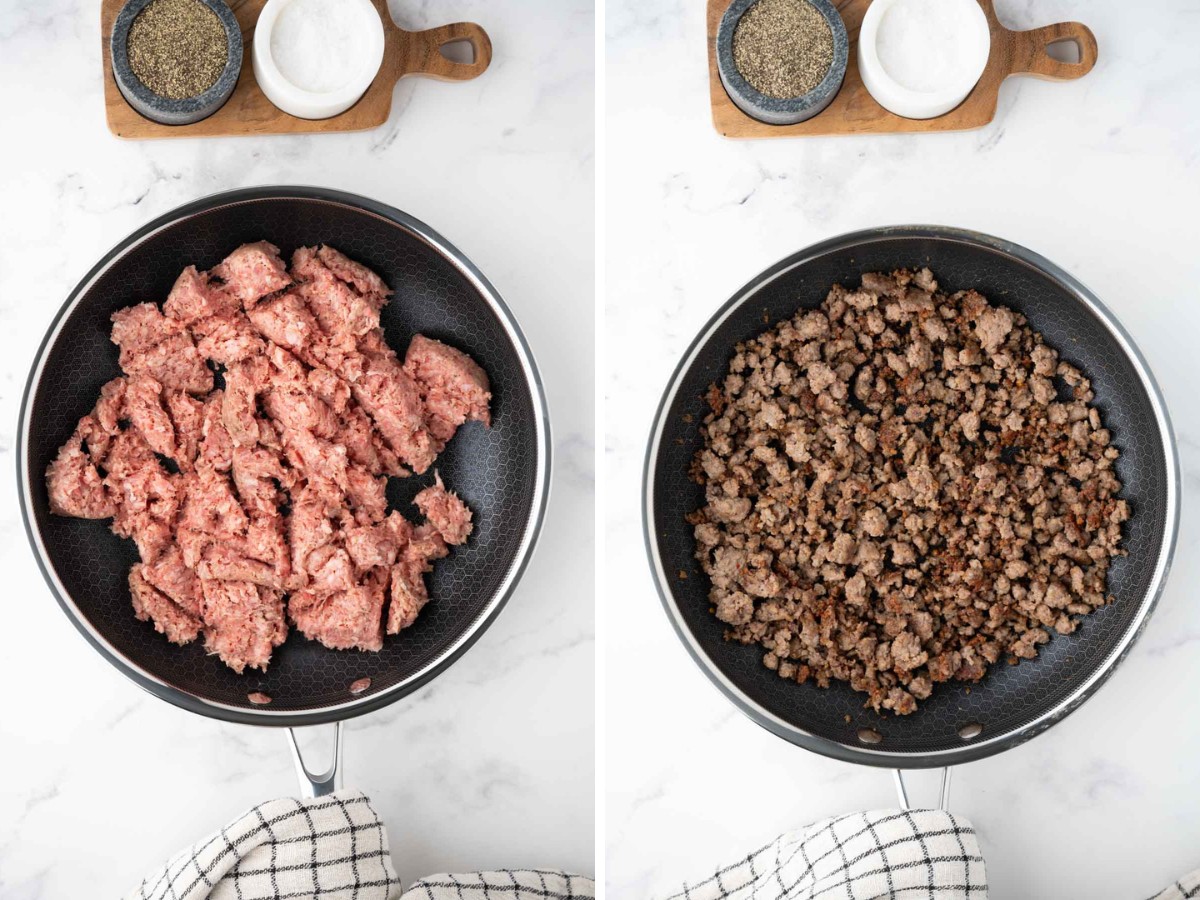 Step 3: Prepare Grits
As the sausage works its magic, grab a saucepan and get some water boiling. Sprinkle in a bit of salt and give it a good stir until the salt dissolves.
Now, slowly whisk in your quick-cooking grits to blend them with the water. Turn down the heat, cover the pan, and let it simmer for about 5 to 7 minutes. Give it a stir every now and then.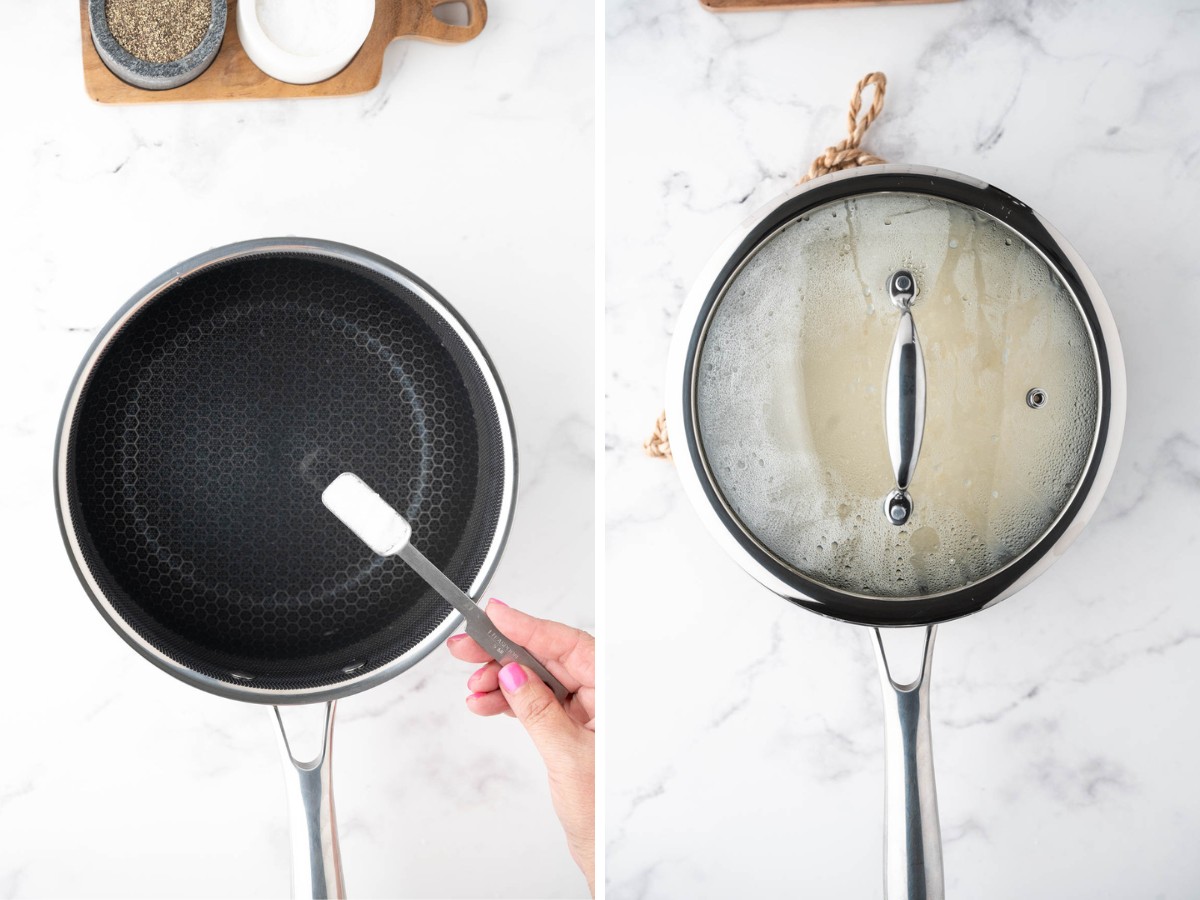 Step 4: Stir in Ingredients for Cheesy Sausage Grits
Once the grits are all done and creamy, take them off the heat. Toss in the butter, heavy cream, and a dash of black pepper. Mix it all up until everything's combined nicely.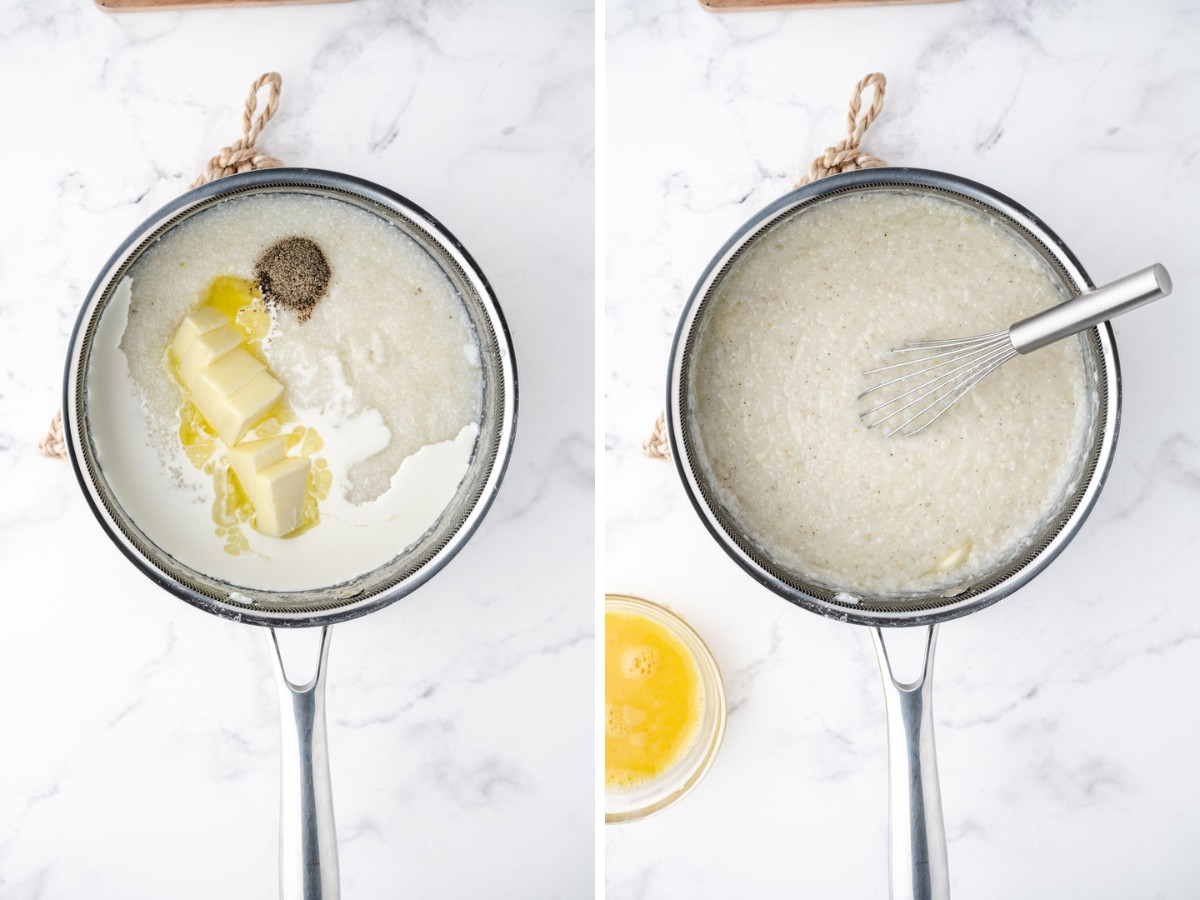 Now, add in those beaten eggs and give it a good whisk to make sure everything's mixed together well.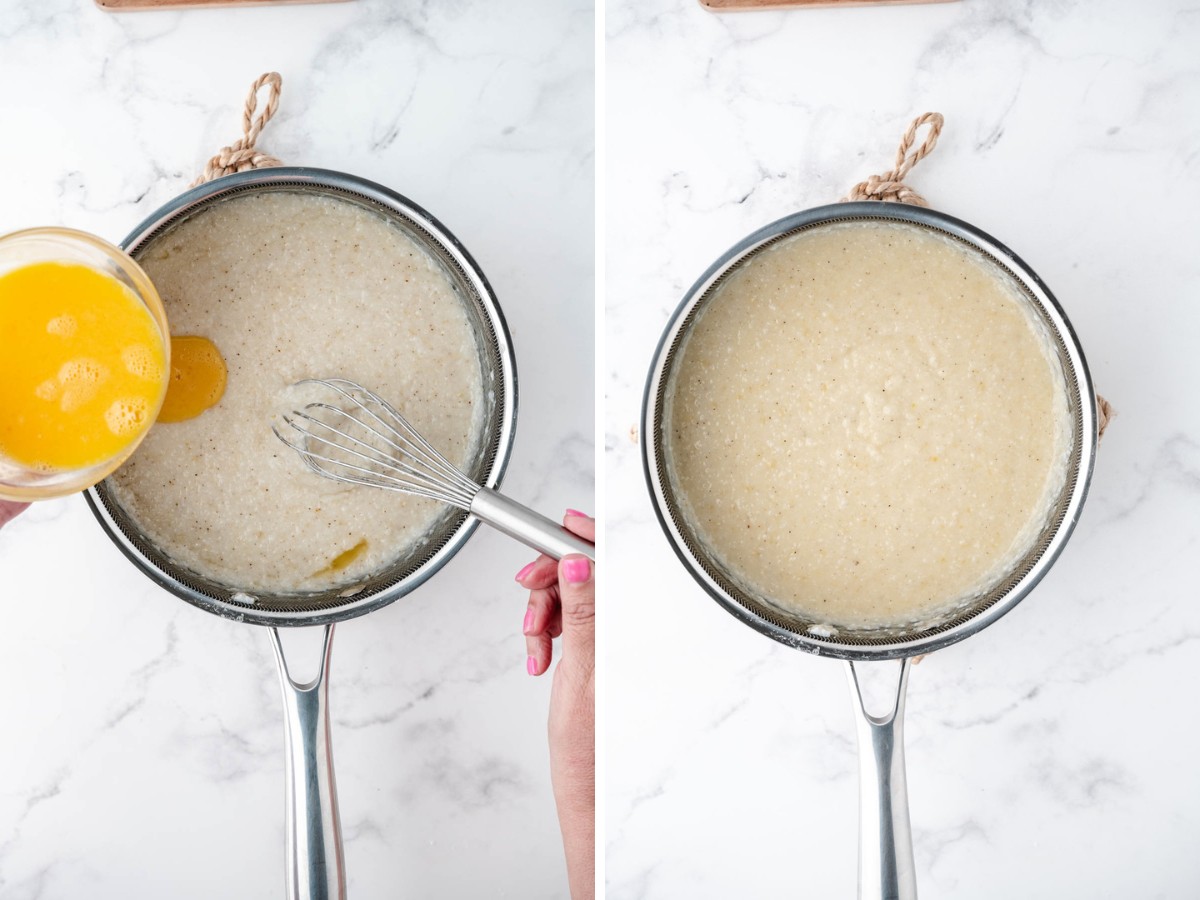 Time to bring in the stars of the show! Mix in half of your shredded cheddar cheese and that delicious cooked sausage. Use a spatula to blend everything together nicely.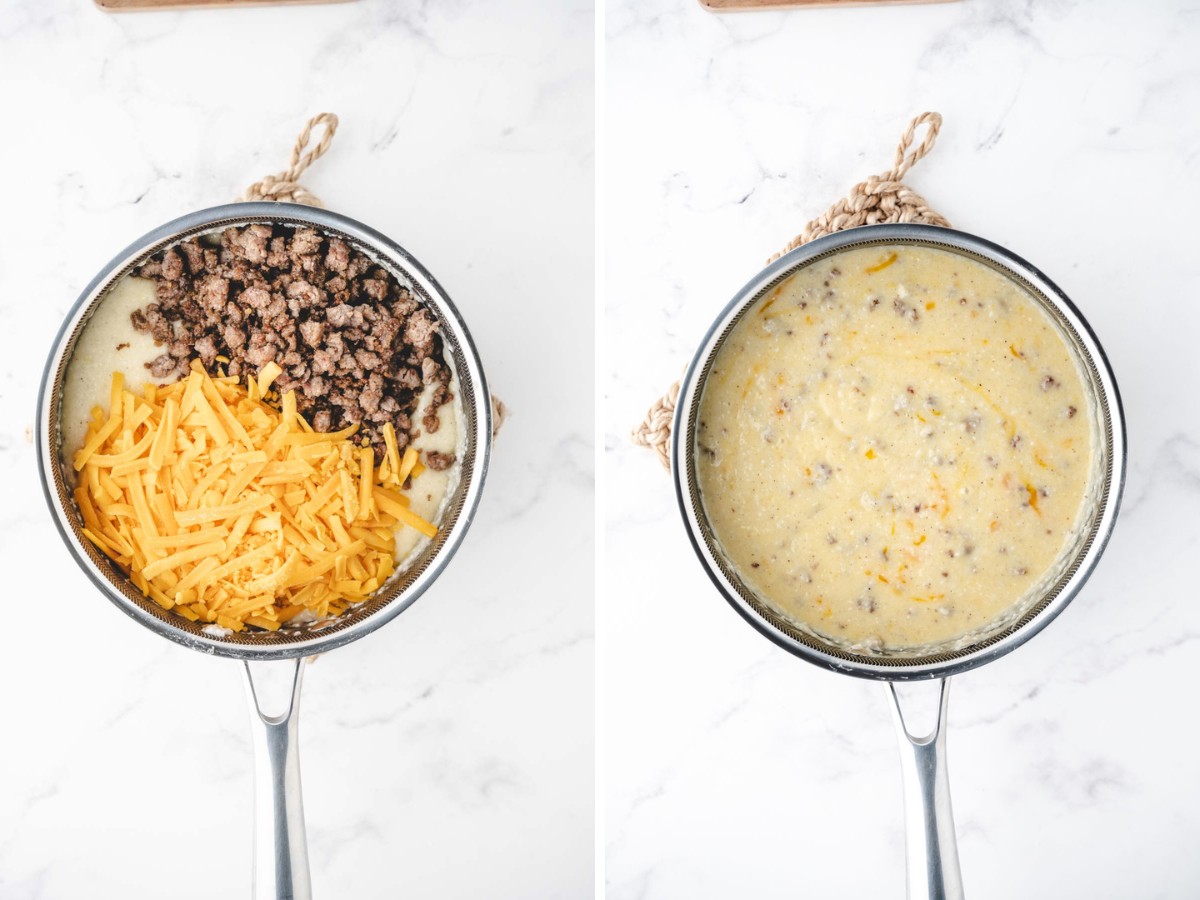 Step 5: Pour in Casserole Dish & Bake
Now, pour this yummy sausage and grits mixture into that prepared baking dish. It's looking good, but we're not done yet.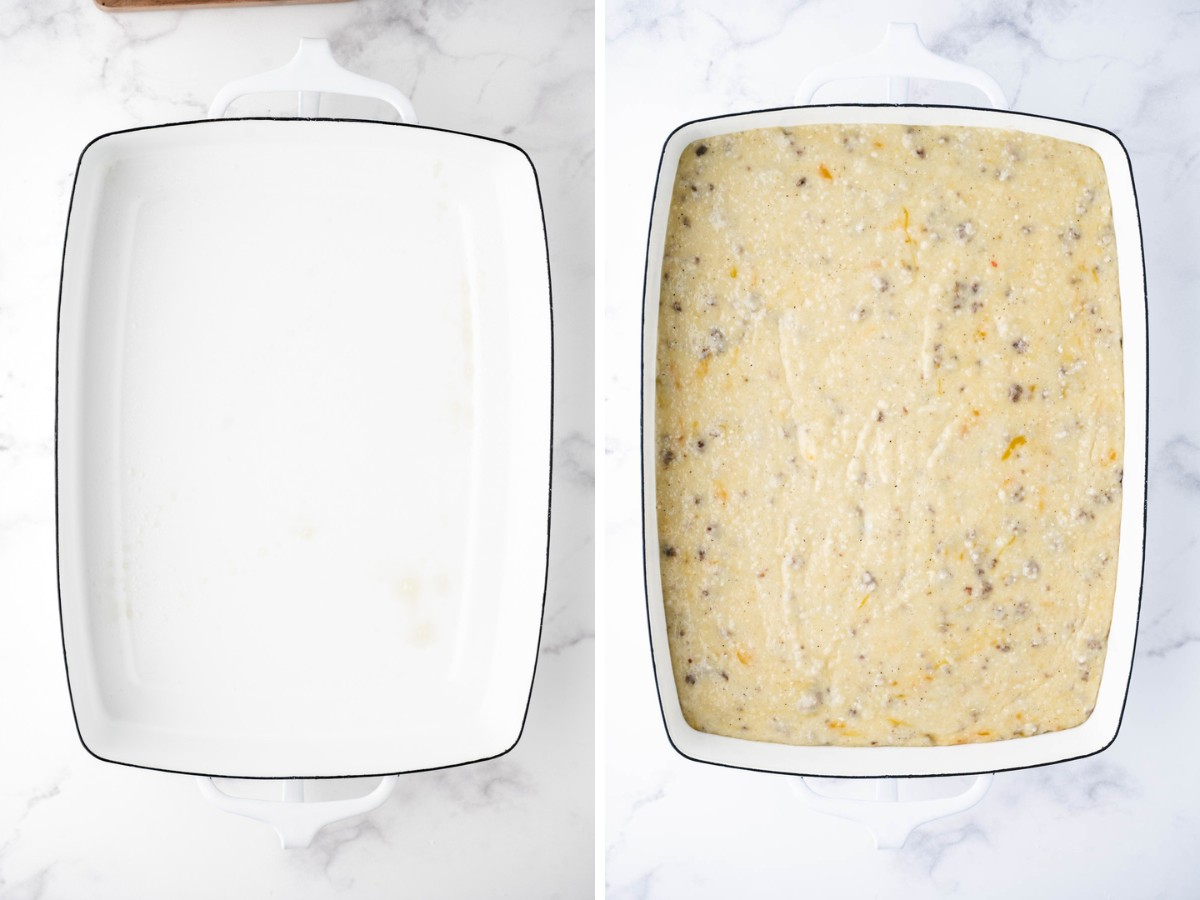 Sprinkle the rest of your shredded cheddar cheese on top. Now it's ready for the oven.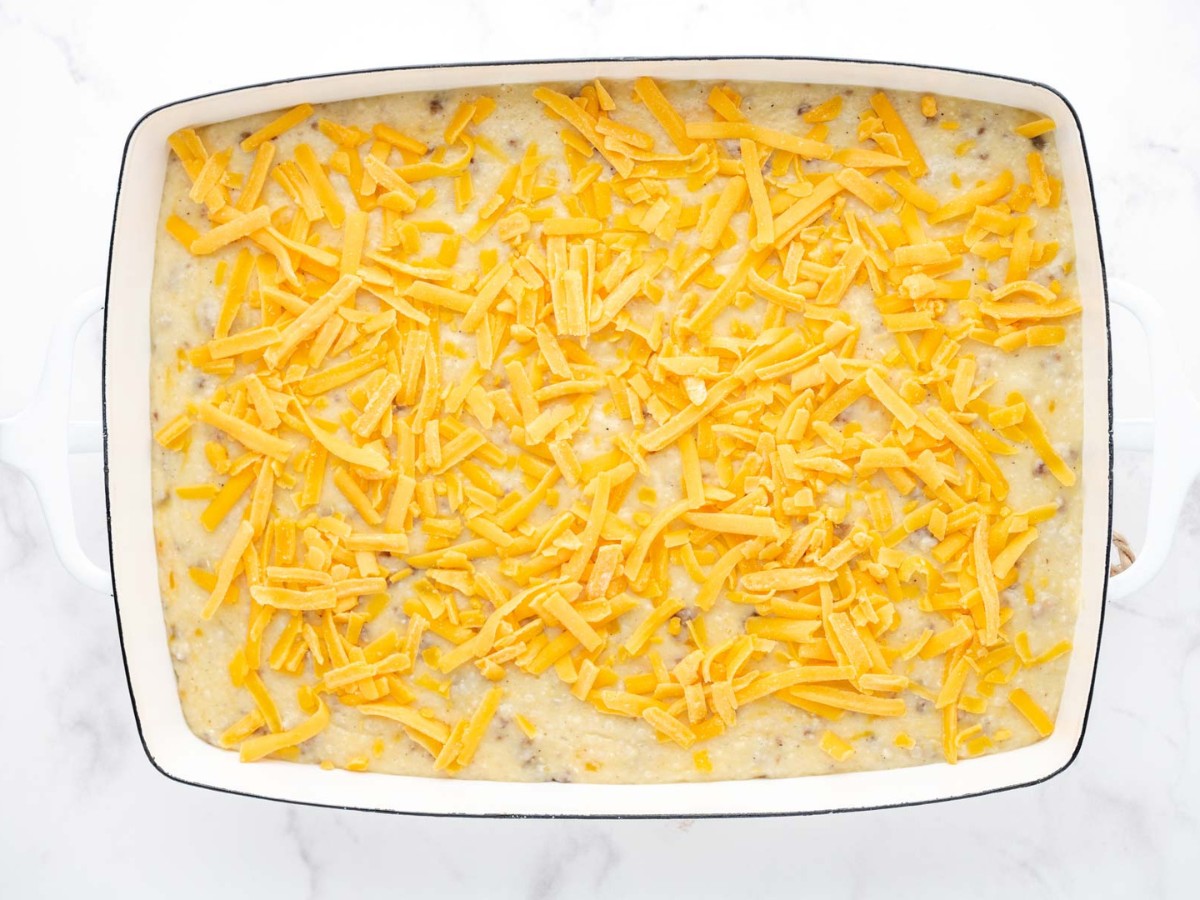 Pop it in there and let it bake for around 40 to 45 minutes. You'll know it's ready when it's all bubbly and the cheese on top has melted into gooey perfection.
Step 5: Let Set & Enjoy
Once it's out of the oven, give it a little time to cool and set for about 5 minutes. And then comes the best part—serving and savoring this scrumptious Sausage and Cheese Grits Breakfast Casserole. Enjoy every bite!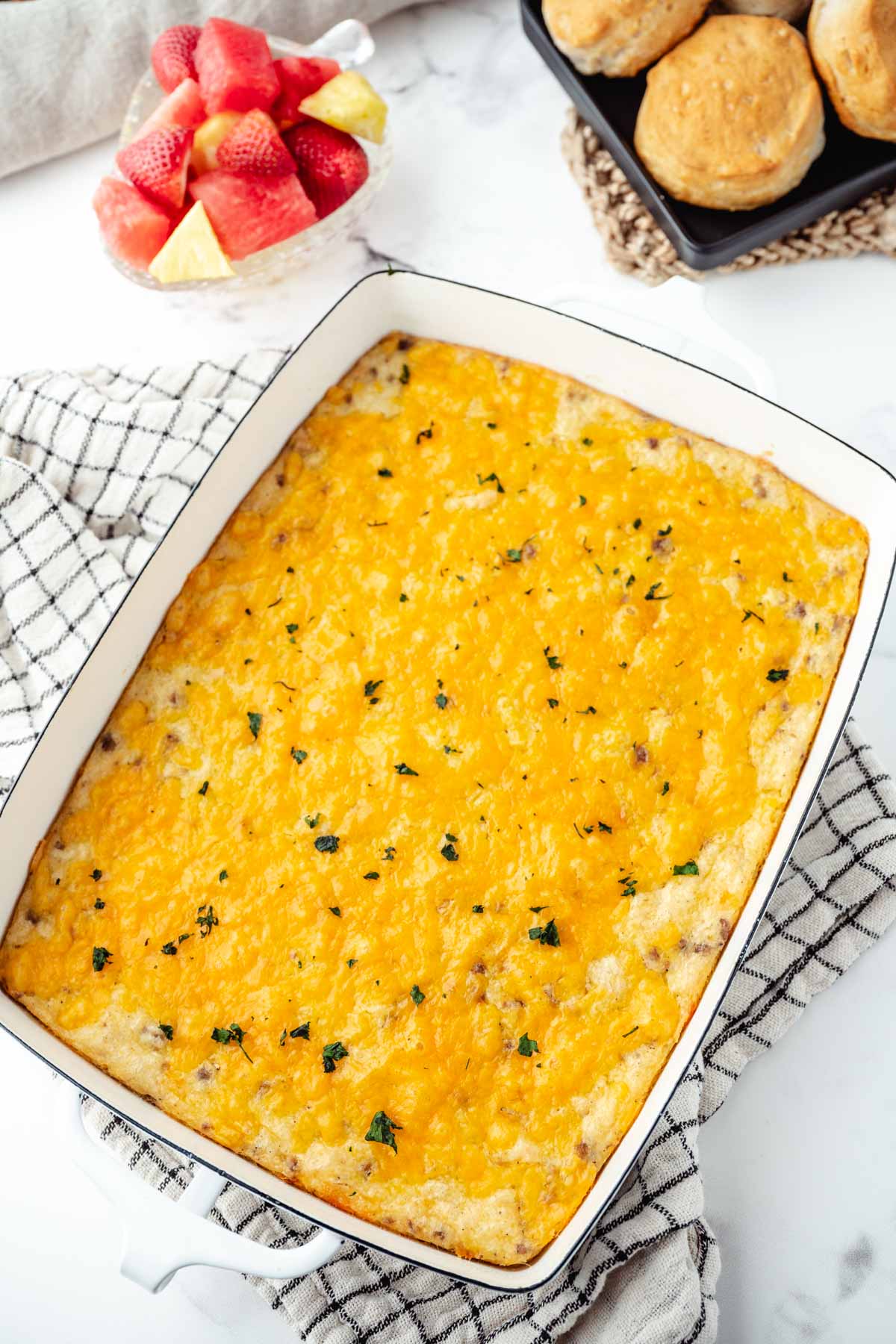 Tips
Properly Cook Grits: Follow the package instructions for cooking the grits, whether they're quick cooking or regular grits. Stir them occasionally to prevent sticking and achieve a smooth consistency.
Cook Sausage Thoroughly: Make sure to cook the ground breakfast sausage thoroughly until it's browned and crumbled. This ensures both the flavor and safety of the dish.
Don't Overbake: Keep an eye on the casserole while it's baking. Especially the first time you bake it- Oven temperatures vary, so cooking times may vary as well. You want it to be bubbly and the cheese on top to be melted, but avoid overbaking, as this can lead to a dry casserole.
Recipe FAQs
Can I use regular grits instead of quick-cooking grits?
Yes, you can use regular grits or stone ground grits instead of quick-cooking grits, but you will need to adjust the cooking time. Regular grits take longer to cook, so follow the package instructions for cooking times and adjust the recipe accordingly.
Can I use a different type of meat?
Certainly! You can substitute the ground breakfast sausage with cooked and crumbled bacon, diced ham, or smoked sausage. You can also use any chicken sausage or sausage substitutes you like.
Can I make this casserole ahead of time?
Yes, for make-ahead grits casserole. You can assemble the casserole, cover it tightly with plastic wrap or aluminum foil, and refrigerate it overnight. Bake the next day or when you're ready, remove it from the refrigerator and allow it to come to room temperature for about 30 minutes before baking. You may need to increase the baking time slightly since the casserole is starting from a colder temperature.
Can I make it vegetarian?
To make it vegetarian, omit the meat and consider adding sautéed vegetables, mushrooms, or vegetarian sausage as a protein source.

Feel free to reach out if you have more specific questions or if there's anything else you're curious about!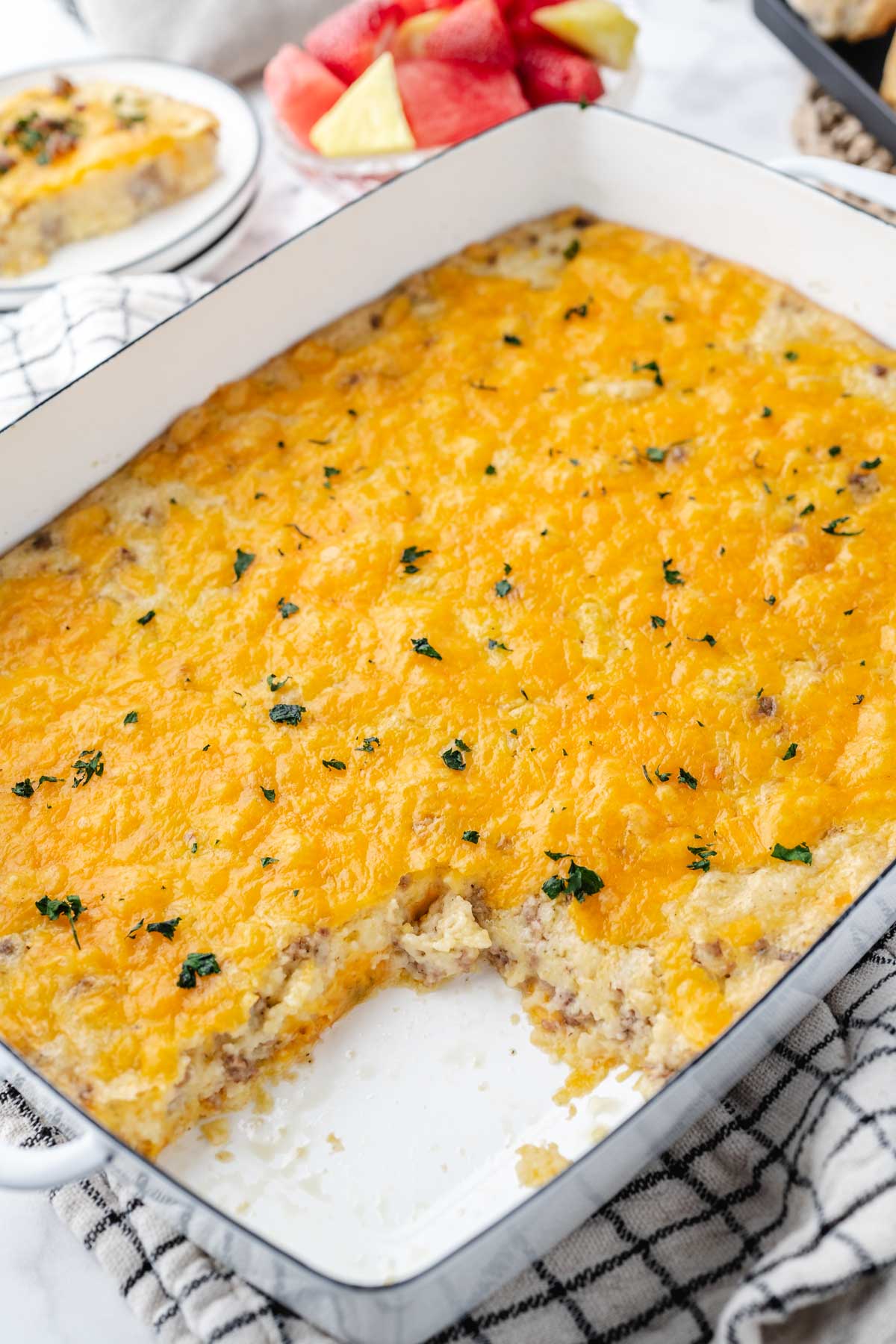 Storage & Reheating
Storage: Cover with foil or plastic wrap or place in an airtight container and store in the refrigerator for 3 days.
Reheat: Individual servings can be warmed in the microwave in 30-second intervals until warmed through.
To reheat the entire casserole, cover the casserole dish with foil and reheat in a 350°F oven for 15-20 minutes until warmed.
What to Serve With Grits and Sausage Casserole
The Sausage and Cheese Grits Breakfast Casserole is a hearty breakfast on its own! But this flavorful dish pairs well with a variety of sides. Here are some ideas for what to serve with it:
We love to serve this with eggs made your way, a fresh fruit salad, biscuits, or toast. Add a little something sweet like Apple Pie Skillet Biscuit Bites or Apple Sticky Bun Bites.
It's also delicious topped with either or served along one of my five-star gravy recipes: The Best Ever Sausage Gravy or Grandpa's Chipped Beef Gravy!
It's perfect for a Christmas morning breakfast, really any holiday breakfast, or brunch.
Topping Ideas
Fresh Herbs: Chopped fresh herbs like parsley, sliced green onion, or chives can be sprinkled on top of the casserole before serving for a burst of freshness.
Hot Sauce: If you like a bit of heat, you can drizzle some hot sauce over the casserole before baking or serve it on the side.
Custom Toppings: When serving, consider adding toppings like chopped green onions, diced tomatoes, avocado slices or guacamole, or even a dollop of sour cream for extra flavor and texture.
Elevate with Sauces: Serve the casserole with a side of tomato salsa, hollandaise sauce, or a drizzle of maple syrup for a creative twist.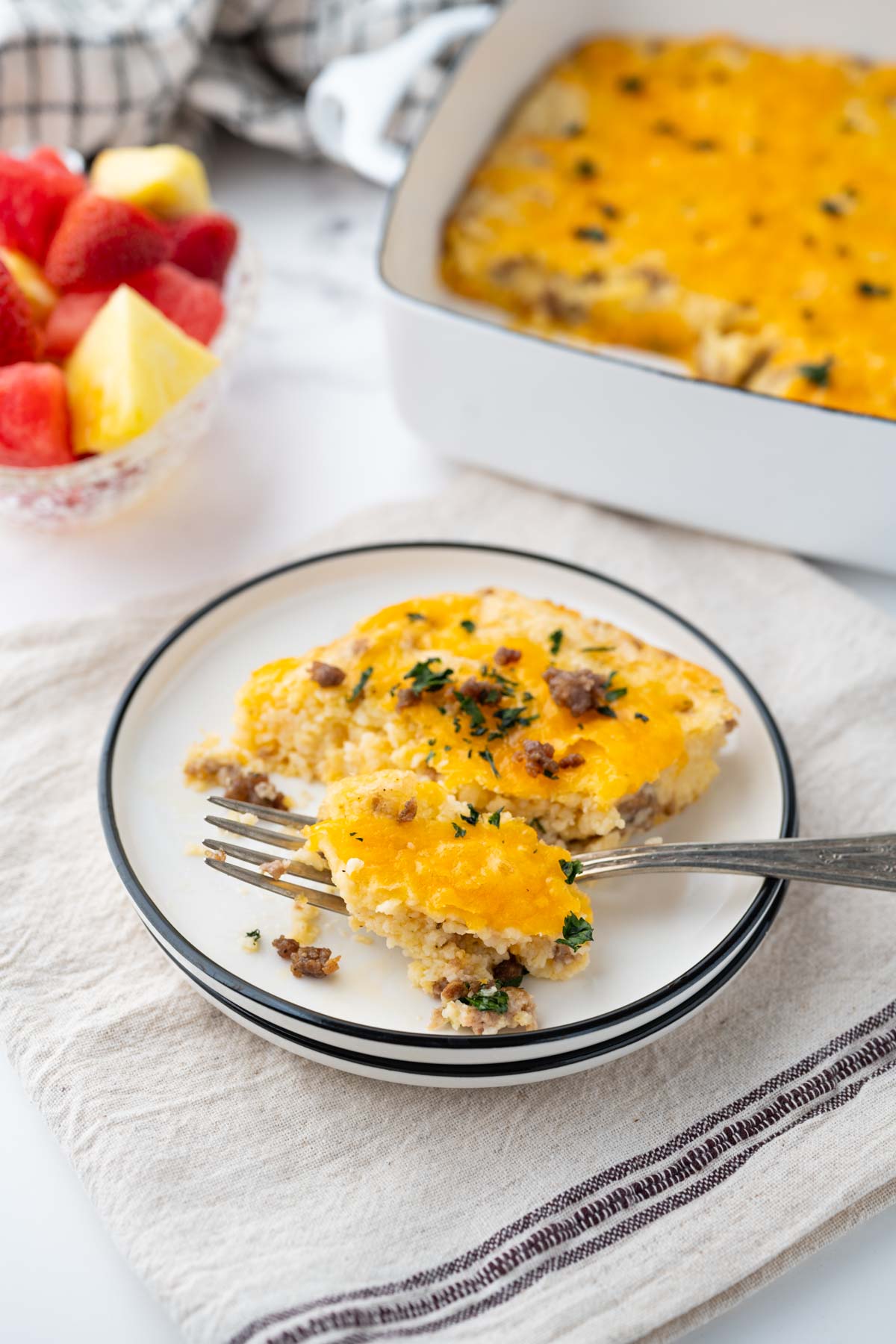 Other Breakfast Recipes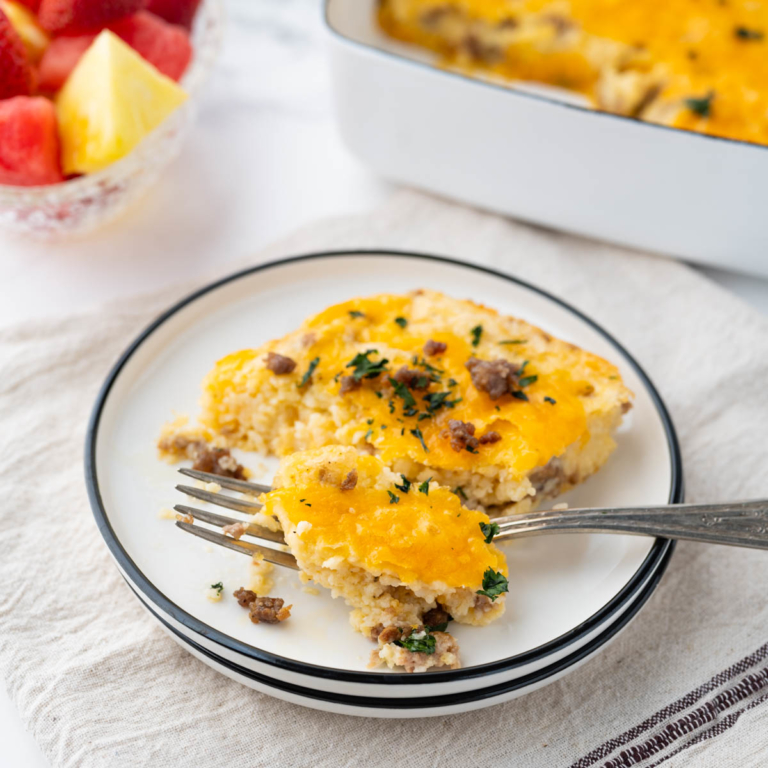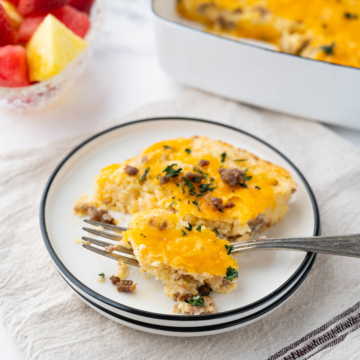 Sausage and Cheese Grits Casserole
Sausage and Cheese Grits Casserole combines savory ground sausage, creamy grits, and gooey cheese for a breakfast experience that's hearty, comforting, and totally irresistible.
Easy to make and easy to bake, a breakfast casserole the whole family will love!
Ingredients
1

pound

ground sausage

4

cups

water

1

cup

quick cooking grits

,

(not instant grits)

1

stick

butter

,

(½ cup), sliced into pats

¼

cup

heavy cream

2 ½

cups

shredded cheddar cheese

,

divided in half

2

large

eggs

½ to 1

teaspoon

salt

,

(or to taste)

½

teaspoon

black pepper

,

optional, (or to taste)
Instructions
Preheat oven to 350°F. Spray a 9 X 13 baking dish with cooking spray or butter the dish to prevent sticking.

In a large nonstick skillet, cook sausage on medium-high for 8 to 12 minutes, until sausage is browned and crumbled, using a spatula to break up meat. Drain sausage on paper towels t remove fat.

While the sausage is cooking, bring the water to a boil, in a saucepan. Add in salt and stir until dissolved. Slowly whisk in the grits to combine with water. Reduce heat; cover and simmer for 5 to 7 minutes, stirring occasionally.

Once grits are done, remove from heat and mix in butter, heavy cream, and black pepper.

Then add in beaten eggs and whisk until combined.

Add in half of the shredded cheese and sausage and mix together with a spatula.

Pour the sausage grits mixture into the prepared casserole dish. Then top with remaining shredded cheddar cheese and bake for 40-45 minutes, until bubbly and cheese is melted.

Remove from oven and let set for 5 minutes. Serve and enjoy!
Nutrition
Serving:
1
serving
Calories:
350
kcal
Carbohydrates:
11
g
Protein:
14
g
Fat:
28
g
Saturated Fat:
14
g
Polyunsaturated Fat:
2
g
Monounsaturated Fat:
9
g
Trans Fat:
0.4
g
Cholesterol:
108
mg
Sodium:
569
mg
Potassium:
149
mg
Fiber:
1
g
Sugar:
0.4
g
Vitamin A:
618
IU
Vitamin C:
0.3
mg
Calcium:
183
mg
Iron:
1
mg
Nutrition Disclaimer
Soulfully Made is not a dietician or nutritionist, and any nutritional information shared is only an estimate. We recommend running the ingredients through an online nutritional calculator if you need to verify any information.