This quick and easy Cucumber Tomato Avocado Salad is made up of simple ingredients and is simply delicious. Tossed is a bright lemony herb dressing along with the fresh and cool salad and is the perfect warm-weather side dish or light meal.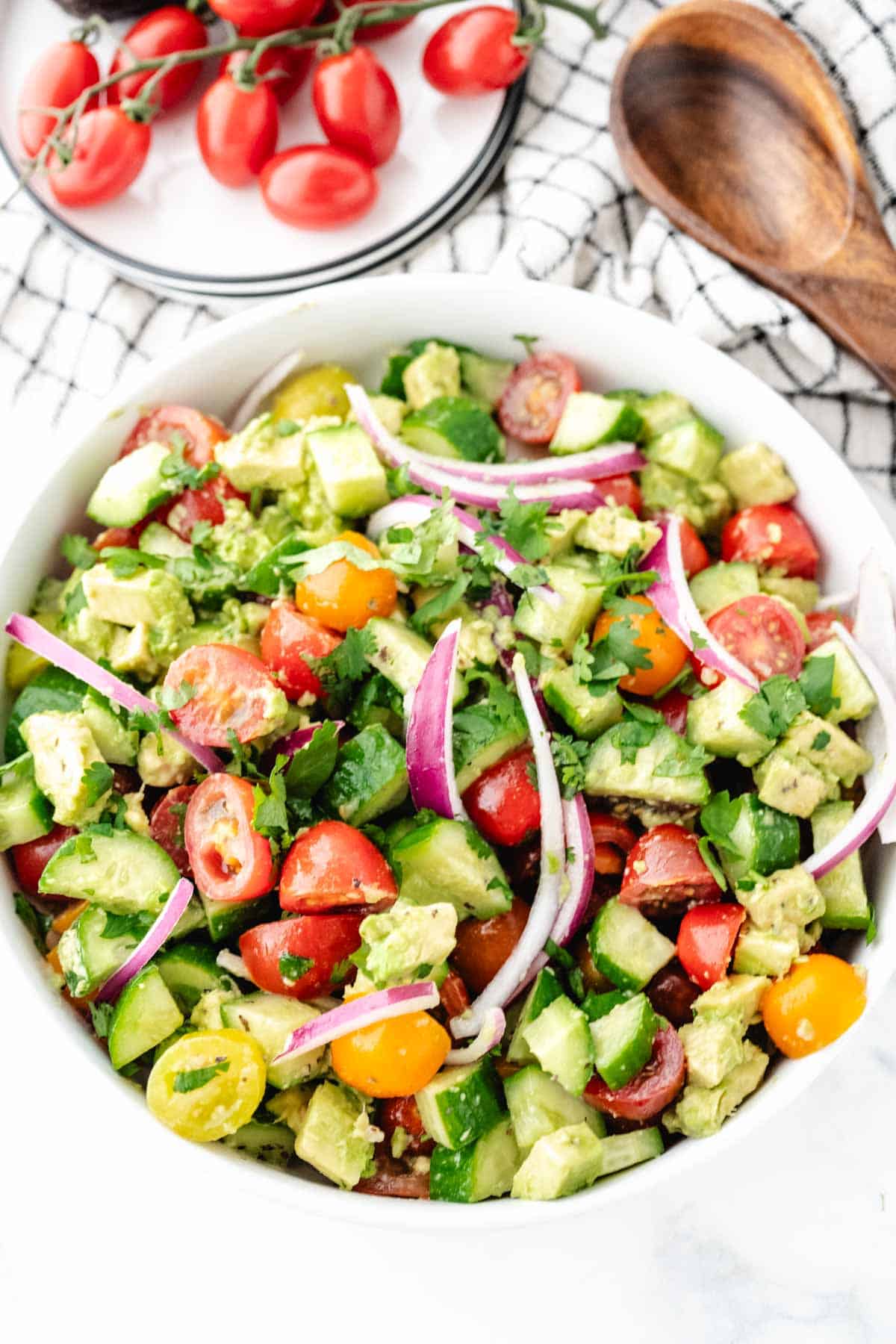 Why We Love This Avocado Salad with Cucumbers and Tomatoes Recipe!
Freshness Galore: The combination of crisp cucumbers, juicy tomatoes, and creamy avocados creates an explosion of freshness in every forkful.
Versatile: Whether as a side or main, its versatility makes it a perfect match for any meal. It complements a variety of dishes, making it a go-to side that suits any occasion.
Easy Recipe: Chop, slice, mix, and toss! It's that easy!
On a hot summer day or when you are looking for a light main dish, there is nothing better than a simple salad packed full of fresh ripe cucumbers, juicy cherry tomatoes, and creamy avocado pieces.
One of my family's favorite recipes, that is so versatile too. I love it for a low-carb diet with tons of bright flavor. And the kids love to eat it with tortilla chips just like they would a chunky salsa and even on top of crusty oven-baked bread. It's a win for the whole family.
This delicious salad is also perfect for summer picnics, a light lunch, or a perfect side dish to freshen up any meal.
Ingredient Notes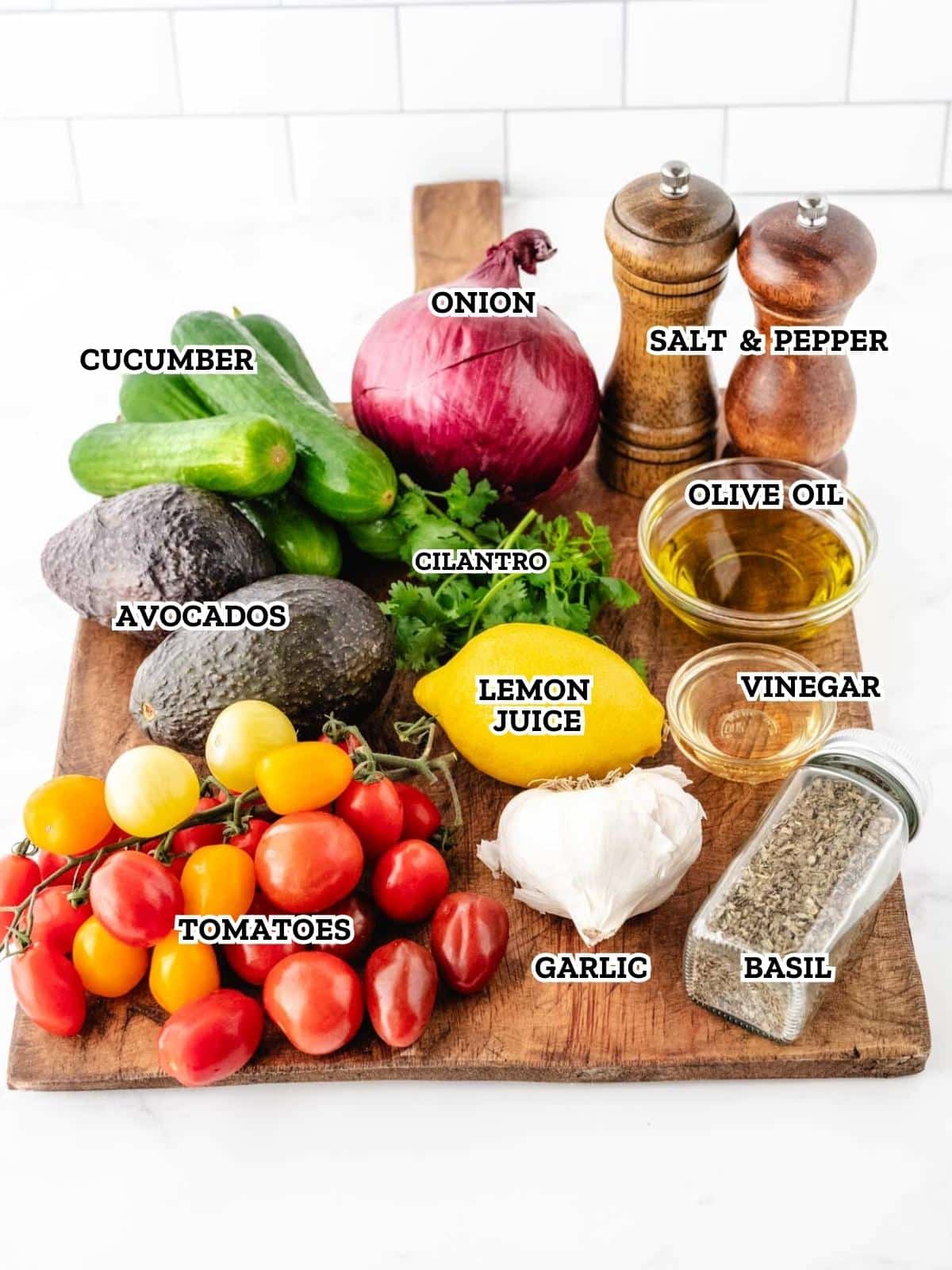 Variations and Substitutions
How To Make Cucumber Tomato Avocado Salad
✱ Be sure to see the recipe card below for exact ingredients and instructions!
Step 1 | Prepare the Onion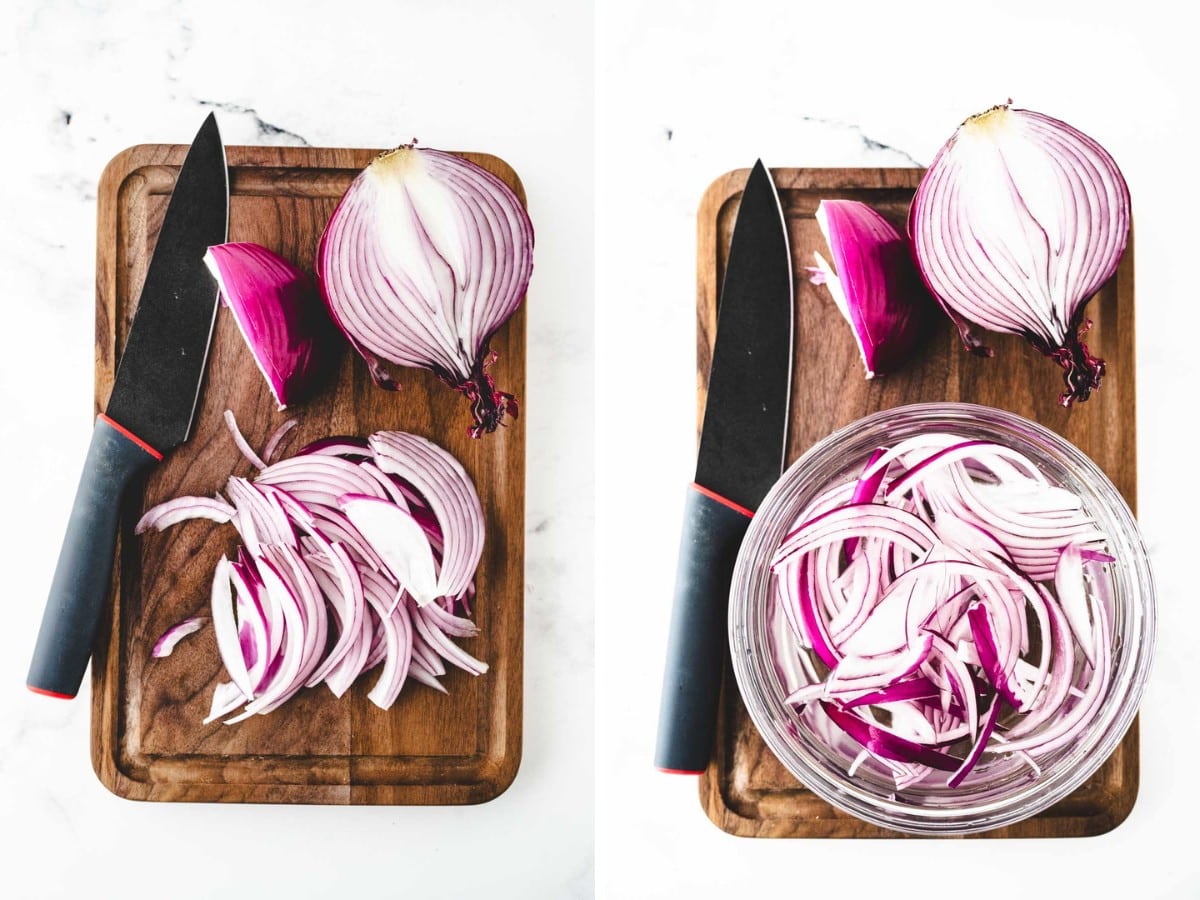 Slice and soak the red onion in cold water for a few minutes and then drain and pat them dry.
This will remove that harsh, sharp taste (and aftertaste) of the raw onions. This is optional, but I do this while I am cutting up my other vegetables.
Step 2 | Slice and Dice Veggies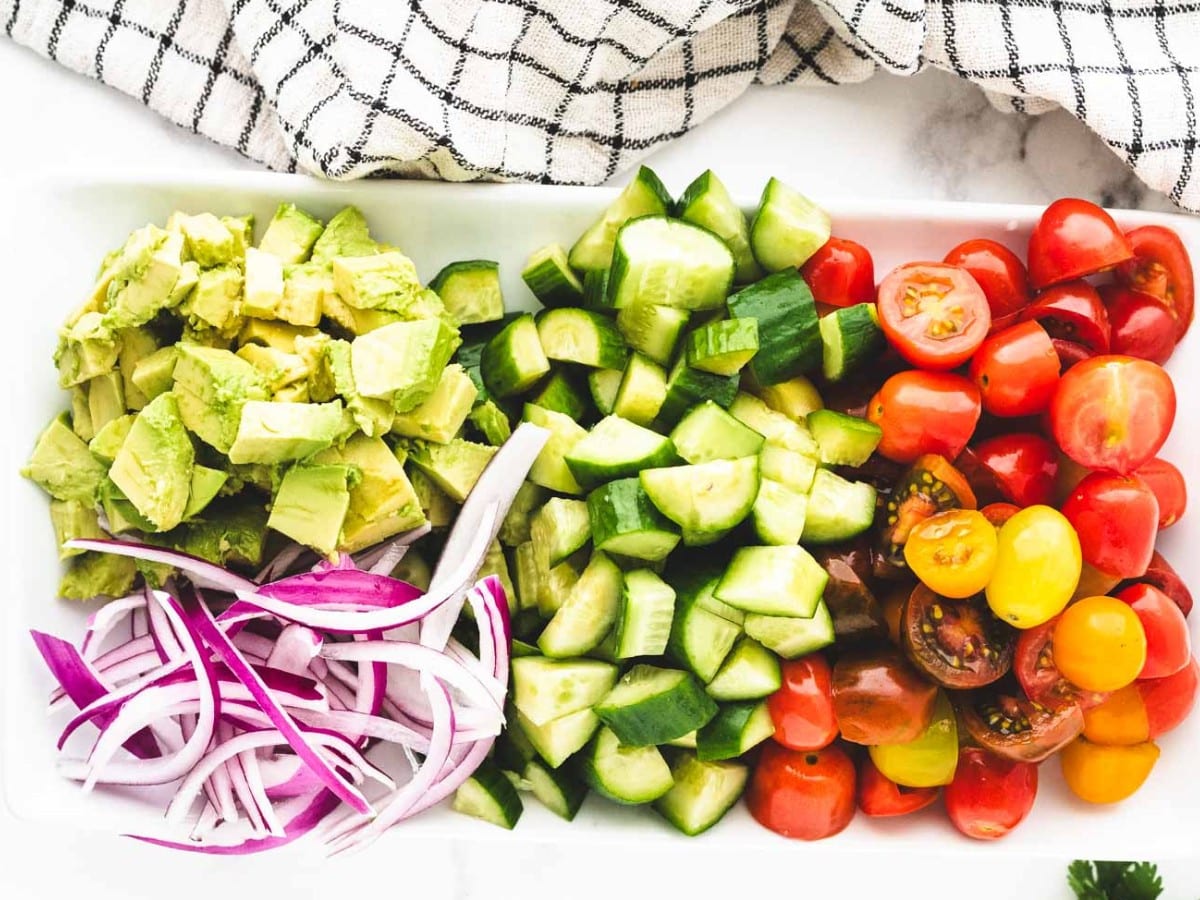 Grab your mini cucumbers (or go for a large English cucumber if that's your preference), cut lengthwise, and then halve. Or into bite-sized cuts of your choice.
Next, for those ripe and juicy tomatoes. If using cherry or grape tomatoes, I usually halve them to make them easier to eat. When using a Roma or any other vine-ripe tomato, cut and remove seeds if desired.
Dice avocado into bite-sized pieces.
TIP: How to prepare an avocado?
Cutting the Avocado: Place the avocado on a cutting board. Hold the avocado steady with one hand and use a sharp knife to cut lengthwise around the fruit. Start at the top and cut until you reach the bottom, making a full circle. Hold the avocado in both hands and gently twist the two halves apart.
Removing the Pit: Then remove the pit by gently tapping the blade of the knife into the pit. Next, twist the knife slightly, and the pit should easily pop out.
Peeling the Avocado: Once the pit is removed, you can peel the skin off the avocado halves. There are two main methods:
a. Using Your Hands: Hold the avocado half in one hand and use your other hand to peel the skin away. The ripe flesh should easily separate from the skin.
b. Scooping with a Spoon: Gently scoop the avocado flesh away from the skin using a spoon. This method works well when you want to keep the avocado intact for slices or chunks - this is the method to use for this recipe.
Step 3 | Make the Lemon Vinaigrette Dressing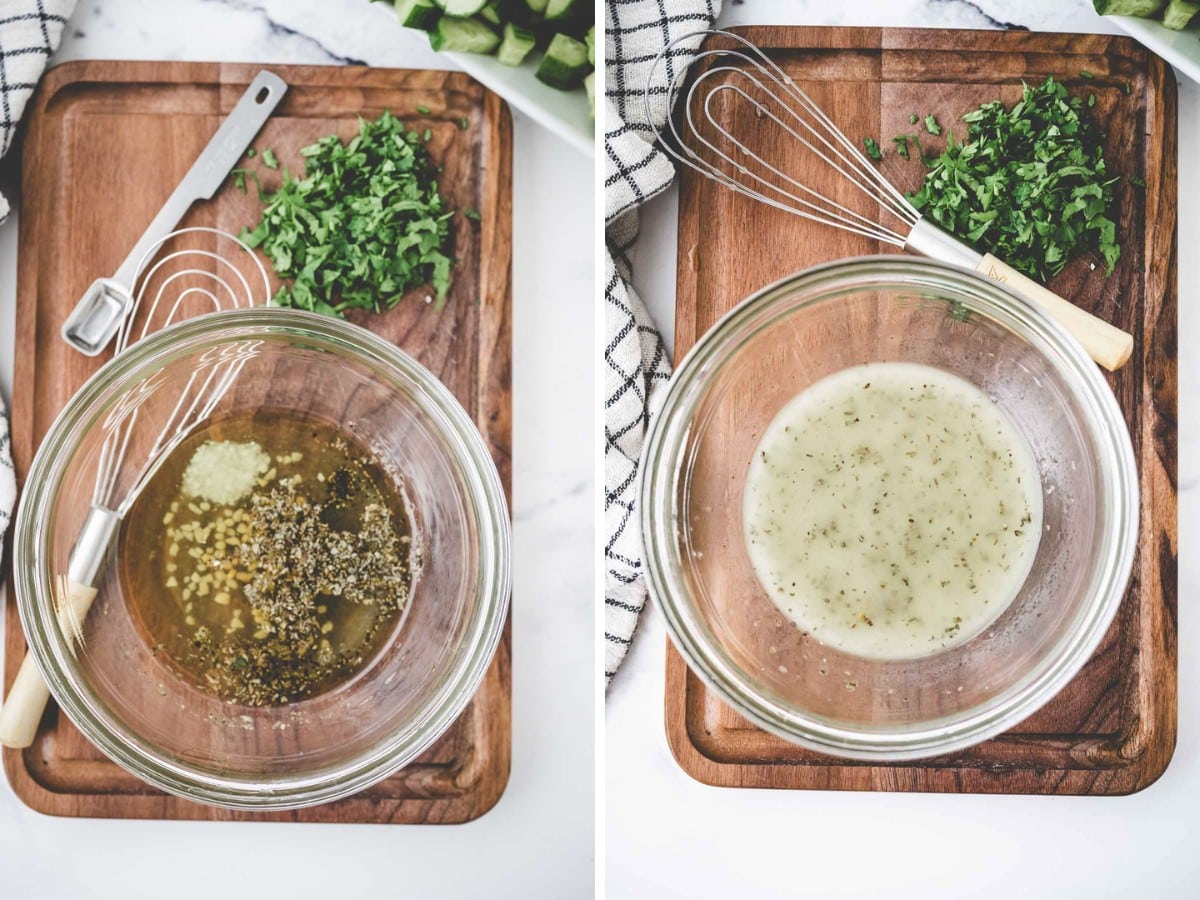 Now, let's whip up the dressing: combine some avocado or olive oil, freshly squeezed lemon juice for that tang, a dash of champagne vinegar or white wine vinegar, minced garlic for that extra kick, and a sprinkle of dried basil, sea salt, and black pepper to round up the flavors.
This can also be placed in a jar, then close the lid and give a good shake.
Step 4 | Mix Vegetables with Dressing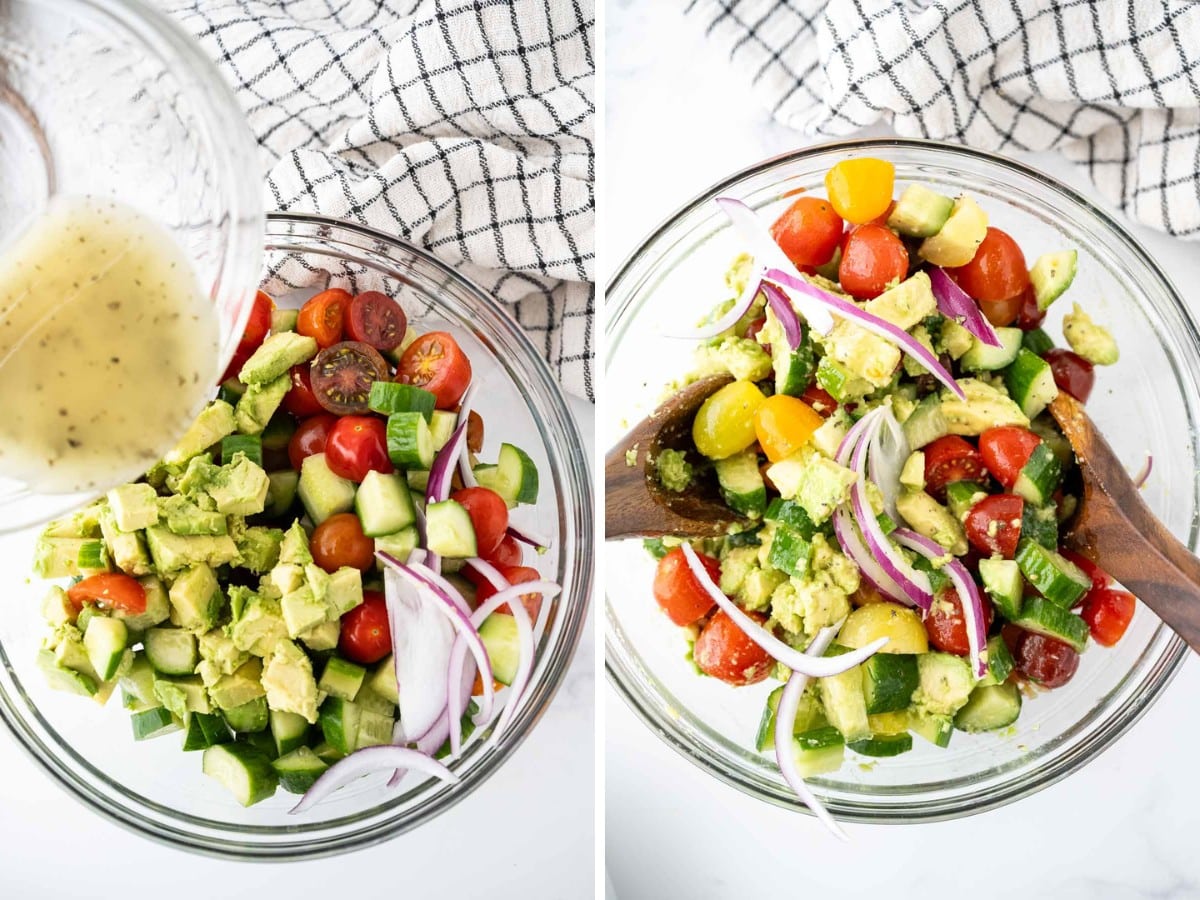 Mix this all up, and we're ready to assemble.
Gently toss the cucumbers, tomatoes, avocados, and red onion in the dressing - coat them well for that burst of flavor in every bite.
Finally, top it all off with some chopped cilantro for a fresh and herby twist.
Dive into this refreshing goodness and enjoy!
Tips
Chill the Ingredients: For the best taste, chill the tomatoes, cucumbers, and avocados in the refrigerator before assembling the salad. A cold salad is refreshing and flavorful.
Balance the Flavors: Taste as you go. Adjust the quantities of lemon juice, vinegar, salt, and other seasonings to create a dressing that balances tanginess, acidity, and saltiness to your liking.
Don't Overmix: Be gentle when mixing the salad to avoid mashing the avocados. Use a light toss to combine the ingredients without breaking them down.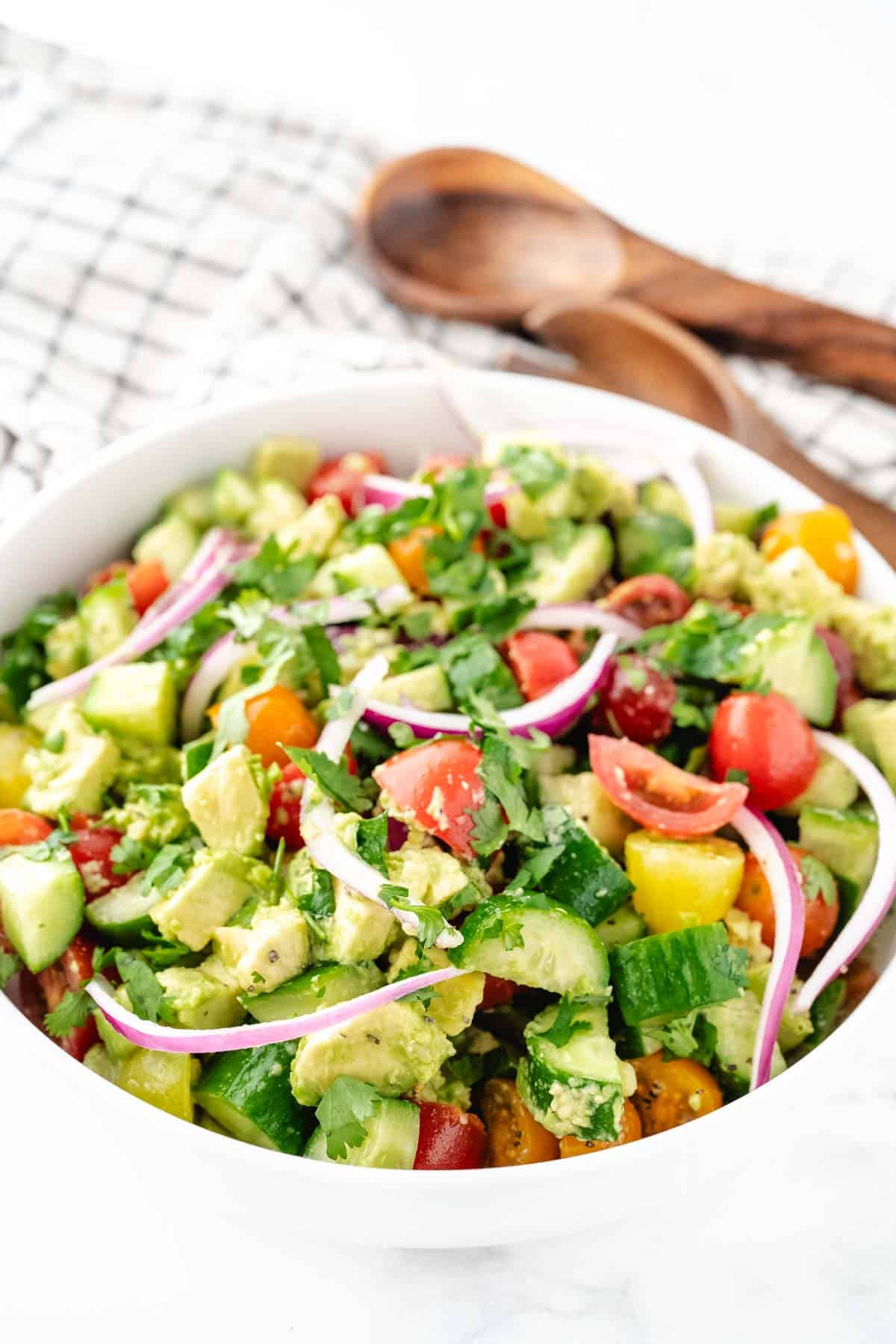 Recipe FAQs
Can I prepare the salad in advance?
While the simple summer salad is best enjoyed fresh, you can prepare the ingredients ahead of time and mix them together just before serving. I recommend waiting to dice the avocado separately just before serving to prevent it from browning.
How do I know when avocados are ripe?
Gently press near the stem of the avocado. If it gives slightly and feels soft but not mushy, it's likely ripe. If it's too hard, leave it at room temperature to ripen. Be careful not to press too hard, as it might bruise the avocado.
Can I use regular cucumbers instead of mini cucumbers?
Yes, you can definitely use regular cucumbers if you prefer. Just remember to peel them and remove the seeds if they're large and more watery. Adjust the quantity based on your preference and the size of the cucumbers.
Can I make the dressing without garlic?
If you prefer a milder dressing, you can omit the garlic. The other flavors like lemon, vinegar, and herbs will still provide a great taste.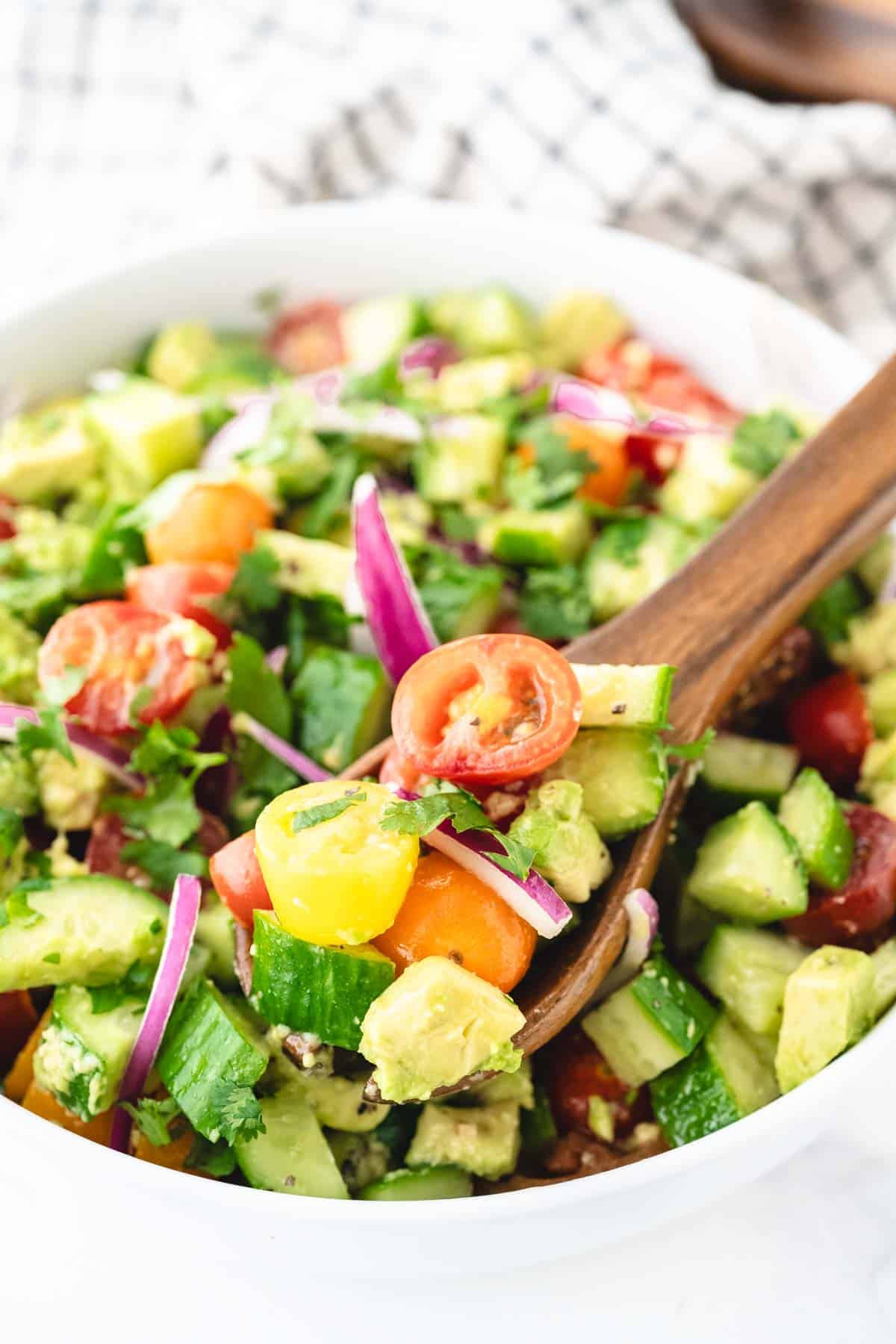 Storage
Enjoy Promptly: While this salad can be stored, it's at its best when freshly made due to the texture of the avocados and the crispness of the vegetables.
Storage: If you have leftovers, store them in an airtight container in the refrigerator for 1 day.
The avocado will slightly begin to brown, and the vegetables will become more liquidy, but the salad will still taste great. To rejuvenate any leftovers, a drizzle of additional lemon or lime juice and a touch of salt will do the trick as well.
What to Serve
The cucumber tomato avocado salad is a great side dish that can complement a wide range of main courses. Here are some ideas for what to serve with this refreshing salad:
More Refreshing Salad Recipes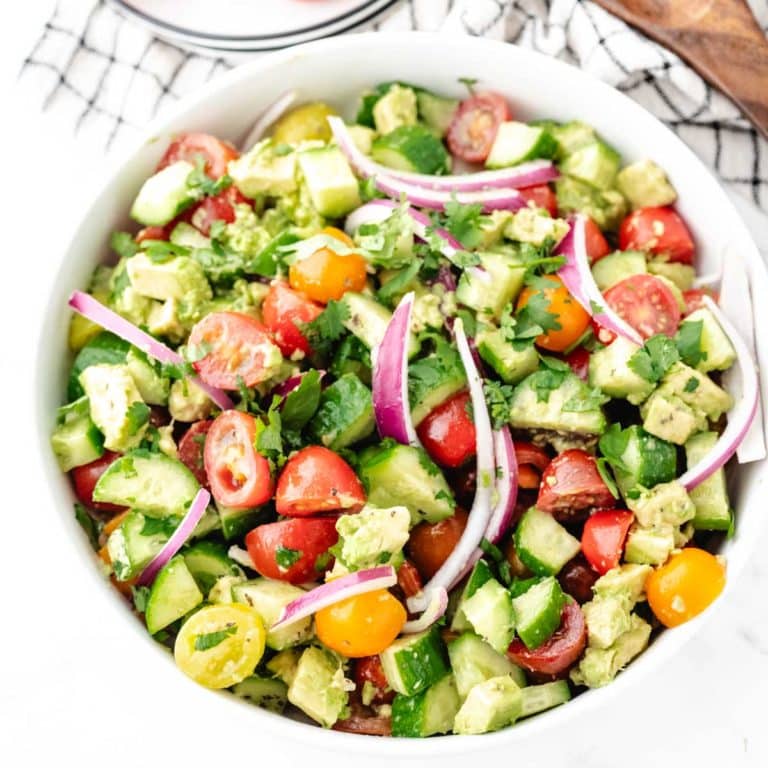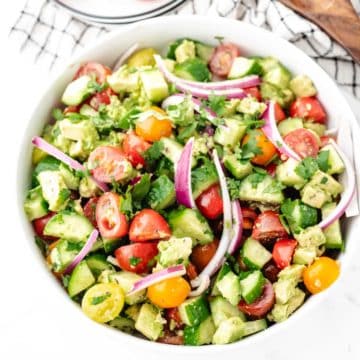 Cucumber Tomato Avocado Salad
This quick and easy Cucumber Tomato Avocado Salad is made up of simple ingredients and is simply delicious. Tossed is a bright lemony herb dressing along with the fresh and cool salad and is the perfect warm-weather side dish or light meal.
Ingredients
4

mini

mini cucumbers or 1 large English cucumber

,

cut lengthwise and then halved (about 2 ½ cups)

2

pints

grape or cherry tomatoes or Roma

,

halved or diced (about 2 ½ cups)

2

medium

avocados

,

, diced

½

medium

red onion

,

thinly sliced

¼

cup

olive oil or avocado oil

1

tablespoon

fresh lemon juice

2

tablespoons

white wine vinegar or champagne vinegar

½

teaspoon

minced garlic

½

teaspoon

dried basil

½

teaspoon

sea salt

¼

teaspoon

black pepper

chopped cilantro or parsley

,

(or to taste)
Instructions
Place sliced onions in a bowl of cold water and let sit for a few minutes, while preparing the vegetables. Drain the onions and pat dry. Set aside.

Chop cucumbers, tomatoes, onion, and avocado and place them in a large bowl.

In a small bowl, whisk together the dressing ingredients; Lemon juice, olive oil, vinegar, minced garlic, salt, and pepper.

Pour dressing over the salad and gently toss together to coat.

Top with cilantro or parsley and taste. Add additional salt & pepper to taste if desired. Serve immediately.
Nutrition
Serving:
1
serving
Calories:
222
kcal
Carbohydrates:
13
g
Protein:
3
g
Fat:
19
g
Saturated Fat:
3
g
Polyunsaturated Fat:
3
g
Monounsaturated Fat:
13
g
Sodium:
207
mg
Potassium:
722
mg
Fiber:
7
g
Sugar:
5
g
Vitamin A:
1422
IU
Vitamin C:
30
mg
Calcium:
29
mg
Iron:
1
mg
Nutrition Disclaimer
Soulfully Made is not a dietician or nutritionist, and any nutritional information shared is only an estimate. We recommend running the ingredients through an online nutritional calculator if you need to verify any information.