Making S'mores without a campfire has never been easier! In 10 quick minutes, you'll have a gooey sweet, chocolatey S'mores Dip perfect for any time of the year!
Made with three simple ingredients, all you need is your oven or air fryer, then get ready to dig in with graham crackers, fresh fruit, and any other dippers you like!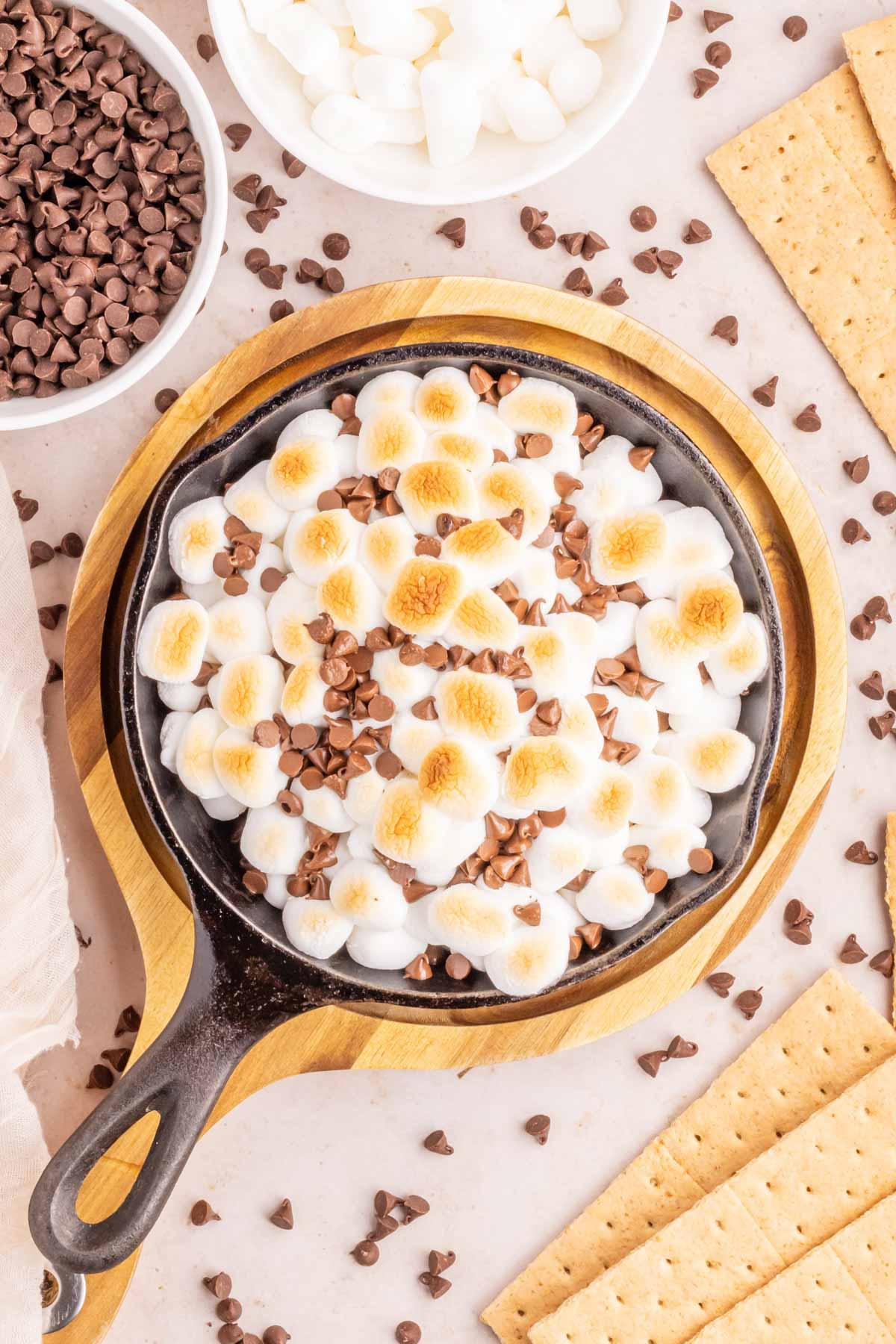 Why We Love This Oven Baked S'mores Dip Recipe!
Super Simple: It doesn't get any easier - with just 3 ingredients and your skillet or pan you can have this classic chocolatey treat whenever you get the craving!
No Camp Fire Required: Enjoy all the sweet and creamy flavors of a classic fire-roasted s'more without the danger of an open fire or the mess of toasting marshmallows. This one is delicious all year long.
No Burnt Pieces: The tricky part of roasting marshmallows over a fire pit is the risk of it catching fire and dealing with those burnt pieces (even though I love them). With this easy recipe, the marshmallows are perfectly golden brown and gooey!
The back-to-school hustle, football season, and the holidays are coming at us at full speed. And if you love all things S'mores as much as I do you'll be loving this festive summer treat any day of the week!
Summer is quickly coming to an end. Making this gooey and sweet s'mores dip recipe is an excellent way to celebrate the last few days of summer break!
Who says you need summer to enjoy S'mores though? This recipe is the perfect way to spend time with those you love on game nights, while tailgating in the Fall, a cozy way to warm up in the winter, or as a weekend treat. And really just any time you want an indoor s'mores treat.
Here's what you need to get started!
Ingredient Notes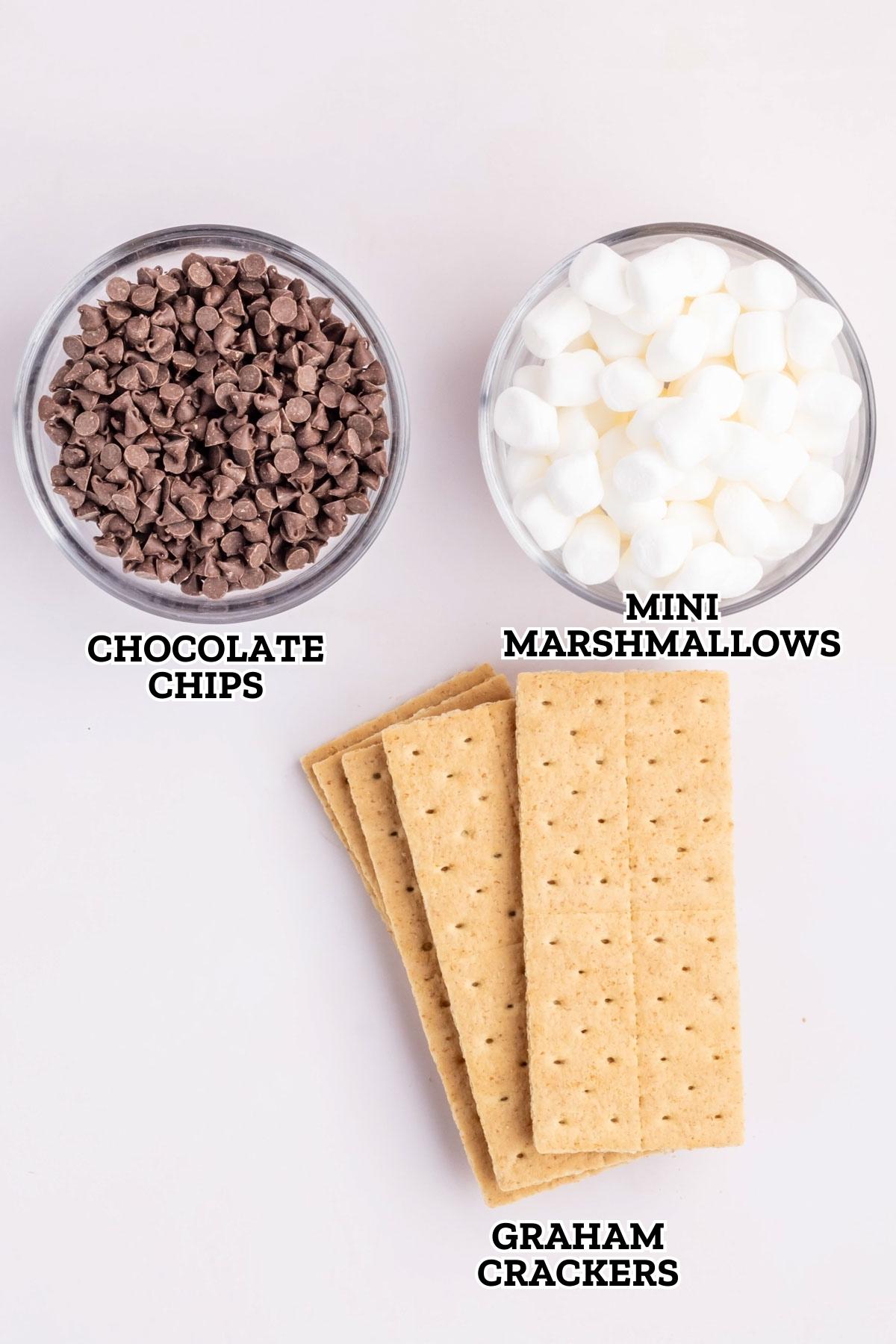 Variations and Substitutions
How To Make Oven-Baked S'mores Dip
✱ Be sure to see the recipe card below for exact ingredients and instructions!
Step 1 | Preheat and prep
Let's get started so you can get to dipping sooner! Preheating the oven to 350 degrees on broil and add mini chocolate chips to a small cast iron skillet.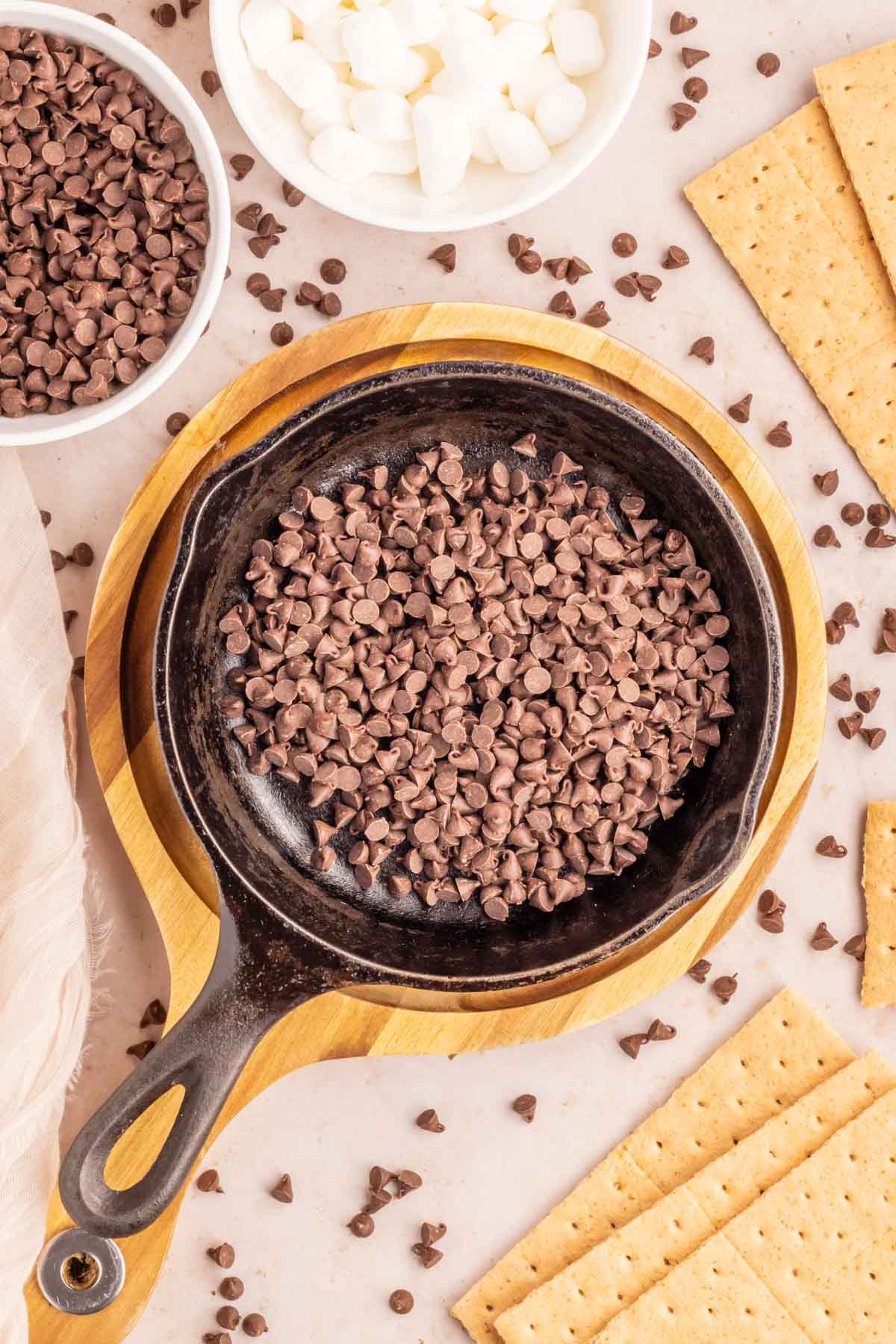 Step 2 | Melt the chocolate
Slip the skillet into the preheated oven for 2-4 minutes or until the chocolate chips are beautifully melted.
Step 3 | Add marshmallows and more chocolate
Next, grab a pair of pot holders, open the oven, and carefully pull out the rack with the skillet on it. Top the melted chocolate with 2 cups of fluffy mini marshmallows. Then, sprinkle ¼ cup of chocolate chips spread out all over the top of the marshmallows.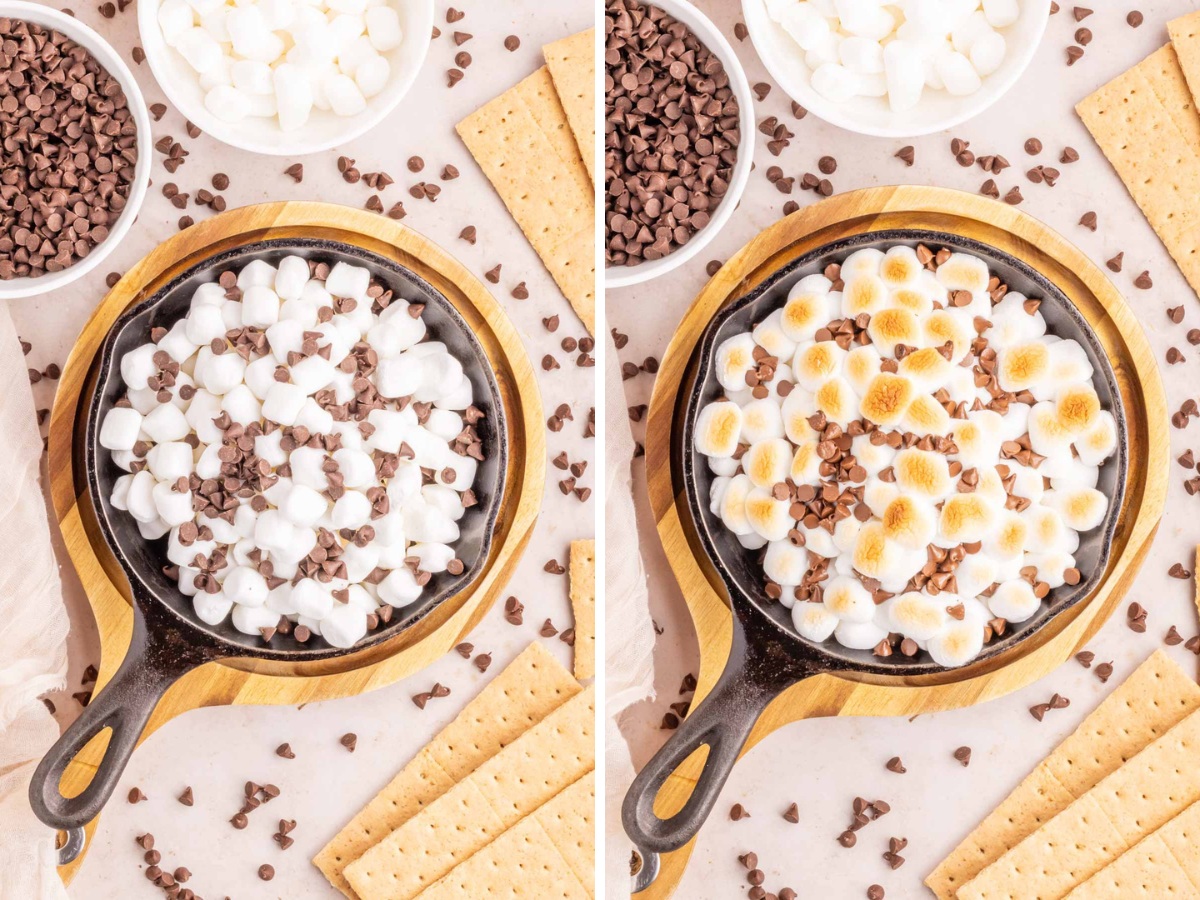 Step 4 | Broil and serve warm!
Finally, push the rack back in and broil the dip for about 3-5 minutes or until the marshmallows are that gorgeous gooey shade of golden brown.
Time to dig into the S'mores Dip with graham crackers or other salty and sweet snacks or fruits. Enjoy, y'all!
Tips
Avoid Burning the Dip– Oven temperatures vary. Keep a close eye on the recipe while it's in the oven to prevent the chocolate and toasty marshmallows from burning.
Personalize– If you'd like more gooey marshmallows or extra melty chocolate, feel free to reduce and add to your liking!
Serve Quick– Let it sit for just a few minutes so no one burns themself. This is best when served warm so serve it quickly. The longer it sits and cools, the less melty the ingredient will become.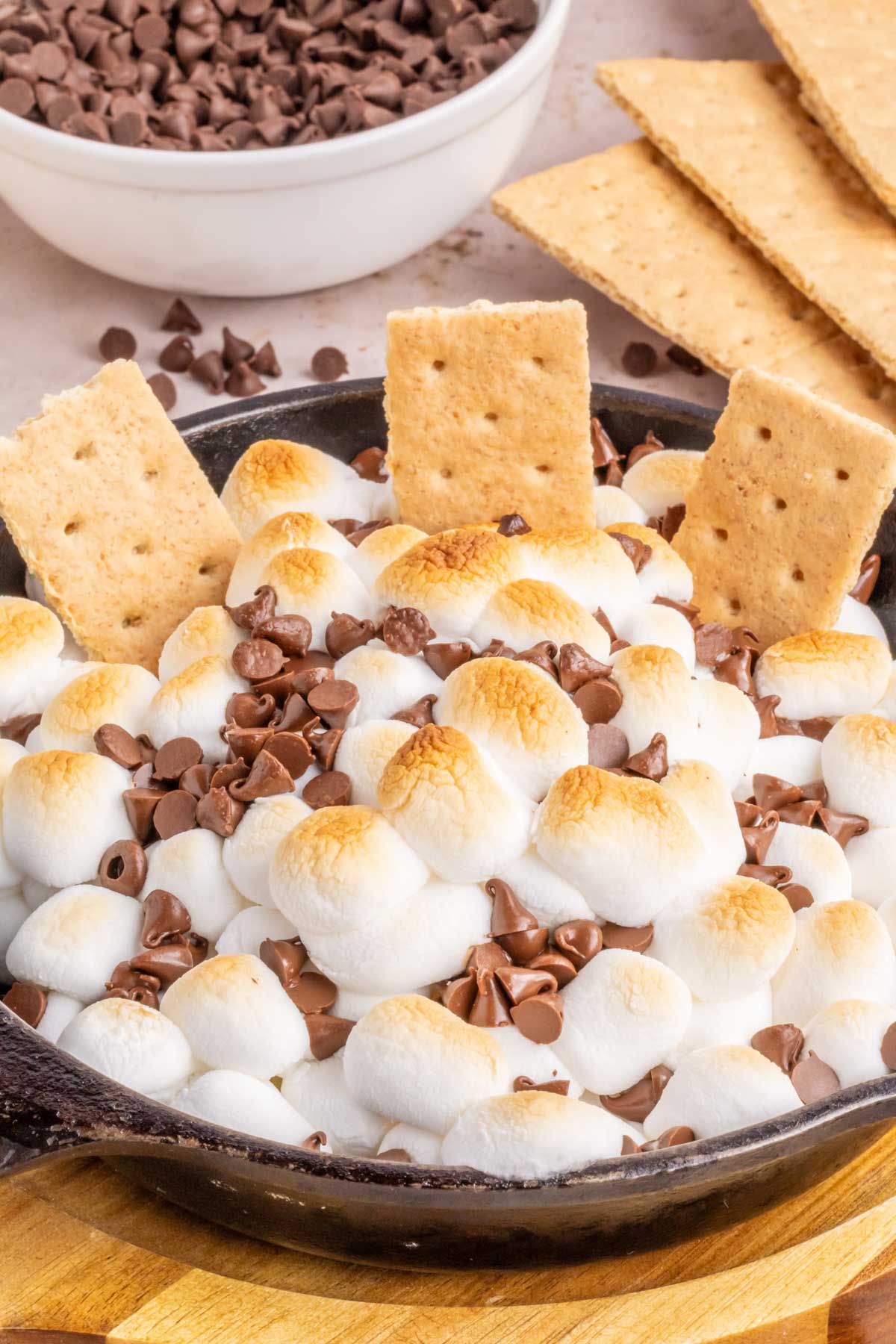 Recipe FAQs
Why Are S'mores Called S'mores?
Because you can't just have one– You always need S'more! In other words, this classic treat was named for how addictive it is - it leaves you wanting 'some more.' The same goes for this delicious dessert dip. Your guests will be scraping and scooping for every last bit of melty chocolate and irresistible marshmallow.
Do I Have To Make This Dessert In The Oven?
No, there are a couple of ways to make this. You can cook the dip in the air fryer or even the microwave. If you make it in the microwave, the marshmallows won't have the pretty golden brown tops.

When using the microwave, heat it up in 10-second increments so the chocolate doesn't burn, and the marshmallows don't overflow the bowl.

I prefer to make these as air fryer s'mores as it is easy and won't heat up the whole kitchen, especially if you make this fun treat in the summer.
Can I Use Any Dish To Make This In?
You can make this in ramekins, a small cast iron skillet, a large cast iron skillet, or any baking dish you choose. Just be sure your dish can withstand the temperature of the broiler and if safe for the cooking method you choose.
Can I double the recipe for a larger group?
Yes, you can easily double or adjust the recipe to accommodate a larger group. There's a handy tool in the recipe card to help you with those adjustments. Just ensure that the dip is evenly spread in the baking dish for even cooking.
Can I use marshmallow fluff for S'mores Dip?
Take a shortcut by using marshmallow fluff instead of marshmallows. You won't need to toast the recipe for as long because the marshmallows are already gooey and melted.
Storage
Storage: Before storing away, allow the recipe to come to room temperature. Then, cover the leftovers with foil or plastic wrap or place them in an airtight container, and store them in the refrigerator for three days.
You can reheat it in the oven or air fryer.
To reheat in the microwave, transfer or be sure you use a microwave-safe dish, as a cast-iron skillet can not be used in the microwave.
What to Serve with Easy S'mores Dip
This chocolatey s'mores dip is perfect for dipping fruit, like fresh strawberries and apple slices, but it also works well with Ritz crackers, vanilla wafers, pretzels, and cookies, like these buttery and Easy Oatmeal Lace Cookies or Peanut Butter Fudge Cookies. For something extra special, try dipping these delicious Fried Green Apples into the sweet s'mores dip!
Looking for Topping Ideas to jazz this oven baked S'mores dip up even more? Sprinkle on your favorite candy toppings or any toppings you like for dipping. Some candy ideas include: M&M's, chopped butterfingers, Kit Kats, Twix, or even cookie dough bits. Chopped nuts are also delicious: chopped pecans, peanuts, or almond slivers add a little crunch.
Other S'mores Creations!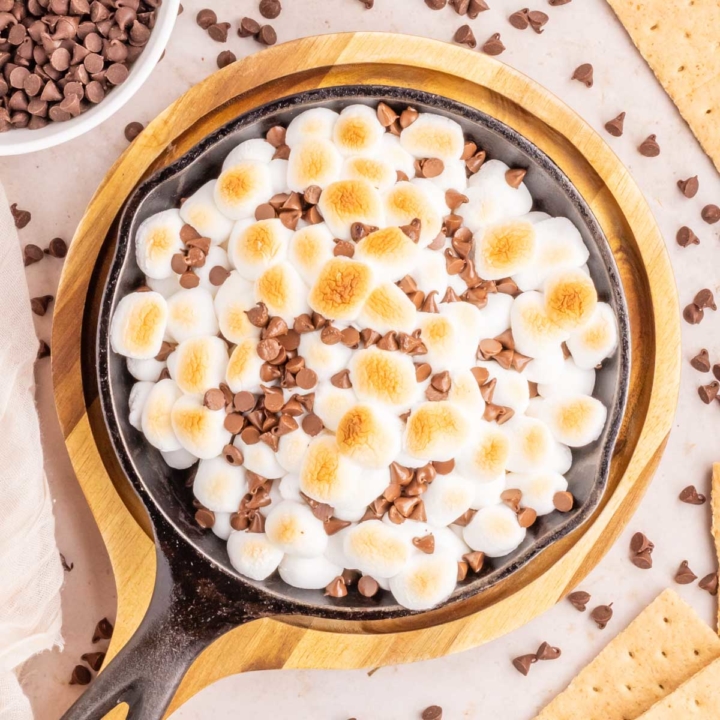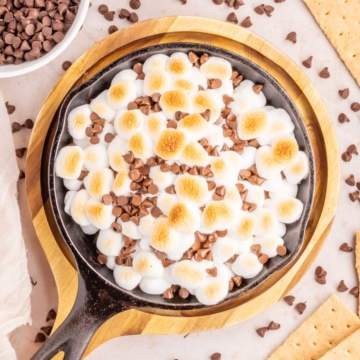 S'mores Dip Recipe
Oven Baked S'mores Dip is an easy 10-minute, crowd-pleasing dessert made with melted gooey chocolate, and toasted marshmallows on top. Dig in with graham crackers, fresh fruit, and any other dippers you like! The best way to enjoy s'mores without the campfire.
Ingredients
¾

cup

mini semi-sweet chocolate chips

2

cups

mini marshmallows

box

graham crackers
Instructions
Preheat the oven to 350°F on broil.

Add ½ cup of mini chocolate chips to the small cast iron skillet.

Place in the oven for 2-4 minutes or until the chocolate chips are melted.

Open the oven and carefully pull out the oven rack.

Top the melted chocolate with 2 cups of marshmallows. Then add ¼ cup of chocolate chips to the top of the marshmallows.

Broil for 3-5 minutes or until the marshmallows are golden brown.

Serve with graham crackers or other salty or sweet snacks or fruits.
Nutrition
Serving:
1
serving
Calories:
336
kcal
Carbohydrates:
44
g
Protein:
3
g
Fat:
17
g
Saturated Fat:
10
g
Polyunsaturated Fat:
1
g
Monounsaturated Fat:
5
g
Trans Fat:
0.04
g
Cholesterol:
3
mg
Sodium:
24
mg
Potassium:
253
mg
Fiber:
4
g
Sugar:
31
g
Vitamin A:
22
IU
Calcium:
28
mg
Iron:
3
mg
Nutrition Disclaimer
Soulfully Made is not a dietician or nutritionist, and any nutritional information shared is only an estimate. We recommend running the ingredients through an online nutritional calculator if you need to verify any information.