7 simple ingredients make these Easy Oatmeal Lace Cookies. Ready in under 20 minutes and they taste like bites of brown sugar and caramel decadence.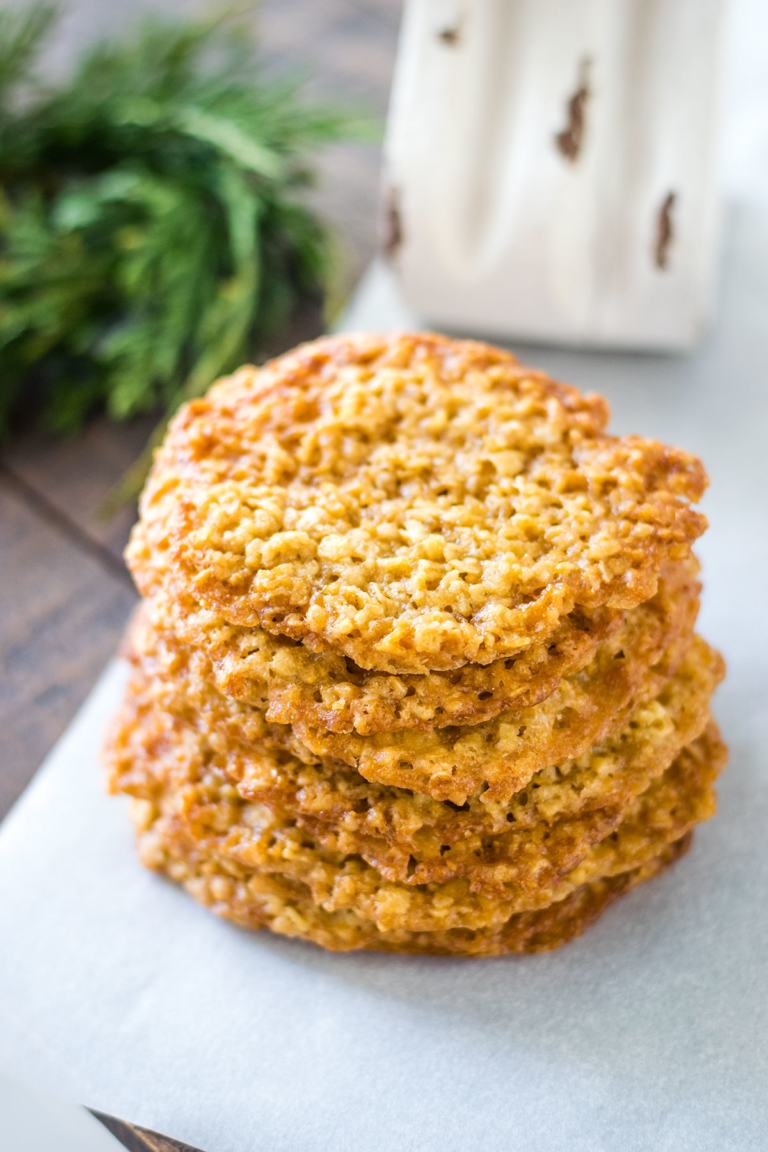 These are one of my most favorite cookies of all time. I especially like them around the holidays. They are crispy but a little chewy and just packed with nutty brown sugar and notes of caramel!
I have always enjoyed making lace cookies and this version is an adaption of the recipe from Whitney Miller Humphrey. Whitney simplified this recipe by using a convenience item that is packed full of flavor and all the ones you need for a perfect Lace Cookie.
Whitney married a sweet friend of mine's son and that brought her to my home town and allowed me to get to know her. She is just simply precious.
Whitney was the first winner Food Network's of MasterChef. She is the most wonderful person inside and out and makes the most amazing southern inspired dishes. She has two amazing cookbooks I know you would love New Southern Table and Modern Hospitality: Simple Recipes with Southern Charm.
What are Lace Cookies
Lace cookies are a really thin cookie made with BUTTER, sugar, a little salt, and depending on the recipe a couple of other ingredients. In this recipe I am using oats, but some call for flour or almond flour, some use other types of nuts.
They get their name because of of their delicate and see through appearance. They air pockets form and creates that lacy look. They are a beautiful cookie! Just heavenly too!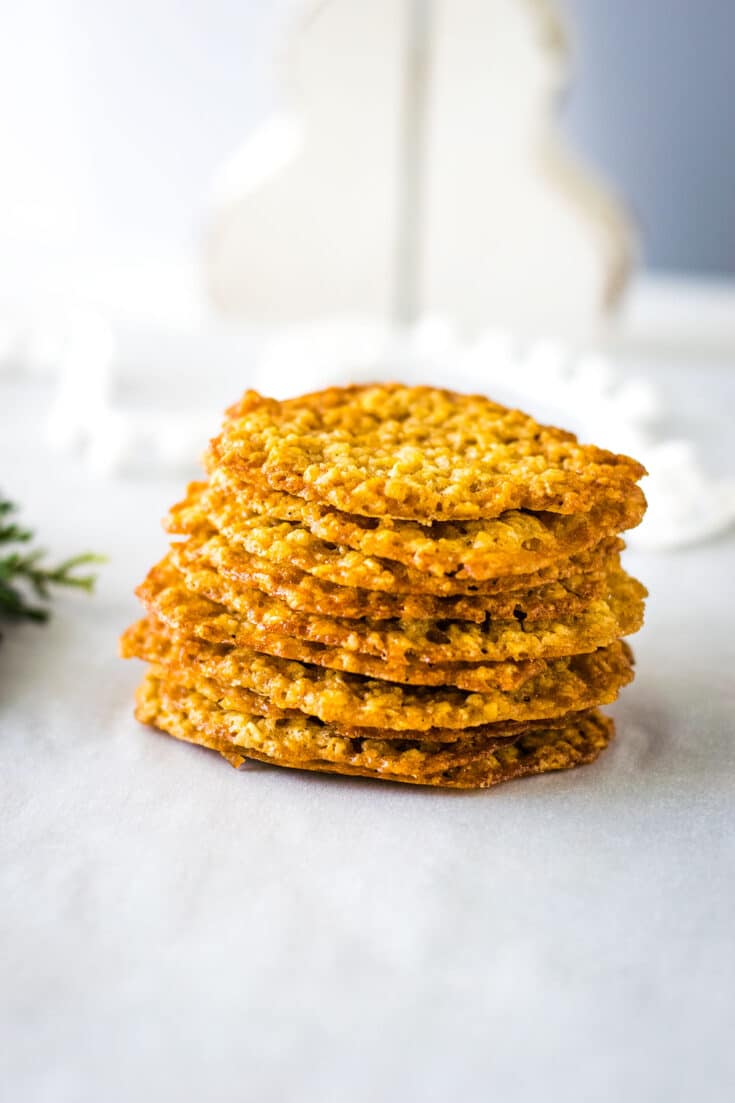 Tips for Making Lace Cookies
Make sure to use real butter. Really there is no skimping here. It creates that caramel flavor you want in a lace cookie.
These are a good sized cookie and they spread out. Be sure you leave room on your cookie sheet for this. I usually on do about 1 tablespoon of batter for each cookie and put about 9 cookies on a cookie sheet.
If you want them extra thin you can also give the cookie a little smushing after place on the cookie sheet. Just a touch though they spread on their own.
How to Make Easy Oatmeal Lace Cookies
For this recipe we use Instant Oatmeal Packages, specifically maple and brown sugar. Yes so simple and it gives these cookies the most perfect flavors.
You start with melted butter and add in other ingredients by hand. No hand mixer is really needed with this recipe.
Allow for a little chilling time. I find you need at least 30 minutes as in the original recipe. I often make the dough the day before and let is sit out just a few minutes before baking.
Use a round tablespoon measure to scoop out the dough or a small cookie scoop.
Baking times will vary. Ovens vary so keep an eye out on the first batch. Anywhere from 8 to 12 minutes. In my older oven I cooked about 11 to 12 minutes. My new oven I find 9 to 10 minutes is usually good. It also depends on the size of your cookie too.
Typically for a cookie you do not want the batter to spread, but in this case you absolutely do. That creates that great crisp caramel taste you want! Those edges are divine!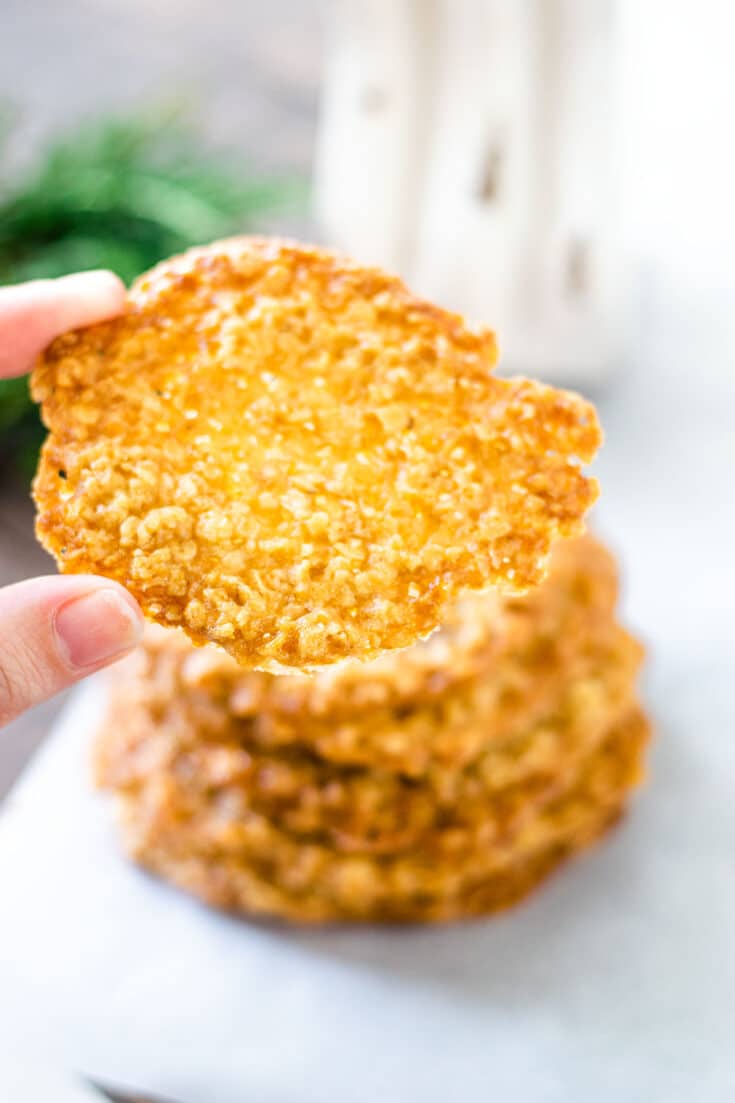 Other Cookie Recipes you will Love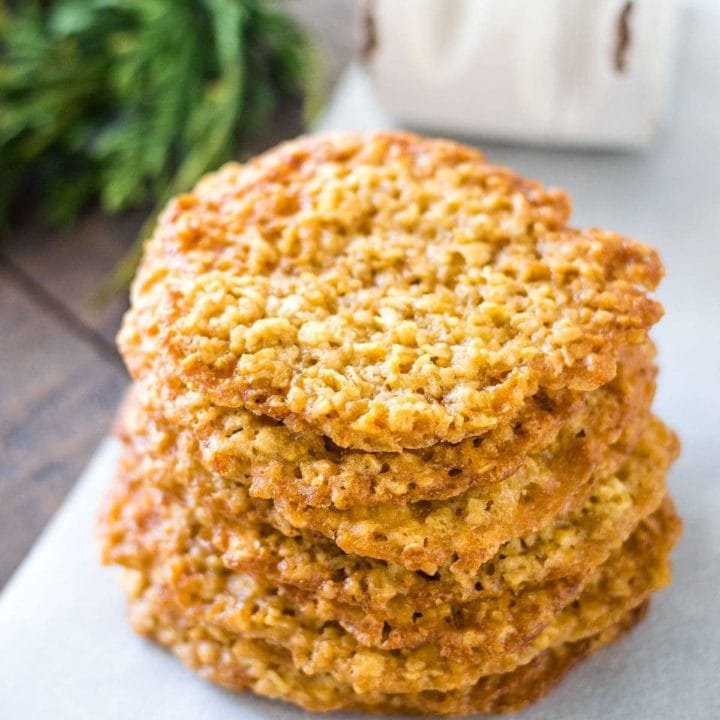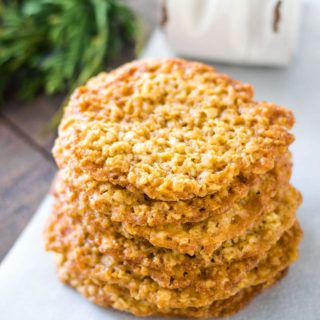 Easy Oatmeal Lace Cookies
7 simple ingredients make these Easy Oatmeal Lace Cookies. Ready in under 20 minutes and they taste like bites of brown sugar and caramel decadence.
Ingredients
10

Tablespoons

butter

,

melted (I use salted butter)

6

individual packets of maple and brown sugar instant oatmeal

,

I used Quaker Brand

⅔

cup

sugar

⅔

cup

brown sugar

,

firmly packed

⅛

teaspoon

sea salt

1 ½

teaspoons

vanilla extract

2

large eggs
Instructions
Place melted butter in a medium sized bowl. Add in the white sugar, brown sugar, dry oatmeal packets and salt and mix until combined. Stir in vanilla and eggs until combined.

Cover bowl with plastic wrap and refrigerate for 30 minutes.

Preheat oven to 350 degrees Fahrenheit. Line a baking sheet with parchment paper or a silicon mat.

Scoop chilled dough with a round tablespoon measure or small cookie scoop onto lined baking about 3 inches apart. (Flatten slightly with the back of scoop, if you desire an extra thin cookie.)

Bake for 9 to 12 minutes, until the edges are golden brown. Allow cookies to cool on the pan for 5 minutes (they will continue to cook a bit). Use an offset spatula to transfer to a cooling rack to cool completely.
✱ Nikki's Tips
I usually only bake 9 cookies on a sheet to allow room for them to expand and not touch when baking.
These are delicate cookies so handle with care when moving to a cooling rack.
Nutrition
Serving:
1
1 serving
Calories:
64
kcal
Carbohydrates:
8
g
Protein:
1
g
Fat:
4
g
Saturated Fat:
2
g
Polyunsaturated Fat:
1
g
Cholesterol:
19
mg
Sodium:
40
mg
Sugar:
7
g