Christmas White Trash Popcorn Snack Mix is the perfect easy holiday treat. This sweet and salty snack mix is perfect for Christmas, movie night, parties, holiday gift giving or any occasion.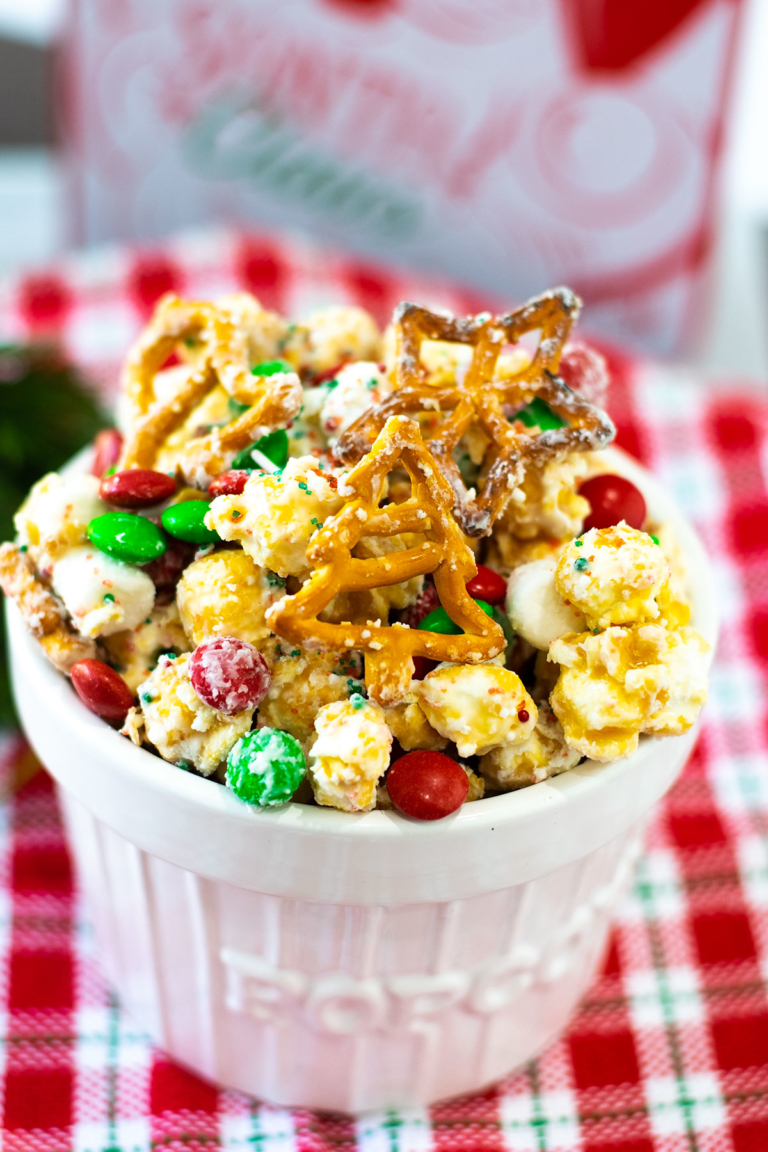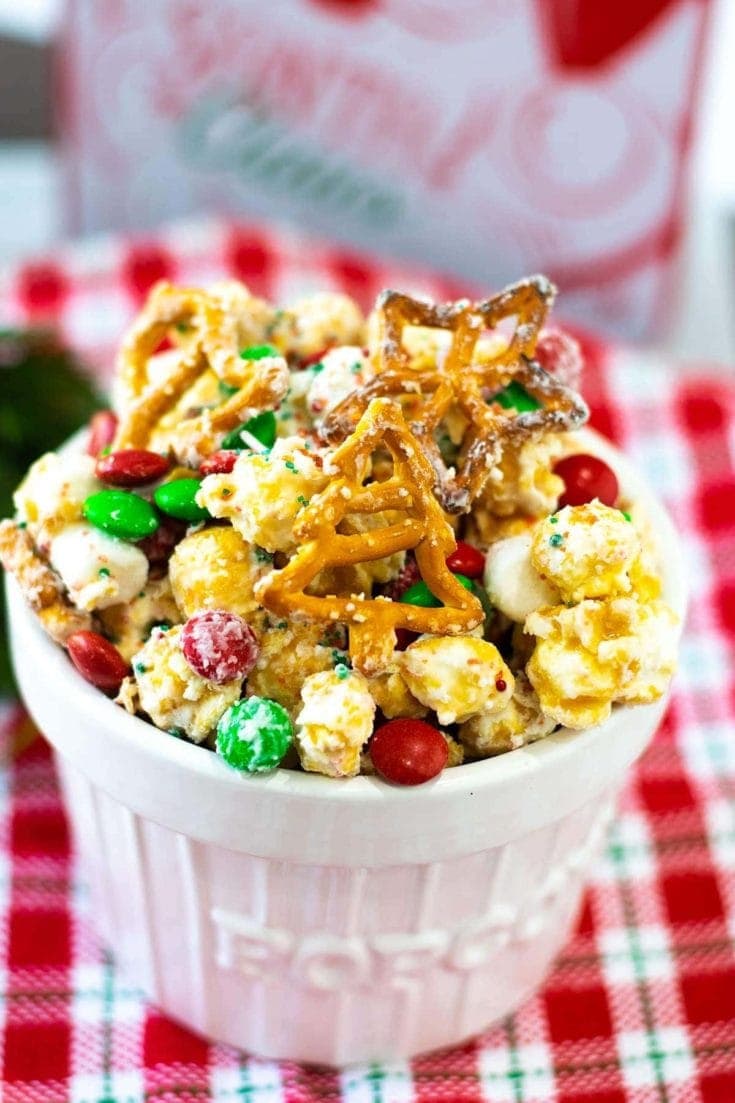 Christmas is the time of year when festive is really an attitude. I wish I could bottle it up and sprinkle it about many other months of the year. For me Christmas is a time of celebration of the birth of Christ. I really think that is what causes all of the excitement in the air.
It's a time of giving, baking cookies, candy making, entertaining family and friends. We often attend church plays or musicals, the kiddos programs, or drive around looking at all the beautiful Christmas lights.
We love to get out on the golf cart or we hop in the car to drive around town during the season to see all the sparkling lights and decor. Christmas White Trash Popcorn Snack Mix the perfect take along snack.
It's a season of warmth and love, spending time with people that mean so much to us. And when we gather together there is always a reason for sharing food. This is the perfect snack to have out at a party. It's full of holiday cheer!
What is Christmas White Trash Recipe
White trash is a white candy coated sweet and salty mix. A perfect balance for a delicious treat!
Start with popcorn as a salty base. You can also use a puffed corn cereal or chex cereal in place or in part of this recipe and mix it up.
Toss in White Candiquik or almond bark. It coats perfectly and gives a wonderful sweetness to the snack mix.
Add in pretzels for crunch and more salty flavor.
Christmas colored red and green M&M's are the perfect crunchy chocolatey sweet addition. This mix needs a little chocolate (doesn't everything)!
Mini Marshmallows pair well for a soft snowy looking balance. If you don't care for them you could always add in some nuts to replace them.
Holiday Sprinkles are the magical topping. The elves say it is a must. They add another aspect of Christmas color and festiveness to the snack.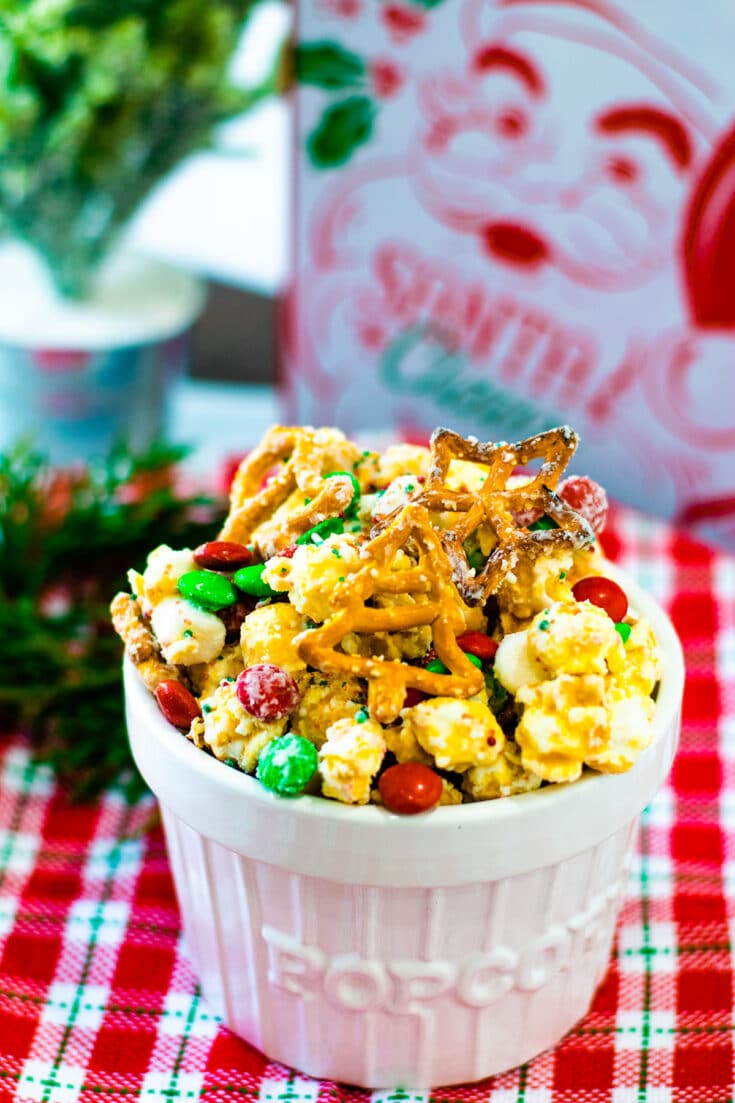 How to Change Up White Trash for any OCCASION
This snack mix can be enjoyed all year long!
Change up the M&M and sprinkle colors to meet your theme. Red, White, & Blue for summer, pastels for Easter, Celebrate Birthdays with that person's favorite colored sprinkles, or Green for St. Patrick's Day. The sky's the limit!
You can always switch out the ingredients as well. In the Fall I add candy corn, cinnamon candied pecans and fall colored m&m's. SO GOOD!
SHARE WHITE TRASH SNACK MIX as a DIY GIFT
It's also the perfect gift for teachers, friends, and family. It looks beautiful wrapped in a clear cellophane bag and tied with a beautiful bow or in a holiday tin. Or take it along to give to a host of party you are attending.
Other Christmas Sweets to Enjoy
You can also find this at Weekend Potluck and Meal Plan Monday.