I guess I am on a soup kick lately. This Creamy Parmesan Tomato Soup is so satisfying and decadent.  I love to get this soup at Panera and have been trying to come up with a recipe that I thought might be just as good.  I believe I have finally suceeded.  My family loved it so that is always a plus.  Just note this made a huge batch, so you could cut in half. Instead I am going to deliver some to my mom and then freeze the rest to pull out whenever I am in the mood, or when Bri wants to go to panera I can send her to the freezer 😉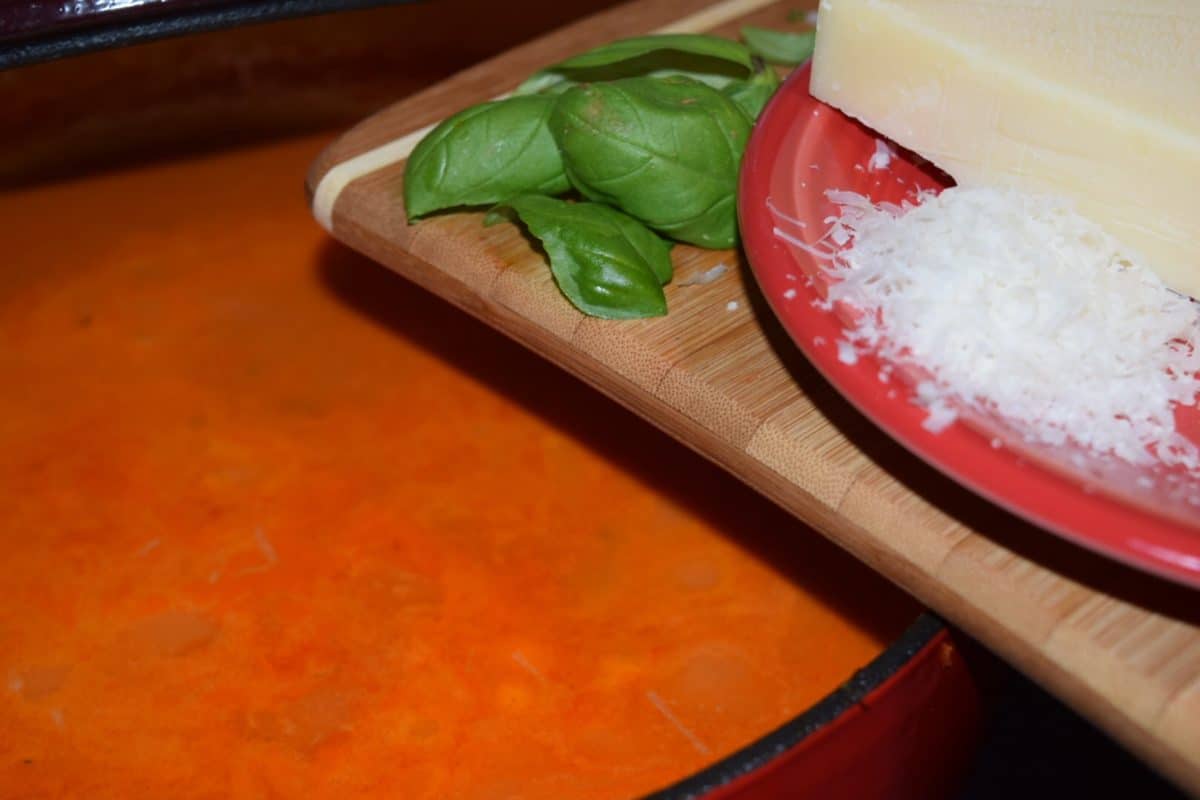 I paired it with Caesar Salad and Parmesan Crisps.  I will share the delicious and easy salad recipe tomorrow. You could also grab a great loaf of crusty bread and it would be a complete meal too!
2 Tablespoon Butter
1 Tablespoon Olive Oil
2 cloves Garlics, Minced Fine Or Grated
¼ cup Onion, Diced
2 cups Carrot, Shredded
4 Tablespoons Tomato Paste
3 cans  Whole Tomatoes, 29 Oz
32 ounces, Chicken Broth
1 cup Heavy Cream
½ cup Parmesan Cheese
Salt And Pepper, to taste
2 Tablespoons Chopped Fresh Basil
In a large pot, heat butter and oil over medium-high heat, then add onion, garlic, and carrots. Stir and cook for 5 or 6 minutes. Add tomato paste and stir it in, cooking for another 3 minutes. Add canned tomatoes with their juice and broth. Stir together and bring to a boil, then reduce the heat, cover the pot, and simmer for 30 to 45 minutes, longer if you have time. Use an immersion blender to puree or regular blender if you do not have an immersion, still leaving some texture to the tomatoes. Add cream, salt, pepper, parmesan cheese, and basil, and simmer for another 30 minutes or longer if you like.