An easy and delicious creamy potato soup recipe all made in one pot on the stovetop. Loaded with bacon, creamy good potatoes, and topped with cheese to make the ultimate bowl of comfort food!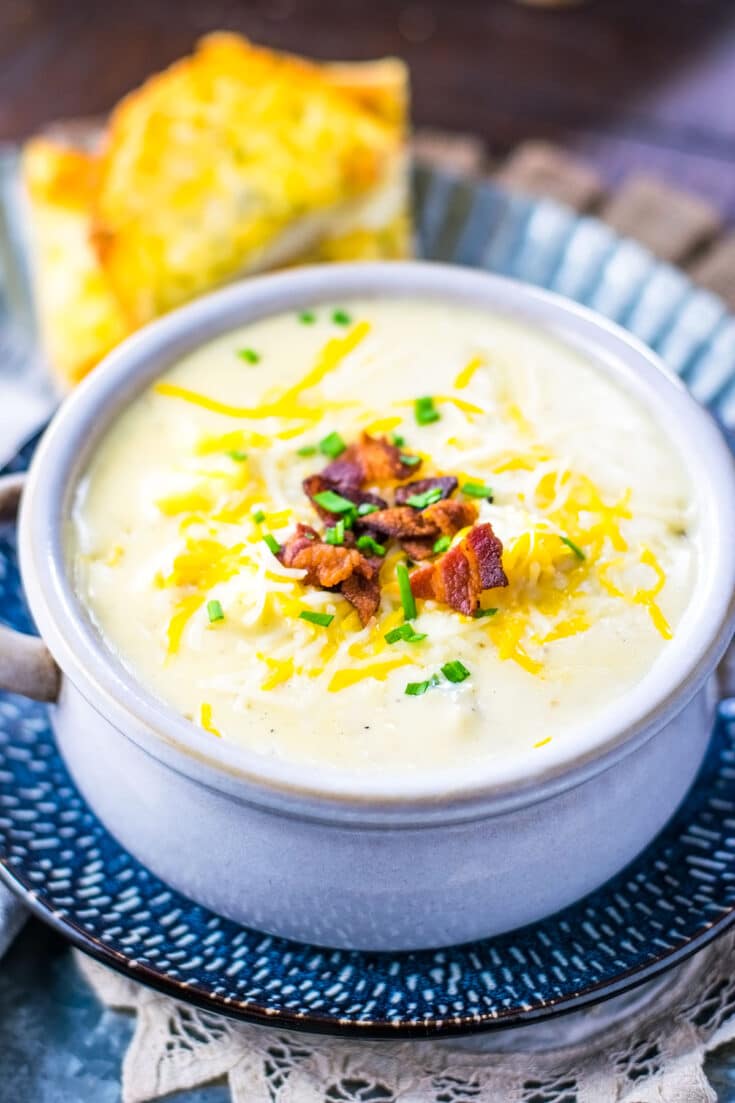 There really is nothing like a warm bowl of soup on a cool day to warm the belly and the soul. It's like a big hug, comfort food at its best.
Everytime I take a bite of potato soup it reminds me of my grandfather. He loved it. I often talk about all the memories food brings to mind. They are truly priceless. Almost like a hug from the past. (This soup is like a big hug too - pure comfort!)
I sure wish I could sit down with him for a meal again. I am so blessed to have all the ones I do, but it does make me mindful of the ones that are being created when I cook a meal for those I love.
Most recently, I made this when my daughter was home from college. My house was complete. We all played cards and relaxed. It was pure bliss to have the whole family together under one roof.
Now let's get to making this blissfully delicious soup and creating more memories with the ones we love!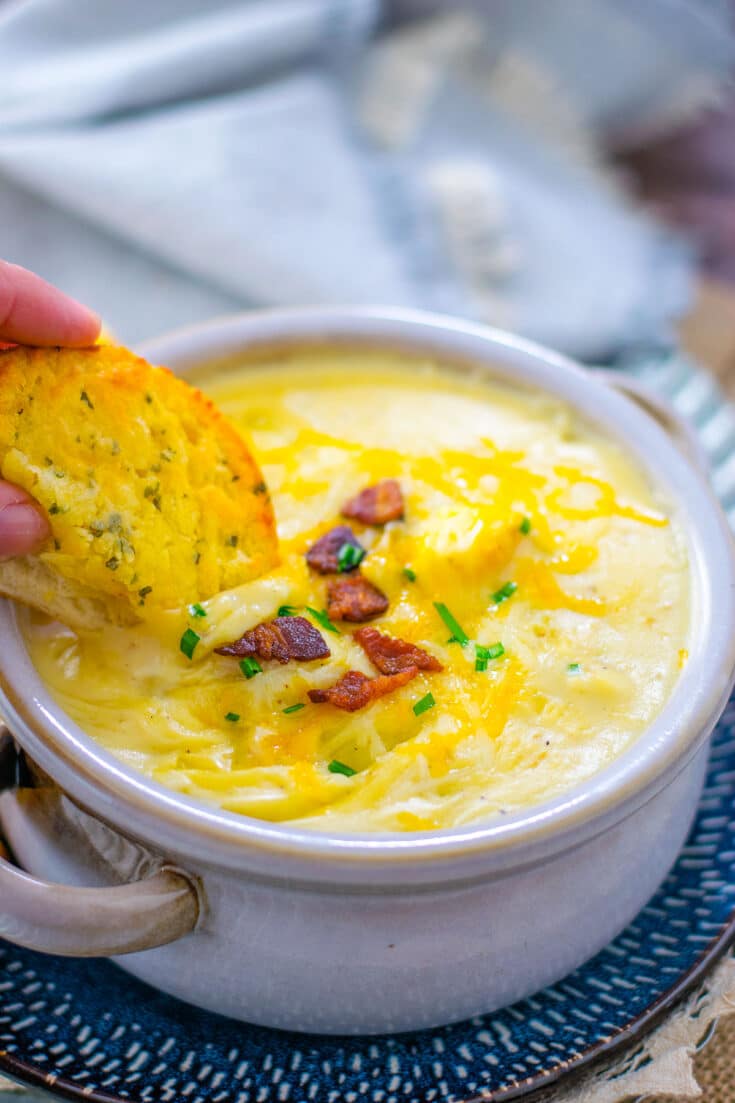 Ingredients needed for Creamy Potato Soup
bacon
butter
yellow onion
garlic
all purpose flour
potatoes, I like gold or red potatoes work as well
chicken stock or broth
whole milk
cream or heavy cream
salt
black pepper
cayenne pepper, optional
sour cream
TIPS FOR THE ULTIMATE CREAMY POTATO SOUP
Cut your potatoes evenly. I try to keep them no larger than 1 inch in size, maybe a tad smaller. Bite size pieces so that they cook evenly and fairly quickly.
Use an immersion blender to blend some of the potatoes until it's nice and creamy in texture. I like to blend about ⅓ of the soup. You can blend them all if you do not like chunks of potatoes, but I highly recommend to leave some in. So delish.
If you don't have an immersion blender a regular blender works or a food processor can be used as well. Just carefully remove liquid in batches depending on the size of your blender. Then pour back into the soup.
Stir in the sour cream and bacon pieces last. If you don't like bacon pieces in the soup you can omit. It still has the nice flavor. But I say the more bacon the better in life! ?
Top with all for favorite baked potato toppings like sour cream, cheese, bacon, and chives. Enjoy!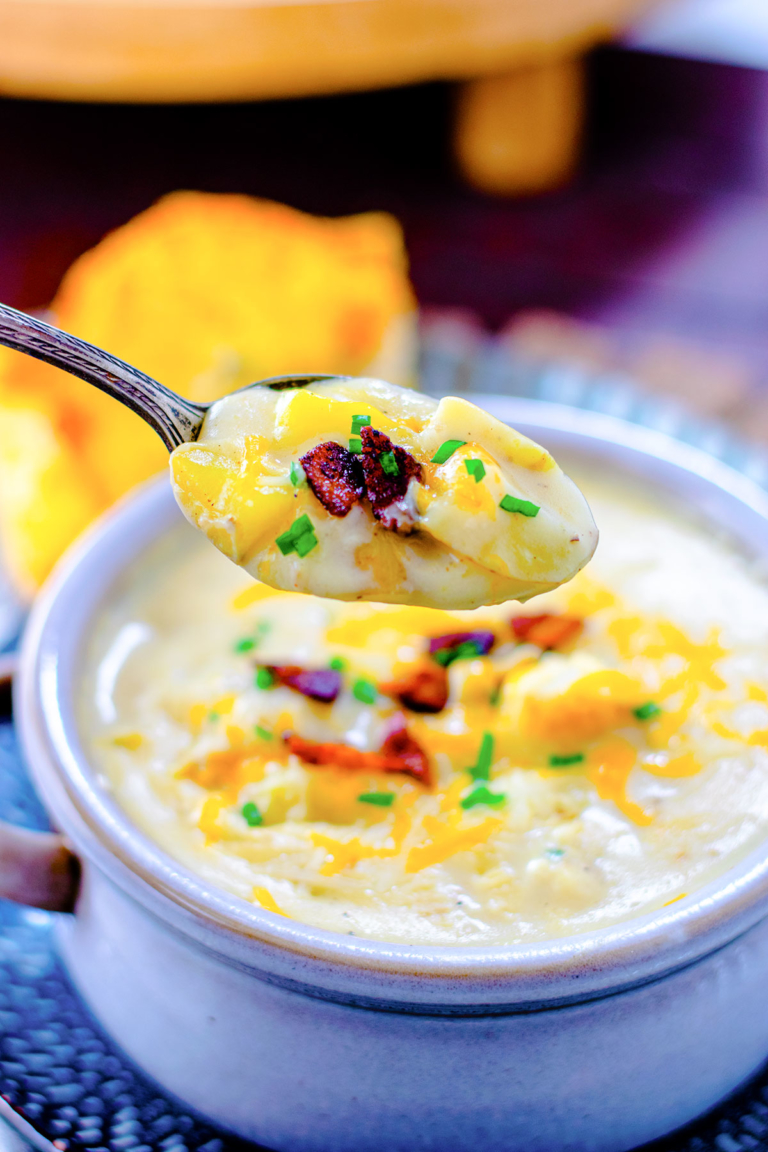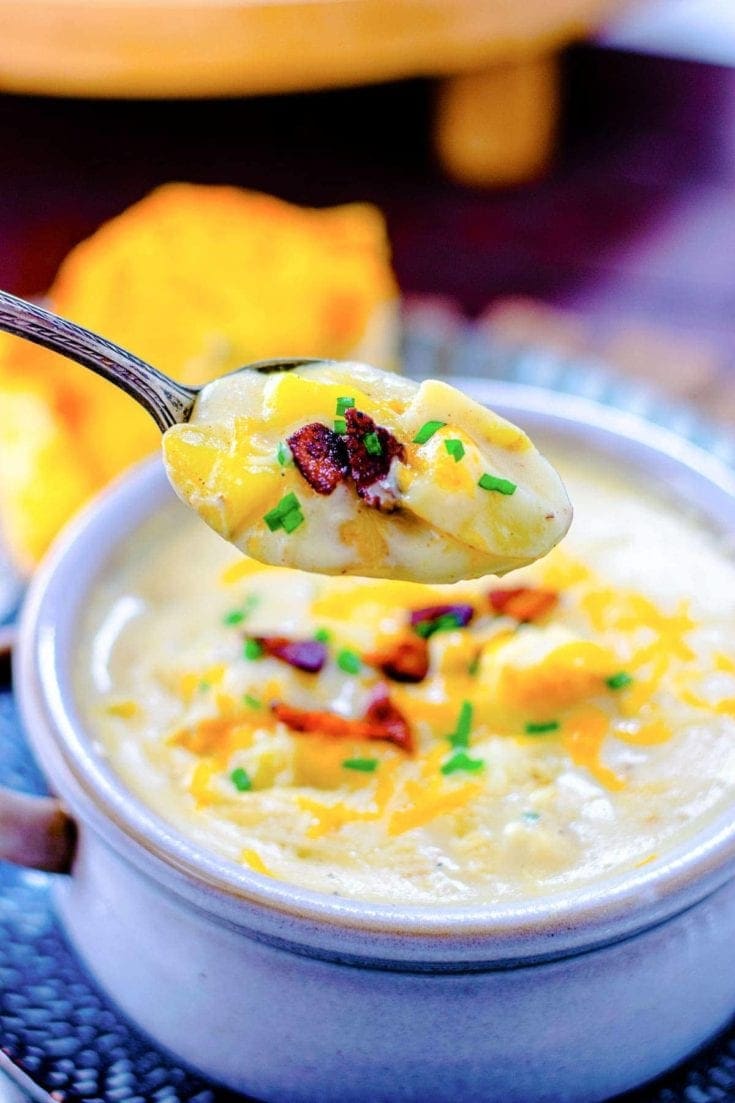 More Delicious Soup Recipes to Enjoy
How to make the Best Creamy Potato soup
You can also find this at Weekend Potluck and Meal Plan Monday.