Biscuits and gravy is staple southern breakfast fare! The Best Sausage Gravy Recipe is simple, made from scratch, and ready in 20 minutes. Country comfort food can be quick, delicious, and easy as pie (or in this case gravy) to make!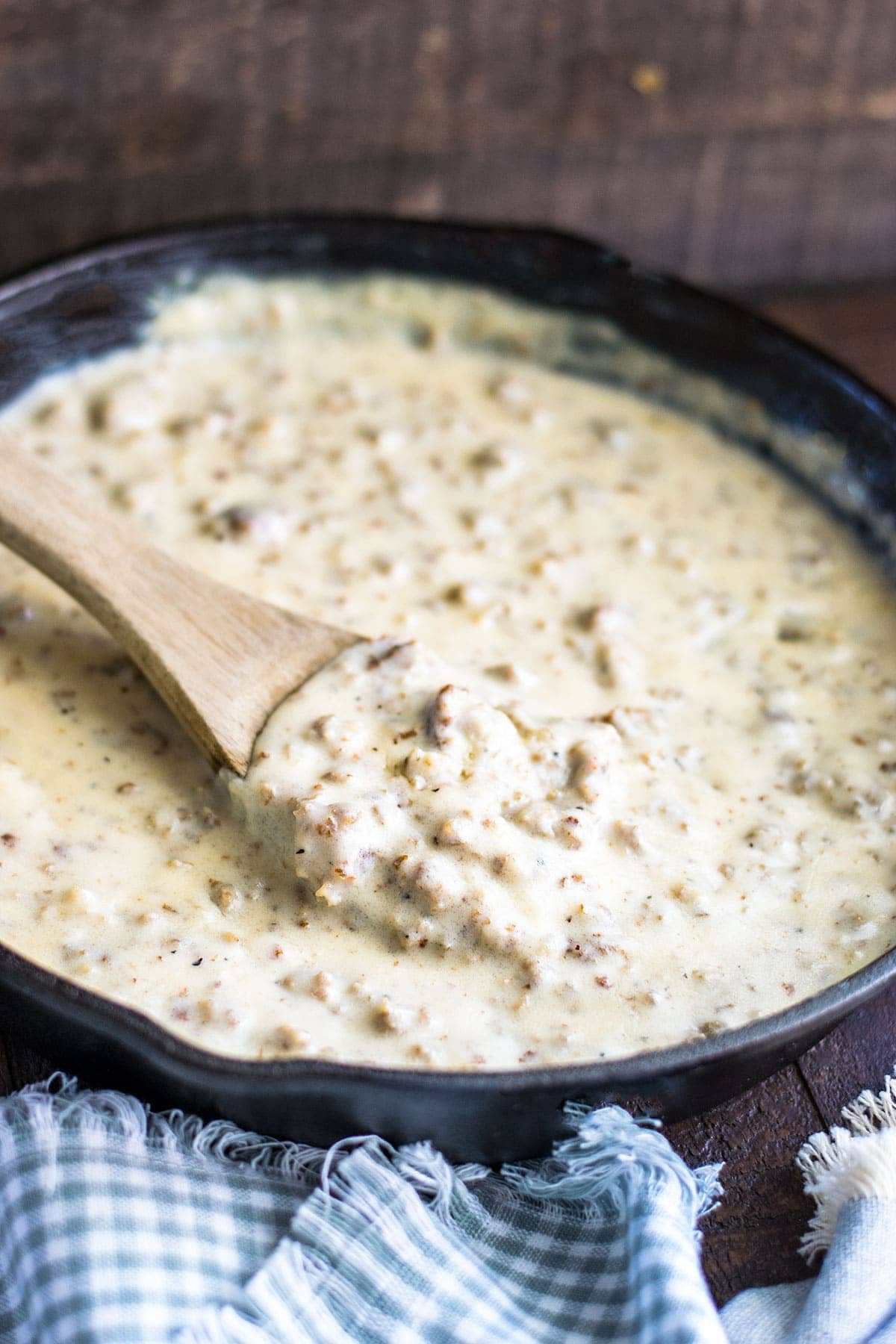 Sausage Gravy and Biscuits
Is there anything more southern than biscuits and gravy? Well, except maybe fried pork chops - which by the way goes deliciously with breakfast!
A soulful southern breakfast isn't complete without biscuits and a skillet of southern sausage gravy!
Most people might think gravy is difficult to master, but honestly it's one of the easiest things in the world to make!
This sausage gravy recipe is basically just three main ingredients - ground sausage, flour, and milk. See easy peasy y'all!
Grab a few other staple pantry items to add to your skillet and you'll have the most gloriously delicious gravy!
Easy Sausage Gravy Recipe Ingredients
Ground pork sausage - Typically labeled bulk or breakfast sausage. You can also find this in a spicy or hot variety which gives your gravy a little kick! Make sure to not drain the fat! You need that to make the sausage gravy.
Butter - This adds a little extra richness and doesn't butter make everything better!
All-purpose flour - This is what binds and thickens the gravy.
Whole milk - To get that extra rich and creamy and texture and flavor, I really suggest using whole milk. You can use whatever milk you like though.
Garlic powder - This enhances the flavor and you just need a little to give it that something extra you are looking to add in. It's not overpowering, just subtly scrumptious!
Salt and pepper - Of course you need a little S&P to round out the flavors. Specks of ground pepper all throughout the gravy are a give away for a great tasting gravy. Make sure to give it a taste before adding salt. Some ground pork may be a little saltier than others!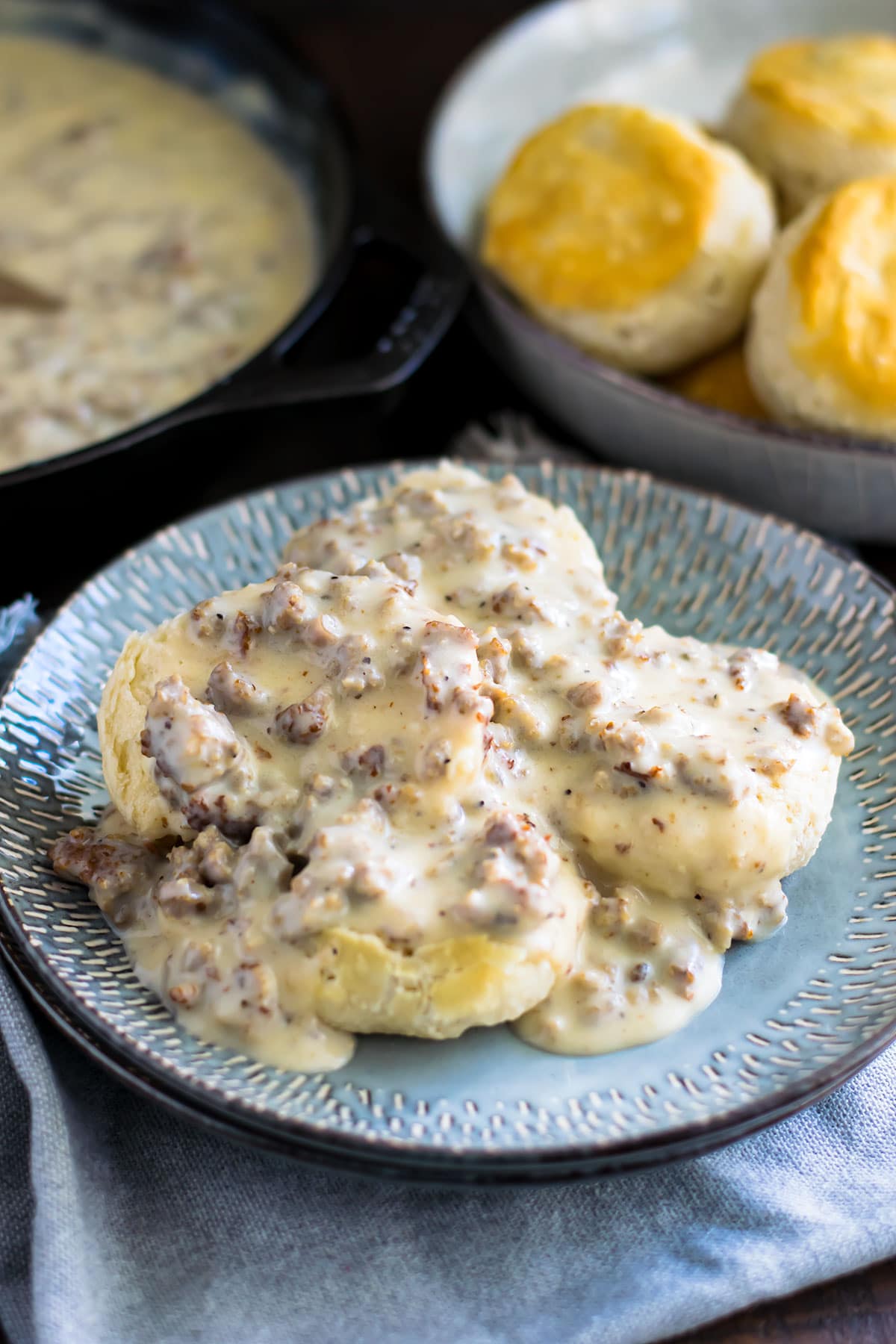 How to Make Sausage Gravy
Brown the Sausage. Set a large skillet (I love cast iron) over medium heat and brown the sausage. With a wooden spatula "crumble" or break up with sausage into smaller pieces, while stirring. Cook until brown and fully done. I like a little crunch, so cook until some of the edges until they are well browned. It adds a ton of flavor!
Add in the butter. Place butter in skillet and stir until melted.
Add the flour. Sprinkle flour, garlic, and pepper on top of the sausage and slowly stir until well coated. Continue stirring and let the flour cook for about 2 minutes.
Add milk. Pour and in the milk while stirring. Continue to stir and simmer until gravy thickens. Taste to see if salt is needed.
Serve over warm fresh biscuits.
Biscuits and Gravy FAQ
Can I make sausage gravy and biscuits ahead of time?
Yes - you can make the gravy ahead of time. Cool and store in an airtight container and refrigerate it up to 4 day in advance.
To reheat, place in a saute pan and warm over medium heat. Add in a little extra milk to thin if needed.
Biscuits, in my opinion, on the other hand are better fresh! You can prepare the biscuit dough in advance and cut them out the day before. You can also freeze cut biscuit dough ahead of time and then cook them the day of.
Can sausage gravy be frozen?
Yes. You can freeze. Let the gravy cool completely and the store in an airtight container or freezer bag for up to 3 months.
But as easy as it is to prepare I like to make fresh the day of or just refrigerate it a couple of days in advance.
Can I substitute pork sausage?
Yes. Ground turkey or chicken can be used in place of the pork. You may need a little extra butter for less fat may be rendered while cooking.
What do I serve with sausage gravy?
The Best Sausage Gravy is most often served on fluffy biscuits! Buttermilk biscuits and gravy are always a win!
It's also so good on toast, english muffins, eggs, over skillet potatoes, hash browns and even french fries! Oh yes! You heard me right french fries.
Now let's dig on into the best sausage gravy recipe ever!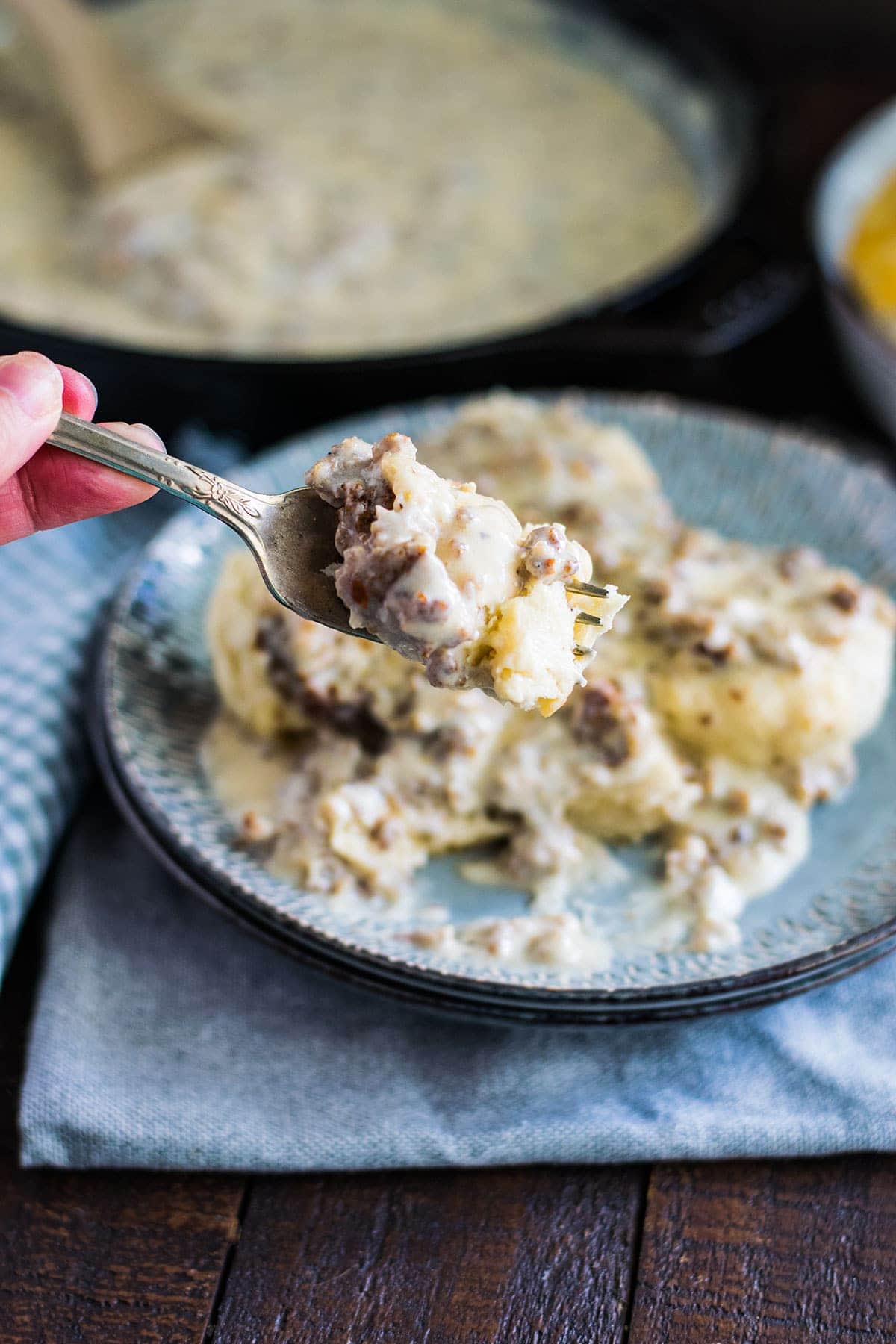 More Breakfast Recipes You Will Love
Our readers are loving these recipes...
LOVE SOUTHERN INSPIRED DISHES COME FOLLOW ALONG!
Facebook | Instagram | Pinterest | Twitter
If you share a picture of something you make from our blog, tag it with #SoulfullyMade so we can see it. We might feature it on Instagram!
If you loved this recipe please make sure to give it 5 Stars!