The Best Sausage Gravy Recipe is simple, homemade, and ready in 20 minutes. This creamy delicious gravy is perfectly paired with your favorite biscuits.
It's a classic everyone loves, whether you serve it on the holidays or as an everyday breakfast. We always serve it with overnight breakfast casserole on special occasions too!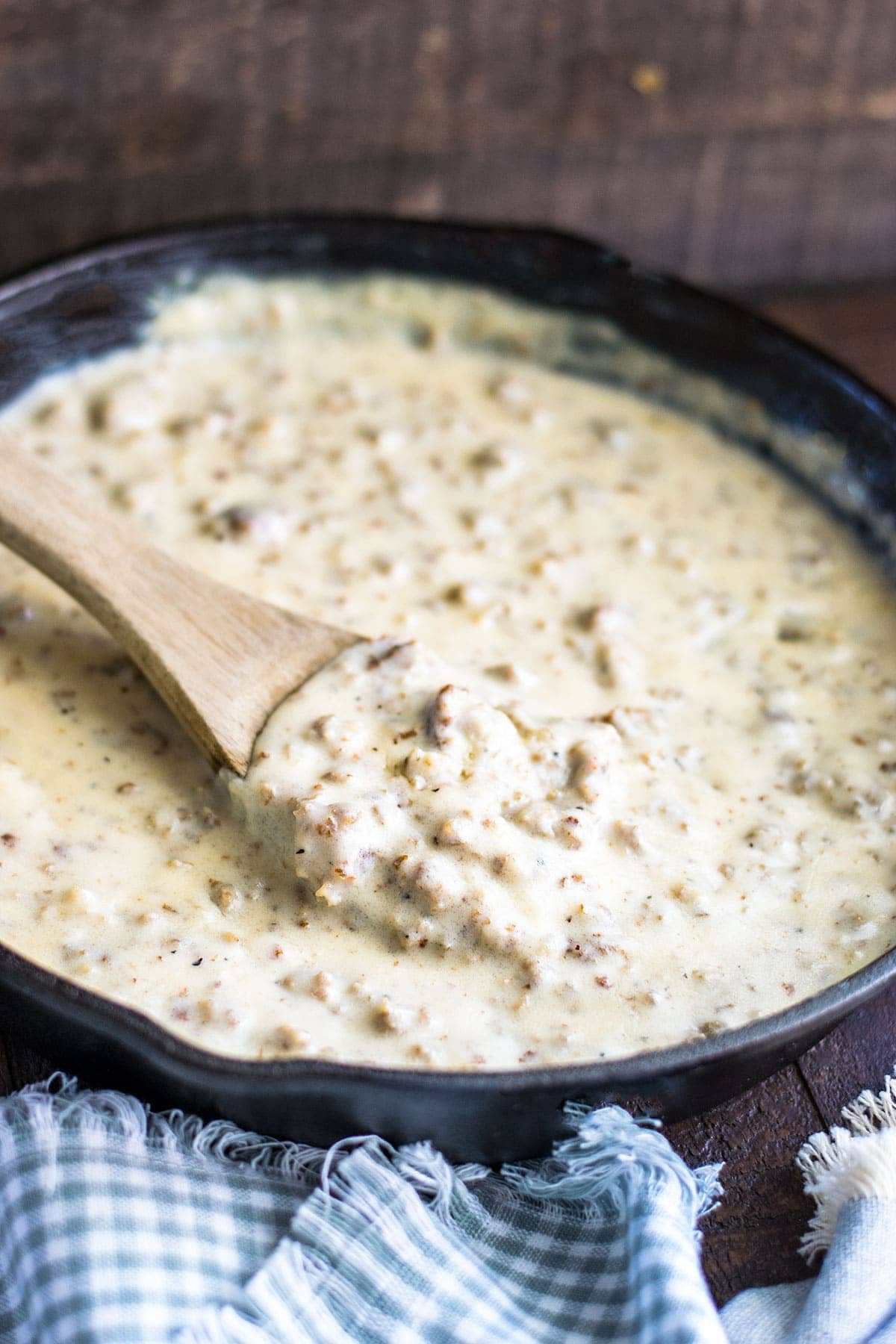 You might think gravy is difficult to make, but surprisingly it's one of the quickest and easiest recipes to make! So having a go-to homemade sausage gravy recipe in your recipe box is a must.
Whether you need a tasty family breakfast on the weekends, something to serve guests, or something quick and easy for Christmas morning, sausage gravy is the way to go!
Here in the south gravy is a staple breakfast fare! Southern sausage gravy is comfort food that is quick, delicious, and easy as pie (or in this case gravy) to make! But you don't have to live in the south to enjoy gravy though, it's the perfect breakfast for everyone!
Why you'll love this recipe:
3 Main Ingredients: Ground sausage, flour, and milk are the main ingredients. Add a few staple pantry items and you are all set.
Quick and Easy: This recipe comes together in 20 minutes. Now that is fast! It's so good that you'd think it took all day to cook. And it isn't complicated at all. It's basically frying and stirring. Simple right!
Delicious for any occasion: From a standard family breakfast to a brunch with friends. Serving this up will always impress!
Easy Sausage Gravy Recipe Ingredients
Ground pork sausage - Typically labeled bulk or breakfast sausage. You can also find this in a spicy or hot variety which gives your gravy a little kick! Then you have Spicy Sausage Gravy = YUM!
Butter - This adds a little extra richness and doesn't butter make everything better!
All-purpose flour - This is what binds and how to thicken the gravy.
Whole milk - To get that extra rich and creamy texture and flavor, I really suggest using whole milk. You can use whatever milk you prefer, but I have found the best results with whole milk.
Garlic powder - This enhances the flavor and you just need a little to give it that something extra you are looking to add in. It's not overpowering, just subtly scrumptious!
Salt and pepper - Of course you need a little S&P to round out the flavors. Specks of ground pepper all throughout the gravy are a give away for a great tasting gravy. Make sure to give it a taste before adding salt. Some ground pork may be a little saltier than others!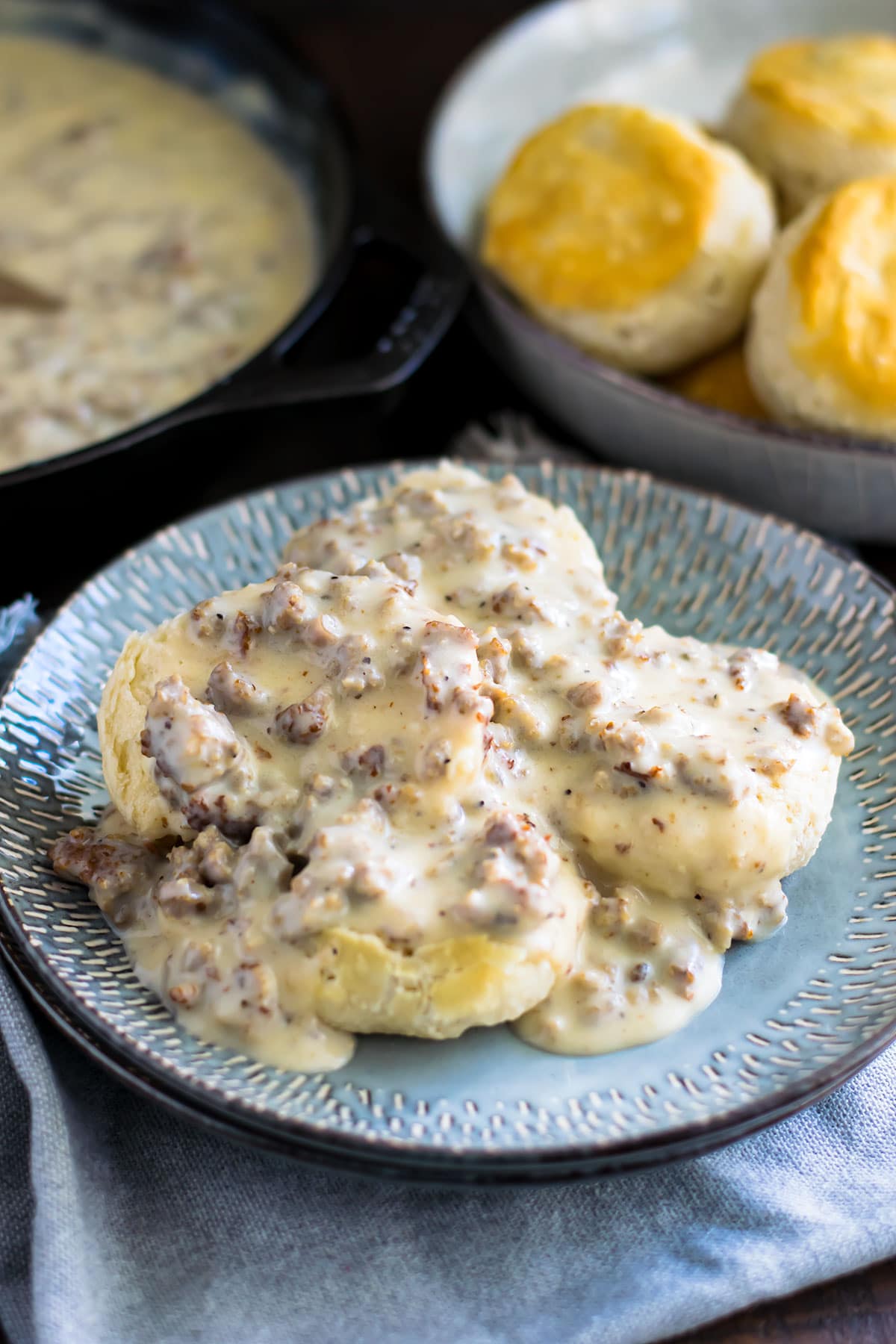 How to make sausage gravy?
✱ Be sure to see the recipe card below for exact ingredients and instructions!
Brown the Sausage. Set a large skillet (I love cast iron) over medium heat and brown the sausage. With a wooden spatula "crumble" or break up with sausage into smaller pieces, while stirring. Cook until brown and fully done. I like a little crunch, so cook until some of the edges are well browned. It adds a ton of flavor!
Roux for gravy: You need butter and flour to make the roux. This is the base and what thickens the gravy. Place butter in skillet and stir until melted. Sprinkle in flour, garlic, and pepper on top of the sausage and slowly stir until well coated. Continue stirring and let the flour cook.
Add milk. While stirring, slow pour in the milk . Continue to stir and simmer until gravy thickens. Taste to see if salt is needed.
Serve over warm fresh biscuits.
Recipe Frequently Asked Questions
Why does my gravy taste like flour?
You have to be sure to cook your flour a few minutes before adding in the milk. Usually about 2 to 3 minutes is enough. You don't want to let it get too brown, just long enough to cook out that flour taste.
Can I substitute pork sausage with something?
Yes. Ground turkey or chicken can be used in place of the pork. You may need a little extra butter for less fat may be rendered while cooking.
Why didn't my gravy thicken?
Sometimes you just need to let it cook a little longer to thicken, but other times you added a little too much liquid or didn't start with enough flour to begin with.

If your gravy isn't thick enough simply stir 2 tablespoons of flour with 3 tablespoons on cold water and stir until combined. Then slowly stir mixture into gravy and stir until desired consistency.
How to thin gravy?
If your gravy turns out too thick, simply add in more milk in small amounts at a time, until gravy is the consistency you like.
Can I make sausage gravy and biscuits ahead of time?
Yes - you can make the gravy ahead of time. Cool and store in an airtight container and refrigerate it up to 4 day in advance.

To reheat, place in a saute pan and warm over medium heat. Add in a little extra milk to thin if needed.

Biscuits, in my opinion, on the other hand are better fresh! You can prepare the biscuit dough in advance and cut them out the day before. You can also freeze cut biscuit dough ahead of time and then cook them the day of.
Can sausage gravy be frozen?
Yes. You can freeze. It does change the consistency a little. It really is so quick to prepare that I like to make it fresh.

If you do need to freeze it, let the gravy cool completely and the store in an airtight container or freezer bag for up to 3 months.

To thaw: Place in the refrigerator to thaw and reheat in a saucepan. You may need to add a little milk to thin it out a bit.
What to serve with sausage gravy?
The Best Sausage Gravy is most often served on fluffy biscuits! Buttermilk biscuits and gravy are always a win!
It's also so good on toast, english muffins, over skillet potatoes, omelets, eggs, hash browns, and over creamy grits. This list could go on and on gravy is good on just about anything y'all!
It is heavenly on french fries! Oh yes! You heard me right french fries. You have to try it!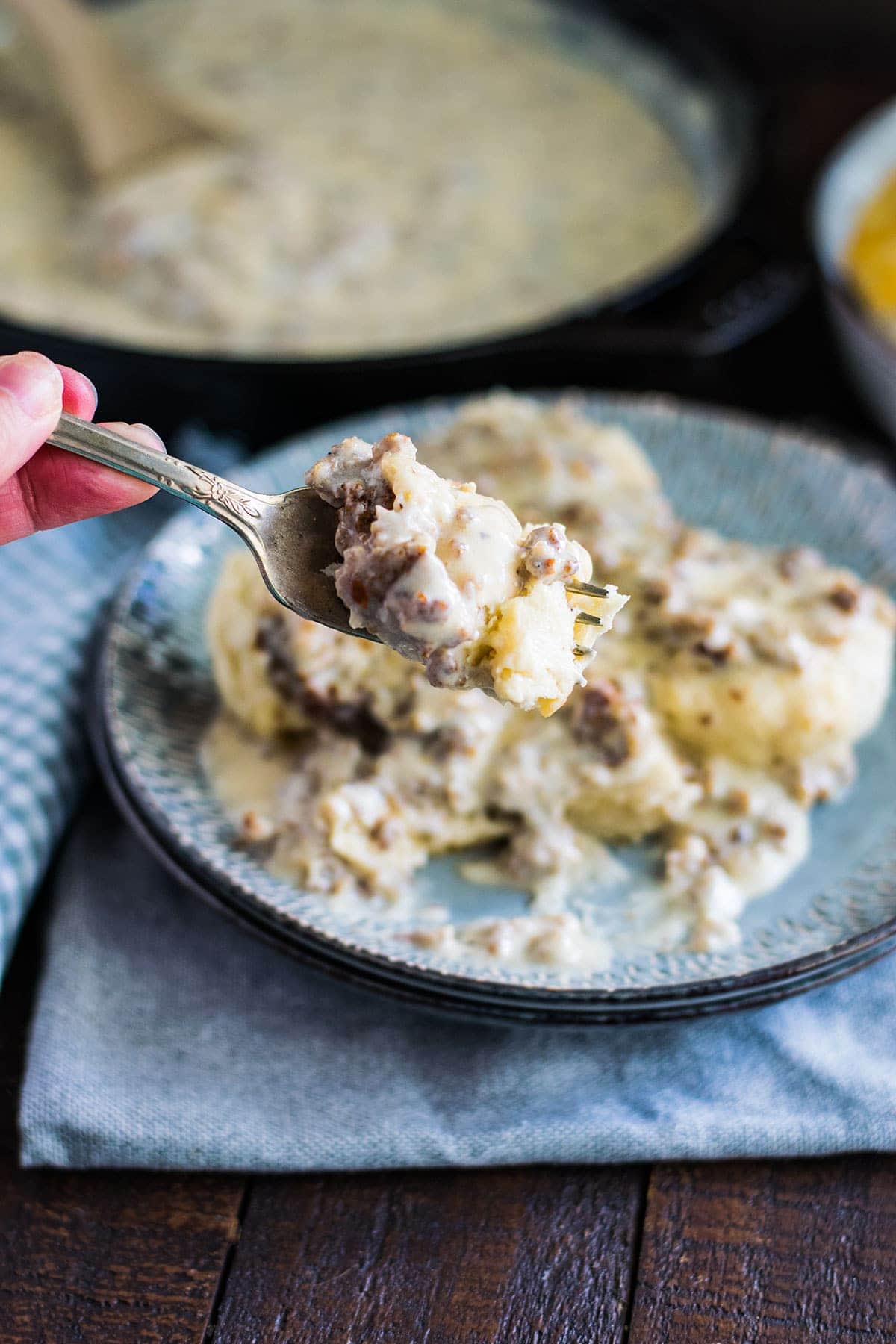 Tips
Seasonings: Be sure your sausage is seasoned. If not you may need to add salt, pepper and maybe a little sage. Taste as you make and adjust as needed.
Don't drain the sausage drippings - The fat is where all the flavor is and you need it to make good sausage gravy.
Keep flavors simple - This dish is packed full of flavor and isn't meant to be complicated. It's plain ol' comfort food and just plain delicious. So you don't need to add in tons of extras.
More Breakfast Recipes You Will Love
Is there anything more southern than biscuits and gravy? Well, except maybe fried pork chops - which by the way goes deliciously with breakfast too!
A soulful southern breakfast isn't complete without biscuits and a skillet of southern sausage gravy! So y'all make up a batch and enjoy!
Now let's dig on into the best southern sausage gravy recipe ever!