What says Mardi Gras better than Andouille and Crawfish Pimento Cheese Fries!! This New Orleans inspired dish certainly screams "laissez les bon temps rouler"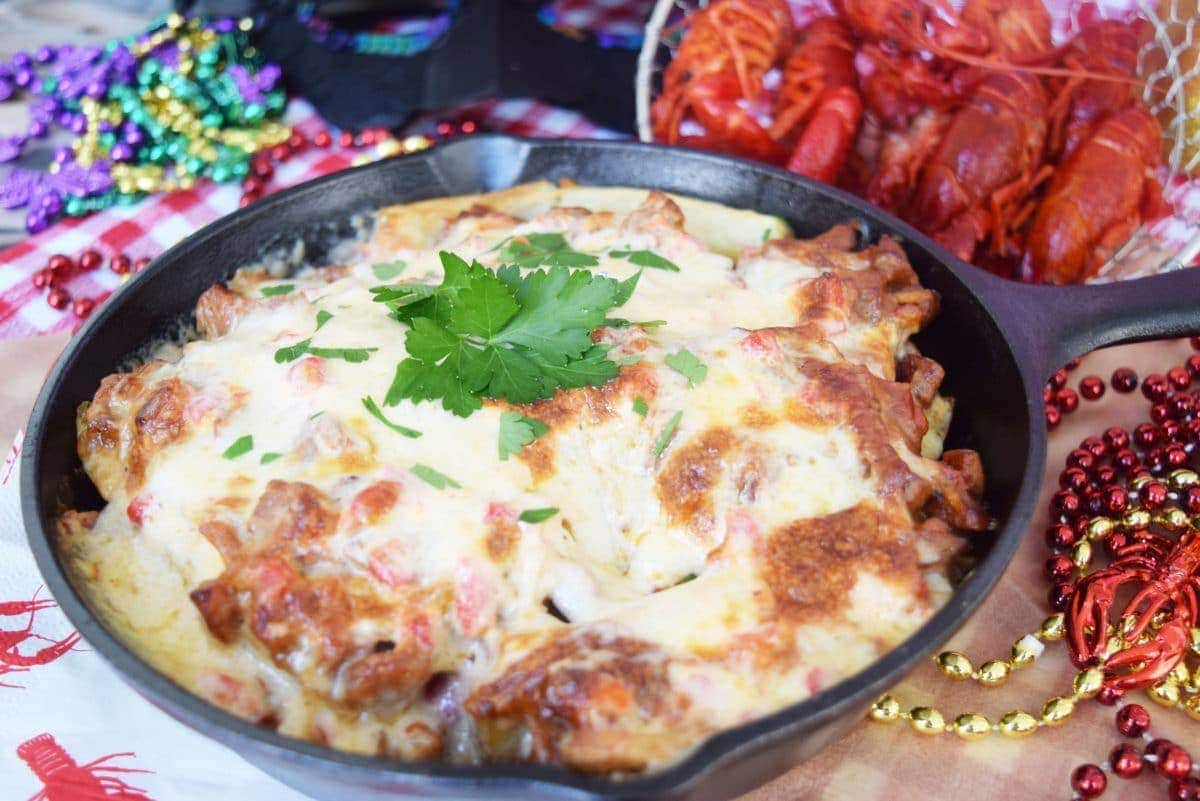 This past summer I moved my daughter away to college in Mississippi (yes bring on the tears).  We flew into Memphis and you know since we were in Memphis we had to eat. I was looking for recommendations for a great casual place to eat, so of course I turned to my friend Whitney Miller!  She said to check out "The Second Line" and boy she did not disappoint! Everything I ate was AMAZING! For starters we had "The Original Andouille + Crawfish + Pimento Cheese Fries". I have been wanting to go back ever since because those cheese fries have been calling my name! But it's a bit too far away! Since Mardi Gras is around the bend and that NOLA dish keeps calling for me, I have decided I would try to recreate it at home!
What inspires the dishes you create in your kitchen?  I find I am often inspired to recreate a dish I fell in love while dining out!  I recently made a Shrimp and Grits dish and the flavor reminded me somewhat of the gravy that was on these cheese fries, minus the cream.  So I started from there and this was a fun one to create in the kitchen! And I must say I think I really nailed this one!  I just want to sit down and eat the whole thing myself.  The teenager in the house will not let me though!
How to make Andouille and Crawfish Pimento Cheese Fries
Step 1.   First make my Pimento Cheese Recipe!! You can make the pimento cheese ahead, if you think you can resist eating it all! Store it in an airtight container in the fridge!  This makes it even better anyway.  You can use store bought!  But it might be a sin, I'm just saying! (wink wink)
Step 2.   Now the gravy. Yummy gravy!!! Start by putting olive oil in a cast iron skillet or one of your choice. Add bite size andouille sausage. Cook for about 8 minutes until crispy.  Add in onion and cook another minute or 2.  Then stir in bell pepper and garlic and saute for another 2 minutes until you really start smelling that garlic, about 2 minutes.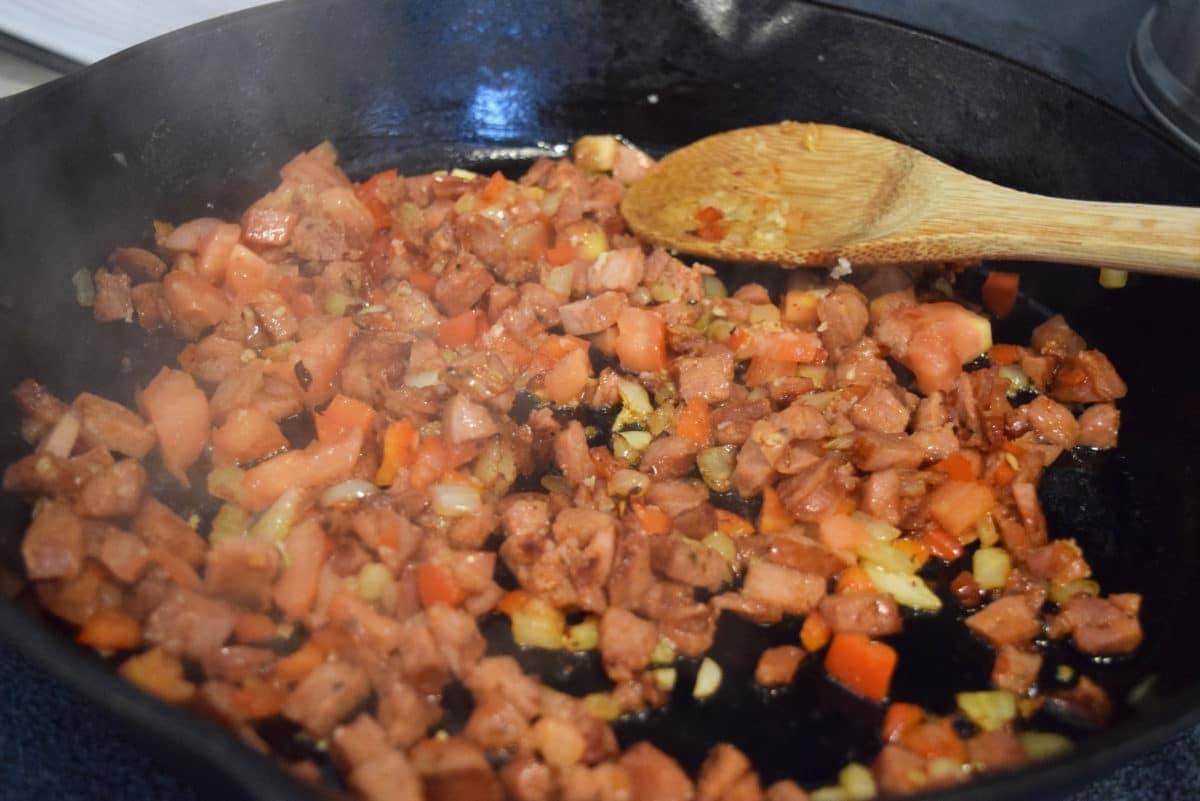 Step 3.   Now sprinkle in your flour and stir until incorporated well. Add tomatoes, cayenne pepper and cook a minute to make sure your flour is done. Then slowly pour in the chicken broth until well blended.  Cook until a gravy forms or you can coat the back of a spoon.  This should take about 5 minutes.  Taste and add salt if desired.  I did not need any in my dish.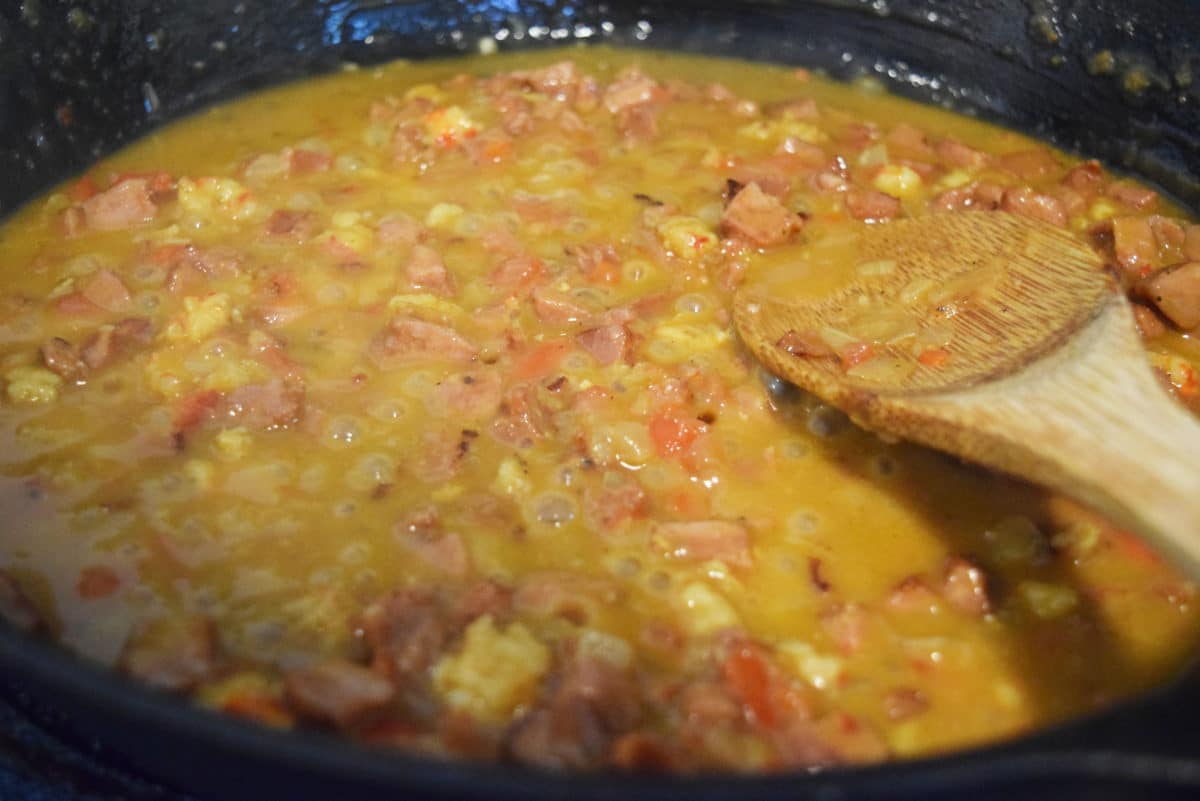 Step 4.   It's  fry time!  You can buy frozen, but let me tell you homemade fries are heavenly! Can you hear the angels singing??  So, I sliced 4 to 5 Idaho Potatoes into semi thick cut fries and fried them in oil!  YES OIL!  I know this really is soul food so ya'll know it's not about being healthy today ok! But you need about 4ish cups of french fries! So it's up to you if you want homemade or frozen - no judgement here!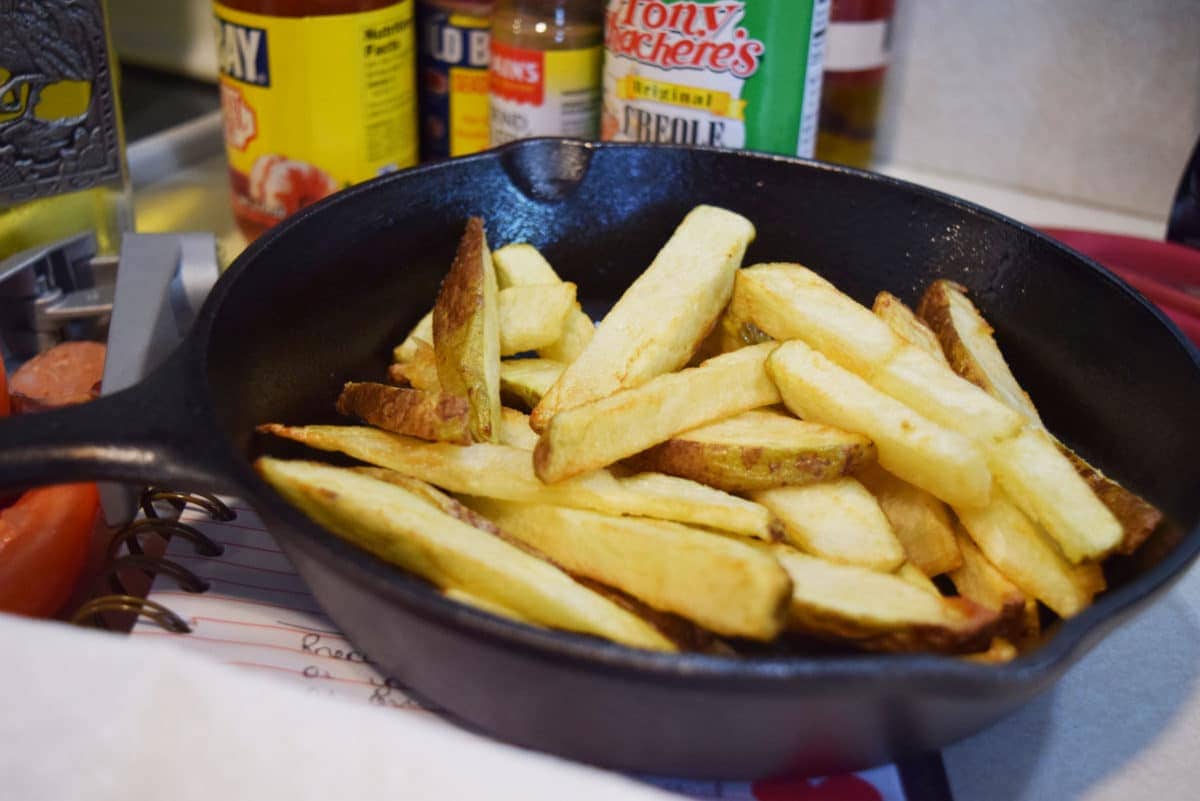 Step 5.   Now you are all ready to assemble!  I use an 8 inch cast iron skillet. Put the fries in, top with gravy, top with cooked crawfish (ok I have to admit I bought already cooked and prepared crawfish tails in my grocery store), then spoon on pimento cheese!  Into a 450° oven and bake for 5 to 6 minutes it goes.  I turned on my broiler for just about 30 seconds! Just keep an eye on it! You may not need this in your oven, but mine just needed a touch to brown the top like I like it.