This Sweet Lime Yogurt Dip Recipe is super easy and quick to make. Lightly sweetened, just the right amount of tart lime and creamy yogurt are combined to make the best yogurt dip for fruit!
With only 4 ingredients, less than 5 minutes, and you have a go-to recipe for yogurt fruit dip. It will be the shining star of your party along with a Mexican fruit salad or any fruit platter!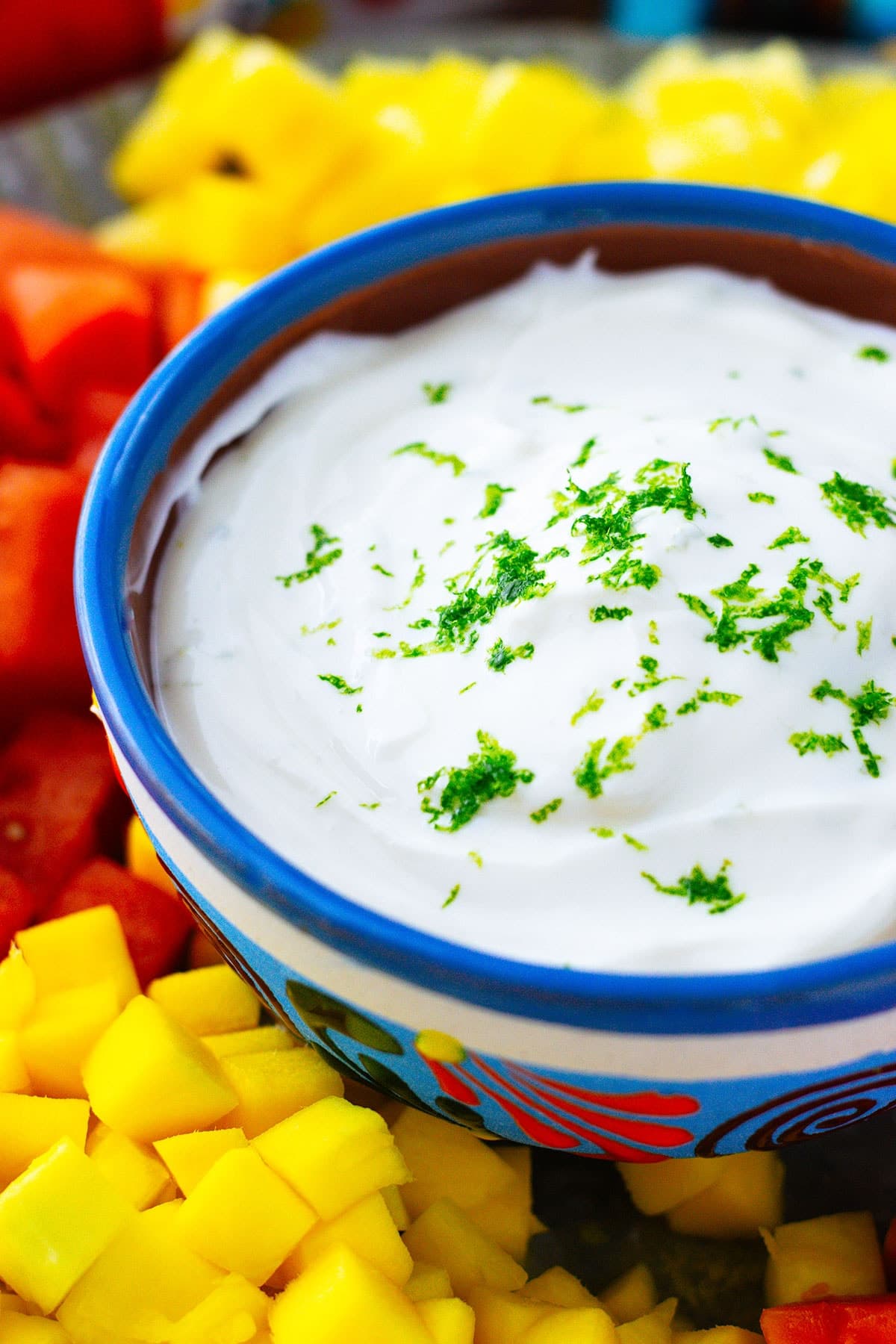 Why you'll love this recipe
Fresh: This yogurt dip recipe adds freshness to any fruit tray!
Quick and Easy: You literally can have fruit yogurt dip mixed together in minutes and ready for dipping.
Make ahead: Put this together ahead of time and the flavors intensify. This makes party planning easier and even more delicious.
I don't know about you but my family and I just love dips. They are perfect for parties, game day, a summer picnic or BBQ, and I especailly love them while cooling off poolside!
This greek yogurt dip is no exception! It is the perfect amount of creamy, sweet, and a little tang! All the great makings of something delicious!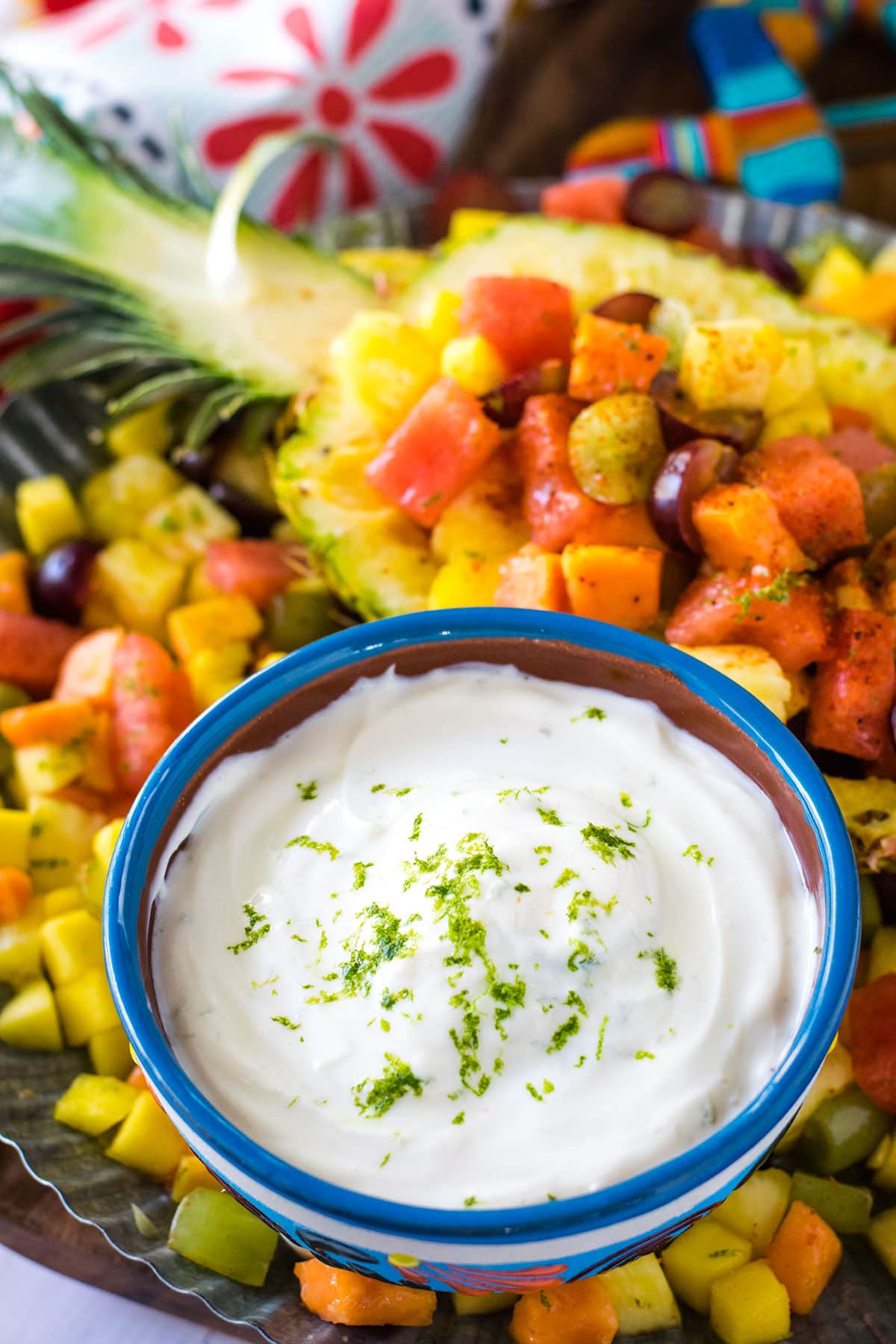 Ingredients and substitutions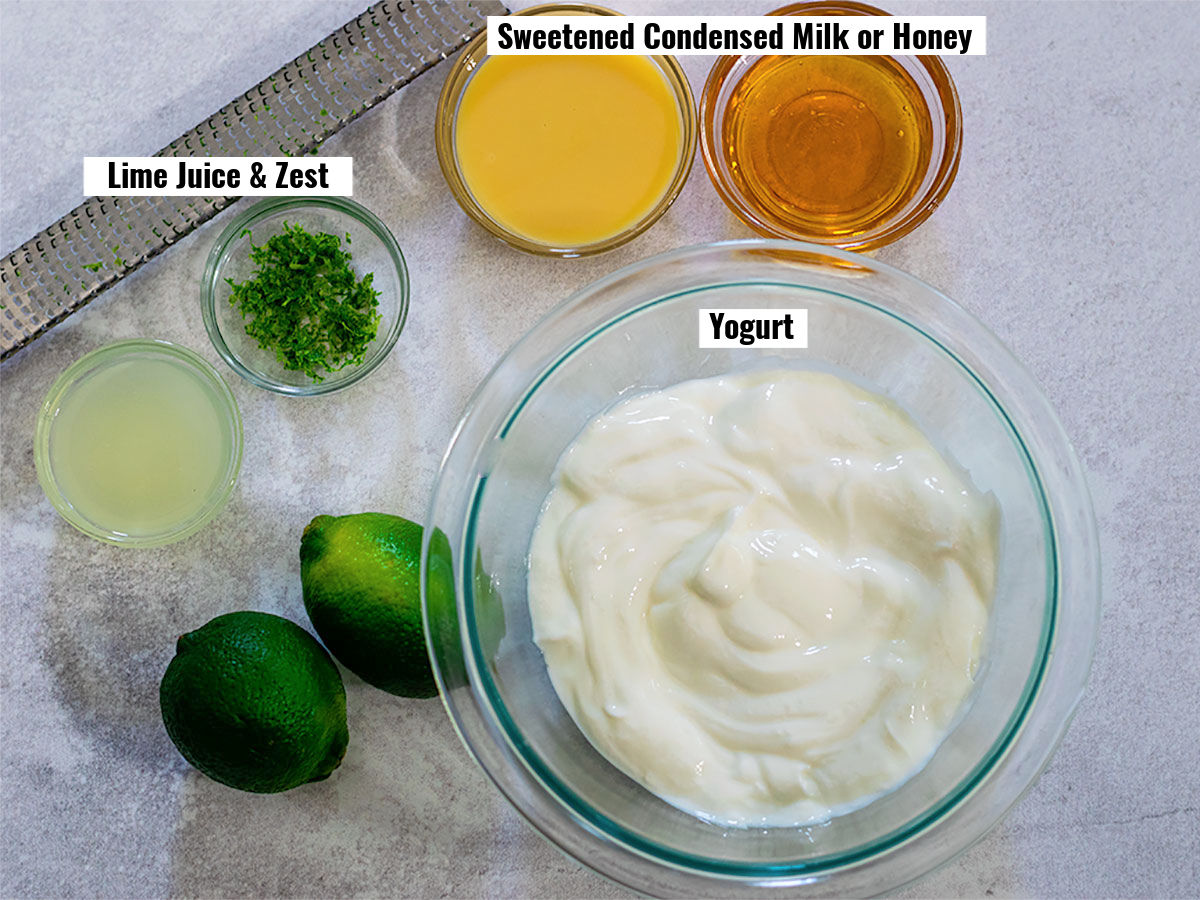 Sweetener: Add a little sweetness to the dip with sweetened condensed milk or honey. Either will add that sweet taste to compliment the tangy yogurt.

Other options would be agave, corn syrup, and granulated or powdered sugar.

Lime - Use both the juice and zest: Using fresh lime adds brightness and a little bit of tart that is so important when making a sweet yogurt dip for fruit. It's all about building layers of flavor to compliment that fruit tray.

If you cannot find fresh limes, you can substitute bottled lime juice, sprinkle in a little crystallized lime, or even use key lime juice for extra zing (I love Nellie and Joe's brand).

Yogurt: Yogurt is the base and it adds all the creamy goodness that is so important in yogurt dip recipes.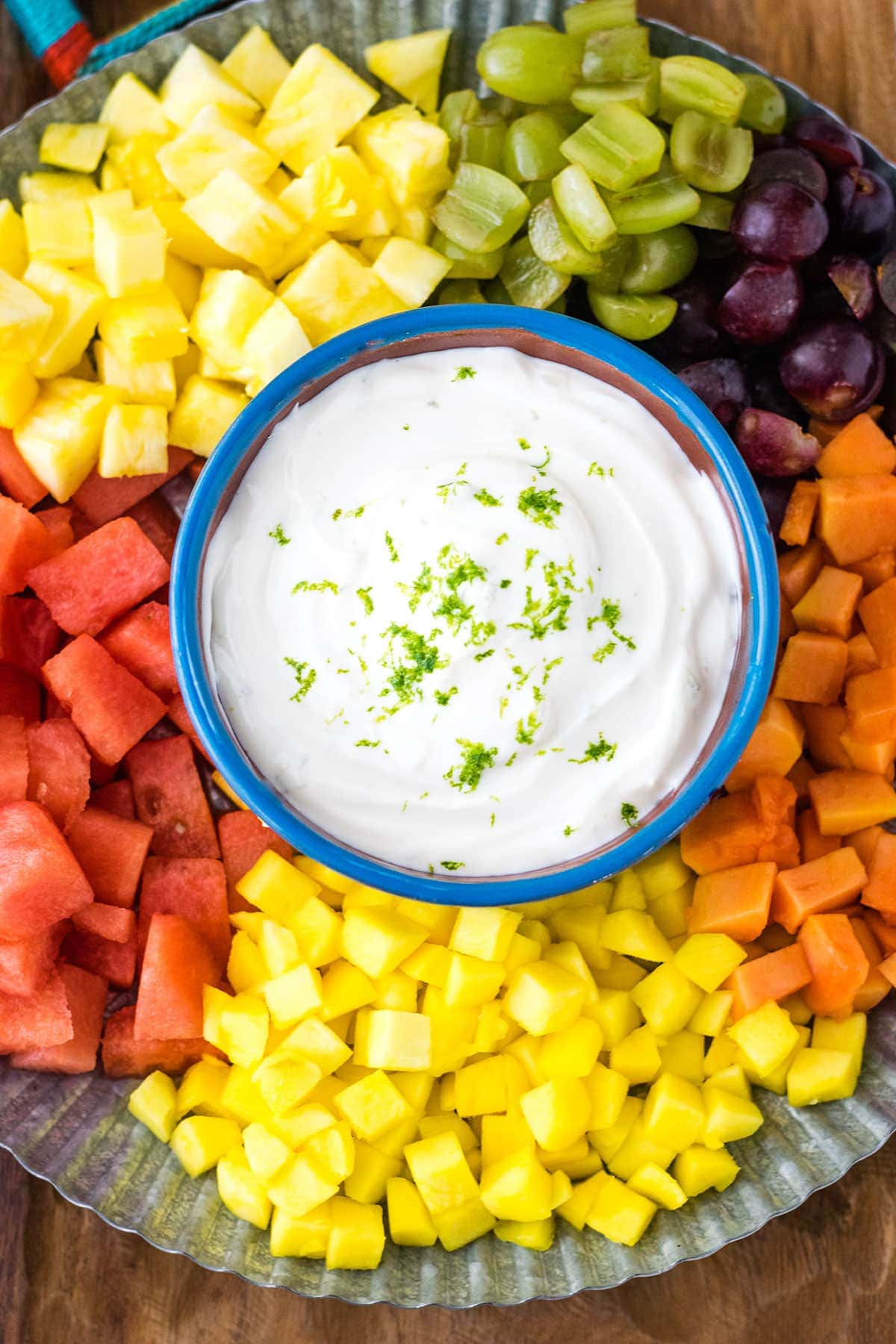 How to make fruit dip with yogurt (honey lime yogurt dip)
✱ Be sure to see the recipe card below for exact ingredients and instructions!
Honestly, this dip is as easy as pie and it as delicious as pie too!
All the work is in zesting and squeezing the limes! And that isn't hard at all. I love to use this microplane zester and citrus squeezer to make the job a cinch.
Choose your sweetener: You can go the more "southern style" version and use sweetened condensed milk or make a honey lime yogurt dip by using honey. This version will be a little healthier and clean. Both are delicious.
Pick your flavor of yogurt: Whether you want to use greek yogurt, plain yogurt, or even try vanilla yogurt for another flavor component. They all work so well!
Mix: Grab a medium-sized bowl and combine all the ingredients. It's that easy.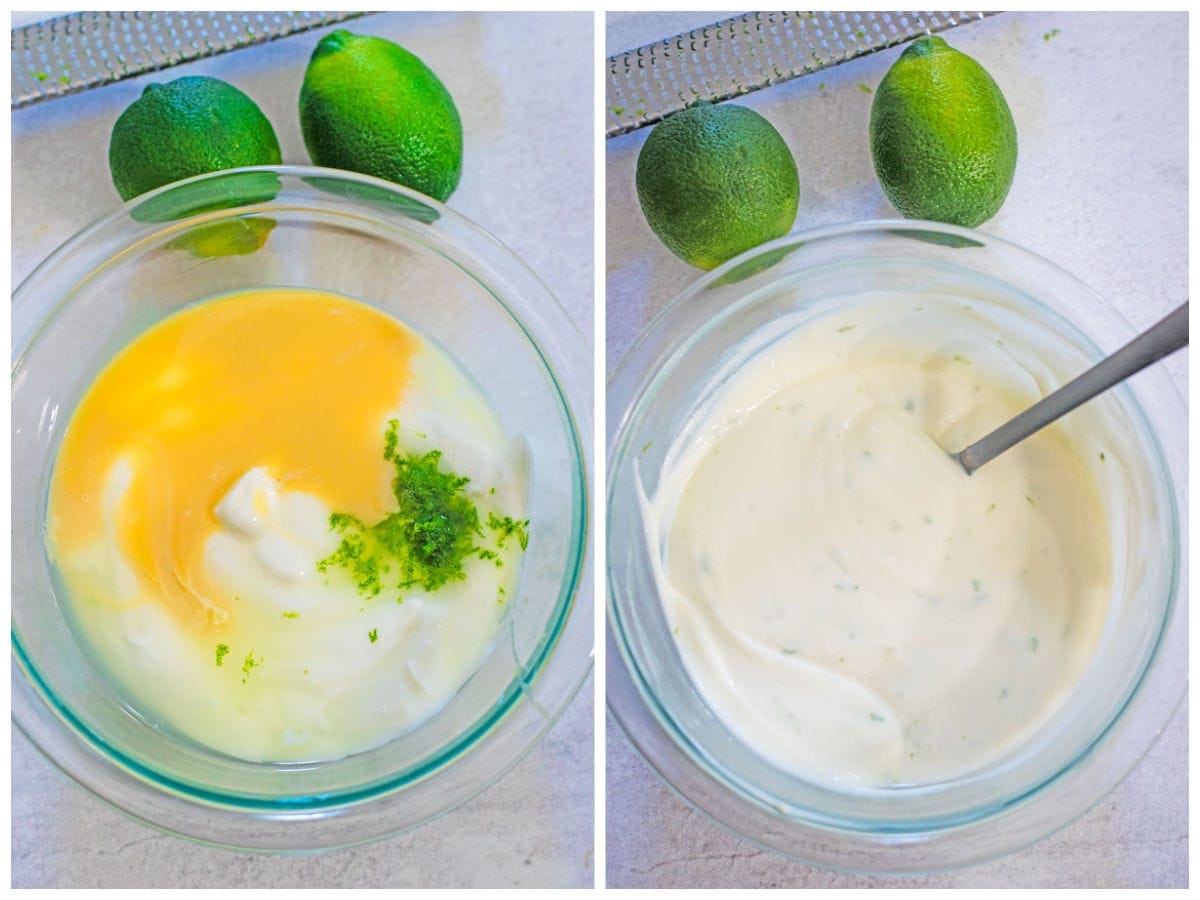 Variations
If you want to switch things up a bit, here are a few ideas:
Mix in the zest and juice of a lemon or orange for a different citrus flavor.
Use honey to sweeten and add in a dash of ground cinnamon: Cinnamon goes well with fruit especially around the holidays. Apples are great served with cinnamon.
Add in fresh herbs like mint to brighten the flavors.
If going with a Mexican fruit salad you could sprinkle on some cilantro to add another component to the dip.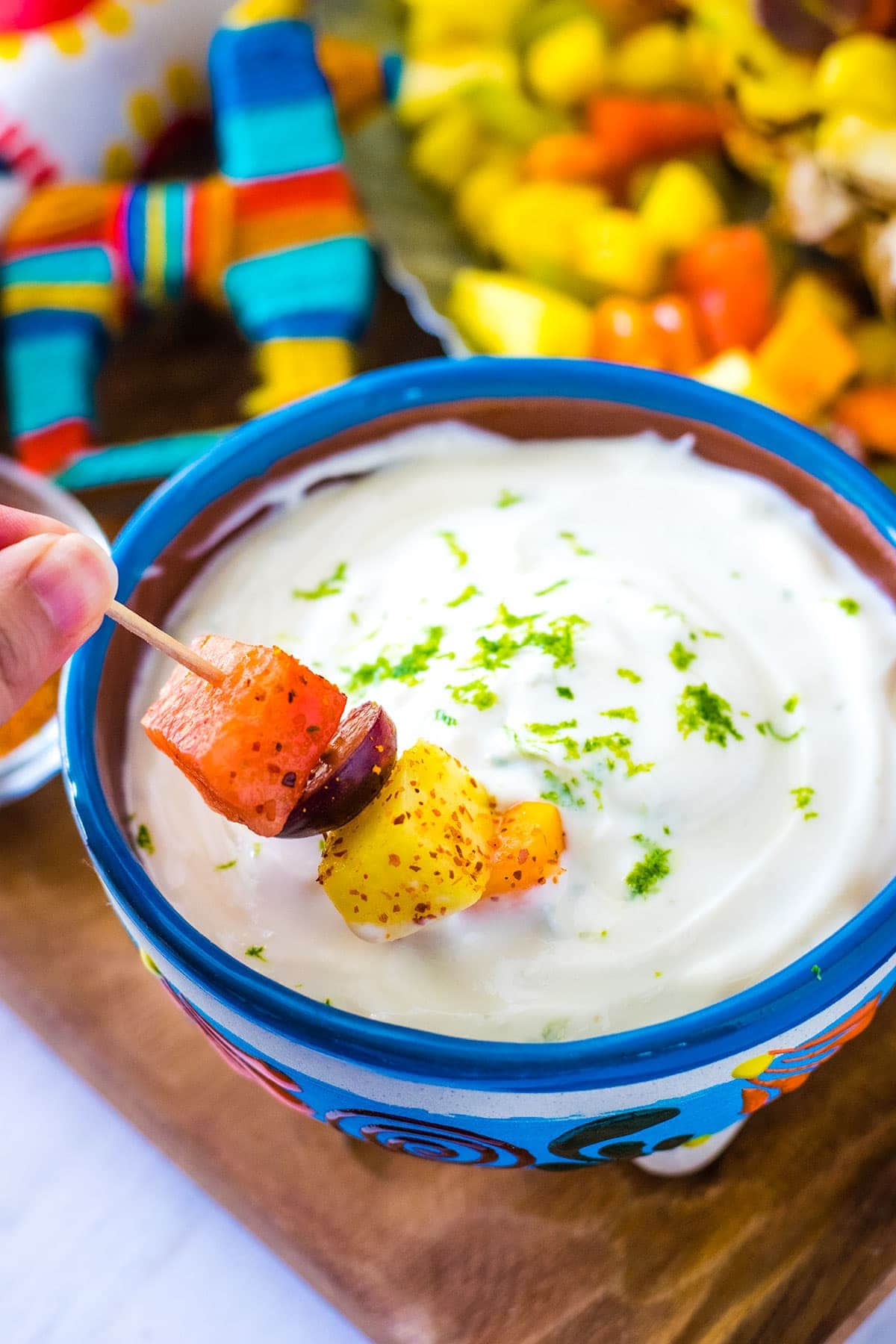 Tips
This sweet lime yogurt dip recipe can be made ahead of time and stored in the refrigerator for up to 1 week, or the expiration date of the yogurt. Make sure to stir again before serving.
How to serve:
Serve with fruit:
This really goes well with berries, cherries, apples, bananas, tropical fruits like pineapple, mango, and papaya.
Dried fruits like figs or apricots, and dried banana chips or apple chips would be great too!
You can also add things like pretzels, pound cake, and marshmallows to the serving tray as well.
Serving style:
Place in a beautiful serving bowl and serve with your favorite fruit in a bowl or on a platter or tray.
Another idea is to plate them or serve in individual cups with a dollop of yogurt dip on the side or top with a garnish of lime zest and a sprig of mint.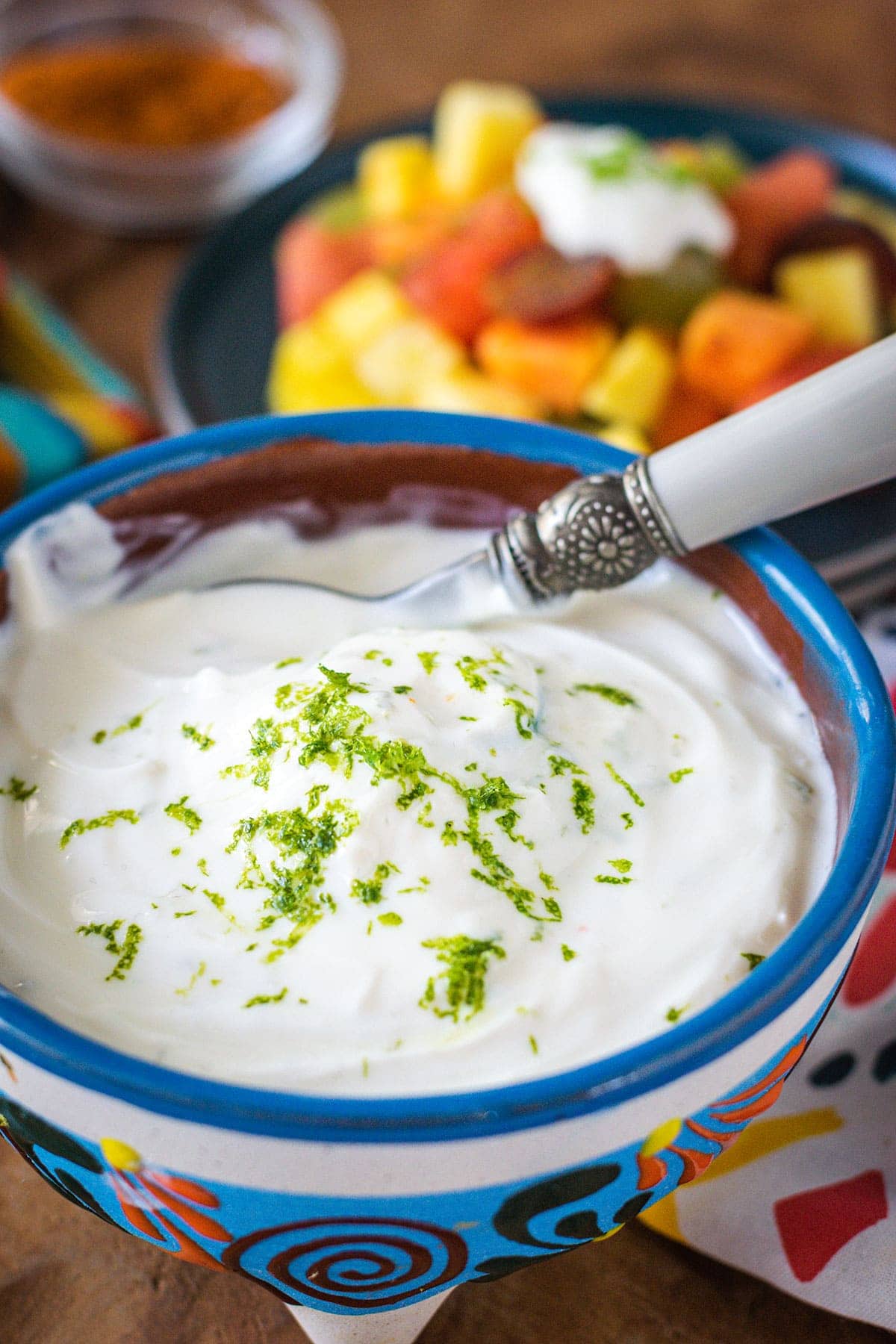 More dip recipes: