Want the taste of chicken wings without all the mess? Slow Cooker Buffalo Chicken Dip to the rescue! Creamy, cheesy, a little spice and everything will be deliciously nice in the world! Grab some chips or veggies and get ready to DIP!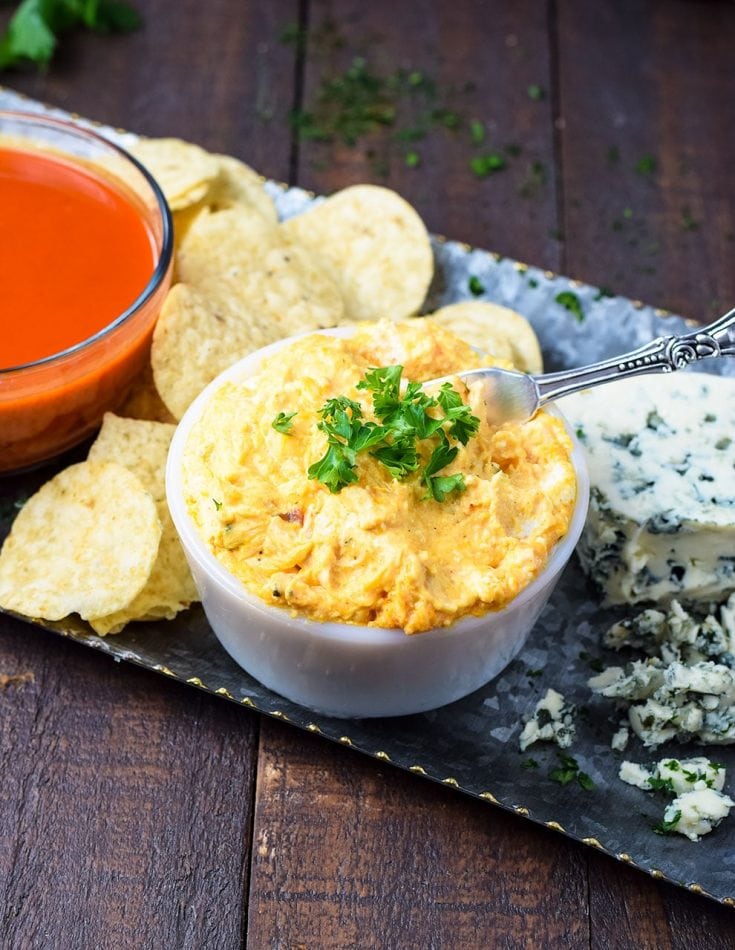 We have enjoyed a baked version of this dip over the years. When preparing for the big game day or a family/friend night full of appetizers and games or movies, there isn't always space in the oven for all the things we have planned to eat 😉
So the Crock-Pot buffalo dip variety comes on the scene. This dip is just as good as the baked one. It's all things creamy, tangy, cheesy and irresistible. I don't know about y'all, but DIP is LIFE and by that mean I could make a meal on all the party foods. They are usually packed with flavor and so much fun to eat!
Whether you want to make a meal of all apps or get the party started with them, this small plate food just says let's relax, have fun, chill out, and all around have a great time! They allow people to mingle, feel at ease and makes their taste buds smile!
So let's GET THIS PARTY STARTED Y'ALL!
Grocery List for Crock-Pot Chicken Buffalo Dip
chicken, shredded
cream cheese
sour cream
ranch seasoning
buffalo wing sauce
blue cheese crumbles or mozzarella cheese
shredded cheddar cheese
parsley or green onion for garnish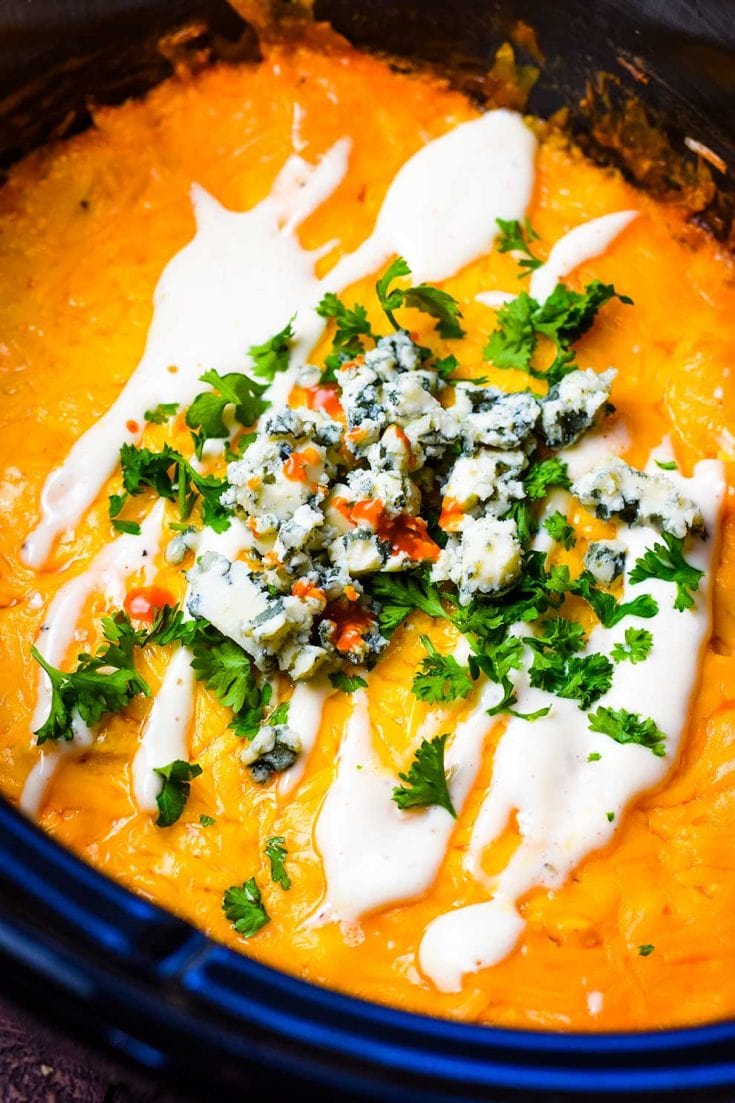 Tips for the BEST Buffalo Chicken Dip
Make sure your chicken mixture is well combined. This can be done after a little cooking or before going into the slow cooker . Take a look⤵︎
If you are going to be around while it is cooking in the slow cooker, you can throw all the things in and give a stir. Then after things get to heating up give it a good stir again, then add the cheese on top to melt about 30 minutes before cooking is done.
Planning to be away while this is cooking??? Just make sure cream cheese is well softened and combine all the ingredients, but the reserved cheddar cheese for the top. I mean really get it combined good. Then put the cheese on top and go have fun while it does all the work.
It will be delicious either way!
Like it a little extra SPICY??
Using the Buffalo Sauce (We love Franks Brand) or you can make it homemade for extra yum! This gives it just the right amount of heat for my family's taste.... BUT if you want more hotness (is that a word) you can add in some diced jalapenos or a can of diced green chilis for extra heat.
Want it a little LESS SPICY? - Try using Franks hot sauce instead, it is a little milder.
Just make sure you have plenty of chips and/or veggies on hand because this one is delicious and will be gobbled right up!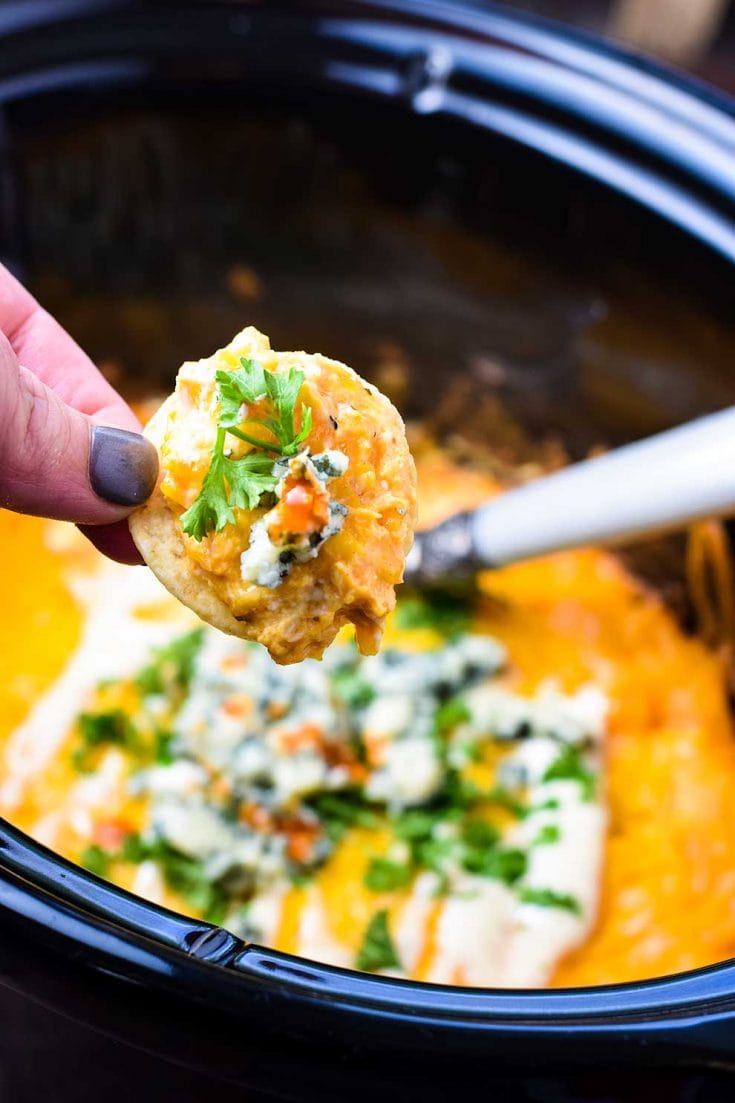 Looking for more Buffalo Recipes??
Other Appetizers that will be a HIT
Please Pin Slow Cooker Buffalo Chicken Wings to save and share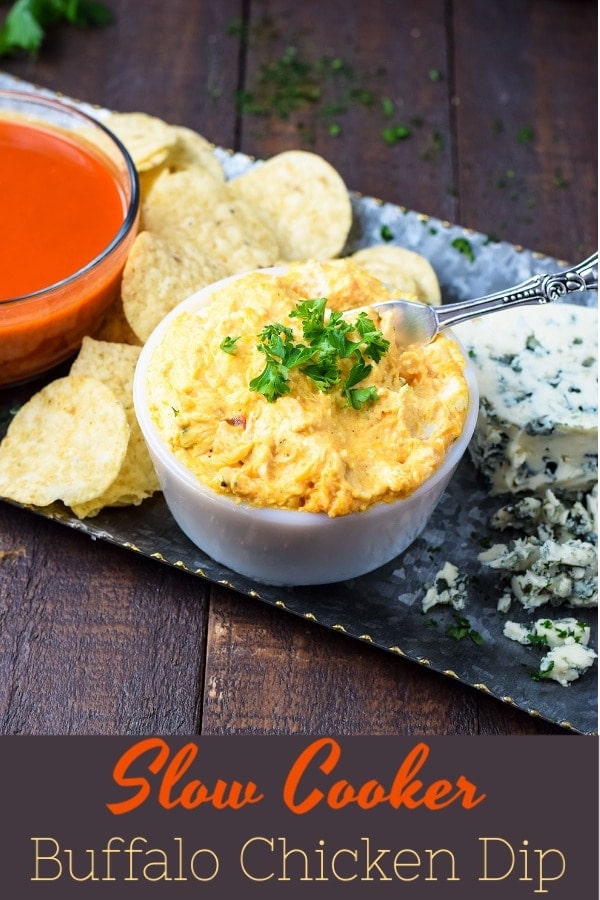 You can also find this over at Meal Plan Monday and Weekend Potluck!