Chicken Sausage and Fig Naan Bites - chicken sausage infused with uncured bacon, topped with creamy muenster cheese, and fig preserves baked on a whole grain naan bread for the perfect bite of deliciousness.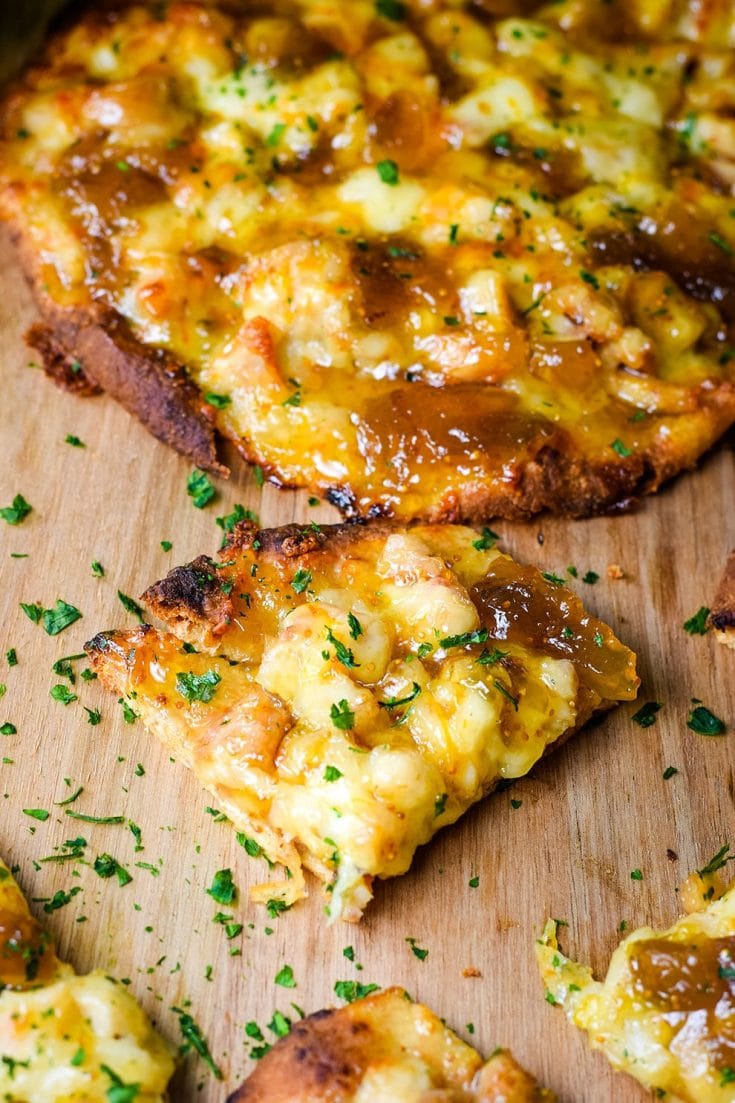 There's just something about gathering your friends and family together that really makes my soul very happy! Having a full house and full bellies are what Southern Hospitality means!! Look it up in the dictionary, I am sure that is what it says!
Sometimes entertaining may happen at the spur of the moment. Like you're chatting with friends and everyone says let' get together tonight. What to bring?? Well, I volunteer for appetizers, because this one is EASY and DELISH!
I was in Publix (my favorite and local grocery store) last week and Boar's Head was sampling two of their products. Buffalo Chicken and Bacon Chicken Sausage! They were serving it on a pita bread. Well, that got my wheels to spinning. I picked up some multi grain naan, because it's so delicious, and deli cheese. I had a jar of fig preserves in my cupboard that was calling "Put ME on that Small Bite".
AND when Figs talk to you, you just better listen! Don't you know this was divine intervention, you just wait! YUM!
Whether you are planning ahead or last minute these easy Small Bites really embody that perfect taste of smokey bacon in the juiciest chicken sausage, the creamy muenster cheese (oh do I really need to say anymore it has cheese on it - so THEREFORE it is fabulous - I am pretty sure that it in the good book somewhere), to the sweet fig preserves. Bake it all up y'all and you will be so glad you did!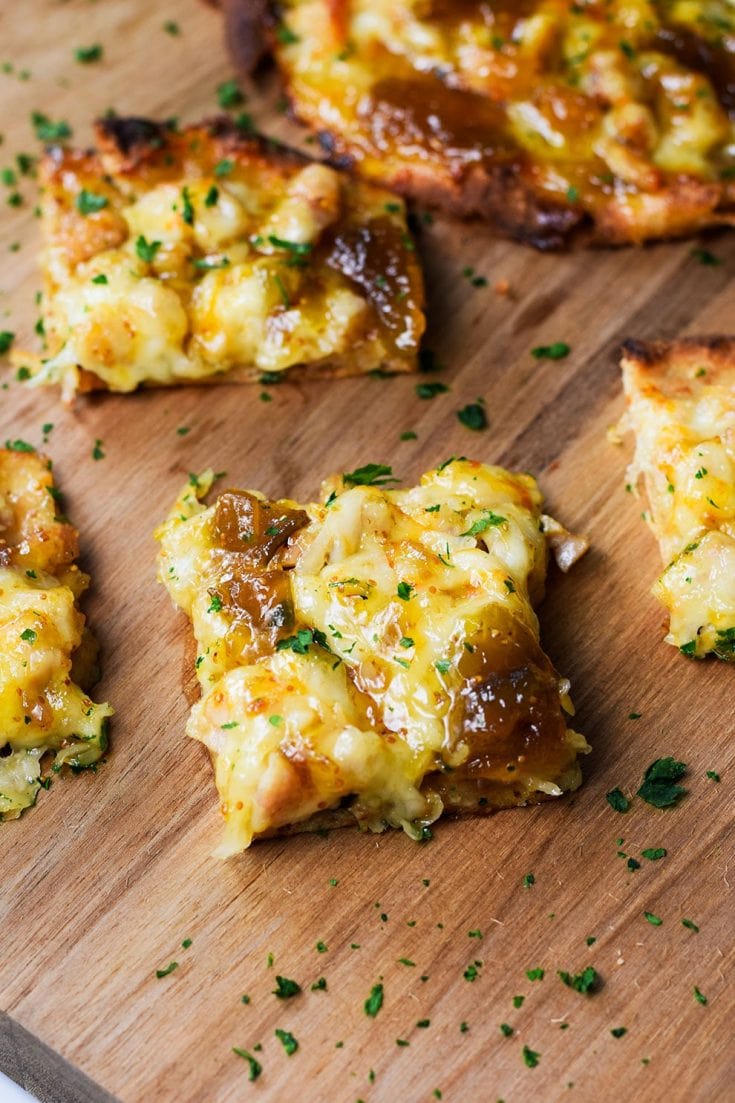 What you need to make Chicken Sausage and Naan Fig Bites
Chicken Sausage (I used Uncured Bacon Chicken Sausage from Boars Head)
Olive Oil
Muenster Cheese, Shredded
Fig Preserves
Water
Naan Bread

How to Make Chicken Sausage and Fig Naan
First pan fry the sausage on med high for 5 to 7 minutes. You can remove or leave on casings, whatever your personal preference is. Then dice up into bite sized pieces and pan fry until browned. The sausages are fully cooked so this is just for browning and caramelizing them.
Brush the naan breads with olive oil. Then stack on diced sausage. If you cannot find the bacon sausage, you can add some diced bacon or pancetta to the sausage when cooking.
Top with shredded muenster cheese. I get a hunk of cheese from my deli and shred it fresh. Divine!
Then mix your fig preserves with some water to make it more spreadable (such a technical culinary term) and spoon over the cheese.
Bake on a cookie sheet for 7 to 9 minutes at 375°. I like to finish under the broiler for 1 minute! Just keep an eye out! Every oven is different and you don't want to burn this deliciousness.
Let them cool a second or two, if you can keep your hands off of them 😉 Slice with a pizza cutter into desired sized bites. Garnish with chopped parsley and serve on a pretty tray or on a cutting board.
TIPS:
Line your baking sheet with foil (and spray) or use parchment paper.
You can also mild or spicy Italian pork sausage.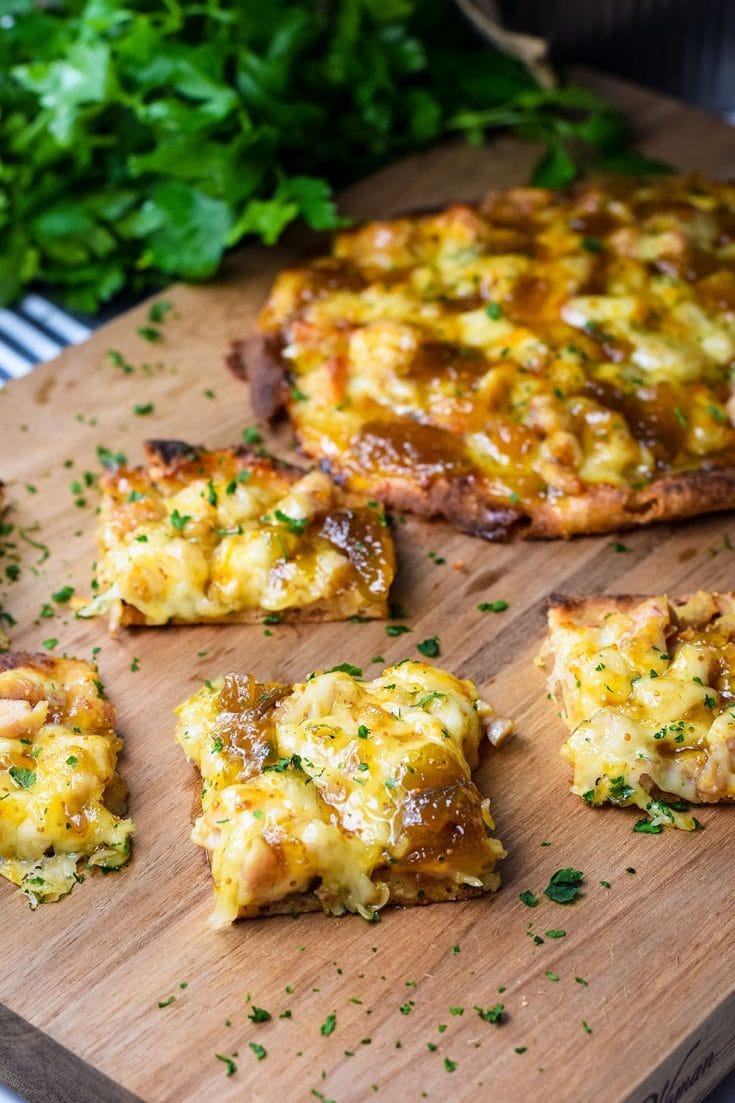 Please Pin Sausage and Fig Naan Bite to save and share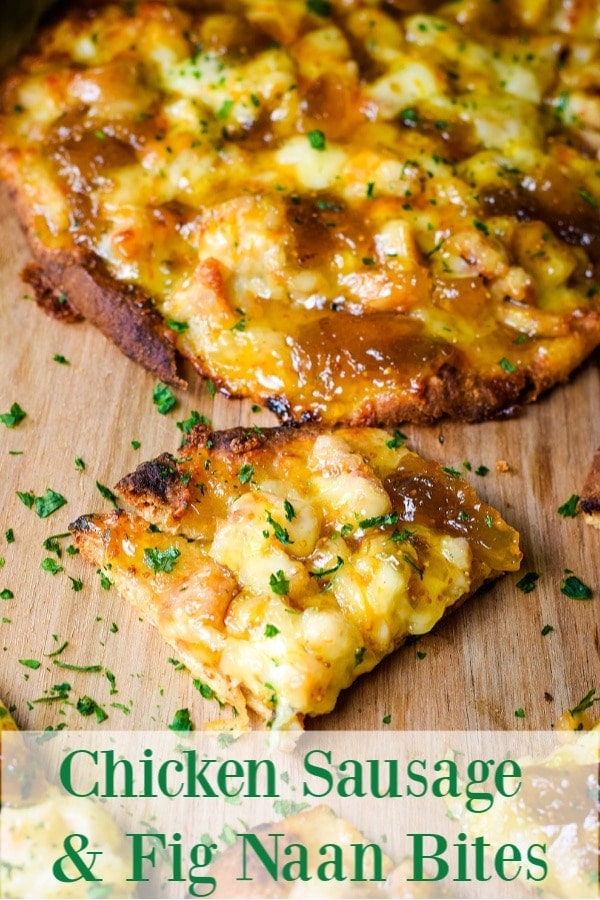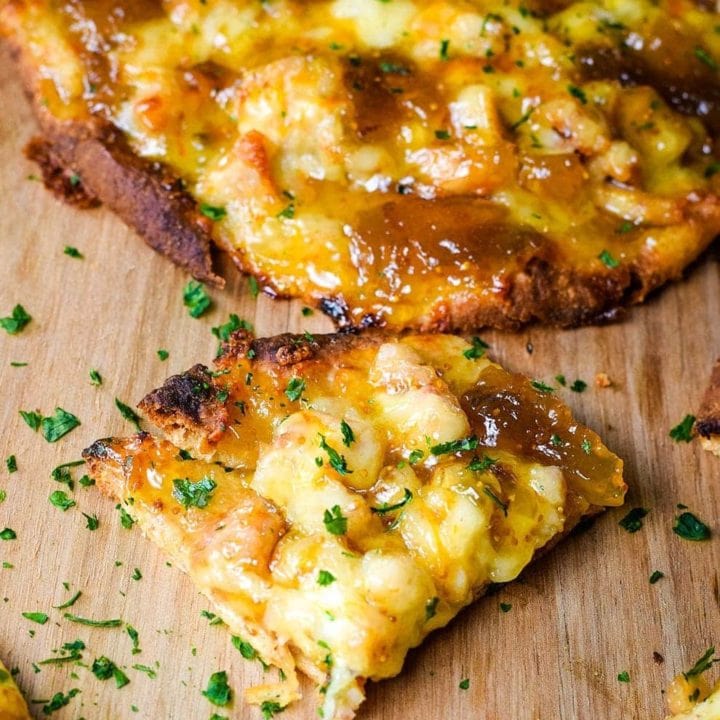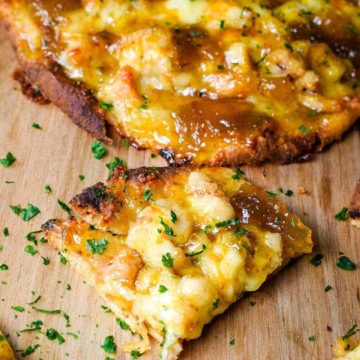 Chicken Sausage and Fig Naan Bites
Chicken Sausage and Fig Naan Bites - chicken sausage infused with uncured bacon, topped with creamy muenster cheese, and fig preserves baked on a whole grain naan bread for the perfect bite of deliciousness.
Ingredients
1

package Uncured Bacon Chicken Sausage

,

(I used Boars Head Brand)

1

package Multi Grain Naan Bread

2

cups

Muenster Cheese

,

shredded

1

cup

Fig Preserves

2

tablespoon

water

1

tablespoon

olive oil

fresh parsley

,

chopped for garnish
Instructions
Dice chicken sausage in bites sized pieces. Pan fry on med high heat until cooked, about 5 to 7 minutes.

Brush Naan with olive oil. Place diced cook sausage on top of naan breads and distribute evenly.

In a bowl or measuring cup, whisk or stir water and fig preserves. Spoon preserves on top of shredded cheese.

Sprinkle shredded cheese on top of chicken sausage.

Bake in preheated oven at 375 degrees for 7 to 9 minutes. Put under broiler, if desired for 1 minutes, keeping an eye out so not to burn.

Remove from oven and cut into desired sized bites with pizza cutter. Garnish with parsley and serve warm.
Nutrition
Serving:
1
1 serving
Calories:
198
kcal
Carbohydrates:
22
g
Protein:
7
g
Fat:
9
g
Saturated Fat:
4
g
Polyunsaturated Fat:
4
g
Cholesterol:
26
mg
Sodium:
230
mg
Sugar:
13
g
Nutrition Disclaimer
Soulfully Made is not a dietician or nutritionist, and any nutritional information shared is only an estimate. We recommend running the ingredients through an online nutritional calculator if you need to verify any information.