This post may contain affiliate links. Please read our disclosure policy.
This recipe for Mexican fruit salad is a blend of juicy tropical fruits and topped off with chili-lime seasoning. This sweet fruit salad sprinkled with a hint of spice is the perfect side for cooling off on a warm day.
This salad pairs perfectly with a Mexican meal or Cinco de Mayo celebration!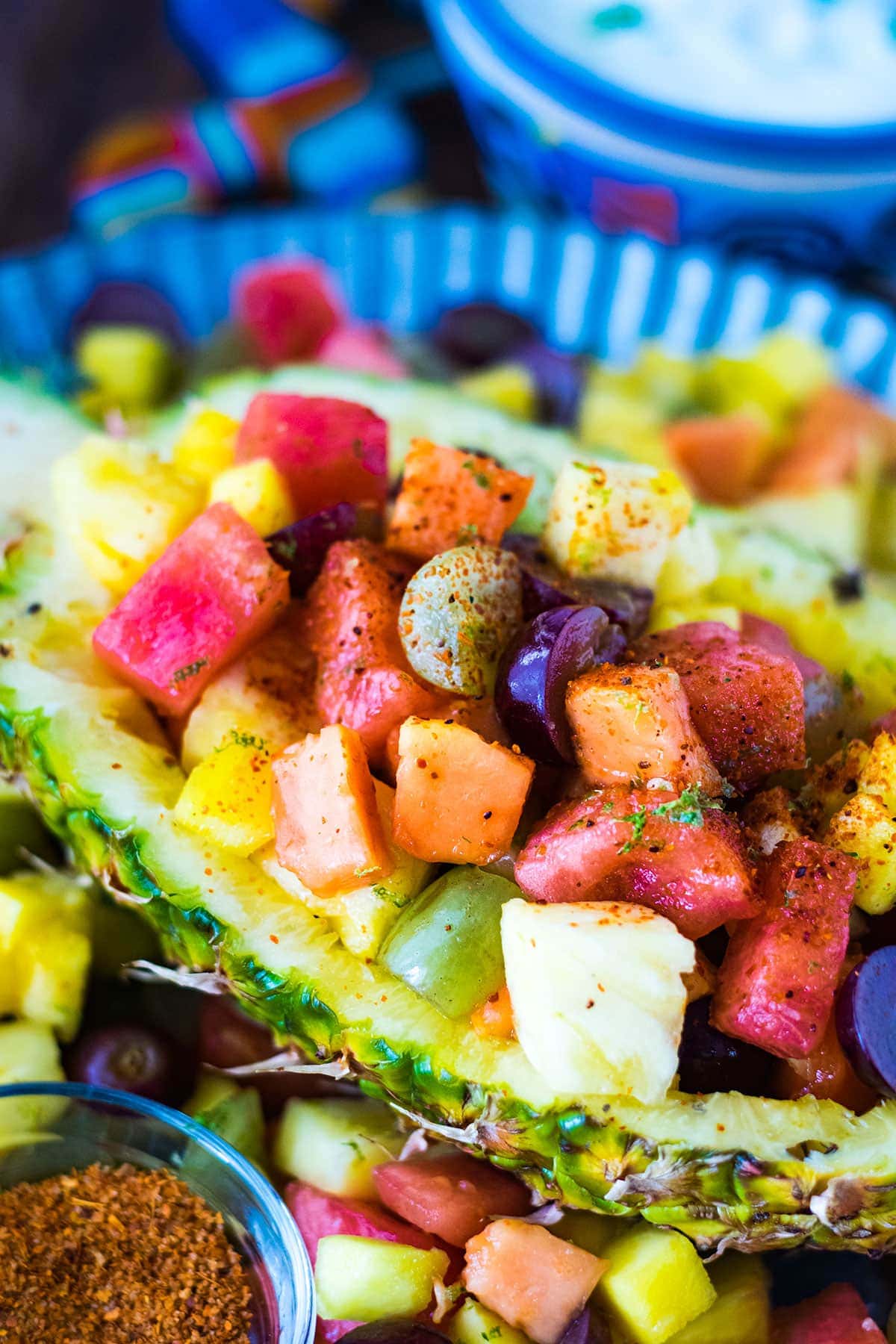 I don't know about you, but I find myself craving fruit salad when the weather starts warming up. They are so refreshing and the perfect way to cool down.
It's hot here in Florida and fruit salad is a favorite poolside snack. The idea of a Mexican fruit salad first hit me when my daughter sprinkled chili lime seasoning on her watermelon. I am pretty sure she could put that stuff on just about anything.
That ah-ha moment hit me! That would be just the thing to top off a Mexican-inspired fruit salad. We are all about Mexican food here at my house anyway!
If I can add to our Mexican dish recipe box that's a win for sure!
Ingredients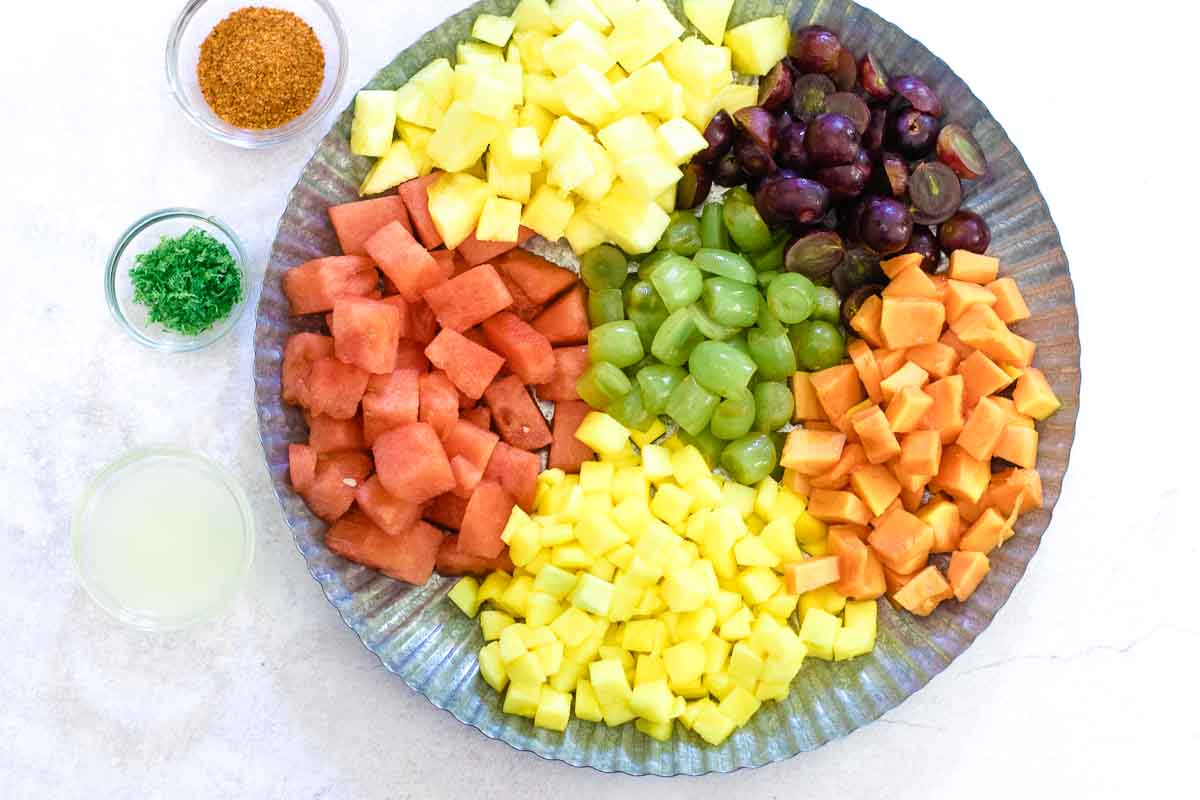 Pineapple – fresh pineapple is best if you can get it. If not canned chunks will work as well.
Watermelon – seedless watermelon
Mango – A nice ripe mango can be found pretty much year-round. There are several varieties and growing seasons that are exported here. To check for ripeness you can go by how they feel. If gently squeezed they will be slightly soft and often have a fruity aroma.
Papaya – These may be slightly harder to find. If you can't get them just add a little more of your other fruits to make up for them.
Grapes – I like to use both green and red seedless grapes. You can use what you like best.
Lime – Fresh lime and lime zest give this Mexican fruit salad its freshness.
Chili lime seasoning – This gives a little spice and tons of flavor.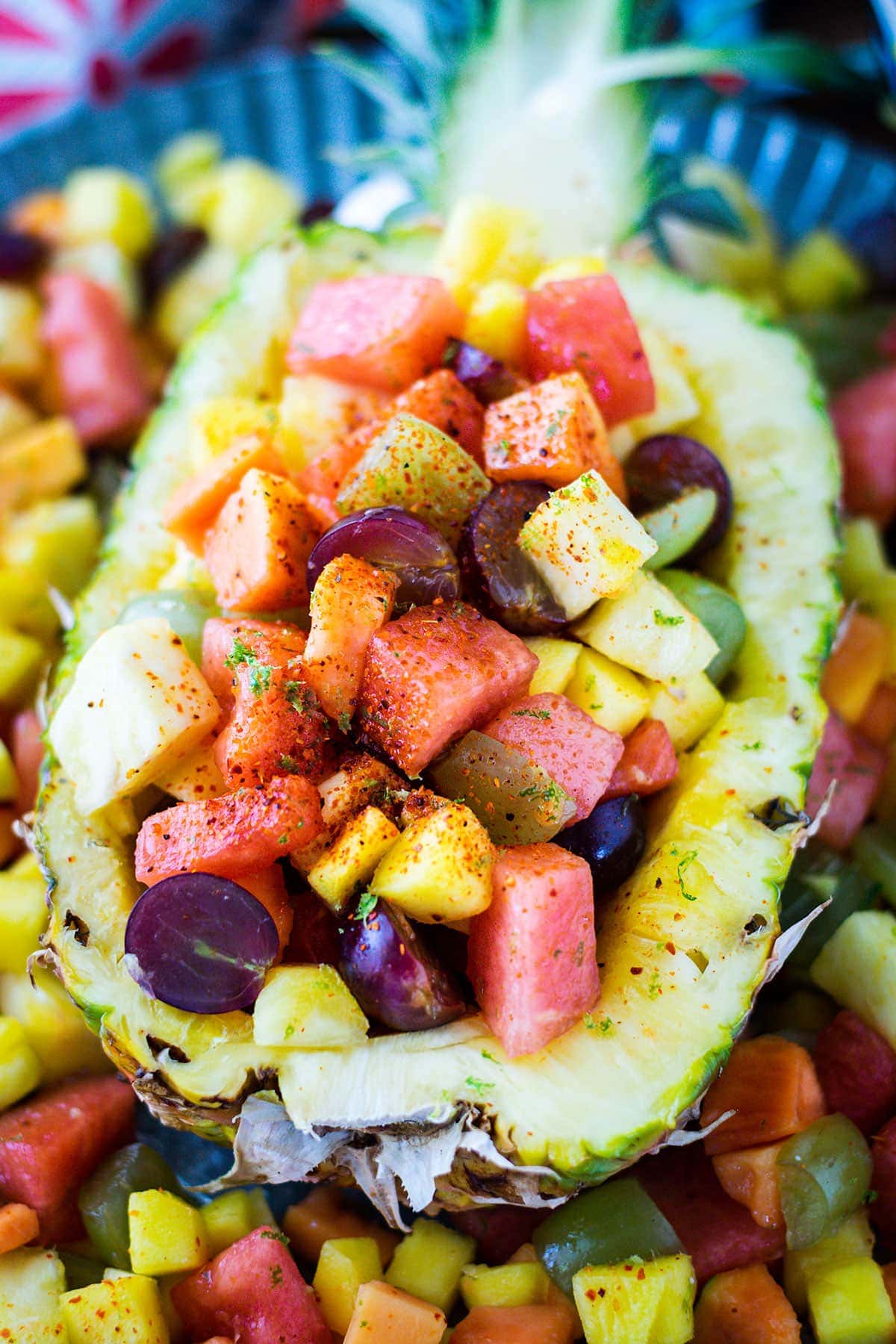 How to make Mexican Fruit Salad
✱ Be sure to see the recipe card below for exact ingredients and instructions!
Prepare and cut fruit: Peel, remove any seeds, and cut fruit into uniform-sized pieces. 1 inch is usually a good size. Cut grapes in half.
Toss together: Place all of the fruit in a large bowl. Add lime juice and zest, then toss to coat.
Serve: Place in a serving bowl or halved pineapple to serve.
Top with chili lime: Sprinkle with chili lime seasoning to taste.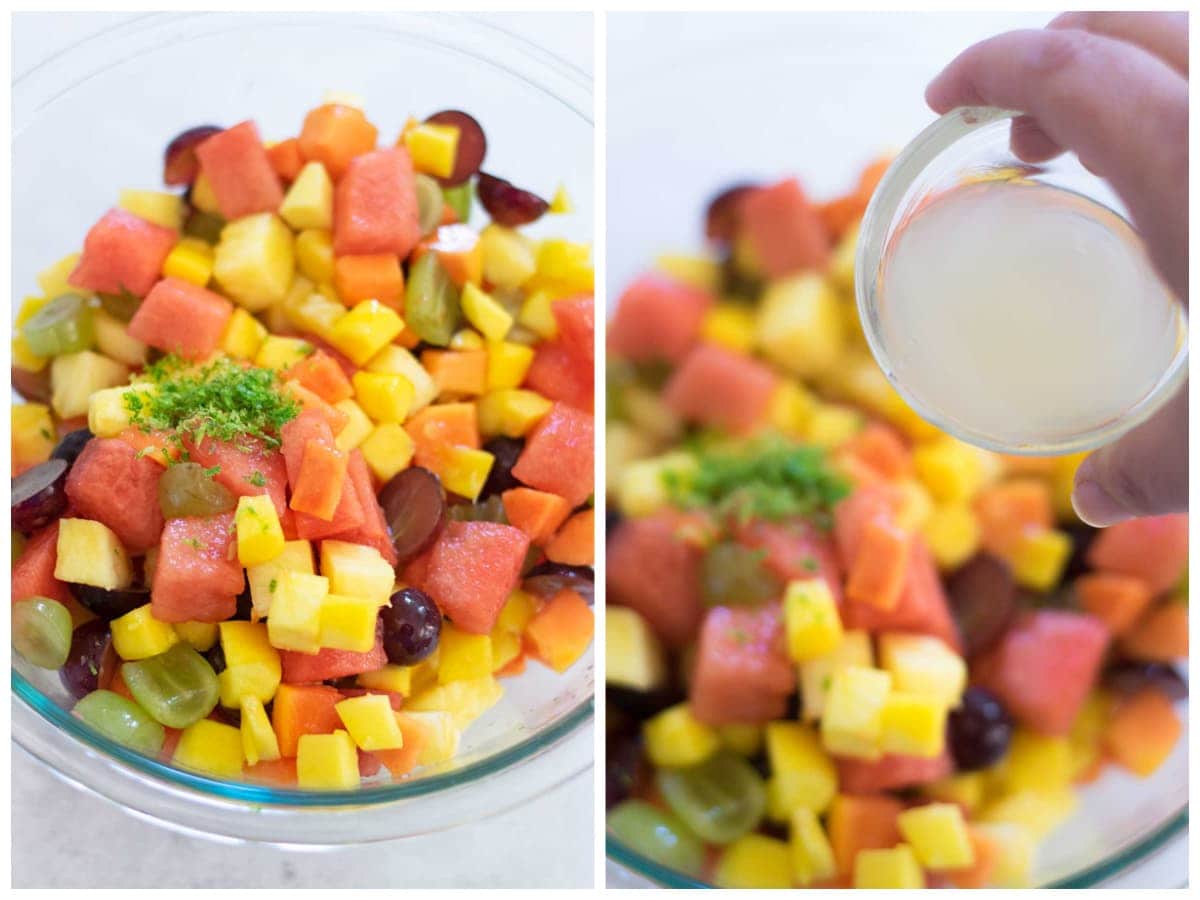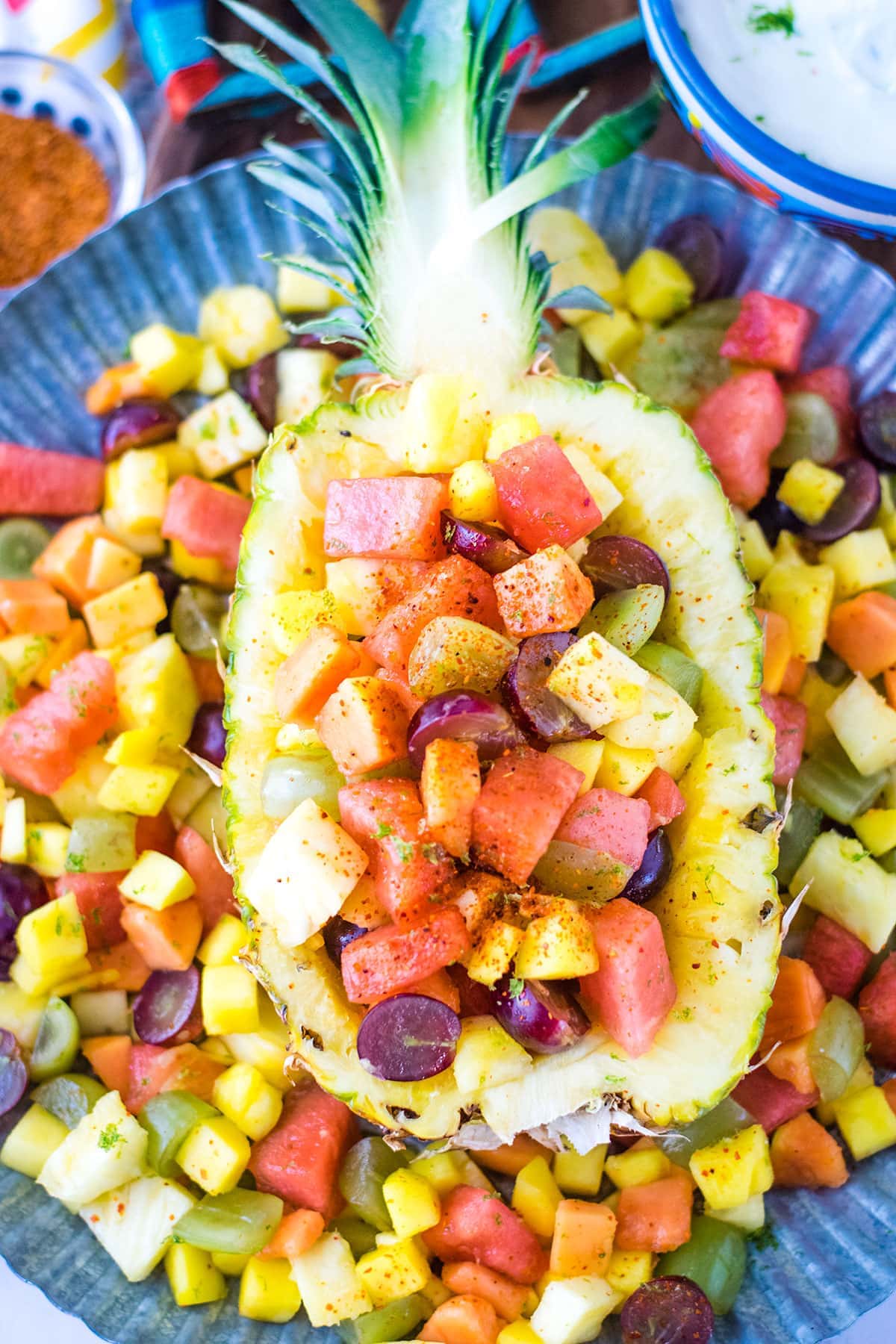 Frequently Asked Questions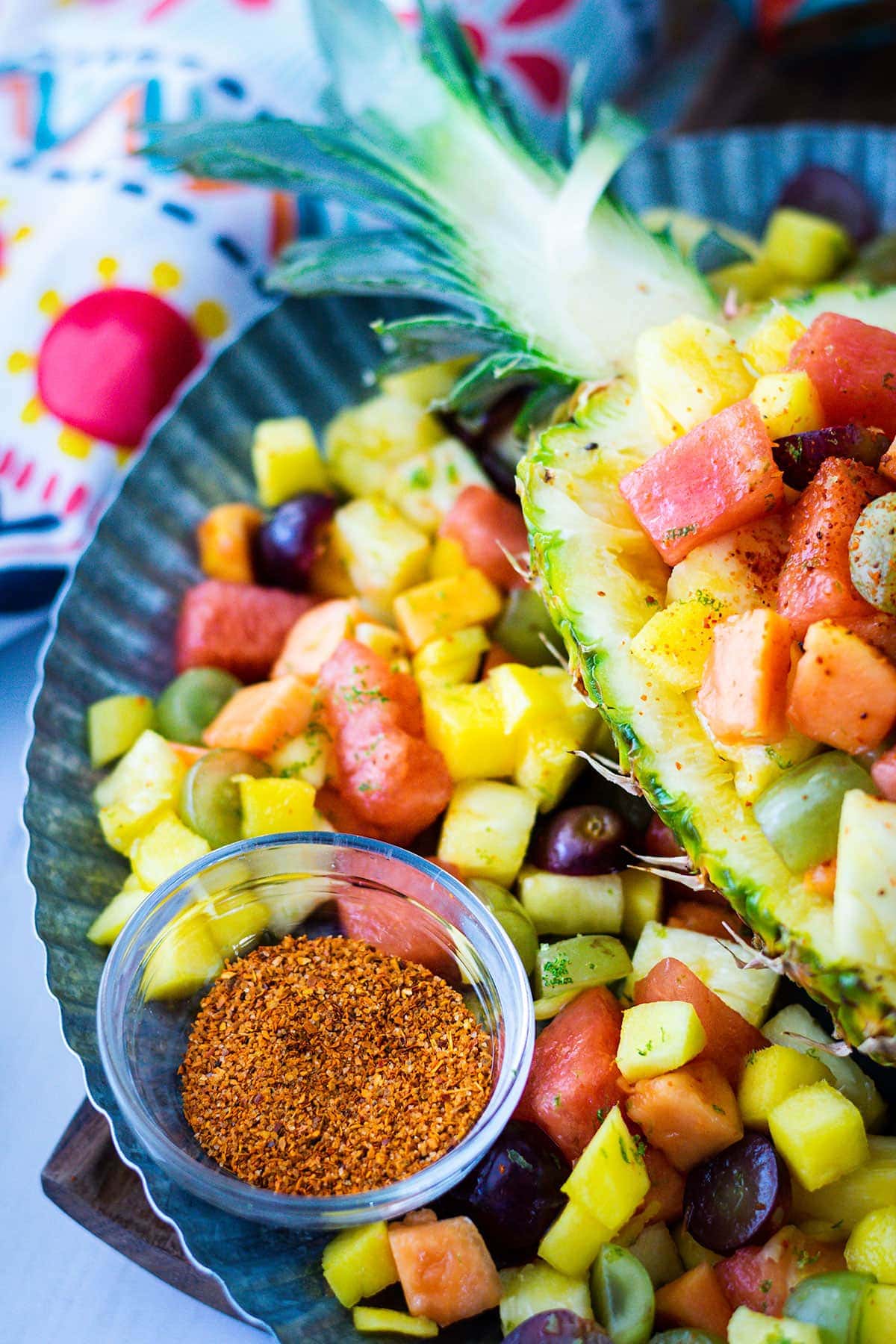 Variations
Change up or add to the fruits with local fresh fruits you can find or just use your favorites. Cantaloupe or honeydew would be great additions or substitutions.
Sprinkle on a little chopped cilantro for a nice authentic Mexican touch.
Add in chunks of avocado for a savory and creamy component.
Cucumber or Jicama would give a cool crunchy element to this salad.
You could add in a small jar of drained maraschino cherries for a pop of red color and sweetness.
This is delicious served with a creamy sweet lime yogurt dip.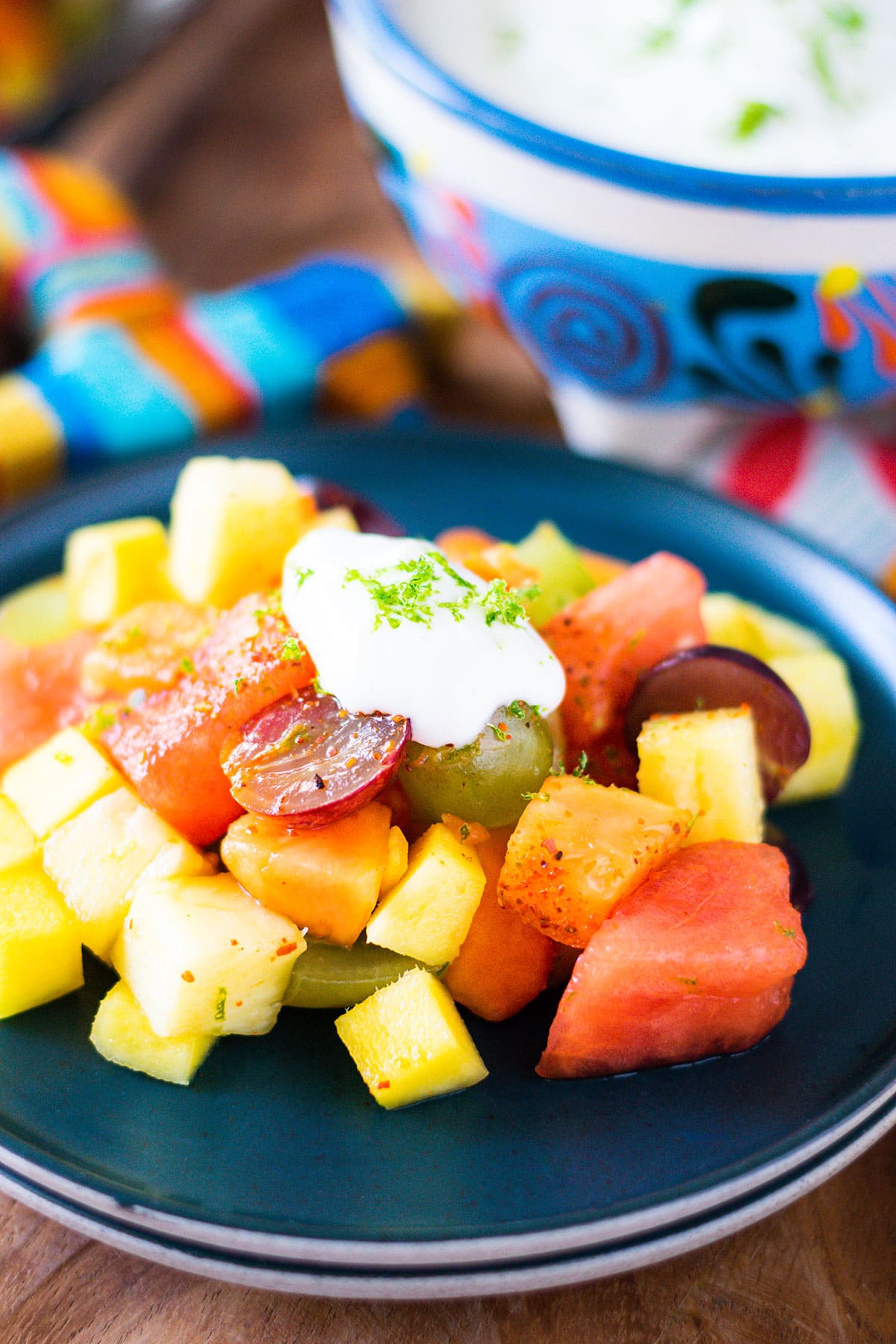 More Mexican Recipes