Pumpkin Spice Cake with Cream Cheese Frosting is everything you love about fall. The perfect blend of spices to pumpkin, moist and tender cake with bites of pecans sprinkled about and topped off with a delicious tangy cream cheese icing. Perfection in every bite!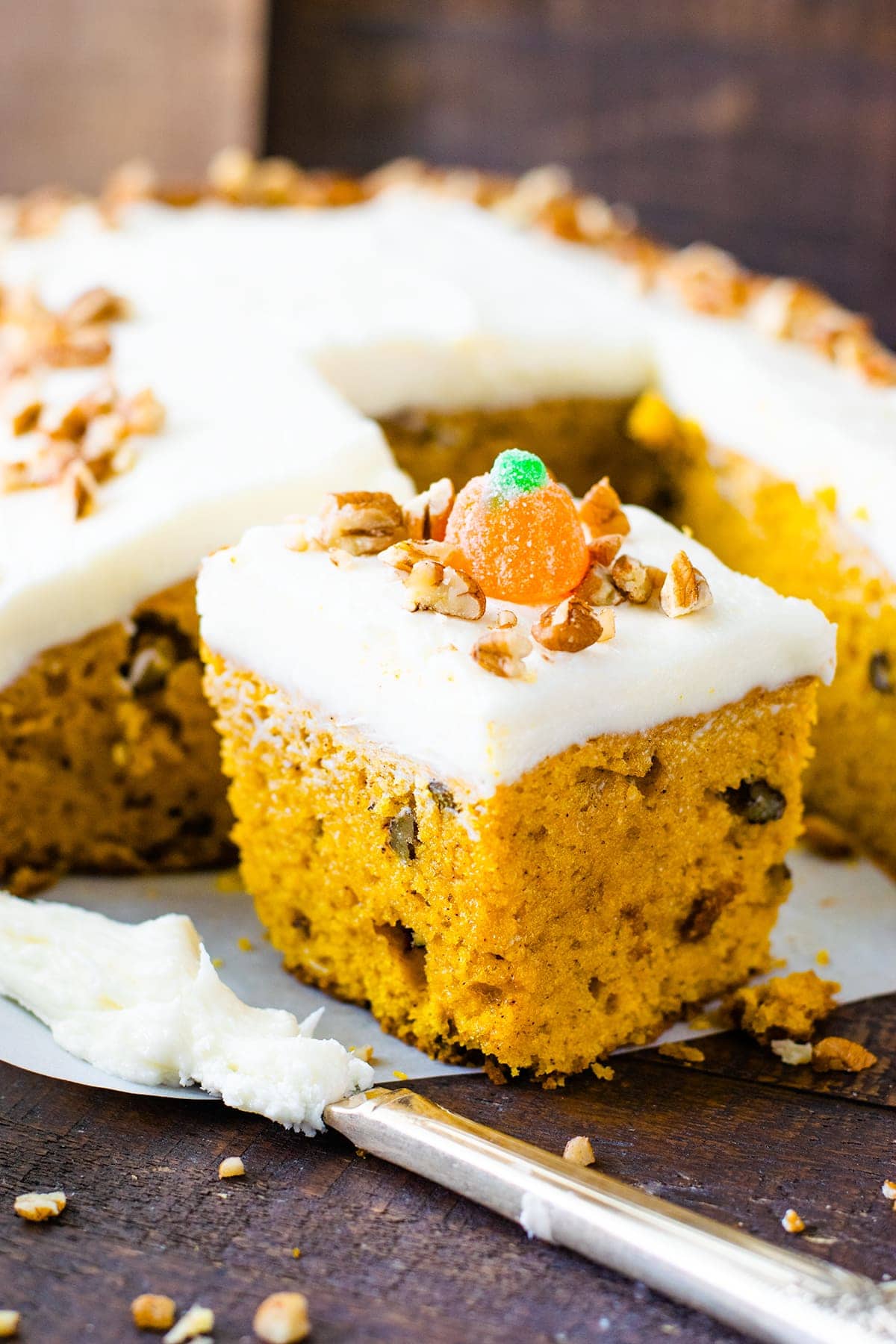 I absolutely adore everything about Fall. There is a real change in the air. Whether it be the weather outside or the divine smells we breathe in while baking or the cinnamon decor that finds its way into the home. It's like a warm hug from a dear friend.
All things pumpkin come on the scene earlier and earlier each year. I used to wait until October, but now as soon as Labor Day is over out comes all things Fall and wonderful. I pull down the decorations, head out to shop for fresh and canned pumpkins.
As I dream of the start of football, hayrides, falling leaves, roasting s'mores, flannel shirts, boots, carving jack o'lanterns, and all things pumpkin spice and everything nice; I get a little giddy!
This cake is one of the reasons why I cannot wait to jump into Autumn and baking season! I wanted to create something that had the perfect blend of flavors. Not too overpowering, but enough that the delicious smooth pumpkin flavor shines through. This is the cake!
How to make a pumpkin spice cake mix
You don't need to head to the store for a box mix. Although there is nothing wrong with using those. I have many recipes I make with them for convenience, like my Easy Carrot Cake with Whipped Cream Icing!
This cake is very much like a spice cake, but I use pumpkin pie spice for an easy blend. If you don't have that, I'll share below in the ingredients what you can substitute for it.
This recipe only uses two bowls and one pan - that way you don't have too much to wash after baking 😉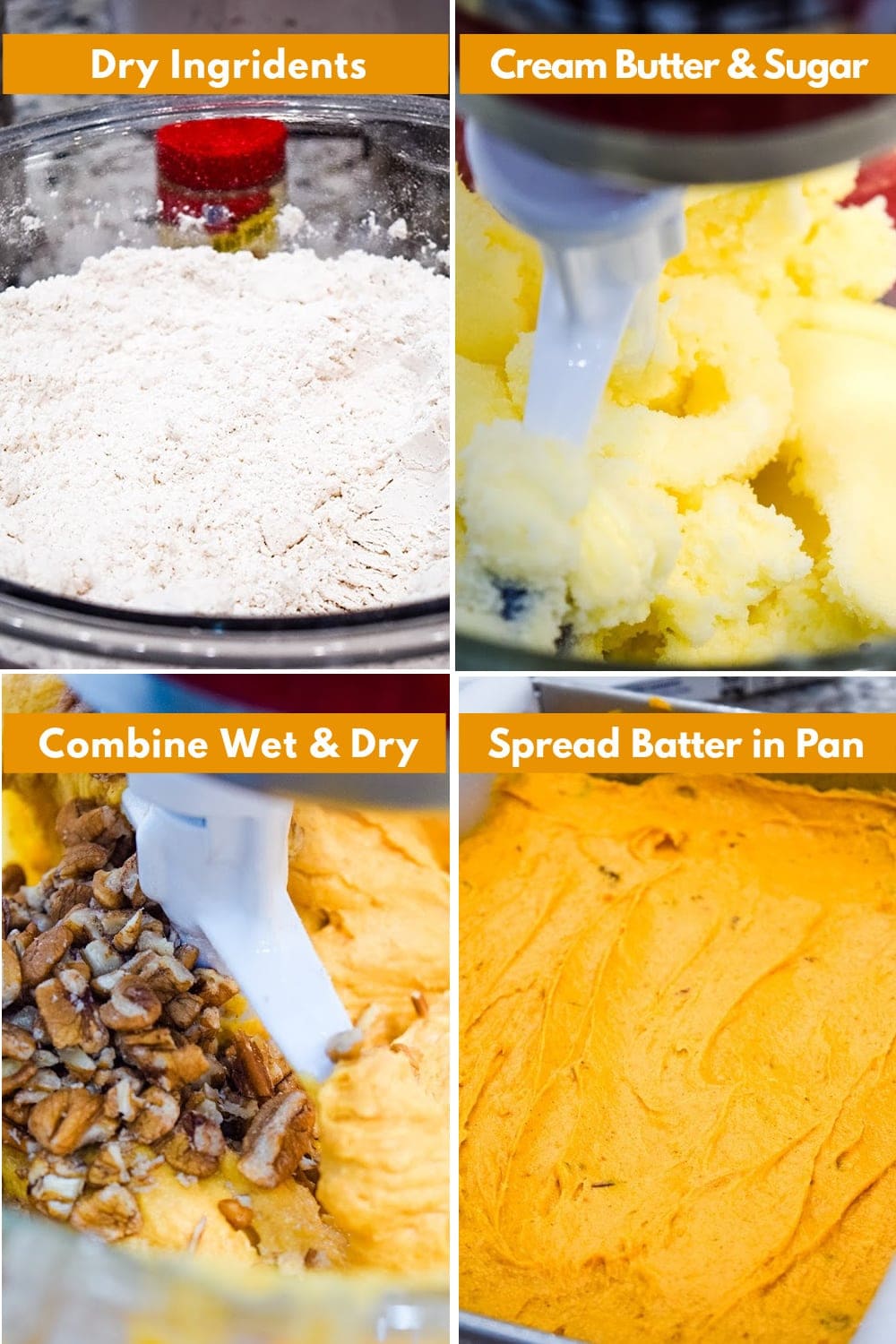 Mix your dry ingredients - I like to run mine through a sifter to combine. You can just whisk it until blended if you would prefer.
Mix wet ingredients - Cream butter and sugar - let the mixter do the work. A few minutes and it's nice and fluffy. Then add in the eggs, pumpkin puree, and vanilla.
Combine wet and dry ingredients - Slowly add in the flour mixture to the pumpkin mixture until well combined. Scrape down the sides when needed.
Fold in chopped pecans - The pecans add so much flavor to the cake and a little texture. If you are not nuts about nuts (see what I did there) you can leave them out completely. Walnuts are delicious as well.
Pour into prepared 9 x 13 cake pan & bake - I love this pan. It is nice and heavy and bakes so evenly. But a glass pan works well too. Spray the pan with baking spray. Bake and let cake cool before frosting.
Make the cream cheese frosting - Mix the softened butter & cream cheese (this is key - they both need to be room temperature). Also make sure you use full fat cream cheese and real butter for best results. Add in vanilla salt and then gradually add in powdered sugar.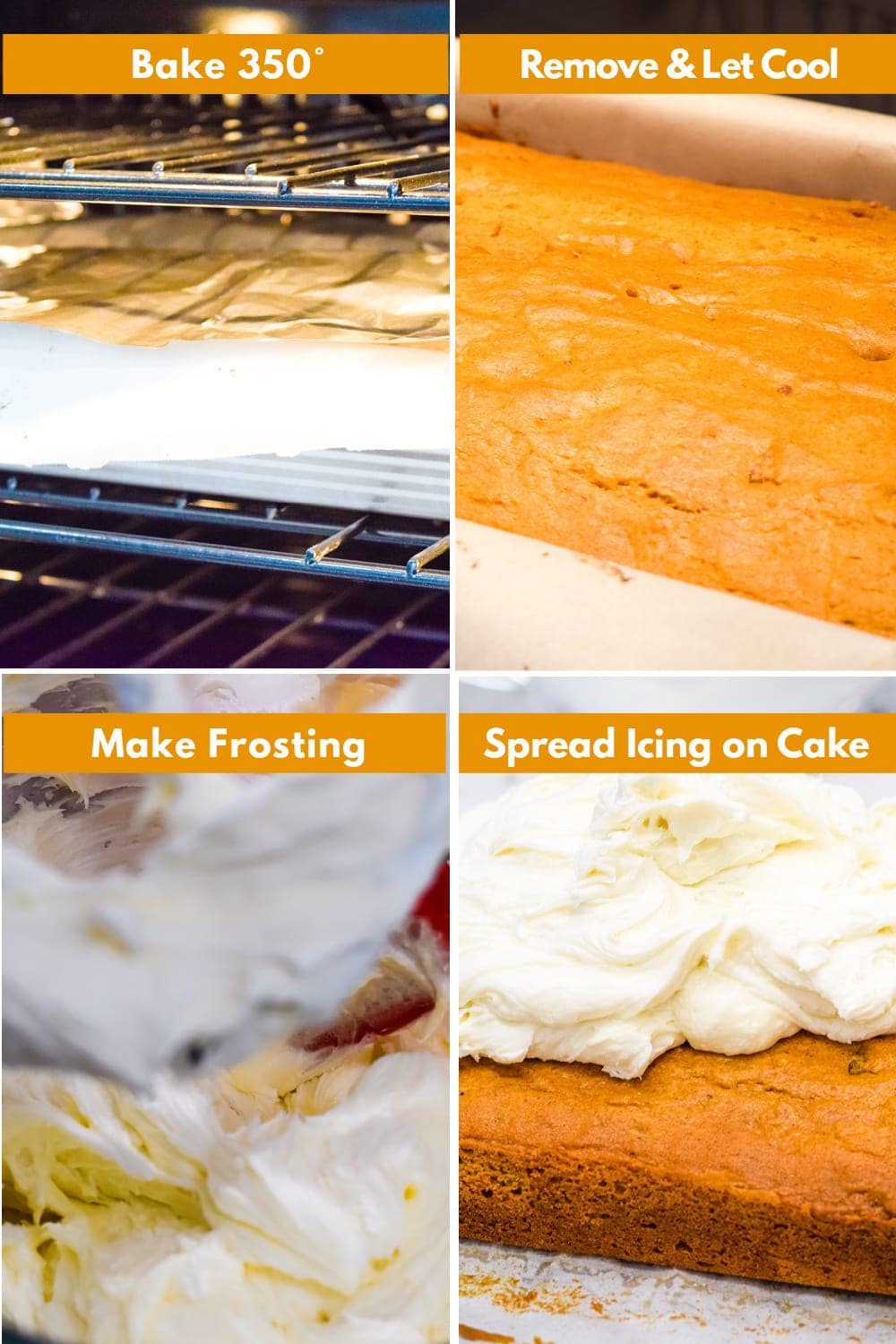 Ingredients
Homemade pumpkin cake uses really basic ingredients. This list is so simple you will probably have them all right in your pantry!
Flour: All-purpose flour is the base. The batter will be thick, so a sturdy flour is all you need.
Baking Soda & Powder: These both will help the cake rise.
Pumpkin Pie Spice: This gives it that wonderful spice cake flavor. KITCHEN TIP : If you do not have pumpkin spice in the pantry use ½ teaspoon of ground nutmeg, cinnamon, allspice, and ginger (if you like clove you can but I don't use it in my homemade pumpkin spice recipe).
Salt & Vanilla Extract: Salt adds balance and vanilla adds extra flavor!
Want to make you own extract try this vanilla recipe from my friend @thefreshcooky
Butter: Your fat in the batter. This makes the cake moist and tender. And really butter makes everything better!
Eggs: Holds it all together and gives it more moisture.
Sugar: This adds the sweetness. You can use 2 cups of granulated sugar or do 1 cup each of granulated and brown sugar - both are delicious.
Pumpkin Puree: The star of the show. That fall flavor and again moisture. You use the entire can so no wasting.
Pecans: This is optional, but I highly recommend it. Adds another level of texture and pecans are so delicious!
If you love this pumpkin recipes, you will love these White Chocolate Caramel Pumpkin Cookies! They are so addictive!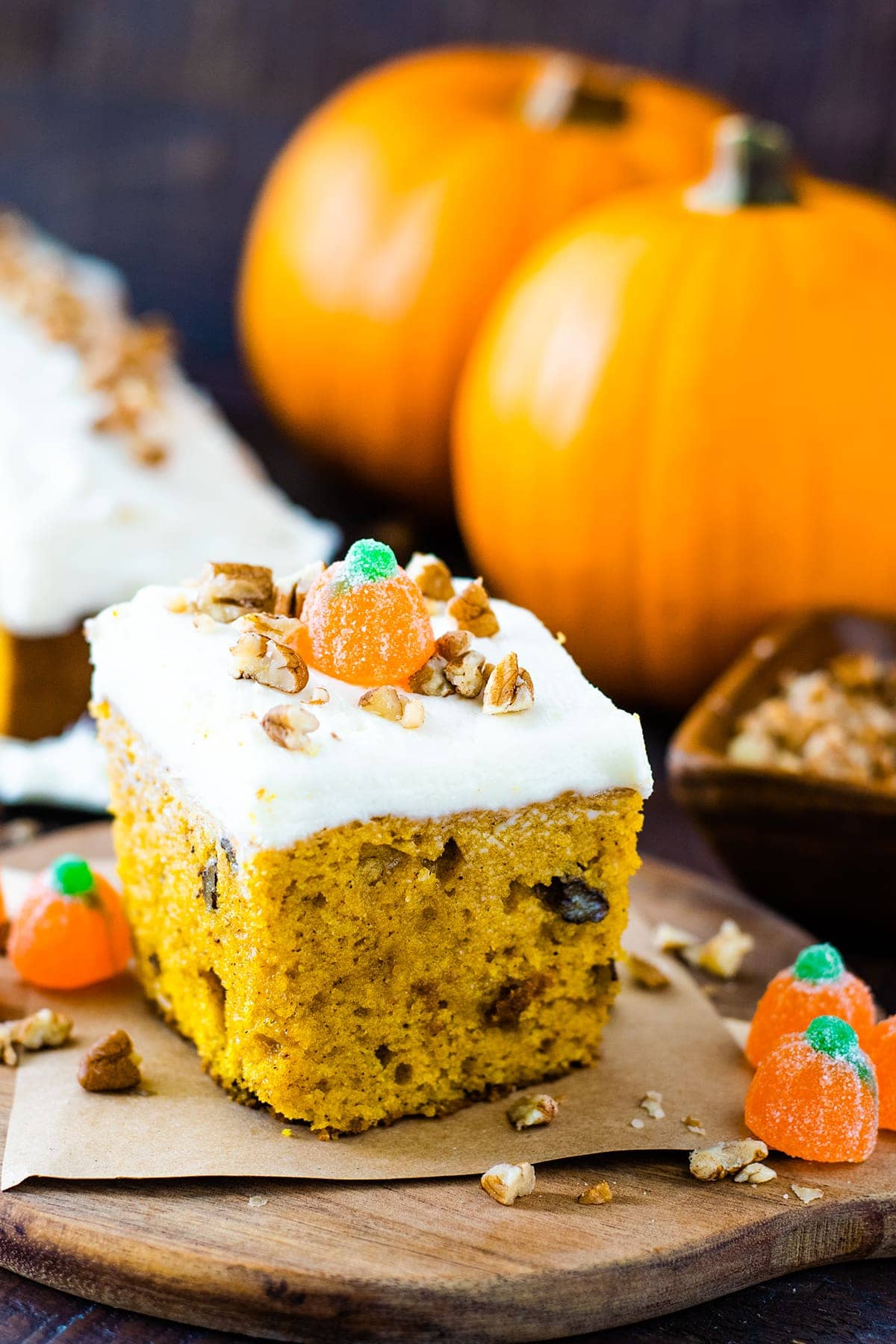 Tips
Make sure you use pumpkin puree not pumpkin pie filling. Check the ingredients and you should only see pumpkin listed as the ingredient!
Can I substitute anything for the butter? I love butter in this recipe the most, but you could use vegetable or canola oil as well.
I cannot stress enough when making the icing - make sure the butter and cream cheese are well softened at room temperature. This is key to it blending and whipping it up into a creamy texture!
Be sure your cake is cooled completely before you ice it. If you need to speed the process up, after the cake cools on the counter about 45 minutes, stick it in the refrigerator to complete cooling.
You can make this cake ahead - cover tightly and store in the fridge for up to 2 days or freeze it for 3 months, then bring to room temperature and frost it! You can also freeze the iced cake for up to 3 months. Thaw in the refrigerator overnight and store cold or bring to room temperature.
This stores well in the refrigerator for up to 5 days.
How to decorate a pumpkin cake
Cakes are beautiful whether they are rustic or ornately decorated. I consider myself way over on the rustic side. My focus is on taste. Don't get me wrong I am an entertainer at heart and I love a beautiful table. But still yet I have not mastered cake decorating. Maybe one day I will have the patience to get super finite on the details.
Spreading on the cream cheese icing with an icing spatula makes a nice even layer. You can also go really rustic with spooning it on in billowy piles and that looks beautiful too.
Sprinkling chopped nuts all over the top or just around the edges looks amazing. You could also line up halved pecans for a pretty display.
Marshmallow or Sugared Candy pumpkins on top will lend a hint of what is in the cake.
Whimsical fall sprinkles are fun for the whole family!
Sprinkle of pumpkin pie spice on top gives a pop of color too!
Other Pumpkin Recipes to enjoy
My Most Recent Recipes