The Best Pumpkin Bread Recipe is super moist, perfectly spiced, has just the right amount of pumpkin, and easy to make. No mixer needed for this super delicious bread that is sure to be your fall favorite!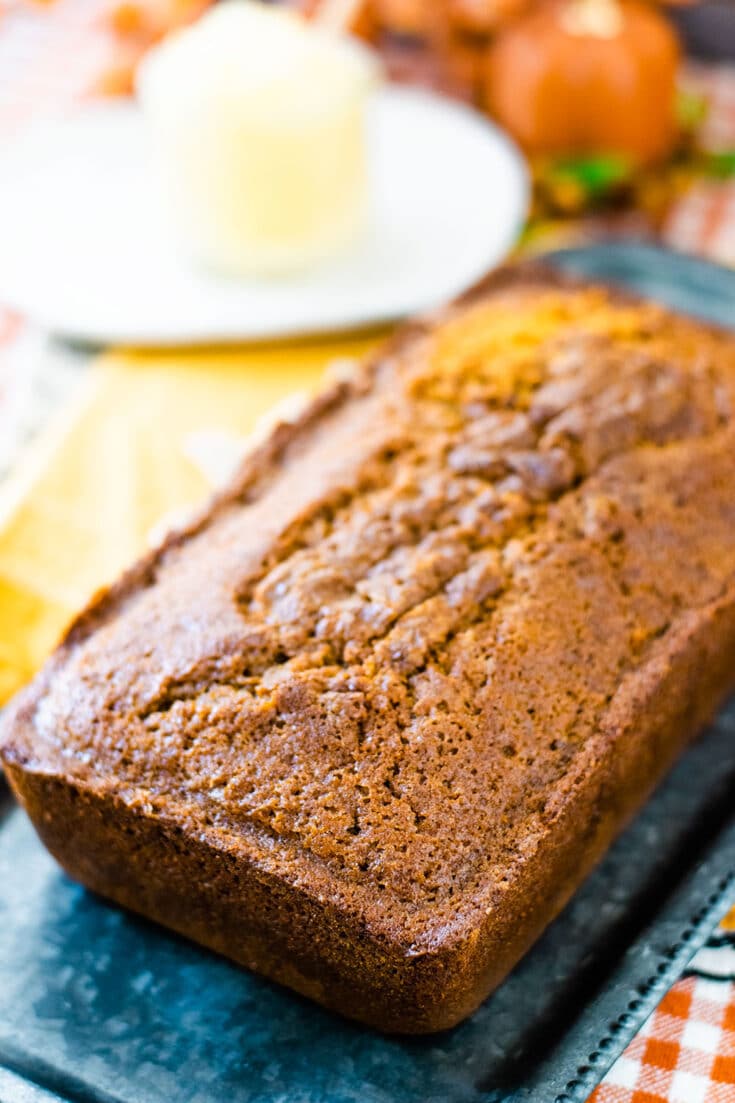 Easy Homemade Pumpkin Bread
There is no greater joy than baking in the fall! Baking this easy homemade pumpkin loaf just fills your home with smells of pumpkin, cinnamon, spice, and everything that is nice.
This perfectly moist bread is is super easy to make! You don't need any special equipment or a mixer and big muscles are not required either. It comes together in a cinch and the hardest part is waiting for it to finish baking!
Why is this the Best Pumpkin Bread Recipe?
Over the years I have tried pumpkin bread recipes and there were some pretty good ones. I would make notes and tweaks along the way and came up with what is just the right amount of moist and spice. Not too much or overpowering, but really really moist. texture is spot on. I think you will love it as much as my family does!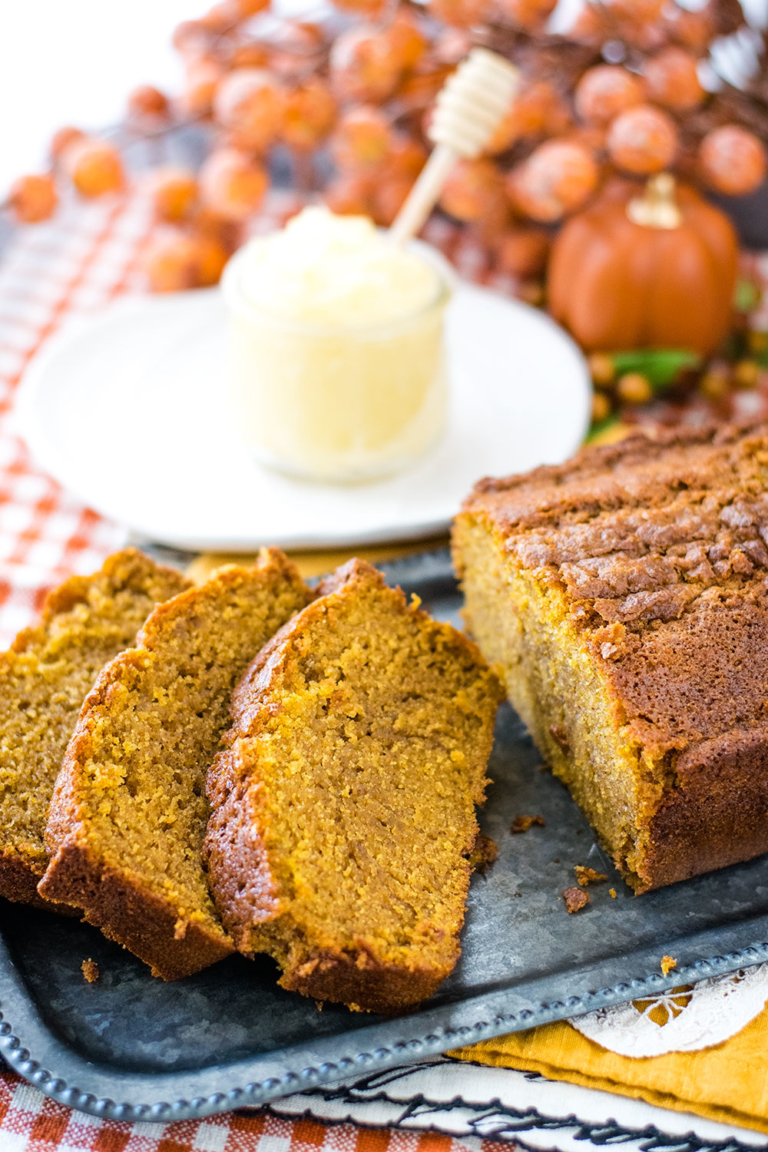 Ingredients needed for the perfect loaf of Pumpkin Bread
The most important part of putting together the dry ingredients is measuring the flour. Spoon the flour into the dry measuring cup. This ensures your pumpkin bread batter is the right portion of flour to wet ingredients and does not turn out dry.
Pumpkin Puree - Make sure not to pick up pumpkin pie filling and buy a good quality pumpkin puree.
Spices - To make this easy I use pumpkin pie spice to build the flavor profile and add just a touch more cinnamon to compliment it!
A mixture of White and Brown Sugar - I really do like the combination of both sugars. The light brown sugar adds even more moisture and the molasses gives something special to the bread.
Milk vs water - Although you can use water in place of the milk, the milk adds a decadence I don't think you will want to skip.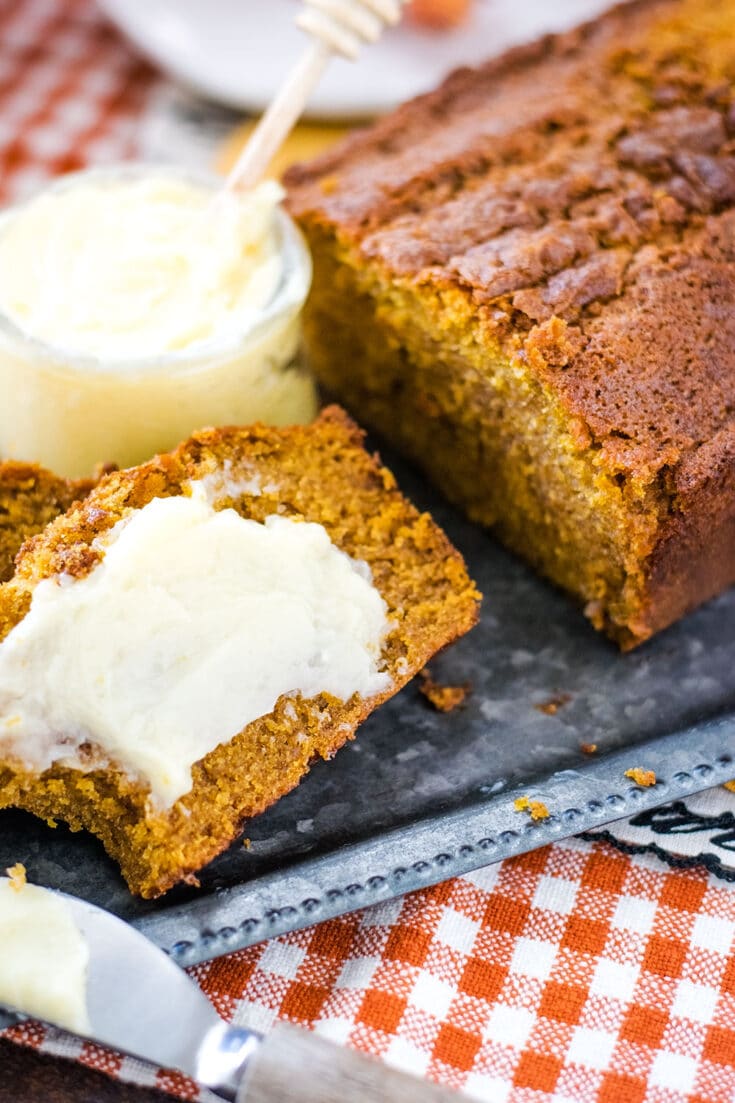 How to Store Pumpkin Bread
Wrap the pumpkin bread tightly with plastic wrap and store in an airtight container or ziplock bag or double wrap in foil.
Store at room temperature for 3 to 4 days.
Place in the refrigerator for up to 7 days.
Can you freeze pumpkin Bread?
Absolutely. Pumpkin bread actually freezes really well.
Wrap it in plastic wrap, then with foil, and place in a freezer bag for up to 3 months.
You can freeze the whole loaf or freeze in slices. Wrap individual slices or maybe group them in 2 or 3 slices to thaw at a time. You can then store them all in the same freezer bag. Just date and label the bag. (I love these freezer labels!)
Thaw the loaf or slices in the refrigerator, if possible, for best results.
You can also place a frozen slice in the microwave for about 20 seconds to warm the bread.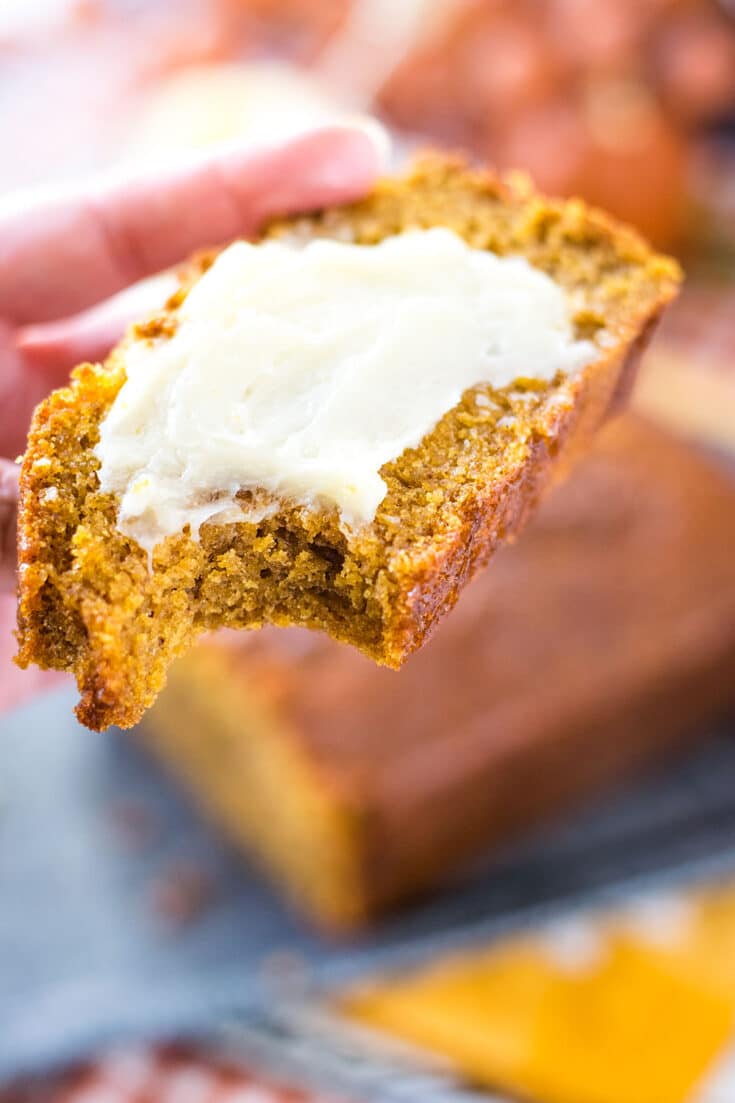 Other Delicious Recipes to try
---