The Best Banana Bread Recipe starts with brown sugar is loaded with bananas, hints of vanilla, all combined into a delicious buttermilk infused batter. This banana bread bakes up into a divinely moist recipe you be baking time and time again.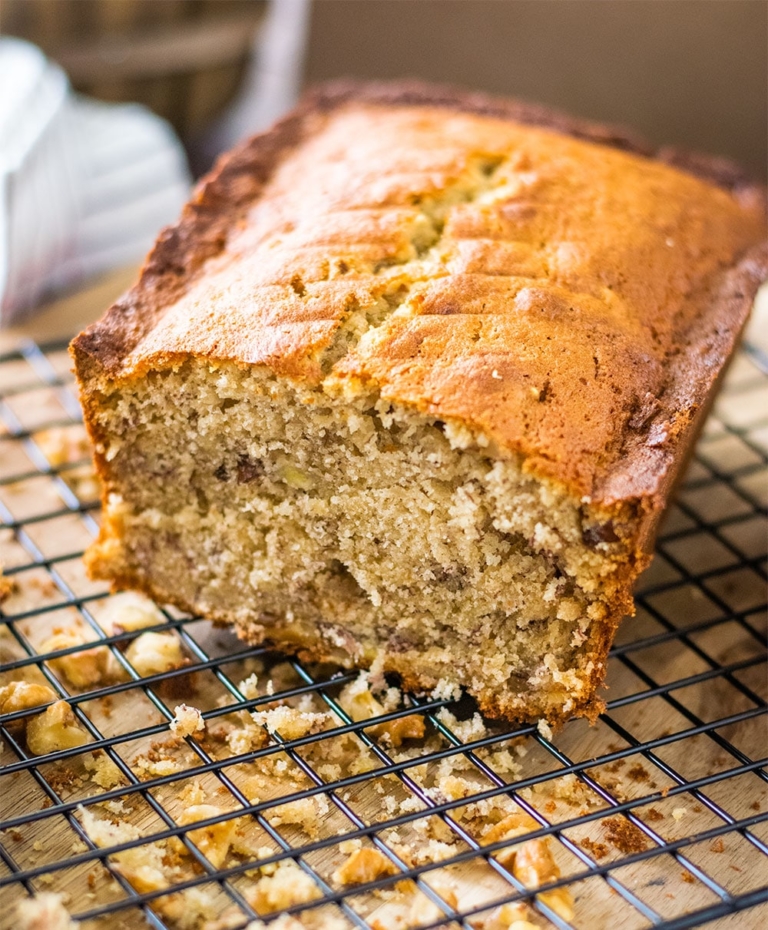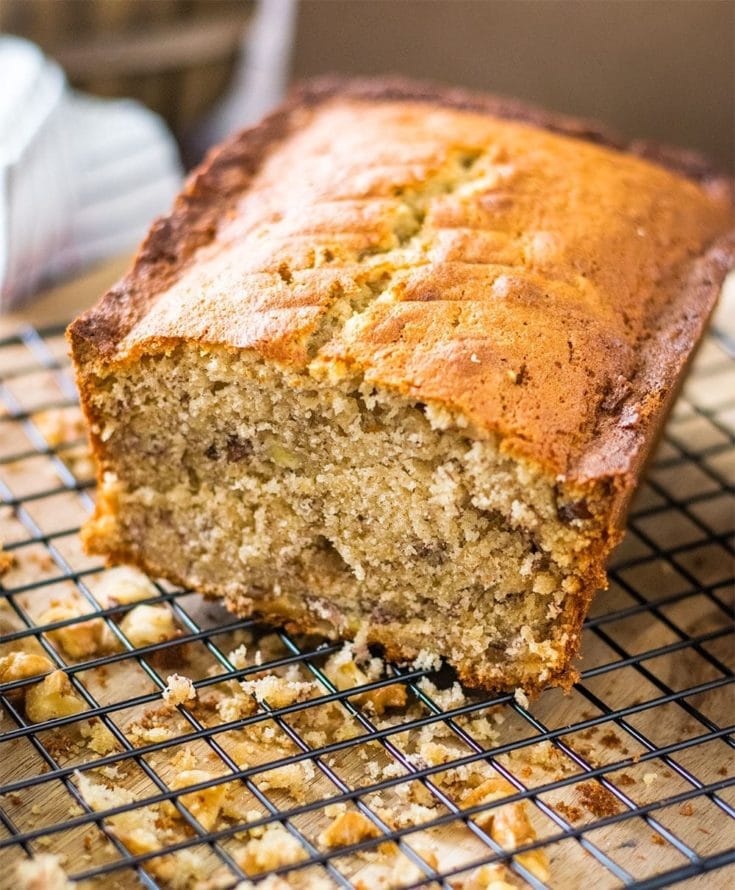 For some reason when fall arrives I get this urge to bake. The aroma of fresh baked banana bread filling up the whole house with homemade deliciousness draws me into the season. Fall makes me feel warm inside and so does banana bread 🙂 . I think this is why it is one of my favorite seasons. There is such a sense of hominess, family, and sharing time with the ones we love!
It is a beautiful fall day here in Florida. I actually am able to open my windows and doors to my pool lanai (this is rare) and enjoy the beautiful sounds from the great outdoors - and a cool breeze- ahhhh. So as I am cherishing this little taste of fall - I bake! It is such a delight to cook for the ones I love. I guess I am preparing myself for Thanksgiving, but let's not rush things yet...
I know everyone seems to have a banana bread recipe, so I almost didn't post. But the best thing about this recipe is sharing it. Whether you share with friends over coffee, give as a housewarming or welcome gift, or share at the holidays, it is always a hit!
I am not sure today I am going to be sharing it with too many people. It may not make it past my son. He keeps asking me asking me when it will be ready. Makes a momma happy.
Well.... at least I can share my recipe, even if Andrew doesn't leave any for me to share with you! Hope you enjoy baking this for someone you love too!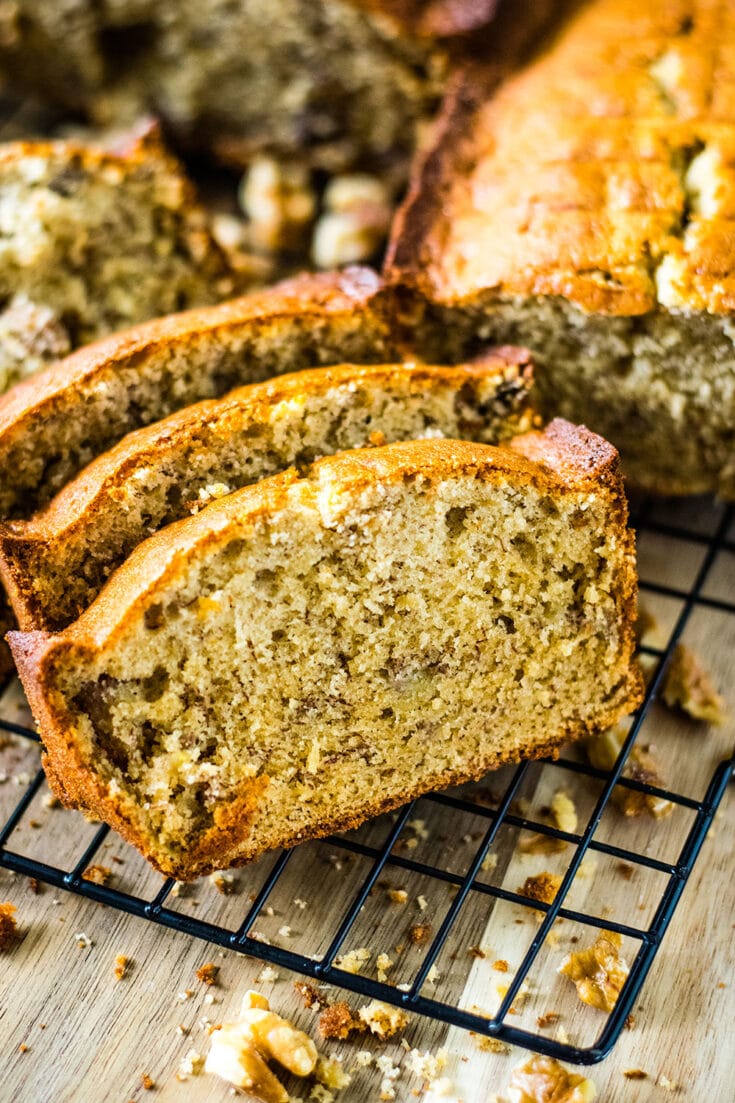 How do you like your fresh baked banana bread?
I'll take mine warm with a little smear of butter for breakfast please! If I am having it for a snack I often skip it, but let me tell ya! It is heavenly with that butter y'all!
What you will need to make Buttermilk Banana Bread Made with Buttermilk
brown sugar
granulated cane sugar
butter, softened
all purpose flour
baking soda
salt
eggs
vanilla
Walnuts, Pecans, or your favorite nuts (optional)
buttermilk
very ripe bananas
Tips for making the best banana Bread
This banana bread is very simple and straightforward, but I wanted to share a few tips that make this the best ever banana bread!
The riper the bananas the better. They will give more flavor to the bread and provide moisture. Think brown spotty bananas!
For the brown sugar, you can use light or dark. Just use what you have on hand in your pantry. I stock up on both and will use either from time to time, but a dark brown sugar will be richer and have more moisture. The bread will be slightly darker as well. Both make for a delicious banana bread.
This recipe calls for buttermilk. It gives a great amount of moisture to the bread and a wonderful flavor. If you don't have buttermilk on hand, add ½ teaspoon of lemon juice or vinegar to ½ scant cup of milk.
Adding nuts or even chocolate chips makes a great addition to this bread.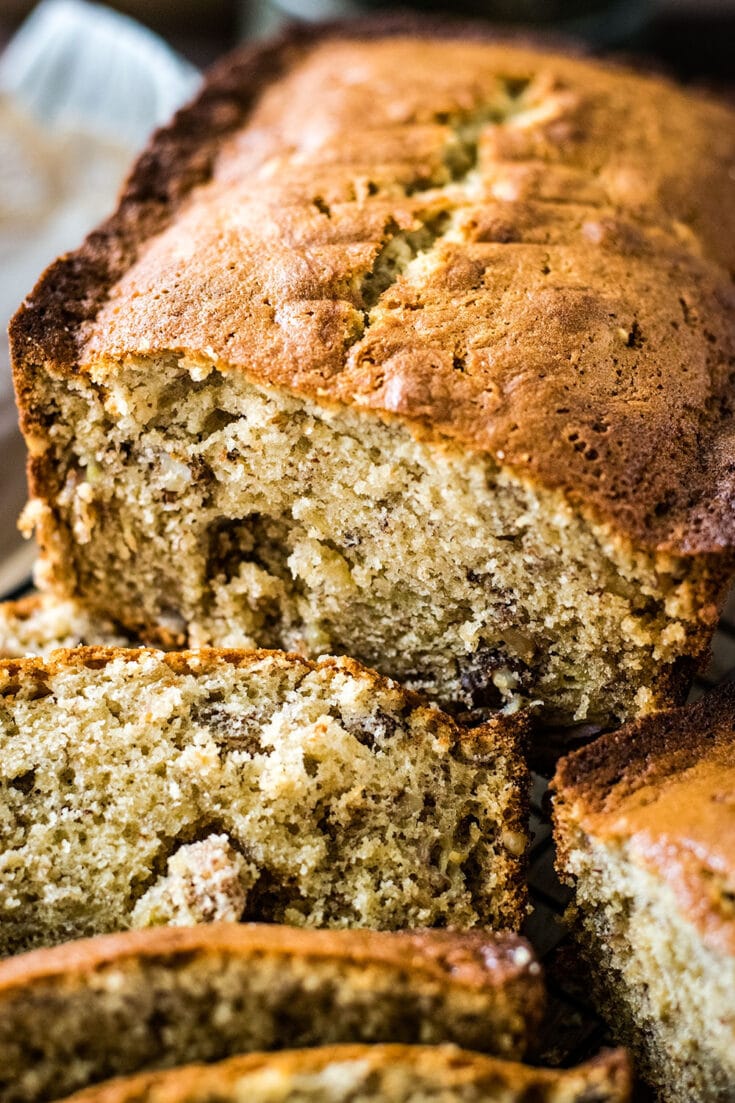 Giving this Banana Bread some Variety or adding Mix Ins
This is a classic banana bread recipe and is amazing all on it's own. But there are a few things you can do to mix it up a little. Add some pizazz to the recipe.
Chocolate pairs well with banana. You can add chocolate chips of any variety - milk, semi-sweet or dark and even white chocolate. I also like to chop up really good quality chocolate into chunks and throw it in! Amazing!
NUTS - Chopped pecans and walnuts are my favorite for best banana bread. If you want to make it even more scrumptious, give those nuts a toasting before you add them in. Toast them whole, usually at 350 degrees for around 8 minutes. Just keep and eye on them so they don't burn. And then chop them up for before adding them into the batter! Now that takes it over the top with flavor.
How to Store Banana Bread
First wrap the banana bread with seran or plastic wrap. Then wrap with aluminum foil, a heavy duty plastic bag or air tight container.
You can store successfully at room temperature for three days. To extent the life store in the refrigerator for up to a week.
Can You Freeze Banana Bread
YES - Wrap in plastic wrap, then place in a freezer bag or wrap with freezer paper and freeze for up to three months.
Other Delicious Banana Recipes