This post may contain affiliate links. Please read our disclosure policy.
The Best Banana Bread Recipe starts with brown sugar is loaded with bananas, hints of vanilla, all combined into a delicious buttermilk infused batter. This banana bread bakes up into a divinely moist recipe you be baking time and time again.
There's really never a bad time for banana bread! Whether you like it traditional, a chocolate chip banana variety, or this double chocolate overload version, you cannot go wrong! These breads are all scrumptious for breakfast, dessert, or any time of the day!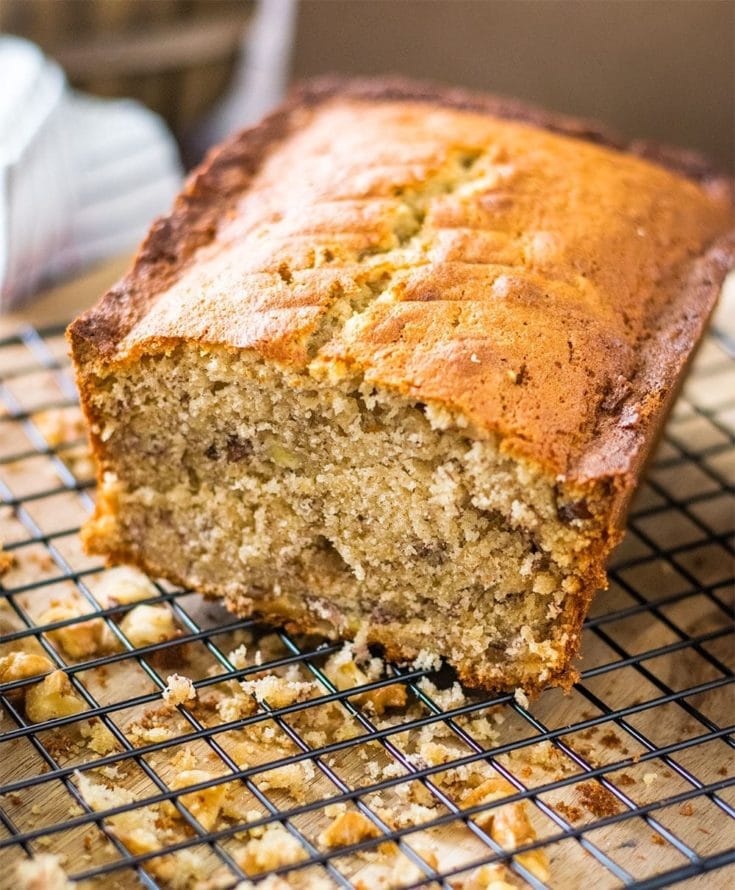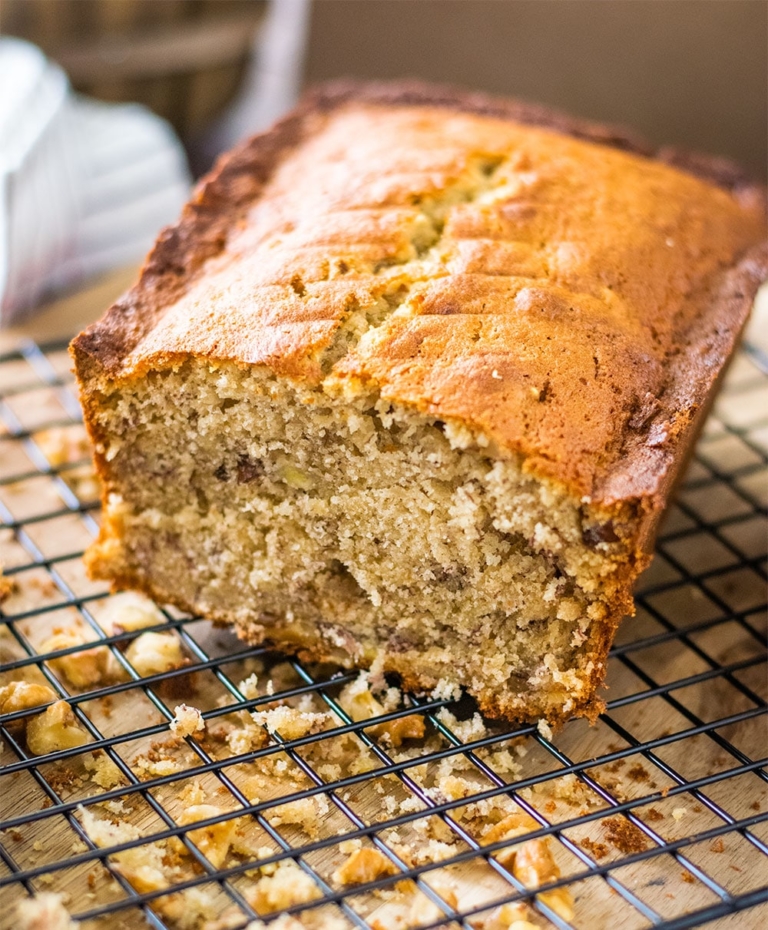 For some reason when fall arrives I get this urge to bake. The aroma of fresh-baked banana bread filling up the whole house with homemade deliciousness draws me into the season. Fall makes me feel warm inside and so does banana bread :-). I think this is why it is one of my favorite seasons. There is such a sense of hominess, family, and sharing time with the ones we love!
It is a beautiful fall day here in Florida. I actually am able to open my windows and doors to my pool lanai (this is rare) and enjoy the beautiful sounds from the great outdoors – and a cool breeze- ahhhh. So as I am cherishing this little taste of fall – I bake! It is such a delight to cook for the ones I love. I guess I am preparing myself for Thanksgiving, but let's not rush things yet…
I know everyone seems to have a banana bread recipe, so I almost didn't post. But the best thing about this recipe is sharing it. Whether you share with friends over coffee, give as a housewarming or welcome gift, or share at the holidays, it is always a hit!
I am not sure today I am going to be sharing it with too many people. It may not make it past my son. He keeps asking me asking me when it will be ready. Makes a momma happy.
Well…. at least I can share my recipe, even if Andrew doesn't leave any for me to share with you! Hope you enjoy baking this for someone you love too!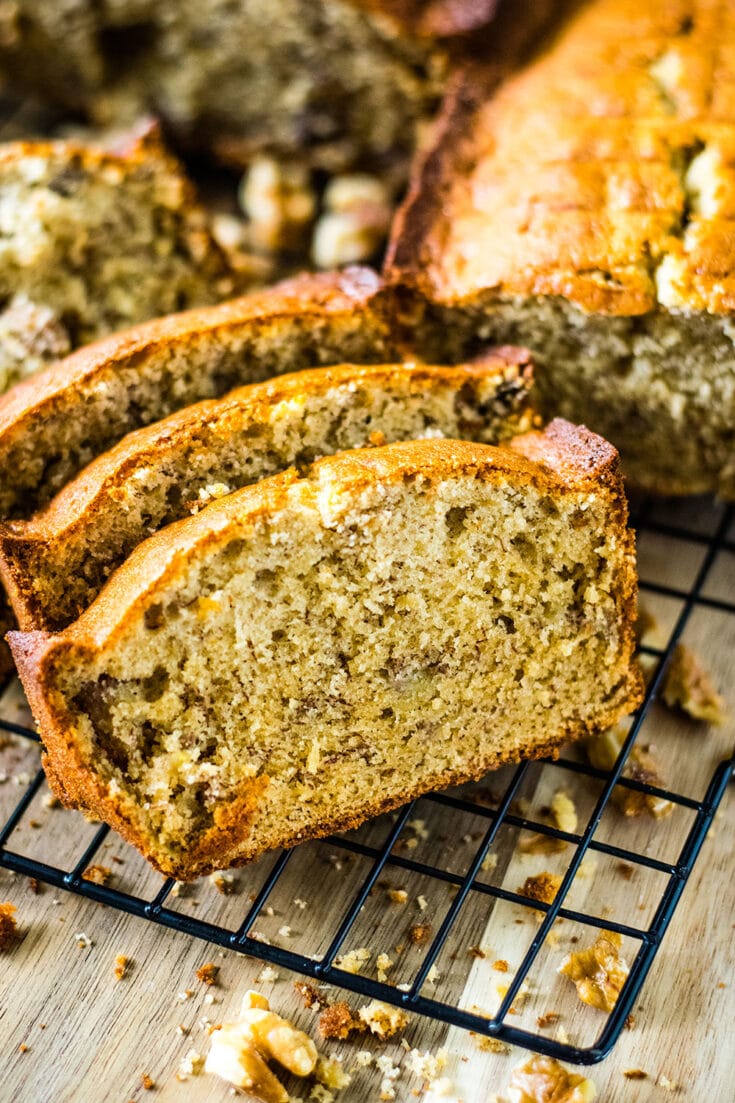 How do you like your fresh baked banana bread?
I'll take mine warm with a little smear of butter for breakfast, please! If I am having it for a snack I often skip it, but let me tell ya! It is heavenly with that butter y'all!
What you will need to make Buttermilk Banana Bread Made with Buttermilk
brown sugar
granulated cane sugar
butter, softened
all purpose flour
baking soda
salt
eggs
vanilla
Walnuts, Pecans, or your favorite nuts (optional)
buttermilk
very ripe bananas
Tips for making the best banana Bread
This banana bread is very simple and straightforward, but I wanted to share a few tips that make this the best ever banana bread!
The riper the bananas the better. They will give more flavor to the bread and provide moisture. Think brown spotty bananas!
For the brown sugar, you can use light or dark. Just use what you have on hand in your pantry. I stock up on both and will use either from time to time, but a dark brown sugar will be richer and have more moisture. The bread will be slightly darker as well. Both make for a delicious banana bread.
This recipe calls for buttermilk. It gives a great amount of moisture to the bread and a wonderful flavor. If you don't have buttermilk on hand, add 1/2 teaspoon of lemon juice or vinegar to 1/2 scant cup of milk.
Adding nuts or even chocolate chips makes a great addition to this bread.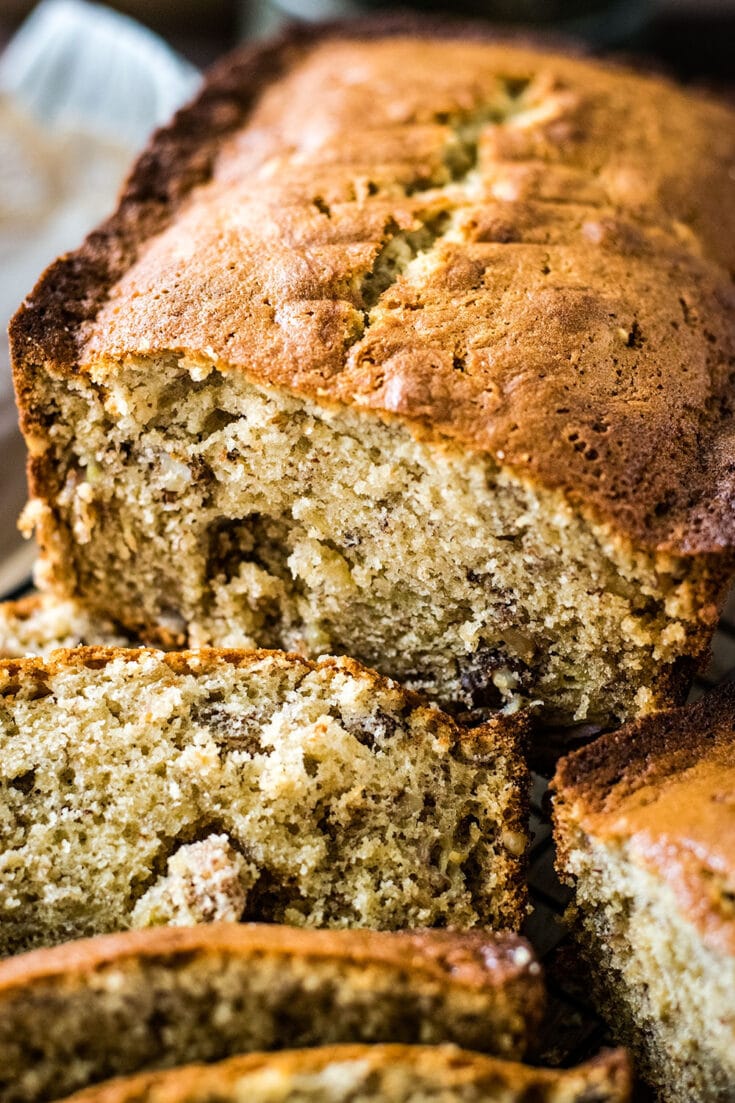 Variations
This is a classic banana bread recipe and is amazing all on it's own. But there are a few things you can do to mix it up a little. Add some pizazz to the recipe.
Chocolate pairs well with bananas. You can add chocolate chips of any variety – milk, semi-sweet or dark, and even white chocolate. I also like to chop up really good-quality chocolate into chunks and throw it in! Amazing!
NUTS – Chopped pecans and walnuts are my favorites for best banana bread. If you want to make it even more scrumptious, give those nuts a toasting before you add them in. Toast them whole, usually at 350 degrees for around 8 minutes. Just keep an eye on them so they don't burn. And then chop them up before adding them into the batter! Now that takes it over the top with flavor.
Storage
Storing Banana Bread
For countertop storage place banana bread in an airtight container, ziplock bag, or wrap well with foil or plastic wrap.
Banana bread can keep for up to four days on your counter before you begin to notice changes in texture. When day five or six rolls around, the bread will begin to dry out, but it will still be okay to eat. Place a slice in the toaster or microwave for about 10 seconds or until warm, and you will never know the difference.
If you notice any mold throw it away!
You can store in the refrigerator, however a refrigerator circulates cool air, which removes moisture and can prematurely dry breads and cakes.
Freezing Banana Bread
Banana bread will keep in the freezer for a long time, but it's at its best when used within three or four months. It's still edible after that, but it's likely to develop freezer burn when kept much longer, and that can impact the taste and texture. So I recommend no longer than four months.
You can freeze by the slice, loaf or half loaf.
Wrap it in seran wrap or foil. Place the wrapped loaf in a zip-top bag, remove as much air as possible, and place it in the freezer.
If wrapping in individual slices, double wrap each slice individually in foil then put the wrapped slices in a zip-top bag. I double wrap slices because more of the bread's surface is exposed, which could dry out easier than a loaf. Remove as much air from the bag as possible without smashing the bread. Place the bag in the freezer and remove slices as needed.
Other Delicious Banana Recipes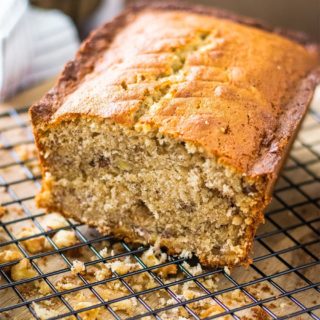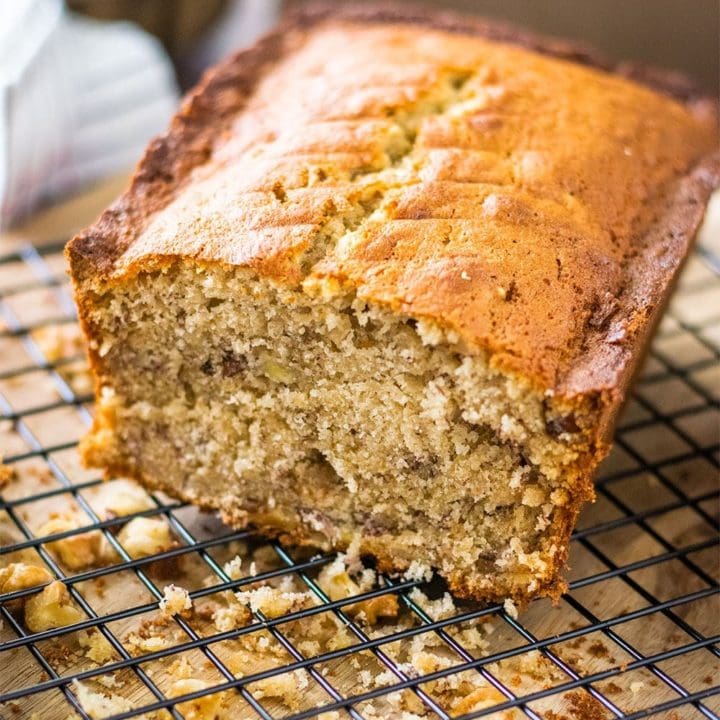 Recipe
(click stars to rate)
Best Buttermilk Banana Bread
The Best Banana Bread Recipe starts with brown sugar is loaded with bananas, hints of vanilla, all combined into a delicious buttermilk infused batter. The banana bread bakes up into a divinely moist recipe you will be baking time and time again.
---
Ingredients
1

cup

brown sugar

1

cup

granulated cane sugar

1

cup

2 sticks butter, softened

3

cups

all purpose flour

1

teaspoon

baking soda

1

teaspoon

salt

5

eggs

2

teaspoons

vanilla

1

cup

nuts

,

optional

½

cup

buttermilk

6

very ripe bananas
Instructions
1. Preheat oven to 350ºF.

2. Generously butter two loaf pans. In a stand mixer, cream butter and sugar until light and fluffy.

3. Meanwhile, in a separate bowl, whisk together flour, baking soda and salt.

4. With the mixer on low, add the eggs one at a time, beating after adding each egg. Add the bananas, vanilla, buttermilk, and vanilla.

5. Slowly add the flour mixture until just combined. Then add nuts if desired. (I put nuts into half of the batter and make one loaf with nuts and one without)

6. Divide evenly into two prepared loaf pans. Bake for approximately 50 minutes to 1 hour (ovens vary).

7. Remove from oven and turn loaves out on cooling rack immediately and let cool.
Nutrition Information
Serving:
1
1 serving
Calories:
196
kcal
(10%)
Carbohydrates:
36
g
(12%)
Protein:
5
g
(10%)
Fat:
4
g
(6%)
Saturated Fat:
1
g
(6%)
Polyunsaturated Fat:
3
g
Cholesterol:
39
mg
(13%)
Sodium:
183
mg
(8%)
Fiber:
2
g
(8%)
Sugar:
20
g
(22%)
Nutritional Disclaimer
Soulfully Made is not a dietician or nutritionist, and any nutritional information shared is only an estimate. We recommend running the ingredients through an online nutritional calculator if you need to verify any information.
©️Soulfully Made