This homemade turkey rub is a blend of savory spices and herbs to make the ultimate poultry seasoning! A Homemade spice rub adds loads of flavor to your Thanksgiving turkey, while also delicious on chicken, beef, and pork! This blend makes enough for a 12 to 14 pound turkey.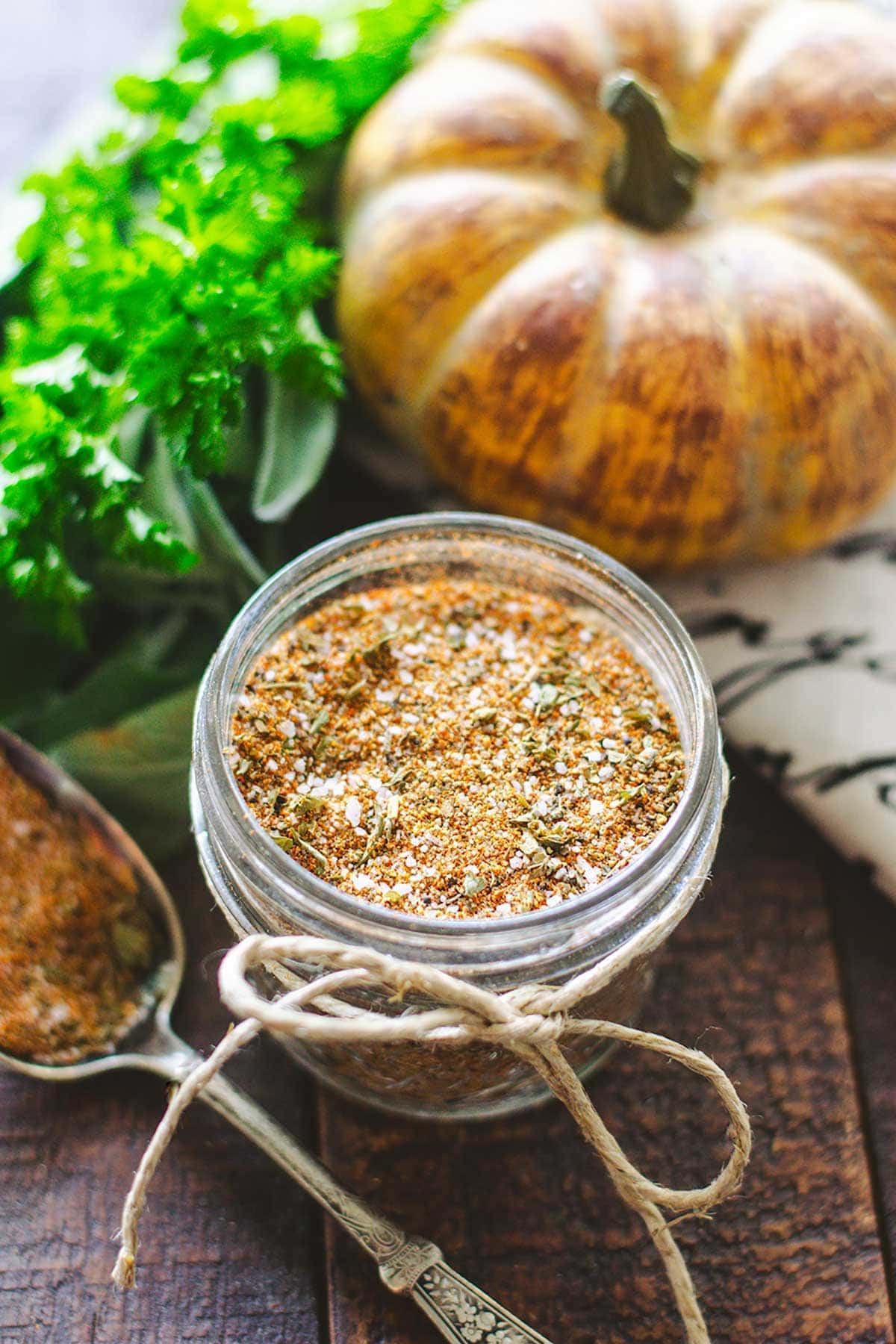 When you want a turkey that is sure to impress, add tons of flavor with my homemade turkey seasoning! This recipe has the perfect blend of spices for your holiday turkey!
There are so many different ways to prepare a turkey, from brining to roasting, deep frying, in the instant pot or slow cooker and I am sure more to boot! This rub will turn your ordinary turkey into something bursting with flavor! AND it only takes 5 minutes to make.
This rub isn't only delicious on turkey! It's perfect for chicken, pork and beef too!
This rub is super easy. All the ingredients are most likely right in your pantry too!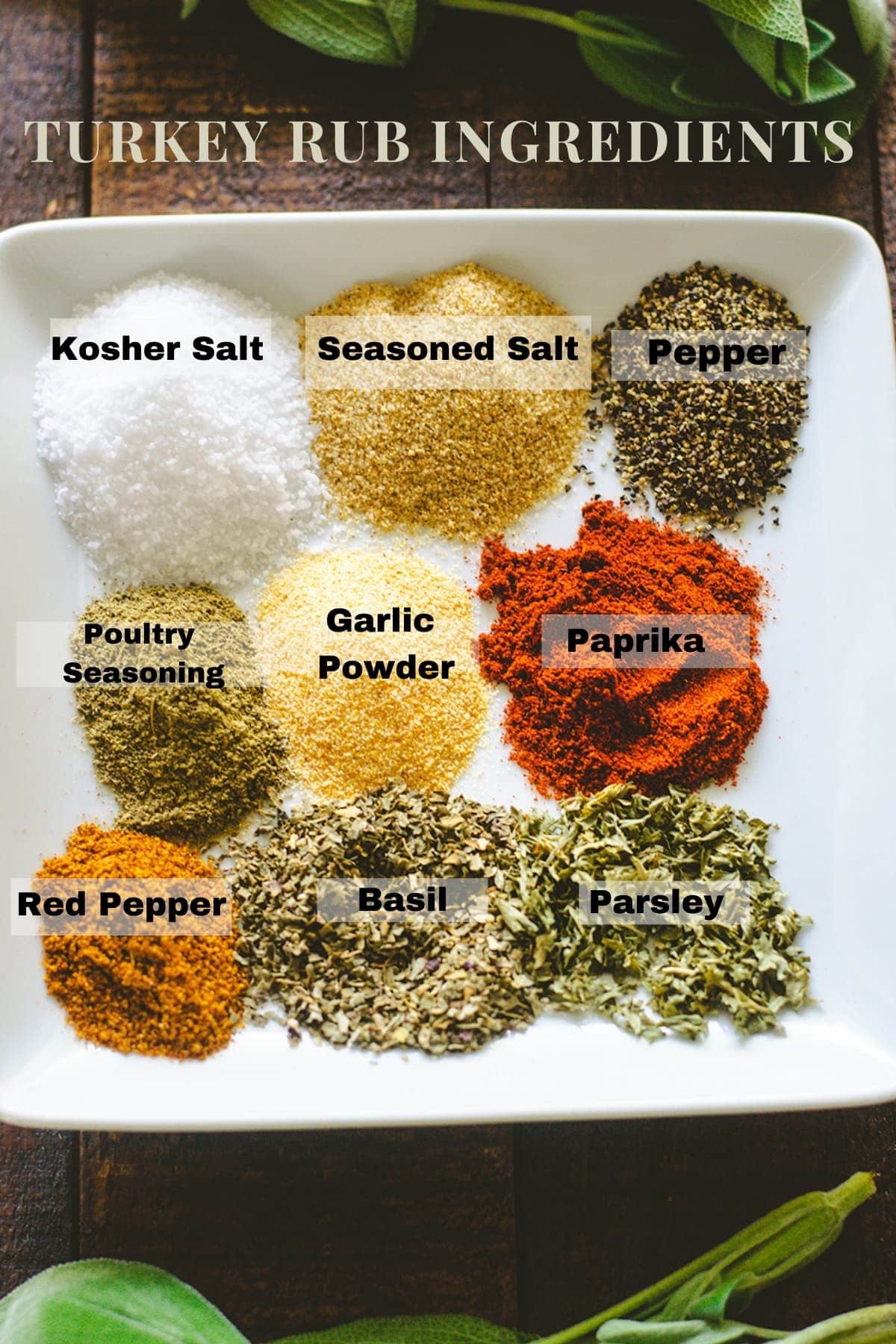 Kosher Salt
Seasoned Salt
Black Pepper
Poultry Seasoning
Garlic Powder
Sweet Paprika
Ground Red Pepper (Cayenne Pepper)
Dried Basil
Dried Parsley
Place all the ingredients in a bowl and mix together. Yes it really is that simple! So why not make your own and use those spices and herbs in your pantry!
How do you use a rub on a turkey?
This turkey seasoning can be used as a dry or wet rub on the turkey. Just make sure to pat turkey dry first with paper towels, this allows for a crispy skin. Then you are all set to proceed.
Dry Rub - Start by loosening the skin from the meat by placing fingers under the skin and gently pushing it away from the meat of the turkey. Take your hands and sprinkle the half the seasoning mixture under the skin of the turkey. Then apply the other half of the rub on top of the skin. This works great to fry a turkey or when smoking a turkey.
Wet Rub (Turkey Rub Butter) - You are going to apply as you would a dry rub except you will mix the rub with softened or melted butter. (Either way it will make a paste. The melted butter method I like to use when cooking in the slow cooker.) Next loosen the skin with your fingers and then apply the rub under the skin and spread it around evenly. Then rub remaining turkey rub butter over the outside of the skin. You may also use olive oil, but I recommend butter for better flavor and color. This works well for roasting, cooking in the slow cooker, or for an Instant Pot Turkey Breast!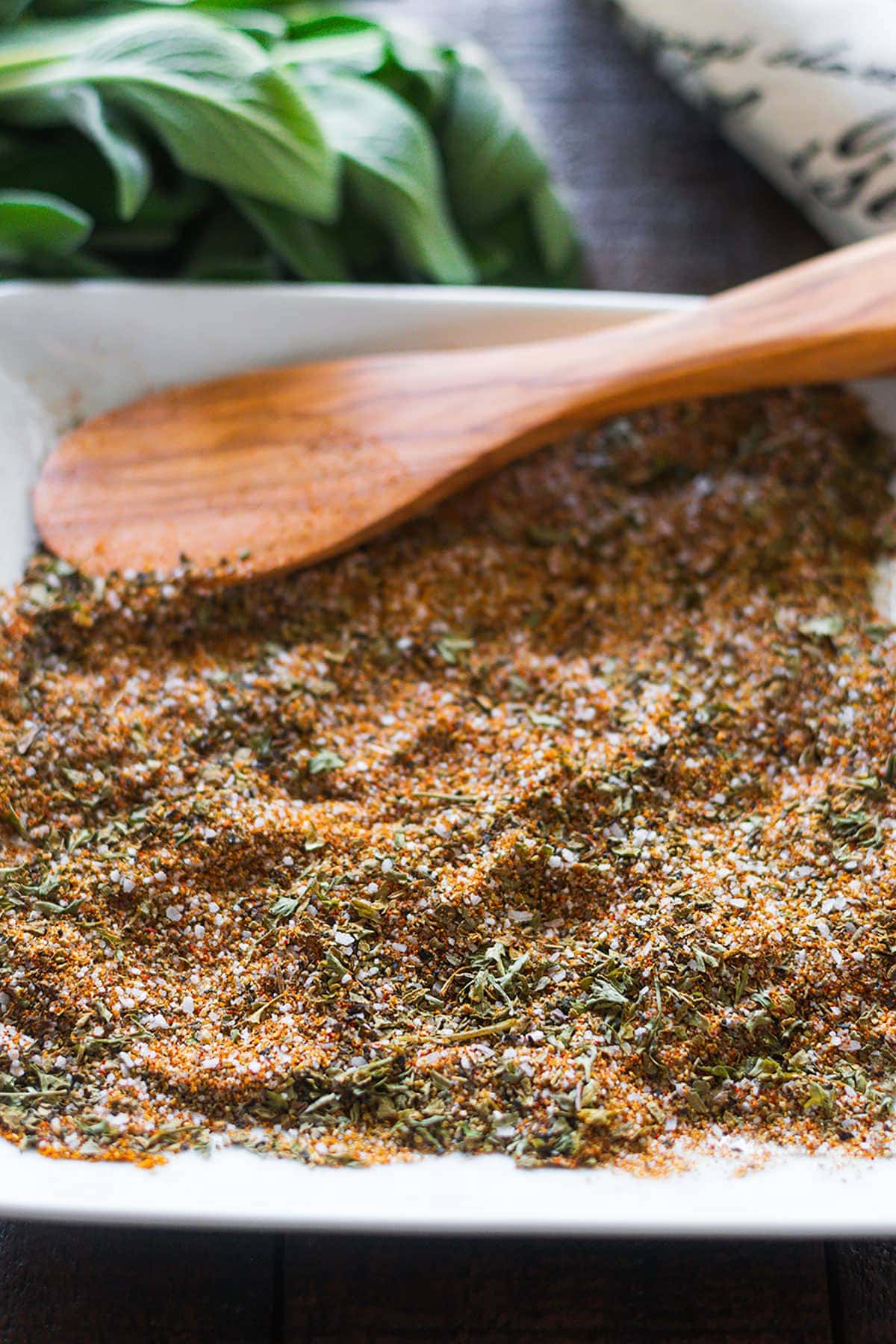 Turkey Rub Variations
While I think this is the perfect blend, there are a few things you can do to change it up or customize to your taste.
Sweetness - Try adding a little brown sugar, honey or maple syrup for a slightly sweeter flavor!
Change up the Herbs - Feel free to change them up. If you like rosemary, sage or thyme - they go great on turkey too.
Smokiness - If you want a slight smoky flavor you could use a smoked paprika, chipotle powder, or chili powder.
When I make my rub I usually double this so I can use it on chicken, pork tenderloin or beef recipes. It is a great blend for grilling too!
Can you season turkey in advance?
Yes! This will just give the turkey more flavor. The night before serving place rub on turkey, then loosely cover it with plastic wrap and store in the refrigerator. I don't recommend doing this too early maybe 12 to 15 hours or so. Definitely no more than 24 hours. There is quite a bit of salt so if it sits too long it could become too salty. Then cook as recipe your directs!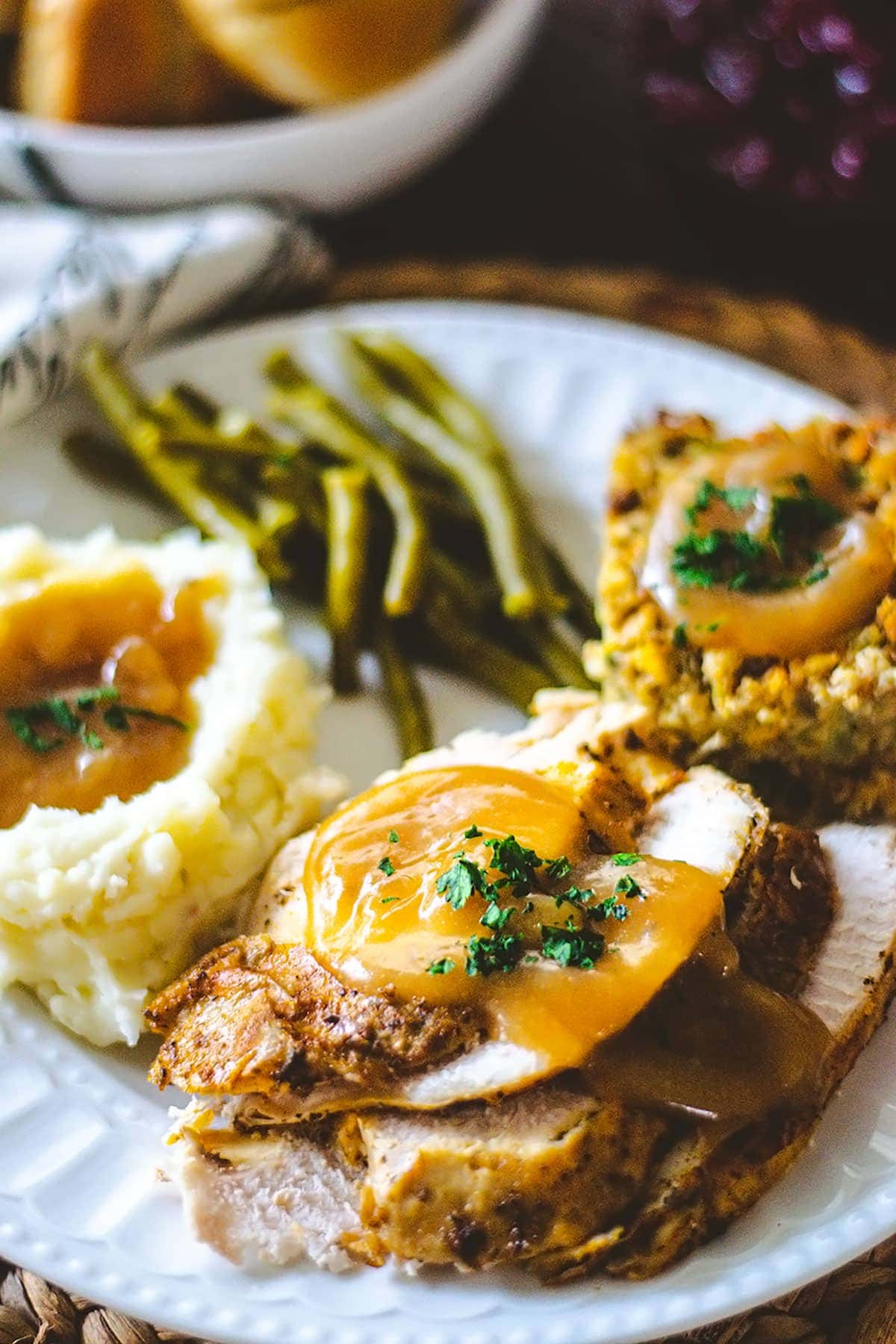 Side Dishes to go with Turkey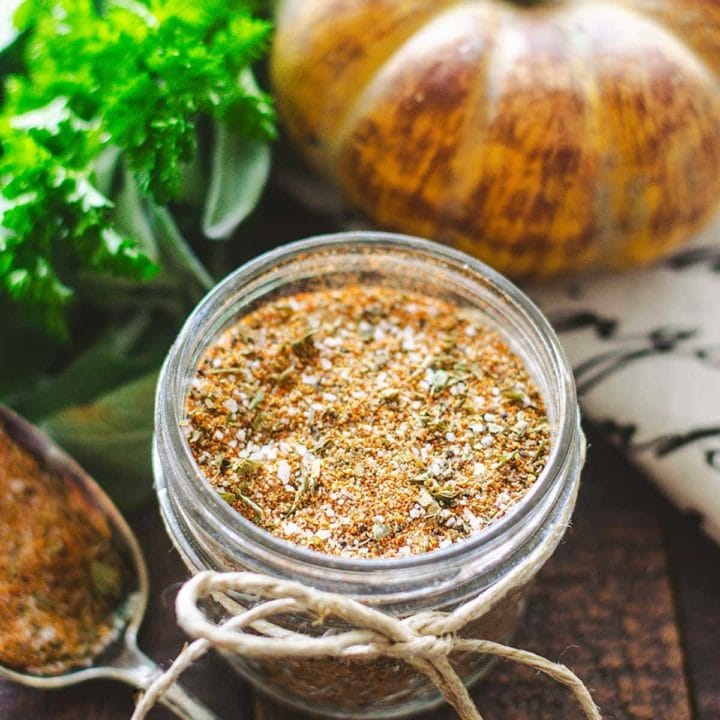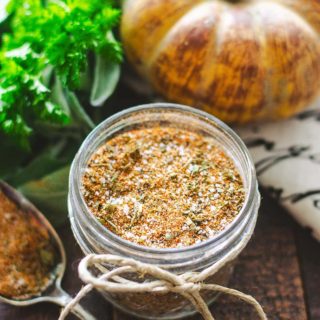 Turkey Rub Recipe
This turkey rub is a blend of savory spices and herbs to make the ultimate poultry seasoning! Homemade spice rub adds loads of flavor to your Thanksgiving turkey, while also delicious on chicken, beef, and Pork! Makes enough for a 12 pound turkey.
Ingredients
1

Tablespoon

kosher salt

2

teaspoons

seasoned salt

1

teaspoon

ground pepper

1

teaspoon

poultry seasoning

1

teaspoon

garlic powder

1

teaspoon

paprika

1

teaspoon

red pepper

,

optional or to taste

1

teaspoon

dried basil

1

teaspoon

dried parsley
Instructions
Combine all ingredients in a small bowl.

Rub ingredients under skin and all around turkey as a dry rub or wet rub (turkey rub butter) with softened or melted butter.

Prepare as desired. This will be enough seasoning for a 12 - 14 pound turkey.
✱ Nikki's Tips
Store in an airtight container or mason jar. Double recipe and use for turkey, chicken, pork, or beef.
Nutrition
Serving:
1
1 serving
Calories:
3
kcal
Carbohydrates:
1
g
Sodium:
783
mg
Nutrition Disclaimer
Soulfully Made is not a dietician or nutritionist, and any nutritional information shared is only an estimate. We recommend running the ingredients through an online nutritional calculator if you need to verify any information.