White Chocolate Caramel Pumpkin Spice Cookies - filled with pumpkin spice, creamy chunks of white chocolate and chewy caramel bits. The perfect bite of fall! Enjoy this delicious pumpkin cookie as is or with a decadent white chocolate buttercream filling!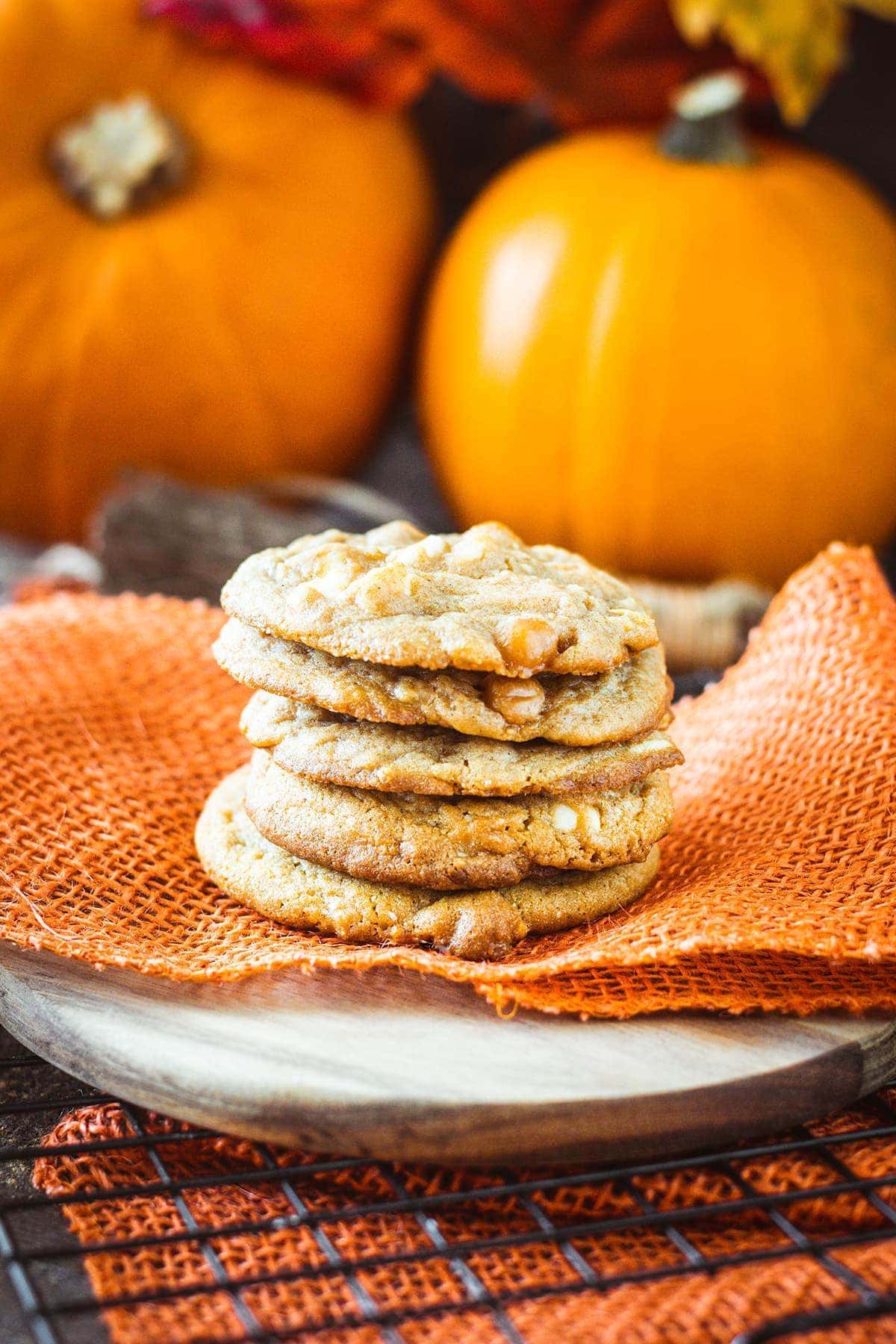 If you have been around the blog for anytime you know how important sharing recipes are to me. I believe recipes and the food we create and share are tied to tons of wonderful memories. And this definitely if one of those.
This pumpkin cookie recipe comes from my sweet friend Becky Stillwell. Thank you so much for sharing this recipe with me!
My memories with Becky began when our kiddos were little and we took our kids to a playgroup I will always cherish .... Oh what I would do to have just one of those days back again. We are both now in that empty nester's stage. And.... now I am a brand new grandmother (aka "Kiki") and the pitter patter of little feet will fill the house again. Pinch me I still cannot believe it!
These days I keep up with Becky all the way in up North Carolina. As I am sure many of you do with cherished friends and family. She and I love recipes, baking and family. I am very thankful for social media keeping us all connected.
Becky, THANK YOU again! I know everyone that makes these will thank you as well for sharing this sweet recipe with us!
And I hope all of you will try this one and make memories built around a yummy cookie with your loved ones!
Ingredients for White Chocolate Pumpkin Spice Cookie Batter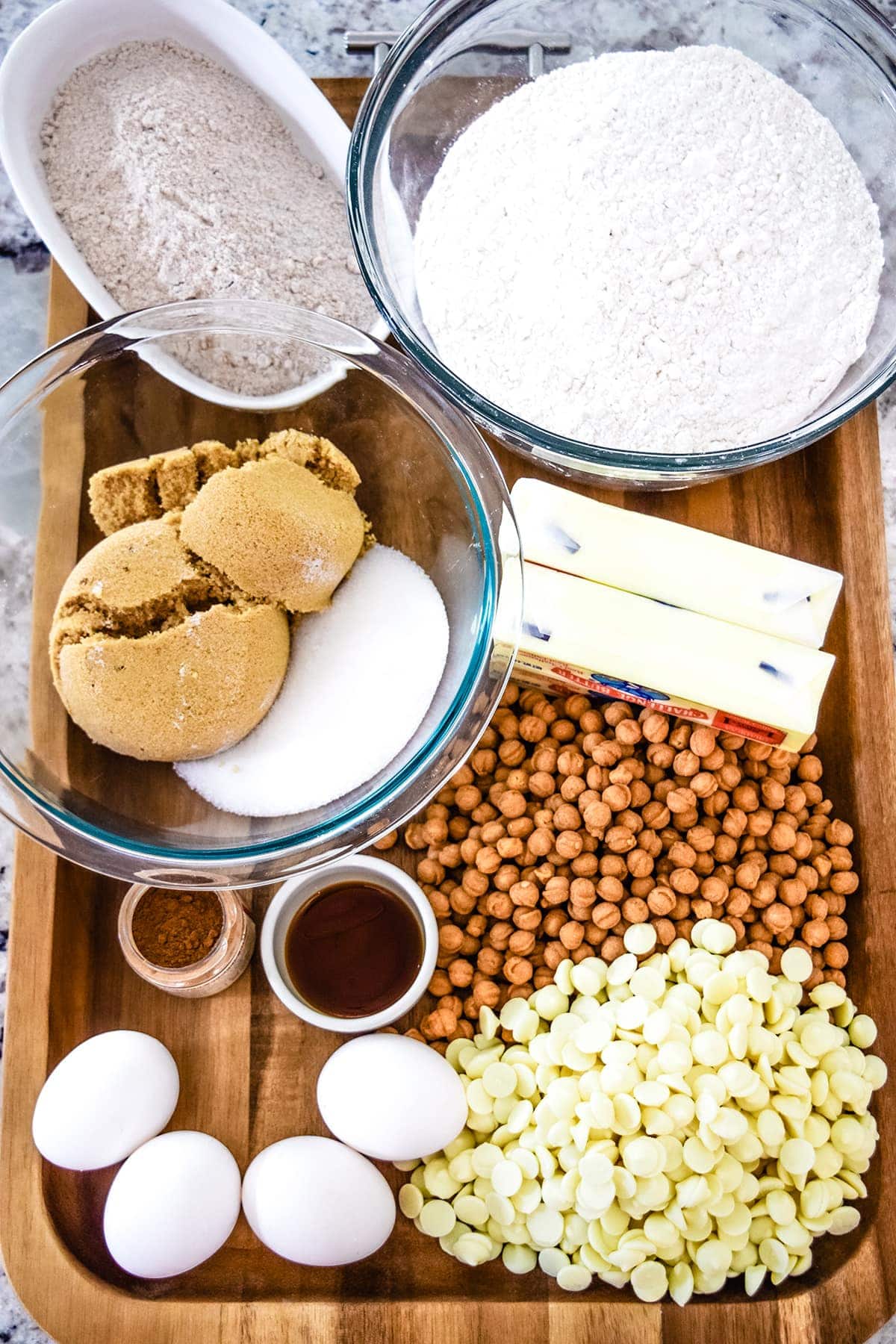 Pumpkin Spice pudding Mix
All-purpose flour
Brown sugar
Granulated sugar
Baking soda
Vanilla extract
Large eggs
Butter, softened
White chocolate chips
Caramel bits

Ingredients for White Chocolate Buttercream Icing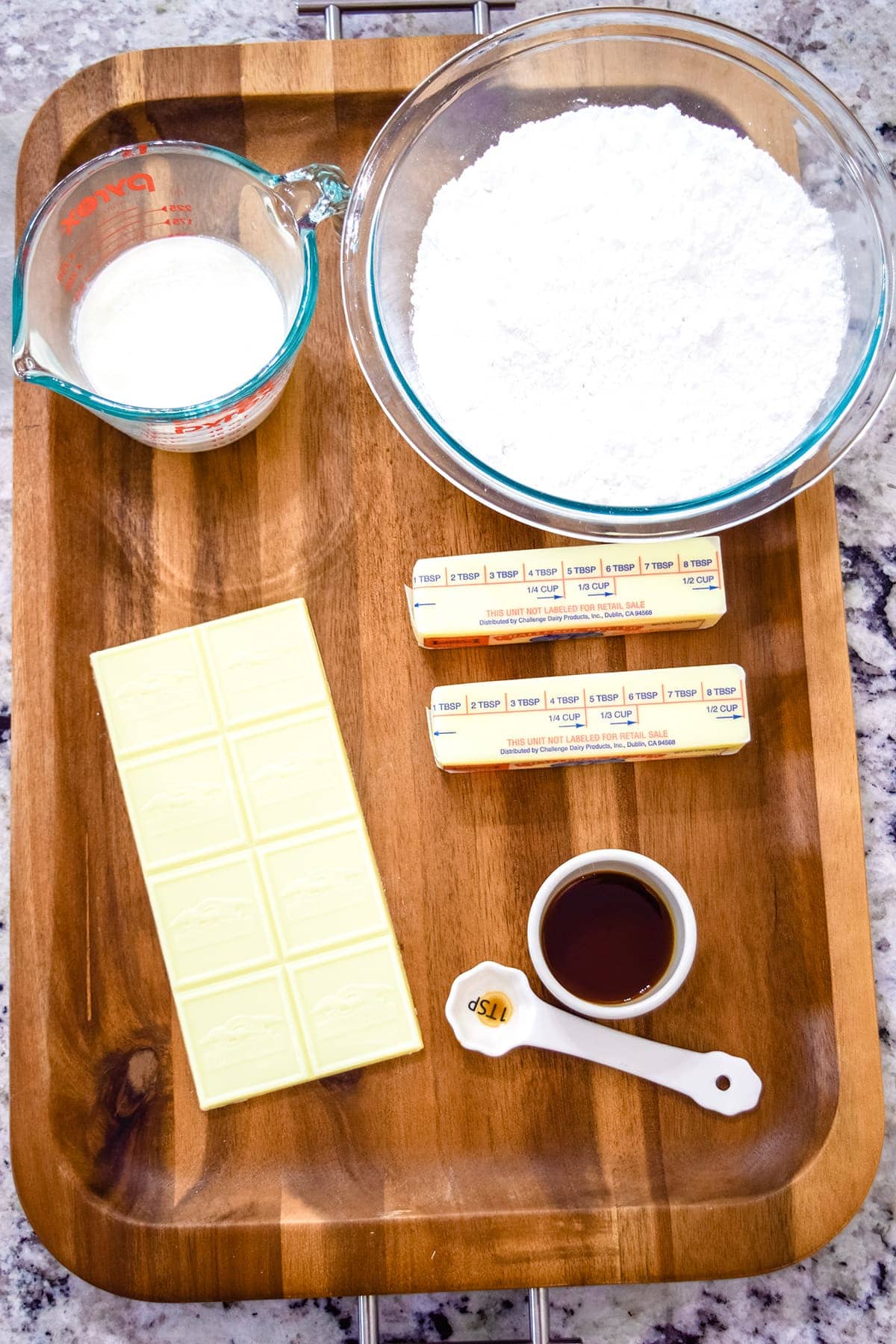 Butter
White Chocolate
Vanilla
Powdered Sugar
Sea Salt (optional)
Heavy Whipping Cream
How to make the best pumpkin spice cookies
These pumpkin cookies are packed full of yummy decadence. The creamy white chocolate and the chewy caramel compliments the pumpkin spice and melds together quite nicely.
Preheat oven to 350°F and line baking sheets with parchment paper.
Sift together flour and baking soda and set aside.
Cream butter and sugar until fluffy.
Add in dry pudding mix and mix until combined.
Next add in eggs until each is incorporated and then add in vanilla and combine.
Gradually add in dry flour mixture.
Fold in white chocolate chips and caramel chips.
If time allows, cover and refrigerate dough for 1 hour or overnight. If time does not allow you can bake immediately and cookies are still terrific.
Drop the dough, using a small cookie scoop (about 1 ½ tablespoons), onto parchment lined baking sheets about 2-inches apart. This will be 12 cookies to a baking sheet.
Bake at 350° for about 8 - 10 minutes.
Cool on baking sheet for 5 minutes and then transfer cookie to cooling rack.
Honestly these White Chocolate Caramel Pumpkin Spice Cookies are so delicious on their own. I love them just as they are! They have a soft gooey white chocolate center with chewy bites of caramel throughout. YUM!
Now, if you are looking for a very rich and indulgent cookie or just love the look and taste of an iced cookie, make this White Chocolate Buttercream Icing. Top them off with icing or spoon/ pipe in the middle of two cookies for a Pumpkin Spice Whoopie Pie that is extra special.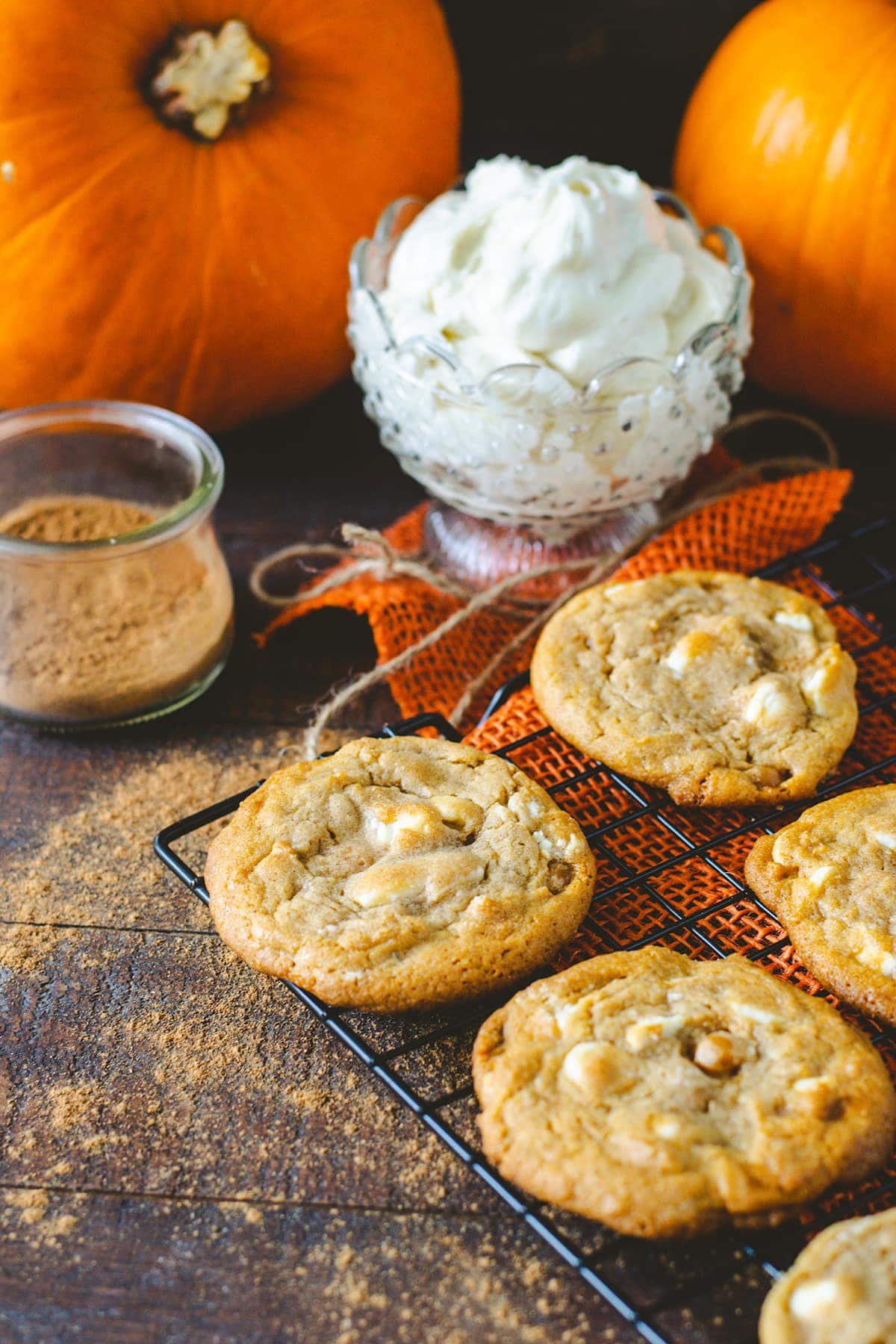 How to make White Chocolate Buttercream Icing
Cream together butter and vanilla.
Gently pour melted white chocolate and beat until combined.
Turn mixer to low and gradually add in powdered sugar and salt (if using), until combined.
Add in whipping cream, then add in more powdered sugar if needed to get the consistency you like.
Top cookies with icing or spoon / pipe in between two cookies to make a sandwich or pumpkin spice whoopie pie cookie!
How do you know when these cookies are done baking?
These cookies do not take long to bake. Make sure to keep an eye on them, as ovens vary. They take about 8 to 10 minutes to bake a normal sized cookie (I find 9 minutes to be perfect) and up to 12 minutes if you choose to make a larger cookie.
Look for the edges of the cookies to just start to set. The edges will be slightly brown, while the center of the cookie will be soft.
They will also continue to bake once they are removed from the oven and will harden as they cool.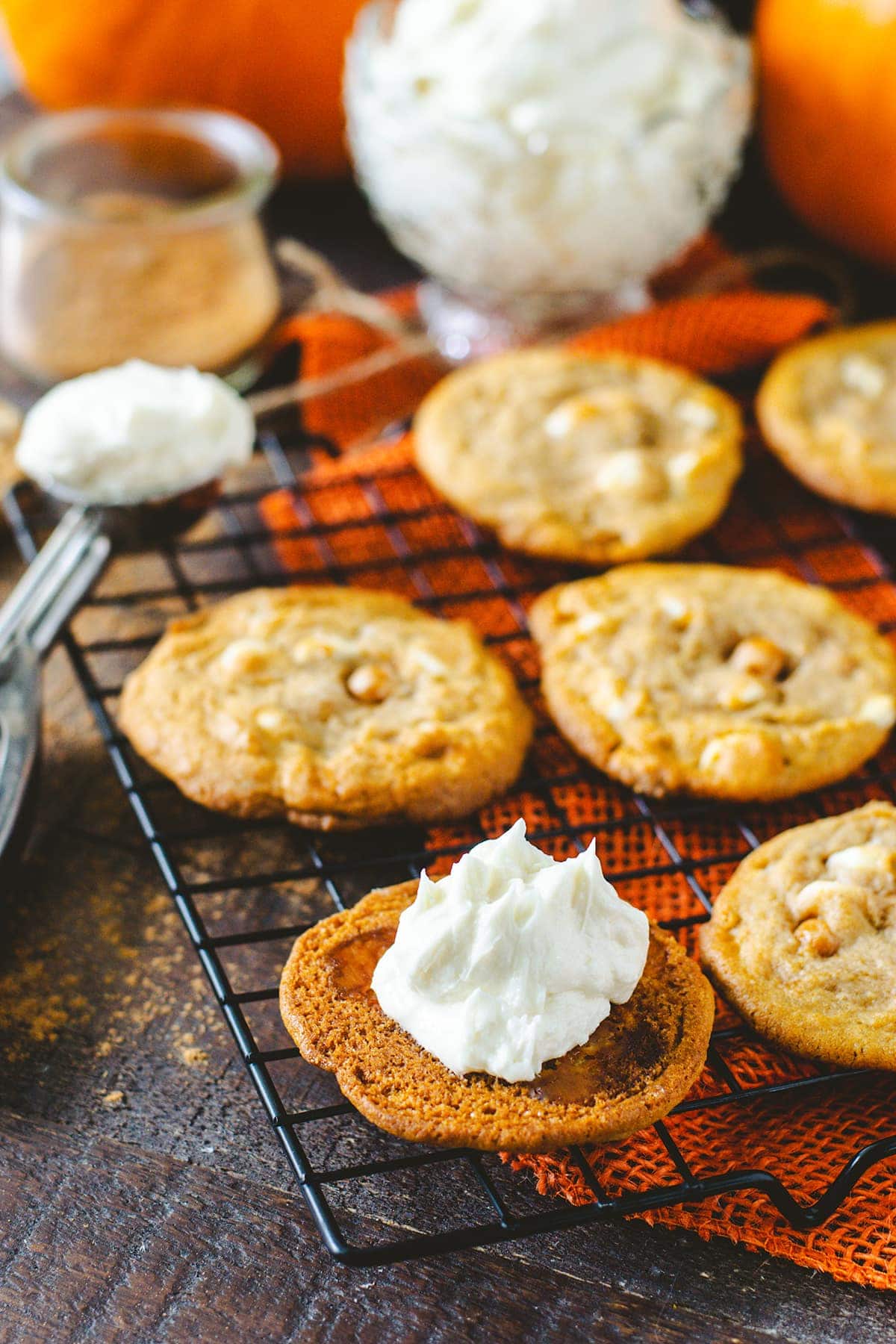 How can I adapt these cookies
If you want just a pumpkin spice cookie, feel free to leave out the white chocolate chips and caramel bits.
Add in chocolate chips and a half a cup of nuts instead - pecans or walnuts are delicious options.
Try different extracts or liquors - switch the vanilla with a little bourbon or rum extract in the batter.
Add in extra cinnamon. Another ½ or teaspoon for more of a pumpkin snickerdoodle cookie flavor.
What can I do if I cannot find Pumpkin Spice Pudding Mix
I often have difficulty finding pumpkin spice pudding mix, so I experimented and a vanilla pudding mix and 1½ to 2 teaspoons per box works just as well. So for this recipe you will need 2 - 3.4 ounce boxes of vanilla instant pudding and 3 to 4 teaspoons of pumpkin pie spice. Three teaspoons give it a slightly more subtle flavor, while 4 is a little more robust (or add as much as you like - you pumpkin spice lovers, I know you are out there 😉 )!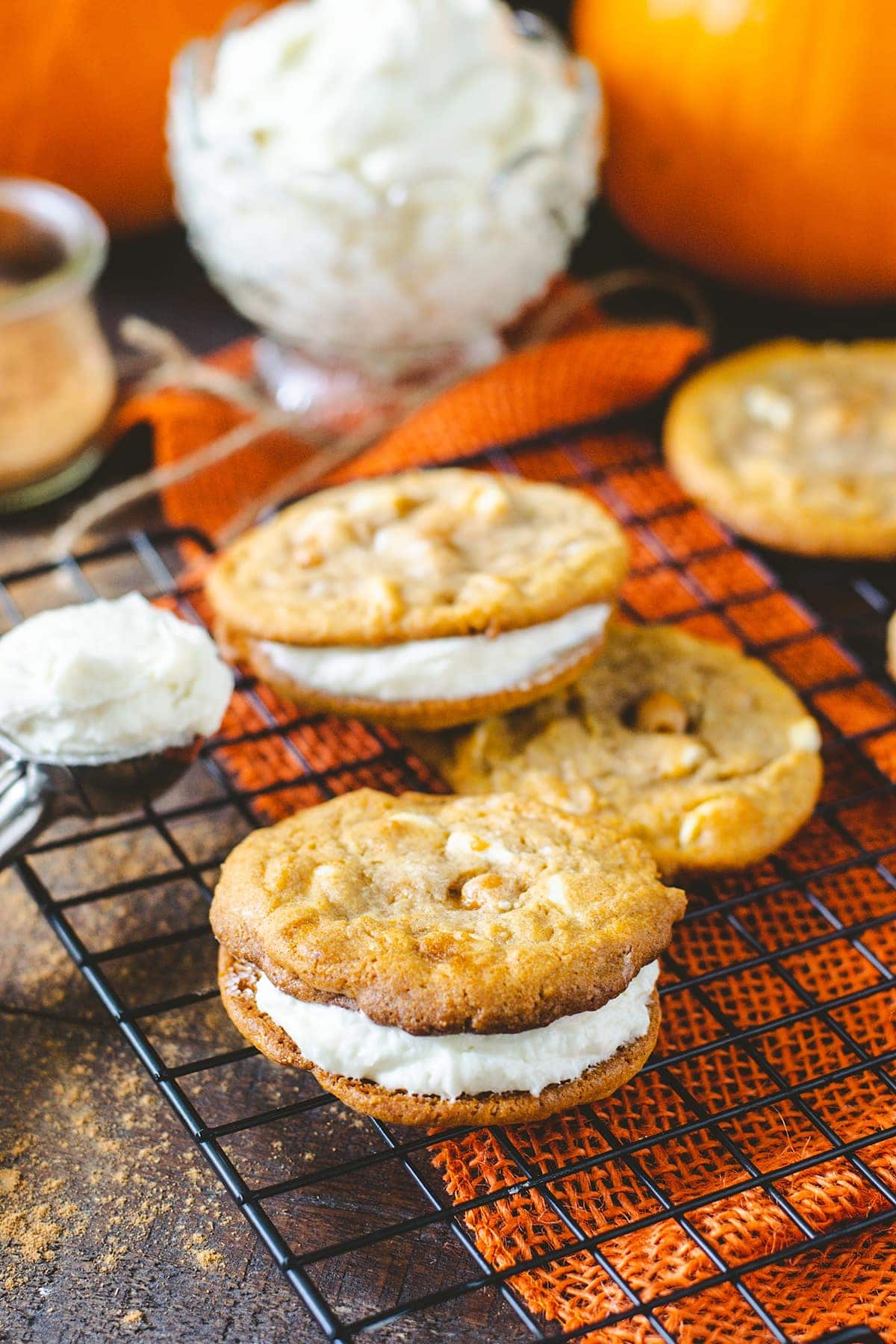 How to decorate White Chocolate Caramel Pumpkin Cookies
Ice the top of the cookie for a classic look.
If icing the top you can jazz it up by sprinkling on something pretty - like pumpkin pie spice, fall sprinkles, or some orange sanding sugar.
Drizzle the cookie with caramel and top with flaky sea salt. You could even do this on top of the icing too!
Place a candy pumpkin on top.
Make them Whoopie Pies by filling two cookies with the buttercream. You could roll them in nuts or sprinkles to give them something a little extra.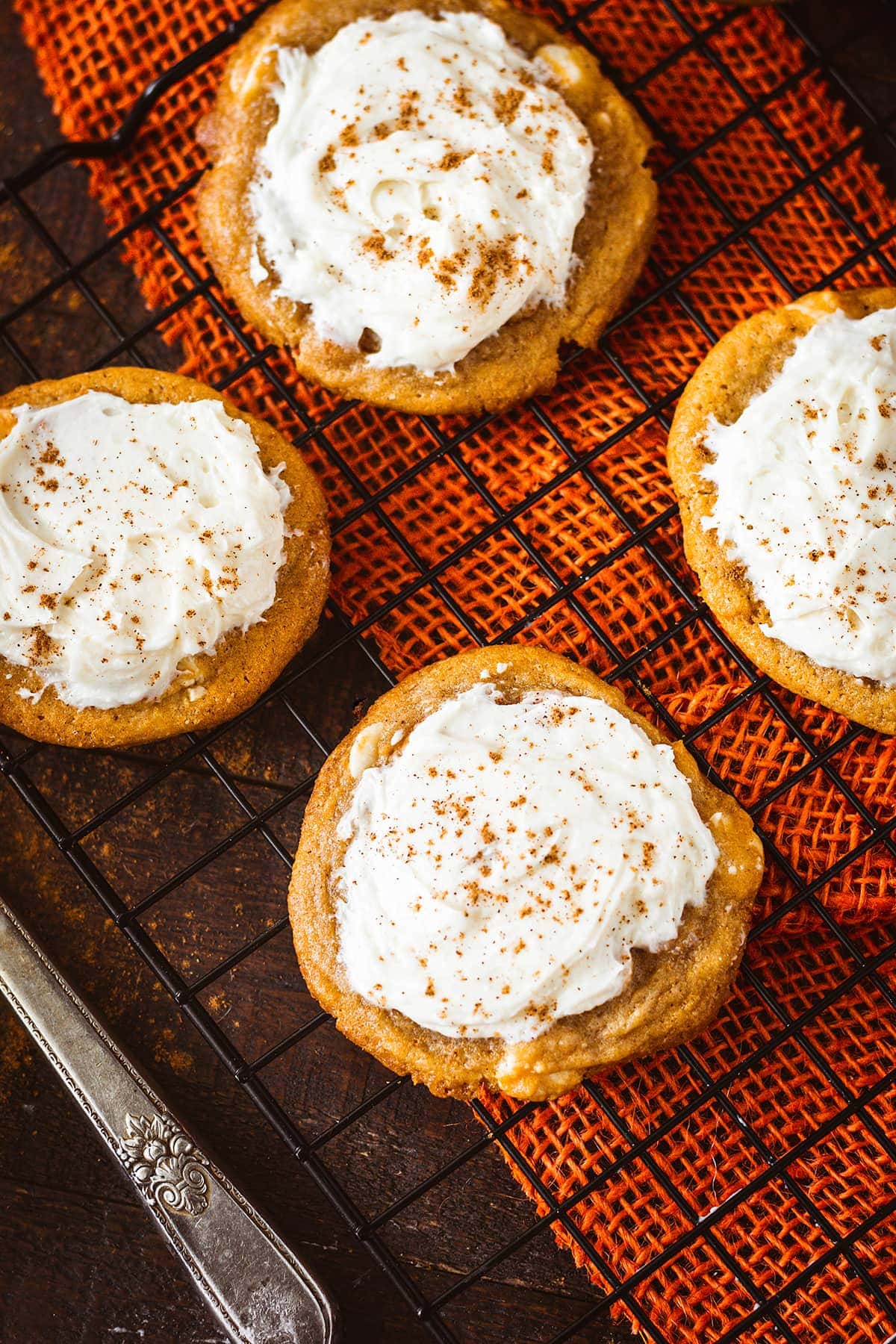 Why is this the best Pumpkin Spice Cookie?
This recipes makes a batch of 6 dozen cookies that is 72 cookies and it's perfect for a crowd. If you are making whoopie pie cookies you will get 3 dozen.
It's plenty to share for your holiday festivities.
Brown sugar is added to give a richer cookie with depth of flavor.
The dough does not have to be rested (I like to when I can), but you can make the cookies in 30 minutes.
They are so versatile. You can enjoy them plain, iced, as a sandwich cookie or decorated with festive colors.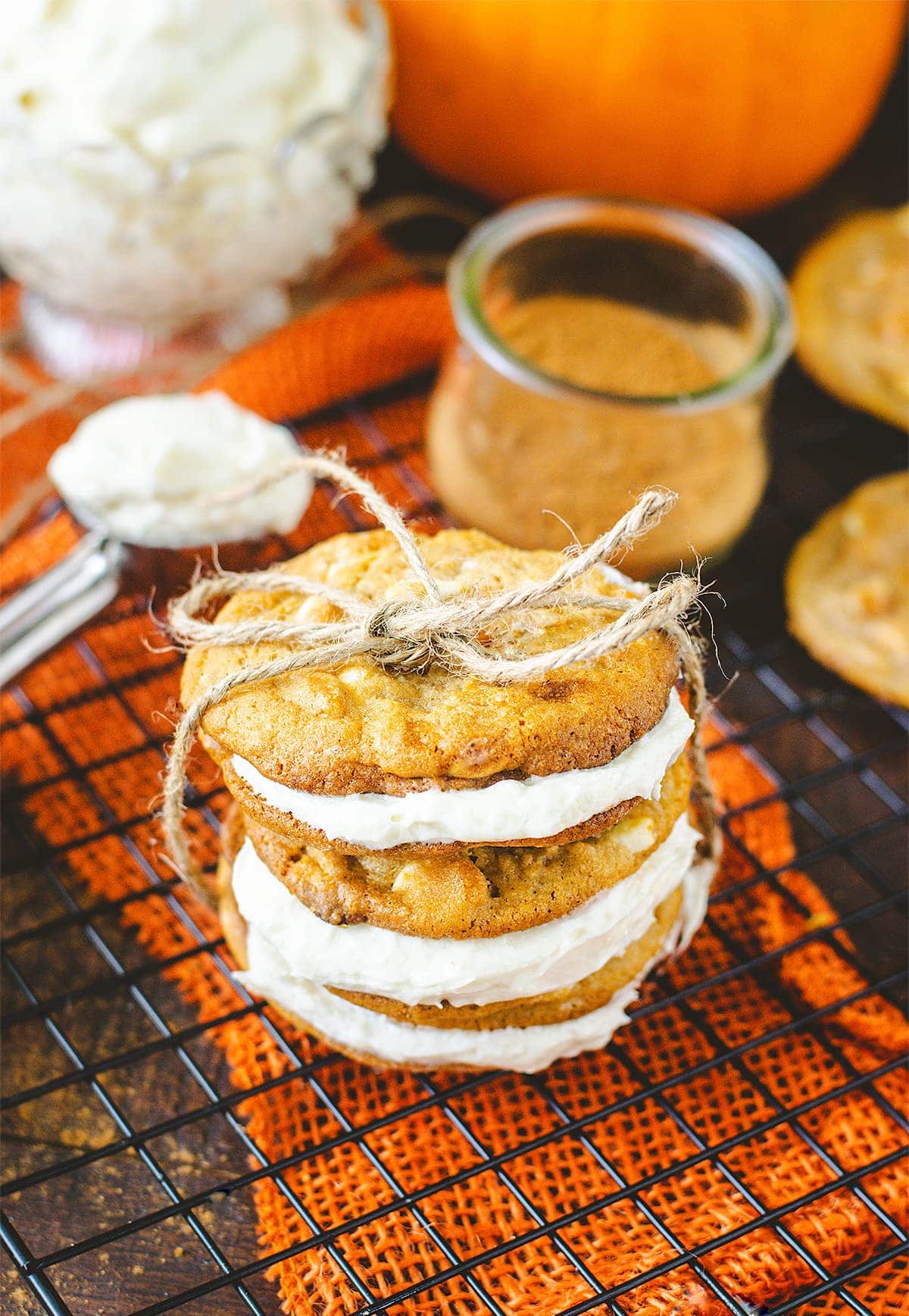 Top Tips
If time allows, cover the dough and let refrigerate for 1 hour or overnight. If you don't have time that is okay, they turn out great even without it.
If you cannot find sea salt for the icing, you can skip it or use kosher salt.
Make sure to let cookies cool a few minutes before moving them. This will keep them from breaking.
Don't skip lining the cookie pan with parchment paper or a silicone mat.
How to store cookies
Store non iced cookies in an airtight container or gallon baggy at room temperature for up to 1 week.
Iced cookies can be placed in an airtight container in layers with wax paper in between. Store in refrigerator for up to 1 week. Allow to come to room temperature to enjoy as the caramels will harden in the fridge.
You can also individually wrap the cookies and store in refrigerator or freezer.
Can I make pumpkin spice cookies ahead of time?
Yes! You can make the dough 1 to 3 days ahead of time, cover and refrigerate. Remove a few minutes ahead before baking.

How to freeze cookie dough or baked cookies
Freeze Cookie Dough - scoop out cookie dough onto a parchment or wax paper lined baking sheet spaced far enough apart so not touching. Freeze scooped dough for about 30 minutes until hard. Then place frozen cookie dough in an airtight freezer bag, remove as much air as possible and freeze for up to 3 months.
If baking from frozen - you can thaw in refrigerator overnight, or place on parchment lined cookie sheet and thaw 15 minutes before baking. If you want to cook from frozen it will take a few extra minutes. Just keep an eye out!
Freeze baked cookies after completely cooled in a freezer safe Ziploc bag for up to 1 month. Let thaw and enjoy.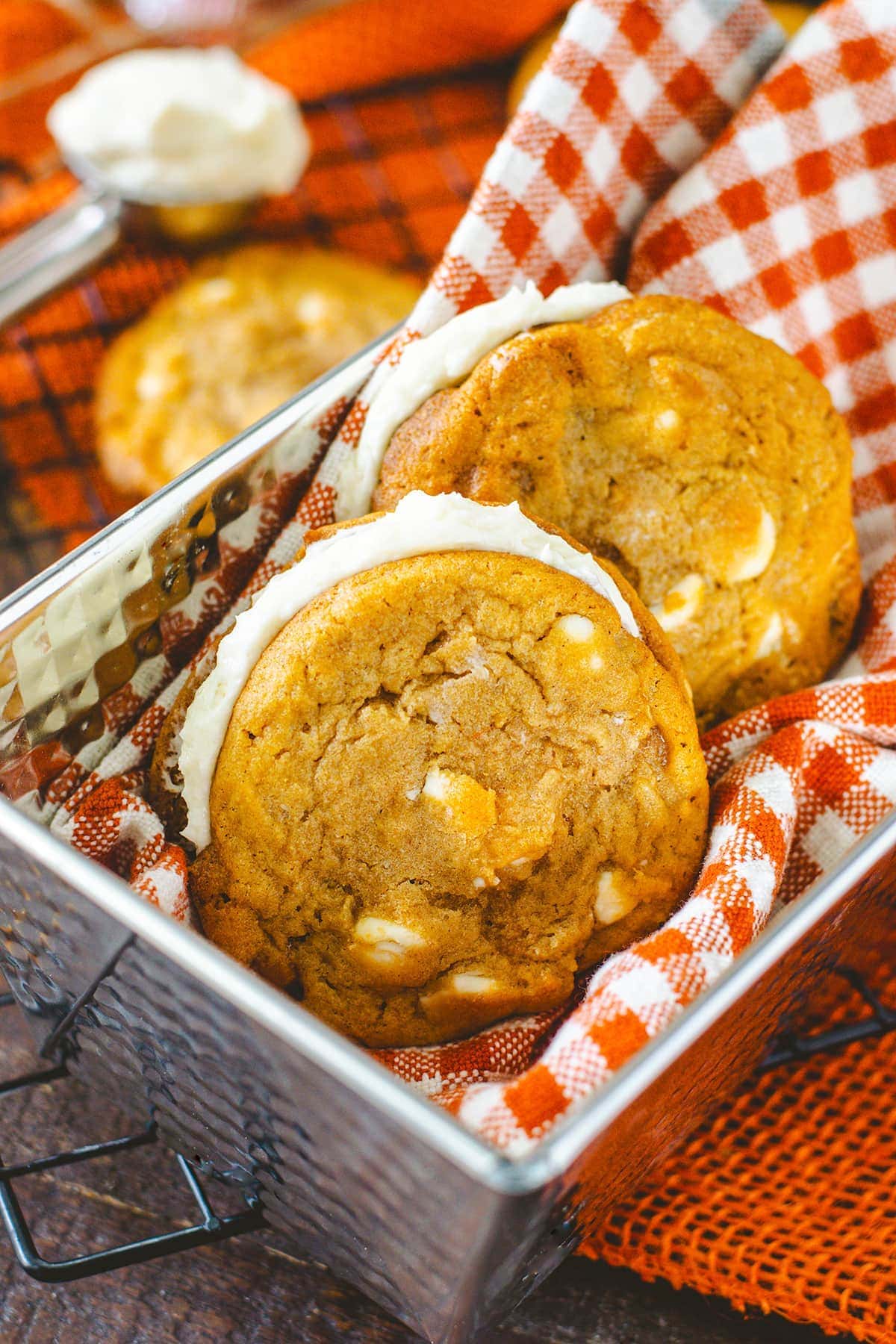 More Fall Flavored Sweets to enjoy
LOVE SOUTHERN INSPIRED DISHES COME FOLLOW ALONG!
Facebook | Instagram | Pinterest | Twitter
If you share a picture of something you make from our blog, tag it with #SoulfullyMade so we can see it. We might feature it on Instagram!
If you loved this recipe please make sure to give it 5 Stars!