This Red White & Blue Brownie Sundae is a mix of a classic brownie sundae sprinkled with Red, White and Blue novelties = A Perfect Treat for your Family and Friends for your Patriotic Party.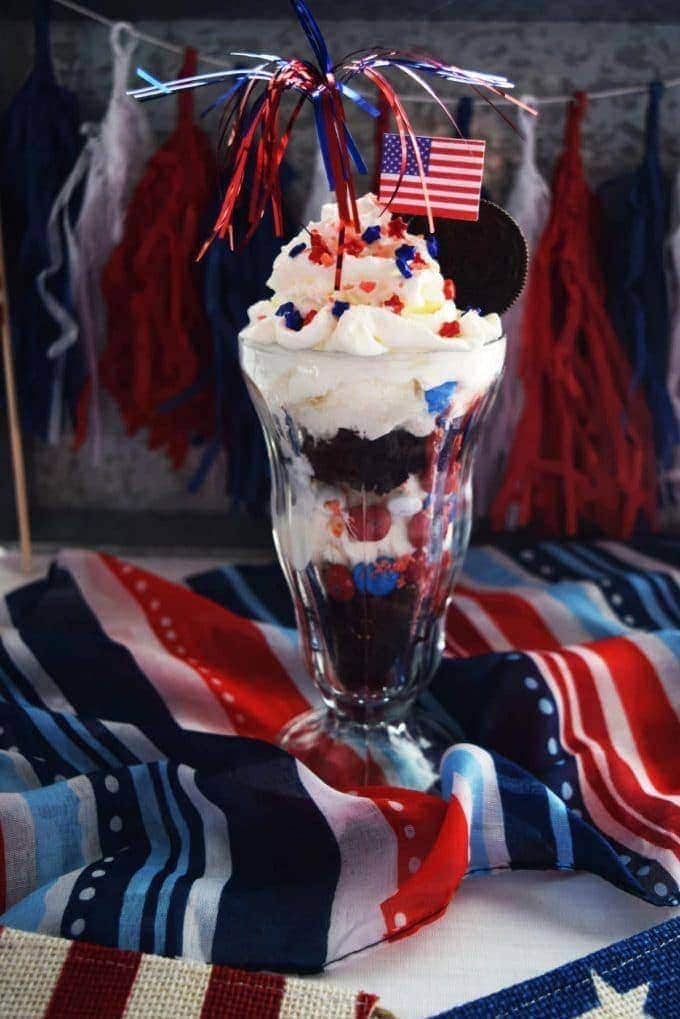 This dessert is easy to throw together. In fact everything can be picked up at the store and you do not have to cook a thing! I did make a boxed brownie mix, so I didn't feel too guilty ya'll. Not sure why - lol! But it would be A-OKAY to buy them.
Do you like FUDGY or CAKEY Brownies?? I've never met a brownie I didn't like - but my vote is fudgy!
Did ya notice the hot fudge in this one was left out!! That's because my brownies are extra fudgy and I under cooked them just a bit on purpose. But, hot fudge is always a good idea, don't ya think??
HOW TO MAKE RED WHITE & BLUE BROWNIE SUNDAE
You will need:
Brownies
Ice Cream
Hot Fudge
Whipped Cream
Red Pop Rocks
Patriotic Sprinkles
Red, White & Blue M&M's
Garnish with Paper Flags & Cupcake Streamers, Oreo Cookies, Hot Fudge or any of your Favorite Topping
Make a homemade or boxed brownie mix; or buy pre-made brownies at your grocery store bakery. Cut brownies into pieces that will fit into your container. Scoop in Ice Cream, M&M's, Pop Rocks and layer until glass is almost full. Add on Whipped Cream and Sprinkles. Then top with Patriotic Cupcake Toppers and an Oreo for Good Measure. This one is the Firecracker ones they have out!! Can you say YUM!!!!
Tip: Ya'll add all your favorites in this to make it extra specially delicious!!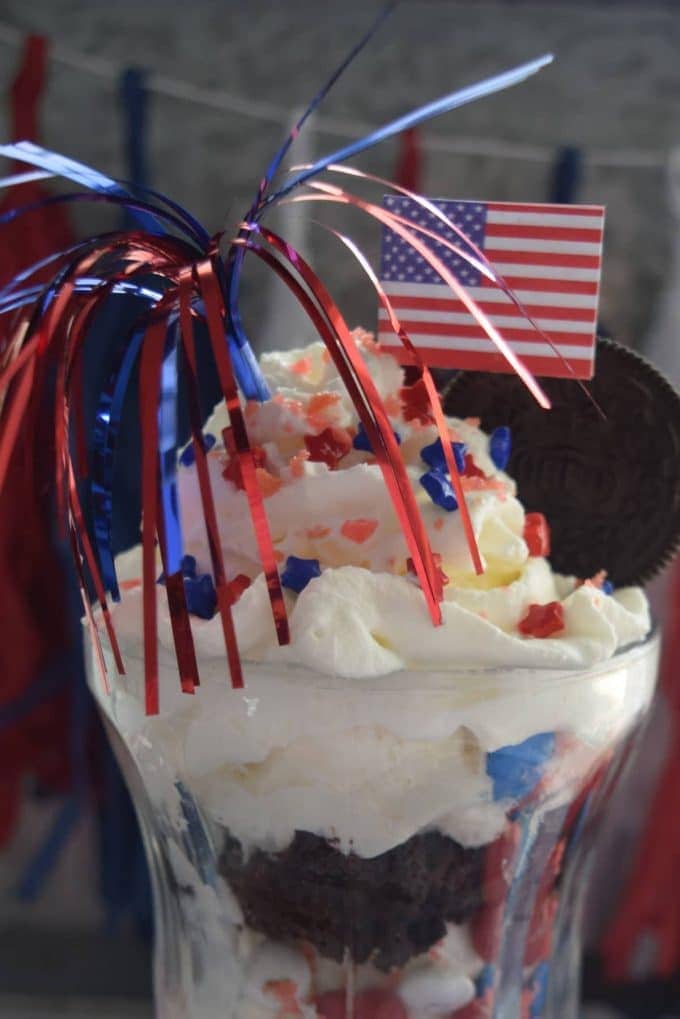 Desserts can be Easy Peasy and Delicious Too!
Come join in all the fun and let's be social friends!
Facebook | Instagram | Pinterest | Twitter | Google +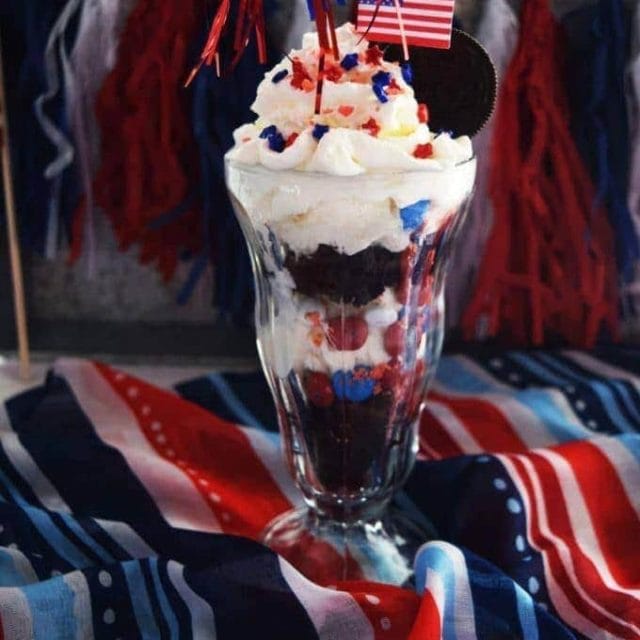 Red White & Blue Brownie Sundae
Ingredients
Brownies

Ice Cream

Red

,

White and Blue M&M's

Patriotic Sprinkles

Red Pop Rocks

Whipped Cream

Firecracker Oreos

Cupcake Toppers
Instructions
Layer Brownie, Ice Cream, M&M's, Red Pop Rocks into as many layers as glass permits. Top with Whipped Cream and sprinkles. Garnish with cupcake toppers and a Firecracker Oreo.
Nutrition
Pin It Here:

The Celebration doesn't end here! I am joining some of my favorite link parties at Weekend Potluck and Meal Plan Monday! Head over and check them out!