Homemade Air Fryer Texas Toast Garlic Bread is made with softened butter, minced garlic, and parsley spread onto thick slices of Texas Toast. This super easy recipe gives you freshly baked garlic bread hot out of the air fryer in just a few minutes!
Who doesn't love the smell of bread baking? That aroma sure gets me every time! Whether is sweet banana bread or savory crusty cheesy green chile bread! This homemade garlic bread is no exception! And you don't even have to heat up the oven!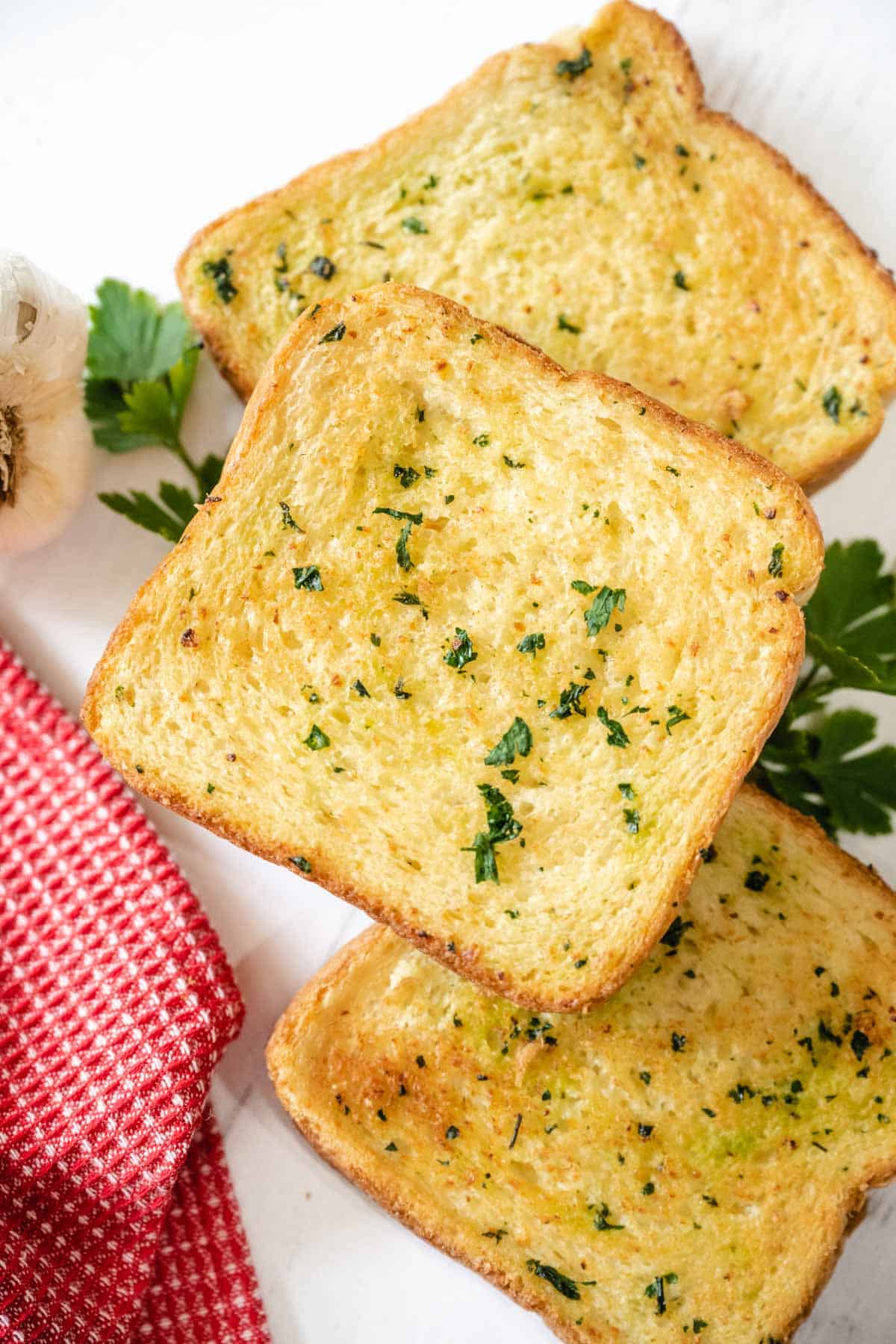 Why you'll love this air fryer garlic bread recipe!
Easy Air Fryer Recipe: This one is so easy even the kids can help.
Fresh Garlic Bread is ready in minutes! 2-minute prep and each batch cooks in 5 minutes.
Versatile: Easy way to use up those thick slices of bread! Use Texas toast, white bread, or any crusty bread you need to use up.
I have to say garlic bread is one of my most favorite things in the whole entire world! What about you? I say it has to be "the" great side of all times! In all honestly, I could you make a meal on this stuff - no judgment, please!
It's quick and easy and ready for dinner in no time! Here's what you will need to get started.
Ingredient Notes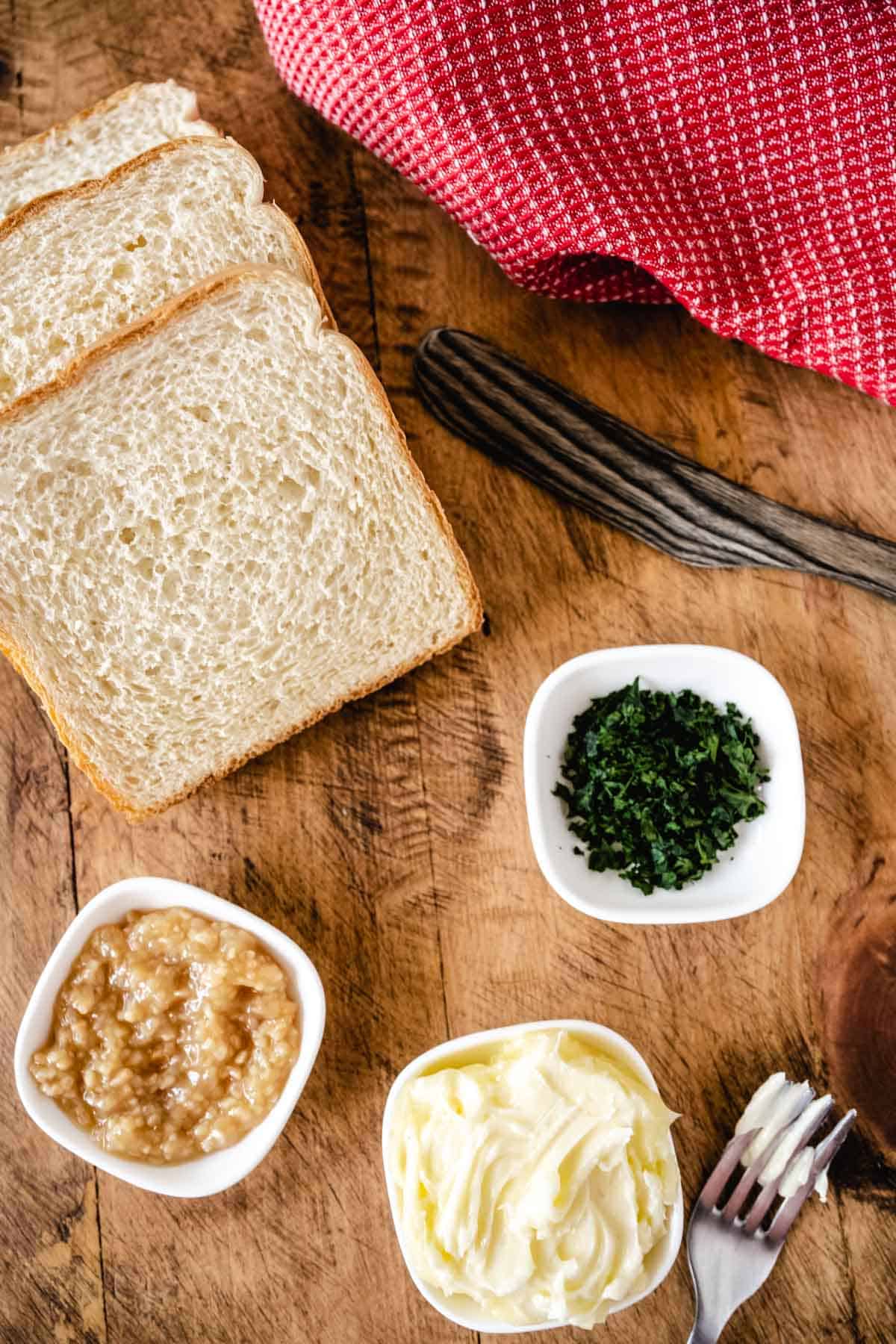 How to Make Homemade Air Fryer Texas Toast Garlic Bread
✱ Be sure to see the recipe card below for exact ingredients and instructions!
Step 1 | Prep
Set butter out for at least 30 minutes to an hour before making your bread. You can actually do this the night before as well.
Preheat the air fryer to 350°F. This will depend on the model you have. I usually let mine heat for a couple of minutes.
Step 2 | Make the Garlic Butter Mixture
Using a fork, stir together while lightly pressing the minced garlic and parsley into the softened butter.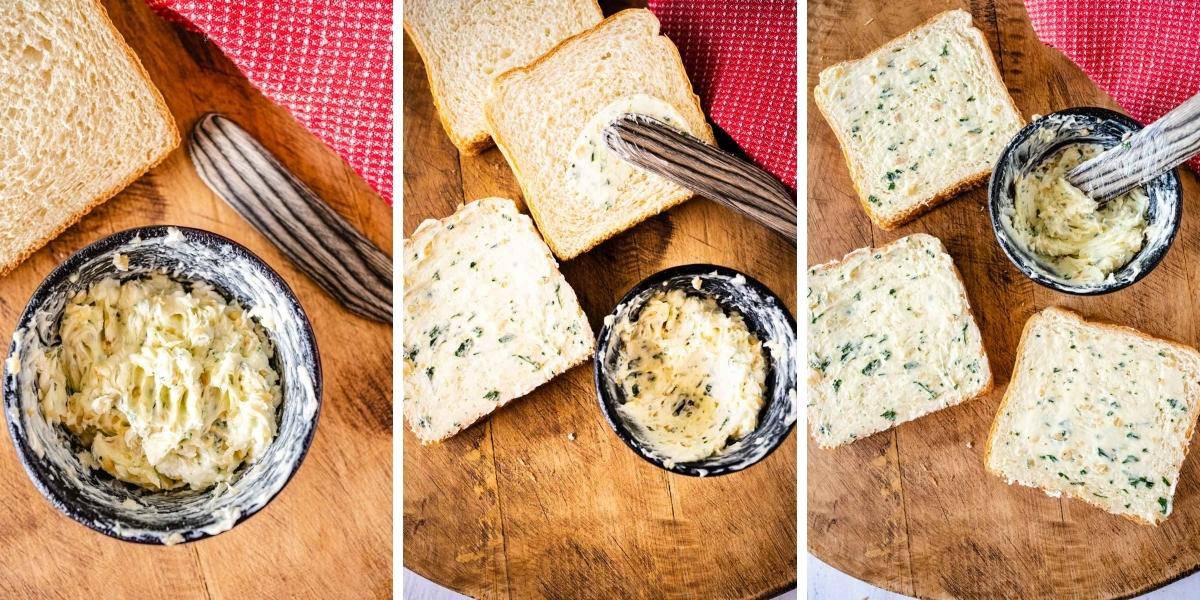 Step 3 | Spread Garlic Butter on Texas Toast
With a butter knife evenly spread the garlic butter on both sides of each slice of Texas Toast.
TIP: If you want to use up your regular sandwich bread you can just reduce the cook time by about 1 to 2 minutes. For the best results, I recommend using Texas Toast, but sometimes you just need to finish off that loaf of bread or that may be all you have at home (it is totally okay)!
Step 4 | Air Fry
Place 2 garlic bread slices (or as many as will fit in the air fryer - while leaving room for air to circulate) in the basket of the air fryer and cook until bread is golden and crispy.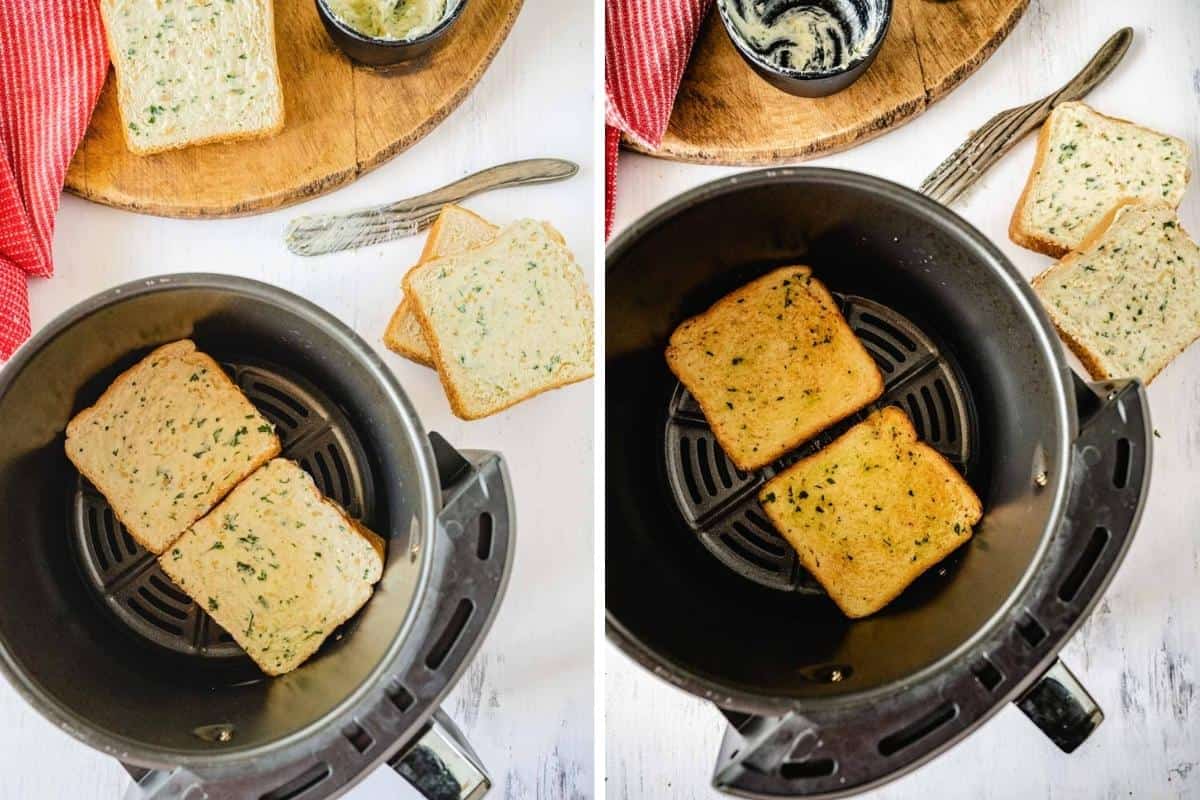 Tips
Spread the butter over the entire surface of the bread.
If you do not have fresh garlic, you can substitute jarred minced garlic from your produce section or garlic powder.
Air fryers vary greatly from brand to brand, so the cooking time may vary as well. Your preference for doneness may also affect cook time. Keep an eye on the first batch you make, so you can make adjustments as needed.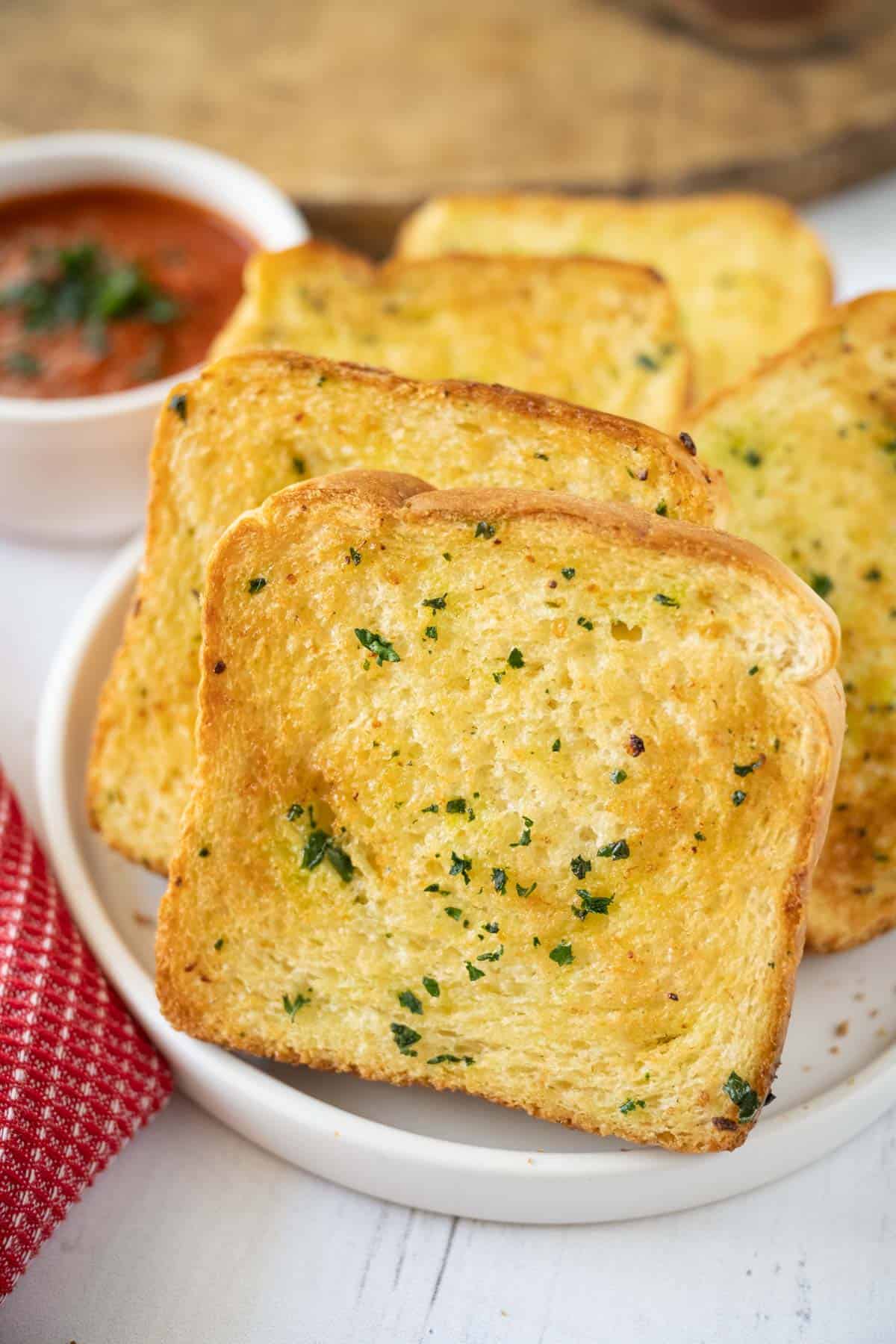 Frequently Asked Questions
How do you make air fryer texas toast from the freezer section?
Preheat your air fryer to 350° F, place it in the air fryer basket and cook the toast for 2-3 minutes. Then, flip the garlic bread over and continue to cook for an additional 3-5 minutes.
For Texas Cheese Toast - Cook cheese side up for about 6-10 minutes. Be sure to cook until the toast is warmed through, crispy on the bottom, and the cheese topping is melted and golden brown.
* The cooking time will vary based on which air fryer you choose and how many slices or tightly you pack them in the air fryer.
How do you convert fresh garlic to powdered or granulated garlic?
Garlic Clove Conversions
Minced garlic – Use ½ teaspoon of jarred minced garlic to replace a single clove of garlic.
Garlic flakes – Also called dried minced garlic or dehydrated garlic, ½ teaspoon of garlic flakes replaces a single garlic clove.
Granulated garlic – Use ¼ teaspoon of granulated garlic in place of each clove.
Garlic powder – Use just ⅛ teaspoon of garlic powder in place of each clove, as it's much more potent.
Garlic salt (I don't recommend using garlic salt for this recipe) – Use ½ teaspoon of garlic salt in place of each clove. This adds an extra ⅜ teaspoon of salt to a recipe.
To convert a fresh clove of garlic to tsp, simply use one teaspoon of minced garlic for every clove requested in your recipe. It is a one-to-one!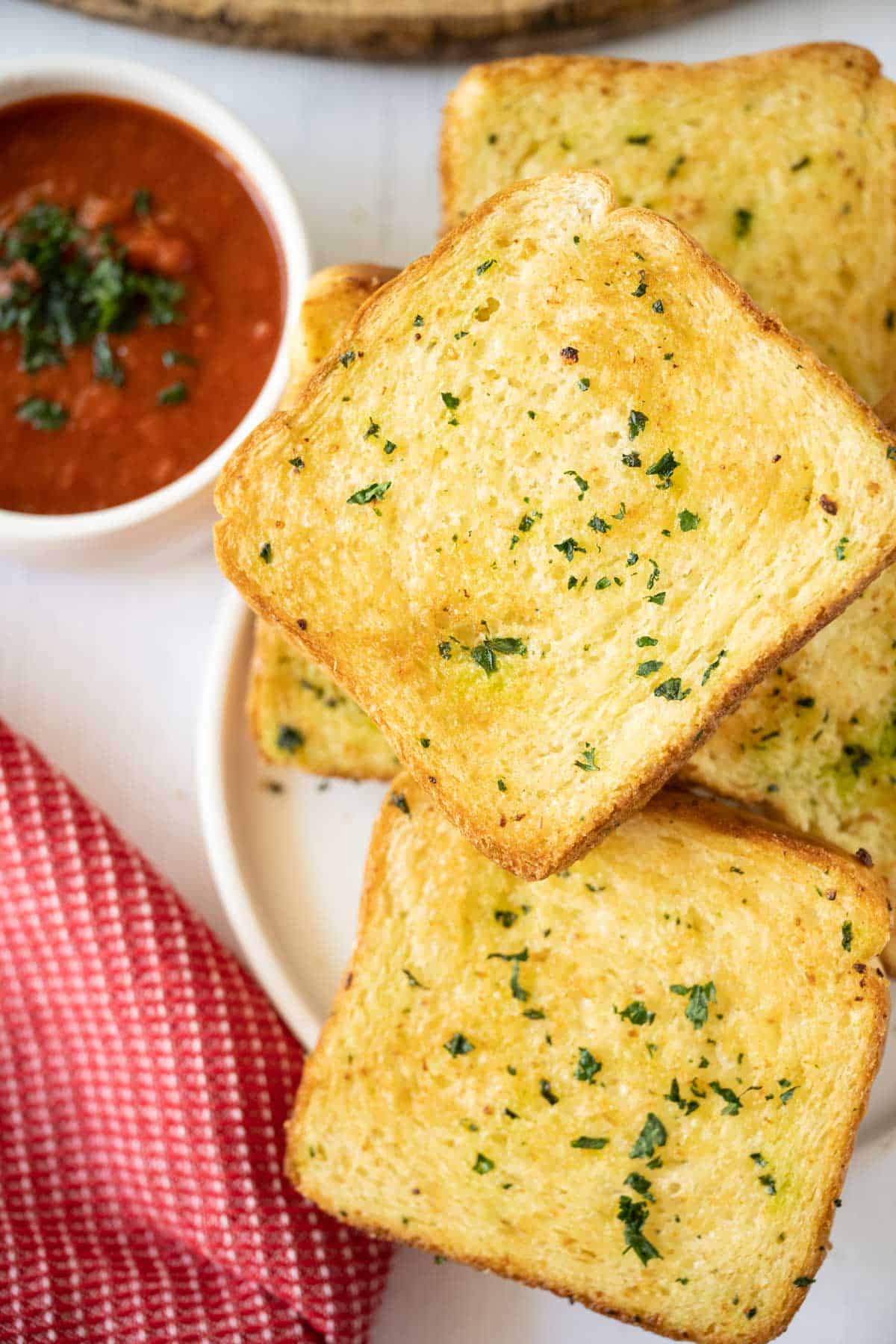 Substitutions and Variations: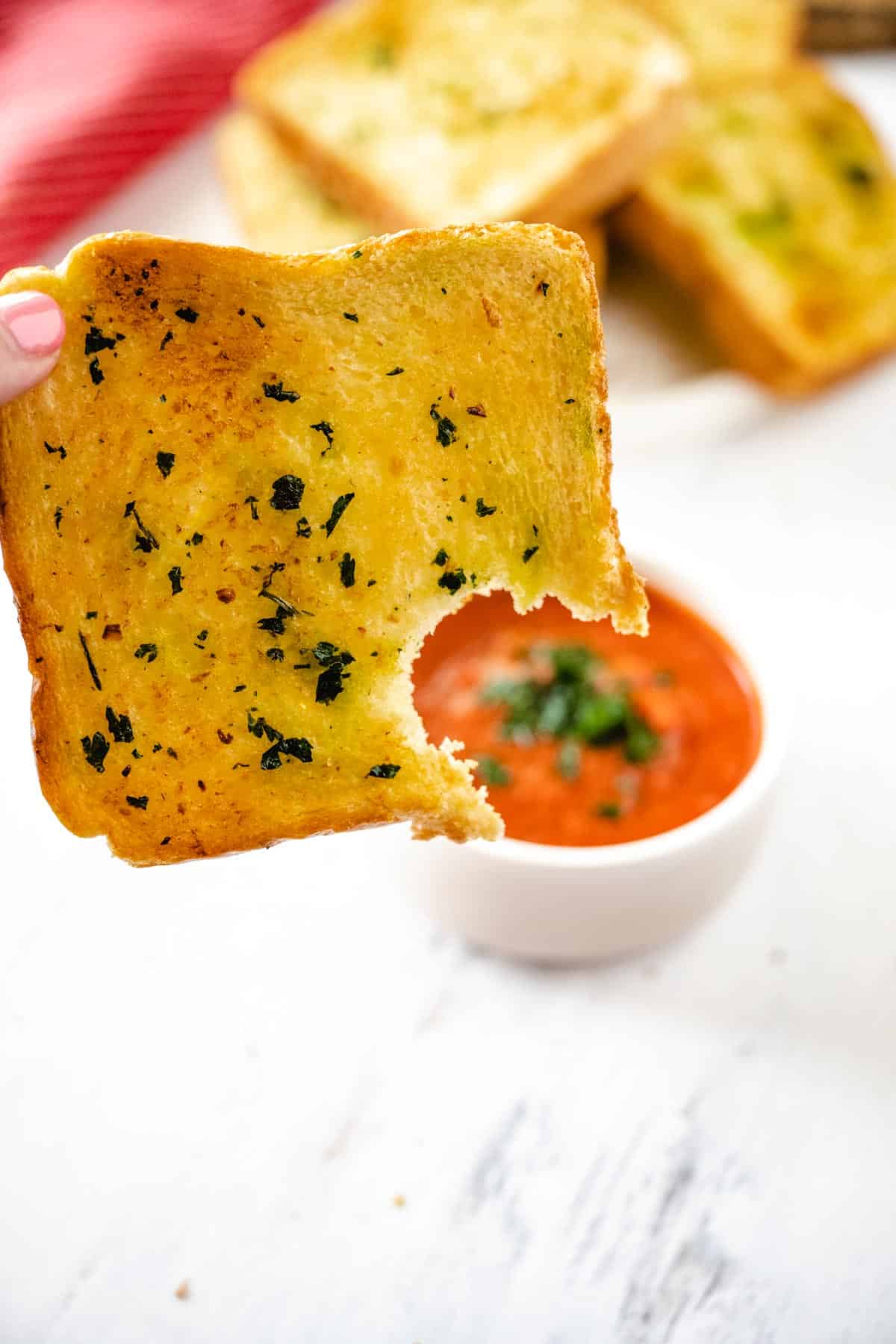 Make-Ahead Frozen Texas Toast
The wonderful thing about this recipe is you can make it ahead of time and freeze it for future use. Make a few batches all at once and freeze them for the next time you are craving garlic bread.
Prep the garlic butter mixture and spread it on both sides of the bread.
Flash Freeze - Place on parchment or wax paper-lined baking sheet and place in the freezer for about 1 hour or until frozen solid.
Remove from the baking sheet and place in a freezer bag and store in the freezer for up to 3 months.
Next time you want garlic bread, just pop in the preheated air fryer. Cook for 4 minutes, turn over and cook for an additional 3 to 4 minutes or until crispy and golden.
Storage
Storage: Store leftover garlic bread in a resealable plastic zip bag, wrapped in aluminum foil, or in an airtight container at room temperature for 2 to 3 days.
Reheating: Preheat the air fryer to 350° F and cook for about 2 to 3 minutes or until heated through.
Freezing: Let them cool completely and place the bread in a freezer-safe zip bag and freeze for up to 3 months. To reheat place frozen bread in a preheated air fryer at 350° F for 4 to 5 minutes, or until heated through.
Serving Suggestions
I think just about everyone loves nice crisp, crunchy buttery garlic bread. Try it as a warm quick snack or perfectly paired with your favorite soup or chili! It pairs perfectly with pasta dishes like Homemade Spaghetti Sauce or a delicious Baked Ziti Recipe.
It makes a fabulous grilled cheese, takes a BLT to another level, or is even perfect for a breakfast sandwich topped with bacon, egg, and cheese!
And let's not forget you can never go wrong serving it with any kind of BBQ, especially a Brisket!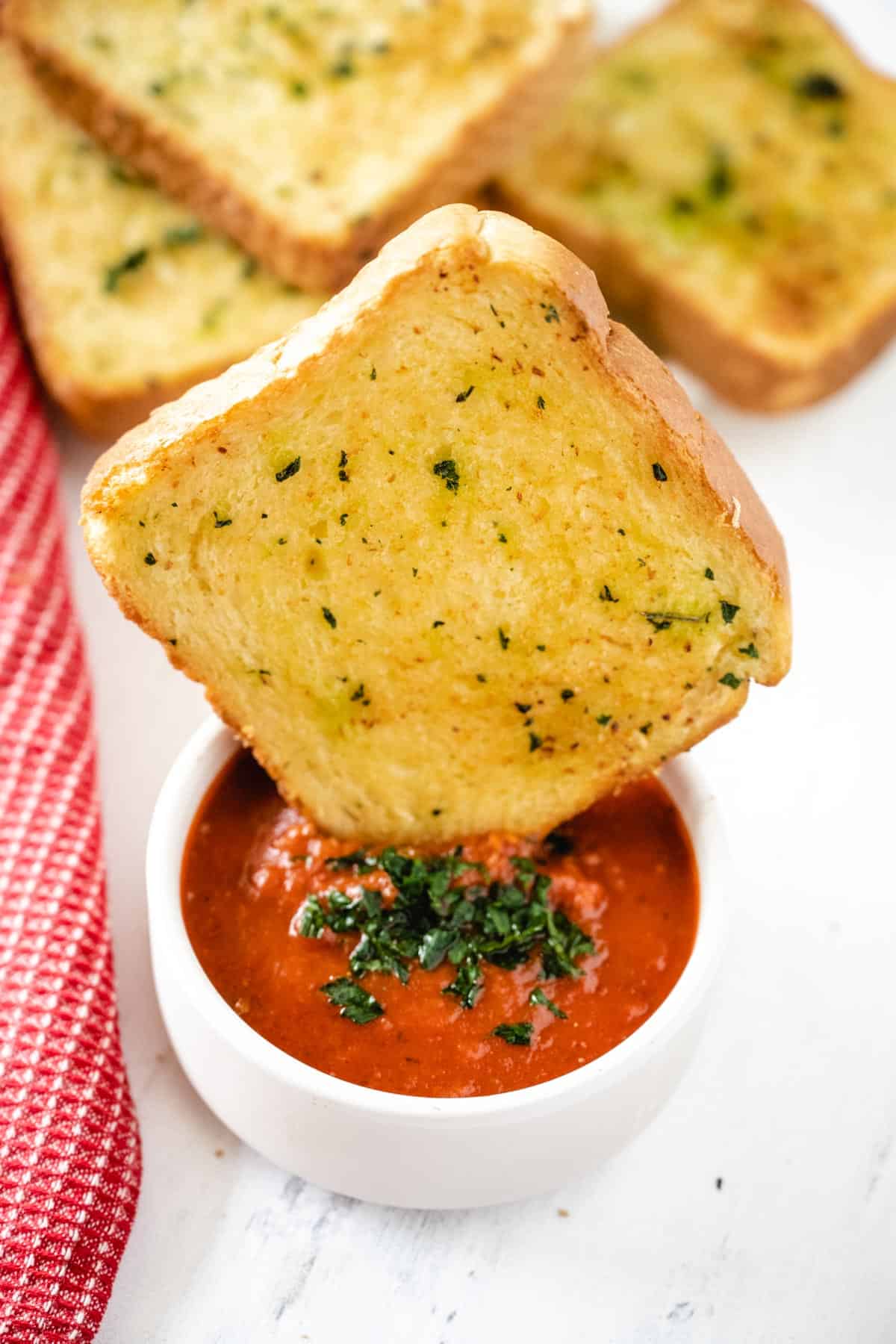 More Favorite Meals to Serve with Garlic Bread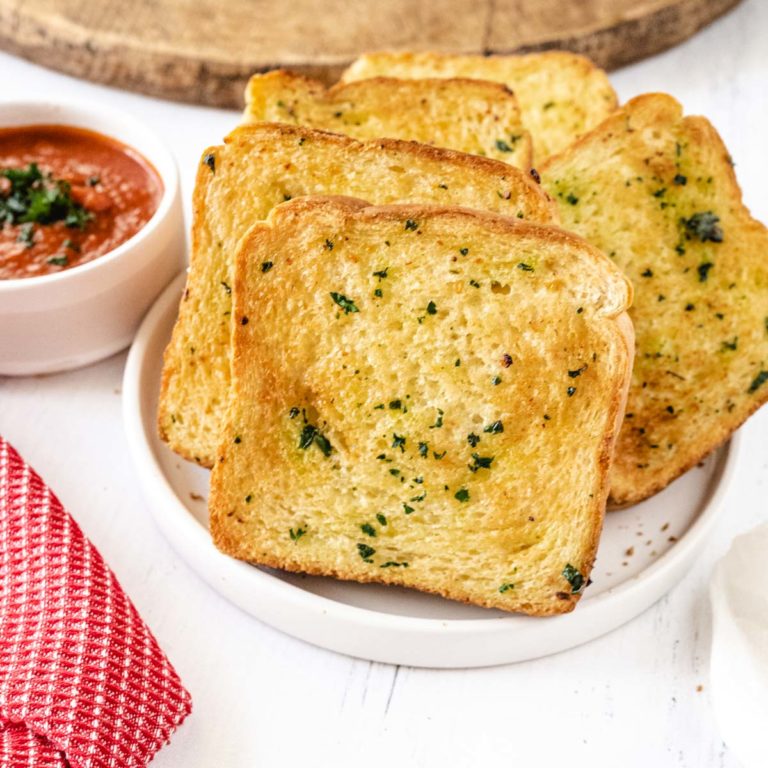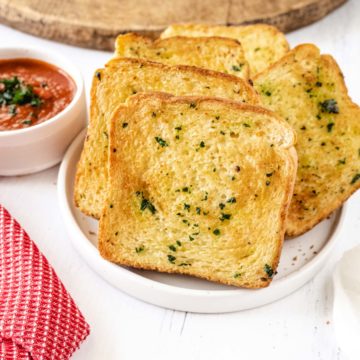 Air Fryer Texas Toast Garlic Bread
Ingredients
6

slices

Texas Toast

3

teaspoons

minced garlic

6

tablespoons

butter

,

softened

1

teaspoon

dried or partially dried parsley flakes
Instructions
Preheat the air fryer to 350°F.

In a small bowl combine softened butter, garlic, and parsley by gently pressing and stirring together with a fork.

Once the air fryer is preheated, add the garlic bread to the air fryer in a single layer leaving room for air to circulate (the number of slices will vary based on the size and shape of the air fryer). Bake for 3 minutes and then flip over each slice of garlic bread and bake an additional 2 minutes. Repeat until all 6 slices have been toasted.
Nutrition
Serving:
1
slice
Calories:
129
kcal
Carbohydrates:
13
g
Protein:
3
g
Fat:
13
g
Saturated Fat:
7
g
Polyunsaturated Fat:
1
g
Monounsaturated Fat:
3
g
Trans Fat:
0.5
g
Cholesterol:
30
mg
Sodium:
223
mg
Potassium:
49
mg
Fiber:
1
g
Sugar:
2
g
Vitamin A:
351
IU
Vitamin C:
1
mg
Calcium:
41
mg
Iron:
1
mg