With a few simple ingredients tossed in your slow cooker, zesty Crock Pot Italian Beef Sandwiches are the perfect easy dinner or delicious game day bite. Enjoy it off the bun for a lower carb option too! This crowd-pleaser is packed full of flavor any way you eat it!
Tailgating season is one of our favorite times of the year. Family and friends gather around to enjoy getting together to cheer on their team! And no matter who you are rooting for you must have all that good food to keep you fueled up - like Beefy Skillet Queso, slow cooker spinach artichoke dip, game day chili and of course this Italian Beef!
This slow cooker Italian beef is a tradition with tender pulled beef cooked low and slow taking in all the zesty flavor of the peppers and rich beefy juices! So, it's not only good tailgate grub, but it's a great weeknight meal as well!
At our house it's one of my hubby's favorite meals ever and it's sure to be yours as well!
Why you'll love this recipe
Easy Meal: Just dump it all in the slow cooker and come home to the perfect meal.
Delicious options: Serve as a sandwich, meal, or low carb protein. Any way you serve it it's always delicious. It's great as a sandwich with melted provolone and topped with Giardiniera. A hearty meal over mashed potatoes, rice, egg noodles. And it is absolutely divine over french fries too!
Great make ahead meal: Italian Beef is a great option for make ahead or freezer meals.
Ingredient - Shopping List
Rump or Chuck Roast
Zesty Italian Salad Dressing Mix
Beef Broth
Pepperoncinis
Provolone Cheese
Giardiniera - Italian Sandwich Mix
Garlic Salt to taste
Hoagie Rolls (optional)
How to make Crock Pot Italian Beef Sandwiches
✱ Be sure to see the recipe card below for exact ingredients and instructions!
PREP: Gather your ingredients and add to the slow cooker.
COOK: Cook on low for 8 to 10 hours until the beef is fork tender.
SHRED: Using forks, place forks facing away from each other a pull to shred the beef. You can remove the to a cutting board to do this or shred directly in the crock pot. Allow beef to sit in juices and
Step 1. Grab your rump roast or chuck roast will work as well. Garlic Salt (have you noticed I use this ALOT- love it) to taste on all sides. Into the Crock Pot it goes. Sprinkle on that Zesty Italian Dressing Dry Mix. Spoon on those pepperoncinis and splash in a little of the juice, for good measure, or a BIG splash in my case. Pour the beef broth in the bottom of the pot.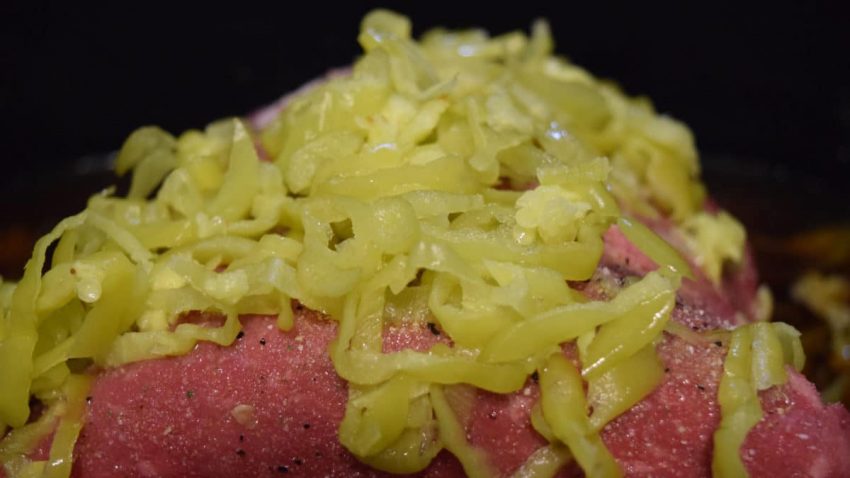 Step 2. Lid on. Cook on low for 8 to 9 hours. Then you have this deliciousness going on!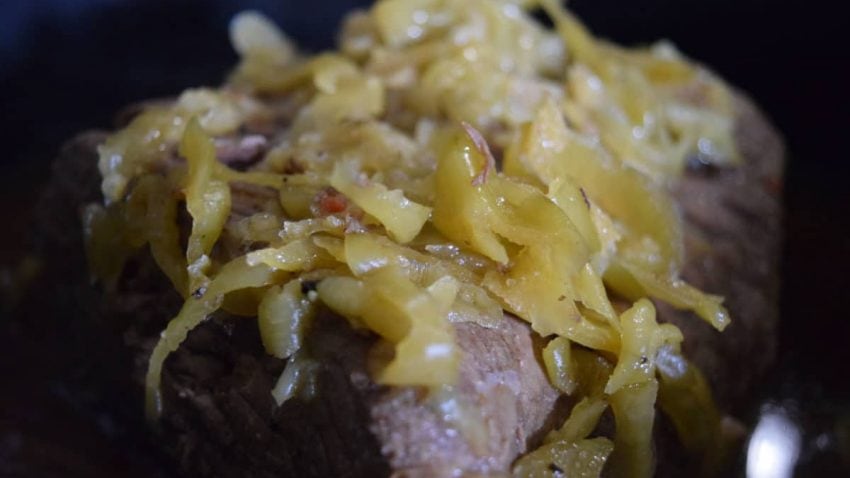 Step 3. Remove and shred by pulling with two forks. Place shredded beef on hogie roll and top with provolone cheese. Broil in oven for 2 to 4 minutes or until cheese is melted and bread toasted (I have never met two ovens alike ya'll). Top with some of the cooked peppers and Giardinieria Mix. Oh so yum!!!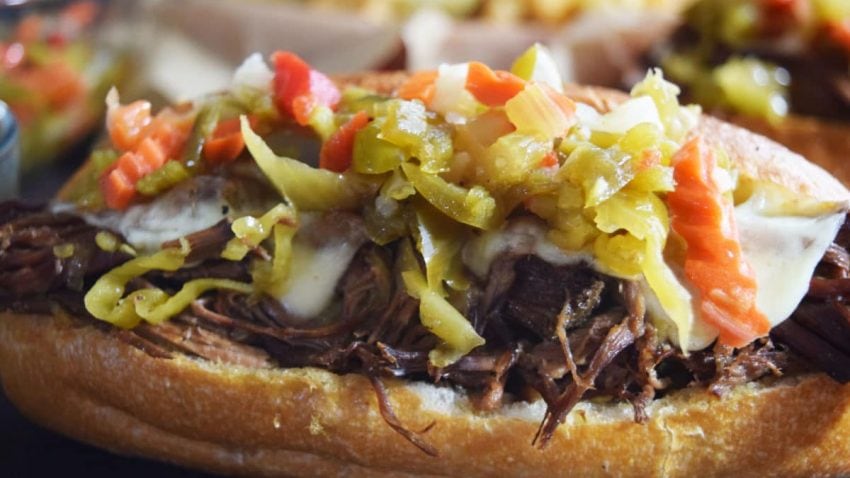 Step 4. For the au jus - drain the juice through a strainer to get all the peppers and drippings out. Unless of course you like that in your juice! It's all good! And if you want some extra goodness with this meal, fry up some homemade fries!! Oh DAD is going to be DROOLING today!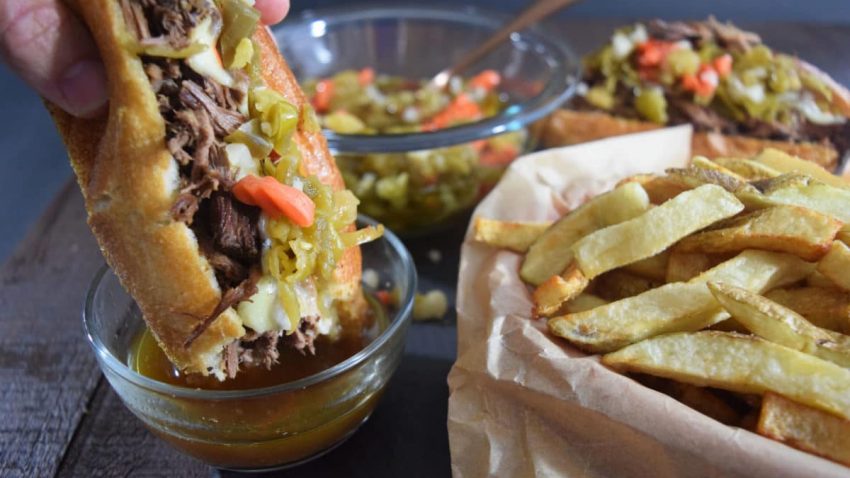 Pin it:

You can also find this over at Weekend Potluck.