Father's Day Menu Ideas! Let's cook something up delicious for all the Fabulous Fathers out there!
In honor of Father's Day, we want to cook something Dad will love. I love to spoil dad (aka the hubby) with something that he loves on his special day. In my house that usually includes something beefy. This Crock Pot Italian Beef Sandwich is the perfect way to steal his heart.
Today's blog post is all about things DAD will love to eat. My Sunday Supper friends have come together to honor dads in a way that makes them HAPPY. After all, they say the way to a man's heart is through his stomach! That's certainly true at my house.
You don't have to spend all day in the kitchen to spoil Dad!
That is why this Crock Pot meal will not only delight dad, but momma will be dancing for joy too. More time to relax and spend the day with the family! After all, this is what is truly important.
My husband is a very simple man. He doesn't want a big fuss. With life being so busy he really just wants to spend the day a little laid back and enjoying time with the family.
I also can't go without saying, cherish those Dad's, mine passed away 7 years ago and oh how I miss him. This day always brings wonderful memories and big tears too. Life just isn't the same without your daddy!
So, today I am keeping it simple, like my husband would tell me and planning to love on the family and do something we enjoy. You may find us floating in the pool and then gathered around the table playing cards together!
Ingredients for Italian Beef in the Slow Cooker
Rump or Chuck Roast
Zesty Italian Salad Dressing Mix
Beef Broth
Pepperoncinis
Provolone Cheese
Giardiniera - Italian Sandwich Mix
Garlic Salt to taste
Hoagie Rolls
How to make Crock Pot Italian Beef Sandwiches
Step 1. Grab your rump roast or chuck roast will work as well. Garlic Salt (have you noticed I use this ALOT- love it) to taste on all sides. Into the Crock Pot it goes. Sprinkle on that Zesty Italian Dressing Dry Mix. Spoon on those pepperoncinis and splash in a little of the juice, for good measure, or a BIG splash in my case. Pour the beef broth in the bottom of the pot.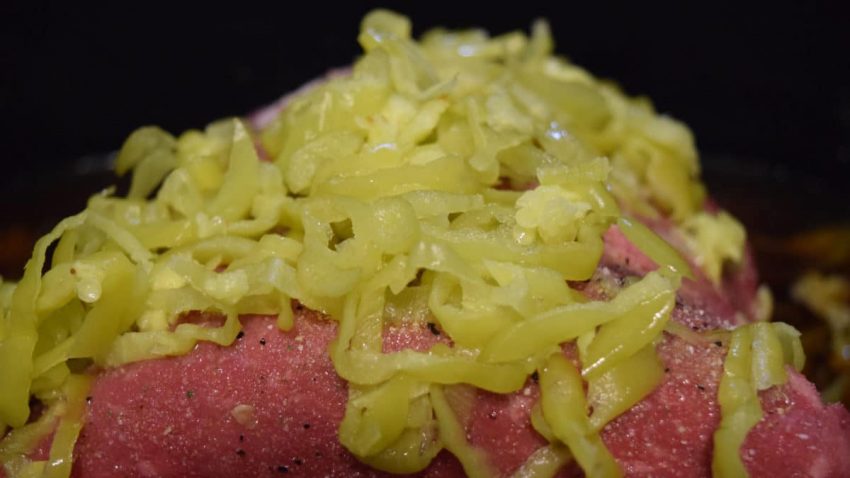 Step 2. Lid on. Cook on low for 8 to 9 hours. Then you have this deliciousness going on!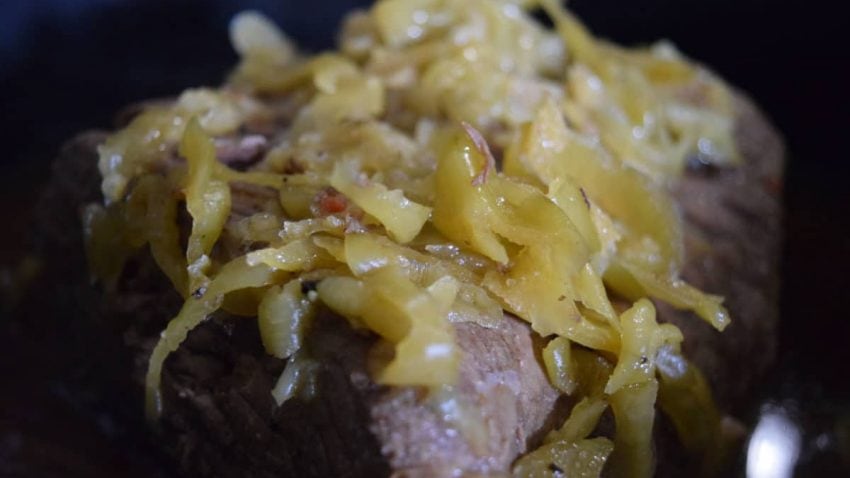 Step 3. Remove and shred by pulling with two forks. Place shredded beef on hogie roll and top with provolone cheese. Broil in oven for 2 to 4 minutes or until cheese is melted and bread toasted (I have never met two ovens alike ya'll). Top with some of the cooked peppers and Giardinieria Mix. Oh so yum!!!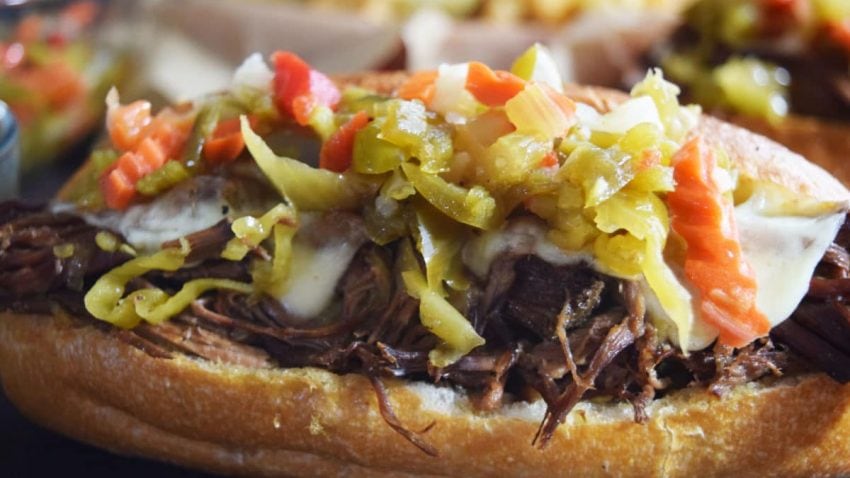 Step 4. For the au jus - drain the juice through a strainer to get all the peppers and drippings out. Unless of course you like that in your juice! It's all good! And if you want some extra goodness with this meal, fry up some homemade fries!! Oh DAD is going to be DROOLING today!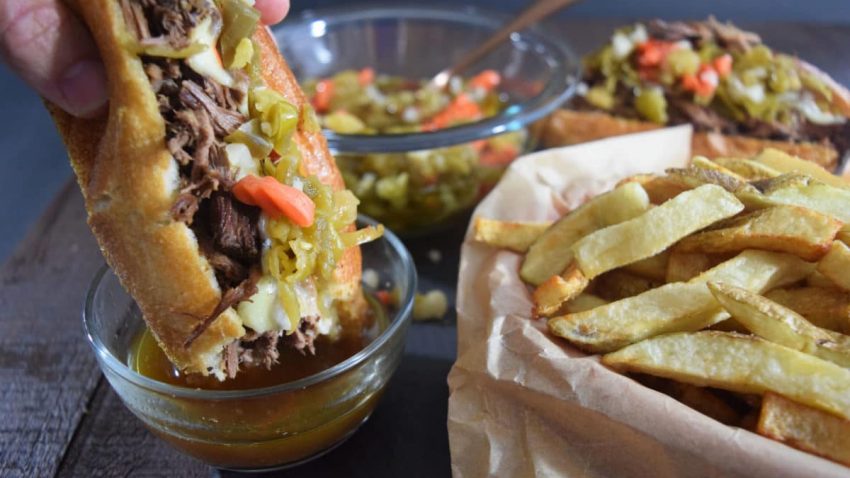 Pin it:

You can also find this over at Weekend Potluck.