No Bake Fireworks Oreo Cheesecake Bars add a little spark to lusciously creamy Oreo Cheesecake Bars. Made with Oreos that include a surprise  "popping good" center that will light up your Fourth of July with lots of fun and delicious flavor.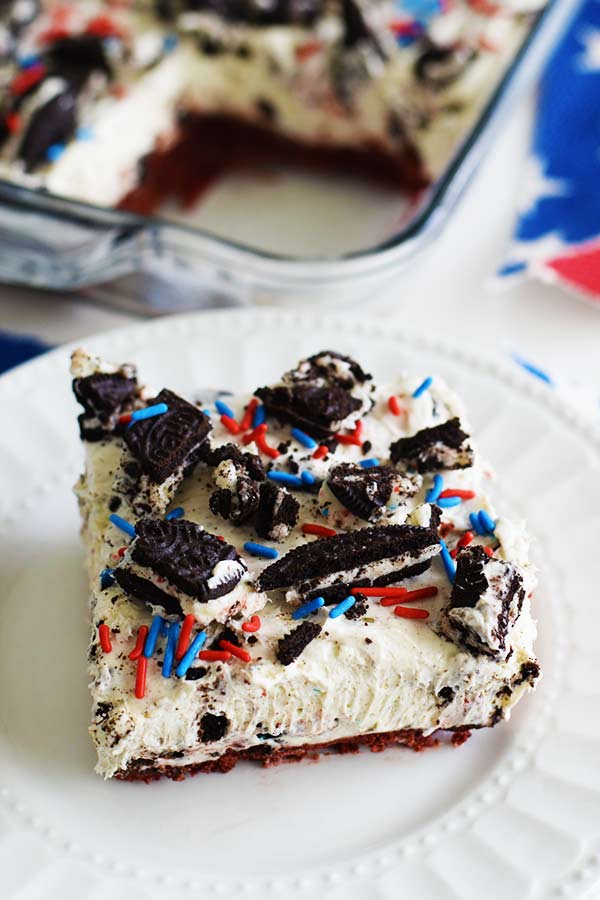 Fourth of July for my family is usually a day of relaxing poolside with a cook out or sometimes a day spent at the beach. Our beach vacation was postponed a little due to family schedules. And since we still don't have floors in the house yet, we are going to my mom's house to celebrate with her and my sister's family.
We will surely be relaxing by the pool and enjoying so scrumptious food. I have a nephew that is 6 and a niece who will soon be 1, and that calls for a fun dessert. My nephew loves dessert more than anyone I know. Well who doesn't, but we keep blaming him 😉
Funny story - we were at a local taco place a few nights ago and they are always so nice there. One of the managers stopped by the table and (looking at the adults) said I would like to bring you guys our big cookie dessert, if you would like to try it. The 6 year old loudly says "SURE WE WOULD!!!" with the most excited voice. Of course we all died laughing and she sure got a chuckle out of it. She thought it was fabulous!
She even added extra whipped cream and sprinkles on top, just for him. And it was big enough for us all to share and we enjoyed those lovely extras on top with delight! I think life really deserves extra sprinkles and fun on the fourth of July!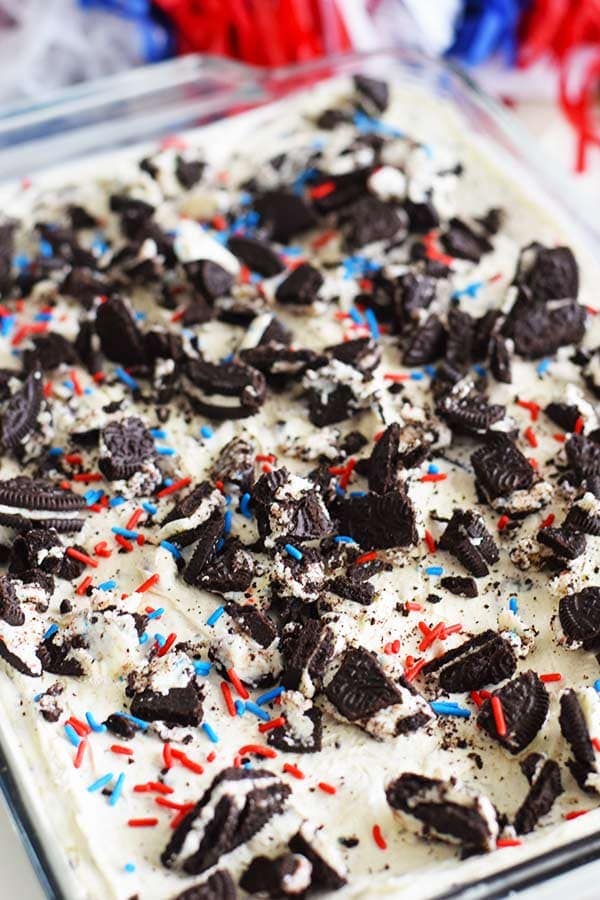 How to make these Festive 4th of July Fireworks No Bake Oreo Cheesecake Bars
This dessert takes no time to pull together. You do need to chill the crust and then the Cheesecake so allow extra time for that.
First, make your crust. Crush package of Red Velvet Oreo cookies (If you can't find them regular Oreos work too) in a food processor. Or if you don't have one, give them a good beating with a rolling pin in a gallon plastic bag. You know get a workout or any frustrations you might need out on these delicious cookies 😉
Melt butter and pour in a bowl with the crushed cookies and stir until combined.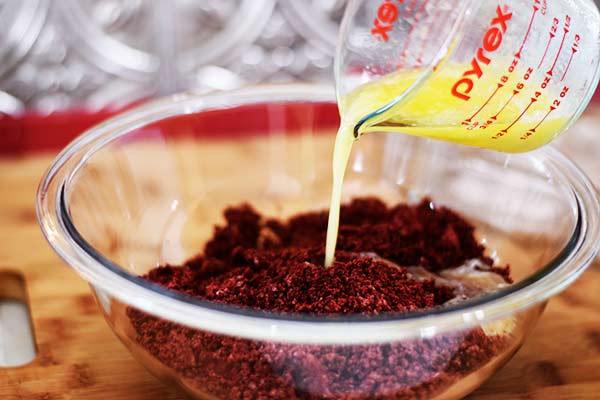 Take a 9 X 13 baking dish and press (Just use your fingers it's much easier and adds a little lovin' to the dish) into the bottom of the dish. Chill in the refrigerator for 30 minute to 1 hour. You can pop in the freezer for 10 to 15 minutes to hurry up the process.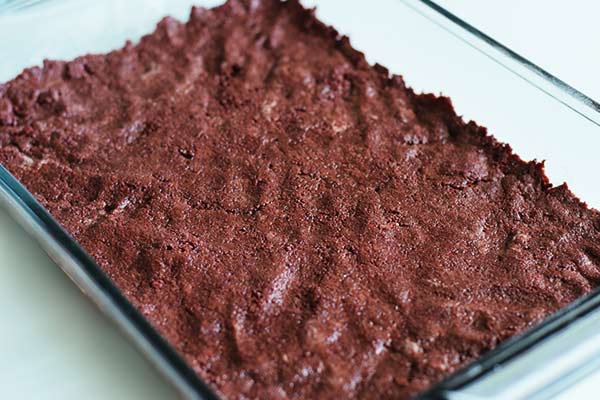 In a stand mixer or with electric beaters, beat softened cream cheese until soft and creamy (usually about 4 to 5 minutes). Add in sugar and vanilla and mix very well.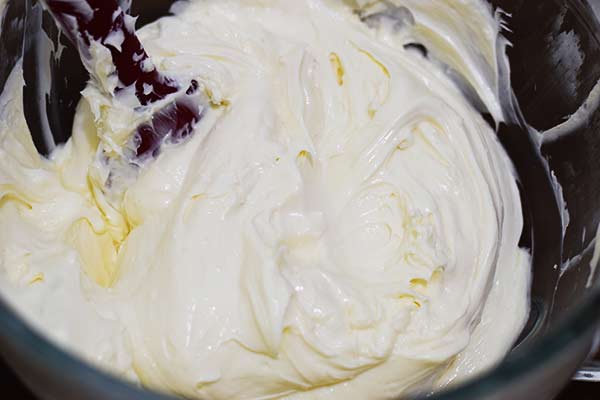 Fold in the coarsely chopped Fireworks Oreo Cookies (since they are no longer making these use regular Oreos and a package of pop rocks) and whipped topping (Cool Whip) into the cream cheese mixture.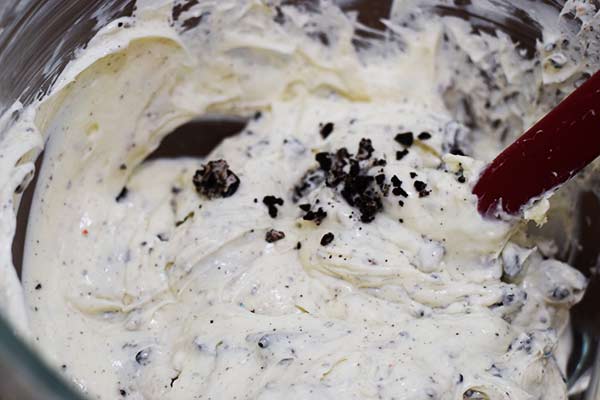 Spread the mixture on top of the Cookie crust. Cover and refrigerate for 4 hours until set.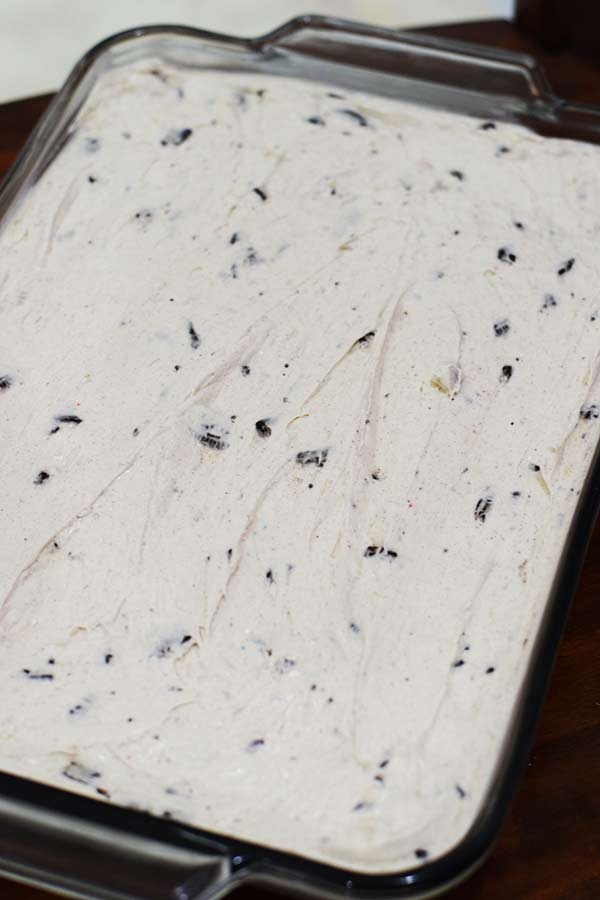 Remove from refrigerator and top with addition crushed Fireworks Oreo Cookies and sprinkles or candies if desired.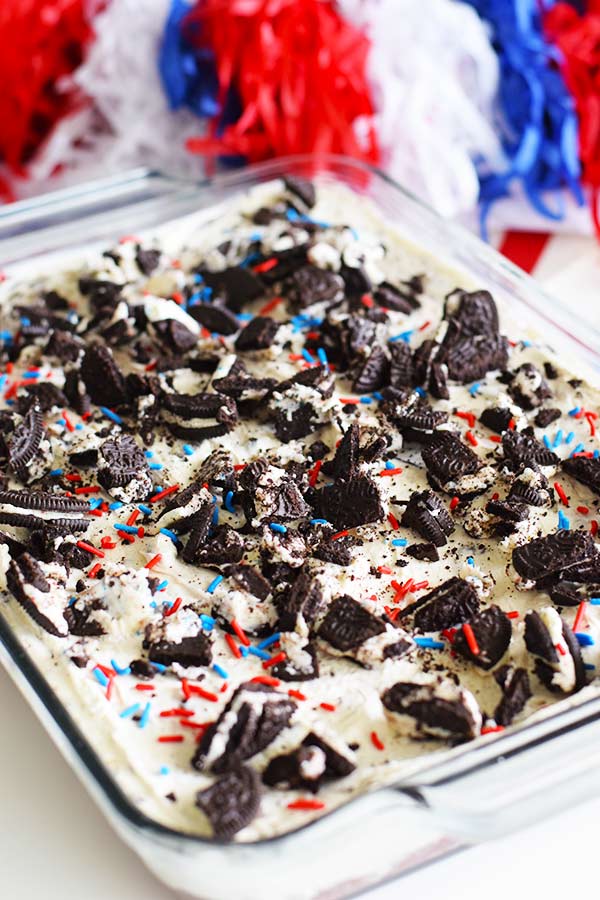 Festive FUN Treat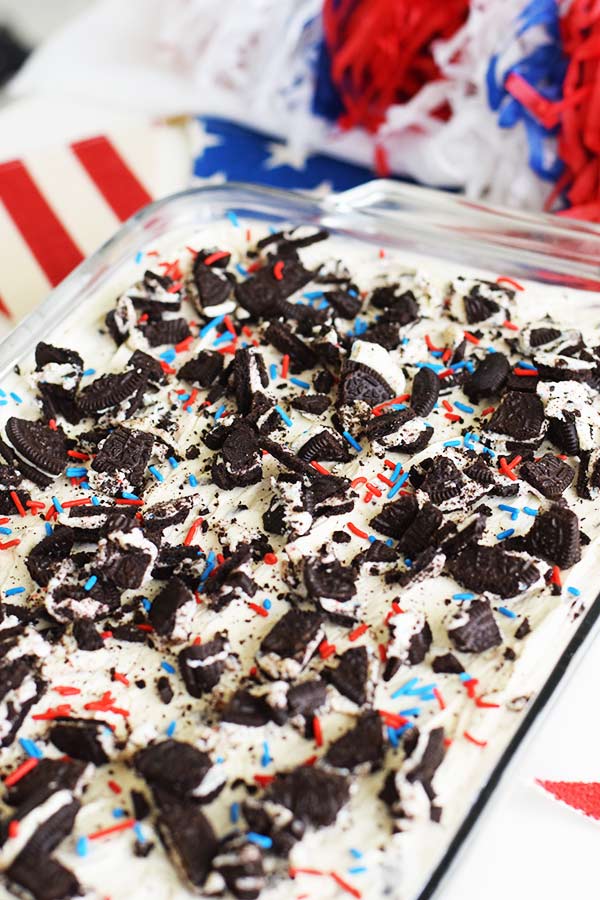 This dessert is so fun. Oreo cookies along with Pop Rocks give this cheesecake center some extra sparkle for your 4th of July celebration!
I hope you enjoy your day surrounded by friends or family and your day is filled with lots of love. We are sure blessed to live in this wonderful country. Each day is a gift so let's get out and enjoy the sunshine or the cool air conditioning (this is for a few of you that I know don't like to sweat 😉 )!!
Blessings to you on this great day!
Nikki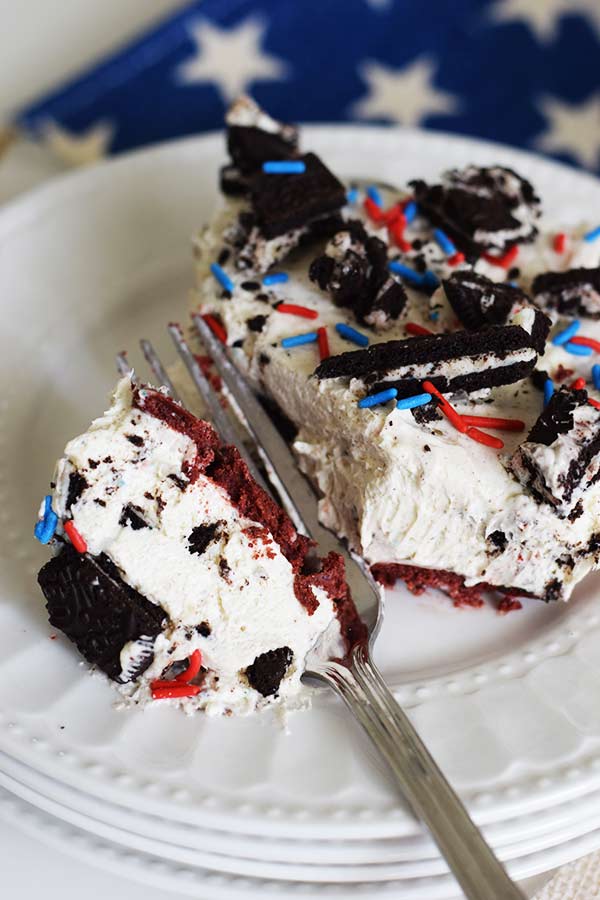 TIPS:
You can make this with regular Oreos for a non-Patriotic Themed Dessert
Store refrigerated for 4 to 5 days.
For a baked version, omit the whipped topping. Add a cup of sour cream and 4 eggs to the cream cheese and beat. Pour mixture on top of crust and bake at 325 degrees for 45 minutes. Let cool and refrigerate
Pin this treat for later and Share with Friends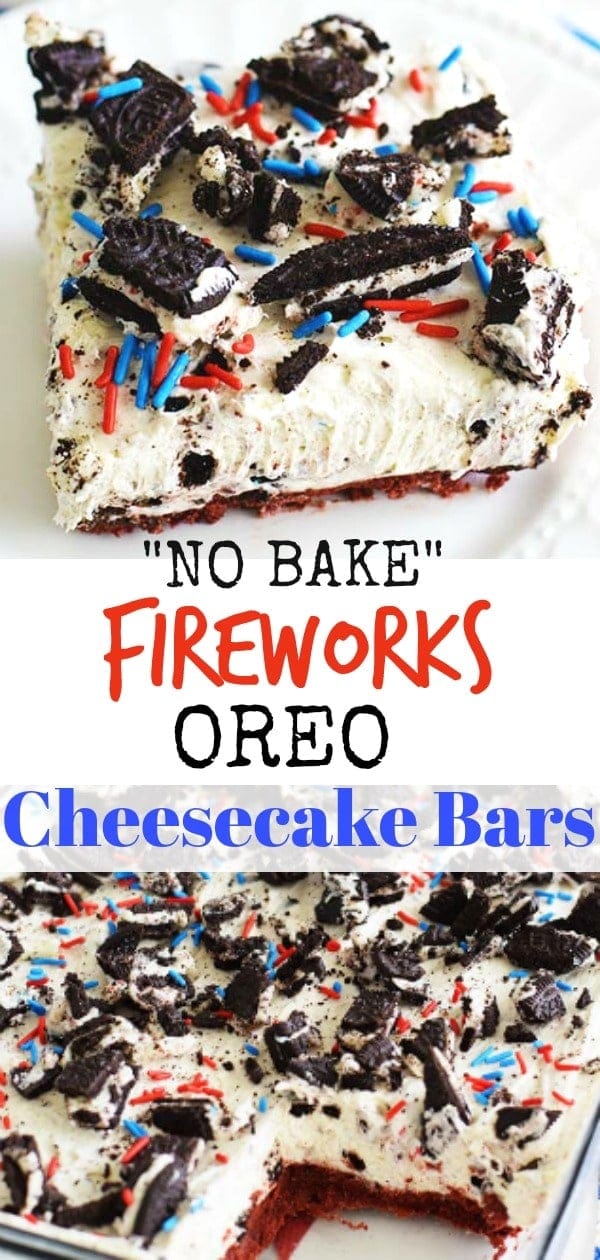 No Bake Fireworks Oreo Cheesecake Bars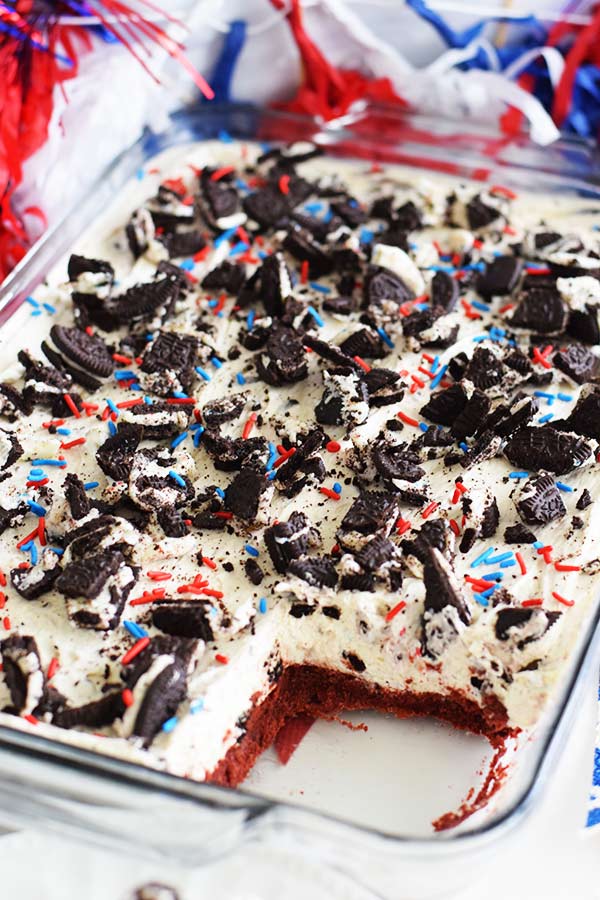 If you enjoy this treat please give it 5 stars and let us know in the comments
You may also find this at Meal Plan Monday.