Instant Pot Creamy French Onion Ground Beef and Noodles is the perfect amount of savory beef flavor combined with rich french onion and a touch of creamy noodles. This is deliciously easy, budget friendly, comfort food ready to go on the table in minutes.
Stove Top Directions Included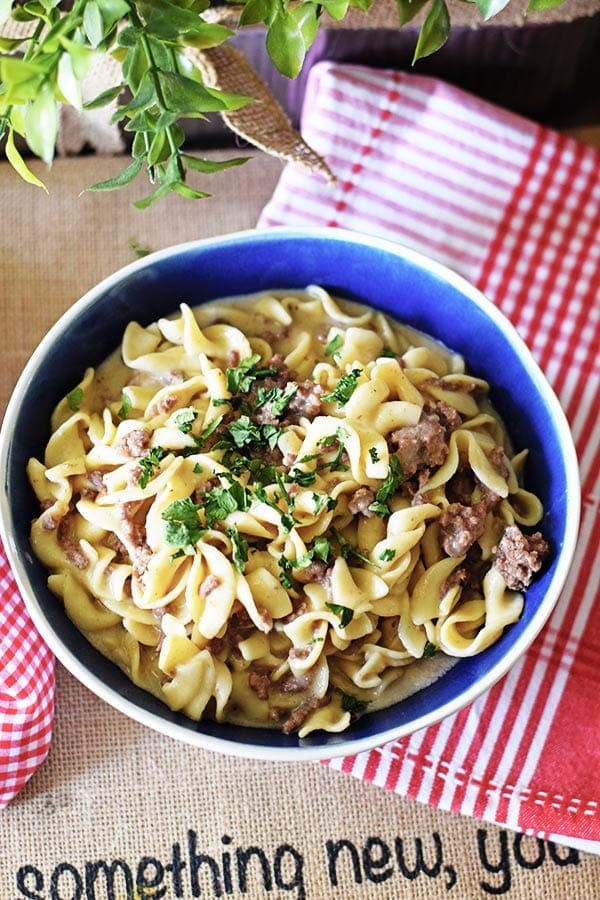 This flavorful dish is a mix between a stroganoff and a french onion hamburger rice dish my mother in law always made. I need to get that one up on the blog. I made it in the Instant Pot for two reasons. It is a super easy one pot meal and my house is still a mess from our little flood and construction.
My pictures don't really do the taste justice. My house is literally in chaos. Half packed in boxes and the other half is scattered everywhere. I think we are going to be like this for a few weeks, so y'all just bear with me while I throw together some quick dishes over the next few weeks.
Honestly, I just wanted to make something to feed the family, so I started throwing this together and it worked out! Gotta love when that happens!!
If you do not have a Pressure Cooker this totally can be done on the stove top. Just cook those noodles as the package instructs. And then do everything else in a deep skillet or a larger pot.
What you need for Instant Pot Creamy French Onion Ground Beef and Noodles
Ground Beef (Hamburger)
Wide Egg Noodles
French Onion Soup
Beef Broth
Water
Sour Cream
Cream or Milk
Salt
Garlic Salt to taste
How to make Instant Pot Cream French Onion Hamburger and Noodles
Step 1. Set the Instant Pot to saute. Add ground beef and salt (or garlic salt) to taste. Cook until browned, about 7 to 10 minutes.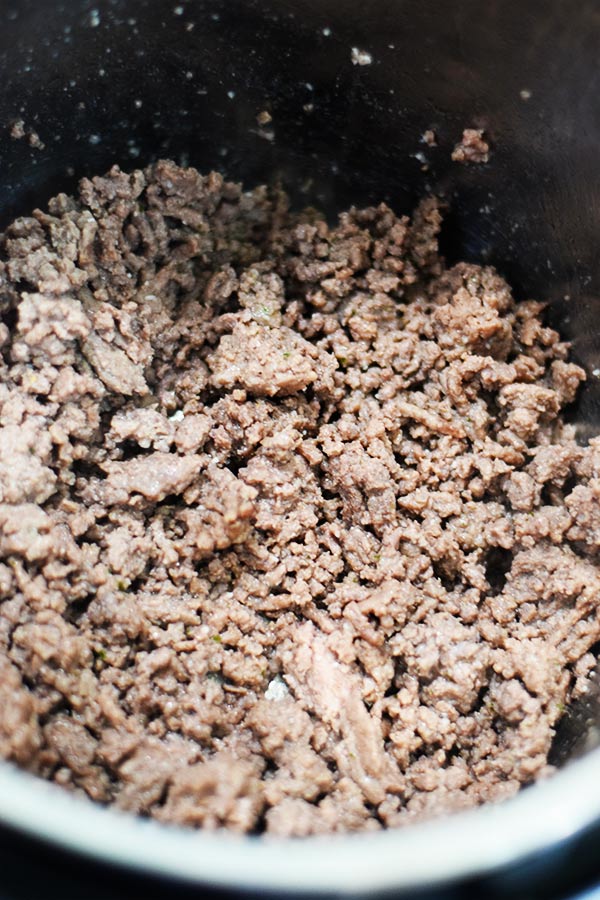 Step 2. Pour in beef broth, water, french onion soup, noodles and salt. Give it a stir and make sure noodles are mostly covered.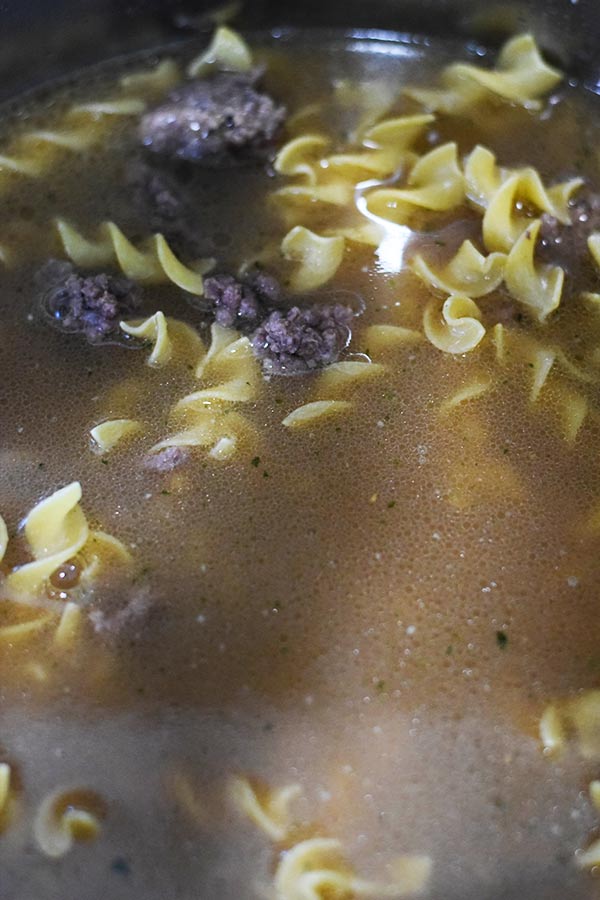 Step 3. Put on lid and lock with vent closed. Set for manual high pressure for 5 minutes. Once done open valve for a quick release.
Step 4. Stir in sour cream and cream. Leave on warm setting a few minutes and it will thicken up a bit.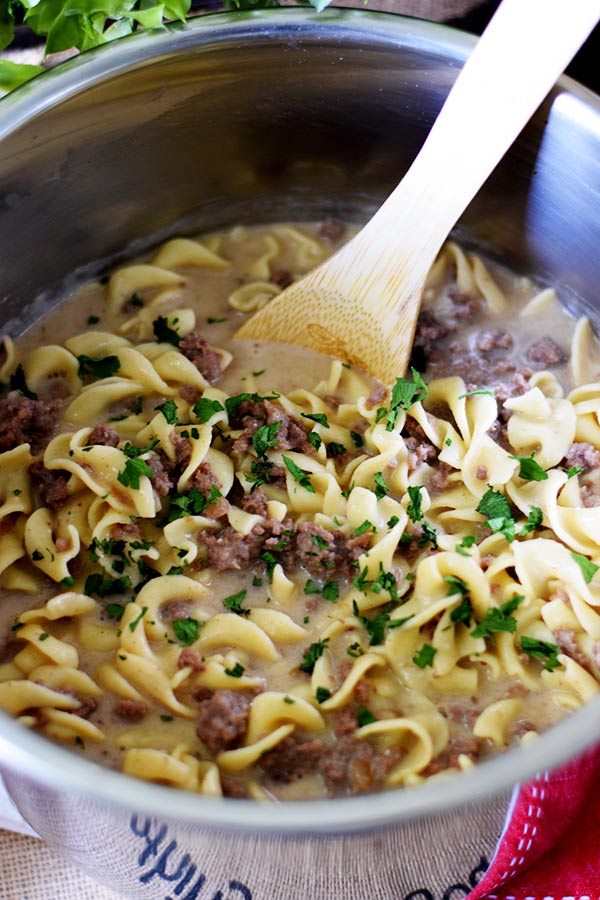 This is a really simple but delicious meal! It really is perfect for any time of the year. Made in the Instant Pot it doesn't heat up the house, but packed full of delicious flavor and those noodles and sauce give you a great comfort meal to enjoy!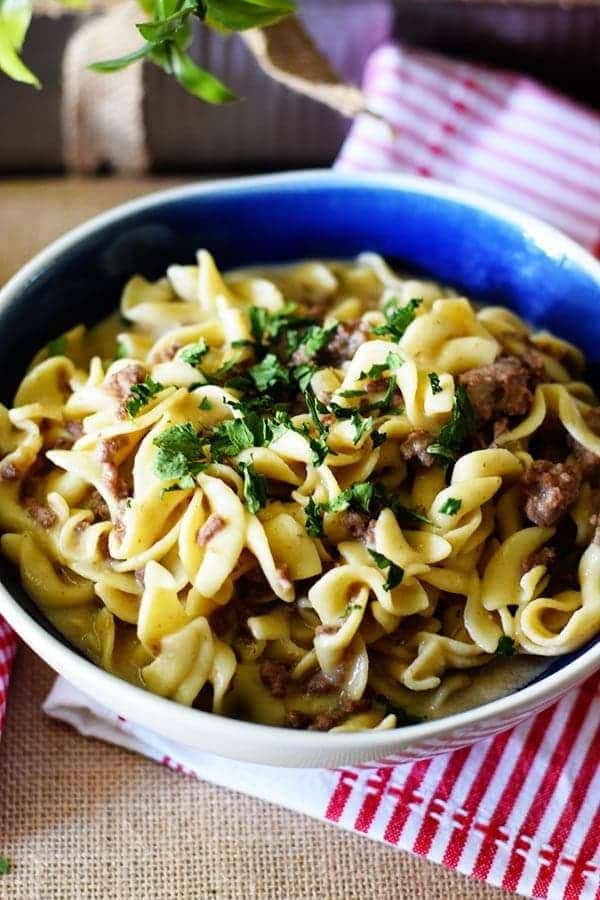 Some other easy comfort food to enjoy
Pin and Save for later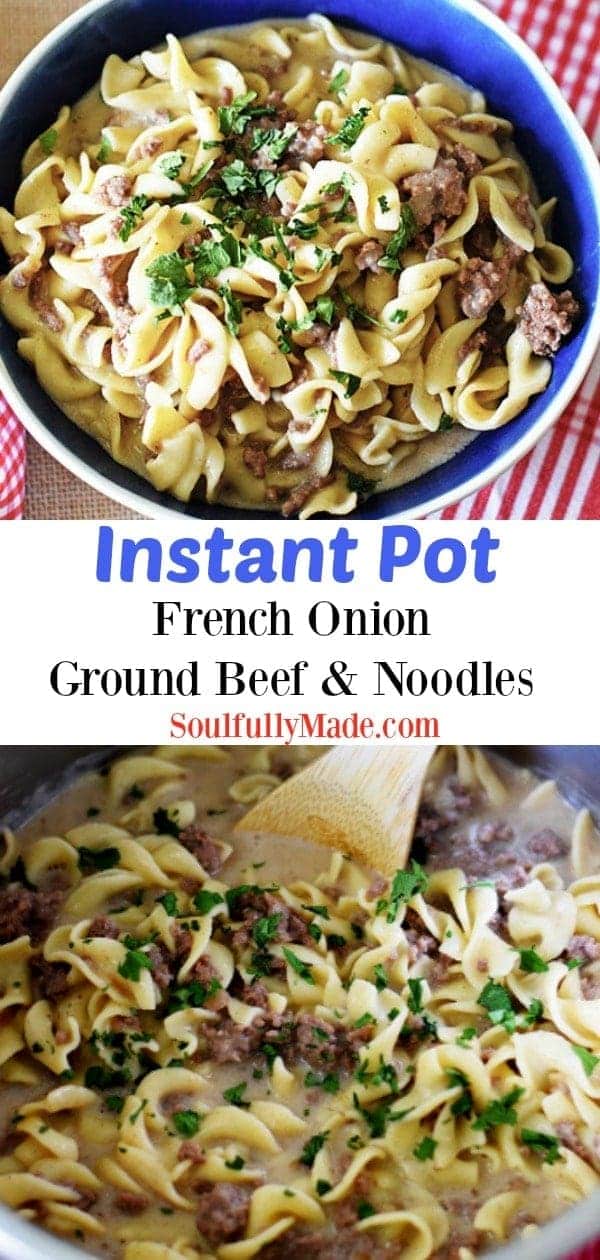 ---
Helpful Items you may use to make Instant Pot Hamburger and Noodles
**Soulfully Made is a participant in the Amazon Services LLC Associates Program, an affiliate advertising program. Please note: This post may contain affiliate links to products I use and love. I earn a small commission, at no extra cost to you, to help with blog expenses when you make a purchase through an affiliate link. Thank you for your support!


---
You can also find this at Weekend Potluck and Meal Plan Monday.