Grilled Summer Vegetable Pasta Salad is a mixture of delicious pasta mixed with the cream of the summer crops veggies. These crisp grilled vegetables along with rotini pasta are tossed in a light dressing and loaded with beautiful color and flavor.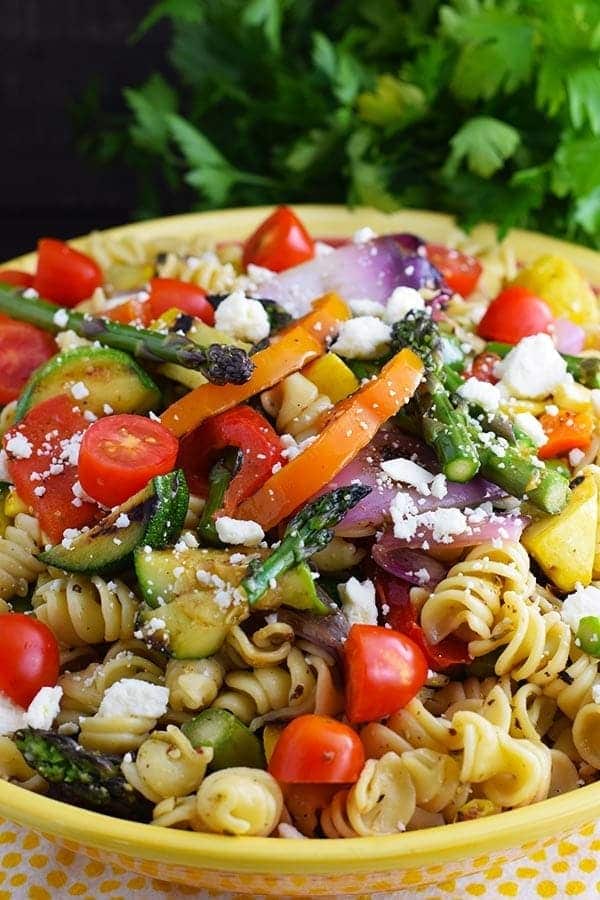 This time of year so many fresh vegetable are in our grocery stores and local markets. They are so delicious, affordable, and healthy to eat. I love to use them in salads, pasta, and as side dishes. This pasta salad has an assortment of garden fresh veggies, that will sure be a hit on your spring and summer table.
I don't know about you but I love all these vegetables. The summer yellow squash, zucchini, all the color of bell pepper (I used red, yellow, orange, and green) red onion, corn, and asparagus. Michigan Asparagus sent me 4 beautiful bundles of gorgeous asparagus. Y'all make your way to the stores and look for it while it is in season now. There truly is a big difference in taste. Delish!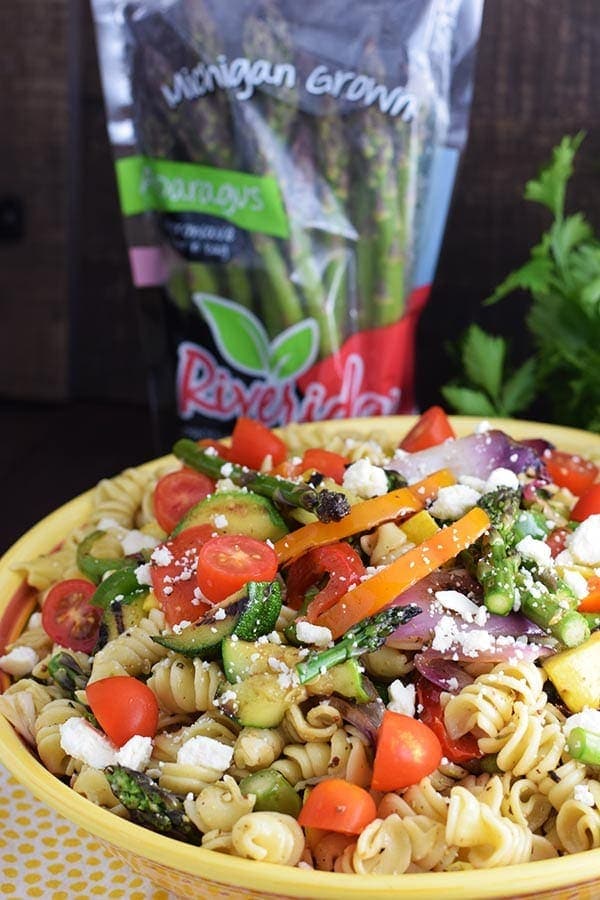 I cheated just a bit on the bell peppers, my grocery store has them already sliced in big rings which were perfect for this dish. You can also purchase sliced zucs and squash too. Really just about anything, your produce section will be glad to assist, if you are short on time.
If using an outdoor grill, I like to grill mine cut lengthwise and in half. Today was a bit rainy so I opted for the indoor grill pan. This is what is nice about this dish, you can use either. The grill does add an amazing smokey flavor, so if you can use it I recommend it.
What you need for Summer Vegetable Pasta Salad
Zucchini
Yellow Squash
Red Onion
Corn
Bell Pepper (An assortment of colors makes this beautiful)
Asparagus
Pasta
Olive Oil
Red Wine Vinegar
Dijon Mustard (Stone Ground or Regular)
Dried Basil, Parsley, Oregano
Garlic Powder
Lemon Juice
Salt & Pepper to taste
Feta Cheese, crumbled
Grape Tomatoes
How to make Grilled Summer Vegetable Pasta Salad
Step 1: Cook pasta according to package instructions in salted water. Drain and let cool while cooking.
Step 2: Mix dressing ingredients together in a measuring bowl.
Step 3: Slice squash and onion into halves or large slices. Slice bell pepper into thick ringed slices. Leave corn and asparagus whole. Brush on or drizzle with olive oil and sprinkle with salt to taste.
Step 4: Set outdoor grill to high heat or cast iron grill over medium high heat. Grill until al dente or desired doneness. Remove and slice into bite sized chunks. Run knife down corn to remove kernels.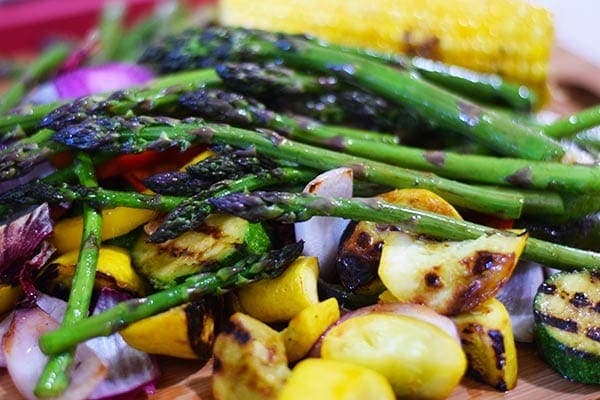 Step 5: In a large bowl toss pasta, vegetables, and dressing together.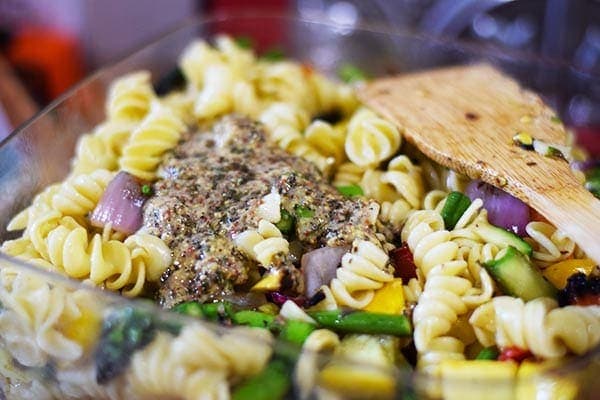 Step 6: Top with feta cheese and tomatoes.
Serve immediately warm or cover and refrigerate until serving.
This pasta salad is the perfect side for a cookout, picnic and is really hearty enough for a meatless main dish. It's all the summer's bounty of veggies served up in one bowl. Light up those grills and get ready for something delicious for all those holidays by the pool or pack this in your picnic basket for a day in the sun with family and friends!
Hope you enjoy!
Related Recipes