Crock Pot Chocolate Turtle Candy is a simply irresistible treat! This easy recipe is made with roasted pecans, deliciously rich chocolate, and caramel candies. Just dump ingredients in the slow cooker a few stirs and scoop out this scrumptious candy. Garnish with fun toppings and serve or give as a gift.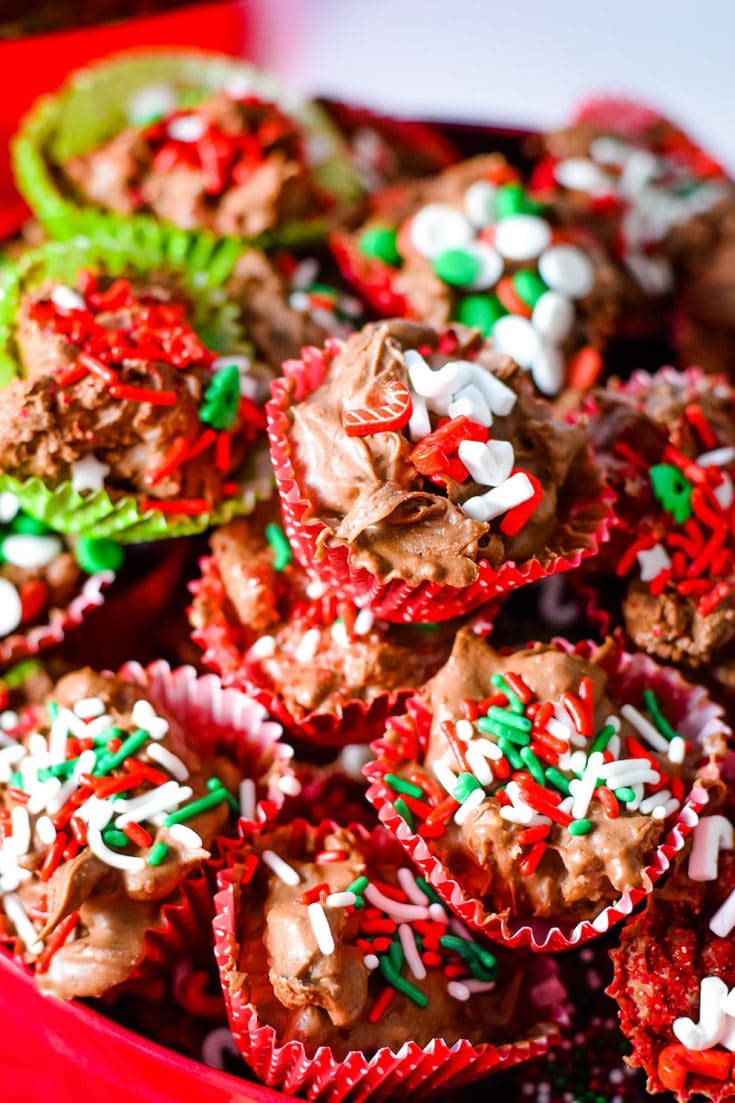 I have to confess these candies are amazingly easy and delicious! Just dump the ingredients in the Crock-Pot and let it do it's magic. Two of the most used small appliances in my kitchen are my Crock-Pot and my Instant Pot (Pressure Cooker).
The slow cooker (Crock-Pot) allows for easy dishes cooked slow all day or in a few hours in cases like this scrumptious candy. The Instant Pot is cooking on steroids or in a flash! Quick and delicious! They are just fabulous and I highly recommend them both.
This slow cooker candy is a tried and true recipe you and your family are sure to love and make a tradition year after year. They gems are the perfect Holiday sweet treat, but really can be enjoyed year round!
If you want a less holiday "looking" version, place a pecan on the top and drizzle with a little extra chocolate or caramel for a fancy treat any time. But if you want HOLIDAY to the MAX , (AND isn't that the fun about the holidays - all the fun and bright colors), then add in the appropriate sprinkles or sugars for the season - You can find Christmas, Valentine's Day, Easter or St Patrick's Day versions in your store in the the below links and they will be delivered right to your door. Can't get any easier than that!
SO even those these treats are often referred to as a Christmas Candy they really are perfect in all seasons.
What you will Need for Slow Cooker Turtle Candy
Pecan Pieces
Coarse Sea Salt
Almond Bark (the white stuff)
Semi Sweet Chocolate Chips
German Chocolate Bars
Rolo Candies
Sprinkles, Pecans, Chocolate or Caramel for Drizzling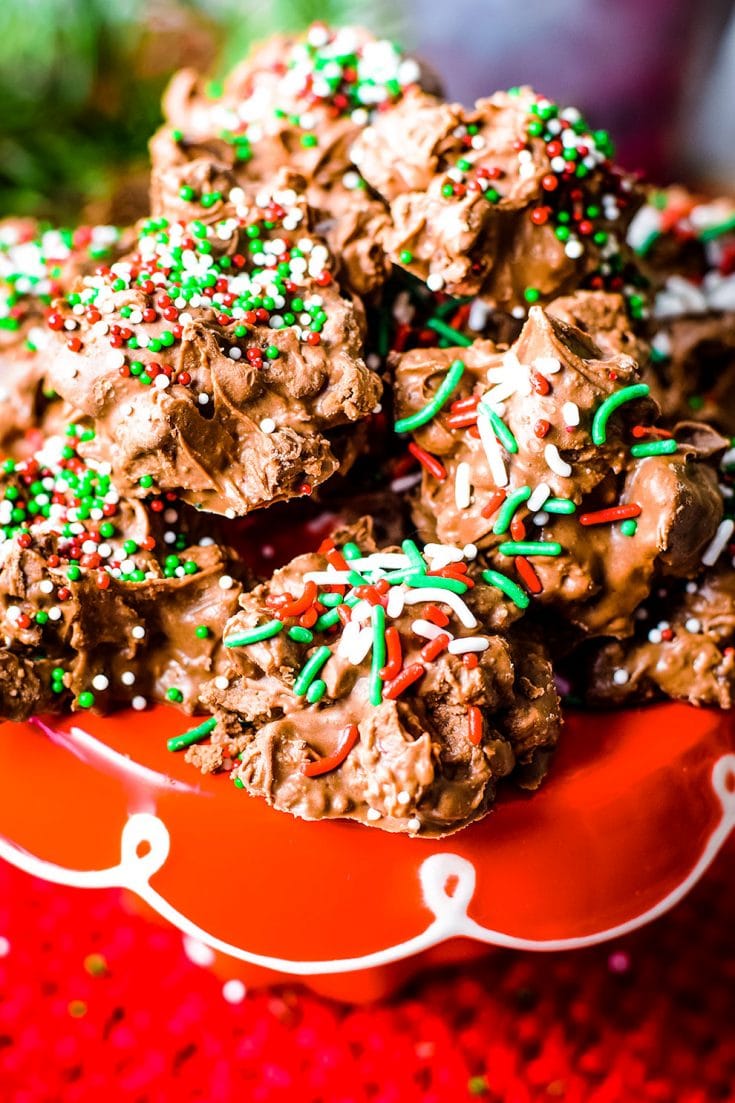 How to make Chocolate Turtle Candy in the Crock Pot
Step 1. Pour the pecan pieces into the bottom of the slow cooker. Sprinkle on coarse sea salt. This allows the pecans to become roasted and delicious.
Step 2. Next Layer the chocolates. I cut the white almond bark and add them in. Then pour in the semi sweet chocolate chips. Break up the German chocolate bar and toss it on top.
Step 3. Place a clean kitchen or tea towel on top of the crock pot and put on the lid over the towel.
TIP This will ensure that the water does not drop into the chocolate and causes it seize it up. (That's just a fancy way of saying making it all clumpy, hard, and gross ;)!
Step 4. Turn on low and let it cook and hour! No touching for 1 hours! Give it a good stir and let cook another hour. I like to stir it at this stage about every 15 to 20 minutes. Once the hour is up, Stir until combined and get that scoop or spoon out.
Step 5. Line a baking sheet with wax or parchment paper. You can also use muffin, cupcake or mini cupcake papers. Place rolo candies in papers or spaced out on baking or cookie sheet. You can totally make these any size you want by the amount of mixture you dip out. Just make sure you leave space between so they do not touch.
Step 6. Garnish with toppings. Here I recommend only doing about 7 to 8 scoops at a time if you are adding toppings. This will allow them to stick to the chocolate before it sets up..
Step 7. Let them cool on the counter until set about 1 to 2 hours depending on the temperature and humidity. You can also do this in the refrigerator if needed.
THEN ENJOY THE YUMMINESS!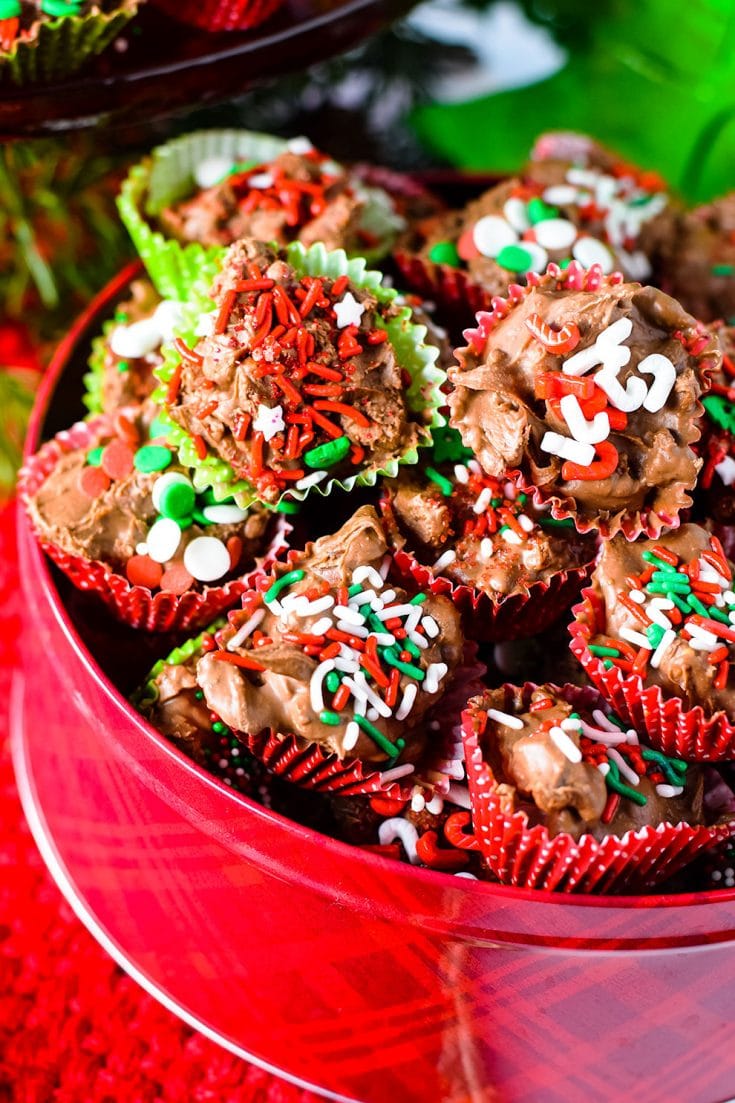 I hope that you will make up a batch and share with your family and friends. I would love to see the pictures of what you do with them! Come on over and be social with us!
Please Pin these Crock Pot Turtle Candies for Later and Share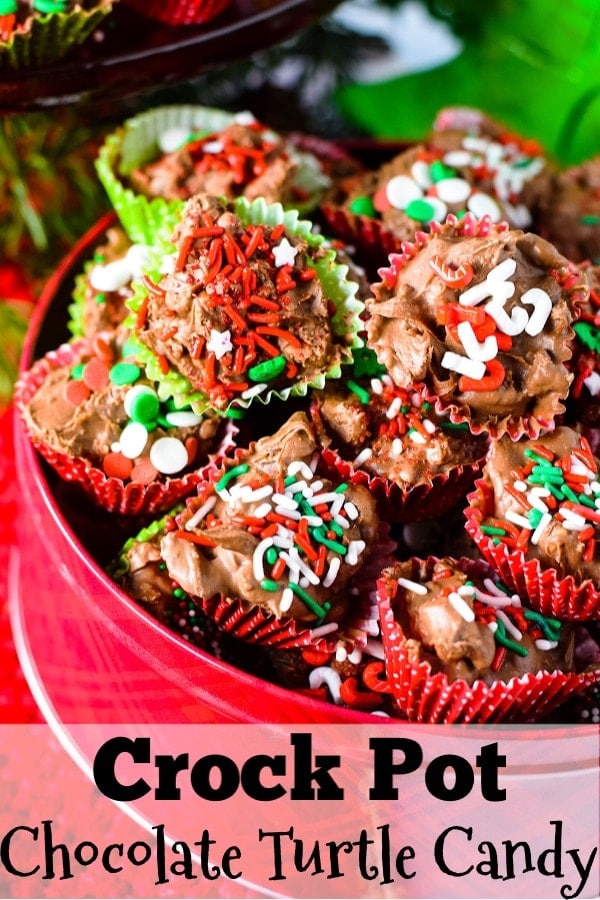 Christmas Sweets you May Enjoy