Fun and Easy DIY Project – Homemade Lemon Sugar Scrub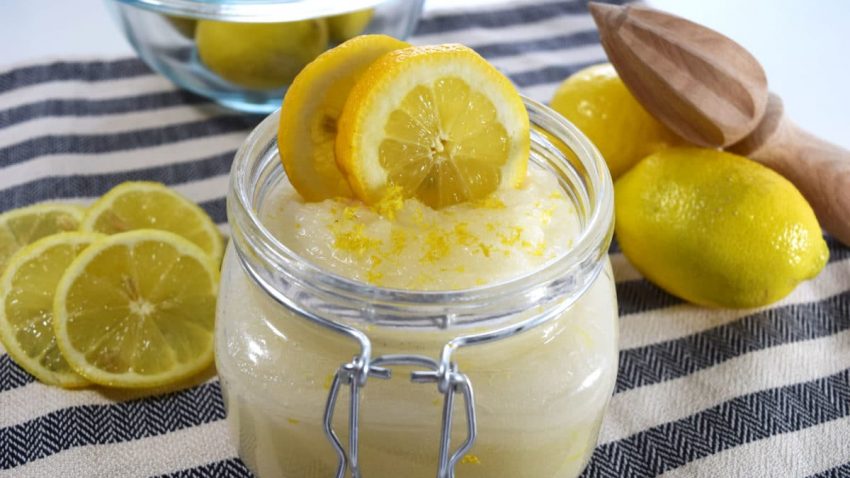 This easy DIY is the perfect "homemade" gift your friends will love. Place them in your guest bath, they are a nice "special touch" for when you have company coming over. You may even want to keep one for yourself!  I have this sitting by my tub (think CALGON take me away but even better)!! There's just something about fragrant lemons that leave me feeling refreshed and happy!
It's Divine Ya'll
If you have never made sugar scrub, you are in for a treat! They are super simple and you can adapt the "flavors" to what you LOVE and ENJOY! After all you gotta enjoy life! It's the simple things friends!
Not to mention, you can make these at home for far less than what you would spend purchasing them from a fancy store! Your local "stuff-mart" (Can you hear Veggie Tales singing) or many craft stores carry these ingredients too, so they are not hard to find.
Get creative with your jars. Save pretty jars you buy things in! I have thrown away some beautiful candle jars I wish I had kept. My favorite is to use mason jars.  Just slap (aka tie) a pretty ribbon on it a there ya have it – The perfect homemade gift! People LOVE them!
Lemon Sugar Scrub, the dilemma.
I must confess I did taste it.  The debate is whether to eat the whole jar or slather it all over.  TMI… I know…  But it smells, tastes and feels amazing! Soft, yummy skin!  Oh Yes!
This has me contemplating some new "FLAVORS". Be sure to check back. I will be making some new ones soon and maybe even some bath bombs, I have been wanting to give those a try too.  Check out this  Strawberry Sugar Scrub that my friends went crazy over!
To get started gather up a fresh lemon, sugar, coconut oil, olive oil, & lemon essential oil.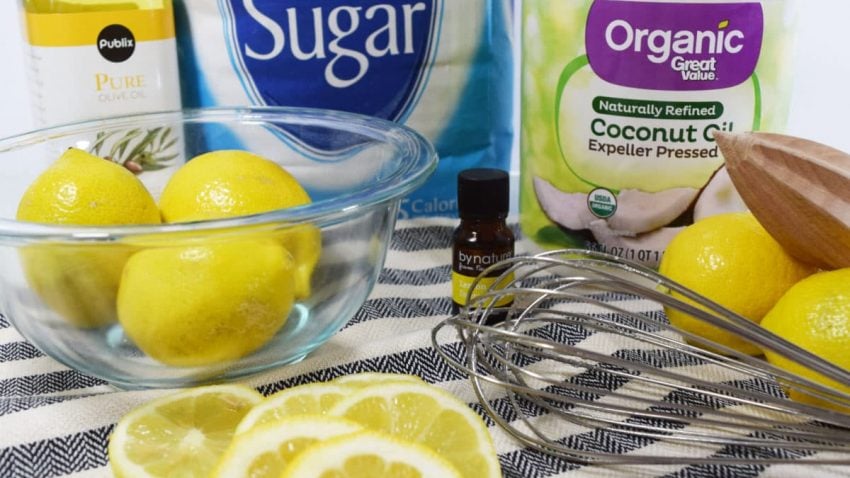 Juice and Zest 1 Lemon. Then microwave the coconut oil for about 15 seconds to soften it (Stir). Combine all the ingredients and mix well! You end up with about 8 or so ounces of amazing smelling scrub.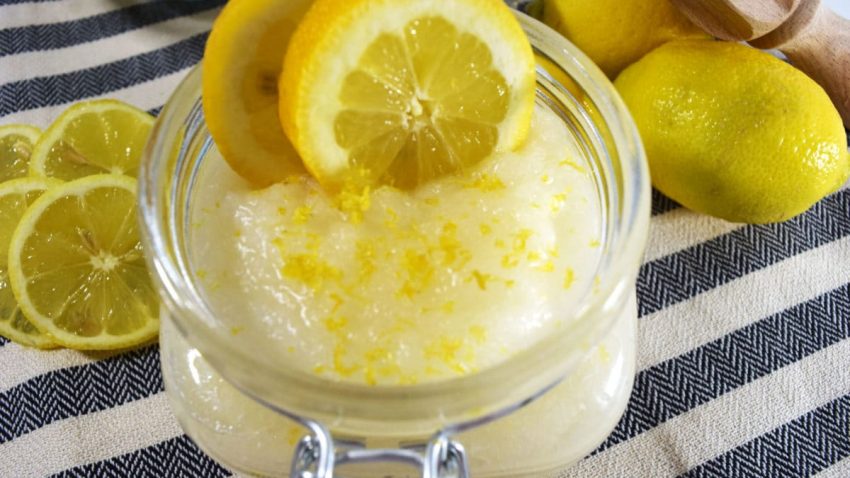 Pin It: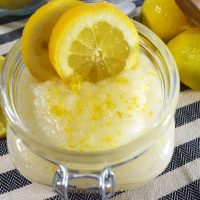 Print Recipe
Homemade Lemon Sugar Scrub
Ingredients
1

lemon, zest and juice

1

cup

sugar

1

tablespoon

olive oil

1/4

cup

coconut oil, heated

20

drops

lemon essential oil
Instructions
Heat coconut oil in microwave for about 15 seconds. Stir.

Pour sugar into bowl, add in coconut oil, lemon juice, olive oil, drops of essential oil and zest. Mix well.

Store in an air tight container.
I'd love for you to join along each week  CLICK HERE and start receiving the Soulfully Made Newsletter!