Homemade Strawberry Lemonade Popsicles  are the perfect treat for when summer is turning up the heat!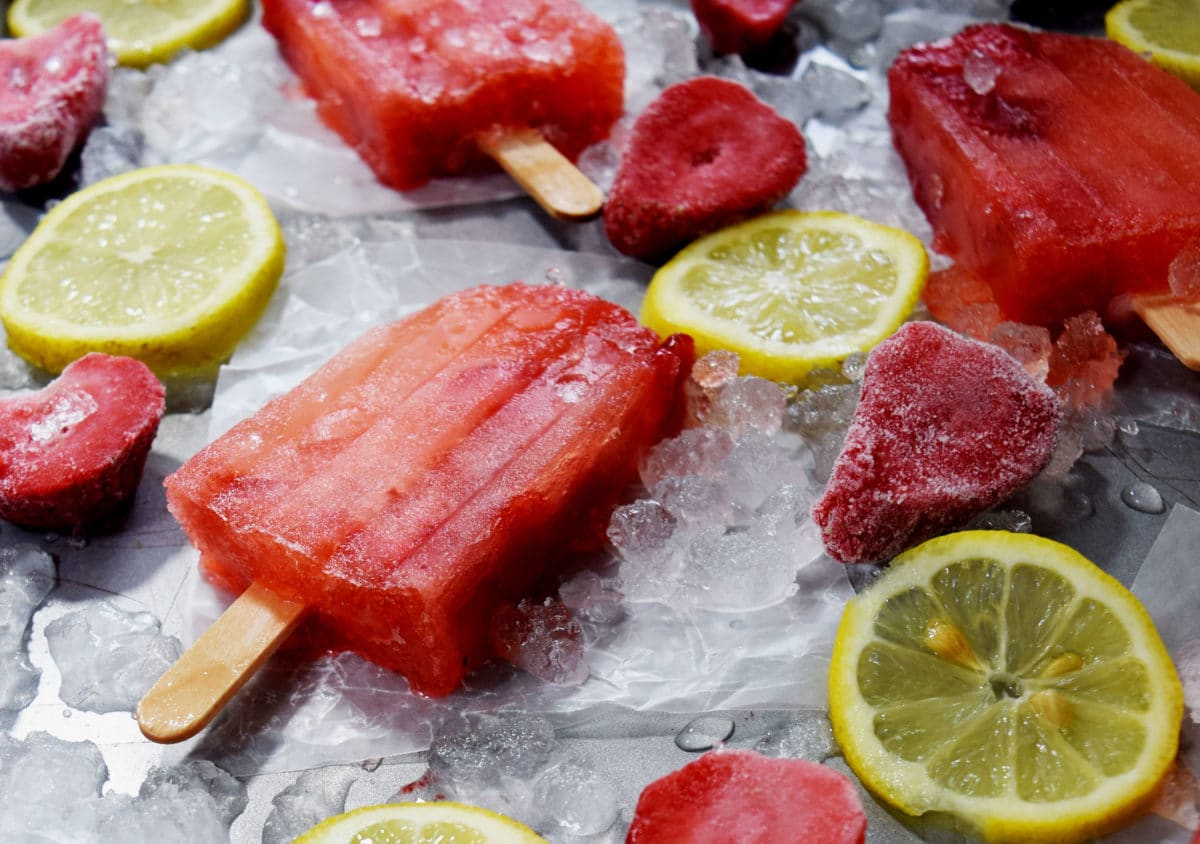 It's Summer (not officially) in Florida, well at the least the temperature tells us it is.  I am ready for lazy days and sandy toes!!!! WHAT ABOUT YOU Friends??? These popsicles just help that mood right along! This time of year I really start craving my Florida Strawberries too!  So, I pull them out of the freezer to enjoy.
When our Plant City Strawberries are in season during the winter months (late November through April),  I like to freeze some whole and sliced berries to enjoy all year long! Adding these delightfully nutritious strawberries into these frozen treats just holds me over until next season.
Tip: If you didn't freeze them at home, you can buy them in your frozen section at your local grocery store.
Here are great instructions on how to freeze them at home from Taste of Southern.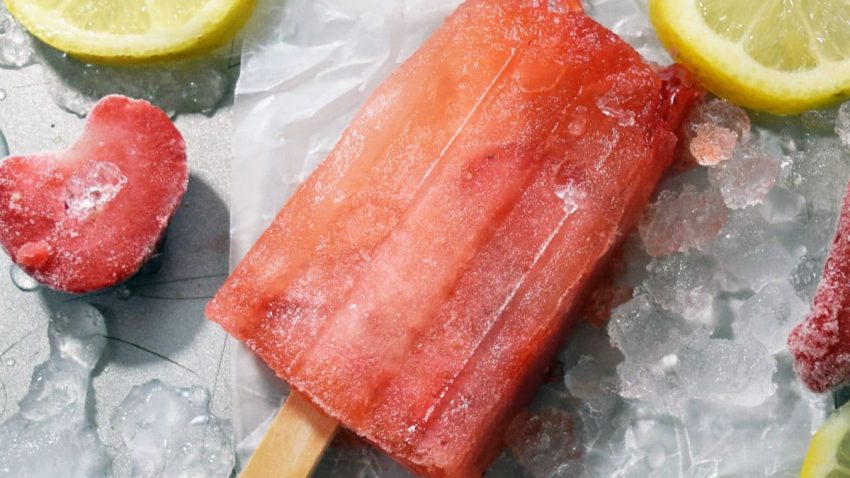 Making Strawberry Lemonade Pops just takes a few ingredients – EASY YA'LL –  because it's summer after all and we want to be having fun right?
Grab frozen lemonade concentrate, lemon lime soda (Sprite) & frozen strawberries in sugar! Now you have two options you can go ahead and use the whole can of concentrate and 14 cups of lemon lime soda (save what you don't use for strawberry lemonade) or make the recipe as instructed and not have any left over.
Let's Make these Strawberry Lemonade Popsicles Ya'll
Take your Popsicle mold and spoon in 2 to 3 tablespoons of the strawberries.  Add in the lemonade mixture, leaving 1/4 inch room at top of mold for expansion when freezing. Put your lid on and insert those wooden sticks.  Jiggle them a little to distribute the Strawberries evenly.  We gotta be fair, you know it's good manners. Put in the freezer for at least 4 hours or until set.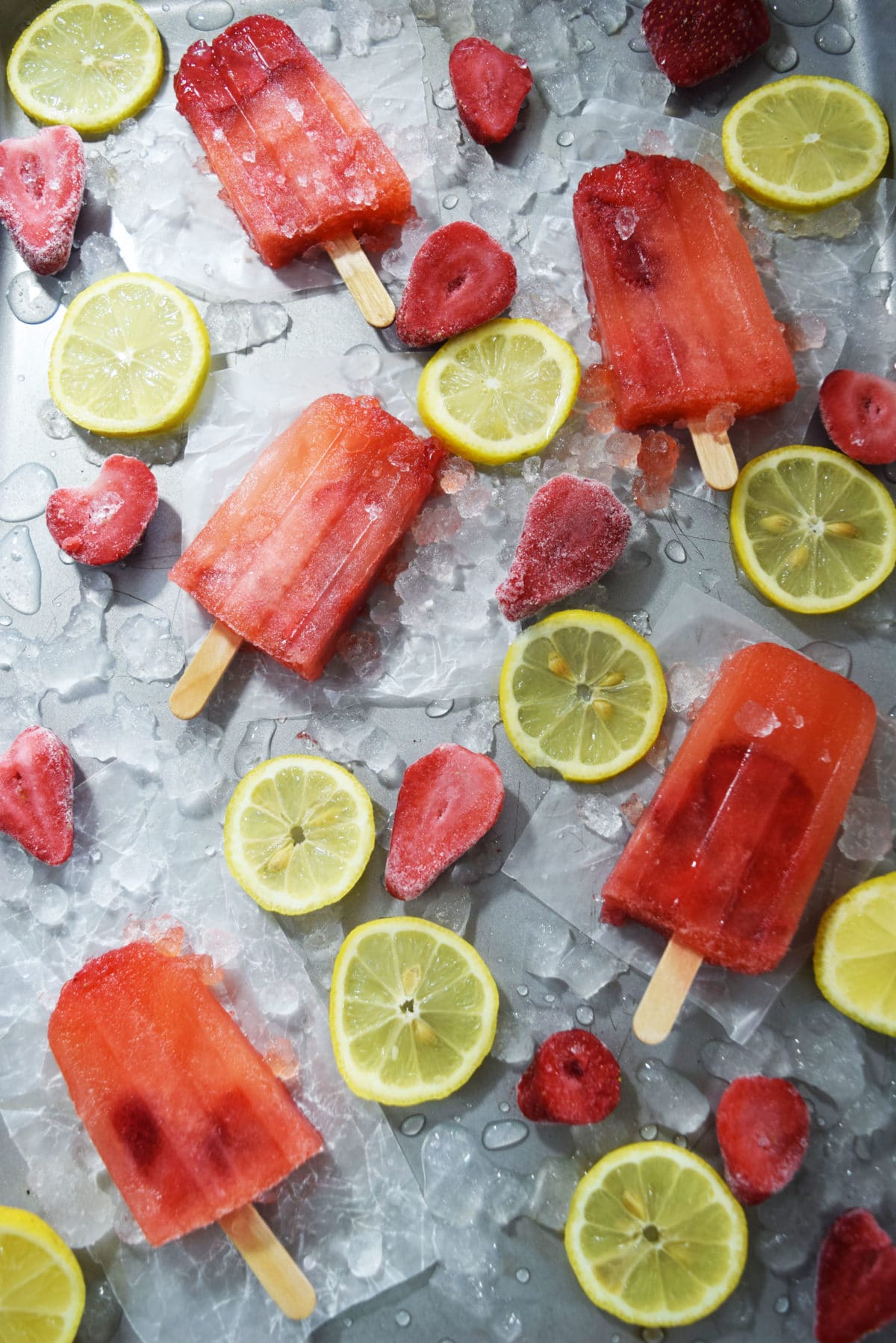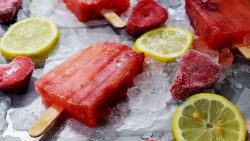 Homemade Strawberry Lemonade Popsicles
Ingredients
1/2

can

lemonade concentrate, thawed

7

cups

lemon lime soda

1 3/4

cups

frozen sliced strawberries in sugar, thawed
Instructions
Thaw Strawberries and lemonade concentrate for recipes.




Mix lemonade concentrate and soda together.

Spoon 2 1/2 to 3 tablespoons of strawberries into Popsicle mold. Pour in lemonade mixture leaving 1/4 inch at top to allow for expansion.

Place lid on top and add in wooden sticks. At this point I move the sticks around just a little, so that the sticks will go to bottom and to distribute the strawberries.

Freeze for 4 hours or until set.
Recipe Notes
I made these with a traditional mold that uses wooden sticks. It has a cover that goes over the entire mold to hold the sticks in place.
Pin it:

Find this and other fabulous recipes over on two of my favorite link parties Meal Plan Monday and Weekend Pot Luck!