This Blackberry Wish Cocktail is an amped-up version of a traditional bramble cocktail. Made with gin, muddled blackberries, fresh lemon juice, creme de Cassis, creme de Violette, and simple syrup. This cocktail is fresh, bright, and perfect for sipping!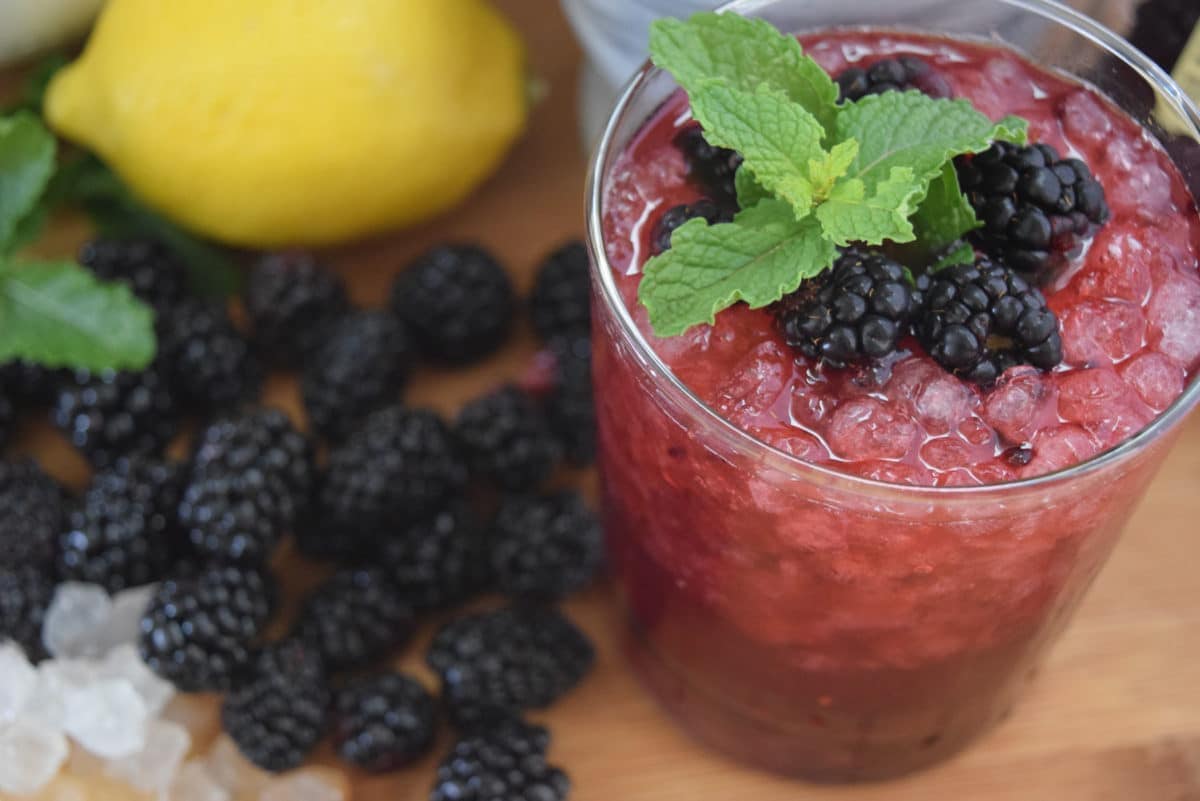 Why you'll love this recipe
Fresh and bright: This drink is made with fresh muddled berries and lemon juice. Making it a delicious drink to sip on a hot day!
Adaptable: Although this is a blackberry drink, you can use raspberries, strawberries, or blueberries as well!
If you haven't heard of a Blackberry Wish Cocktail, well I made this one up based on a cocktail I had while in Memphis. It was so fresh and delicious and really was a Blackberry Bramble of sorts.
I knew blackberries were in season locally and I just had to try to recreate this one at home. We have a great source of berries in my home town with Wish Farms.
Really it's always Berry Season with Wish Farms. Can you believe they were founded in 1922 and are third-generation owned?  They are a year-round supplier of strawberries, blueberries, and blackberries with growing regions throughout the USA, Canada, and South America.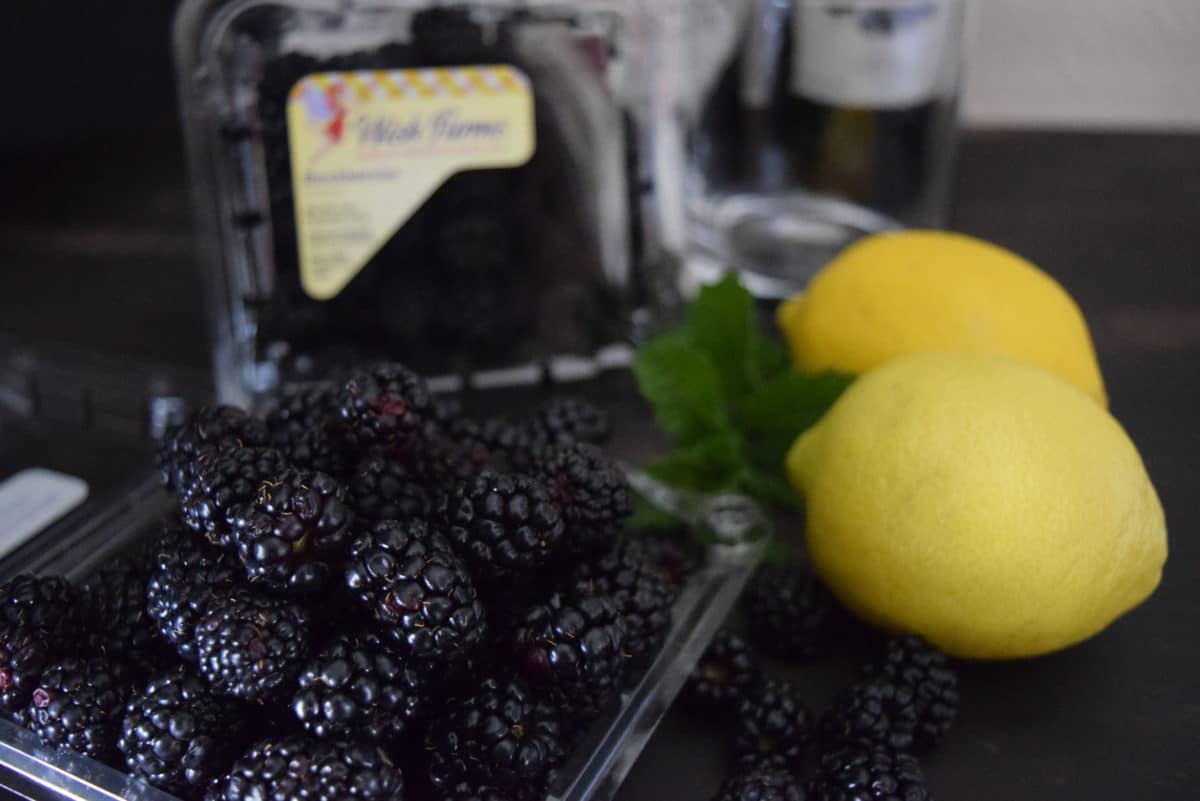 That's a long time to be in the berry business!  They pride themselves in Quality, Consistency, Flavor, and growing berries that are memorable.
Since blackberries were just what I needed to recreate this I was thankful for such a fresh and delicious product grown locally.
This bramble wish cocktail is so smooth you could sip it all day! It is fruity, slightly sweet, with a touch of tart, and just the right amount of boozy vivations!
I hope sure you will enjoy this Blackberry Wish Cocktail is as much as I do! 
Ingredients
blackberries
gin
Creme de Cassis
Creme de Violette
fresh lemon juice
simple syrup
crushed ice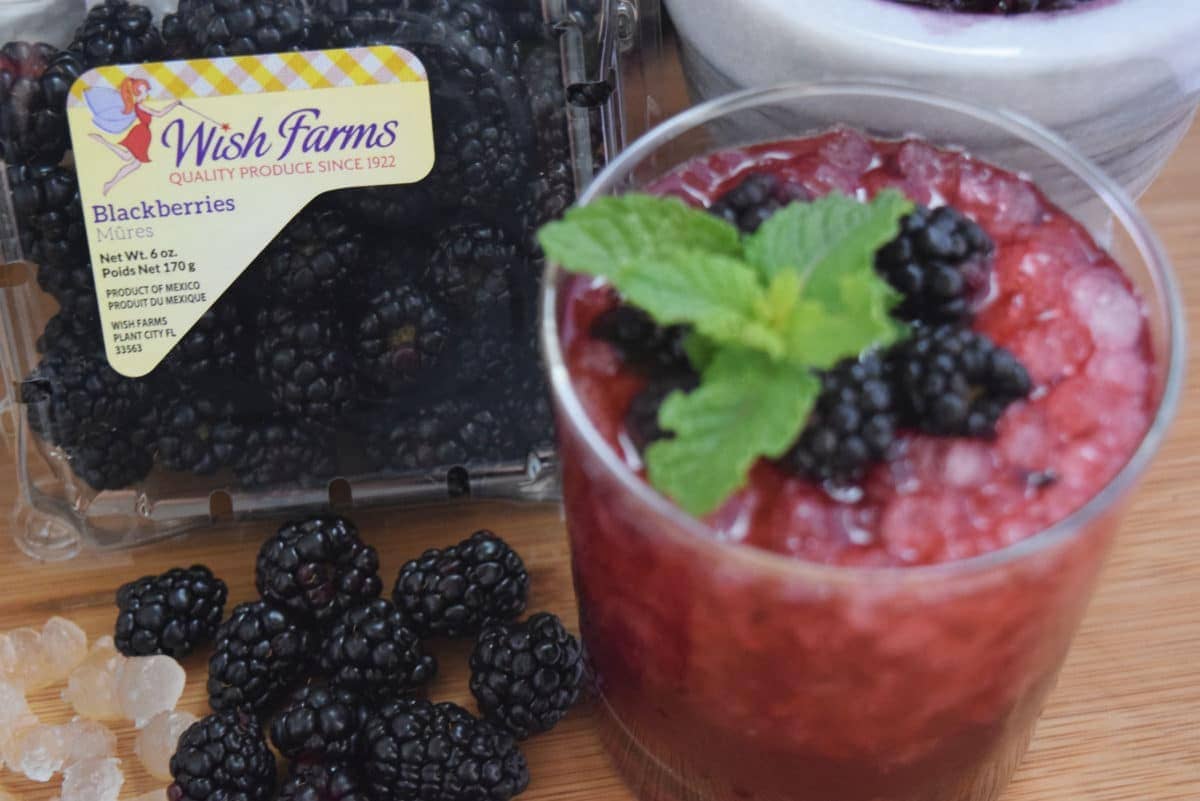 How to make a blackberry bramble cocktail
✱ Be sure to see the recipe card below for exact ingredients and instructions!
It uses muddled cream of the crop Wish Farms blackberries with a nice smooth blend of gin, fresh lemon juice, simple syrup, Creme de Violette, Creme de Cassis, and lots of crushed ice!!  
First, muddle the blackberries.
Next, add ingredients into a cocktail shaker and shake, shake, and shake it until it's ice cold.
Pour this deliciousness over crushed ice and top with blackberries and mint leaves.

You will be "Wishing" you had another one of these Blackberry Wish Cocktails, I promise! Now take time to sip on this while you enjoy the summer breeze!
FAQ's
How to make homemade simple syrup?
Combine equal parts water and granulated sugar in a small saucepan over medium-high heat. Bring to a boil, while stirring until dissolved and water turns clear. Remove from heat and let cool.
Do I need to strain the blackberries or cocktail?
I prefer to leave all the little bits in my cocktail. I enjoy the texture and flavor. However, you can strain the cocktail with the shaker strainer if you prefer.
What is a bramble cocktail?
The bramble is a cocktail created in the 1980's in London, by Dick Bradsell.
It has sweet and sour tones and is traditionally made with dry gin, lemon juice, simple syrup, a Creme Liqueur, and crushed ice.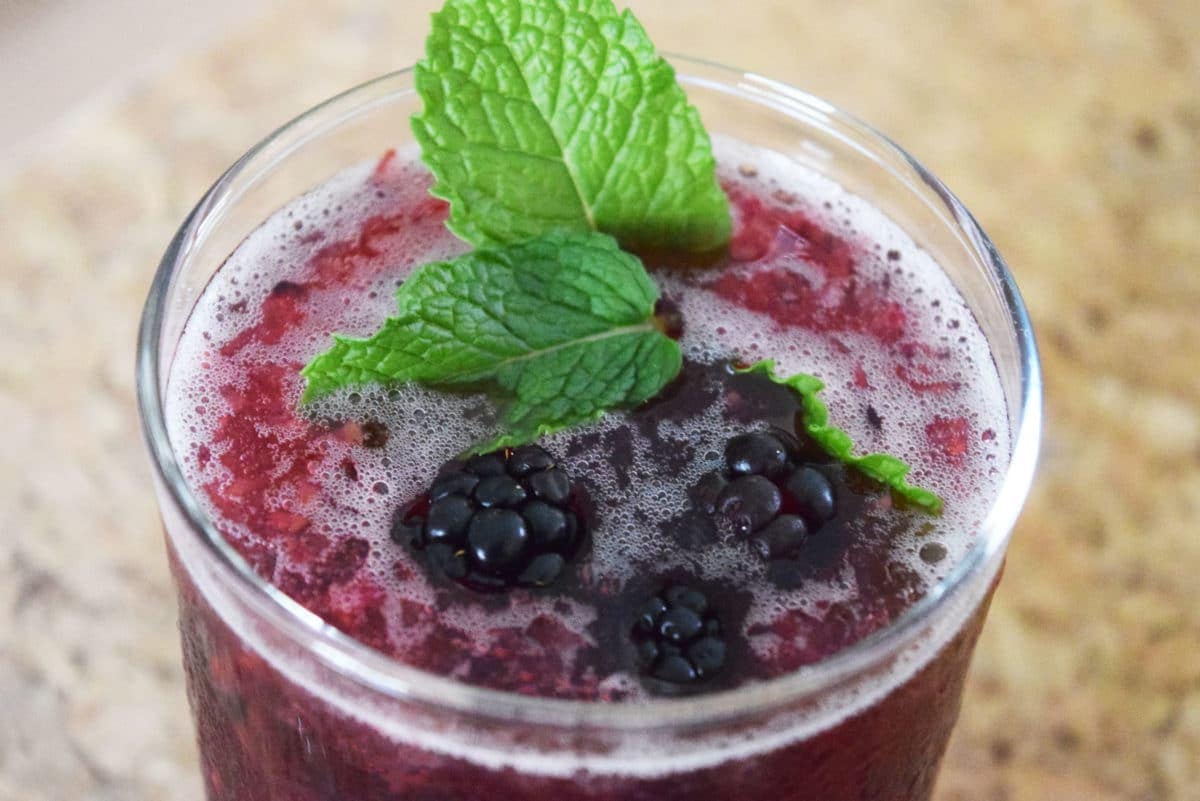 Tips
Fresh Fruit really does add brightness to this cocktail. If you have fresh local grown fruit use it and you will see a big difference.
If you are unable to get fruit in season frozen berries are a great substitute so you can enjoy this cocktail year round.
Helpful Kitchen Items for this recipe:
DISCLOSURE ~ If a purchase is made using one of the affiliate links on this website, we may earn a small commission at no cost to you. Thank you! This helping to keep making new free recipes for you!