Southern summers are full of hot days and a slower pace. What better way to cool off and enjoy the day than with a tropical, fruity & spirited drink? Like this Strawberry Sunset Lemon Drop.
When I think of summer, I dream about tropical places and a beautiful sunset - Strawberry Sunset Lemon Drops...
We just returned from a vacation in "O" town, better known to some as the land of Mickey Mouse, Orlando. My sister is expecting a fabulous baby girl the first of August, so we wanted to stay close to home just in case. Vacation went on without a bang - Miss Waverly is still cookin'! I'll keep ya'll posted!
While you may not think of Orlando as tropical, our resort was beautiful and relaxing with plush tropical landscaping and a wonderful lazy river. It was packed full of family time, and that that means good times. We played cards, ATE, celebrated the 4th with a magnificent sunset watched on the rooftop of the resort, followed by Disney fireworks in the distance, and did a little sightseeing. But we spent most of the vacation relaxing at the resort, floating on the lazy "pool" river. Just being together made it perfect!
Vacation is over, so let's shake up a little tropical refreshment at home and reminisce of memories made this past week. All the while making new ones with the ones we love. I am sure you have many memories you can relive while you are sipping on this delightfulness! And who says vacation has to end?? Isn't it a frame of mind after-all!!
Let's get to shakin'
This drink can be made as a mocktail or a cocktail. It's fun for the whole family. Just keep dreaming of tropical sunsets ya'll. Leave out the "spirits" and it becomes a delicious Strawberry Sunset Lemonade.
Things you will need:
simple syrup (I make this homemade and keep in the refrigerator, but you can buy store bought)
lemons to squeeze for juice
vodka (omit for mocktail)
Ice
frozen sliced strawberries in sugar
lemon head candies
strawberry sugar (I bought the little lollipop shaped like a bottle with sugar in it. But you could also use sweetened Kool aid or how about pop rocks! Wouldn't that be fun too!)
Cocktail Shaker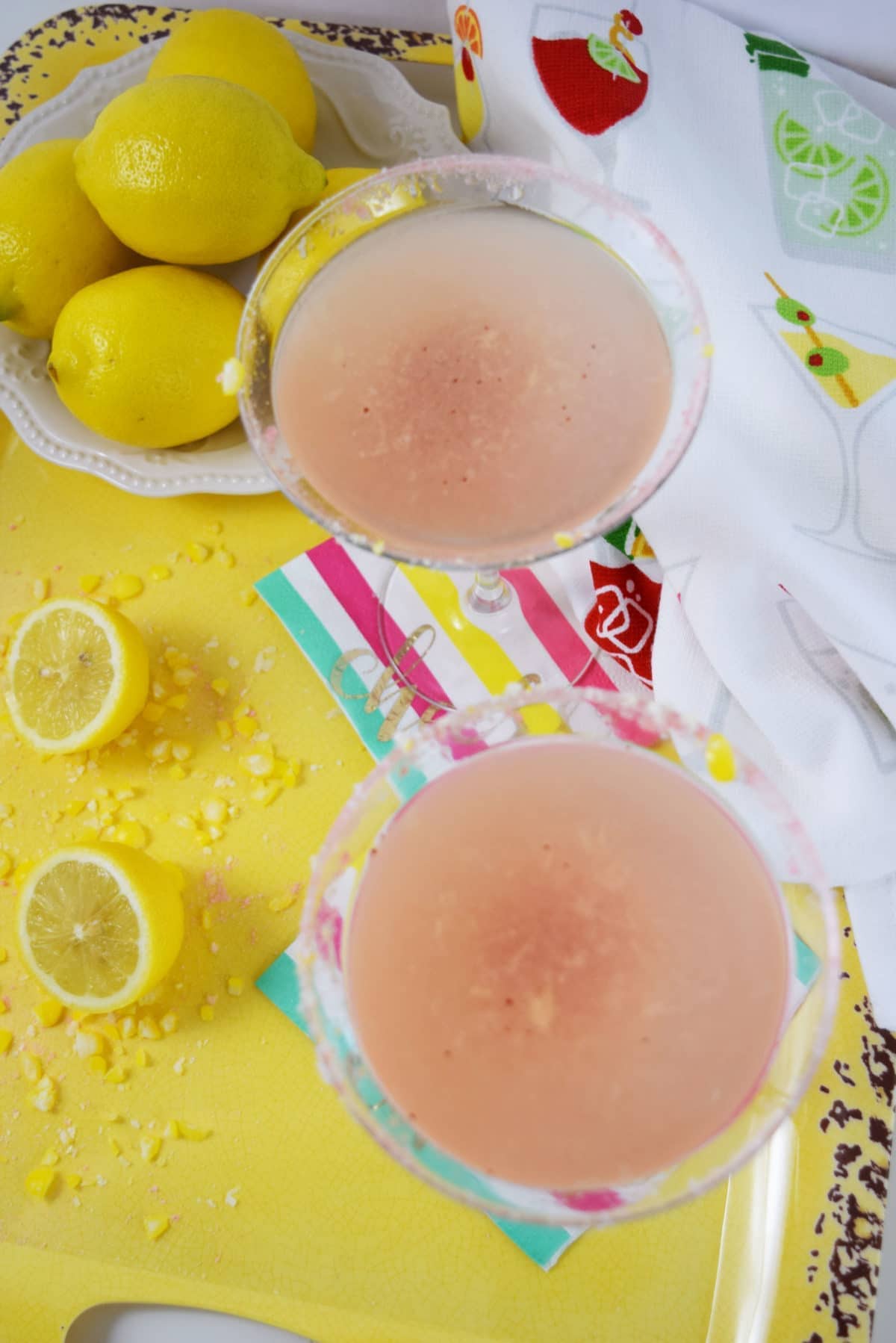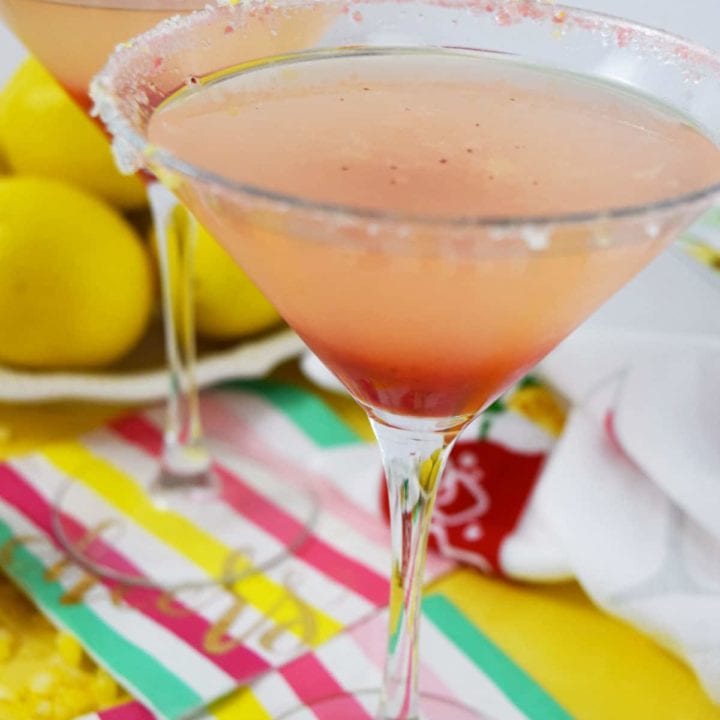 Strawberry Sunset Lemon Drop
Strawberry Sunset Lemon Drop
Ingredients
2

ounces

Simple Syrup

3 - 4

ounces

Vodka

3

ounces

Lemon Juice

,

fresh squeezed

Ice

4

tablespoon

strawberries in sugar

,

sliced frozen, slightly thawed

Lemon Head Candies

,

crushed

Strawberry Sugar Candy
Instructions
In a blender, puree 4 tablespoons of slightly thawed frozen sliced strawberries in sugar.

Fill a cocktail shaker half way full of ice. Juice 3 or so large lemons. Pour in fresh squeezed lemon juice, simple syrup and vodka. Shake until well chilled.

Crush lemon heads in a plastic bag with a meat tenderizer or canned good. Pour lemon heads onto a small plate. Pour strawberry sugar onto a small plate

Rub the rim of martini glass with lemon slice to slightly wet. Dip rim in strawberry sugar and crushed lemon head candies. Pour in 2 tablespoons of strawberry puree in bottom of glass. Pour lemon drop through strainer of cocktail shaker into glass gently, leaving most of berries on the bottom of the glass

Enjoy
Nutrition
Serving:
1
grams
Calories:
510
kcal
Carbohydrates:
33
g
Protein:
1
g
Sodium:
17
mg
Fiber:
3
g
Sugar:
24
g