Southern Fried Pork Chops are sprinkled with seasoned salt, pepper & a little cayenne, if you want some spice, dredged in flour and pan fried until perfectly golden and delicious! This southern favorite is simple, but oh so scrumptious!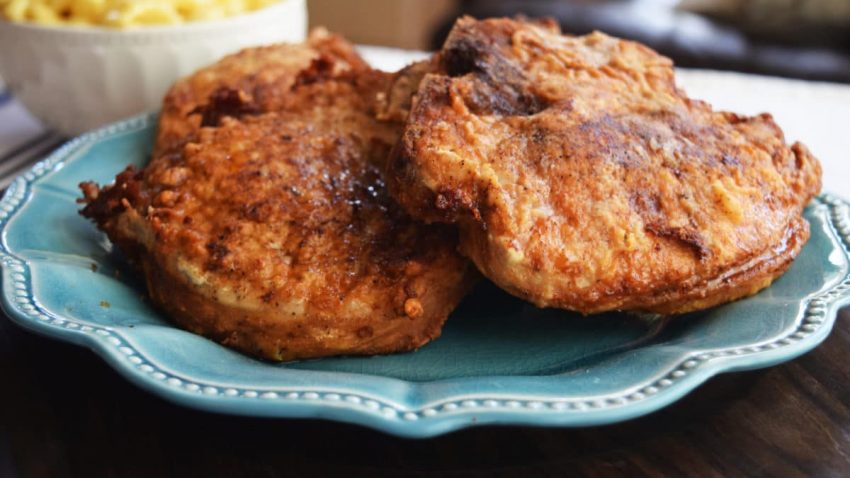 *Soulfully Made is a participant in the Amazon Services LLC Associates Program, an affiliate advertising program. Please note: This post may contain affiliate links to products I use and love. I earn a small commission, at no extra cost to you, to help with blog expenses when you make a purchase through an affiliate link. Thank you for your support!
Southern Fried Pork Chops were a staple at my house growing up! I can remember my mom standing at the stove cooking them and us sitting around the kitchen counter and waiting very impatiently.
And once you take a bite of these you will know why! In this age of trying to watch what we eat (well sort of), at least by that I mean I don't make fried foods every week, this is a treat at my house when I do. And the BOYS in this family wish I made FRIED PORK CHOPS often here!
Today my son was super happy because I didn't pay much attention to a balanced meal as far as food groups went. I served these chops with Instant Pot Mac N Cheese and a salad, okay, well there was a bag of salad in the refrigerator. – Do you ever have these days too?
Drew was over the moon, I think he could eat just meat every day and be happy! He really doesn't care about the food groups. Hubby was out of town, so I made sure to send him pictures of what he missed. Nice emoji with lots of hearts and smiley faces returned! I am not sure if he was being sarcastic, it's been a while since I made them and he happened to be gone.
One thing is for certain this is really a simple dish. Southern Food at it roots is simple and tasty!
Easy Steps to Making Southern Fried Pork Chops
First mix seasoned salt, black pepper, and cayenne pepper into the flour.
Then lightly season the pork chops with seasoned salt and black pepper too!
Trust me it's just oh so good. Now if you despise salty food maybe leave the seasoned salt off of the chops.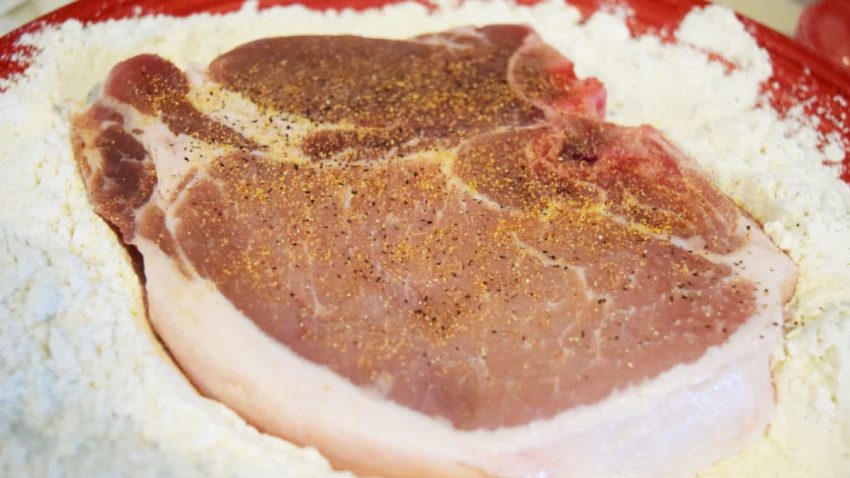 In a cast iron skillet or non stick pan, heat up your oil on medium to medium high heat. then add in butter and let it all melt!
This gives the chops a perfectly golden brown, spectacular and marvelous color!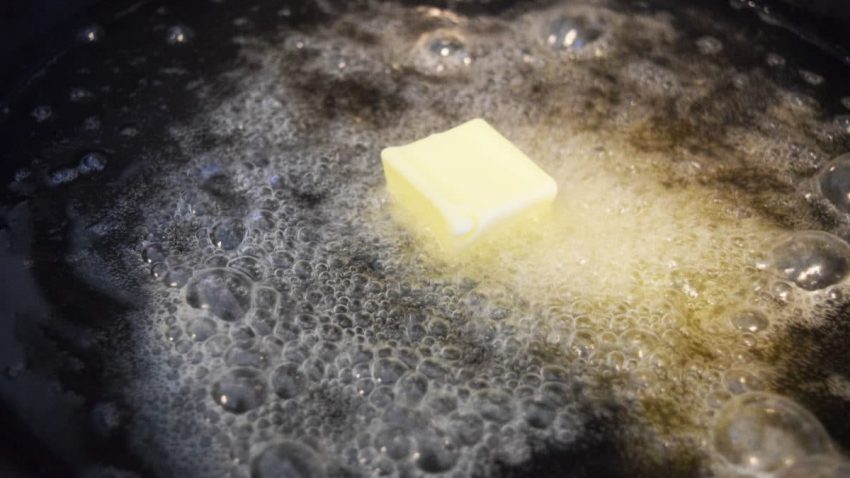 Once oil is hot. Put in two chops and cook on one side for about 4 to 5 minutes.
Turn over and cook about 3 minutes.
Now ya'll I am a cook and not a chef, so sometimes you will find some abouts in here. That's because chops are all sized and cut a little different. These are about 1/2 inch thick. We also enjoy thin cut chops like this! I had these in the freezer, so this is what I was servin' today!
Remove from oil and put on a plate with paper towels to drain the grease off.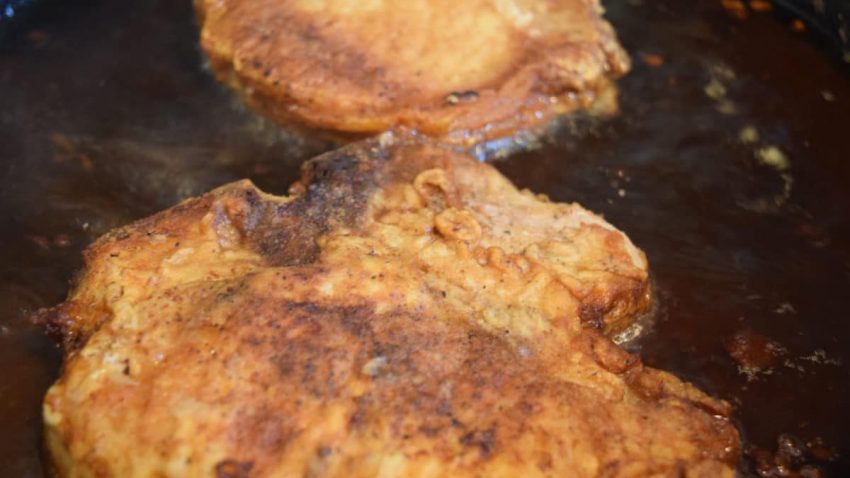 Did I mention these are good for breakfast too! It may be a southern thang – but trust me!!! TRY IT with your eggs and grits!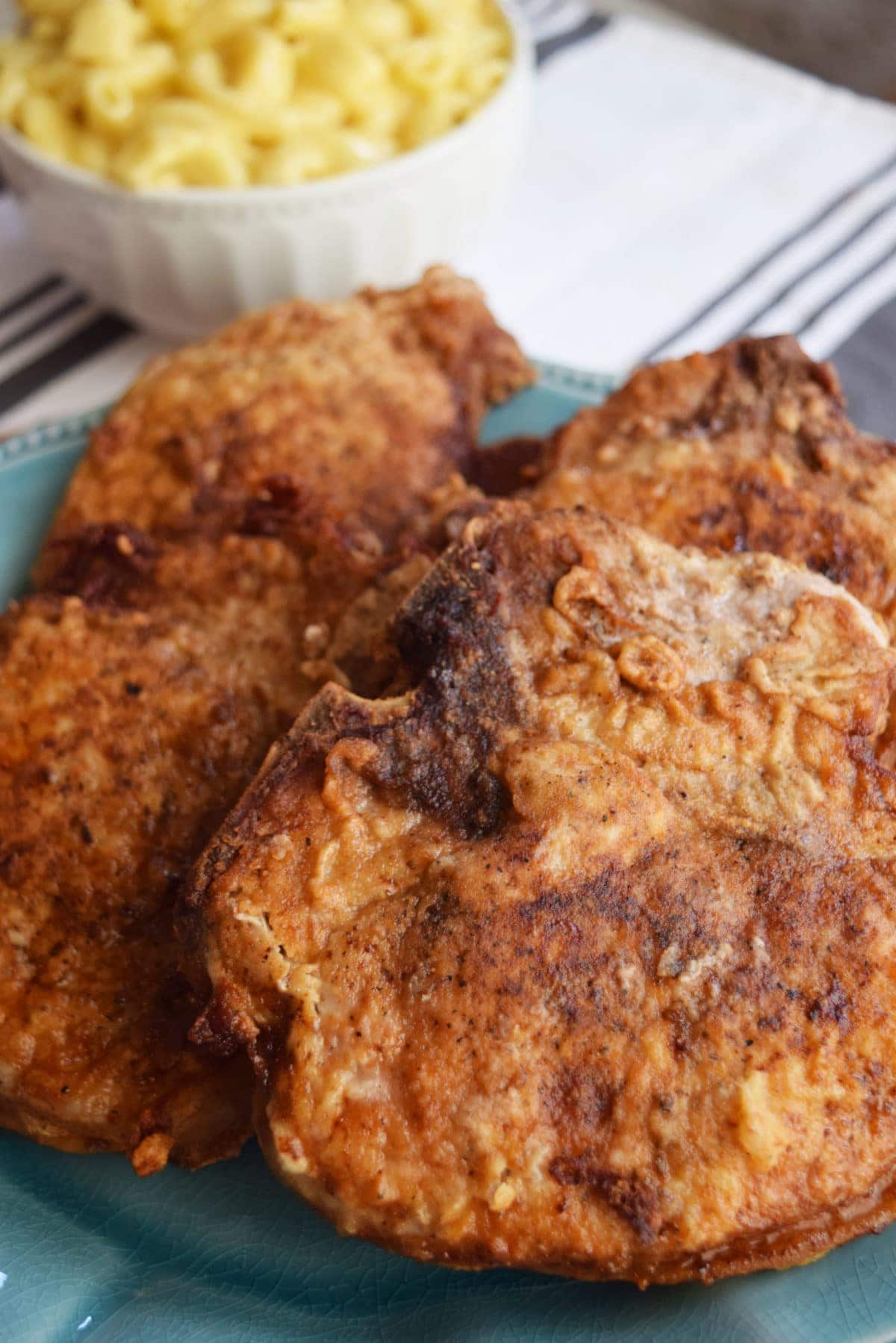 A few things I use to make these pork chops!
PIN THIS – SOUTHERN FRIED PORK CHOPS – FOR LATER!

Southern Recipes that go great with Fried Pork Chops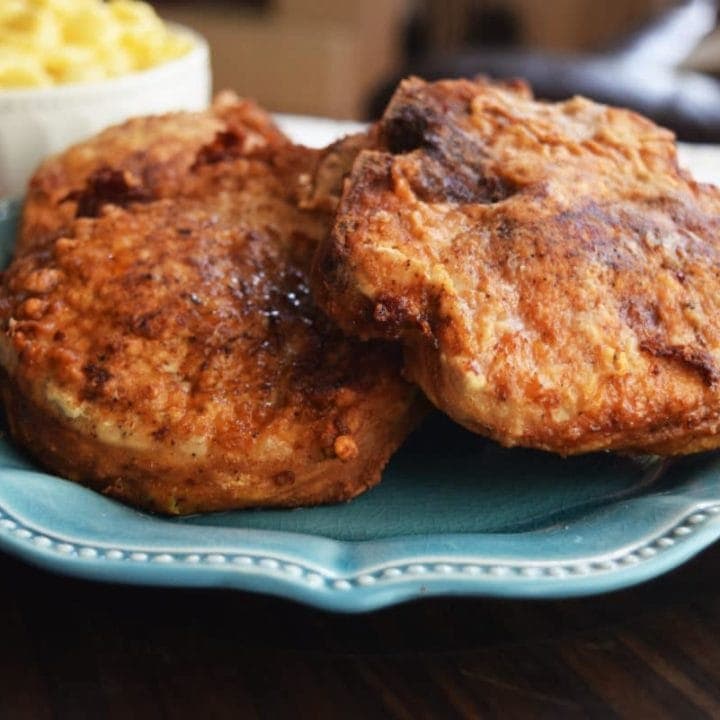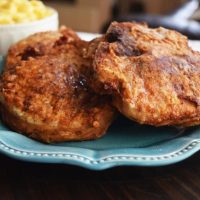 Ingredients
4

bone in pork chops

(1/2 inch think)

1

cup

all purpose flour

1/2

cup

canola or vegatable oil

(enough to cover bottom of pan for frying)

2

tbsp

butter

1

tsp

seasoned salt

(extra to season chops to taste)

1

tsp

black pepper

(extra to season chops to taste)

cayenne pepper to taste
Instructions
Season Salt and pepper both sides of the pork chops.

Combine all dry ingredients. Dredge each side of the pork chops in the flour mixture, then set aside on a plate. Or dredge before going into oil. (Less dishes)

Heat canola/vegtable oil over medium to medium-high heat. Add butter. When butter is melted and butter/oil mixture is hot, cook 2 to 3 pork chops at a time, 4 to 5 minutes on the first side; 3 to 5 minutes on the other side. (Make sure no pink juices remain.) Remove to a plate covered with paper towels and repeat with remaining pork chops.

Notes
You can also make 8 thin cut pork chops with this recipe.
Tried this recipe?
Hashtag any recipes you make from Soulfully Made #soulfullymade or tag me @Soulfullymade_ on Instagram to be featured on our stories!
Related Posts
Head over and check this out on some of my favorite link ups! Weekend PotLuck and Meal Plan Monday!