This post may contain affiliate links. Please read our disclosure policy.
Southern Fried Pork Chops are sprinkled with seasoned salt, pepper and a little cayenne, if you want some spice, then dredged in flour and pan fried until perfectly golden and delicious! This southern favorite is simple, but oh so scrumptious!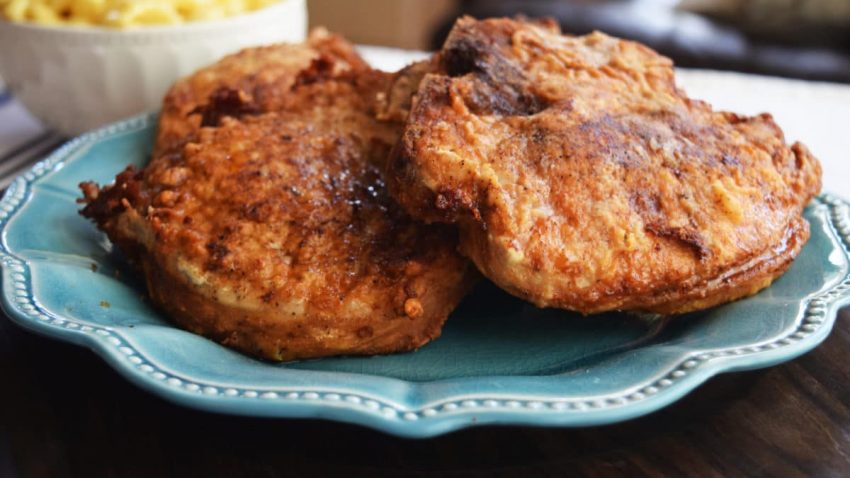 Southern Fried Pork Chops were a staple at my house growing up! Actually, I think most people often think of "fried" as the perfect synonym for southern. I certainly agree, something juicy and fried are one of the most delicious things you ever sink your teeth into!
I can remember my mom standing at the stove pan frying pork chops and us sitting around the kitchen counter and waiting very impatiently. And once you take a bite of these you will know why!
In this age of trying to watch what we eat (well sort of), at least by that I mean I don't make fried foods every week, this is a treat at my house when I do. And we all deserve southern comfort food every now and again, RIGHT?
Fried pork chops tend to make everyone at my house happy anyway! They especially love it when paired with Instant Pot Mac N Cheese and southern collard greens!
One thing is for certain this is really a simple dish. Southern Food at its root is simple and tasty!
Easy steps to making southern fried pork chops
First mix seasoned salt, black pepper, and cayenne pepper into the flour.
Then lightly season the pork chops with seasoned salt and black pepper too!
Trust me it's just oh so good. Now if you despise salty food maybe leave the seasoned salt off of the chops.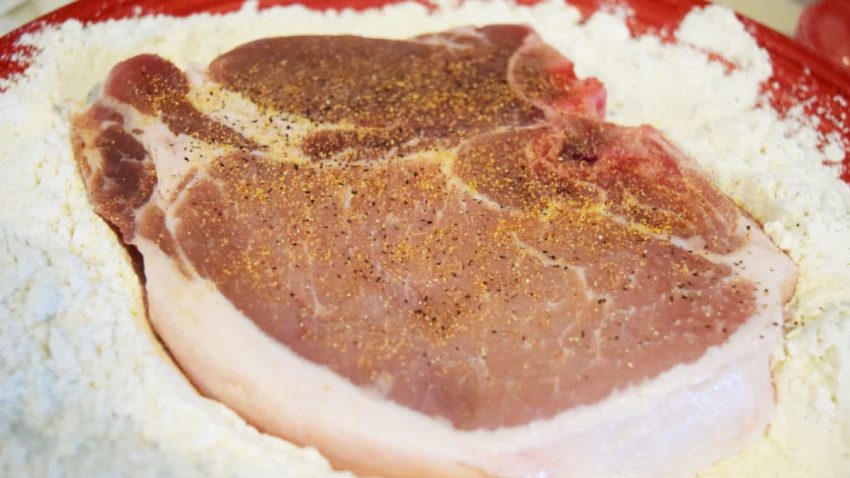 PAN FRIED PORK CHOPS – In a cast iron skillet or non stick pan, heat up your oil on medium to medium high heat. then add in butter and let it all melt!
Pan frying pork chops give them a perfectly golden brown, spectacular and marvelous color!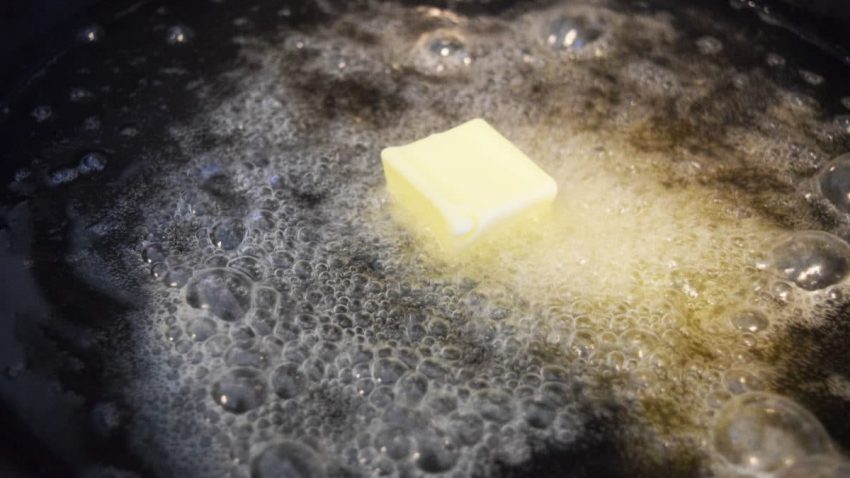 How long do you pan fry pork chops?
Once oil is hot, put in two chops and cook on one side for about 4 to 5 minutes.
Turn over and cook about 3 minutes.
These are about 1/2 inch thick. Pork Chop Cook Time will vary when frying pork chops based on thickness.
Remove from oil and put on a plate with paper towels to drain the grease off.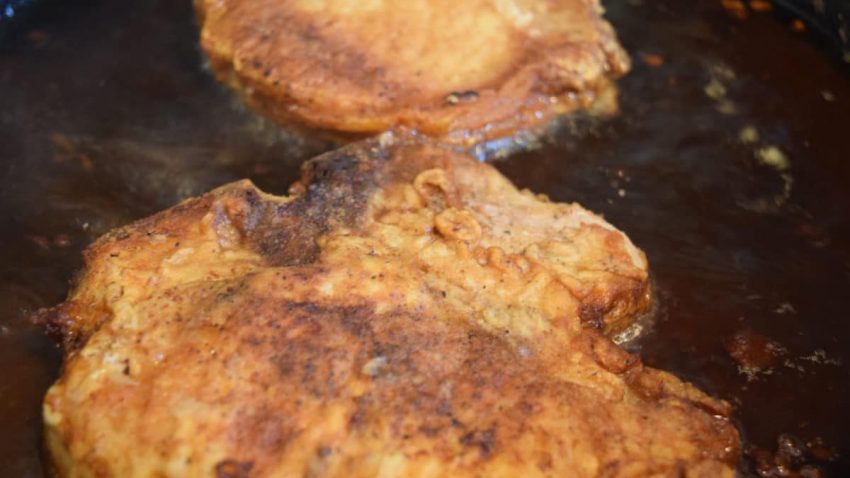 Tips for the best fried pork chops
You can use bone-in or boneless chops. I love the flavor of the bone-in chops. They stay nice and juicy. Boneless pork chops can be a little easier to eat. Just don't overcook, as they can tend to dry out a little easier.
Before cooking let them sit at room temperature for a bit. Bringing them to room temperature will allow them to cook evenly.
Use fresh pork chops that have a nice pink hue to the chop. If they are a dull grey color they are not as fresh and delicious.
Make sure your oil and butter is hot before placing the chops in the pan. The chops won't be soggy. This is what makes them nice and crispy.
Don't overcrowd your pan. This also contributes to a nice crispy chop. Overcrowding can cool the pan down and also not allow for even frying and can result in a greasy pork chop.
Drain on paper towels or baking rack. I have always used paper towels. Draining removes extra oil and allows the chops to rest and distribute the juices for a perfectly juicy fried pork chop.
If you have one, use a cast iron skillet for this dish. It's ideal for pan frying pork chops because it holds and distributes heat so well. It also provides a naturally nonstick surface. Makes for easy clean up too!
Do I need to dip in egg or buttermilk first?
I don't add this step to my fried pork chop recipe. I find it is unnecessary. They come out tender, juicy and with the perfect amount of crunch. However, if you just feel you want to do this you can dip them in a egg and water mixture or buttermilk before dipping into the flour mixture. Again – I never do!
Storing and Reheating Tips
Storing. We recommend placing the leftover fried pork chops in an airtight container or wrapping in foil and placing in the fridge. Properly stored, they can last for 3-4 days in the fridge.
Reheating. The best way to reheat an already fried chop is in the oven. Place them on a foil-lined baking sheet. Lightly brush with a little melted butter or olive oil (or spray it on) and reheat at 350° for 5 to 8 minutes or so on each side, depending on the thickness of the chops.
Did I mention Fried Pork Chops are good for breakfast too! It may be a southern thang – but trust me!!! TRY IT with your eggs and grits!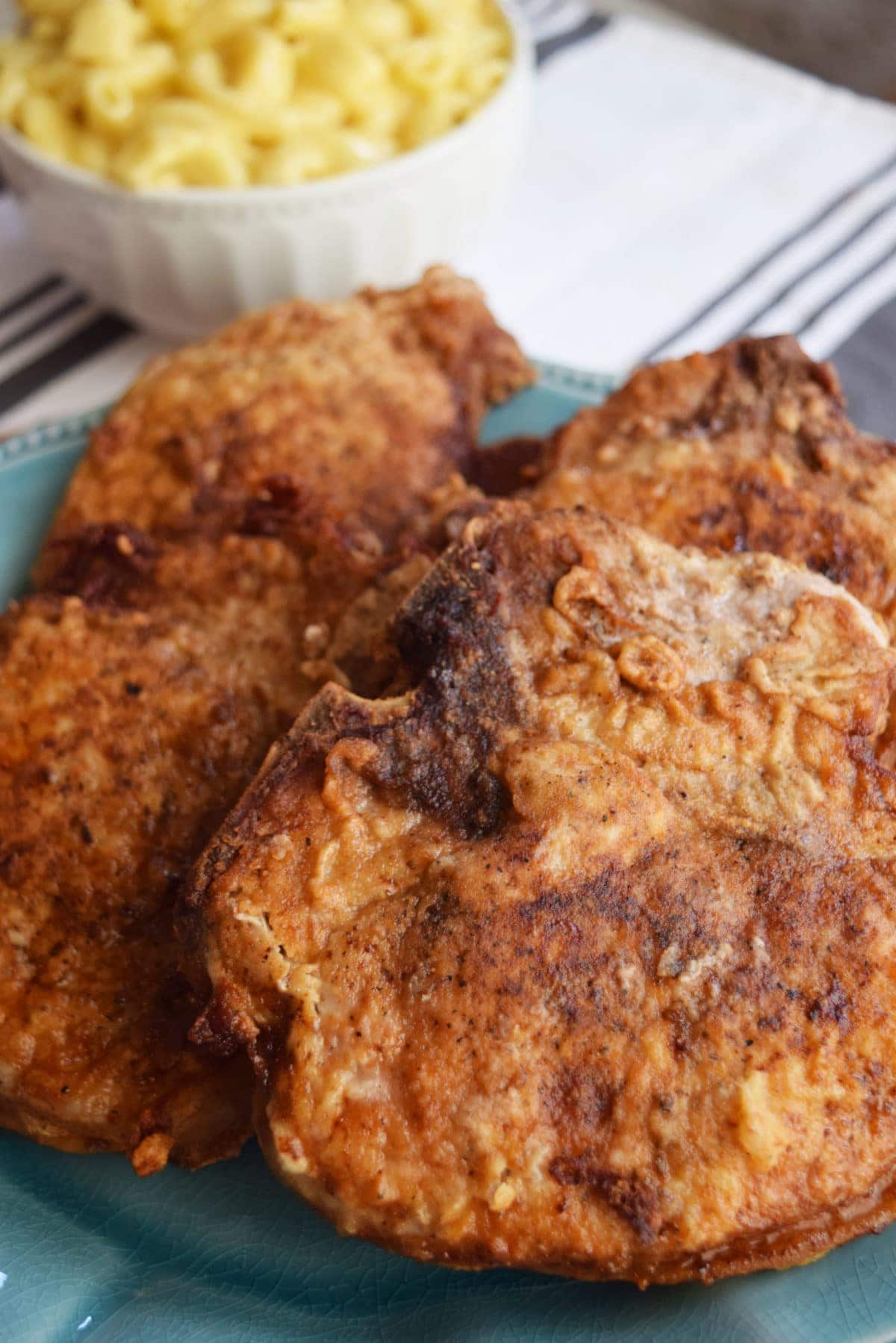 Southern Recipes that go great with Fried Pork Chops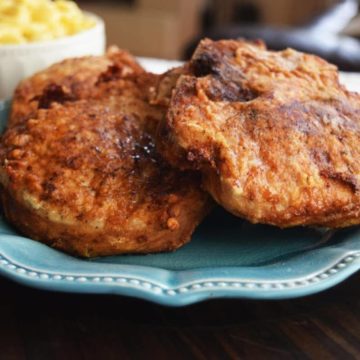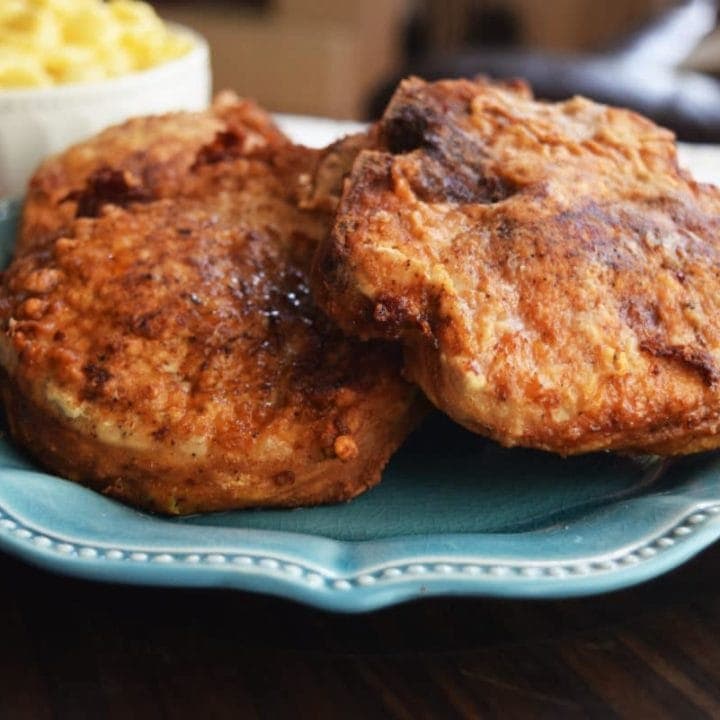 Recipe
(click stars to rate)
Southern Fried Pork Chops
Southern Fried Pork Chops are sprinkled with seasoned salt, pepper & a little cayenne, if you want some spice, dredged in flour and pan fried until perfectly golden and delicious! This southern favorite is simple, but oh so scrumptious!
---
Ingredients
4

bone in pork chops

,

(1/2 inch thick)

1

cup

all purpose flour

½

cup

canola or vegatable oil

,

(enough to cover bottom of pan for frying)

2

tbsp

butter

1

tsp

seasoned salt

,

(extra to season chops to taste)

1

tsp

black pepper

,

(extra to season chops to taste)

cayenne pepper to taste
Instructions
Season Salt and pepper both sides of the pork chops.

Combine all dry ingredients. Dredge each side of the pork chops in the flour mixture, then set aside on a plate. Or dredge before going into oil. (Less dishes)

Heat canola/vegtable oil over medium to medium-high heat. Add butter. When butter is melted and butter/oil mixture is hot, cook 2 to 3 pork chops at a time, 4 to 5 minutes on the first side; 3 to 5 minutes on the other side. (Make sure no pink juices remain.) Remove to a plate covered with paper towels and repeat with remaining pork chops.
Notes
You can also make 8 thin cut pork chops with this recipe.
Nutrition Information
Serving:
1
1 serving
Calories:
326
kcal
(16%)
Nutritional Disclaimer
Soulfully Made is not a dietician or nutritionist, and any nutritional information shared is only an estimate. We recommend running the ingredients through an online nutritional calculator if you need to verify any information.
©️Soulfully Made
My latests Posts